Elephant Seals Took Over a Beach During the Shutdown and They're Not Giving it Back Vice (David L)
Putting Glitter on Your Dog's Testicles is a Trend Now, Apparently Rare (resilc). Giving "glitter balls" a new meaning.
Monarch butterfly populations are on the rise WorldWildLife (David L)
Over 36,000 Pounds of Tyson Chicken Nuggets Recalled Because They Might Contain Rubber Daily Beast. Resilc: "How could one tell?""
Polar vortex brings deadly cold snap to US states BBC. Due to bad planning, I had to trundle out in 9 degree temps with a stiff wind. Not too bad but I put on so many layers that I was on my way to being the Michelin man. If you live in colder climes, you presumably have better gear and don't have to improvise.
Cold as ºF': Chicago residents make best of life in 'Chiberia' during polar vortex Guardian (marth r)
When it's this cold, Chicago sets its train tracks on fire CNN (J-LS)
The case for taking AI seriously as a threat to humanity Vox (David L)
Americans Got 26.3 Billion Robocalls Last Year, Up 46 Percent From 2017 Washington Post
Schools Are Locking Students' Phones Away to Help With Concentration Fortune
A Randomized Trial of E-Cigarettes versus Nicotine-Replacement Therapy New England Journal of Medicine
China?
Can China Turn the Middle of Nowhere Into the Center of the World Economy? New York Times (resilc)

Foxconn may drop plans to build flat screens in Wisconsin CNN
Brexit. Due to the hour, I haven't had a chance to double check, but Richard North says Theresa May won't be facing Parliament with her Breit news until February 13. But Labour Whips just tweeted that the February holiday has been cancelled. So will May be able to drag out the pretend of talking to EU leaders when they already said no till February 13? Even though she still controls Parliamentary time, obvious foot-dragging is probably not a good move.
Juncker warns Theresa May's shift raises risk of disorderly Brexit Financial Times

Europe won't abandon Ireland or the backstop, Jean-Claude Juncker insists The Times

Brexit latest news: Jean Claude-Juncker and Michel Barnier rule out changing Withdrawal Agreement and warn of increased no-deal risk Telegraph. Barnier is seldom this blunt. Suggests that he is reflecting the view of his principals, and they've written off the UK. May has broken a cardinal rule of negotiating: you do not reopen settled deal points without groveling and offering a significant concession. May has done neither. That means her actions will be seen as (at best) operating in bad faith, which is toxic. EU leaders have already had to exercise great self-control not to react badly to the UK's lunatic demands, obstinacy, and misguided criticisms. There's no point in pretending that the situation can be salvaged.

It's up to you to sort out Brexit impasse, Donald Tusk tells Theresa May Guardian

Brexit: Brussels says UK should keep paying into EU budget after no-deal Independent

Brexit: bewilderment, dismay and shame Chris Grey
Venezuela
US Prepares for Battle Over Venezuelan Oil Refiner Citgo AntiWar (resilc)

The Making of Juan Guaidó: US Regime-Change Laboratory Created Venezuela's Coup Leader Consortium News (Kevin W)

Bret Stephens, the 'Times,' and Fearmongering Over Venezuela Nation (resilc)

I prefer the candor that Bolton and Mnuchin are providing here about their real motives for caring about Venezuela to the bullshit Freedom, Democracy and Liberation tripe that the US media and the bipartisan DC class self-lovingly recite: https://t.co/nt2OQRcSAT

— Glenn Greenwald (@ggreenwald) January 31, 2019
New Cold War
Mystery illness sees Canada halve its Cuba embassy staff BBC. Not giving up, are they?
Syraqistan
Netanyahu misleads the Israelis about cross-border tunnels and "Operation Northern Shield": Is he preparing an electoral war on Lebanon? Elijah Magnier (Chuck L)
Big Brother is Watching You Watch
Imperial Collapse Watch
The Threat That the US Can't Ignore: Itself Wired (Dr. Kevin)

Gerald R. Ford Aircraft Carrier Suffers Launch, Landing Failures Bloomberg (resilc)

MEDICAL PROGRAMS Cuban Medical Services. Resilc: "Beats USA USA."
Trump Transition
Mueller says Russians are using his discovery materials in disinformation effort NBC (furzy). Help me.

Many Families May Need Months to Recover From the Shutdown Atlantic (martha r)
Warren introduces bill to stop US using nuclear weapons first CNN
Calling Bill That Makes Voting Easier a "Power Grab," McConnell Exemplifies a GOP Terrified of Democracy Common Dreams (J-LS)
Who's Afraid of Kamala Harris? Daily Beast. Resilc: "HOW DARE one criticize any non-existent or recently absorbed policy by her ….it's anti-woman/afro-Caribbean/hindoo. it's the Clintoon game plan on roids….."
The 2020 Race Loses Its William Jennings Bryan American Conservative (resilc)
Judge: PG&E put profits over wildfire safety Associated Press (David L)
YouTube Strikes Now Being Used as Scammers' Extortion Tool TorrentFreak. "If your business depends on a platform, you don't have a business."
Fake News
Washington Post Tries to Take Down Parody Site Announcing Trump's Resignation Electronic Frontier Foundation (Chuck L). What a humorless bunch.
New Details on Amazon, Berkshire Hathaway, JPMorgan Health Venture Emerge in Court Battle Wall Street Journal
Guillotine Watch
Is a 2% wealth tax a large tax?

Ask people with hundreds of million of dollars if they would put their money in a mutual fund that charged a 2% annual maintenance fee, and 20% on income.

Oh, wait. https://t.co/0Czil2M9al

— Gabriel Zucman (@gabriel_zucman) January 30, 2019
Class Warfare
Antidote du jour. MGL: "Stellar jay at our campsite."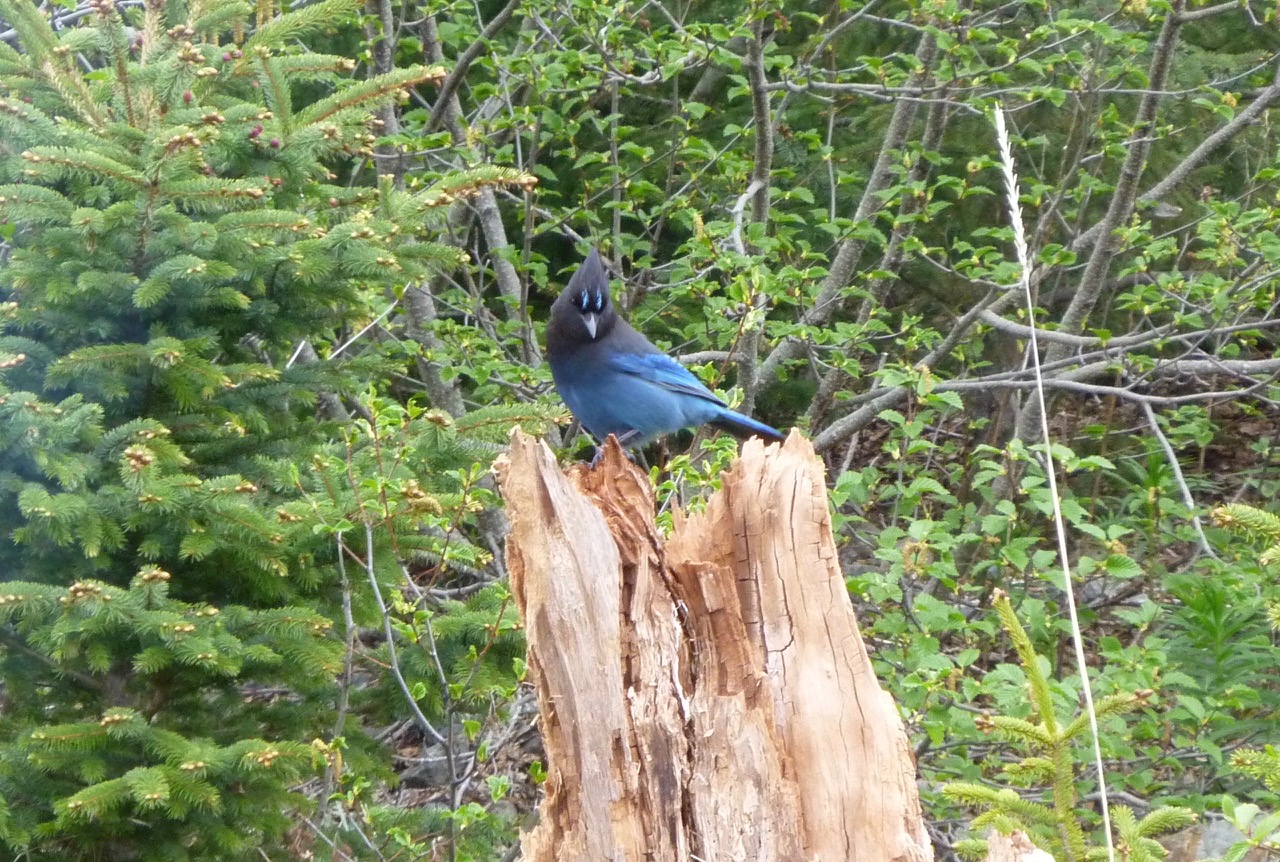 And a bonus from guurst:
Cat fu pic.twitter.com/5TA39eiIFg

— Carl Zha (@CarlZha) January 26, 2019
See yesterday's Links and Antidote du Jour here.