By Lambert Strether of Corrente
The Hospital Readmissions Reduction Program (HRRP) originated with a 2007 report to Congress from the Centers for Medicare & Medicaid Services (CMS), the agency within the Department of Health and Human Services (HHS) that administers Medicare and works with the states to administer Medicaid, among other things including ObamaCare. From that report, "Promoting Greater Efficiency in Medicare" (PDF), page 8:
The concept of efficiency should include not only getting more for a set amount of inputs, but getting more of the right care. … Another aspect of efficiency is getting the right amount of care over an entire episode of care. One possibility we discuss in this report is to decrease the number of through higher quality care, better care transition at discharge, and better care coordination.
And from page 16:
To encourage hospitals to adopt strategies to reduce readmissions, Chapter 5 explores a two-step policy option that starts with public reporting of hospital-specific readmission rates for a subset of conditions. The second step of the policy is an adjustment to the underlying payment method to financially encourage lower readmission rates. For example, and hold all other hospitals harmless.
In 2012, ObamaCare implemented this policy option. From CMS:
The Hospital Readmissions Reduction Program (HRRP) is a Medicare value-based purchasing program that reduces payments to hospitals with excess readmissions. The program supports the national goal of improving healthcare for Americans by linking payment to the quality of hospital care.

Section 3025 of the Affordable Care Act requires the Secretary of the Department of Health and Human Services (HHS) to establish HRRP and reduce payments to Inpatient Prospective Payment System (IPPS) hospitals for excess readmissions beginning October 1, 2012. CMS uses excess readmission ratios (ERR) to measure performance for each of the six conditions/procedures in the program:

Acute Myocardial Infarction (AMI)
Chronic Obstructive Pulmonary Disease (COPD)
Heart Failure (HF)
Pneumonia
Coronary Artery Bypass Graft (CABG) Surgery
(Spoiler: CMS doesn't measure performance; it measures reported performance.) Or in something closer to English, from Colleen K. McIlvennan, Zubin J. Eapen, and Larry A. Allen, "Hospital Readmissions Reduction Program," Circulation. 2015 May 19:
Hospital readmission measures have been touted not only as a quality measure, but also as a means to bend the healthcare cost curve. The Affordable Care Act (ACA) established the Hospital Readmission Reduction Program (HRRP) in 2012. Under this program, hospitals are financially penalized if they have higher than expected risk-standardized 30-day readmission rates for acute myocardial infarction, heart failure, and pneumonia. The HRRP has garnered significant attention from the medical community, both positive and negative
Now, stepping back and putting on my layperson's hat here, I don't think anybody wants to go to the hospital, at least for illness, and nobody wants to go back to the hospital, either (which is sensible: superbugs). So on that level, minimizing re-admissions makes a lot of sense. On the other hand, I don't want to be prematurely discharged, and if I really need to be, I do want to be admitted. Both are aspects of the same thing: I want the hospital to decrease my risk of mortality. As it happens, we've had two major studies in HRRP released recently, both bearing on HRRP. The first, from JAMA, focuses on mortality. The second, from Health Affairs, shows that hospitals gamed the medical coding system to make their HRRP numbers seem better than they really are. The results of the first are… not the greatest, but health care policy really is hard; absent proof of malfeasance or some malevolent form of cognitive capture (***cough*** neoliberalism ***cough***), I'm inclined to give a free pass. The second, however, is horrifying. If hospital re-admission data is gamed, how deep does the gaming go?
The JAMA Study on HRRP Mortality
The JAMA study ("Rohan Khera, Kumar Dharmarajan, Yongfei Wang, et al., Association of the Hospital Readmissions Reduction Program With Mortality During and After Hospitalization for Acute Myocardial Infarction, Heart Failure, and Pneumonia", JAMA Netw Open. 2018) was quite large. From the abstract:
Findings In this retrospective cohort study that included approximately 8 million Medicare beneficiary fee-for-service hospitalizations from 2005 to 2015, implementation of the HRRP was associated with a significant increase in trends in 30-day postdischarge mortality among beneficiaries hospitalized for heart failure and pneumonia, but not for acute myocardial infarction.

Meaning , but whether this finding is a result of the policy requires further research.
It's worth noting that the full text seems more sanguine:
Question Was the announcement or implementation of the Hospital Readmissions Reduction Program (HRRP) associated with an increase in mortality following hospitalization for acute myocardial infarction, heart failure, or pneumonia among Medicare beneficiaries?

Findings In this cohort study, between 2006 and 2014, in-hospital mortality decreased for the 3 conditions while . Before the announcement of the HRRP, postdischarge mortality was stable for acute myocardial infarction and increasing for heart failure and pneumonia, and there were no inflections in slope around the announcement or implementation of the HRRP.

Meaning There was no evidence for increase in in-hospital or postdischarge mortality associated with the HRRP announcement or implementation—a period with substantial reductions in readmissions.
And from the conclusion of the full text:
Among fee-for-service elderly Medicare beneficiaries, there was —a period with substantial reductions in readmissions. The improvement in readmission was therefore not associated with any increase in in-hospital or 30-day postdischarge mortality.
Again, putting on my layperson's hat, I can't tell whether the JAMA study says that HRRP increased mortality or not (or whether I should choose to come down with pneumonia or have a heart attack). Other authorities, including JAMA editors, say it does. From the Cardiovascular Research Institute:
The Hospital Readmissions Reduction Program (HRRP), enacted by the 2010 Affordable Care Act, appears to have led to an increase in deaths within 30 days of discharge in Medicare beneficiaries hospitalized for heart failure or pneumonia, leading researchers to conclude that more investigation is needed into the possibility that the program has had unintended negative consequences.

However, there was no such pattern seen in patients who had been hospitalized for acute MI.

"Though postdischarge deaths for patients with heart failure were increasing in the years prior to the HRRP, this trend accelerated after the program was established," said Rishi K. Wadhera, MD (Beth Israel Deaconess Medical Center, Brigham and Women's Hospital, Boston, MA), first author of the new report. "In addition, death rates following a pneumonia hospitalization were stable before the HRRP, but increased after the program began."

The study, published online today in JAMA, shows that the increase in deaths among heart failure and pneumonia patients was concentrated in those who had not been readmitted to the hospital. "This raises the possibility that the HRRP may have pushed some clinicians and hospitals to increasingly treat patients in emergency rooms and observation units, when they would have benefited from inpatient care, to avoid readmissions," Wadhera added.

In an accompanying editorial, Gregg C. Fonarow, MD (Ronald Reagan UCLA Medical Center, Los Angeles, CA), says the new study together with other recent analyses provides

Fonarow urges that, in light of the findings, "it is incumbent upon Congress and [the US Centers for Medicare & Medicaid Services (CMS)] to initiate an expeditious reconsideration and revision of this policy."

In an email response, senior study author Robert W. Yeh, MD (Beth Israel Deaconess Medical Center), said caution should be exercised before undertaking further expansion of the penalties to more health conditions.

"But unfortunately, causality is really very difficult to establish with this type of analysis," he added. "So, I want to be equally cautious in not overstating the strength of our evidence that the HRRP has definitively harmed patients. The HRRP has clearly been successful at reducing readmission, something which patients care about. Right now, I think we still don't have a complete answer, and more work still needs to be done.
Infinite are the arguments of mages. More study needed! And, to be fair, causality is genuinely difficult to establish. And now let me turn to medical coding, which is a great deal simpler.
The Health Affairs Study on Medical Coding
And now to the second study: Christopher Ody, Lucy Msall, Leemore S. Dafny, David C. Grabowski, and David M. Cutler, "Decreases In Readmissions Credited To Medicare's Program To Reduce Hospital Readmissions Have Been Overstated", HEALTH AFFAIRS, VOL. 38, NO. 1. I had intended to be able to quote from the full text, but sadly only the abstract is available to me. Here it is:
Medicare's Hospital Readmissions Reduction Program (HRRP) has been credited with lowering risk-adjusted readmission rates for targeted conditions at general acute care hospitals. However, these reductions appear to be illusory or overstated. This is because . Prior studies of the HRRP relied upon control groups' having lower baseline readmission rates, which could falsely create the appearance that readmission rates are changing more in the treatment than in the control group. Accounting for the revised standards reduced the decline in risk-adjusted readmission rates for targeted conditions by 48 percent. After further adjusting for differences in pre-HRRP readmission rates across samples, we found that declines for targeted conditions at general acute care hospitals were statistically indistinguishable from declines in two control samples. Either the HRRP had no effect on readmissions, or it led to a systemwide reduction in readmissions that was roughly half as large as prior estimates have suggested.
Did the hospitals game the medical coding? Not at the code level (e.g., through upcoding). From a tweetstorm by author Grabowski, first we see the reduction in re-admissions: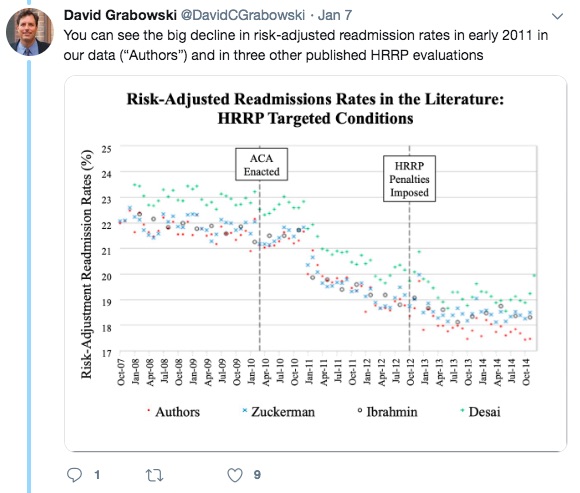 Were the hospitals gaming the codes? No: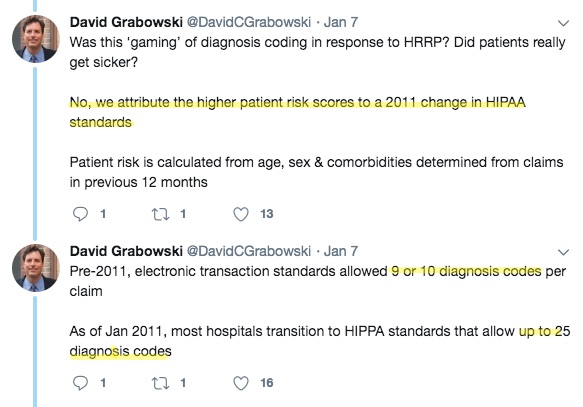 They were adding more codes![1]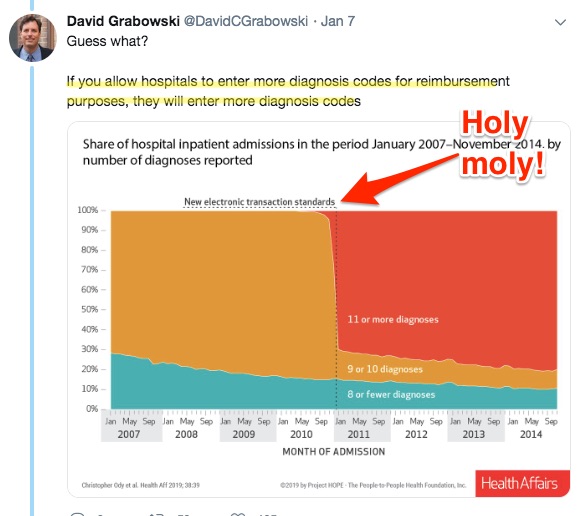 Which makes sense from the standpoint of you as an institutional provider; if your profit (or whatever non-profit hospitals call profit) is dependent on Medicare reimbursements, and your profit is also your ability to accumulate and allocate capital, then by all means code, code, code!
However, now your coding is driven, as Grabowski et al. point out, by business and not medical necessity. Let's return to the JAMA article:
Data SourcesWe used the Medicare standard analysis data files (2006 to 2014) and defined AMI, HF, and pneumonia hospitalizations as any hospitalization with a primary discharge diagnosis of the respective conditions, as in prior studies. We also obtained information on patient characteristics including demographics (age and sex) and mortality using the denominator files, and relevant comorbid conditions from in the insurance claims submitted to Medicare across inpatient and outpatient care settings.
And from the discussion section:
A notable finding is that postdischarge mortality among patients with pneumonia and HF has been rising since 2007. Prior studies and publicly available data suggest a similar trend. For [Heart Failure (HF)], this represents a change from improvements observed in prior decades. There are no clear explanations for this change. For both HF and pneumonia, we found an increase in the severity of illness as well as a decrease in the number of hospitalizations. Therefore, the increasing complexity of patients may manifest with an increase in early postdischarge mortality, particularly because risk adjustment may not adequately account for all changes in illness severity over time. Further, the decreasing in-hospital mortality despite such an increase in severity argues that there may be alternative factors driving this trend in postdischarge mortality. Notably, there has been a concomitant decrease in in-hospital mortality for both conditions, and accounting for this decrease in the assessment of hospitalization-related mortality attenuates the increased mortality observed in the postdischarge setting. This also suggest that while fewer patients died during hospitalization over time, the actual improvement in patient outcomes may be less substantial.
But if the coding is driven by the bottom line, instead of health care…. We don't really know anything, do we? Further study is warranted, but of what? How does one practice scientific medicine under neoliberalism?
NOTES
[1] CMS on HIPAA codes; there are many. I don't think the technical characteristics or topics for any code set can possibly determine the uses to which they are put for business purposes.