By Lambert Strether of Corrente.
Politics
"But what is government itself, but the greatest of all reflections on human nature?" –James Madison, Federalist 51
2020
Trump Wall Speech (1):

It could be that Trump has a cruder yet more direct metric for the success of his Wall speech than media reaction and polling?

Trump Wall Speech (2):

"Of COURSE your father's upset about the car, but the important thing is you're safe and nobody got hurt." pic.twitter.com/KKkd67FZTv

— #occupymarwen (@Mobute) January 9, 2019

The flags tho. (Lots of dunking on this image on the Twitter; this is the one I thought was funniest.)
"Bernie Sanders' Our Revolution Will Start A Campaign To Draft Him Into The Presidential Race" [Buzzfeed News]. "On Monday evening, the group notified members that it would 'activate' the draft effort, making Our Revolution the second group to encourage Sanders to run for president, following the launch of 'Organizing For Bernie' last month. Both efforts are separate from the official Sanders operation but run by aides who are closely linked to the senator and his staff. Turner, the head of Our Revolution, regularly travels with Sanders, joining him most recently on a nine-state tour ahead of the 2018 midterm elections. And 'Organizing For Bernie' is headed by a longtime former aide, Rich Pelletier."
"The G.O.P.'s Plan to Take Down Beto: Unleash the Bernie Bros" [Vanity Fair]. "Bernie Sanders devotees are already primed to question O'Rourke's progressive credentials. 'They think the Establishment is always looking for someone to go against Sanders—to run against progressives in the party and stop them from being ascendant,' Georgetown University historian Michael Kazin recently told my colleague Peter Hamby. 'I think they are suspicious of Beto because he has taken oil and gas money, he's becoming the darling of big donors, and Obama likes him.'" • Incroyable….
It certainly is odd that no other Democrat is saying anything like this:
Jimmy Carter was right when he said that America is "an oligarchy, with unlimited political bribery."

Every day we are sliding further away from democracy into an oligarchic form of government.

Democracy should be about one person, one vote—not billionaires buying elections.

— Bernie Sanders (@SenSanders) January 7, 2019
2016 Post-Mortem
About polling data, "shared" or otherwise:

The 538 model, which was based on publicly-available polling data, said the campaigns should target WI and MI. You didn't have to have any proprietary info to know they were important states. You just had to look at the data and not be huge dumbasses like the HRC campaign was. https://t.co/sbQgoq0gCO

— Nate Silver (@NateSilver538) January 8, 2019

SC: "Analysis of the Election Data from the 6 November 2018 General Election in South Carolina" (PDF) [League of Women Voters]. "By 'clean' data we mean primarily that questions that would be raised about the process or the results of the elections of 2016 and 2018 can in fact be addressed by analyzing the data. We cannot determine if the actual cast votes are what voters intended, but at least we have the data to examine and we can answer questions that are raised. We believe this to be a major improvement in the ability to justify the results to the voting public. Transparency, however, does not equate to correctness." • This is brutal. And: "Problems with the system have nearly always been laid at the foot of 'human error' rather than flaws in the election system. We do not agree with this glib dismissal of responsibility. The ES&S election system is complicated, with (per the EVEREST report) more than 515 thousand lines of code in nine different programming languages on five different hardware platforms." • Hand-marked paper ballots, hand-counted in public. It's hard to imagine why there's so much resistance to that…

GA: "UC-Berkeley Elections Expert Says Georgia's Lt. Governor Contest Is 'In Substantial Doubt'" [Law.com]. "Philip Stark, associate dean of UC-Berkeley's Division of Mathematical and Physical Sciences and an expert in election statistics and post-election auditing, said he discerned a noticeable disparity in [Republican Geoff]Duncan's contest with Democrat Sarah Riggs Amico between undervote rates of paper ballots and those cast on the state's obsolete electronic voting machines. Stark said his analysis—included in an affidavit filed in a pending legal challenge to Duncan's election—'strongly suggests that malfunction, misconfiguration, bugs, hacking, or other error or malfeasance caused some [direct-recording electronic] voting machines not to record votes in the lieutenant governor's contest.'" • As above.
Realignment and Legitimacy
UPDATE "How a little-known Democratic firm cashed in on the wave of midterm money" [WaPo]. From the article:

The solicitations piled into voters' email accounts — sometimes multiple times a day. And they carried alarming messages, often in blaring capital letters.

"We're on the verge of BANKRUPTCY."

"Our bank account is ALMOST EMPTY!"

"Trump is INCHES away from firing Robert Mueller."

The catastrophic language yielded a fundraising bonanza for clients of Mothership Strategies, a little-known and relatively new digital consulting firm that raked in tens of millions of dollars from a tide of small donations that flowed to Democrats during the 2018 midterm elections.

The firm's ascendancy as one of the highest-paid vendors of the election since its launch four years ago speaks to how lucrative the explosion of small-dollar donations has been for a group of savvy political consultants who saw the wave of cash coming — and built a business model to capi­tal­ize off it.

So, about those "small donors"…

"Democratic voters increasingly embrace the 'liberal' label – especially whites, Millennials and postgrads" [Pew Research] "In 2015, half of white Democratic and Democratic-leaning registered voters called themselves liberals, up 22 percentage points since 2000 (28%)…. By contrast, more black and Hispanic Democratic voters characterized their views as moderate than liberal in 2015, and the self-described political views of both groups have remained stable in recent years. Last year, 42% of black Democrats called themselves moderates, 29% said they were conservatives and 27% called themselves liberals. Among Hispanic Democrats, 39% described their political views as moderate, 35% as liberal and 24% as conservative…. Democratic voters with higher levels of education are more likely to call themselves liberals than are those with less education…. It's important to note that how people describe their views and their actual political attitudes and values are different things, though clearly they are strongly related." • So, assuming the label "liberal" is meaningful…

"The Tests Facing California's New Governor" [Capital and Main]. "[D]espite its enviable economy, its abundance of billionaires-in-residence and laudable array of social services, California still has the highest poverty rate in the U.S., nearly half of its children live in poverty or near-poverty, and merely finding an affordable place to live has become an existential challenge for many. These and similar factors superimpose on the state another kind of fault line, that of economic inequality. Most of the new governor's time will be spent wrangling crises that spring from this disparity."

"'West Wing' star Richard Schiff reveals Aaron Sorkin is interested in reboot: 'He said he wanted it to happen'" [Independent]. "The actor discussed his vision for a potential reboot which, unlike the original show, wouldn't focus heavily on the White House but on other aspects of politics such as the grassroots or state level." • Hmm…
Stats Watch
MBA Mortgage Applications, week of January 1, 2019: "Bouncing back from a sluggish holiday season mortgage activity surged" [Econoday].
Employment Situation: "Does The December Labor Report Change The Outlook?" [Econintersect]. "The December labor report was strong in every way as headline job creation beat estimates, the revisions to previous months were positive, wage growth was strong, and new people joined the labor market which pushed up the participation rate. 312,000 jobs were added which beat estimates for 184,000. This was the biggest beat since the May 2009 report which is when the economy was first exiting the recession. This was the 6th biggest beat since 1999. The prior two reports were revised to show 58,000 more jobs were added than were reported last month The labor market is considered a lagging indicator, but when there are huge prints with 300,000 or more jobs created, it usually means a recession isn't coming in the near term."
Banks: "No Bank Failures in 2018; First Time since 2006" [Calculated Risk]. "This is only the third time since the FDIC was founded in 1933 that there were no bank failures in a calendar year. The great recession / housing bust / financial crisis related failures are behind us."
Tech: "Facebook is the new crapware" [TechCrunch]. "Yesterday Bloomberg reported that the scandal-beset social media behemoth has inked an unknown number of agreements with Android smartphone makers, mobile carriers and OSes around the world to not only pre-load Facebook's eponymous app on hardware but render the software undeleteable; a permanent feature of your device, whether you like how the company's app can track your every move and digital action or not. Consumers who do not want their digital activity and location surveilled by the people-profiling giant will likely crave the peace of mind of not having any form of Facebook app, stub or otherwise, taking up space on their device. But an unknown number of Android users are now finding out they don't have that option. Not cool, Facebook, not cool. Another interesting question the matter raises is how permanent Facebook pre-installs are counted in Facebook's user metrics, and indeed for ad targeting purposes." • A very good question. Assume the worst!
The Bezzle: "How's that prediction for the utter disruption of the finance industry going?" [Quartz]. "80% of incumbent financial firms will be 'irrelevant' by 2030, a Jan. 29, 2018 report by the global research firm Gartner claimed. Fintech disruption will cause these traditional institutions to "cease to exist, become commoditized, or achieve zombie status," the analysts wrote…. [T]here's a view that starting a tech company is as much about ignoring profit-squeezing rules as it is doing technology things. Take Uber, the taxi service that broke into the sector without originally being regulated like one. Will watchdogs allow financial startups to sidestep the usual rules?….For Gartner's sugar-frosted disruption prediction to come true, financial startups will have to be a lot more mindful of government watchdogs than Uber seems to have been." • You'd think they'd squeeze "Gartner" into the headline…
The Bezzle: "Crypto mining giants in Japan and China close up shop" [Asia Times]. "As prices plummeted over the course of 2018 the level of difficulty in minting new digital coins remained high, leading to falling profitability. This has resulted in an exodus from large-scale mining operations which are no longer viable as the cost of hardware and power is greater than the value of the coins mined."
Fiscal Policy: "December 2018 CBO Monthly Budget Review: Total Receipts Up by 1% And Spending Up 9% in the First Quarter of Fiscal Year 2019" [Econintersect]. "The federal budget deficit was $317 billion for the first quarter of fiscal year 2019, CBO estimates, $92 billion more than the deficit recorded during the same period last year. Revenues were about the same and outlays were $93 billion (9 percent) higher than during the first quarter of 2018." • Seems weird we're talking ourselves into a recession in the midst of stimulus.
Health Care
"AMERICANS' HEALTH AND EDUCATION PRIORITIES FOR THE NEW CONGRESS IN 2019" (pdf) [Politico/Harvard T.H. Chan School of Public Health]. From the poll:

The report keeps mentioning opportunities for bipartisan co-operation, but somehow I don't think #MedicareForAll is what they mean. Still, those are impressive numbers….
Our Famously Free Press
"2 deaths at Ed Buck's home and West Hollywood is asking agonizing questions about race and class" [Los Angeles Times]. "'If a young man was found dead in my house, I would have been handcuffed, publicly humiliated in front of my house, in front of my neighbors,' said [Jeffrey King, founder of In the Meantime Men's Group, a South Los Angeles outreach organization for LGBTQ black men], who is black. 'They would have placed me in a car, held my head as they lowered me down into the backseat. They would have taken me to the station. … But that did not happen to Ed Buck.'" • This is a good story, but you can imagine the wall-to-wall coverage if Ed Buck were a Republican donor, instead of a liberal Democrat one. Or if he had donated to Sanders.
The 420
Ro Khanna is correct:
What is the point of legalization if Black residents continue to be disproportionately arrested for use? Legal marijuana should mean that people are no longer arrested, prior convictions are expunged, and communities of color are able to take part in the legal marijuana industry. pic.twitter.com/OOytrFIBZK

— Ro Khanna (@RoKhanna) January 7, 2019
It's ridiculous that the entrepreneurs who built a multi-billion-dollar industry are in jail. Cory Booker, bless his heart, got this one right; prior convictions should be expunged.
Neoliberal Epidemics
"Smoking is at a record low in the U.S., but the benefits aren't shared equally" [Los Angeles Times]. "A new analysis of health data from the nation's 500 largest cities shows that the people who live in neighborhoods with the highest smoking rates are more likely to be poor, less likely to be white, and more likely to have chronic heart or lung diseases. 'The degree of inequity was surprising,' said study leader Eric Leas, who conducted the work as a postdoctoral scholar at the Stanford Prevention Research Center….. when an unequal outcome could have been avoided, you have a case of inequity…. Raising taxes on cigarettes to make them more expensive would probably reduce demand among low-income smokers, helping to erase at least some of the inequity, they added. The findings also suggest that smoking cessation programs would do more good if they were "targeted to resource-poor communities," they wrote." • I'd speculate that it's very stressful to be poor, and the poor are self-medicating with nicotine. Cessation programs would be a benefit to the professional trainers, but probably nobody else.
Class Warfare
"Highly paid substitutes, lessons in large spaces — how L.A. Unified is preparing for a teachers strike" [Los Angeles Times]. • Scabs, naturally. Though if I were a parent, I don't know how good I'd feel about L.A. Unified's plan to "ease background checks for parent volunteers."
"Surely You're a Creep, Mr. Feynman" [The Baffler]. "In addition to cataloguing the trespasses of individual scientists who abuse the cultural power of their position, we have to dismantle the structures that have allowed their abuses to continue with little to no disruption. Just for starters, this means abandoning the myth that the science can be separated from the scientist." • Hmm. "The science" is doing a lot of work there; the author seems to mean the process of doing science, rather than the deliverables of science. That said, I remember reading The Double Helix when I was in the sixth grade or so. A friend of my mother's gave it to her; and I read it. Thinking back to Watson's passages on Rosalind Franklin, read by me naively then, it seems to me now that my mother's friend had something other than "the science" in mind when giving the gift.
"Econ, Too" [NPR]. "At 8 a.m. on Saturday (ouch), we dropped in on a session called "How Can Economics Solve Its Gender Problem?" It turned out to be well worth the sleep deprivation. The women on the panel — and they were all women — shared stories of navigating a maze of sexism." • It's not clear to me that mainstream economics — unlike genetics — should exist as anything other than a minor branch of the humanities that uses a wierd notation. Sexism or no. If Pinochet's economists had been the "Chicago Kids," instead of the "Chicago Boys," would the fate of tortured Chileans have been different? The case of Gina Haspel, shatterer of glass ceilings, would argue no.
"Why should I support a political party that is marginalizing me out of existence?" [Jennifer N. Pritzker, WaPo]. "To me, restrictions on transgender military service are personal. I am a transgender woman…. I ask Republicans to prioritize policies that improve our country for all Americans. for the 2020 elections, my first response will be: Why should I contribute to my own destruction?" • Well. Amazingly, WaPo doesn't mention that the author is one of the Chicago Pritzkers, "one of the wealthiest families in the United States of America, being near the top of Forbes magazine's "America's Richest Families" list since the magazine began listings in 1982." So "destruction" is doing a lot of work, there…..
"What Materialist Black Political History Actually Looks Like" [Adolph Reed, Nonsite.org]. • This is quite a salvo by Reed, who seems to be sharpening his polemic so that mere mortals like me can recycle it. The potted history of reactions to the 2016 election in the lead paragraph is great, and the "postulates about black American political history" at the end are illuminating, but these two paragraphs really caught my eye:
The race-reductionist argument is propelled by a combination of intense moral fervor and crude self-interest. I've argued in 2018 articles in nonsite, The Baffler, and Dialectical Anthropology, that, as it has evolved, the post-2016 debate has thrown into bold relief the class character of antiracist and other expressions of identity politics. That could be a salutary product of the controversy. It's good in this sort of debate for the mist of ideology to burn off and the material stakes involved to be clear and in the open. However, many people who have followed or even participated in the debates have not connected the dots to see that obvious point or to acknowledge its implications. One reason for failure to do so is summed up pithily in Upton Sinclair's quip, "It is difficult to get a man to understand something when his salary depends upon his not understanding it."

Not only would pursuit of an agenda focused on addressing "horizontal inequality," if successful, disproportionately benefit upper-status, already well-off people—as Walter Benn Michaels and I have noted tirelessly over the past decade at least, the reality of a standard of justice based on eliminating group disparities is that a society could be just if 1% of the population controlled 90% of the resources so long as the one percent featured blacks, Hispanics, women, lesbians and gays, etc. in rough proportion to their representation in the general population; also, . There's no point trying to communicate with those whose resistance stems from such material investment; no matter what their specific content, their responses to class critique always amount to the orderly Turkle's lament to McMurphy in One Flew Over the Cuckoo's Nest—"This is my f*cking job!"
We all have to eat. The question is wnat.
News of the Wired
I should have posted this for Xmas. Sorry:
You can preorder an Alexa-enabled Big Mouth Billy Bass for $40 https://t.co/D96kMAoUPa pic.twitter.com/uMULOxIDMZ

— The Verge (@verge) December 3, 2018
About your cellphone;
If you want to meet god, send him multiple texts while driving. pic.twitter.com/t2G4oXtuPQ

— Raj Palsingh (@HipsterYogi) January 6, 2019
* * *
Readers, feel free to contact me at lambert [UNDERSCORE] strether [DOT] corrente [AT] yahoo [DOT] com, with (a) links, and even better (b) sources I should curate regularly, (c) how to send me a check if you are allergic to PayPal, and (d) to find out how to send me images of plants. Vegetables are fine! Fungi are deemed to be honorary plants! If you want your handle to appear as a credit, please place it at the start of your mail in parentheses: (thus). Otherwise, I will anonymize by using your initials. See the previous Water Cooler (with plant) here. Today's plant (Lee):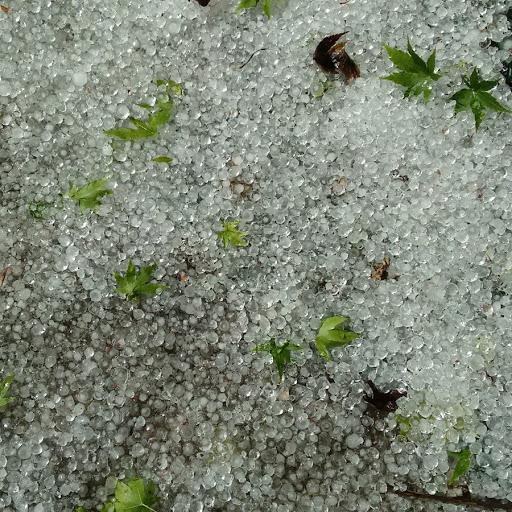 Lee writes: "Maple leaves on a bed of pearly spring hail." In the San Francisco Bay Area.
* * *
Readers
: Water Cooler is a standalone entity
not
covered by the annual NC fundraiser, now completed. So do feel free to make a contribution today or any day. Here is why:
Regular positive feedback both makes me feel good and lets me know I'm on the right track with coverage
. When I get no donations for five or ten days I get worried. More tangibly, a constant trickle of small donations helps me with expenses, and I factor that trickle in when setting fundraising goals. So if you see something you especially appreciate, do feel free to click below! (The hat is temporarily defunct, so I slapped in some old code.)
Or Subscribe to make a monthly payment!