By Lambert Strether of Corrente.
Politics
"But what is government itself, but the greatest of all reflections on human nature?" –James Madison, Federalist 51
2020
Booker (1): "Cory Booker to head to Iowa soon after his presidential announcement" [Des Moines Register]. "Booker has been finalizing his Iowa leadership team, assembling a group of high-profile staffers that includes former Iowa House Democrats' Caucus Director Mike Frosolone; former NextGen America Iowa State Director Haley Hager; Martin O'Malley's 2016 Iowa Caucus Director Joe O'Hern and Iowa Democratic Party Communications Director Tess Seger."

Booker (2):

I'm running for president. Join me on this journey. https://t.co/fEDqOVIfwh pic.twitter.com/h1FTPUYRzo

— Cory Booker (@CoryBooker) February 1, 2019

I'm sure Booker would have announced on MLK Day if Harris hadn't cut him out, given the Civil Rights-era imagery. Although today is the first day of Black History Month.

Booker (3):

Welcome to the race, @CoryBooker! We are so excited to see such a diverse field of Democratic candidates. This is going to be a great primary season full of important conversations about our progressive values. https://t.co/yyus6cdLua

— Indivisible Guide (@IndivisibleTeam) February 1, 2019

"Conversations." Centrist mush. (Indivisible does not and never has supported #MedicareForAll, despite organizing to "save" ObamaCare.)

Booker (4), then:

2012 kids will remember this one… "stop attacking private equity" https://t.co/m3LEIgFRMz

— #HandsOffVenezuela (@mcyost) February 1, 2019

Booker (5), now:

If @CoryBooker is giving a speech like this in rural Iowa on the problem of big ag, he's going to be a very strong candidate. https://t.co/fIZkh9QRZD

— Matt Stoller (@matthewstoller) February 1, 2019

Booker (6):

I just learned that Cory Booker got himself elected president of the Jewish student society at Oxford during his Rhodes scholarship.

Booker is a Baptist.

He must be some campaignerhttps://t.co/hDRIH5qCFY

— David Frum (@davidfrum) February 1, 2019

Booker (7): "Corey Booker: The Second Coming of Obama" [Black Agenda Report]. From 2012, still germane: "Now that Barack Obama is a lame duck who can't run for the top office anymore, it's as good a time as any to speculate on who will take his place as the Black politician that rich white folks feel they can truly trust. One name stands out: Cory Booker, the 43 year-old Mayor of Newark, New Jersey, whose rightwing background and connections are far deeper and more intensely ideological than Obama's. Indeed, if there had been no Barack Obama, Cory Booker would have been Wall Street's choice as the First Black President. "He'll be our second," said a New York hedge fund partner, quoted in a recent Bloomberg News article. The Lords of Capital love 'Cory,' and call him by his first name. That's how he raised $7 million to win Newark's City Hall for the second time, in 2010. He has since amassed more than $250 million from wealthy capitalists, including the founder of Facebook, mainly for the Newark public schools. They're willing to pile all this cash on Booker's plate because he is ideologically committed to the privatization of public education and to government that serves the rich."

Booker (8): "A 'lane for hope'? Democratic primary to test Booker's message of optimism" [McClatchy]. "Love. Unity. 'Courageous empathy.' For years, New Jersey Sen. Cory Booker has preached the politics of inclusion and optimism…. 'Especially given the history of Barack Obama in this state, there is definitely a lane for hope, for inspiration,' said Norm Sterzenbach, former executive director of the Iowa Democratic Party. 'And it's a proven message that has worked with Iowa Democrats in the past.'" • Be that as it may, I finally figured out why I hate the "lane" metaphor so much: It reduces candidates to a single attribute. Horse-race analysts used constantly for candidates of the crowded Republican field in 2016, and will no doubt do the same in 2020, the moloch from the Future which has devoured 2019, because the quantum of stupid never decreases, it just moves around.

Klobuchar (SB):

The American workforce is changing, & there isn't one path to success. I've introduced bipartisan legislation with @SenSasse to allow people to use tax advantaged savings accounts to pay for educational expenses like skills training, apprenticeships, & professional development.

— Amy Klobuchar (@amyklobuchar) January 31, 2019

Another liberal in love with tax breaks. Quite a lot of dunking in the responses: "I think we all agree that the problem with education is that children don't have a good place to store the huge sums of money they've saved for it and end up speculating in volatile assets and risky real estate deals."

Howard Schultz:

People really should watch @Sonicsgate. It's available for free online: https://t.co/aXfvgRbu4b https://t.co/G1dvHMDWfh

— Mike Duncan (@mikeduncan) February 1, 2019

Mike Duncan did the (pertinent) History of Rome and (the even more pertinent) Revolutions podcasts. Not the guy you want expressing full-throated opposition.

Sanders: "In Vermont, Jackson and Dukakis Virtually Tie in Delegate Contests" [New York Times]. From 1988, still germane. Sanders supported Jackson, not Gore: "Lyman Hunt of Burlington, who took the podium to speak in support of Mr. Gore, said, "I resent intruders who would undermine and destroy the Democratic Party.' One voter, Helen Malloy, yelled from the back of the auditorium, 'We want unity among ourselves, not with a group of outsiders.' Several minutes later, she approached Mayor Sanders as he was returning to his seat after casting his vote and slapped him on the cheek. The Mayor, who at first appeared to think that the woman was about to greet him, looked stunned. 'I don't think that was very nice," he told her." • Never change, Democrats! Never change!
2019
"Collins brings in most money of her career after Kavanaugh vote" [Bangor Daily News]. "After she delivered a pivotal vote that helped seat Brett Kavanaugh on the Supreme Court, Maine Sen. Susan Collins had the best fundraising quarter of her career, shattering her previous best with the help of a flood of out-of-state money.

AOC:

This week I conducted my first-ever line of questioning at an Oversight committee hearing, which focused on the skyrocketing costs of pharmaceuticals.

Here's what happened ⬇️ https://t.co/M6XuL61zXN

— Alexandria Ocasio-Cortez (@AOC) February 1, 2019

A propos of nothing, I love the Closed Caption crawl: I can read what she said without turning up the sound and risking constant noise pollution from autoplay. But do note the commentary from Kelton and other MMT commentators.
Health Care
"Democratic Presidential Candidates Endorse New 'Medicare For All'-Branded Cigna Insurance Plan For Only $400 Per Month" [The Onion (RH)]. • One of those Onion one-liners. Nevertheless…

"Wondering what's going to be in the 2019 Medicare for All bill being prepared by Rep. Jayapal?" [PNHP, Facebook]. "The most contentious part of the bill might be that it does not ban for-profit entities from participating, removing HR 676's call for a buyout of for-profit providers. This has been an important piece from a quality and cost perspective. At least from the cost side, I see HR 676's buying out the for-profits as creating a dramatic increase in short-term transition costs in order to accomplish meaningful long-term cost reduction. From a quality perspective, I'm doubtful but hopeful that the bill will have language that somewhat mitigates this concern. Historically, that's rarely been effective. So in sum, I have some substantive concerns, but this is a democracy and I'm ready to get behind this bill full throttle." • So I am somewhat re-assured, but I still need to see the text.
Realignment and Legitimacy
"Firm's close ties to Georgia stir concerns about voting system purchase" [Atlanta Journal-Constitution]. "The latest moves fueled suspicions that cozy connections between lobbyists, Kemp and other elected officials will lead to ES&S winning a rich contract to sell its computerized voting products to the state government, even though 55 percent of Georgia voters said in a poll by The Atlanta Journal-Constitution this month that they prefer a cheaper system where paper ballots are filled in by voters. After Kemp faced allegations from his opponent, Democrat Stacey Abrams, that he used his position as Georgia's secretary of state to run an unfair election for governor last year, he's now being accused of tilting the procurement of voting machines toward ES&S, which is the state's current election company." • If Stacey Abrams were still in this fight, instead of swanning about the Beltway with Neera Tanden, she'd be in a position to make a name for herself by having actually accomplished something, by fighting and winning a critical battle for "our democracy." (Note that HR1, oddly, or not, does not mandate hand-maked paper ballots, hand-counted in public.
Stats Watch
Employment Situation, January 2019: "Very strong demand for labor is the key takeaway from what is a very noisy employment report for January" [Econoday]. "The standouts in the payroll data are construction and trade & transportation… Government payrolls, despite the shutdown, added 8,000 as furloughed workers, on the expectation that they would receive back pay, were categorized as employed in this part of the report…. Adding to the noise are annual benchmark revisions in today's report which, all quirks aside, points unmistakably to unusually strong demand for labor and health for the economy." And: "January 2019 BLS Jobs Situation – Much Higher Growth Than Predicted" [Econintersect]. "Notes the following from the BLS: 'Establishment survey data have been revised as a result of the annual benchmarking process and the updating of seasonal adjustment factors. Also, household survey data for January 2019 reflect updated population estimates.'" And: "The graph shows the nominal year-over-year change in "Average Hourly Earnings" for all private employees. Nominal wage growth was at 3.2% YoY in January" [Calculated Risk]. "Wage growth has generally been trending up…. Some of the aspects of the employment report were due to the government shutdown (rise in the unemployment rate, sharp rise in "Part Time for Economic Reasons" workers, and the sharp rise in U-6.) My guess is most of the rise in Part Time was related to private sector workers getting fewer hours due to the shutdown, however some of the increase might be related to government workers taking part time jobs to pay the bills (as a reminder, the establishment report is for jobs – and government employees on furlough taking part time jobs would be counted as having two jobs)." • The last (and other) time that Calculated Risk used "quirky" was in 2016, of median household income.
Institute For Supply Management Manufacturing Index, January 2019: "Both the manufacturing PMI and the ISM are telling the same story, that growth was solid in January and accelerated from what was a soft December" [Econoday]. "Small sample manufacturing reports have been mixed in recent months especially the regional reports some of which have moved into contraction. But today's two reports, not to mention strength at mid-month from the Philly Fed's report, are pointing to a solid 2019 start for the factory sector." • Go figure.
Purchasing Managers' Manufacturing Index, January 2019: "The manufacturing PMI finished January at the mid-month flash of 54.9, a reading consistent with a solid pace of growth and tangible acceleration from December" [Econoday].
Construction Spending, November 2019: Rose sharply [Econoday]. "The gains in this report underscore the surge in construction payrolls in this morning's employment data, and though the residential sector is limping along non-residential building, especially on the public side, is solid." But: "The rolling averages declined – and last month was significantly revised down. Also note that inflation is grabbing hold, and the inflation adjusted numbers are in contraction" [Econintersect].
Wholesale Trade, November 2018: "Inventories at wholesalers may be rising faster than desired" [Econoday]. "How strong year-end demand was is still uncertain given the shutdown-related delay for many indicators including December retail sales."
Consumer Sentiment, January 2019 (Final): Up from mid-month but down steeply from December [Econoday]. "The drop in confidence readings has been the biggest negative in January's of economic data. This points to a psychological impact from the shutdown though the shutdown's actual impact on the economy, judging if nothing else than on this morning's employment report, may prove minimal." And: "Surveys of Consumers chief economist, Richard Curtin, makes the following comments: 'Consumer sentiment remained at month-end at its lowest level since Trump was elected. The end of the shutdown caused only a modest boost in the Sentiment Index. The typical impact of such "crisis" events is short lived, with consumers quickly regaining lost confidence. That is unlikely to occur this time as the deadline for resolution has only been extended until mid February. If the standoff continues into late February, it could foster sustained declines in economic optimism among consumers'" [Econintersect].
Retail: "Amazon sales outlook falls short after record holiday quarter" [Reuters]. "Amazon.com Inc on Thursday forecast first-quarter sales below Wall Street estimates, warning that new regulations in India had created uncertainty around one of its key growth markets and saying it would step up investments in 2019."
Retail: "Swatch Sees Weakening Demand in the Critical Chinese Market" [Bloomberg]. "Swatch Group AG fell the most in more than two years after Switzerland's largest watchmaker reported market turbulence in China that contributed to a slowdown in the fourth quarter. The stock fell as much as 8.2 percent, the steepest decline since July 2016…. Swatch's cheaper brands face increased competition from the Apple Watch, and the company is finding it needs to expand in e-commerce to lure more millennial shoppers."
The Bezzle: "Criminals Are Tapping into the Phone Network Backbone to Empty Bank Accounts" [Vice]. "Sophisticated hackers have long exploited flaws in SS7, a protocol used by telecom companies to coordinate how they route texts and calls around the world…. This activity was typically only within reach of intelligence agencies or surveillance contractors, but now Motherboard has confirmed that this capability is much more widely available in the hands of financially-driven cybercriminal groups, who are using it to empty bank accounts…. The news highlights the gaping holes in the world's telecommunications infrastructure that the telco industry has known about for years despite ongoing attacks from criminals. The National Cyber Security Centre (NCSC), the defensive arm of the UK's signals intelligence agency GCHQ, confirmed that SS7 is being used to intercept codes used for banking…. 'We are aware of a known telecommunications vulnerability being exploited to target bank accounts by intercepting SMS text messages used as 2-Factor Authentication (2FA),' the NCSC told Motherboard in a statement." • This didn't happen when we had the far more "convenient' idea of "bank branches."
Tech: "The smartphones people in China are buying instead of the iPhone" [Abacus]. "[I]t's been a bad time for almost everyone selling in China. People just aren't buying as many smartphones as before. Last year's third quarter saw a year-on-year decline in overall shipments, according to market research firm IDC. But if you look at the top five, Apple experienced the steepest drop. And contrary to the American market, Apple isn't the dominant brand in China. Instead, it trails four domestic companies — most of which don't sell in the US. Here's a look at who they are." • Vivo, Oppo, Huawei, Xiaomi.
Tech: "The 5G Famine Isn't the Only Thing Worrying Nokia" [Bloomberg]. "Put the champagne back on ice. The telecommunications industry's 5G bonanza has been delayed. Nokia Oyj said that spending on next-generation 5G equipment by mobile carriers will be 'soft' in the first half, and flat overall for 2019. Growth will return in 2020. The Europeans simply don't see the demand yet. Augmented reality headsets and self-driving, web-connected cars aren't going to become mass market products any time soon….. The story is slightly different in North America, Nokia's biggest market. Verizon Communications Inc., AT&T Inc. and T-Mobile US Inc. see 5G as a competitive differentiator which will enable them to sustain the high prices they charge consumers." • I'm sold!
Tech: "What Is 5G?" [PC Week]. "Verizon and AT&T both launched preliminary 5G services in late 2018, but neither is broadly available nor meaningful for much more than bragging rights… 5G brings three new aspects to the table: greater speed (to move more data), lower latency (to be more responsive), and the ability to connect a lot more devices at once (for sensors and smart devices)… 5G home internet is also much easier for carriers to roll out than house-by-house fiber optic lines. Rather than digging up every street, carriers just have to install fiber optics to a cell site every few blocks, and then give customers wireless modems." • And then expose the smart devices to the Internet through the router….
Tech: "Sony's profit disappoints as weaker games biz overshadows record result" [Reuters]. "Profit in the gaming business fell 14 percent as the popularity of exclusive titles such as "Marvel's Spider-Man" failed to offset shrinking PS4 console sales…. 'The gaming business, which has been Sony's profit driver in the last couple of years, is set to peak out ahead of the launch of the next gaming console,' said Ace Securities analyst Hideki Yasuda. 'That's inevitable due to product cycle."
Honey fpr the Bears: "Factories Offer Mixed Omens for Global Growth as Year Begins" [Bloomberg]. "Stabilization of the global economy remained mixed at the start of 2019, with countries across Asia and Europe reporting further weakness in manufacturing as American factories showed signs of improvement…. It's a shaky time for world commerce, with companies waiting to hear if the U.S. and China can find a resolution to their trade dispute and prevent an escalation of the tit-for-tat tariff battle of 2018. The International Monetary Fund cited trade as a major risk when it downgraded its forecast for the world economy in January."
The Fed: "Fed Whiplash Leaves Traders Betting Next Policy Move Will Be Cut" [New York Times]. "A move to tighten policy in March was already seen as a long shot, but the Fed's tone on Wednesday cast doubt on the prospects of any rate increase this year, after nine hikes since 2015."
The Biosphere
Thanks, Obama:
The United States is in the midst of an historic surge in oil production. This is a bigger story with global implications than most people realize. pic.twitter.com/hT9xOlKDrT

— Eric Lipton (@EricLiptonNYT) February 1, 2019
"How Police Are Preparing for a Standoff Over Enbridge Line 3" [The Intercept]. "In 2017, Enbridge began construction on the tiny portion of Line 3 that cuts into Wisconsin. Local police reports describe two security firms, Raven Executive and Security Services and Securitas, keeping tabs on protesters and reporting their activities to law enforcement. It was the protests in Wisconsin that sparked the multistate coordination led by Minnesota. The state's fusion center developed a reputation as "the keepers of information for the Enbridge protests," as one sheriff's analyst put it, receiving information on Line 3 opponents from police departments in at least three states. While fusion centers were originally established to facilitate counterterrorism intelligence-sharing, they have increasingly played a role in monitoring, interpreting, and criminalizing political activity." • As with Black Lives Matter and Occupy.
"What happened when Oslo decided to make its downtown basically car-free?" [Fast Company]. "[W]hile business owners initially worried about the city creating a ghost town that no one would visit, the opposite seems to be true; as in other cities that have converted some streets to pedestrian-only areas, the areas in Oslo that have been pedestrianized are some of the most popular parts of the city, Marcussen says. Last fall, after hundreds of parking spots had been removed, the city found that it had 10% more pedestrians in the center than the year before. 'So that is telling me that we are doing something right,' she says."
"Gene Drives Reach Mammals" [Nautilus]. "Conservationists and bioethicists often regard the packages of engineered DNA called "gene drives" with a mixture of wonder, excitement, and dread. Gene drives violate the normal rules of inheritance by making sure they get passed down to all of their host organism's offspring, not just to half of them; they therefore have the unnerving potential to rapidly and irrevocably alter a population…. That has now changed. In a paper appearing this week in Nature, biologists at the University of California, San Diego demonstrate for the first time that current gene drive technology also works—at least up to a point—in a mammal: the mouse." • Maybe Dave Asprey will wish to try it out on his off-string, if any.
Our Famously Free Press
"In 13 Years of Education Reporting, So Much Has Changed" [New York Times]. "I've been reporting on education for 13 years, but I am absolutely stunned by the extent to which teachers' strikes and walkouts are now a day-to-day part of my job. The Los Angeles action was the eighth mass teacher protest I've reported on in just 11 months, shutting down schools for one million students across the country…. I was at the Democratic National Convention in 2008, when one of the hottest tickets was to a panel discussion in which rising stars in the party, including Cory Booker, then the mayor of Newark, spoke harshly of teachers' unions and their opposition to charter schools… Back then, it was hip for young Democrats to be like Barack Obama, supportive of school choice and somewhat critical of teachers' unions. But now, the winds have changed pretty drastically." • I would be surprised to learn that Booker (or Harris) has any receipts on supporting teacher's unions at all. Or any union. Readers?
"The Deep Pathology at the Heart of a Scandal at Der Spiegel" [The New Yorker]. Of a fabrication scandal, the perp being a star reporter, award-winning Claas Relotius. " Christoph Schwennicke, a former Spiegel reporter who now runs the German magazine Cicero, criticized what he called 'Schnibbism,' named for Cordt Schnibben, an editor who developed a section for Der Spiegel that emphasized story and auteur-driven reportage. Schnibben established a school in which 'the reality is just the material out of which you produce a story,' Schwennicke told me. 'Like you're a Hollywood writer, and you're writing the script for a movie.'" Against Schwennicke: "The argument, in the end, can't be, don't write beautifully,' the Spiegel reporter told me. 'We are doing stories. That's our work, to tell things and make people want to read it. And it's to make people want to read it. It's a .'" • No. Reporting should be a craft and a job, where there are standards. And unions persons. You want to tell stories, move to Hollywood and try to get work as a scriptwriter. Or start writing fiction. Get ouf of the newsroom, which is about news, not stories.
Guillotine Watch
"Here comes another Seattle coffee CEO with outsized ambitions" [Seattle Times (tegnost)]. "But no known human has accomplished what [Bulletproof Coffee founder Dave Asprey] proclaims as his goal: living to the age of 180. Buffed and bare-chested, the 45-year-old Asprey appears in the latest issue of Men's Health under a large headline that declares, 'The Bulletproof Coffee Founder Has Spent $1 Million in His Quest to Live to 180.'… Beyond the buttered coffee that is its core product — and Asprey's books, which are everywhere in the company's Westlake Avenue cafe — Bulletproof 360 markets items such as a $1,495 vibrating platform (The Bulletproof Vibe Whole Body Vibration Plate). According to Men's Health, Asprey also pitches 'five-day, $15,000 brain-training retreats that promise to raise your IQ and put your mind in the same state as that of a Zen monk who's been meditating for 40 years.'" • Sounds like it would all work out great on Mars…
News of the Wired
"Do Things Matter?" [Popula]. "When the options are limited to the 'nothing matters' of fascism and the 'back to normal' of neoliberalism (and even notions that see themselves to the left of this but will not restore the habitability of the planet in any significant way) there isn't much else left to do. As Frederic Jameson once said someone said, 'It is easier to imagine the end of the world than to imagine the end of capitalism,' and so I figure why not make things easy? Just kidding. No, sorry, I'm not." • Well worth a read.
"Inside the Apollo Guidance Computer's core memory" [Ken Shirriff's blog]. "Core memory was the best storage technology in the 1960s and the Apollo Guidance Computer used it to get to the Moon. In addition to the core memory module itself, the AGC required several modules of supporting circuitry. The AGC's logic circuits used early NOR-gate integrated circuits, while the analog circuits were built from discrete components and sense amplifier ICs using cordwood construction. The erasable core memory in the AGC stored just 2K words. Because each bit in core memory required a separate physical ferrite core, density was limited. Once semiconductor memory became practical in the 1970s, it rapidly replaced core memory. The image below shows the amazing density difference between semiconductor memory and core memory: 64 bits of core take about the same space as 64 gigabytes of flash." • Beautiful, almost steam age-looking, machinery
Recursion:
Something incredible is happening on reddit. I'm tempted to say these people have way too much time, but this is legit amazing. #RecursionFTW pic.twitter.com/mr8jHjTbnV

— Nick Kapur (@nick_kapur) January 30, 2019
* * *
Readers, feel free to contact me at lambert [UNDERSCORE] strether [DOT] corrente [AT] yahoo [DOT] com, with (a) links, and even better (b) sources I should curate regularly, (c) how to send me a check if you are allergic to PayPal, and (d) to find out how to send me images of plants. Vegetables are fine! Fungi are deemed to be honorary plants! If you want your handle to appear as a credit, please place it at the start of your mail in parentheses: (thus). Otherwise, I will anonymize by using your initials. See the previous Water Cooler (with plant) here. Today's plant (via):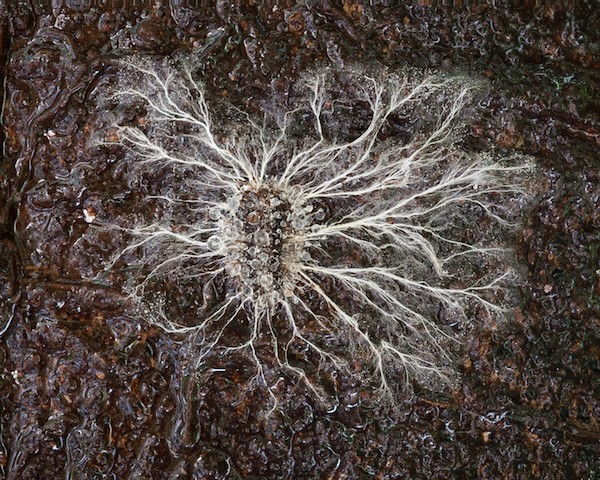 ChrisAtRU writes: "I follow Colossal on everyone's least favourite social network and this came across my feed. If you're looking for plant entries (and you've not seen this particular offering before), they've got some gorgeous looking fungi in here."
* * *
Readers: Water Cooler is a standalone entity not covered by the annual NC fundraiser. So do feel free to make a contribution today or any day. Here is why: Regular positive feedback both makes me feel good and lets me know I'm on the right track with coverage. When I get no donations for five or ten days I get worried. More tangibly, a constant trickle of small donations helps me with expenses, and I factor that trickle in when setting fundraising goals. So if you see something you especially appreciate, do feel free to click below! (The hat is temporarily defunct, so I slapped in some old code.)
Or Subscribe to make a monthly payment!