By Lambert Strether of Corrente.
Trade
"1 big thing: Inside Trump's next moves with Xi" [Axios]. "Xi may soon come to Mar-a-Lago. President Trump's advisers have informally discussed holding a summit there next month with Chinese President Xi Jinping to try to end the U.S.-China trade war, according to two administration officials with direct knowledge of the internal discussions…. Trump's upcoming meeting with Kim Jong-un in Vietnam has complicated logistics for the Xi summit. Trump wanted to meet with Xi before his tariff ceasefire with China ends on March 1, but three sources with direct knowledge said the events couldn't be planned so close together…. It doesn't appear that the U.S. and China have made much progress, so far, on the biggest structural issues that Trump has promised to conquer. These include China's rampant theft of U.S. intellectual property, forced transfer of U.S. technology and trade abuses that China's leaders have used to grow their economy at America's expense."
Politics
"But what is government itself, but the greatest of all reflections on human nature?" –James Madison, Federalist 51
2020
Warren (1): "Warren: Trump 'may not even be a free person' by 2020" [Politico]. "She added: 'Here's what bothers me. By the time we get to 2020, Donald Trump may not even be president. In fact, he may not even be a free person.'" • Unlikely. Warren should stick to her story of "a rigged system that props up the rich and the powerful and kicks dirt on everyone else." Here, Warren tries to travel two "lanes" at once: The populist lane, and the Trump Derangement Syndrome lane, which reads to this jaundiced observer like pandering. She might consider intergrating the two, since elites, as a class, have impunity. Warren was poor at pandering in 2016, too.

Warren (2): This is a good thread on Warren and the tribes from a historian in that field:

Yes, Warren has issued some soft apologies for claiming Native identity and then trying to prove it with a DNA test. But the harmful "evidence" and defenses are still up on her website. pic.twitter.com/fIbvfDUtt1

— Natasha Varner (@nsvarner) February 10, 2019

Harris:

2020 candidate Kamala Harris says she supports legalizing marijuana and acknowledges trying pot in the past: "I think it gives a lot of people joy," she said, "And we need more joy." https://t.co/sRL4nt6jfE pic.twitter.com/whlXQ39NPN

— CNN (@CNN) February 11, 2019

No doubt arresting marijuana smokers gave her joy, too! So it's all good. The circle of law enforcement.

Klobuchar:

.@amyklobuchar says she is taking her campaign to Wisconsin shortly "because there wasn't a lot of campaigning there in 2016 and that ends with me"

— Kelly O'Donnell (@KellyO) February 10, 2019

Whacking the Clintonite hornet's nest with a stick….

UPDATE Gillibrand:

Why y'all got her performing like this? They already had to teach her how to eat fried chicken, now y'all got her acting like she know Jesus and Mother Deloney on the usher board ?????? https://t.co/9lJy3wFAOe

— Keep Rae Shining (@GuruBluXVIII) February 10, 2019

Matt 6:5: "And when you pray, you must not be like the hypocrites; for they love to stand and pray in the synagogues and at the street corners, that they may be seen by men. Truly, I say to you, they have received their reward."

UPDATE Gabbard:

The US's continued alliance with Saudi Arabia is abhorrent. Last night I met with @BaqeeOrg. I stand with them to condemn the destruction of Islamic heritage sites in Mecca and Medina by the Saudi government as a continuation of the Saudi's extremist/exclusivist ideology.

— Tulsi Gabbard (@TulsiGabbard) February 10, 2019

UPDATE Biden: "'Weaker candidate than Hillary': Democrats cast deep doubt on Biden's 2020 value" [McClatchy]. "McClatchy interviewed 31 Democratic strategists — pollsters, opposition research experts, media consultants, ex-party officials, and communications specialists — from across the country about a potential Biden campaign. Nine agreed to speak on the record; all others quoted anonymously do not plan to be affiliated with any candidate running in the presidential primary. Strikingly, these conversations yielded a similar view: . While these strategists said they respect Biden, they cited significant disadvantages for his campaign — from the increasingly liberal and non-white Democratic electorate to policy baggage from his years in the Senate and a field of rivals that includes new, fresh-faced candidates. 'Among political professionals, there are deep concerns because we know the history,' said a Pennsylvania-based Democratic strategist, granted anonymity to speak candidly about a party elder. 'We have reason to be skeptical of the hype.' 'We heard it with Hillary, and we saw it happened,' the source added. 'And there's a lot of reason to think he would wind up a significantly weaker candidate than Hillary.'" • But in a brokered convention..

Somehow… Somehow they all seem similarly uninspiring:

What can the newest presidential campaign logos tell us about 2020? https://t.co/lWLLXgUX31 pic.twitter.com/R2vLpW0tDC

— CNN (@CNN) February 11, 2019

"Beer Track, Wine Track, Get Me Off This Fucking Train" [Corey Robin]. "Now just so I'm clear: When I say ideology and argument [as opposed to/in addition to personality and policy], I don't mean a candidate needs to channel Rawls. I mean, does she have a story about the American polity, about how we've come to the impasse we're in (Trump, rampant inequality, rampant incarceration, a party of unadulterated nativism and racism and misogyny, the 1%, non-existent unions, winnowing voting rights, growing strike waves, impending extinction of the planet, etc.), about who is responsible for it (not just a villainous Republican Party but also a larger political economy and set of social actors), and how we're going to reverse and undo this development. The great realigners had such a story. Read FDR's Commonwealth Club speech. Read Lincoln's Cooper Union address…. only Warren and Sanders have the kind of analysis I'm talking about, the kind of analysis that can mobilize voters to do what must be done." • Worth a read.

"How to Evaluate a US Presidential Candidate" [Benjamin Studebaker]. "How can we tell the candidates who mean business apart from the candidates who are trying to trick progressive voters? There are four big things I look at:"

What is this candidate's history? What does this candidate actually do with power, when they have it?
Who has given this candidate money? Who does this candidate rely on to run their campaign? Who can they not afford to alienate?
What is this candidate's attitude to institutions? If this candidate meets resistance within the Democratic Party, will this candidate capitulate or fight to change the party?
Is this a serious candidate? Does polling and/or favorability data suggest they could really win, or are they running to promote themselves?

"Run those four tests. History, Money, Institutions, Seriousness." • Joe Biden. I mean, obviously.
2019
"Trump divides Democrats with warning of creeping socialism" [The Hill]. "Trump's warning of creeping socialism in the United States, deftly mentioned after a section of the speech on the unfolding political crisis in Venezuela, created an immediate public split among Democrats that was caught on live television. Senate Democratic Leader Charles Schumer (N.Y.) and Sens. Debbie Stabenow (Mich.), Joe Manchin (W.Va.), Jon Tester (Mont.) and Sherrod Brown (Ohio) were among the lawmakers who stood with Republicans to applaud Trump when he pledged that the United States would never slide into socialism. But other Democrats weren't so happy about Trump's choice of words — which was clearly meant to put them on the spot. Sen. Bernie Sanders (I-Vt.), who labels himself as a democratic socialist, stayed rooted in his seat, as did Sen. Cory Booker (D-N.J.). Freshman Rep. Alexandria Ocasio-Cortez (D-N.Y.), another leading democratic socialist, smiled in response to Trump's remark but stayed seated." • The headline is silly; as I urge here, the Democrats are already divided. Still, it's interesting that consummate opportunist Booker stayed seated. Wants the youth vote, I guess!

VA: "The Latest: Black leaders: Stop telling Northam to resign" [Associated Press]. "A group of black clergy and community leaders is asking for a moratorium on the widespread calls for Virginia's governor and attorney general to resign over their admissions they wore blackface in the 1980s. The Rev. Rodney Hunter is co-director of the Virginia Interfaith Center for Public Policy and pastor of Richmond's Wesley Memorial United Methodist Church. He said Monday that the records of Gov. Ralph Northam and Attorney General Mark Herring show 'they are different people' than they were when they wore blackface more than three decades ago. Hunter says the group is also calling for an end to the push for Lt. Gov. Justin Fairfax to resign. Hunter said Fairfax deserves due process over sexual assault allegations made by two women. Hunter's group plans to hold a news conference Monday afternoon on the steps of the state Capitol." ª Fascinatingly, CAP is one of the Virginia Interfaith Center's funders.

AOC: The best use of five minutes of hearing time for quite awhile (and better than Warren's eviscerations of bankster CEOs's, because AOC's clip was not only very funny, it was about systems). A telling anecdote:


.@KaylaPekkala and I are at a store (Kohl's), and we just walked past 3 women in an aisle huddled around a cell phone watching that video of @AOC asking questions at a recent hearing.

I don't know that I've seen people this amped about campaign finance laws in, uh, ever.

— Parker Molloy (@ParkerMolloy) February 9, 2019

(Note that the account works for Brock's Media Matters operation, which is the beard for Brock's oppo operations.)
Realignment and Legitimacy
"Georgia Officials Not Immune From Suit Over Risky Voting Machines" [Courthouse News]. "In a 16-page unsigned opinion issued a week after oral arguments in the case, the three-judge panel upheld a federal judge's ruling that Georgia Secretary of State Brad Raffensperger and members of the state's election board are not entitled to immunity from a legal action seeking to switch Georgia's voting system from electronic machines to hand-marked paper ballots." • Good!

"Review of Wisconsin voting machines could be made public" [Associated Press]. "Election security experts are watching a Wisconsin court case stemming from the 2016 presidential recount that could result in the first public conclusions on whether closely guarded ballot-counting machines were hacked or failed to perform. The key question at the heart of the case is whether former Green Party presidential candidate Jill Stein will be allowed to comment publicly on what her auditors find in a review of Wisconsin voting machines' computer code. Stein's request for a recount of the presidential election results in Wisconsin gives her the right to review the code under state law. All the parties involved must sign an agreement to keep propriety information confidential. The voting machines' manufacturers argue that agreement should bar Stein's group from making any conclusions or opinions about the machines' performance public." • That's lovely. We can't tell whether our elections are being stolen because of non-disclosure agreements. Priorities!

"Private Mossad for Hire" [The New Yorker (CI). "Psy-Group was part of a new wave of private intelligence firms that recruited from the ranks of Israel's secret services—self-described 'private Mossads.' The most aggressive of these firms seemed willing to do just about anything for their clients…. Psy-Group's larger ambition was to break into the U.S. election market… [Psy-Group drew] up a plan for developing more business at the state and local levels. No election was too small. One company document reported that Psy-Group's influence services cost, on average, just three hundred and fifty thousand dollars—as little as two hundred and seventy-five dollars an hour. The new strategy called for pitching more than fifty individuals and groups, including the Republican National Committee, the Democratic National Committee, and major super pacs. [One] brochure showed a cat that cast a lion's shadow and listed "honey traps" among the firm's services. (In the espionage world, a honey trap often involves deploying a sexually attractive operative to induce a target to provide information.)" • Well worth a read. The good news is that the local candidate — a community college student, waiter, and Sanders activiist — won going away because the Psy-Group deliverables were so inept (and in winning, the activist nuked a corrupt contract at a local hospital). So just because these bottom feeders are out there doesn't meant that they win. Still, Psy-Group and the rest of 'em were sending out their brochures to lots of people, so the political class knows all about this, and has for some time. So why no hysteria?

Party unity:

Ya know, if Dem party leaders hate primaries so much they should cancel 'em instead of rigging 'em.

Florida Dems passed a resolution that "unity offers more progress than any other planning combined."

We've already been contacted to unite behind a candidate not named Bernie. pic.twitter.com/JNuSn1Zheo

— OurRev305 #RunBernieRun (@OurRev305) February 10, 2019

I think any party that has to resort to loyalty oaths has big problems. (Unless the Democrats really are a criminal syndicate, in which case omerta is thoroughly appropriate.)

"Rat invasion discovered at historic Los Angeles City Hall amid city typhus outbreak" [NBC]. "Downtown is in the midst of a typhus outbreak, according to health officials, with several homeless people who live near City Hall among those afflicted. It flourishes in unsanitary conditions and is often spread by infected fleas hitching rides on rats. It is rarely fatal when treated quickly with antibiotics but epidemics killed thousands in the Middle Ages. … He believes many of the rats are relatively new arrivals, displaced when the city began tearing down its old police headquarters next door." • So that's alright then.
Stats Watch
There are no official statistics of interest today.
Banking: "Wells Fargo banking systems breakdown raises new concerns" [San Francisco Chronicle]. "this week's Wells Fargo outage — the San Francisco bank's second failure this month — caused some to ask whether the banking systems we depend on are too fragile. Starting Thursday and lasting through Friday morning, ATMs failed to show balances and transactions, web log-ons were rejected, and smartphone apps displayed errors. The bank ultimately blamed smoke in a data center." • Smoke in a data center? Huh?
Banking: "Flaws in testing may be real source of Wells Fargo's tech failure" [The American Banker]. "Wells' troubles started early Thursday morning as it was forced to shut down a facility when 'smoke was detected following routine maintenance,' according to a statement from the bank. A local news report from Shoreview, Minn., indicated a fire suppression system was accidentally triggered at the Wells Fargo Shoreview Operations Center the morning of Feb. 7. The report noted the trip occurred at 5 a.m. local time, and the bank called the fire department to investigate four hours later. The cause of the alarm was 'due to construction dust.' What followed was a nationwide outage that affected Wells' online and mobile banking capabilities, its ATM network and card processing. The outage also extended to the bank's call center where an automated message told customers that bankers were unable to access account information." • Ah, "routine maintenance." Do we have any data center readers? Does this story make sense? Or, since everything is like CalPERS, what has to be true at Wells Fargo for this story to be true?
Retail: "N.Y. Today: Is Amazon Still Coming to New York City?" [New York Times]. A recap of the horrid press coverage, ending: "Feb. 8: The Washington Post, citing 'two people familiar with the company's thinking,' reports that Amazon is considering withdrawing from New York. But The Times reports that 'two people with direct knowledge of the company's thinking said the article had gone too far and Amazon had no plans to back out.'" • "Gone too far" seems rather un-Amazon-like….
Shipping: "Amazon sends mixed signals on logistics intentions" [Supply Chain Dive]. "Amazon stoked yet more speculation that it intends to compete with 3PLs like UPS and FedEx when it included "companies that provide fulfillment and logistics services for themselves or for third parties, whether online or offline" in an annual SEC filing that requires companies to describe their competition, spotted by Fortune… Amazon holds that its growing network of logistics resources is intended to add speed and capacity when and where needed, not to transition away from other carriers….. But Morgan Stanley isn't buying it. In a recent research note, analysts wrote: 'The scale of the operation so far (en route to 100 planes, 20,000 vans, several thousand truck trailers and ramping ocean moves) does not imply a 'peak season only' or 'overflow volume only' operation to us.'"
Shipping: "Atlanta to Philadelphia spot rate lowest since February of 2016" [Freight Waves]. • Image of storm clouds, but: "Spring is always an uncertain time of year for freight movement because no one really knows when volumes will return in earnest. Weather patterns play a big role driving seasonal movements such as agricultural freight."
Shipping: "Truck Drivers on the Lookout for Spotted Lanternfly" [FreightWaves]. "[The spotted lanternfly is] a hitchhiking bug that doesn't bite, doesn't sting, but can quickly destroy grapes, trees, nursery stock and apples, to name just a few of its victims. Agricultural experts believe the invasive insect came to the United States after hopping on a boat from China. It was first spotted in Pennsylvania's Berks County in 2014…. Truck drivers doing business in affected areas are warned that if they park below a tree line, the vibrant-colored insect can hop onto their truck, hide in a tiny crevice or atop a flatbed and do extensive damage to a valuable load of agricultural commodities."
The Bezzle: "For Boeing, juggling cash flow often means "another 'Houdini moment'"" [Seattle Times]. "Boeing has gushed cash quarter after quarter for more than four years, sending its share price soaring yet leaving some analysts suspicious about how Boeing manages always to surpass Wall Street's cash flow expectations…. The tricks it uses are mundane in procedure, but huge in scale. They amount to various ways of pulling forward cash receipts from airline customers — bringing in cash that's due in the future just ahead of the end of the quarter — or pushing out the payment of accounts to suppliers into the next quarter. While many companies can massage their cash-flow results, few have as much leeway to do so as Boeing. That's because aircraft purchases involve such large sums, on payment schedules that are negotiable and adjustable. And the process is entirely opaque from the outside because the precise financial terms of jet sales are never disclosed. Past reports from financial analysts point to very large amounts of cash involved." • Hmm.
Tech: "Apple iPhone Shipments Dive in China as Huawei Tightens Grip" [Bloomberg]. "Apple Inc.'s Chinese smartphone shipments plummeted an estimated 20 percent in 2018's final quarter…. The domestic market contracted 9.7 percent in the quarter, but Apple declined at about twice that pace, research firm IDC said in a report on Monday. A slowing economy, lengthening replacement times and the iPhone's hefty price tag contributed to the U.S. giant's decline, it said. Xiaomi Corp. fared even worse in the final months of last year, when shipments plunged almost 35 percent, the consultancy estimates. Smartphone labels from Apple to Samsung Electronics Co. are contending with a plateauing global market after years of breakneck growth, as a lack of innovation discourages consumers from replacing devices as often as they used to." • And does Apple have a new product in the pipeline? They always have before, but thiis time robot cars turned out to be a dry hole. So…
Labor Market: "The (Modest) Rebound in Manufacturing Jobs" [Liberty Street Economics]. "The United States lost 5.7 million manufacturing jobs between 2000 and 2010, reducing the nation's manufacturing employment base by nearly a third. These job losses and their causes have been well documented… Less well recognized is the modest yet significant rebound in manufacturing jobs that has been underway for several years. Indeed, employment in the manufacturing industry began to stabilize in 2010, and the nation has added nearly 1 million jobs since then. Although modest in magnitude, this uptick in manufacturing jobs represents the longest sustained increase since the 1960s and bucks a decades-long trend of secular decline in employment in the goods producing sector of the economy."
Labor Market: "Labor Market Polarization across the U.S." [Federal Reserve Bank of St Louis]. "Labor market polarization refers to the decrease in job opportunities in middle-skill occupations that typically involve routine tasks, such as occupations in manufacturing, production and transportation. This is simultaneously associated with an increase in employment in occupations that involve nonroutine tasks, such as jobs in managerial and professional occupations and in personal care and service occupations. Polarization in the labor market is linked to two main factors: Increased automation of routine tasks; Increased globalization and offshoring… it is worth noting that job polarization has led to a decline in the earnings for middle-skill jobs, which is linked to an increase in earnings inequality." • Tell 'em Queen Anne's dead…
Fodder for the Bulls: "NRF is largely bullish on 2019 retail sales forecast" [Logistics Management]. "The NRF made that very clear in its 2019 retail sales forecast for growth coming in between 3.8%-to-4.4% to more than $3.8 trillion. $3.82 trillion, to be exact. OK, so that forecast falls short of the NRF's call for a minimum increase of 4.5% from 2017 to 2018, but it is still pretty good."
Honey for the Bears: "Krugman Sees Possible U.S. Recession With Little Fed Wiggle Room" [Bloomberg]. "'There seems to be an accumulation of smaller problems and the underlying backdrop is that we have no good policy response,' he said in a Bloomberg Television interview in Dubai. The headwinds facing the economy prompted the Federal Reserve this month to halt its interest-rate hiking cycle, which Krugman said was never 'grounded in the data' to begin with. 'Continuing to raise rates was really looking like a bad idea' he added." And: "'Let's put it this way, our current Treasury Secretary is no Hank Paulson,' he said." • Oh, Paul. See NC on Paulson's tenure here, here, here, here, and here.
Rapture Index: Closes up one on Mark of the Beast*. "Several big tech companies are working on tracking software" [Rapture Ready]. Record High, October 10, 2016: 189. Current: 179. Back up a point, toward the 180 floor. Remember that bringing on the rapture is a good thing. NOTE * And they're not wrong, are they?
The Biosphere
"Experts Warn" (1):
Green New Deal backers say they want more high-speed trains to make airline travel less necessary, and more electric cars and charging stations.

But experts warn that changing the existing fleet of cars in the U.S. would be an extraordinary effort. https://t.co/U9UEzbIViZ

— NPR (@NPR) February 9, 2019
"Experts Warn" (2):
But experts warn:
-fighting Hitler would be an extraordinary effort
-getting out of the Great Depression would be an extraordinary eff…
-bailing out the financial sector would be an extraordinary…
-Marshall Plan to rebuild Europe would be an extra… https://t.co/jjbZQsDV11

— Pavlina R Tcherneva (@ptcherneva) February 10, 2019
A good question:
Are there prediction markets on anticipated global warming consequences? sea-level rise, storm strength and frequency, ice melt, temperature, glacial collapse, coral bleaching, etc (wld the danger of incentivizing sabotage of policy to address be too great to tolerate such mkts?)

— Steve Randy Waldman (@interfluidity) February 10, 2019
"Scientists Discover Evidence of Long "Ocean Memory"" [Earth and Space News]. "[T]he deep Pacific Ocean is still cooling from a dip in global temperatures that chilled surface waters several centuries ago. Waters take so long to reach the depths of the Pacific that "they are still responding to the cooling trend that marked the entry into the Little Ice Age," said first author Jake Gebbie at the Woods Hole Oceanographic Institution in Woods Hole, Mass. The findings could improve climate models and may offer a clue into how future oceans will respond to modern global warming… In the latest study, the researchers pulled data from the Challenger expedition, which 'marks the beginning of modern oceanography,' said Gebbie. The scientific expedition took top to bottom measurements from the world's oceans for 4 years, often using thermometers tied to hemp ropes. The new research compared the temperatures with modern-day measurements and ran an independent model using 2,000 years of climate records to search for cooling trends."
"Evolution Is Not the Cause of Selfish Capitalism" [Medium]. "The most successful of biology's creatures coexist in mutually beneficial ecosystems. It's hard for us to recognize such widespread cooperation. We tend to look at life forms as isolated from one another: a tree is a tree and a cow is a cow. But a tree is not a singular tree at all; it is the tip of a forest. Pull back far enough to see the whole, and one tree's struggle for survival merges with the more relevant story of its role in sustaining the larger system. We also tend to miss nature's interconnections because they happen subtly, beneath the surface. We can't readily see or hear the way trees communicate. For instance, there's an invisible landscape of mushrooms and other fungi connecting the root systems of trees in a healthy forest. The underground network allows the trees to interact with one another and even exchange resources. In the summer, shorter evergreens are shaded by the canopies of taller trees. Incapable of reaching the light and photosynthesizing, they call through the fungus for the sun-drenched nutrients they need. The taller trees have plenty to spare, and send it to their shaded peers. The taller trees lose their leaves in the winter and themselves become incapable of photosynthesizing. At that point, the evergreens, now exposed to the sun, send their extra nutrients to their leafless community members. For their part, the underground fungi charge a small service fee, taking the nutrients they need in return for facilitating the exchange."
Class Warfare
"Liked Evicted? — Read Maid" [Credit Slips]. "Stephanie Land recently tweeted this depressing statistic: 'a single parent would have to work 140 hours a week at minimum wage to pay for basic necessities.' And Land would know. Her new memoir — Maid: Hard Work, Low Pay, and a Mother's Will to Survive — chronicles her time as a single mother working as a house cleaner and just scraping by on the combination of her paycheck and various forms of government assistance. In telling her story of ending up a single mother living in a homeless shelter with effectively no family or friends to turn to for help, of figuring out how to make a little money working insanely hard, and of dealing with the stigma of asking for government 'handouts,' Land weaves a narrative about life on the financial precipice that sticks with you." • The Bearded One teaches that wages serve to reproduce the worker's ability to sell labor power. As with Walmart, however, so here: These workers cannot reproduce their labor power through wages, and so the wage is supplemented through the state. I don't know of anybody who's theorized this, not even Kim Moody (unless I missed it) but it would seem to deserve attention. The whole piece is well worth a read. One more book to read!
"How Car Pollution Hurts Kids' Performance in School" [CityLab] (original). "New research indicates that when students switch to schools with higher levels of traffic pollution, they tend to experience declines in test scores, more behavioral incidents, and more absences. That's according to a National Bureau of Economic Research (NBER) working paper issued in January. The paper brings more evidence to the body of research showing that air pollution harms cognitive performance and poses a major threat to health worldwide."
"How a Feel-Good AI Story Went Wrong in Flint" [The Atlantic]. • A salutary lesson for GND implementors.
"As Ireland goes green, rural workers feel punished" [CNN]. "When John "J.J." Berdon joined Ireland's semi-state peat harvesting company in 1980, he thought he had a job for life…. That job has been central to the lives of Berdon and some 60 colleagues, most of whom live nearby in small communities along the border of counties Roscommon and Galway.
But this is all soon to change, as his employer, Bord na Móna, announced last October that it would close 17 of its active extraction sites immediately, with the rest to follow by 2027. Up to 500 jobs are expected to go. The reason, the company says, lies in one word: decarbonization." • Why the Jobs Guarantee is part of the GND.
"Workplace Theft Is on the Rise" [The Atlantic]. "Managers routinely order up to 20 percent more product than is necessary, just to account for sticky-fingered employees." • Well, that's better than paying them more, right?
News of the Wired
"The Most Famous Image in the Early History of Computing" [History of Information]. "The Jacquard loom did no computation, and for that reason it was not a digital device in the way we think of digital today. However the method by which Jacquard stored information in punched cards by either punching a hole in s standardized space in a card or not punching a whole in that space is analogous to a zero or one or an on and off switch. It was also an important conceptual step in the history of computing because the Jacquard method of storing information in punched cards, and weaving a pattern by following the series of instructions recorded in a train of punched cards, was used by Charles Babbage in his plans for data and program input, and data output and storage in his general purpose programmable computer, the Analytical Engine."
* * *
Readers, feel free to contact me at lambert [UNDERSCORE] strether [DOT] corrente [AT] yahoo [DOT] com, with (a) links, and even better (b) sources I should curate regularly, (c) how to send me a check if you are allergic to PayPal, and (d) to find out how to send me images of plants. Vegetables are fine! Fungi are deemed to be honorary plants! If you want your handle to appear as a credit, please place it at the start of your mail in parentheses: (thus). Otherwise, I will anonymize by using your initials. See the previous Water Cooler (with plant) here. Today's plant, which is not really a plant, but a wonder of nature (SS):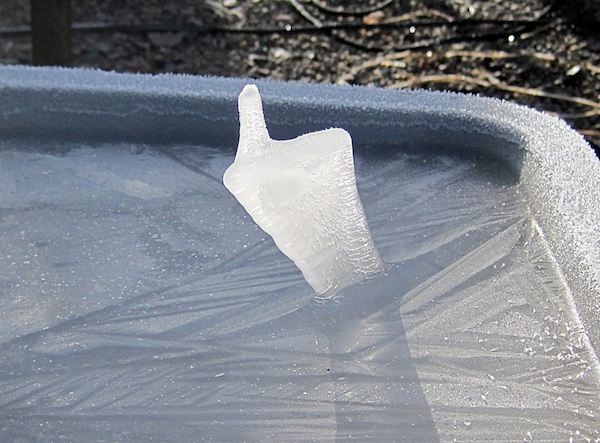 SS writes: This emerged one cold morning on the top of a large Tupperware tub I had left outside (It had a battery in it to run the electric door on the chicken coop). How the heck this came to pass I have no idea. It seems impossible." Encouraging, then!
* * *
Readers: Water Cooler is a standalone entity not covered by the annual NC fundraiser. So do feel free to make a contribution today or any day. Here is why: Regular positive feedback both makes me feel good and lets me know I'm on the right track with coverage. When I get no donations for five or ten days I get worried. More tangibly, a constant trickle of small donations helps me with expenses, and I factor that trickle in when setting fundraising goals. So if you see something you especially appreciate, do feel free to click below! (The hat is temporarily defunct, so I slapped in some old code.)
Or Subscribe to make a monthly payment!