By Lambert Strether of Corrente.
All too patient readers, my schedule is complexified today. So I will toss out some red meat in the form of political news, finish up a post on the recent study on insect collapse, and then return for a latish Water Cooler revision with more of the usual featurs, especially The Bezzle. Thanks! –lambert UPDATE All done.
Politics
"But what is government itself, but the greatest of all reflections on human nature?" –James Madison, Federalist 51
"They had one weapon left and both knew it: treachery." –Frank Herbert, Dune
2020
Lots of Sanders news, as might be expected:

Sanders (1):

In his first 24 hours as a 2020 Presidential candidate, Senator Bernie Sanders raised $5.9 million from 223,000 donors https://t.co/k0r4xpBvf6

— OpenSecrets.org (@OpenSecretsDC) February 20, 2019

More than double what Harris raised on her first day. And he didn't even have to go to the Hamptons to do it! In any other candidate, we'd see phrases like "brutal display of fundraising prowess."

Sanders (2): "Bernie Sanders Is the Democratic Front-Runner" [The Atlantic]. The staffing question is answered: "A full operation is being put together, with the assumption that he will have well over $200 million in online fundraising to draw from. That includes top leadership of the campaign meant to illustrate the diversity of his support, demographically and geographically. Faiz Shakir, a former aide to Harry Reid, is leaving his job as the political director of the American Civil Liberties Union to be the campaign manager. In addition to his deep political experience, he will be the first Muslim presidential-campaign manager in history. Analilia Mejia, an organizer of Colombian and Dominican descent who most recently directed the Fight for $15 and Earned Sick Days campaigns in New Jersey and previously worked for the New Jersey Working Families Party, will be the political director. The deputy political director will be Sarah Badawi, who was most recently the government-affairs director for the Progressive Change Campaign Committee, a liberal group that led the effort to draft Elizabeth Warren into the 2012 Senate race, and later worked on her campaign." • Two things about the Sanders staff: First, though obviously competent and political, they're not drawn from from the 2016 Sanders campaign. And although they're Democrat-adjacent, none of them are currently outright (and treacherous) Democrat strategists or consultants. Second, the staff is fully identitarian-compliant. We'll see how it all goes!

Sanders (3):

Faiz Shakir does have the right enemies:

Here's @johnpodesta and @neeratanden talking about Bernie's 2020 campaign manager @fshakir back in 2016.

They clearly don't like him.
I wonder if this played into Bernie's decision at all ?#Bernie2020 #FeelTheBern pic.twitter.com/fYfFyj7fIa

— Carlo #Bernie2020 ?✊? (@yesthatCarlo) February 19, 2019

Sanders (3): "You Don't Have to Like Bernie Sanders to Like Bernie Sanders" [Jezebel]. "If you support things like Medicare for All, tuition-free college, campaigns funded by small donors rather than wealthy interests, an end to mass incarceration, and reducing a truly staggering level of wealth inequality, then Sanders is the candidate who has fought for those things, often consistently throughout his career, often when no one cared that he was doing it. More importantly, the response to his 2016 campaign also helped galvanize a bottom-up national movement that has—through committed organizing, movement wins, and a new wave of national progressive politicians—remade Democratic politics in the span of just a few years. None of that means Sanders doesn't need to be pushed left or that you have to find him charming. You don't have to actually like Bernie Sanders to like what he represents." • Long list here! More: "Sanders, who continues to struggle with white guy political myopia and sounding like an assh*le, still has the most aggressively progressive platform of any presidential candidate running right now." • Indeed.

Sanders (4): "5 reasons to be skeptical of Bernie Sanders' 2020 bid" [Chris Cilizza, CNN]. "Sanders simply doesn't look like the Democratic Party that scored across-the-board victories in 2018. What he does look like — demographically speaking — is the current occupant of the White House." • And, ya know, #MedicareForAll "looks like" what Trump is doing to Obama's damp squib, the ACA. Cilizza's gotta Cilizza, and I confess a sneaking admiration for him, because he embodies the conventional wisdom of the moment so perfectly. So, not uninteresting and worth a read!

Sanders (5): A breath of reality:

Why is "Bernie appeals to white voters" seen as an insult?

If anything, it is his strength.

It is mathematically impossible to win a presidential election without significant support of the white voters. pic.twitter.com/Zi8kwfkhmX

— Esha ??? (@eshaLegal) December 18, 2018

It's almost as if identitarians care more about continued funding for their NGO verticals than winning….

Sanders (6): "Time to fight" [Carl Beijer]. "The time to make your decision is now. Because the center is already fighting to win – and if you do want to win the presidency and you do not act now, you will find yourself out-organized, out-numbered, out-resourced, and out-argued before you can even throw your first punch…. The time for preparation ends when the fighting begins. And ready or not, the fight has already begun." • The fight began at the first DNC meeting after the 2016 election, when liberal Democrats punched the left right in the mouth (defenestrating Ellison, standing up Perez, purging all Sanders supporters from the Rules and Bylaws Committee, and subsequently rigging the primary calendar to favor Harris).

Harris (1): "Freedom Rider: Kamala Harris: The Fix is In" [Margaret Kimberly, Black Agenda Report]. "The Democrats are hoping that having another biracial black person on the ticket can make up for their lack of substance and hers. All Harris knows how to do is pander, and she doesn't even do that very well. On The Breakfast Club radio show she was asked if she opposed marijuana legalization. 'That's not true. Look, I joke about it, I have joked about it. Half my family is from Jamaica. Are you kidding me?' The promotion of a stereotype didn't go over very well, including with her own father, who was angry enough to call her out in public. Donald Harris said that his ancestors "…must be turning in their grave right now to see their family's name, reputation and proud Jamaican identity being connected, in any way, jokingly or not with the fraudulent stereotype of a pot-smoking joy seeker and in the pursuit of identity politics." Not only had she offended her father but she was also lying. As attorney she opposed a 2010 proposition that would have legalized recreational use. She opposed it as late as 2015." • I continue to be amazed that Donald Harris's denunciation hasn't viral. (Also, Kimberly's "ancestors" is highly charged for some segments of "the African Diaspora.")

Harris (2): "'We've Lived Under Her Regime'" [Slate]. "'[Harris] fought to uphold tainted convictions,' [says public defender Lara Bazelon] says. 'That's from my perspective as someone who ran an innocence project and is an innocence advocate. There are other cases that bothered me as well, including her real inability to respond in an appropriate way, for example, when there was a big crime-lab scandal in San Francisco in 2010. When she was running the DA's office, 600 cases had to be dismissed'…. She continues, 'It became clear as these cases were being litigated that the higher-ups in her office were well aware of the corruption of the lab technician whose work was at issue and did not turn that information over to the defense as they were required to do. A judge got quite angry and issued a long ruling sternly rebuking Harris, and her response was to challenge that ruling by arguing that the judge's husband was a defense attorney who had spoken publicly about the importance of disclosures in these kinds of situations and that therefore the judge was conflicted.' Like President Trump has done with judges in the past, Harris made things personal." • Ouch!

Brown: "Sherrod Brown's opening: Less liberal than the liberals" [Politico]. "'There's nobody who says they could not get a fair hearing from Sherrod Brown,' [Better Markets President and CEO Dennis Kelleher] said." • Swell.

"'Sustained and ongoing' disinformation assault targets Dem presidential candidates" [Politico]. • If you look at the sources, it's social media companies talking their books….
2019
Ladies and gentleman, I give you… The #Resistance:

Remember when Andrew McCabe, whose book is now a Number 1 best-seller on Amazon, raised over $554,000 in five days via GoFundMe because people apparently worried that he would fall into poverty and destitution as a result of his bold anti-Trump stance? What a gigantic scam

— Michael Tracey (@mtracey) February 20, 2019
Realignment and Legitimacy
"Fracking company teams up with Susan G. Komen, introduces pink drill bits 'for the cure" (with image of pink drill bit) [Salon]. From 2010, still germane. There's your liberal identitarianism, right there. It's not The Onion! I swear!

DSA collateral:

MOBILIZER 101 series. New and experienced activists welcome. ?First up: how to talk about Socialism and DSA https://t.co/4KtFAnZhr9 pic.twitter.com/aJtAoIqBqm

— DSA San Francisco (@DSA_SF) February 20, 2019

On the one hand, this is a strong effort. On the other, where's the bullet point about the working place, the — stay with me here — (un)natural habitat of the working class?
Stats Watch
MBA Mortgage Applications, week of February 15, 2019: "The purchase index ended its four-week slide" [Econoday].
Debt: "How Scary Are Subprime Auto Loans?" [Bloomberg]. Shorter: Not especially, since they're not levered. • But auto loan defaults are not a good sign for the working class balance sheet, as it were, at all, assuming most need cars to get to work.
Retail: "Alden-controlled Payless to close all 2,300 of its stores, including 34 in Greater Philadelphia" [Philadelphia Business Journal]. "Payless ShoeSource Inc. intends to file for bankruptcy protection later this month and close all of its approximately 2,300 retail locations, including the 34 in the Philadelphia region. It's the second time the Topeka, Kansas-based company has filed for bankruptcy protection in two years." • Purchased by Alden Capital after the first time, so you know it's being sucked dry.
Shipping: "Hedge funds hunt for shipping debt in new market push" [Reuters]. "A growing number of hedge funds are moving into shipping debt, an asset class few have invested in before, looking to buy up loans and bonds as banks cut their exposure to the troubled sector…. European banks, particularly German lenders, are trying to offload distressed and performing loans to the industry which attracts high capital requirements. The European Central Bank's banking supervisor has flagged troubled non-performing loans in 2019 as 'a concern for a significant number of euro area institutions.'"
The Bezzle: "Tesla General Counsel Quits After 2 Months in Latest Upheaval" [New York Times]. "Tesla said Wednesday that its general counsel was leaving the automaker after just two months on the job, the second unexpected, high-level departure in the last month. The official, Dane Butswinkas, was a Washington trial lawyer who represented the company's chief executive, Elon Musk, when he was sued by the Securities and Exchange Commission last year. The company said he had decided to return to his law firm." • There'll always be a lamp in the window for my wandering boy.
The Bezzle: "Hundreds Of Android Apps Found To Serve Invisible Ads" [Media Post]. "A massive mobile ad-fraud operation, involving hundreds of malware-laden Android apps, has been uncovered by Oracle. The scheme, "DrainerBot," involved serving ads that were invisible to users, but that burned through their data allotments and depleted their batteries. The affected apps — including popular ones like "Perfect365" and "Draw Clash of Clans" — have been downloaded more than 10 million times." • Oops.
Tech: "Apple Plans on Combining iPhone, iPad, Mac Apps by 2021" [Bloomberg]. "Apple Inc. wants to make it easier for software coders to create tools, games and other applications for its main devices in one fell swoop — an overhaul designed to encourage app development and, ultimately, boost revenue. The aim of the multistep initiative, code-named "Marzipan," is that by 2021, developers will be able to build an app once and have it work on the iPhone, iPad and Mac computers, people familiar with the effort said. That should spur the creation of new software, increasing the utility of the company's gadgets." • Utility. Oh. iOS apps will be shitty on the Mac because they don't conform to the Macintosh Human Interface Guidelines, which even today structure the UI/UX on that platform. So it's another way for Apple to further crapify the Mac.
Tech: "Scream Time" [The Baffler]. "Silicon Valley's awareness of the addictive, damaging nature of its products predates much of the recent self-care fad. The self-described "movement" that brought about the rise of "digital well-being" can be traced to a 141-page Google Slide presentation created by Google engineer Tristan Harris in 2012. Harris had gone to Burning Man and had an "epiphany," according to Wired, realizing that maybe dopamine-triggering notifications on slot-machine-like pocket-sized devices weren't geared toward users' best interest. Back at Google, Harris was promoted by then CEO Larry Page after his memo went viral, becoming the company's first "design ethicist." Harris' role would be to advise the sprawling surveillance empire on how to create more "ethical" technology. This arrangement, of course, would be like Facebook internally handling Fake News, the Sackler family tackling the opioid epidemic, or Exxon fighting climate change—the new normal." • Thank you for coming to my TED talk.
Transportation: "Southwest cancels hundreds of flights as it struggles to get its mechanical problems under control" [CNN]. "Southwest Airlines continues to grapple with an 'operational emergency' after an unusually high number of planes have been taken out of service. The Dallas-based airline has been forced to cancel hundreds of flights since late last week because of mechanical problems with its fleet. Despite an 'all hands on-deck' staffing policy for its mechanics, the company has not been able to resolve its problems. In a statement on Tuesday, Southwest (LUV) said there was to the issues facing its 750 airplanes and it was extending a staffing protocol instituted last week to 'maximize availability' of mechanics. 'We are requiring all hands on-deck to address maintenance items so that we may promptly return aircraft to service and take care of our customers,' it said. On Tuesday, more than 40 planes had maintenance issues — more than twice the average number on a typical day. That created a domino effect, disrupting Southwest flights across the country." • Well, at least none of Southwest's hangars caught fire. Readers, what's with this story? I've always thought of Southwest as a well-run airline. Am I not cynical enough?
The Biosphere
Left on the cutting room floor from today's post:
"Helping Farmers Prevent The Insect Apocalypse" [Exploring the Problem Space]. "Three words: sustainable intensive agriculture. Sure, organic and local help in little ways – but the planet needs help in a big way. Organic and local require more land to produce less food and we need to shrink the terrestrial footprint of agriculture. The less land used, the better – at least as a general rule." • Hmm. However, the USDA's list of suggestions looks pretty good. Yes, it allows herbicides and, through Integrated Pest Management, insecticides, but I think separation of concerns applies: Get the Filter Strips, Contour Buffer Strips, and habitats in place, and wean ourselves from the *cides as we go. Readers?
"Five things you can do to protect our insects from population collapse" [CNN]. "3. Be less tidy: Insects don't like manicured lawns and whilst cultivated double-flowered plants look lovely in the garden, they are bad news for pollinators as they typically don't produce pollen and their nectar is hidden deep inside their flowers…. You can help the insects in your garden by letting the grass grow longer and sowing some wildflowers. If every garden had a little patch for insects collectively it would probably be the biggest area of wildlife habitat in the world." • That sounds good, because it's less work. Also, CNN using the word "collectively"…
"Using Parking Meter Records and Tweets From Local Businesses for Sea Level Rise Research" [Weather Underground]. "Little is known about the social and economic consequences of these events, since these high-tide floods, also called nuisance or sunny-day floods, typically last for just a few hours at a time and rarely leave lasting damage. To document the occurrence of these floods, the researchers used tide gauge data in combination with satellite and photographic evidence of the flooding. An important source of these photographs were tweets from local businesses. When periods of flooding were identified, receipts from the parking lot flooded by the ocean were studied to determine by how much visits to the Dock Street area [in Annapolis, Maryland] were affected. During the period May 2016 – November 2017, 4584 hours of parking meter records were reviewed. They revealed that when the parking lot flooded, people did not go to nearby unflooded parking areas–they simply avoided coming downtown, resulting in a loss of revenue for local businesses. Even after the flooding ended, there was a more than six-hour lag until visitation returned to its usual levels." • Interesting, and shows more potential for citizen science.
Water
"Fighting pollution: Toledo residents want personhood status for Lake Erie" [Guardian]. "Called the Lake Erie Bill of Rights, it would grant personhood status to the lake, with the citizens being the guardians of the body of water. If passed, citizens could sue a polluter on behalf of the lake, and if the court finds the polluter guilty, the judge could impose penalties in the form of designated clean-ups and/or prevention programs. 'What has happened in Toledo is that we have lost our faith in the current mechanisms of power, and decided to take things into our own hands,' said Bryan Twitchell, a Toledo school teacher. 'We decided it was our personal responsibility to take action and pull us back from that brink so we can live near a healthy lake.'" • Next up: The Ohio, Mississippi, and Missouri rivers?
"Lake Erie Bill of Rights issue to go to Toledo voters" [Ohio Country Journal]. "The Ohio Supreme Court recently decided that a 'Lake Erie Bill of Rights' [LEBOR] initiative could be placed before Toledo residents in a special election Feb. 26, 2019…. the Supreme Court decided that based on a reading of case law and the Ohio Constitution, the board of elections in Toledo had no option other than placing LEBOR on the ballot. This outcome does not necessarily mean that if Toledo passes LEBOR, it is a done deal; if and when it passes, courts could determine it is unconstitutional and/or beyond the scope of the city's power." • That's less than a week away. I hope our Ohio readers will keep us informed!
Class Warfare
"Known Assailants" [The Baffler]. "[T]he baseline skills of construction in the brick-and-mortar world—wiring a conference room, framing a house, fixing a transmission—aren't lesser forms of intellectual work; rather, they call on different types of intelligence than the kind necessary to compose a quarterly process improvement report or a PowerPoint presentation on category strategy. Neither brand of labor is better than the other. Work is work. Everyone toils beneath a boss; most of us will never earn what we're worth. And now that we're on the other side of the interregnum, there are some real advantages to blue-collar jobs, at least in my world. None of the guys or women I know who skipped college and went straight into the trades are burdened by student loan debt. They own houses and motorcycles and go on vacations; they have good healthcare and can expect to collect on a pension when they retire." • Until the unions are destroyed, along with the pension system. But I take the point.
News of the Wired
* * *
Readers, feel free to contact me at lambert [UNDERSCORE] strether [DOT] corrente [AT] yahoo [DOT] com, with (a) links, and even better (b) sources I should curate regularly, (c) how to send me a check if you are allergic to PayPal, and (d) to find out how to send me images of plants. Vegetables are fine! Fungi are deemed to be honorary plants! If you want your handle to appear as a credit, please place it at the start of your mail in parentheses: (thus). Otherwise, I will anonymize by using your initials. See the previous Water Cooler (with plant) here. Today's plant (Unna):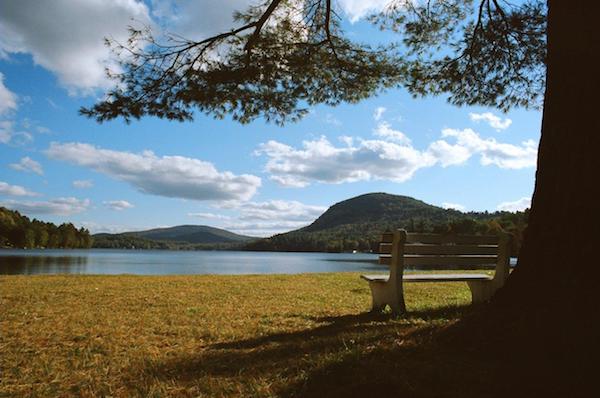 Unna writes: "Harvey's Lake, Barnet, Vermont." Since Vermont is in the news lately!
Some people who have not sent in pictures of plants did so. Thank you! But more would be nice…
* * *
Readers: Water Cooler is a standalone entity not covered by the annual NC fundraiser. So do feel free to make a contribution today or any day. Here is why: Regular positive feedback both makes me feel good and lets me know I'm on the right track with coverage. When I get no donations for five or ten days I get worried. More tangibly, a constant trickle of small donations helps me with expenses, and I factor that trickle in when setting fundraising goals. So if you see something you especially appreciate, do feel free to click below! (The hat is temporarily defunct, so I slapped in some old code.)
Or Subscribe to make a monthly payment!