By Lambert Strether of Corrente.
Politics
"But what is government itself, but the greatest of all reflections on human nature?" –James Madison, Federalist 51
"They had one weapon left and both knew it: treachery." –Frank Herbert, Dune
2020
Sanders (1): "Bernie Sanders Is Making a National Issue of This Strike" [The Nation]. "hen 1,700 members of United Electrical, Radio & Machine Workers of America Locals 506 and 618 struck at the sprawling Wabtec locomotive plant in Erie, Pennsylvania, Tuesday morning, they got an immediate show of solidarity from one of the most prominent political figures in the United States." Thus–

I'm proud to stand in solidarity with the 1,700 locomotive manufacturing workers in Erie, Pennsylvania, who are fighting to keep the pay and benefits they have won as members of the UE union.

Corporate executives must not use the merger between GE and Wabtec to hurt workers. pic.twitter.com/o5NrS1CJrR

— Bernie Sanders (@SenSanders) February 21, 2019

Sure is odd there aren't any other candidates in solidarity with Sanders on this. Did I not get the memo?

Sanders (2): "Did CNN Stack the Audience Against Bernie Sanders at His Town Hall?" [Paste Magazine]. A followup on the thread linked to yesterday (hilariously characterized as doxing by some Democrat loyalist): "If it was just this one questioner, we could chalk it up to a mistake, or an acknowledgement that CNN reasonably didn't believe that an intern needed to disclose her workplace. But this wasn't just one questioner. There were a bunch of audience members who are far more active in politics than CNN disclosed. Watching the town hall live made it seem as if these were just folks from all walks of life, when in reality many of these supposedly innocuous questioners were political operatives in one way or another, as this thread revealed. CNN called Tara Ebersole a "former biology professor" when her LinkedIn page lists her current job description as "Chair, Baltimore County Democratic Party" since 2016. Further, her husband was part of Hillary Clinton's leadership council in Baltimore in 2016. Abena McAllister was labeled "an active Democrat," which is far less descriptive than the Charles County Democratic Central Committee's description of her as their Chair." • To erase one party chair may be regarded as a misfortune; to erase two looks like carelessness!

Sanders (3), in the next CNN debate:

Senator Sanders, I'm a softmore at George Washington University. Do you think you were sexist by running against mothe- …I mean .. Secretary Clinton in 2016?#SandersTownHall pic.twitter.com/oI3SBUoZrt

— Esha ??? (@eshaLegal) February 27, 2019

Oh dear, "softmore." Rather like "his platform never actually involved stepping aside to let the people most affected by discriminatory policies take the reigns."

Sanders (4): "Bernie Sanders staff shake-up: Top strategists leave his presidential campaign" [NBC]. "Tad Devine, Mark Longabaugh and Julian Mulvey, partners in a political consulting firm who all played leading roles in Sanders' 2016 campaign for the White House, are parting ways with the senator, citing creative differences." • And by "creative differences," we mean the high fees charged by Democrat consultants for placing advertising, especially on TV. Interestingly, this replicates a controversy within the 2016 Sanders campaign that carried over into the founding of Our Revolution: Whether to emphasize the air war (TV) or the ground war (canvassing). It looks like Sanders has come down on the canvassing side (plus, he now has the strategic weapon of his own media operation, unlike 2016). Since conventional wisdom is that you can't win California without the air war, 2020 should be not without interest.

Harris: "Kamala Harris supports decriminalizing sex work" [The Hill]. "Sen. Kamala Harris (D-Calif.) says that she supports the decriminalization of sex work nationwide, noting that 'we can't criminalize consensual behavior as long as no one is being harmed.'" • Courageous, and not especially hedged. Harris still supports SESTA, though.

Biden: "Biden says family is ready for a presidential bid if he decides to run" [NBC News]. "Joe Biden said Tuesday that he's now "certain" his family is prepared for a grueling political fight, but cautioned that a final decision about 2020 will come down to whether he feels confident he can secure the Democratic nomination…. 'There's a consensus. They – the most important people in my life – want me to run," he said." • Oh, good.
New Cold War
"Livestream: Cohen Testimony Before House Oversight Committee" [LawFare]. • Readers, any fireworks?
2016 Post Mortem
Failing upward, or at least sideways:

Some exciting news…the wonderful @RobbyMook is taking over as President of House Majority PAC! House Democrats and Speaker Pelosi couldn't have a better ally heading into 2020.

— Alixandria Lapp (@AliLapp) February 26, 2019
Realignment and Legitimacy
"True Confessions of Texas Vote Harvesters" [RealClearPolitics]. "The most prevalent practice of harvesting begins with obtaining voter lists, which are public records. These lists help ballot harvesters identify the elderly and the sick in their communities. The ballot harvesters encourage these neighbors to request mail-in ballots — or may even request them on behalf of unaware voters. Often, a harvester shows up at a voter's home with an offer of help around the time the ballot arrives in the mail. Sitting with the voter, the harvester might advise who would be the best candidate for a race that most voters are unfamiliar with. Sometimes the harvester will help fill out the ballot. She – since vote harvesters are usually female — might offer to mail the ballot for the voter." • The numbers seem penny ante, but local elections are often low-turnout and decided by just a few votes.
Stats Watch
Factory Orders, December 2018: "Factory orders have significantly missed Econoday's consensus for a second straight month, inching… higher:" [Econoday]. "A glaring weakness in December and November orders are sharp 1.0 percent and 1.1 percent (nondefense ex-aircraft). This is telling evidence that business investment is down which in turn may well betray a downturn in business confidence…. Manufacturing is disproportionately exposed to global demand and the sector's slump is a convincing reflection of general slowing in foreign economies, something that the Federal Reserve underscored as a key reason for its January downshift to neutral monetary policy."
MBA Mortgage Applications, week of February 22, 2019: "Lower mortgage rates this year are giving a lift to home buying" [Econoday]. "Based in part on rising mortgage demand, forecasters are looking for a strong 1.0 percent gain for the pending homes index later this morning that would end three straight declines."
"Pending Home Sales Index, January 2019: "There is hope after all for the housing sector which, before today's pending home sales report, had been suffering through a nearly uninterrupted series of below consensus results. But not the January pending home sales index which, likely reflecting rising demand tied to lower mortgage rates, surged" [Econoday]. "[T]oday's report does point at better results ahead."
International Trade in Goods, December 2018: "The effects of cross-border trade actions have been difficult to pinpoint in the national economic data but outlines may be appearing in goods trade" [Econoday]. "The nation's goods deficit swelled to a much larger-than-expected [level]."
Retail Inventories [Advance], December 2018: Rose, "roughly match[ing] the profile of wholesale trade and points squarely at a sudden overhang for inventories" [Econoday]. "Rising inventories are a fixed plus in the GDP calculation but are a minus for future production and employment if they significantly exceed underlying sales."
Wholesale Inventories [Advance], December 2018: "As far as inventories go, they look heavy especially relative to sales which fell" [Econoday].
State Street Investor Confidence Index, February 2019: "The global investor confidence index recovered only a fraction of its… plunge in January" [Econoday].
Tech: "AAP Reports E-Books Sales Fall, Audiobooks Rise" [Forbes]. "The Association of American Publishers released their recent report of 2018 stats on revenue for consumer book publishers…. The most noticeable increase was in audiobook sales, jumping by 37.1%, an additional $127.1 million since 2017. The AAP notes that downloaded audio (as opposed to physical audiobook formats) has been the format with the most growth since 2013. "This is the third consecutive year that audiobooks saw double-digit growth (+37.1%) and eBook revenue declined (-3.6%)," the AAP report says. The AAP says that in 2017, e-books sales totaled over 1 billion in sales, but the sales in 2018 still fell." • Completely different mediums. I love listening to podcasts, especially since I can multitask; the ebook experience is completely different and a lot less pleasant than a real book. Also, I find it hard to imagine that audiobooks can track you, though doubtless somebody's working on that.
The Bezzle: "Elon 'Tusk'? Tesla CEO changes Twitter handle, says there will be news on Thursday" [MarketWatch]. "Musk's handle is currently "Elon Tusk," and next to it there's an elephant emoji…. Musk is, of course, no stranger to Twitter controversies. On Monday, the [SEC] asked a judge to hold Musk in contempt over a tweet about the Silicon Valley car maker's production goals. Musk has until March 11 to tell the court why he shouldn't be held in contempt." • "Of course, in Alabama the Tuscaloosa, but that is entirely ir-elephant to what I was talking about."
The Biosphere
"Lake Erie Bill of Rights gets approval from Toledo voters" [Toledo Blade]. • Lake Erie now has personhood, like a corporation? A solid wall of nay-saying! This detail: "Mike Ferner, [Advocates for a Clean Lake Erie (ACLE)] founder, was not at the watch party because he underwent emergency surgery Tuesday night for a bleeding ulcer. … Hours before his medical procedure, Mr. Ferner told The Blade that efforts such as the Lake Erie Bill of Rights show 'why people need to start relying on our democracy to hold polluters accountable.'" • I would bet that ulcer is what a friend of mine in the landfill fight called "the cost of citienship," which is far too high.
"First lawsuit filed against Lake Erie Bill of Rights" [ABC 13]. "The Drewes Family Farm in Custar filed the suit Wednesday morning in US District court in Toledo…. The suit says the Lake Erie Bill of Rights puts the Drewes Family at risk of massive liability if any fertilizer runoff enters the Lake Erie watershed."
* * *
"Grasslands More Reliable Carbon Sink Than Trees" [UC Davis]. "A study from the University of California, Davis, found that grasslands and rangelands are more resilient carbon sinks than forests in 21st century California. As such, the study indicates they should be given opportunities in the state's cap-and-and trade market, which is designed to reduce California's greenhouse gas emissions to 40 percent below 1990 levels by 2030…. Unlike forests, grasslands sequester most of their carbon underground, while forests store it mostly in woody biomass and leaves. When wildfires cause trees to go up in flames, the burned carbon they formerly stored is released back to the atmosphere. When fire burns grasslands, however, the carbon fixed underground tends to stay in the roots and soil, making them more adaptive to climate change." • I recall some readers are grassland fans. And now I suppose I have to understand what California's cap-and-trade market is actually doing, in detail MR SUBLIMINAL Everything is like CalPERS—
"Think Locally, Act Globally" [Eschaton]. "The reverse of that was the slogan in some environmentalist circles for decades. Environmentalism is personal virtue. Buy the right products, recycle, minimize your carbon footprint in certain ways, etc…. Environmentalism-as-personal-virtue was a bad route. It isn't a substitute for collective action. … And the virtues of many in the environmental movement are, well, wrong (#notallenvironmentalists). Dense cities are green.* The way to save nature is to stay the hell away from it…. The entire country doesn't have to look like Manhattan, but people should get that we'd get a lot closer to saving the world if it did."
"America landed a man on the moon. Climate change calls for the same bold, can-do spirit." [Sean Patrick Maloney, USA Today]. "I have tried to pass along that same can-do Americanism to my kids. That's why I am so disappointed by the melodrama surrounding the Green New Deal resolution. Meekness in the face of crisis isn't what America is all about. My concern isn't with the bad-faith arguments from Republican climate change deniers…. What worries me more are those who believe in climate change but offer no real solutions. From fretful hand-wringing to derisive sniggering to outright dismissal, folks who say climate change is an existential crisis have also cherry-picked or distorted elements of the Green New Deal to reduce the whole idea to pie-in-the-sky fantasy. This undermines the seriousness of the threat, downplays the scale of an adequate response, and sticks us with an untenable status quo." • Maloney represents NY-18, which Trump won by two points, and his caucus memberships include the horrid No Labels "coalition," so he wouldn't be my first pick to write such an Op-Ed. I find this encouraging.
"Meet the 16-year-old who went viral after asking Dianne Feinstein to support a Green New Deal" [Grist]. Isha Clarke is the activist Feinstein offered an internship to. Clarke: "After the whole interaction, we were leaving and I wanted to bring it back to the purpose [of the meeting], and thank her for her time, because I recognize that she's a busy lady. She said, 'Thank you and I really want you to have an internship here so you can understand what it's like and understand all of the nuance and things like that.'… The reason why I would take the internship is because I think it's an incredible opportunity. To be blunt, you have to learn how to play the game to change it…. And I think that it's also important to have my voice be in the room [like Elizabeth Warren –lambert]. But I wouldn't take it for a couple of reasons. No. 1: I don't know what the internship actually entails. Sometimes high school students just do paperwork, and that's not what I'm interested in. But mostly it's because I don't want my having an internship with her to turn into a justification for the whole situation. It's already kind of being used like that. People are saying, 'There was a happy ending, and Senator Feinstein offered a girl an internship and whoopdeedoo.' And I don't want me having a position there to be a way to cover up everything that just happened." • Since today is my day to kick puppies, let me say I'm sure elites are hoping this youth movement ends up just like the last one; we don't hear much about the Parkland Kids now, do we? On the bright side, I thought Clarke was pretty level-headed.
"Overcoming the Ideology of Climate Inaction" [Project Syndicate]. "Climate wonks regularly warn that 'business as usual' cannot avert climate change. But, while that is true, the phrase itself betrays a neoliberal obsession with making "business" fit for purpose – a tweak here, a nudge there – as if citizens were merely passive subjects of larger economic forces. We all have an active role to play in shaping the economy. But to do so requires that we first shake off the constraints that neoliberal thinking has placed on the public imagination…. The policies that have resulted from this mindset – defunding or otherwise curtailing public investment, deregulating the economy, and decentralizing democracy – have prevented the US from weaning itself off fossil fuels." • See, e.g. "Obama takes credit for U.S. oil-and-gas boom: 'That was me, people'" [Washington Times].
"The 'Green New Deal' Out West" [Power]. "California's cap-and-trade program (a cornerstone of the California carbon reduction program) was extended last year through 2030, with deepened regulatory targets reducing emissions 40% below 1990 levels by 2030…. Based on 2016 GHG reporting, California has already met its 2020 GHG reduction target. From 2001 to 2016, the carbon intensity of California's economy decreased by 38 percent, while the state gross domestic product grew 41 percent…. More than a decade ago, California initiated the nation's market-based efforts to curb greenhouse gas emissions. Oregon and Washington are poised to expand that effort, linking carbon credits and offset programs into California and Canada." • It sounds good (but let's remember that biosphere collapse is not driven by greenhouse gas alone; the best explanation so far for insect population collapse is habitat destruction). Let's also remember, as Yves points out today, that cap-and-trade is a trade, i.e., has traders, therefore speculation, therefore volatility.
"State cap-and-trade systems offer evidence that carbon pricing can work" [The Conversation]. "I led a Fletcher School Climate Policy Lab team that reviewed carbon pricing policies in 15 jurisdictions to see how they work in the real world, not just in theory. We found that in all cases carbon pricing seems to be a cost-effective method to cut carbon pollution." • "Cost effective" makes my spidey sense — my priors, in fact — twitch. "We certainly don't want preventing the ocean from boiling to be expensive MR SUBLIMINAL Here, have another F-35.
"Want a Green New Deal? Here's a better one." [Washington Post]. The conventional wisdom: "If the market can redirect spending most efficiently, money should not be misallocated on vast new government spending or mandates… Want a Green New Deal? Here's a better one." • I ran this link on the 25th, but here it is again, just as a discussion starter. One obvious objection is that since the State structures the market, the state-level cap-and-trade programs we above would not have to account for, say, the Defense Department, an enormous greenhouse gas producer. (Is there a short, pithy word for "greenhouse gas producer"? Other than "cow"? And hopefully pejorative?) One can well imagine a DoD examption being carved out in any Federal cap-and-trade program (which would, presumably, over-ride state programs). The same objection applies to Federal policy decisions driven (presumably) by geopolitical concerns, like Obama's insane boost to fracking. Price or not price, we should have left it in the ground, surely?
Health Care
UPDATE "House Democrats unveil a sweeping 'Medicare-for-all' bill — here's what's in it" [CNBC]. "Jayapal highlighted support from various labor unions and public interest groups on Wednesday. She also disputed the notion that House members from ideologically balanced districts would not support the plan. One congressman who won a swing district last year — Rep. Josh Harder of California — appeared with Jayapal to back her plan Wednesday." • Good for Harder: "Josh Harder [DCCC; e][M]" (from my pre-election worksheet). "e" is for education, so it looks like he's not a CIA Democrat, at least.
UPDATE "Medicare-for-all: Rep. Pramila Jayapal's new bill, explained" [Sarah Kliff, Vox]. "Eventually, though, everyone would all end up in the same plan, which includes an especially robust set of benefits…. The plan is also significantly more generous than the single-payer plans run by America's peer countries. The Canadian health care system, for example, does not cover vision or dental care, prescription drugs, rehabilitative services, or home health services…. What's more, the Jayapal plan does not require consumers pay any out-of-pocket spending on health aside from prescription drugs. This means there would be no charge when you go to the doctor, no copayments when you visit the emergency room. All those services would be covered fully by the universal Medicare plan. This too is not in line with international single-payer systems, which often require some payment for seeking most services." • I like Kliff, but wow, liberals really love those co-pays, don't they? Free at the point of care is essential; complex eligibility systems will always serve as vectors for neoliberal infestations.
Class Warfare
"U.S. Wage Growth Is 'Higher Than We Think,' Fed Researchers Say" [Industry Week]. "U.S. workers are experiencing larger wage growth than you've been reading in the news. That's according to a new study by a group of researchers at the Federal Reserve Banks of Dallas and Cleveland. The researchers conclude that average hourly earnings — or AHE —reported by the Bureau of Labor Statistics understates real wage growth by 'a notable amount.'" • "Notable" being, as I read it, between 2.1% and 2.5%. I've been waiting for an explanation of why auto loan defaults are increasing; this looks like it.
"Group of New York Lawmakers Calls for Legalization of Prostitution" [NBC News]. "Senators Jessica Ramos, Julia Salazar and Brad Hoylman, as well as Assemblyman Richard Gottfried are working with Decrim NY to introduce a bill to rewrite the state's penal code to decriminalize sex trades in the state of New York. Decrim NY is a coalition to "decriminalize, decarcerate and destigmatize the sex trade in New York City and state." In a Daily News op-ed, Ramos and Salazar urged for the end of criminalization of sex work while Gottfried and Hoylman spoke out about the Decrim NY in a series of tweets where they expressed their support." • Courageous! Does this mean Eliot Spitzer can return to public life? He was certainly a better Attorney General than the flaccid Schneiderman!
News of the Wired
"Postage Stamps from Bhutan That Double as Playable Vinyl Records" [Open Culture]. From 2015, but wow: "[In Bhutan, some] postage stamps… double[d] as playable vinyl records. Created by an American entrepreneur Burt Todd in the early 70s, at the request of the Bhutanese royal family, the "talking stamps" shown above could be stuck on a letter and then later played on a turntable. According to Todd's 2006 obituary in The New York Times, one stamp "played the Bhutanese national anthem," and another delivered "a very concise history of Bhutan." Thanks to WFMU, our favorite independent free form radio station, you can hear clips of talking stamps above and below. Don't you feel happier already?" • "Happier" becaue Bhutan has made it a goal to increase the Gross National Happiness of its citizens. We could use more little fun things like this.
"Want to Know If Someone Is Manipulating Data?" [MedPage Today]. "Deception of the audience in presenting a clinical trial is based on the same strategy of misdirection that magicians use to make their performances work. Believe it or not, there are dozens of possible forms of misdirection that are possible when presenting the results of a clinical trial…. First and most important is the trick of missingness. The best way to make data look better is to take out data that you do not like or not bother to collect it at all. If the presentation does not account for missing data, all sorts of mischief are possible. Let us say that you have randomized 600 patients in a trial. According to the intention-to-treat principle that governs the integrity of clinical trials, you need to show data on 600 patients. But often, investigators will show you data on 550 patients, having taken 50 patients out of the analysis. Clinical investigators can provide all sorts of reasons why the 50 patients are missing…. The truth: Missingness is never random, and if it is large enough, it is always a source of bias…. When is missingness important? When the amount of missing data is a meaningful proportion of the size of the treatment effect. Example: if the treatment group had 25 fewer deaths than the control group, missing data in 15 patients is meaningful. If the treatment group had 200 fewer deaths than the control group, missing data in five patients is very unlikely to be relevant." • The data is quicker than the eye…..
"Cross-cultural evidence does not support universal acceleration of puberty in father-absent households" [The Royal Society]. "Father absence in early life has been shown to be associated with accelerated reproductive development in girls. Evolutionary social scientists have proposed several adaptive hypotheses for this finding…. Empirical evidence to support these hypotheses, however, has been derived from WEIRD (Western, Educated, Industrialized, Rich and Democratic) populations…. We find that relationships between father absence and age at puberty are more varied in contexts beyond WEIRD societies, and when relationships beyond the father–daughter dyad are considered. This has implications for our understanding of how early-life environment is linked to life-history strategies, and for our understanding of pathways to adult health outcomes, given that early reproductive development may be linked to negative health outcomes in later life." • The section on "4. WEIRD populations are weird" is also well worth a read; reminds me of Piltdown Man, "the earliest Englishman."
UI/UX:
This is what users do when you create an intuitive UI. pic.twitter.com/qL7ppQ6KaD

— Pranay Pathole (@PPathole) February 26, 2019
I think these people do a lot of work with smart phones.
* * *
Readers, feel free to contact me at lambert [UNDERSCORE] strether [DOT] corrente [AT] yahoo [DOT] com, with (a) links, and even better (b) sources I should curate regularly, (c) how to send me a check if you are allergic to PayPal, and (d) to find out how to send me images of plants. Vegetables are fine! Fungi are deemed to be honorary plants! If you want your handle to appear as a credit, please place it at the start of your mail in parentheses: (thus). Otherwise, I will anonymize by using your initials. See the previous Water Cooler (with plant) here. Today's plant (KS):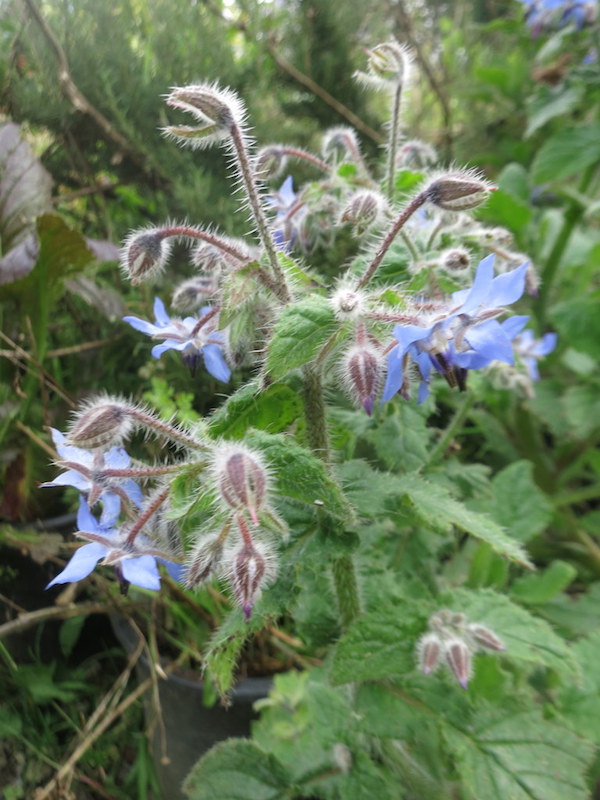 KS writes: "From Golden Gate Park." I love borage and I've got a lot of it. It's pretty, self-seeding, takes no work, and pollinators love it, especially bees. Borage is also, apparently, edible.
Thank you for all new plants, readers, especially people who sent in photos in for the first time!
* * *
Readers: Water Cooler is a standalone entity not covered by the annual NC fundraiser. So do feel free to make a contribution today or any day. Here is why: Regular positive feedback both makes me feel good and lets me know I'm on the right track with coverage. When I get no donations for five or ten days I get worried. More tangibly, a constant trickle of small donations helps me with expenses, and I factor that trickle in when setting fundraising goals. So if you see something you especially appreciate, do feel free to click below! (The hat is temporarily defunct, so I slapped in some old code.)
Or Subscribe to make a monthly payment!