Scientists say every animal needs sleep. These fruit flies didn't get the memo Science
World Bank's 'pandemic bonds' under scrutiny after failing to pay out on Ebola FT
Global Trade Pain Stings Export Economies From Japan to Germany Bloomberg
New bill is "clear attempt by MidAmerican to monopolize the sun in Iowa" Bleeding Heartland
Volkswagen's unequal justice: a Dieselgate employee and a manager Handelsblatt Today
Italy must face up to its fascist past – no amount of revisionism will erase its legacy of suffering Independent
Who Killed My Father by Édouard Louis — a warning to France's elite FT
Brexit
Chris Leslie interview: Labour have "massively underestimated" a new centrist party New Statesman
A divided Labour could hand the Tories another 12 years of power The Spectator
Antisemitism: no justification for singling out Labour Jewish Voice for Labour
Venezuela
Venezuelan Military Reject Trump's Incitement to Rebel: 'Over Our Dead Bodies' Venezuelanalysis. Wait 'til you get to the part about Richard Branson.

Trump Likes 'Beautiful' Border Walls – Venezuela Should Build Him One Moon of Alabama

How a bridge between Colombia and Venezuela became part of a propaganda fight CBC
North Korea
How to End a Forever War Ask a Korean!
Himalayan emergency: It's not too late to prevent melting glaciers Asian Correspondent
China?
Can readers translate to confirm? Thread:

any foreign journalist paying enough attention to 一号文件 No.1 Document (always on agriculture) published yesterday? One inconspicuous but highly siginificant line there spells death sentence for village-level self-governing/democracy across China. (Yes you know you missed it)

— imightknowchina (@itrulyknowchina) February 21, 2019

Odd account, good followers.

Transnational Carceral Capitalism in Xinjiang and Beyond Made in China

"Fronting a head," William Gibson calls it:

China's Xinhua News Agency on Tuesday unveiled the world's first female #AI news anchor, "Xin Xiaomeng,' who will make her professional debut during the upcoming meetings of the country's national legislature and top political advisory body #TwoSessions pic.twitter.com/9gGDpfwfil

— People's Daily, China (@PDChina) February 20, 2019
Singapore defense minister: Cost of conflict in South China Sea 'too high' Deutsche Welle
Courting change in Malaysia The Interpreter
India
The Daily Fix: The time has come, Mr Modi, to make a strong statement against attacks on Kashmiris The Scroll (J-LS).

Understanding the Origins of the Pulwama Attack Inside Pakistan The Diplomat

Cow Vigilantes in India Killed at Least 44 People, Report Finds Bloomberg
Syraqistan
Political Bombshell as Gantz, Lapid Join Forces to Replace Netanyahu Haaretz

The Cult-Like Group Fighting Iran Der Spiegel. MEK, in Albania, with funding at best opaque.
New Cold War
What if the Mueller report changes nothing? Chris Cilizza, CNN (Oregoncharles)

* * *

From Stalin's camps to Putin's laws How 'the Russian mafia' came to be Meduza

State of Play: Russia and the Fraying West Carnegie Moscow Center
Trump Transition
Democrats in Disarray
Why Bernie Sanders Matters More Than People Think Benjamin Studebaker. "Sanders and his opponents represent two very different ideologies. Each of these ideologies wants control of the Democratic Party so that this party's resources can be used to advance a different conception of what a good society looks like. This is not a matter of taste and these are not flavors of popcorn."

For Sanders, 2020 will present challenges that didn't exist in 2016 WaPo. FluffytheObeseCat: "Damned with faint praise by those who inhabit the most august quarters. Perhaps Bernie should 'do the right thing', and quit before he starts."
A Centuries-Old Idea Could Revolutionize Climate Policy The Atlantic. AOC as… Alexander Hamilton.
Big Brother Is Watching You Watch
APNewsBreak: Feds share watchlist with 1,400 private groups AP
Health Care
Nearly a quarter of rural hospitals are on the brink of closure Modern Healthcare
Guillotine Watch
FDA: Stealing Young People's Blood Won't Make You Immortal Cracked
Class Warfare
Fool's Gold: Socialism is Just Capitalism Inverted Ghion Journal
Base Culture n+1
Antidote du jour (Rick):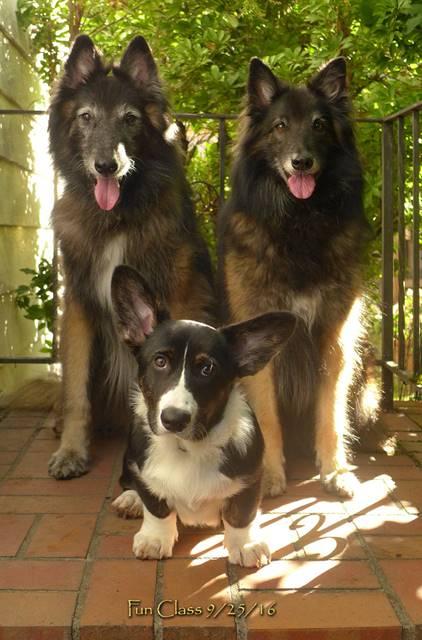 Rick writes: "Cats are fine, but…just sayin'. Here are my two Tervuren and their Cardigan sibling. Photo is copyright 2016 Rick Adams, but you are welcome to use it. To me, this is Heaven."
Bonus antidote:
VIDEO: ?? In Istanbul, stray cats and dogs are not chased from the streets — instead authorities feed them and give them veterinary care, not only improving their health but that of residents who come into contact with them pic.twitter.com/PZPt4hqeVI

— AFP news agency (@AFP) February 18, 2019
See yesterdays Links and Antidote du Jour here.