By Lambert Strether of Corrente.
Politics
"But what is government itself, but the greatest of all reflections on human nature?" –James Madison, Federalist 51
"They had one weapon left and both knew it: treachery." –Frank Herbert, Dune
2020
Biden (1): "Skeptical Democratic donors tell Joe Biden they will not raise funds for him at the start of the 2020 campaign" [CNBC]. "Several top Democratic donors have told former Vice President Joe Biden that they won't help him raise funds in the early stages of the party's 2020 presidential primary, CNBC has learned. Their reason: skepticism that Biden actually can win the Democratic primary… 'I told him, 'I can donate but I don't think I can raise you money today.' The sense we're getting [from other donors] is yes, he's a good guy and everybody knows him, but he has run for president a couple times and it didn't always work out,' said a billionaire financier who spoke on the condition of anonymity. 'I think with Biden there's a feeling of 'I like him, he's a really good guy, but he'd be running at a moment in time that a 76-year-old white guy may not be what voters want.' I don't want to give chits today for Joe. '" • "What's my benefit." Indeed, the key question, that presumaby others are more than willing to answer!

Biden (2):

I was unfortunate enough to be standing outside the Old Senate Chamber watching VP Joe Biden as he swore Heidi Heitkamp in, and said to her: "Spread your legs, you're going to be frisked."

Everyone watching just looked at each other, like, jfc, what is with this guy

— Ryan Grim (@ryangrim) March 21, 2019

Uncle Joe might not be the sort of uncle you have happy memories of…

Biden (3): "9 Reasons a Biden–Abrams Ticket Is a Brilliant Idea for Both Biden and Abrams" [New York Magazine]. • Hot sauce for Biden?

UPDATE Gravel (1): "As Twitter fans help Mike Gravel, pondering 2020 run, his controversial past causing commotion" [FOX]. Vice reported about claims that Gravel is a left-wing 9/11 truther, believing the infamous terror attacks were an inside job. The Jewish Worker reported about claims that Gravel has attachments to conspiracy theorists who support anti-Semitism, such as appearances on a podcast by known Holocaust denier Kevin Barrett." • FOX makes the running; we'll see when liberal organs follow. Gravel staffers (!):

Staffers in charge of his Twitter account told Fox News via email Thursday afternoon: 'The Vice piece neglects to note that this pales in comparison to other candidates. We will be sending in a statement to them shortly. We disagree with Senator Gravel on this specific issue. Whatever you think of these views, they have never killed anyone or imprisoned anyone unjustly. That's far more than you can say for people like [former Vice President] Biden, who voted to send kids to Iraq, or Kamala Harris, who contributed to mass incarceration.' They added: 'The Jewish Worker piece has been updated. We think their analysis has been fair and they've been judicious in allowing us to respond. Senator Gravel has unequivocally denounced Mr. Barrett, as you can see in the statements we sent.' They also added: "We aren't seeking to elect him president, and we don't expect everyone to agree with everything he has thought or has done in 88 years of life. We want to get him on the debate stage so he can issue a critique of American imperialism and push the field to the left."

Who are these guys?

UPDATE Gravel (2):

BREAKING: Mike Gravel formally disavows Kevin Barrett in a statement to the Jewish Worker. https://t.co/zh4mYAnuZm

— The Jewish Worker (@JewishWorker) March 21, 2019

UPDATE Gravel (3):

Don't ever think the Democratic establishment is your friend. They want you to die in foreign wars and your children to work in starvation-wage service jobs until they're 70 so that the top 0.1% can buy their kids' way into Yale https://t.co/NnwrzuHToD

— Mike Gravel (@MikeGravel) March 22, 2019

Sanders (1): "Bernie Sanders, at UCLA, highlights his longtime support for organized labor" [Los Angeles Times]. "Bernie Sanders' first appearance in California as a 2020 presidential candidate was not at a mega-rally like the ones that defined his previous bid, but at a speech before sun-baked picketers in front of UCLA's medical center. The rallies will come later — Sanders has three scheduled this weekend in the state — but the show of solidarity with striking UC workers illustrated how the Vermont senator is seeking to align himself with organized labor, a bedrock of Democratic politics." • I'm not sure the interests of "organized labor" — i.e., the national — and the picketers are completely aligned, so I would strike out "organized labor" and write in "working class."

Sanders (2): "Bernie Sanders's reparations comments cause rift over DSA endorsement" [Vox]. Here is what Sanders said: "But what does they mean? What do they mean? I'm not sure that anyone's very clear. What I've just said is that I think we must do everything that we can to address the massive level of disparity that exists in this country." • This seems unexceptional to me; "What do they mean?" is, after all, what HR40 is meant to determine! I struggle not to think of reparations as a dagger aimed at at a platform of universal concrete material benefits, but the material in this article doesn't help me.

Sanders (3):

Democratic Socialists of America is proud to endorse Sen. Bernie Sanders for president! ? We're building a mass movement to take on the billionaires and win a society that puts people over profit. Join us https://t.co/Gsy5Ij2G2K pic.twitter.com/66DHY9hqyk

— DSA ? (@DemSocialists) March 22, 2019

Majority of the online poll (!) agreed with DSA National; majority of the chapters disagrees, including the Iowa chapter.

UPDATE Sanders (4): "Once an Insurgent, Sanders Now Has Front-Runner Challenges" [Bloomberg]. "No longer a fringe candidate or an outsider, Bernie Sanders will be under pressure to score decisive victories in early contests for the Democratic nomination or risk seeing his 2020 candidacy deflate." • IA, NH, NV (Culinary Workers), SC (Firewall), basically in order of increasing difficulty. That's the conventional take, and it could be right. For the Democrat establishment, it makes sense to take Sanders out before CA, so expect ugly race-based assaults to intensity before SC. I'm not sure the conventional take is correct, however. One way to look at Sanders strategic assets of independent list, independent media, and independent canvassing is that he can bypass the conventional, "horse race" narrative, and take hits that would kill another candidacy. We'll see. And his interesting staff should be capable of plenty of lateral thinking, so we'll see how they deal with their candidate's dreaded front-runner status.

Yang: "Long-shot Democratic candidate Andrew Yang will have public debate about his anti-circumcision policy after he says procedure is 'pushed on parents' of newborn boys" [Daily Mail]. "He noted he is supportive of circumcision opponents who call themselves 'intactivists' – a reference to their desire to keep penises 'intact.' 'I'm highly aligned with the intactivists,' Yang said. 'History will prove them even more correct.'" • Presumably there's a constituency for this…
New Cold War
Apparently, some think the Mueller report is slated to drop today; perhaps at 5:00PM?

I think reality is sinking in. Here's @emptywheel — who deems yours truly a "Russian conspiracy denialist" — now allowing that Mueller's report could show that Russiagate is "much ado about nothing." Does that mean @emptywheel could join us denialists? https://t.co/s0xgKcJqOA pic.twitter.com/ve4xORUTJH

— Aaron Maté (@aaronjmate) March 22, 2019

We will see soon enough who is right. Perhaps!

"Mueller's fans venerate him _ and nervously await report" [Associated Press]. "Her family wanted a puppy, so Alicia Barnett dreamed they would find one that was smart, steady and a bit mysterious. She hoped their new addition could share a personality — and a name — with the man who has become her rather unlikely idol. And so, the Barnetts' new chocolate Lab was christened Mueller…. For devoted Democrats like Barnett, Robert Mueller has become a sort of folk hero since his appointment in May 2017." • Greenwald comments: "This is the saddest thing I've ever read. Robert Mueller was George Bush's post-9/11 FBI Chief who rounded up Muslims and was a key figure in WMD lies." Note also the confusion between liberal and left.

UPDATE Lots of dunking on Mueller in this thread:

Mueller is just going to check Twitter for like ten more minutes https://t.co/ROLo6DRlVN

— Spencer Ackerman (@attackerman) March 22, 2019
2019
AOC on her Time cover:

Last year, I woke up to organize w/ my community & waitressed to make ends meet. Today, staggeringly, I woke up to this.

I believe in an America where all things are possible. Where a basic, dignified life isn't a dream, but a norm.

That's why I got up then,& why I get up now. https://t.co/1vTMe9c8Uv

— Alexandria Ocasio-Cortez (@AOC) March 21, 2019
Realignment and Legitimacy
"House Democratic Leadership Warns It Will Cut Off Any Firms Who Challenge Incumbents" [The Intercept]. More precisely, the DCCC. "The Democratic Conressional Campaign Committee warned political strategists and vendors Thursday night that if they support candidates mounting primary challenges against incumbent House Democrats, the party will cut them off from business…. The main beneficiaries are the consultants in the good graces of party leadership. "It's a commercial enterprise," said [Rep. Stephen Lynch, D-Mass]." • I guess one @AOC is more than enough for the liberal Democrat leadership, eh? Which means they think there might be more, unless they take action to make the Democrat Party, well, even less small-d democratic than it already is. Let's take a moment to review what Nomiki Konst said at the laughingly named "Unity and Reform Commission" last year:

Konst: "We're talking about close to $700 to $800 million dollars between the joint fundraising and the DNC being spend on five consultants." So, after reviewing the 2016 election results, the DCCC has decided to double down. They have learned nothing, and forgotten nothing, as Talleyrand said. In a way, this is wonderfully clarifying. What it means is that every DCCC-backed candidate has signed a contract to spend four hours a day on servicing donors, and every challenger, by definition, has not. So it now becomes very clear to whom the Democrat Party is responsible. And to whom it is not.

"House Democrats Move to Hobble Primary Challengers" [National Journal]. "It is intended to help stymie attempts by insurgent progressive groups who plan to primary incumbents deemed insufficiently liberal on key issues, but also to shield members of the party's ascendant liberal wing who represent safe Democratic territory and could face intraparty challenges of their own." • Try parsing the use of the word "liberal," there. (And since when did liberals support monopolies in what Representative Lynch calls "commercial enterprises"?

A very good question:

very interested to see how they treat @actblue

— howie stanger (@howiestanger) March 22, 2019

Stanger is COO of the Sunrise Movement, and this quote makes me more optimistic about them.

"Democrats can't afford another ugly primary campaign in 2020. Is that where we're heading?" [Amanda Marcotte, Salon]. • As Marcotte does everything she can to stoke an ugly 2020. Came out before the news about the DCCC, but it does seem all of a piece, doesn't it?

What could explain the difference?

Immigration politics is a little different from how you see it debated Online pic.twitter.com/fWq0IZrBlQ

— Zaid Jilani (@ZaidJilani) March 21, 2019

Yard men and maids.

"What getting rid of the Electoral College would actually do" [CNN]. "Unfortunately, it would take a Constitutional amendment to achieve the kind of reform I think by far best. The proposal simply to award electoral votes to whoever comes in first does nothing at all to assure a genuine majoritarian choice, and it is easy to imagine a truly perverse result should we further fragment into multi-candidacies for the presidency." • So there's an enormous boomlet in liberal Democrat circles about abolishing the Electoral College, which won't happen any time soon, but does have the great merit of enabling liberals not to tallk about policy.
Stats Watch
Wholesale Trade, January 2019: "There are few indications of economic slowing that are more convincing than an unwanted build in inventories — and that apparently is what's underway in the wholesale sector" [Econoday]. "The sector's stock-to-sales ratio continues to climb, at 1.34 vs 1.33 in December and against 1.28 in January last year. Today's data confirm the wisdom of the Federal Reserve's cautious outlook." And: "Overall, the rolling averages tell the real story – and they declined this month. This sector's growth continues to trend down. This sector has little growth if one inflation adjusts the data" [Econintersect]. "Inventory levels this month are at recessionary levels."
Existing Home Sales, February 2019: "Averages aren't needed to find the good news in February existing home sales," which jumped (above consuens). [Econoday]. "Data on new home sales have not been as strong as this report but still look respectable and, together with today's data, should ease the pessimism for a sector that held down the 2018 economy." And but: "Seasonally February is one of the weakest months of the year for existing home sales (See Not Seasonally Adjusted NSA graph below). Since existing home sales are counted at closing, these are properties that usually went under contract during the holidays or in early January. So I wouldn't read too much into the pickup in February. Sales will be stronger seasonally over the next several months" [Calculated Risk]. And but: "The rolling averages for existing home sales have been slowing since the beginning of 2017. This month the rolling averages remained in contraction – but improved. Housing inventory is historically low for Februarys and the year-over-year growth slowed. Overall, this was better data than last month – but keep in mind that sales are contracting year-over-year" [Econintersect].
Energy: "Oil Traders Are Now Watching Workers' Phones to Spot Problems at Refineries" [Bloomberg]. "'For oil traders, knowing where the workers are and how many there are will absolutely help traders know how much output the refinery is producing,' Claire Curry, BloombergNEF's head of digital industry, said in an email. 'Unconventional forms of data — like where people are in a plant, or the levels of oil in tankers — will become available not to just large companies who collect the data, but to the cleverest data scientist with the best algorithms.'"
Purchasing Managers' Index Composite (Flash), March 2018: "A weak set of PMIs won't have anyone double guessing the Federal Reserve's dovish policy meeting this week" [Econoday]. "Today's report isn't citing any particular factors, just that overall demand appears to have slowed at quarter end. Still, readings… indicate growth though slower growth compared to the last couple of years."
Manufacturing: "Indonesia's national airline seeks to cancel multibillion dollar order for 49 Boeing Max 8 jets" [USA Today]. "It is the first announcement of a cancellation since Boeing's new model aircraft were grounded following fatal crashes in Indonesia and Ethiopia…. 'Passengers always ask what type of plane they will fly as they hve lost trust and confidence in the Max 8 jet,' [the company's spokesman Ikhsan Rosan said]. "This would harm our business."
Manufacturing: "How the FAA delegated oversight to Boeing" [Politico]. "Congress, though, has repeatedly encouraged the FAA to continue in this direction [self-certification], ordering only minor changes in the delegation program in its last major aviation legislation last October. According to a 2013 Government Accountability Office report, FAA-approved private employees at that time were performing more than 90 percent of tasks involved in certification. Advocates for the program have included acting FAA Administrator Dan Elwell, who told Congress in 2012 that pressing forward with the program was the best way to streamline the agency's approvals. At the time, he worked for the trade group Aerospace Industries Association, of which Boeing is a member." • Because of course he did.
Tech: "How Twitter's algorithm is amplifying extreme political rhetoric" [CNN]. "Relying on an algorithm to insert politically-oriented tweets into the feed of users, however, appears to come with unintended consequences. Some tweets contain extreme political rhetoric and/or advance conspiracy theories. And they are regularly posted by media or internet personalities who hold fringe views (many are also verified, giving them an added sense of credibility to people who may not be familiar with them), exposing users on the platform to radical content they may otherwise have not encountered. In effect, the practice means Twitter may at times end up amplifying inflammatory political rhetoric, misinformation, conspiracy theories, and flat out lies to its users." • Turn off the so-called "Top Tweets" feature, which Twitter allows you to do (although it randomly turns it back on).
The Biosphere
"Banking on Climate Change 2019" (PDF) [Rainforest Action Network]. "JPMorgan Chase is the world's top funder of fossil fuels by a wide margin. It led by 68% in expansion in the last three years, and by 29% in finance for all fossil fuels globally." • Jamie's been on TV a lot lately. Somebody should ask him about this.
"In nature, premature springs are creating new winners and losers" [Yale Climate Connection]. "For some plants and animals, temperature is the most important sign that spring is beginning, and when spring-like temperatures start early, so do they. Other species depend on different cues or a combination of cues – like the length of light in a day or the number of chilly days – to know when to start their spring. Those signals aren't all affected by climate change in the same way, and some, like day length, aren't affected at all. This leads to some species starting their springs earlier, while others stick closer to their historical schedules. That puts interspecies relationships – like those between plants and pollinators or predators and prey – at risk of falling out of sync. Theresa Crimmins, the assistant director of USA National Phenology Network, said that in general, species that are adapting more quickly are increasing in abundance. "The ones that are not as responsive," Crimmins said, are "tending to decrease in abundance or even be disappearing from the landscape." For example: "Many invasive shrubs, like certain honeysuckles, are taking advantage of one such timing mismatch. Researchers have discovered that in forests in the eastern U.S., invasive shrubs put out their leaves earlier in spring than their native counterparts like dogwoods, allowing them to capture sunlight with less competition." • For the projecct on invasive shrubs, note the crowd-sourcing; something that the Jobs Guarantee could definitely multiply.
"Something is rapidly killing young apples trees in North American orchards. Scientists are stumped" [Science]. One possibility: "Modern apple farming methods could also be a factor. Rapid decline is most common in dense orchards, which are increasingly planted because they are efficient to manage. Instead of about 250 trees per hectare, high-density orchards can have 1200 or more. Tightly packed trees must compete for nutrition and moisture. They also have shallow roots, which make them easier to trellis but more vulnerable to drought. ',' [plant pathologist Awais Khan of Cornell] says, "but it's not robust for these kinds of fluctuations.'" • You're not? Why not?
"The Last Wild Apple Forests" [Atlas Obscura]. "In the early 20th century, biologist Nikolai Vavilov first traced the apple genome back to a grove near Almaty, a small town whose wild apples are nearly indistinguishable from the Golden Deliciouses found at grocery stores today. Vavilov visited Almaty and was astounded to find apple trees growing wild, densely entangled and unevenly spaced, a phenomenon found nowhere else in the world….
Guillotine Watch
"What Every Kid in the College Admissions Scandal Knew About the Scam" [New York Magazine]. Here's the first one probably knew: "Elizabeth and Manuel Henriquez — Manuel is the founder and CEO of a Silicon Valley hedge fund in Palo Alto — paid four separate times to manipulate exams for their two daughters. In one instance, CW-2 sat next to the older daughter and gave her the answers while she took the test. CW-2 said that after the test, he "gloated" with the mother and daughter about how they'd cheated and gotten away with it." And the first one who probably did not know: "When discussing cheating for her younger daughter, Huffman told CW-1 she thought her daughter would want to take the exam twice no matter what score she got — indicating that Huffman did not inform her daughters that their scores were being manipulated." • If you believe Huffman, yes.
Class Warfare
"Trust Fund Squirrels That Inherit Food Hoards Succeed at Life, Study Finds" [Vice (RH)]. "Squirrels, like humans, can be trust fund kids, benefitting from caches of spruce cones left behind by older generations, according to new research…. These privileged individuals are more successful in life, having the 'time and energy' to bear more offspring—roughly 50 percent more than squirrels who didn't receive a nutty inheritance… The wealth isn't necessarily handed down from parents to children like in humans, rather it's more opportunistic. When young, coneless squirrels set off on their own, some are lucky enough to stumble upon abandoned stores. This in turn endows them with a cushier life; less time spent hunting for food, and more time for making babies."
UPDATE "The American Dream, Quantified at Last" [David Leonhart, New York Times]. With handy charts. For those born in 1980: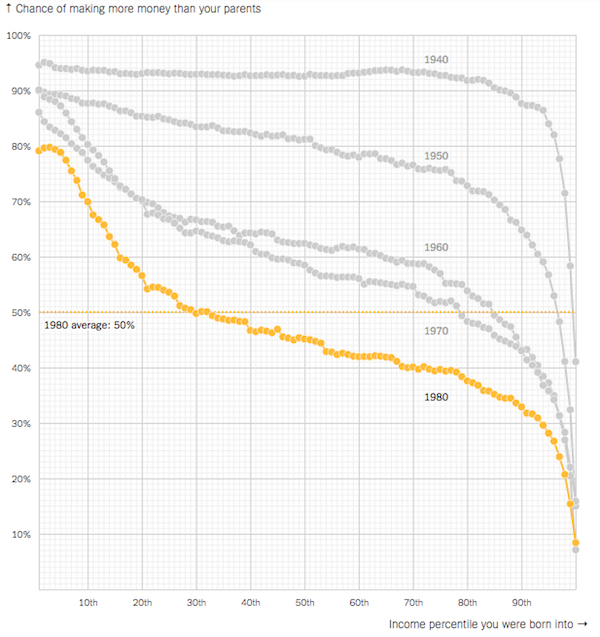 So, little squirrels, take care to be born to parents who stored lots of pine cones! That is the road to success in life!
* * *
"Kickstarter's staff is unionizing" [The Verge]. "[T]hey're working with the Office and Professional Employees International Union (OPEIU) Local 153… In a world of Facebook and Twitter, Kickstarter feels almost quaint in its mission — 'to help bring creative projects to life' — and in its charter as a public benefit corporation, which means that the company is 'obligated to consider the impact of their decisions on society, not only shareholders.' Its staff unionizing means the company will also have to consider more seriously its responsibilities to its employees. It also means that its fellows in Silicon Valley and beyond could be next. Kickstarter is fundamentally a tech company, and its staff unionizing with the OPEIU shows a way forward for other employees in the space." • Exciting!
"Leaked Memo Shows Kickstarter Senior Staffers Are Pushing Back Against Colleagues' Union Effort" [Gizmodo]. "One of the more surprising statements in the memo [from Kickstarter senior staffers] is the claim that tech employees like those at Kickstarter have it too good to merit organizing. 'Unions are historically intended to protect vulnerable members of society, and we feel the demographics of this union undermine this important function,' the memo states. 'We're concerned with the misappropriation of unions for use by privileged workers.'" • Look at that useless disempowering language, which shows the uselessness of thinking of class in terms of privilege. Eh?
"'This is not me'" [WaPo]. "As housing costs climb ever higher in booming urban areas, the significant growth in tent encampments nationwide has become one of the most visible signs of the nation's failure to alleviate widening inequality." • Note that the tent-dwellers in this story have jobs. As fast food workers. Naturally.
News of the Wired
"25 Gross Old Fashioned Recipes You Won't Believe People Actually Ate" [ThoughtCo]. "Back in the 50s it apparently didn't count as a meal unless it was suspended in an oozing pile of gelatin." • Fast forward to the 70s:
Activate the nuclear bunker! pic.twitter.com/22s4RsoXtr

— 70s Dinner Party (@70s_party) March 21, 2019
* * *
Readers, feel free to contact me at lambert [UNDERSCORE] strether [DOT] corrente [AT] yahoo [DOT] com, with (a) links, and even better (b) sources I should curate regularly, (c) how to send me a check if you are allergic to PayPal, and (d) to find out how to send me images of plants. Vegetables are fine! Fungi are deemed to be honorary plants! If you want your handle to appear as a credit, please place it at the start of your mail in parentheses: (thus). Otherwise, I will anonymize by using your initials. See the previous Water Cooler (with plant) here. Today's plant (TH):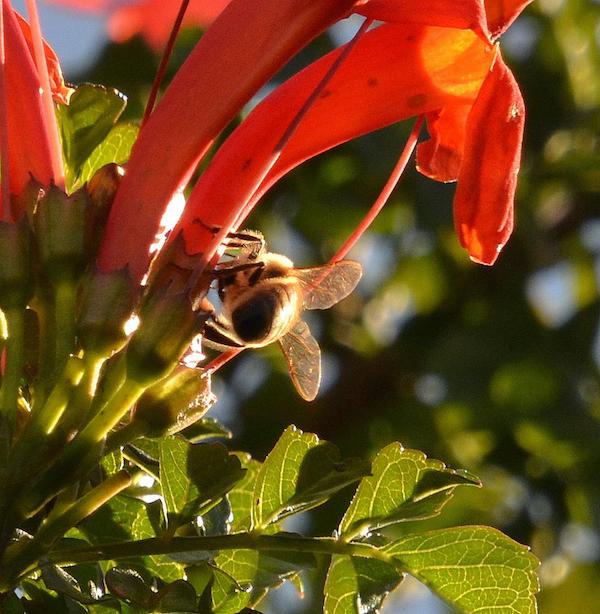 TH writes: "I've read that bees pierce tubular flowers to get the nectar. There appear to be other insects on the inside if this trumpet honeysuckle vine bloom, but if they are there for the nectar, I think she's got them beat."
* * *
Readers: Water Cooler is a standalone entity not covered by the annual NC fundraiser. So do feel free to make a contribution today or any day. Here is why: Regular positive feedback both makes me feel good and lets me know I'm on the right track with coverage. When I get no donations for five or ten days I get worried. More tangibly, a constant trickle of small donations helps me with expenses, and I factor that trickle in when setting fundraising goals. So if you see something you especially appreciate, do feel free to click below! (The hat is temporarily defunct, so I slapped in some old code.)
Or Subscribe to make a monthly payment!