By Lambert Strether of Corrente.
Patient readers, I am going to do a Water Cooler that is (hopefully) enough to get you started, finish up my post on Jayapal's Medicare for All bill, and then return here. And you can always talk amongst yourselves! –lambert UPDATE All done!
Politics
"But what is government itself, but the greatest of all reflections on human nature?" –James Madison, Federalist 51
"They had one weapon left and both knew it: treachery." –Frank Herbert, Dune
2020
There are now fourteen Democrat candidates as the Democrat establishment continues its headlong rush to a brokered convention. So I've taken to alphabetizing them.

Booker: "What is the 'Jim Clyburn model?' It's the foundation of Cory Booker's SC strategy" [McClatchy]. "During his first visit to South Carolina last month as an official Democratic candidate for president, U.S. Sen. Cory Booker didn't spend all his time in the cities with the largest media markets. He didn't make public appearances with South Carolina's best-connected Democratic "gatekeepers" — such as Columbia Mayor Steve Benjamin or former Democratic National Committee Chairman Don Fowler — who are often called upon to introduce candidates to voters in the "First in the South" 2020 primary state. Instead, the New Jersey lawmaker held forums at rural high schools and colleges, tailoring a national policy platform to people in the room who were worried about access to hospitals, clean drinking water and reliable Broadband." • It would be interesting of Booker took out Harris in SC.

Cuomo: "Andrew Cuomo's Case for 2020—No, Really" [The Atlantic]. Ratface Andy on Biden: "He knows what he's talking about, he's experienced, he is relatable, he knows how to get things done, he wants to get things done, he's not blowing smoke, he's not a blue-sky puffer. He's not, 'Health care for all, Social Security for all! Everything for all!'" • Oh, hell yeah. Where do I sign up?

Harris (1): "Kamala Harris told AIPAC she backs Israel because of civil rights struggle in Selma, 1965" [Mondoweiss]. "Here's the context. At a town hall in Bettendorf, Iowa, yesterday, an audience member called on the presidential hopeful to release her private comments last year to AIPAC, the leading Israel lobby group…. The audience member kept at it, and Harris later released a transcript to Huffington Post of the meeting with pro-Israel students at the AIPAC conference in Washington, on March 5, 2018." • An object lesson in why retail politics is important.

Harris (2): Culinary workers critical in NV:

Had a great conversation with @KamalaHarris at the @NVAFLCIO this afternoon about fighting to win for working families & immigrants, repealing the 40% tax on our nonprofit union healthcare plan, a true economic justice message, & discussed the organizing drive at @StationCasinos. pic.twitter.com/7wd4KCYBii

— The Culinary Union (@Culinary226) March 2, 2019

Harris (3): Ka-ching:

Want to attend a fundraiser with Kamala Harris hosted by JJ Abrams? It will cost you $2,800. But if you pitch in $10,000 you can co-host. https://t.co/xR2xBdG3eZ

— Zaid Jilani (@ZaidJilani) March 3, 2019

Hickenlooper: "Former Colorado Gov. John Hickenlooper, touting diverse background, joins 2020 presidential field" [ABC]. Hickenlooper: "We got the oil and gas industry to work with the environment community to create methane regulations." I think fracking activists would have something to say about that. And from ABC's Facebook page (sorry): "Asked how he'd work with Senate Majority Leader Mitch McConnell if elected president, John Hickenlooper tells Good Morning America, 'I would go to Mitch McConnell, to his office, and I would sit down with him and say, 'Now, what is the issue again?' and we would talk…Sounds silly right? But this works." abcn.ws/2TrgJjA" • Obama tried that 2019 – 2009 = 10 years ago. It was a debacle, as even Brad DeLong admits (today under Realignment and Legitimacy).

Holder: "Eric Holder says he will not run for president in 2020" [CNN]. "'Though I will not run for president in 2020, I will continue to fight for the future of our country through the National Democratic Redistricting Committee and its affiliates,' Holder, who served under President Barack Obama, wrote in a Washington Post op-ed. He did not provide a reason for his decision." • In a way, that's rather too bad.

O'Rourke: "Just What Does Beto Believe?" [Politico]. "'I don't know,' [O'Rourke] said. 'I'm just, as you may have seen and heard over the course of the campaign, I'm not big on labels. I don't get all fired up about party or classifying or defining people based on a label or a group. .'" • Finally taking a stand!

Sanders (1): Not that the betting markets mean anything, but they like the Sanders rollout:

Bookies warm to @BernieSanders Democratic primary candidacy–easily the biggest response to a campaign rollout. pic.twitter.com/MAhUqKKT8n

— Tom Wood (@thomasjwood) March 3, 2019

Sanders (2): "Bernie Sanders Has a Secret" [Politico]. From 2015, still germane. From a 1973 (!) radio broadcast, the transcript:

From the Eocene Epoch of the Neoliberal Period. Sanders has not had to change is speech, because the essence of "our" political economu is in 2019 what it was in 1973.

Sanders (3): "Dismissing Bernie Sanders as a communist shows your 'profound ignorance,' says one of the most influential behind-the-scenes figures in American business" [Business Insider]. "The majority of America's largest companies are incorporated in Delaware, and its Supreme Court chief justice, Leo E. Strine, Jr., is a highly influential and outspoken voice on corporate law…. 'When people talk Bernie Sanders as if he's a communist, they show a profound ignorance' of the market and of history, Strine said. He added that while he doesn't agree with all of Sanders' proposals, they're not actually radical from a historical or global perspective. Per Strine, Sanders is actually a centrist by the standards of some of our closest and most prosperous European allies." • Who is this Strine dude? A communist?

Sanders (4): No time to listen to this; reaction on the Twitter follows predictable lines:

Senator #BernieSanders answers questions about reparations. Full interview up now – https://t.co/zDdqLcbxX1 pic.twitter.com/tPEPU7xJLV

— The Breakfast Club (@breakfastclubam) March 4, 2019

* * *

"In Iowa, a boot camp trains an army of progressive foot soldiers" [Yahoo News]. " Just days before the inaugural Arena Academy class showed in up wintry Des Moines, the DNC announced its own training program, Organizing Corps 2020, which aims to train 1,000 rising college seniors to work on presidential campaigns. The training, which will be paid, will take place in swing states like Wisconsin, Pennsylvania and Florida. At the same time, the Democratic Congressional Campaign Committee has in-person trainings it calls DCCC-U. Arena's founders say that while their approaches may differ in some respects from those of the Democratic establishment, there is no competition. 'We want more people doing this,' says Arena co-founder Ravi Gupta." • From Arena's Team page: "Before co-founding Arena, Ravi was the Founder and former CEO of RePublic Schools, a network of charter schools in the South…. and served as assistant to Chief Strategist David Axelrod [in 2008]." "Progressive," lol.
2018 Post Mortem
Thanks for the brain damage, Hillary:

65% of Democrats think "Russia tampered with vote tallies" & 41% believe "millions of illegal votes were cast in the election." These numbers illustrate just how divorced from reality Democratic discourse on Russia has been. pic.twitter.com/3lBsrVIWFx

— Ben Spielberg (@BenSpielberg) March 2, 2019

"Hillary Clinton blames gutting of Voting Rights Act for her 2016 loss" [Yahoo News]. • Wisconsin actually erased itself from the electoral map! That's why Robbie Mook couldn't find it.
2019
This proposal is imaginative:

What I love about this tweet is that it embodies something we desperately need right now: public imagination.

When we focus on imagining and debating new possibilities of what we want to accomplish, instead of relentlessly fixating on limitations, we build the will to do more. https://t.co/iLgiXDh5Bt

— Alexandria Ocasio-Cortez (@AOC) March 2, 2019

Keeping the town library open late would probably be vehemently opposed by every bar and every package store in my university town. So do it!
Realignment and Legitimacy
"A Clinton-era centrist Democrat explains why it's time to give democratic socialists a chance" [Vox]. "[Brad] DeLong, who served as deputy assistant secretary of the Treasury for economic policy in the Clinton administration, [is] is one of the market-friendly, 'neoliberal' Democrats who have dominated the party for the last 20 years. Yet DeLong believes that the time of people like him running the Democratic Party has passed. ',' DeLong wrote. 'We are still here, but it is not our time to lead.'" • Well, that's an interesting straw in the wind. DeLong continues: "Barack Obama rolls into office with Mitt Romney's health care policy, with John McCain's climate policy, with Bill Clinton's tax policy, and George H.W. Bush's foreign policy,' DeLong notes. 'And did George H.W. Bush, did Mitt Romney, did John McCain say a single good word about anything Barack Obama ever did over the course of eight solid years? No, they fucking did not.'" • Oopsie. An interesting read, and I wonder how many other Rubin Democrats will follow DeLong's lead.

"The One Trait That Predicts Trump Fever" [Politico]. "In the case of Chevy Chase, the key to understanding Trump opposition in the primary has a lot to do with understanding the strength of the community, just as it does in a Wisconsin town called Oostburg. Oostburg is different from Chevy Chase in almost every way except for one crucial similarity: Both of these villages are knit together by the kind of community institutions and civil society that have disintegrated in most of the United States in the past several decades." • Note lack of agency in "have distintegrated.

Intersectionality, eh?

When @BernieSanders posts about your article in The American Conservative…

— Austin Frerick (@AustinFrerick) March 1, 2019

And don't @ me on Strasserism.

"Chicago's next mayor could face emboldened, progressive City Council" [Chicago Tribune]. "Critics often malign Chicago's City Council as a rubber-stamp body, slamming its members for advancing Mayor Rahm Emanuel's agenda often absent any rigorous debate…. [P]olitical organizations and activists are working to change that narrative, pushing to elect a wave of progressive leaders on the City Council … In last Tuesday's election, the groups succeeded in electing three new progressive aldermen, thumping two incumbents criticized for their ties to Emanuel while replacing a retiring council veteran. Two members of the Democratic Socialists of America won seats outright, and three members of DSA advanced to the April 2 runoff election." • That's pretty remarkable.

"A Historic Election in Chicago Cracks the Machine" [In These Times]. "Certainly, this election marks a historic moment in Chicago, with the city poised for its first Black woman mayor and an increasingly independent, progressive and diverse Council. But voter turnout was exceedingly low. No matter how fresh their ideas and fervent their commitment, Chicago's new leaders will need the public's input and energy to make lasting change."

DSA (1):

We've endorsed this petition to DSA National: defer any 2020 endorsements to the Convention "where members elected to represent all local chapters and members at-large may debate and vote on such an endorsement in a transparent manner."

Sign here:https://t.co/qXhCkmW2Dk

— ? DSA-LSC ? (@dsa_lsc) March 4, 2019

This seems like a no-brainer to me. Whatever DSA can do for the Sanders campaign is a drop in the bucket, given that Sanders raised five times the DSA national budget on his first day. DSA should do what only it can do. For example–

DSA (2): Concrete material benefits:

Working through a case study on a project @SpaceCoastDSA is working on – getting rid of school lunch debt in public schools #fldsa pic.twitter.com/E8BxnEZ5kE

— Orlando DSA ?? (@Orlando_DSA) March 2, 2019

This would scale, just like the brake lights clinics did. Get out there and serve the working class!
Stats Watch
Construction Spending, December 2018: "The unexpected monthly decline (consensus forecasts called for a moderate increase) was led by private residential construction, which fell" [Econoday]. And: "The rolling averages declined – and last month was revised down. Also note that inflation is grabbing hold, and the inflation adjusted numbers are in contraction" [Econintersect]. "The employment gains currently are generally correlating with construction spending." And: "On a year-over-year basis, private residential construction spending is down 1%. Non-residential spending is up 3% year-over-year. Public spending is up 4% year-over-year" [Calculated Risk]. "This was below consensus expectations, however spending for October and November were revised up."
Retail: "Why a Lady Gaga-Like Platform Heel Will Be the Female Empowerment Pump for Fall" [Footwear News]. "The platform may be one of the oldest tricks in the shoe book, but its long history does not dilute the powerful feeling it can create for its wearer. For the 5'1″ Gaga, it's an integral part of the fearless persona she's created over the past decade…. The platform may be one of the oldest tricks in the shoe book, but its long history does not dilute the powerful feeling it can create for its wearer. For the 5'1″ Gaga, it's an integral part of the fearless persona she's created over the past decade… [I]magine how Nancy Pelosi would look on the House floor with a discreet pair hidden under her pantsuit." • No.
Shipping: "A Storm Is Gathering Over Container Shipping" [The Wall Street Journal]. "Container ships move things as diverse as clothes, food, furniture, electronics and heavy-industry parts. In the years before the 2008 financial crisis, boxships fueled globalization. Demand for ocean trade rose as much as 8% annually and owners spent billions to buy more vessels. This created loads of excess tonnage that, at the current rate of new ship deliveries, will take at least two years to absorb. It also means that on top of higher fuel expenses, freight rates likely will continue to hover way below break-even levels across some of the biggest ocean trade routes. With China's economy slowing and shipments taking a hit from the evolving trade war between Washington and Beijing, operators are already cutting their full-year forecasts. 'We see clearly a global economic growth that is declining,' Soren Skou, chief executive of A.P. Moller-Maersk AS, the world's top container operator by capacity, told an investor conference call recently. 'We see weaknesses, in particular, in China and Europe. We expect container demand growth to fall to 1% to 3% this year from 3.7% to 3.8% last year.'" • Are containers the new Baltic Dry Index?
Shipping: "Moscow confirms go-ahead for giant nuclear icebreaker" [The Barents Observer (GF)]. "Last year, the Kremlin ordered by decree shipping along the Northern Sea Route to be 80 million tons per year by 2024, and the easiest way to reach such huge amount is to boost export of oil, gas and other minerals. However, Russia's current and next generation fleet of nuclear powered icebreakers will not be sufficient to secure winter-voyages by LNG-tankers on the eastern part of the Northern Sea Route, from Yamal to the Pacific. Consequently, the much wider and more powerful Leader icebreaker is required…. Mikhail Grigoriev is an expert on shipping and logistics in Russia's Arctic region… said the main driver for Northern Sea Route development is not transit voyages with cargo between Europe and Asia. 'Development of mineral resources is the main incentive motive of development of Arctic shipping for Russia,' Mihail Grigoriev explained. He says transit navigation could come as a result of LNG shipping."
The Bezzle: "Dealers seen challenging Tesla shift to online sales" [Automotive News]. "Unclear is how state motor vehicle rules will respond to an automaker selling vehicles online, direct to consumers, without local stores or service centers… Don Hall, CEO of the Virginia Automobile Dealers Association, said he has a problem with Tesla's online selling plan. Virginia's franchise law requires a company to have a physical presence in the state to sell online, he said…. To allay consumers' concerns about buying a vehicle unseen without test-driving it, Tesla is offering a seven-day, 1,000-mile return policy…. 'You are still asking someone to take an upfront obligation of $35,000 to about $150,000 without first doing a free test drive,' [Morningstar analyst David Whiston] said. 'That's very different from buying clothes on Amazon."" • Particularly with Tesla's well-known quality problems. And even buying clothes on Amazon isn't buying clothes on Amazon, because the clothes will change although product pages do not.
The Bezzle: "The Fall of 'America's Money Answers Man'" [New York Times]. "Financial experts, even those with bulletproof credentials, may be trying to sell you something." • ZOMG!!!!!!!!!!!!!!!!!!!!!!!!!!!
Tech: "The attention economy is dead" [The Verge]. "The advertising industry — and therefore the industries it supports, like the media — is predicated on the idea that if you've heard of something and have a positive association with it, you're more likely to buy the product or the experience. And that isn't wrong: people make decisions for reasons unfathomable even to themselves all the time. It makes sense to monetize humanity's fundamental irrationality. (Sucks to the economists who peddled the Rational Consumer model of microeconomic behavior!) But the base assumption that the whole edifice is built on is becoming unstable, because what happens when society's attention is entirely monopolized?… The problem is attention doesn't scale. There is only so much time in the day to be advertised to; ads themselves are becoming less effective, because they're now everywhere. When was the last time you consumed something that wasn't trying to sell you something, or harvest your personal data to sell you things better?" • The last time? This morning, actually. I try to remove myself from the attention economy as much a possible. (Granted, I make an exception for the Twitter, but their advertising is so sparse I can't figure out how they make any money. Jack should just make it into a commons.)
Tech: "Here are the data brokers quietly buying and selling your personal information" [Fast Company]. "Thanks to a new Vermont law requiring companies that buy and sell third-party personal data to register with the Secretary of State, we've been able to assemble a list of 121 data brokers operating in the U.S. It's a rare, rough glimpse into a bustling economy that operates largely in the shadows, and often with few rules." • "Bustling." More: "All that data can be used to target you with ads, classify the riskiness of your lifestyle, help determine your eligibility for a job. Like the companies themselves, the risks can be hard to see. Apart from the dangers of merely collecting and storing all that data, detailed (and often erroneous) consumer profiles can lead to race or income-based discrimination, in a high-tech version of redlining. Piles of personal data are flowing to political parties attempting to influence your vote and government agencies pursuing non-violent criminal suspects. Meanwhile, people-search websites, accessible to virtually anyone with a credit card, can be a goldmine for doxxers, abusers, and stalkers. (The National Network to End Domestic Violence has assembled a guide to data brokers.)" • Should this business — I won't say industry — even exist? Why?
Rapture Index: Closes unchanged. [Rapture Ready]. Record High, October 10, 2016: 189. Current: 177. Under the 180 floor. Remember that bringing on the rapture is a good thing.
The Biosphere
"A Radically Moderate Answer to Climate Change" [Andrew Sullivan, New York Magazine]. • Nukes.
"Ecologists Urge Birds To Avert Global Decline Of Insects By Adopting Seed-Based Diet" [The Onion (RH)]. "'It is absolutely vital that bird populations wean themselves off of insects in favor of more sustainable options,' said researcher Marcus Drysdale, who has worked at the Cornell Lab of Ornithology to develop seed-based avian diets that are high in protein and include options reasonably similar in taste to beetles and grubs. "
"Tree Crops – J. Russell Smith" [Archive.org]. From the second review: "In 1929. J Russel Smith wrote "Tree Crops", one of my all time favorite books for inspiration and information. He was an amazingly foresighted guy with a lively writing style, and a keen insight into the tremendous potential of trees as crop plants. Individual chapters cover persimmon, mulberry, pecan, acorns for food, mesquite, carob, walnut, hickory, and more." And the first: "This is the absolute best book ever on the topic, and my bible." • Not sure if I should hat tip a reader for this, or if I ran into it during my travels.
Trolling In Our Times:
Hundreds of letters are received each day by national newspapers, but only a handful are ever published.

On the issue of climate change and energy, one letter-writer in particular has had a lot of success over the past decade.

As such, he warrants a closer look…

++THREAD++

— Leo Hickman (@LeoHickman) March 1, 2019
"What is it like to live through a 131-car pileup? These panic-stricken 911 calls tell the chaotic story." [WaPo]. "'It is taking a significant amount of time to determine the sequence of events and put together pieces of the puzzle,' police said." • 131 is not a large number. One can only wonder if our 911 system is Jackpot-ready…
"Another Voice: Northern Access Pipeline won't bring energy security" [Buffalo News]. "National Fuel's Northern Access Pipeline cannot remotely be considered an essential infrastructure project for New York's energy security. Rather, it is a destructive corporation's desperate attempt to prepare and secure new markets for its polluting and socially harmful commodity. This is evidenced by National Fuel's own statements that the primary purpose of the pipeline is to export fracked gas to Canada and by the fact that the company has felt the need to enlist a front group run by a Washington public relations firm to convince New Yorkers that it will be a benefit to more than just National Fuel's high-paid executives and shareholders." • Again, all projects that make it easier to take carbon out of the ground should be opposed where encountered.
Black Injustice Tipping Point
The points on "lineage" are, I think, well-taken (though I have to read Darity's paper):
Reparations for slavery in the year of our lord, 2019, is a stupid, anti-socialist, reactionary, anti-solidaristic claim. A thread.

— Bernie or barbarism (@martymacmarty) March 2, 2019
Whatever the Opposite of a Guillotine Watch Is
Yes, this is marketing, but big if true:
Constructive Capitalism at Dr. Bronners:

• 5-to-1 cap on executive salaries
• $18.71 minimum wage for full-time permanent employees
• Free health care for staff & their families
• Free daily organic vegan lunches
• Up to 25% of salary as annual bonushttps://t.co/HduUkftsEF

— Dr. Bronner's (@DrBronner) February 26, 2019
Granted, "constructive capitalism" is a not unproblematic notion. But this takes me back to my hippie days, such as they were. Readers, case for the prosecution?
Class Warfare
"Abolish Libertarians" [Current Affairs]. "[H]ere's a dirty little secret about the economics profession, of which I happen to be a member: We have no f*cking clue what causes economic growth. We've made great mileage asserting in public that it's "innovation" and declaring that this or that policy we happen to favor would give us more of it, while our political opponents stand in its way. But 'innovation' is just giving the residual from a regression of economic output on the factors of production a fancy name. Try as we have, and we have been trying for many decades now, no one, not one economist, has been able to do better than that. So for Wilkinson to derive policy implications—that billionaires must be preserved—from such an economic model, if it can be called that, without remotely acknowledging that his theory has been put to the test and failed many times, is not the public scholarship that any serious intellectual should be offering up." • I think it's time for economics to resume its rightful place as a branch of the Humanities. Maybe then we could get some funding.
"Seattle General Strike: Labor's Most Spectacular Revolt" [Labor Notes]. "On February 6, 1919, Seattle's workers struck—all of them. In doing so they took control of the city. The strike was in support of 35,000 shipyard workers, then in conflict with the city's shipyard owners and the federal government's U.S. Shipping Board, which was still enforcing wartime wage agreements. The strike rendered the authorities virtually powerless. There was indeed no power that could challenge the workers. There were soldiers in the city, and many more at nearby Camp Lewis, not to mention thousands of newly enlisted, armed deputies—but to unleash these on a peaceful city? The regular police were reduced to onlookers; the generals hesitated. Seattle's Central Labor Council, representing 110 unions affiliated with the American Federation of Labor (AFL), called the strike. The CLC's Union Record reported 65,000 union members on strike—a general strike, the first and only of its kind in the U.S. Perhaps as many as 100,000 people participated." • Well worth a read….
News of the Wired
"Three reasons why the periodic table needs a redesign" [New Scientist]. " Just as notes can be arranged in various ways to produce music, so the essence of the relationships between the elements could be depicted differently. There is no easy way to judge which is better, or more "true". So arguments over perceived flaws in the current arrangement rumble on, with some chemists arguing that certain elements should be relocated – and others working on more radical ways to recompose the table." • Infinite are the arguments of mages.
I believe dogs are, in fact, like this?
my dogs hate wet paws more than anything, more than the cat even, but someone spilled some chips on the sidewalk yesterday and they've been demanding hourly trips outside to see if they're still there.
it's 1am, raining gently, and the chips have dissolved.

— molly ? (@socialistdogmom) March 4, 2019
And golf is, in fact, like this?
part of the reason golf is so fascinating to me rn is basically that i just found out that it's not the least bit simple. like i always wondered what the fuck they put in golf digest etc. but it turns out there's controversies on controversies

— Gravis: The Posts Lizard (@gravislizard) February 26, 2019
* * *
Readers, feel free to contact me at lambert [UNDERSCORE] strether [DOT] corrente [AT] yahoo [DOT] com, with (a) links, and even better (b) sources I should curate regularly, (c) how to send me a check if you are allergic to PayPal, and (d) to find out how to send me images of plants. Vegetables are fine! Fungi are deemed to be honorary plants! If you want your handle to appear as a credit, please place it at the start of your mail in parentheses: (thus). Otherwise, I will anonymize by using your initials. See the previous Water Cooler (with plant) here. Today's plant (mgl):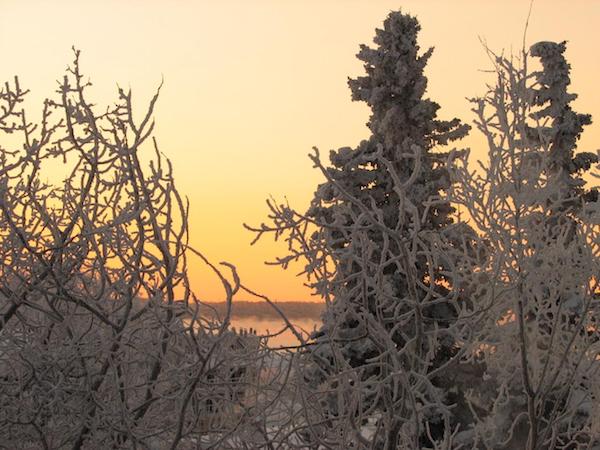 mgl writes: "January in Anchorage, AK, 16:24 and sun has set. Steam coming off Cook Inlet." Now that winter's almost over!
* * *
Readers: Water Cooler is a standalone entity not covered by the annual NC fundraiser. So do feel free to make a contribution today or any day. Here is why: Regular positive feedback both makes me feel good and lets me know I'm on the right track with coverage. When I get no donations for five or ten days I get worried. More tangibly, a constant trickle of small donations helps me with expenses, and I factor that trickle in when setting fundraising goals. So if you see something you especially appreciate, do feel free to click below! (The hat is temporarily defunct, so I slapped in some old code.)
Or Subscribe to make a monthly payment!