By Lambert Strether of Corrente.
Trade
"Canadian government allows extradition of Huawei CFO to the US" [CNBC]. "The Canadian government has decided to allow the extradition of Huawei CFO Meng Wanzhou to the U.S." • Plus the press release, that's it.
Politics
"But what is government itself, but the greatest of all reflections on human nature?" –James Madison, Federalist 51
"They had one weapon left and both knew it: treachery." –Frank Herbert, Dune
2020
Booker: "Cory Booker introduces bill to legalize marijuana nationwide, with support from fellow 2020 candidates" [CNBC]. 'Co-sponsors include fellow 2020 Democratic contenders Sens. Elizabeth Warren, Bernie Sanders, Kamala Harris and Kirsten Gillibrand". • Good for Booker, and good for them all.

Biden: "As Joe Biden weighs 2020 bid, Democrats ask: 'Does he meet the moment?'" [Japan Times]. One tidbit nobody seems to have noticed: "Sharon Holle, , argued his experience would appeal to Democrats nervous about the country's direction under Trump. 'People are scared,' Holle said. 'We're in a crisis right now. We need somebody we can trust.'" • To do what?

"The 2020 Endorsement Primary" [FiveThirtyEight (DK)]. Top five: Booker, Harris, Klobuchar, Sanders, Biden. Bookers are all from NJ; 9 of Harris's 10 are from CA; all of Klobuchar's are from MN; and Sanders are from CA, OH, PR, DC, VT. So four of the top 5 are endorsed by regional political machines (proxies for regional oligarchies), and Sanders is the exception. From the article: "A lack of a consensus can mean that party leaders' first-choice candidate may have more trouble securing the nomination." • We'll see!
Health Care
"Nancy Pelosi: The Rolling Stone Interview" [Rolling Stone]. Pelosi: " Medicare for All is not as good a benefit as the Affordable Care Act. It doesn't have catastrophic [coverage] — you have to go buy it. It doesn't have dental." • S1804 has dental. I haven't checked Jayapal's bill, but I believe it does. In general, all Medicare for All bills have better coverage than ACA. Pelosi is simply wrong, whether stupid or evil I don't know. Of course, she doesn't have to worry about insurance, so perhaps she didn't bother to check. I'll have more on this when I post on Jayapal's bill, on which I would welcome reader comment.
2019
"House Democrats explode in recriminations as liberals lash out at moderates" [WaPo]. "But Ocasio-Cortez (D-N.Y.), the unquestioned media superstar of the freshman class, upped the ante, admonishing the moderates and indicating she would help liberal activists unseat them in the 2020 election… 'She said that when activists ask her why she had to vote for a gun safety bill that also further empowers an agency that forcibly injects kids with psychotropic drugs, they're going to want a list of names and she's going to give it to them,' [AOC staffer Corbyn] Trent said, referring to U.S. Immigration and Customs Enforcement. Triggering the blowup were Wednesday's votes on a bill to expand federal background checks for gun purchases. Twenty-six moderate Democrats joined Republicans in amending the legislation, adding a provision requiring that ICE be notified if an illegal immigrant seeks to purchase a gun." • Pelosi is ticked off at them too, seemingly, which is hilarious since this sort of Blue Dog is exactly the sort of candidate the DCCC sought to put in office, at Pelosi's behest. I don't know whether that's incompetence or playing both ends against the middle, but that's our Democrats. Too bad the explosion of recriminations is about gunz and not #MedicareForAll or the Green New Deal, though.

"Six Republicans named to House climate panel" [The Hill]. "The climate committee was formed as Pelosi's response to calls from progressives to form a panel designed to focus specifically on mitigating the effects of climate change. Originally, freshman Rep. Alexandria Ocasio-Cortez (D-N.Y.) had championed a committee on the Green New Deal, which would draft a plan to get the country running on 100 percent renewable energy by 2030. Pelosi instead drafted the climate crisis committee, which will have no subpoena or legislative authority." • I'll take that as a no.

"Senate Democrats introduce 'Green New Deal' alternative" [The Hill]. "'Climate change is real, human activity during the last century is the dominant cause of the climate crisis; and the United States and Congress should take immediate action to address the challenge of climate change,' the resolution reads in its entirety…. The resolution is meant as an alternative to the Green New Deal resolution introduced in early February by Sen. Ed Markey. Sen. Majority Leader Mitch McConnell (R-Ky.) fast-tracked the vote on the resolution two weeks ago in an effort to highlight a Democratic divide over the plan…. While the new resolution doesn't offer any specific plans to decrease emissions and combat climate change, Democratic leaders championed it as a push in the right direction as Republicans failed to back or introduce any climate bills of their own." • [head, desk]. • And I'll take that as a no.

AOC (1): If you want to scale the left, this is a good approach:

My staff + I come to decisions through robust discussion + debate – we operate as a team.

They are also intro'd at community events, bc I want constituents to grow familiar w/ the people picking up the phone when they call.

As an educational organizer, I view it as development. https://t.co/iF5Zwp9t10

— Alexandria Ocasio-Cortez (@AOC) March 1, 2019

Though I hate to see the gradual corruption of AOC's language; "robust," forsooth. Stop that.

AOC (2):

"One advantage Ocasio-Cortez has over some colleagues is that she consistently attends even the most mundane committee hearings, since she does not spend any of her day calling donors for money." https://t.co/JbOHJ1obSG @danielmarans @PaulBlu @AOC

— Josh Eidelson (@josheidelson) March 1, 2019
Realignment and Legitimacy
Speaking of Iowa:

The recovery from the Great Recession was an urban phenomenon ? Rural areas still have not even recovered the jobs they lost in the recession. pic.twitter.com/qpFA0xeHIb

— Austin Frerick (@AustinFrerick) February 27, 2019

"The Left's Latest Demand: Race-Based Reparations" [Patrick Buchanan, The American Conservative]. "The questions that instantly arise are: who would qualify as a beneficiary of reparations? And who would pay the immense transfer sums involved?" • The scaly old lizard backbrained reprobate isn't wrong (though, to be fair, it's not clear to me that these were questions the German State asked after the Holocaust). The thing is, however, that these are basic questions for which there should be ready answers. MMT is obvious framework for the "transfer sums" (what a loaded word); reparations advocate Darity — a scholar, as opposed to a pundit like Coates — is MMT-adjacent. But the qualifications process seems tricky and fraught with unintended consequences (as Warren's adventure with DNA shows). Both Harris and Warren aren't really proposing straight-up reparations, either; both are simply repurposing existing programs or concepts, like "investment in black communities." I hate to go all "national conversation" on this, but it may be that Conyers' HR40 — the closest to a reparations bill that there has been; Jayapal and Khanna were cp-sponsors — is the best way forward. It's not a "study," it's a lot like a Truth and Reconciliation Commission. If this could be undertaken in good faith, and didn't become either a whipping boy for reactionaries or the playing of identititarian policy entrepreneurs, progress could be made. (Then again, debts that can't be paid, won't be.)
Stats Watch
Personal Income and Outlays, January 2019: Edged lower [Econoday]. "Today's report combines all of December's data with only January's income data, the rest of the month's data delayed because of the government shutdown…. Consumers apparently put the money they didn't spend into the bank as December's savings rate spiked 1.5 percentage points to 7.6 percent…. The December piece of this report is old news and was wrapped inside yesterday's fourth-quarter GDP data, but January's income, specifically the 0.3 percent rise for wages & salaries, offers a respectable opening for the first-quarter outlook." And but: "U.S. personal income falls; spending weakest since 2009" [Reuters]. "The Commerce Department did not publish the January consumer spending portion of the report as the collection and processing of retail sales data was delayed by a 35-day partial shutdown of the government that ended on Jan. 25." And: "The increase in personal income for December was above expectations, however the change in personal income for January was well below consensus" [Calculated Risk].
Purchasing Managers Manufacturing Index, February 2019: "slowing conditions through the month of February" [Econoday]. "Manufacturing had a strong year last year but there have been emerging signs the past six weeks or so that the sector slowed at year-end and early into this year. Still, rates of growth are sound underscored by strength in this report's employment reading." And but: "Overall, surveys do not have a high correlation to the movement of industrial production (manufacturing) since the Great Recession" [Econintersect].
Institute For Supply Management Manufacturing Index, February 2019: "Not all the anecdotal reports are reporting slowing but both manufacturing PMI and now ISM manufacturing are" [Econoday]. "Though slowing, rates of growth are still in the mid-50s which is not only respectable but arguably desirable… Though there are plenty of small sample reports like the ISM showing continued strength, the bulk have been signaling moderation which is probably the call right now for manufacturing. This report gets close attention from the Fed and today's results fit right in with their general warnings on slowing and the need for patience in monetary policy." And: "This was below expectations of 55.0%, and suggests manufacturing expanded at a slower pace in February than in January" [Calculated Risk].
Consumer Sentiment, February 2019 (Final): "Consumer sentiment did bounce back at least some following the government shutdown" [Econoday]. "Today's report fits in with the general slowing theme of recent data and specifically offers a hint that consumer spending may be on the soft side this quarter." And: "Final February 2019 Michigan Consumer Sentiment Improved From Preliminary" [Econintersect]. "Surveys of Consumers chief economist, Richard Curtin, makes the following comments: '…. Consumers continued to react to the Fed's pause in raising interest rates, balancing the favorable impact on borrowing costs against the negative message that the economy at present could not withstand another rate hike." • Does anybody know if consumers actually act that way? I certainly don't.
Retail: "UPS Offers Fulfillment Service for Multichannel Sellers" [Ecommerce Bytes]. "UPS announced a fulfillment service for small and medium sellers who sell on multiple marketplaces and platforms, from eBay, Amazon, and Etsy, to BigCommerce, Shopify, and Volusion, and Sears, Rakuten, and Walmart. It also supports Amazon Seller Fulfilled Prime. UPS eFulfillment handles storage, order processing, packaging and shipping. Each month, sellers are billed for fulfillment and shipping of orders and inventory storage or $1,000, whichever is higher. As a general rule, approximately 4-5 orders per day will place a merchant's bill above the minimum. The company is currently offering a 60-day trial for new merchants in which it waives the minimum fee." • So, Amazon buys trucks and jets, UPS boosts marketplaces that compete with Amazon. (If the other marketplaces could get a union bug on products that ship via UPS, that would be excellent.)
The Bezzle: "Here's Everything That Just Went Down at Tesla" [Bloomberg]. Picking one tidbit: "In order to achieve these dramatic price cuts, Tesla is eliminating in-store sales. All sales will now be completed online." • Certainly a bold solution for Tesla's QA problem!
The Bezzle: "How Instagram Users are Building Businesses Based on Others' Intellectual Property" [The Fashion Law]. "There is a growing pool of people using the Facebook-owned photo-sharing app to create and maintain accounts that aim to meet users' pop culture fancies, whether they be meticulously-updated celebrity fan accounts, nostalgic fashion ones or something else altogether. More than merely using the 8-year old social media platform to display such imagery, though, the operators behind many of these accounts, having built up a dedicated following, are looking for ways to monetize their followers…. The practice is also potentially problematic when we consider the fact that in the vast majority of these cases, the curated imagery consists of individual photos for which the Instagram account operators do not have rights, specifically, copyright rights." • The next Facebook scandal?
The Bezzle: Or maybe this is the next Facebook scandal:
I enabled a bunch of privacy settings and still felt like my Facebook/Insta ads were a little too relevant. So I faked a pregnancy by downloading the What to Expect app to see how long it would take for FB to hit me w a maternity ad. The answer? 11 hours https://t.co/bkCQ71BYOj

— Katie Bindley (@katiebindley) February 28, 2019
(Note for Twitter h8ers: I can't bust through the WSJ's paywall, but this tweet gives the gist, not otherwise available.)
Tech: "NYSE Dumps Bots for Humans to Make ETF Trading Smoother" [Bloomberg]. "The New York Stock Exchange is preparing to hand human traders a bigger role making markets for exchange-traded funds…. The funds currently reside on the company's NYSE Arca exchange, an electronic venue powered by algo-driven traders known as lead market makers. While these firms commit to offering the best prices for a large part of the day, the lack of human involvement can leave less traded products struggling if a large order hits just as trading begins or ends, ." • Oh. I hope that doesn't apply in other trading verticals…
Fodder for the Bulls: "ECRI's WLI Growth Rate Index Marginally Improves" [Econintersect]. "The current forecast is a slight business cycle contraction six months from today."
The Biosphere
Exuberance! I don't disagree:
man if we somehow actually pull this off and legitimately save the world from climate apocalypse i'm going to be so fucking psyched

— sweet cicely ? (@spindlypete) February 27, 2019
"There is a word for the trauma caused by distance from nature" [Quartz]. "Disconnection from nature can be bad for our mental health. But there was no name for this particular malaise until Australian sustainability professor Glenn Albrecht coined the term psychoterratic, creating the beginning of a vocabulary to discuss the relationship between mental health and environment…. Wood wandering as therapy began in Japan in 1982, when the government introduced the concept of shinrin yoku, or "forest bathing."… Japan now has 62 designated therapeutic woods, attracting about 5 million visitors annually." • And here at NC we have antidotes and plants! So we are doing our best.
"About a dozen trees cut, dumped into Potomac River at Trump golf club in Virginia" [WaPo]. • No shinrin yoku for golfers!
"Wiped out: America's love of luxury toilet paper is destroying Canadian forests" [Guardian]. "But America's heavy use of toilet paper – particularly the pillowy soft kind – is worsening climate change and taking 'a dramatic and irreversible toll' on forests, especially the Canadian boreal forest, according to a new report by two major environmental groups, the Natural Resources Defense Council (NRDC) and Stand.earth…. The report found that major brands' refusal to switch to sustainable materials in toilet paper is having a devastating impact on forests and climate." • I hope this isn't too much information, but I hate "pillowy soft" toilet paper and never buy it. It never seems to, er, do the job [musical interlude].
"Labor Unions Are Skeptical of the Green New Deal, and They Want Activists to Hear Them Out" [The Intercept]. "With respect to labor issues, [Evan Weber, political director at Sunrise Movement] said, the Green New Deal is 'leaps and bounds ahead of previous climate proposals.' From his group's perspective, if energy workers cannot find new jobs that pay them equal to what they're currently earning, then 'the government should step in and make up that difference," he said. 'I think the job guarantee is a really critical element of the Green New Deal,' he said. 'It doesn't say if you're a coal miner, you're now going to go work on installing solar panels; it asks what are the jobs that make sense for your community and have this transition be something that's locally determined.'" • Weber gets it. That said, doesn't that approach disempower/disintermediate union leadership? Also interesting on carbon capture, struck from H.R. 109, but about which unions are enthusiastic.
"California Is Stuck Fighting Climate Change With a Bankrupt, Distrusted Company" [Bloomberg]. "The Camp Fire, as it was named, proved the deadliest and most damaging blaze in California history—85 people were killed, most of them in Paradise, and 18,800 buildings were destroyed. Cal Fire won't conclude its investigation into the cause for months, possibly years, but the realization that PG&E's equipment might be the culprit led in short order to a collapse in the utility's stock price, the resignation of its chief executive officer, and, on Jan. 29, a declaration of Chapter 11 bankruptcy…. The bankruptcy is an early test of the state's new governor, Gavin Newsom. But this isn't just a California story. It's also a multibillion-dollar case study for a set of once-abstract questions about corporate responsibility, societal risk, and climate change. California's political leaders have long seen the power grid as a vital tool for reducing carbon emissions to curb global warming. What's become clear is that the grid is also dangerously vulnerable to the already palpable effects of climate change."
"Toledo Wants Local Control to Save Lake Erie" [The American Conservative]. ""The Lake Erie Bill of Rights" was a charter amendment that would be put on the ballot and could bestow upon this body of water the legal designation of "personhood." That's right, Toledo wanted to radically change the legality of the natural environment, basically making this 10,000 square-mile lake it sits upon its child, with the citizens of the Glass City the lake's legal guardian. In essence, the parents then could sue on behalf of its child if the lake was bullied with polluters…. [T]he city ordinance passed this week easily, by a 61 percent majority vote." • Interesting enough. The TAC spin: "Are American urban areas becoming more independent city-states than second-fiddle step children under the national umbrella?…. They are also dealing with mass transit funding, water conservation, and renewable energy more locally…. In some ways, what is evolving is that liberal entitlement programs and libertarian free-market independence can not only coexist, but can promote each other in big cities." • Well, I'd expect liberals and conservatives policies to mesh, because as neoliberals both put markets first. So I don't know what TAC's reaction would be if left "universal concrete material benefits" were swapped in for liberal "entitlement programs" (emphasis on "entitlement" though complex eligibility requirements).
"The city of Angkor died a slow death" [Ars Technica]. "In the early Middle Ages, nearly one out of every thousand people in the world lived in Angkor, the sprawling capital of the Khmer Empire in present-day Cambodia. But by the 1500s, Angkor had been mostly abandoned—its temples, citadels, and complex irrigation network left to overgrowth and ruin. Recent studies have blamed a period of unstable climate in which heavy floods followed lengthy droughts, which broke down the infrastructure that moved water around the massive city. But it turns out Angkor's waterworks may have been vulnerable to these changes because there was no one left to maintain and repair them. A new study suggests that Khmer rulers, religious officials, and city administrators had been steadily flowing out of Angkor to other cities for at least a century before the end." • We should start moving Federal agencies out of DC….
MMT
Krugman messed with the wrong person:
Had enough. You don't get to do this. You didn't call BS on "pay-fors". We did. You were the scold., warning "Deficits Matter Again." You told Democrats to step over a $2T bill laying in wait in 2016. https://t.co/Yjur5PbweZ https://t.co/ogUvwiTsXG

— Stephanie Kelton (@StephanieKelton) March 1, 2019
Health Care
"Hundreds pack Oregon hearing to oppose bill to end vaccine exemptions" [The Oregonian]. "Oregon and Washington are in the midst of a measles outbreak that has touched five people in Multnomah County and 65 in Clark County. But even for people who haven't caught the highly contagious virus, the large number of cases has spurred hundreds more people to vaccinate this year than usual years. And it has restarted a long-running debate over whether parents and guardians should be allowed to send their children to school with the risk of exposing other children to measles…. Lawmakers who support the bill say that parents can still choose not to vaccinate — however, they will have to homeschool or find ways for children to go to school online…. the most passionate pleas came from those who compared their plight to Brown v. Board of Education and Nazi concentration camps, saying that . Some said they moved out of California after it passed a similar bill in 2015, and others said they would leave Oregon." • Good. What's the issue?
"An "Exciting But Dangerous Moment" for Medicare for All" [Common Dreams]. " I am also completely convinced that imposing costs on patients at the time of healthcare use has no useful purpose. That seems like a radical idea, and even people on the liberal-left side of the spectrum sometimes say, well, having a reasonable copay is not such a bad idea to ensure that healthcare is not used sort of frivolously…. At the end of the day, maybe people paying for healthcare only really affects working class and poor people because well-off people are always going to be willing to pay a forty-dollar copay, right? It really is just a way of punishing the sick and the poor." • Yep. I don't know if there are any numbers on "frivolous" use of health care. I mean, who thinks going to the doctor is fun?
Our Famously Free Press
"Why the Left Can't Stand The New York Times" [Amber A'Lee Frost, Columbia Journalism Review]. "[In the morning, I go to the front door and] pick up my New York Times and my Financial Times. I then walk back to my apartment, look at the front page of the New York Times for approximately five to eight seconds, and throw the whole thing in the garbage with contempt. I drink my coffee and proceed to read the entirety of the Financial Times, excluding the particularly dense bits of the Companies & Markets section." • Yes!!!! More: " often find myself explaining my preference for the pink paper of liberal capitalism over the Gray Lady of cultural liberalism. The answer is simple: by literally any measure, the Financial Times is just a better paper. It covers the world as it is—a global battle not of ideas or values, but of economic and political interests…. FT's reportage serves a readership that gambles on world events. The New York Times compulsively analyzes and scrutinizes everything Trump ad nauseam because it pays the bills by cultivating an audience, flattering them, and keeping them stimulated." • It's awfully fun to see a Chapo Trap House podcaster in the CJR, and on the FT, Frost is 100% correct. The weekend FT in print (my guilty pleasure) is far superior to the sadly provincial Sunday New York Times.
Guillotine Watch
Who did this:
We should test the guillotines on the Walton family to make sure they're sharp enough pic.twitter.com/kPTxBIvc2R

— Raisin Branson (@ope_sayer) March 1, 2019
Then again, "no man, no problem" (Stalin, apocryphal). "Walmart moves to phase out greeters at 1,000 stores nationwide" [WDIV].
Class Warfare
"Mapping the rising tide of suicide deaths across the United States" [WaPo] (original). "Suicide rates are on the rise across the nation but nowhere more so than in rural counties. The maps also show considerable regional variation that gets missed in state-level suicide figures. Suicide rates in northern Florida and California, for instance, are considerably higher than in the southern parts of those states. Across the Deep South, counties with high proportions of black residents have lower rates of suicide than surrounding areas. Suicide rates tend to be lower in counties with large Hispanic populations and higher in counties with large Native American populations…. Overall, the data shows that from 2005 to 2015, 99 percent of U.S. counties saw their suicide rates increase by 10 percent or more." • Everything's going according to plan!
"Nonstandard work arrangements and older Americans, 2005–2017" [Economic Policy Institute]. "Perhaps surprisingly, workers were slightly more apt to have standard work arrangements in 2017 than in 2005. In 2017, the total share of the labor force working in nonstandard arrangements was 10.1 percent, down from 10.9 percent in 2005." •
"Do Chief Diversity Officers Help Diversify a University's Faculty? This Study Found No Evidence" [Chronicle of Higher Education] (original). From 2018, still germane: "The authors were unable to find any statistically significant increase in faculty diversity after the creation of a chief-diversity-officer position." • Of course, there are an awful lot of institutional factors at play, so it's not clear that a Chief Diversity Officer would be anything more than the academic equivalent of a no-show job in any case.
News of the Wired
The Jackpot and the Quiet Car:
The quiet car was invented by a genius and will be last refuge when the rest of this all burns down. You know the answer.

— Fletcher (@ih8maroon5) March 1, 2019
"Inside the quietest room in the world: Microsoft reveals the $1.5m 'chamber of silence' it uses to tune everything from headphones to the click of your mouse button – that's so quiet no one has been able to spend more than 45 minutes inside" [Daily Mail]. "Known as an anechoic chamber, it is a small room measuring 21ft (6.36m) in each direction….The few outsiders who have entered it have complained of everything from becoming disturbed by the loudness of their own breathing to ringing in the ears and deafening stomach gurgles."
"First evidence of planet-wide groundwater system on Mars" [European Space Agency]. "Mars Express has revealed the first geological evidence of a system of ancient interconnected lakes that once lay deep beneath the Red Planet's surface, five of which may contain minerals crucial to life…[Francesco Salese of Utrecht University, the Netherlands] and colleagues explored 24 deep, enclosed craters in the northern hemisphere of Mars, with floors lying roughly 4000 m below martian 'sea level' (a level that, given the planet's lack of seas, is arbitrarily defined on Mars based on elevation and atmospheric pressure). They found features on the floors of these craters that could only have formed in the presence of water." • Hot diggity! I hope Michael Burry stakes a claim and charges Elon Musk's colony up the wazoo.
* * *
Readers, feel free to contact me at lambert [UNDERSCORE] strether [DOT] corrente [AT] yahoo [DOT] com, with (a) links, and even better (b) sources I should curate regularly, (c) how to send me a check if you are allergic to PayPal, and (d) to find out how to send me images of plants. Vegetables are fine! Fungi are deemed to be honorary plants! If you want your handle to appear as a credit, please place it at the start of your mail in parentheses: (thus). Otherwise, I will anonymize by using your initials. See the previous Water Cooler (with plant) here. Today's plant (AM):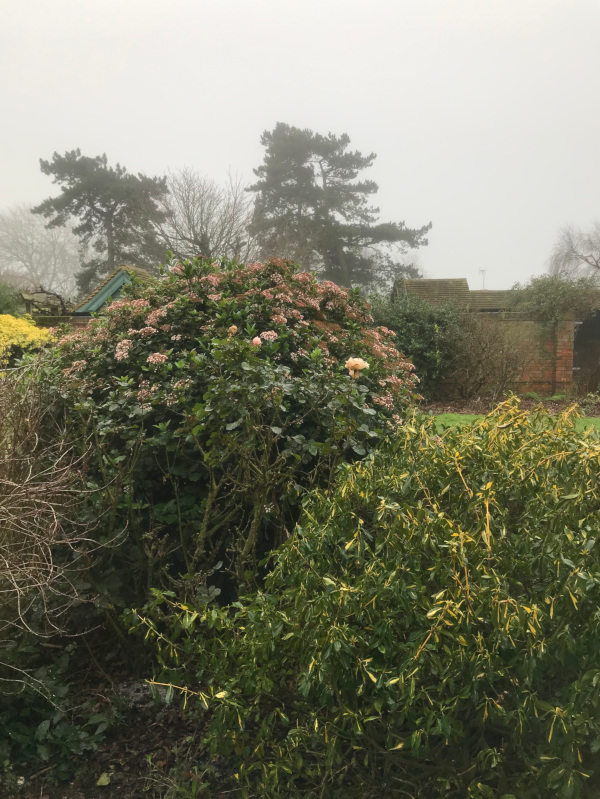 AM writes: "This was taken out of the bedroom window of a little house just outside of Canterbury England. We rented it for a week around New Year's Day. It was foggy but the rose caught what little light there was. A couple days later it was brownish and the bloom was definitely off." Funny, life!
* * *
Readers: Water Cooler is a standalone entity not covered by the annual NC fundraiser. So do feel free to make a contribution today or any day. Here is why: Regular positive feedback both makes me feel good and lets me know I'm on the right track with coverage. When I get no donations for five or ten days I get worried. More tangibly, a constant trickle of small donations helps me with expenses, and I factor that trickle in when setting fundraising goals. So if you see something you especially appreciate, do feel free to click below! (The hat is temporarily defunct, so I slapped in some old code.)
Or Subscribe to make a monthly payment!