By Lambert Strether of Corrente.
I confess that I was prepared to disike HR1384, simply because liberal Democrats have played Lucy and the Football so many times. But much as I hate to admit it, this looks like a good bill. It's definitely not timid incrementalism, and it does not exhibit the typical liberal Democrat misfeature of pre-negotiating a proposal down to a state of pissant-ness, simply because Republicans might say mean things. The full text of HR1384 is not yet officially available (!), but ACA Signups had a PDF, which I embed below as an Appendix; presumably they will not differ.
HR 1384 has significant union support: National Nurses United (NNU), as well as "the influential Service Employees International Union (SEIU), the National Education Association (NEA), the American Federation of Teachers (AFT) and the International Association of Machinists (IAM)." (To me, SEIU's support is especially noteworthy, since SEIU strongly opposed single payer in 2009, even going to far as to refuse to cover it in the health care policy column it sponsored.) HR 1384 also has significant support from progressive NGOs.
Other facts about the HR1384: It has 106 co-sponsors, shamefully not including Pelosi, Hoyer, or Clyburn — Speaker, Majority Leader, and Majority Whip, respectively — and of the eleven whips, only three (John Lewis, Jan Schakowsky, and Sheila Jackson Lee), and not Cedric Richmond, Pete Aguilar, G. K. Butterfield, Henry Cuellar, Dan Kildee, Debbie Wasserman Schultz, Terri Sewell, or Peter Welch). In other words, the House leadership, so-called, strongly opposes Medicare for All. This will not be news of NC readers, and was predictable from the nature of the "Blue Wave" that Pelosi et al. organized (as we showed in our series of worksheets on the primaries). It's also wonderfully clarifying to have battle lines drawn.
This will not be a comprehensive analysis of the bill[1], even though it weighs in at an impressively trim 120 pages. (The two bills that comprise the ACA are 906 and 55 pages respectively. I know that, as with lines of code, page counts for bills don't provide a reliable measure of complexity, but an order of magnitude difference would seem to be an indicator.) Instead, I'm going to aggregate some fun tweets from Jayapal, ding Nancy Pelosi for either lying or being ignorant, and finally look at how the the word "profit" is used in the bill. (There are lots and lots of other interesting topics, including long-term care, reproductive care including abortion, pharma, and capital budgeting — and of course that hardy perennial "How you gonna pay for it? MR SUBLIMINAL Print money, like we do for wars and bank bailouts — but I will save those for another day. No doubt many of these topics will become salient as the rollout continues.
Jayapal Burns the Ships
Of the many fun quotes from Jayapal, this is the most fun:
sorry not sorry ¯\_(ツ)_/¯ https://t.co/LfngVXaNkX

— Rep. Pramila Jayapal (@RepJayapal) February 28, 2019
"¯\_(ツ)_/¯" is pretty direct; something that it's hard not to unsay (or however one walks back an emoji).
Here also Jayapal is impressively direct:
"We mean a complete transformation of our health care system and we mean a system where there are no private insurance companies that provide these core benefits. We mean universal care, everybody in, nobody out." –@PramilaJayapal #shethepeople2020https://t.co/4goJ3DjIJq

— She the People (@_shethepeople) March 3, 2019
Finally, here is an interview with Jayapal:
Why is it that the U.S., the richest country in the world, cannot guarantee health care for every single person in this country? I joined @NewsHour to say we should be leading in this issue and I think the #MedicareforAll Act is the plan that gets us there. pic.twitter.com/nNecdyWhrn

— Rep. Pramila Jayapal (@RepJayapal) March 1, 2019
NOTE Burning the ships: ""Burning your ships/your boats" means doing something that makes it impossible for yourself to turn back, especially if it is done wilfully and without necessity. The idiom derives from legends about conquerors who supposedly, upon landing their army in enemy country, ordered the invasion fleet to be burnt. Most people today have heard this tale about Hernan Cortez, but it is in fact centuries older than Cortez. The assumed benefit of such an act is that everyone on the team—whether it be an actual army intent on conquest, or any party pursuing a risky undertaking—will show maximum commitment if they know that retreat is impossible." So I wonder which of the whips will be the first to break with Pelosi?
Nancy Pelosi Is Lying or Ignorant (Certainly on Dental)
Here is what Pelosi said in her recent Rolling Stone Interview:
When they say Medicare for All, people have to understand this: Medicare for All is not as good a benefit as the Affordable Care Act. It doesn't have catastrophic [coverage] — you have to go buy it. . It's not as good as the plans that you can buy under the Affordable Care Act. So I say to them, come in with your ideas, but understand that we're either gonna have to improve Medicare — for all, including seniors — or else people are not gonna get what they think they're gonna get. And by the way, how's it gonna be paid for?
And of course[2]:
All I want is the goal of every American having access to health care.
Not even "access," but "the goal of access"! Clue stick: People don't want access to health care. They want health care!
Back to coverage. First, dental. Contra Pelosi, from The Hill:
Jayapal's legislation is the most comprehensive to date, including all primary care, hospital and outpatient services, prescription drugs, dental, vision, women's reproductive services, maternity and newborn care, mental health, long-term services and supports for people with disabilities
(Note that dental is a really, really important form of health care, even if the 10% who don't line up by the thousands for free dental clinic don't understand or care about that.)
On "catastrophic," I'm willing to be persuaded that there is some space for private insurance providers — surely a good thing, to a neoliberal like Pelosi? — but the whole idea of a special form of insurance for really, really bad medical events seems to stem from the mindset where health care coverage is not universal. For example, Title II, "SEC. 201. COMPREHENSIVE BENEFITS," includes "Hospital services, including inpatient and outpatient hospital care, including 24-hour-a-day emergency services," and "Emergency services and transportation." That sounds like coverage for catastrophes to me. Aftercare too: "Rehabilitative and habilitative services and devices." Why wouldn't health care required as the result of a catastrophe be the same as any other kind of health care, and covered universally?
Ending Health Care for Profit
Here are the most significant places where the word "profit" appears in HR 1384:
From SEC. 301. PROVIDER PARTICIPATION AND STANDARDS; WHISTLEBLOWER PROTECTIONS.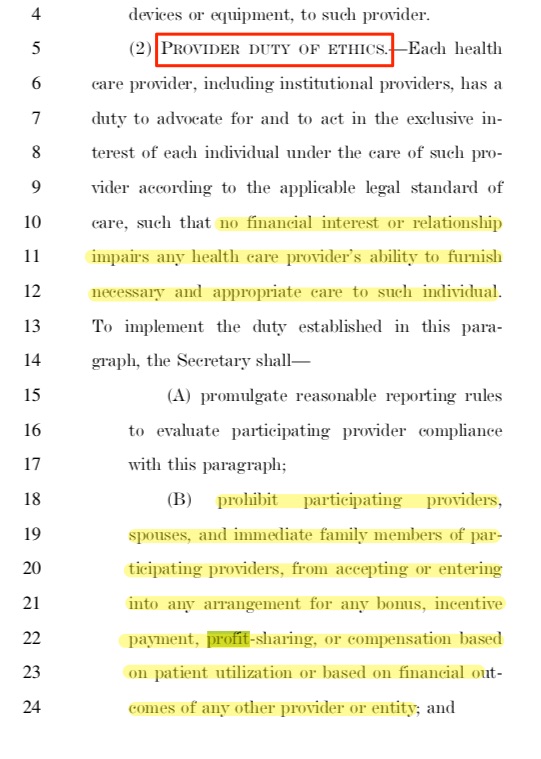 Yes, the profit in the delivery of health care should be regarded as an ethical issue.
From SEC. 614. PAYMENT PROHIBITIONS; CAPITAL EXPENDITURES; SPECIAL PROJECTS.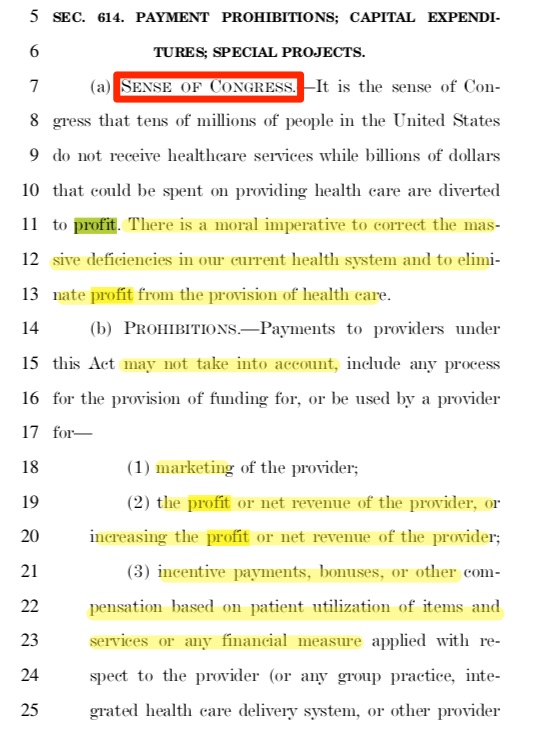 Yes, you can't have financialization schemes driving health care decisions.
And also from Section 614: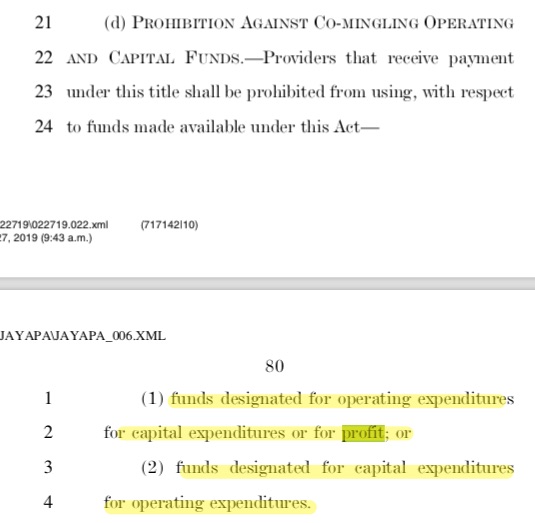 No, you can't optimize for profitable procedures so you can build a new wing.
Now, I'm sure that even now, even now there are high-priced consultants working out how to game these provisions. Perhaps the more devious-minded of our readers would like to skim the text and beat them to the punch?
Conclusion
Again, there will be a good deal more to come on HR 1384. But on first reading, this cynical old codger finds it impressive; particularly the attempt to extirpate profit and profiteers of the system. That should put the cat among the pigeons2
NOTES
[1] Here is an incomplete list of of commentary, mostly from the usual suspects:
[2] Also this: "As Californians have said to me, 'We get billions and billions of dollars out of the Affordable Care Act coming into California. Now they want to get rid of that.' How are they gonna go to single-payer in California without the money from the Affordable Care Act?" Leaving the insanity of thinking that health care spending in California would fall to zero under HR1384, it's all about the benjamins ?, isn't it? Unless, of course, by "get billions and billions of dollars out" Pelosi, and her "Californians," mean getting billions of dollars of bloat and looting "out" of the ACA. Then what Pelosi is saying would make sense, I suppose.
Appendix
Feel free to redistribute:
Medicare-for-All-Act-of-2019_02-27-19