No thefts reported after Kingston grocery store accidentally left open Family Day Global News
Climate Change Is Here—and It Looks Like Starvation The Nation
Opinion: Investors should no longer bet on Warren Buffett MarketWatch. If CalPERS runs true to form, they will have adopted "Buffet-ism" exactly at the moment when it has run its course.
Lyft's Risk Factors Are the Stuff of IPO Dreams — Bad Ones Bloomberg
An MMT response on what causes inflation FT Alphaville
Brexit
Labour general secretary Jennie Formby rebukes Tom Watson in letter to Labour MPs New Stateman. The letter:
NEW: Letter from Jennie Formby to Tom Watson, where all Labour MPs and Lords were CCed. pic.twitter.com/9ajxyDIqup

— Ben Gartside (@BenGartside) March 1, 2019
Very British: "This continues to be coordinated by me and my team and ."
Venezuela
Venezuela: US Resolution Fails at UNSC as Guaido Vows to Re-enter Country Venezuelanalysis

White House is weighing TPS for Venezuelans McClatchy. Clarifying!
Navy training exercises rattle windows in Ocala and beyond Ocala Star-Banner (guurst).
Mexico
Strike Wave Wins Raises for Mexican Factory Workers Labor Notes

Mexico's Old-School War on Crime Gets a Surprising New Champion Foreign Policy
India
Seems to be real. Thread for India hands:

i desperately hope this r/India post is real because I stan this lady so hard pic.twitter.com/Fh2SxfakS8

— When I Get Hummus (@nah_im_abdulla) March 2, 2019

Pakistan to lodge 'eco-terrorism' complaint against India over damage to trees from airstrikes AFP. Trees in the news!

Malaysia plans to halt palm oil expansion to fight bad image Jakarta Post. More trees in the news!
Syraqistan
Saudi Aramco faces key test of demand in global debt markets FT
China?
Opaque world of Chinese state-linked debt unsettles bond investors FT

Xi out to remind China who's boss at year's biggest political event Nikkei Asian Review

Foxconn, a tale of slashed salaries, disappearing benefits and mass resignations as iPhone orders dry up South China Morning Post. Gonna be hard to send money home as an act of filial piety this way….
New Cold War
Majority of Americans Now Consider Russia a Critical Threat Gallup. Propaganda works.
Trump Transition
Where the investigations related to President Trump stand AP

Poll finds 37 percent found Cohen testimony credible The Hill

Trump Ordered Officials to Give Jared Kushner a Security Clearance NYT. EM: "Latest MSM-generated teapot tempest – it's been tradition to let former high officials keep their clearances long after their active government service has ended and they've hit the Sunday morning talking head circuit, so pretending these are normally treated as Holy Relics is absurd. But maybe a top-to-bottom review of *all* the currently-issued clearances and some sensible policies restricting their issuance going forward would be good! Just spare us the suddenly-under-Trump-this-is-an-outrage tone." Looks to me like the Times is doing its allies in the intelligence community a solid.

Here's Why Donald Trump Doesn't Want Anyone To Know His Grades Or SAT Scores Forbes. Hard to think of a line of attack from deeper in the professional class bubble than this.

* * *

U.S. says rejects WTO's 'straitjacket' of trade obligations Reuters
PHL online troll earns between P30,000-P70,000 a month, leader bares GMA News Online. Seems high; the average monthly salary of a Philippines airline pilot is P5,639. Though English skills do command a premium. Makes one wonder if US campaign strategists understand labor arbitrage. I would bet they do.
Democrats in Disarray
Sanders plans to weave family story into first major 2020 speech CNN. In contrast to the typical pattern, I think Sanders will tack to the center in the primary, and the left in the general.

Sanders says he's not interested in asking Hillary Clinton for 2020 advice Politico

'I don't think it's a contradiction: 2020 candidate Kirsten Gillibrand says fundraiser at Pfizer exec's home shouldn't be a cause for alarm Business Insider (MV).
A Different Way to Think About White Identity Politics New York Magazine
Big Brother Is Watching You
Phone-hacking device used by police sells on eBay for $100 Engadget (EM). But don't worry. All the data's been wiped.
Black Injustice Tipping Point
Black History Month: We got distracted, but there were high points. Here's what we missed USA Today

How a black man 'outsmarted' a neo-Nazi group — and became their new leader WaPo. C. Northcote Parkinson: "Operatives assigned to the task of ability-elimination fail (through stupidity) to recognize ability when they see it. An individual of merit penetrates the outer defenses and begins to make his way toward the top. He wanders on, babbling about golf and giggling feebly, losing documents and forgetting names, and looking just like everyone else. Only when he has reached high rank does he suddenly throw off the mask and appear like the demon king among a crowd of pantomime fairies. With shrill screams of dismay the high executives find ability right there in the midst of them. It is too late by then to do anything about it."
Guillotine Watch
Excellus makes $150M profit, gives CEO 23 percent pay raise Syracuse Post-Standard (Bob). The article helpfully lists all the executive salaries.
Why the legal cannabis industry loves the Ford Transit van Quartz
Class Warfare
Mission To Mars Rolling Stone
Antidote du jour (via):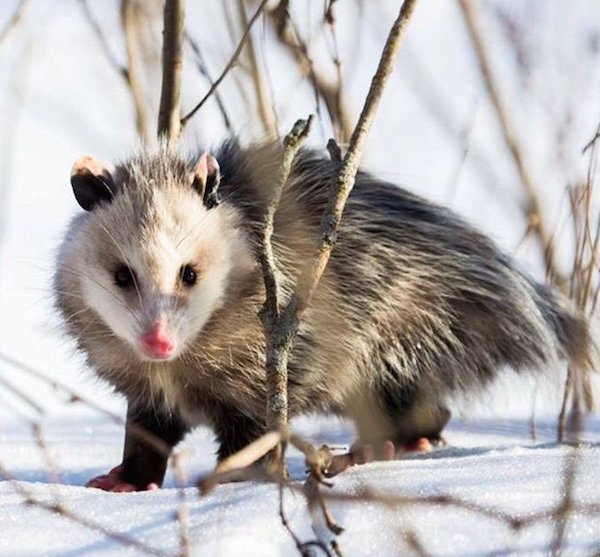 See yesterdays Links and Antidote du Jour here.