By Lambert Strether of Corrente.
Readers, allow me to join Yves and Jerri-Lynn in wishing you all a Happy New Year (or perhaps, happiness being a dubious proposition, a pleasurable or contented or satisfying New Year). 2017 was challenging and stressful for me in a number of ways, but also immensely rewarding, personally. And it certainly wasn't dull! Some may recall that my post-2016 prediction was continued volatility; that is my prediction for 2018 as well, or to put this another way, I expect 2018 to maintain 2017's standard. –lambert
Trade
"President Donald Trump entered the White House nearly a year ago promising aggressive action on trade policy and brimming with threats, but he did not deliver the punch many expected in 2017. That could change early this year, as the NAFTA talks come down to the wire, the administration's investigation of Chinese trade policies ripens, and a number of tariff and trade decisions pile up on Trump's desk" [Politico].
Politics
2020
"Bernie Sanders is seen as the most likely Democratic nominee to challenge Trump in 2020" [Quartz]. So says to PredictIt, a political prediction stock market. FWIW!

"Warren positions herself for potential 2020 run" [Politico]. "The liberal icon and Republican bete noire has amassed more money in her campaign war chest than nearly any senator in modern history, groomed political connections with Democrats who've been skeptical of her in the past, and worked to bolster her bipartisan and foreign policy bona fides." I could vote for the plain-spoken woman who wanted to put bankers' heads on pikes and started the CPFB (since she co-sponsored Sanders' Medicare for All bill). I'm not sure I could vote for the woman who was yammering Clinton talking points (and that contrast between "plain-spoken" and "yammering" was quite deliberate; Warren's demeanor, I felt, changed and for the worse).
New Cold War
"As the Dossier Scandal Looms, the New York Times Struggles to Save Its Collusion Tale" [Andrew McCarthy, National Review]. "Even a cursory FBI investigation of Papadopoulos would have illustrated how implausible it was that he could have been integral to a Trump-Russia plot. Anonymous intelligence and law-enforcement officials have been leaking collusion information to the Times and other media outlets since before Trump won the November 2016 election — that's why we've spent the last year-plus hearing all about Page, Manafort, Flynn, et al. If Papadopoulos had really been the impetus for the investigation way back in July 2016, what are the chances that we would never have heard his name mentioned until after his guilty plea was announced 15 months later? What are the chances that we'd only now be learning that he was the real stimulus for the investigation? I'd put it at less than none."

"Speech and Email Release: The Three Public Statement Signals Tied to Russia's Dirt-as-Emails" [emptywheel]. "… at least according to Papadopoulos, who at times oversold these things…" And gets drunk…
Realignment and Legitimacy
"Maine Voices: A Senate page absorbs lessons not taught in a political science class" [Portland Press Herald]. The page seems like a nice person, but get this at the end: "Additionally, despite our range of political beliefs, there were also issues that have been contentious in politics for years that most of us actually agreed on, such as criminal justice reform, common-sense gun regulations and gay marriage. I strongly believe that some of the country's future leaders were among this group." So that's what we have to look forward to? That's it? That's gonna be a problem…

"Don't Bring the Truth to a Knife Fight: A New Year's Proposal for the Left" [The Hampton Insitute]. "This is why the right wing is winning: they know they have enemies and they have allies, and together they want to defeat those enemies. To defeat those enemies, they mobilize, organize, intervene, and act collectively. They imagine the future they want. They talk to each other, they create their own ideological bubbles from which to act, resist, take swings. They capture the state and wield it toward their ends. They don't care about what the other side thinks. They aren't trying to win us over. They believe in themselves and their movement. They don't think their people need to be enlightened by public intellectuals."

"Populism Is a Problem. Elitist Technocrats Aren't the Solution" [Foreign Policy]. "Just as a healthy body fights off myriad viruses, so too do healthy political systems identify and respond to the challenges they faceJust as a healthy body fights off myriad viruses, so too do healthy political systems identify and respond to the challenges they face. Liberal democracies' problems over the past years haven't come merely or even primarily from the challenges they have faced but rather from a diminished capacity to recognize and respond to them. It is not just rapid economic and social changes that matter but the inability or unwillingness of national political actors and institutions to respond to those changes that has caused rising support for populists. The real cause of Western democracies' current travails is that many core political institutions have decayed dramatically over the past years — or ceded responsibility to unelected supranational bodies — hindering their ability to translate the demands of a broad range of their citizens into concrete action at home. Western democracies have, in short, become dramatically less democratic." Note the curious lack of agency throughout.

"Since Trump's election, the Democrats have experienced something similar with the rise of insurgent groups like Indivisible, whose ostensible goal is to overthrow the party 'establishment' and generate candidates ostensibly more responsive to the people" [Foreign Policy]. Same article, but I pulled out this quote because it's so [family-blogging] delusional (or, alternatively, mendacious). Indivisible is not an "insurgent group." It was started by Congressional staffers, for pity's sake. It doesn't even support Medicare for All, so it's to the right of Kamala Harris. "Indivisible has also received funding from the tech entrepreneur Reid Hoffman, as well as foundations or coalitions tied to Democracy Alliance donors, including the San Francisco mortgage billionaire Herbert Sandler, the New York real estate heiress Patricia Bauman and the oil heiress Leah Hunt-Hendrix" [New York Times]. I mean, come on. And Foreign Policy is the heart of The Bloob, the crowd that's trying to foment our next war!
Stats Watch
PMI Manufacturing Index, December 2017: "The December final for Markit's U.S. manufacturing report is little changed from December's flash" [Econoday]. "The jury is still out but the factory sector appears to have accelerated noticeably going into year end."
Philly Fed Coincident Index: "Last month's hopeful move up reversed putting this back to levels that historically have been associated with recessions" [Mosler Economics].
Small Business: "Small-business hiring slows, even as the economy accelerates, Paychex survey finds" [CNBC]. Twelve-month growing in hourly earnings: 2.76%. Better than a poke in the eye with a sharp stick (though of course averages conceal).
Commodities: "Moroccans continue to protest against the 'mines of death'" [Mining.com]. "This time, protesters showed up dressed as miners, had their faces and hands blackened and were carrying black loaves and coffins. With such attire, they wanted to symbolize what happens at the many abandoned coal pits that exist in the mountains surrounding the town, where young people struggling to find employment go to try to extract some coal to then sell it; the problem is that many end up not finding the mineral but death instead."
Real Estate: "Industrial and supply chain real estate expected to soar in 2018" [Logistics Management]. "'E-commerce activity is really driving the industrial sector's success,' said Craig Meyer, President of JLL's Industrial group, Americas. 'It represents around 9 percent of total U.S. sales, and experts predict this could reach nearly 14 percent in the coming years. These figures, along with a strong global economy, indicate that demand for industrial space will only increase in 2018.' This coincides with a recent study conducted by San Francisco-based Prologis with Oxford Economics. That research, too, maintains that logistics real estate delivers goods into the hands of time-conscious consumers faster than ever."
Manufacturing: "Factories across the globe warned they are finding it increasingly hard to keep up with demand, potentially forcing them to raise prices as the world economy looks set to enjoy its strongest year since 2011" [IndustryWeek]. "A slew of Purchasing Managers Indexes published on Tuesday from China, Germany, France, Italy and the U.K. all pointed to deeper supply constraints, with a U.S. gauge still to be released."
Manufacturing: "Is the U.S. at peak of industrial production?" [Logistics Management]. "[Michael Hicks, an economist and the director of Ball State's Center for Business and Economic Research] also notes that since about 2000, manufacturing jobs held by non-college graduates have declined by almost 45 percent, while manufacturing jobs held by those with a college degree are up almost 17 percent. 'That means in net, all the new jobs and almost all the replacement jobs in manufacturing are going to college graduates. That trend also accelerated during the Great Recession.' The press release ends with the observation that 'manufacturing in American is doing extremely well and is enjoying record levels of production.'" And: "'While manufacturing employment has gained a full million jobs since the end of the recession,' Hicks says, 'that rebound seems to be slowing. Still, the loss of manufacturing employment has been swamped by growth in other sectors. For every job we've lost in manufacturing since December 2007, we've gained six jobs in other sectors. The problem is the new jobs require different skills in different places. Moreover, turnover within manufacturing has had a very uneven effect on workers.'"
Retail: "Nike Inc. is having a hard time delivering stronger profits while it delivers more goods directly to consumers. The company's profits tumbled 9% despite a 5% gain in revenue in a quarter marked by upheaval in sportswear sales channels" [Wall Street Journal]. "With some big chains now liquidated, Nike is narrowing its focus to just 40 of its 30,000 accounts while trying to increase its own online sales and launching initiatives such as deals with fashion startup Stitch Fix. Inc. and Amazon.com Inc. Such efforts make it difficult for Nike to control pricing for its brands, however. And the new paths to reach customers and deliver the goods make the company's distribution channels more complicated, and likely more costly, than ever."
Shipping: China is expanding its role in ship finance to match its moves toward market power on the seas. The country's banks poured $20 billion into ship financing this year, some 33% more than they invested in 2016…. The growing financing flow highlights China's ambition to become the world's dominant maritime player as European banks pull back their investments" [Wall Street Journal]. Those German banks lost a lot of money on ships… More: "Experts say some shipping companies could relocate to Asia to build closer ties to Chinese lenders. And the country's banks are quicker than their European counterparts to recover ships if payments are missed."
Shipping; "Themes that will dominate shipping in 2018" [Splash 247]. " As a general rule of thumb when it comes to market realities in shipping, if one sector is heavily touted by the majority as a likely winner that often tends to be its kiss of death. Bookies' favourites in shipping rarely pay out. Fortunately among Splash readers there does not appear to be a clear sector winner as we head into the new year. In an ongoing poll carried on this site LNG has a slim lead over dry bulk in terms of which sector has the best prospects in 2018." Interviews with industry experts.
The Bezzle: "Tesla Inc. may have delivered about four times more Model 3 sedans last quarter than in the prior three months — or boosted sales by a factor of 27, depending on which analyst you ask" [Industry Week]. "The broad range of estimates reflects how little the electric-car maker has disclosed about the progress it's made speeding up production of its sedan that starts at $35,000…. 'The reason we remain upbeat on the Tesla story despite the prolonged Model 3 production problems is because EV and autonomy are the future,' [Gene Munster, co-founder of research-driven venture capital firm Loup Ventures] wrote in a Dec. 28 research note. 'Tesla is fighting to gain production scale to create that future.'" Whatever that is, it's not research.
The Bezzle: "'Oh My God, This Is So F—ed Up': Inside Silicon Valley's Secretive, Orgiastic Dark Side'" [Vanity Fair]. Makes me wonder if Eric Schmidt slithered out from Alphabet for a reason other than spending more time with his family. The lead: "From reports of those who have attended these parties, guests and hosts include powerful first-round investors, well-known entrepreneurs, and top executives. Some of them are the titans of the Valley, household names." Things go on from there (and I wonder how many of these guests and hosts are top Democrat donors and bundlers). A must read, if only for a phrase, used multiple times, that I haven't heard before: "cuddle puddle." Ewwwwwwwwwwwwww! I'm not a prude, and although the power relations seem more than a little sketchy to me, my thought was that this network (class) of men is making capital allocation decisions worth hundreds of billions of dollars and they must be completely and collectively addled by sex and drugs. Explains a lot about Uber, and not just about Trav personally, who would have slid right into this scene like the slippery little scut that he is.
Tech: "Steve Jobs's worst decision was promoting Tim Cook" [Quartz]. "The parallels between Gates and Ballmer and Jobs and Cook are eerie. Apple under Cook has doubled its revenue to $200 billion while doubling profit and tripling the amount of cash it has in the bank (now a quarter of a trillion dollars). The iPhone continues its annual upgrades with incremental improvements. Yet in five years the only truly new product that's managed to ship is the Apple Watch. And somehow, with 115,000 employees, Apple can barely get annual updates out for its laptops and desktop computers." So AI is going to "disrupt" Apple. Maybe.
Tech: "2017 Aviation: Only 1 Fatal Passenger Flight Accident per 7,360,000 Flight" [247 Wall Street]. A remarkable technical achievement. It's worth noting that we don't hear cries for "light touch" regulation of aircraft manufacture and maintenance (messed up though it is through outsourcing), no doubt because the executives and owners themselves fly in them.
Tech: "Toshi: A Dapp Browser for the Ethereum Network" [Brian Armstrong]. Read carefully, a libertarian dystopia.
Fodder for the Bulls: "How much will the economy grow in 2018?" [Calculated Risk]. "First, since I'm always asked, I don't see a recession in 2018. It is possible that there will be a pickup in growth in 2018 due to a combination of factors. The new tax policy should boost the economy a little in 2018, and there will probably be some further economic boost from oil sector investment in 2018 since oil prices have increased recently. Also the housing recovery is ongoing, however auto sales are mostly moving sideways. And demographics are improving (the prime working age population is growing about 0.5% per year, compared to declining a few years ago). All these factors combined will probably push GDP growth into the mid-to-high 2% range in 2018. And a 3% handle is possible if there is some pickup in productivity." And: "Ten Economic Questions for 2018" [Calculated Risk].
Corruption: "Keppel Offshore & Marine acted against 17 former or current employees for their roles in the Brazil bribery scandal the company resolved in December for $422 million" [FCPA Blog]. "Keppel admitted paying $55 million in bribes to officials in Brazil during a decade-long scheme. It won about $1 billion in contracts."
Five Horseman: "As the new year begins the Fab Five are off to the races" [Hat tip, Jim Haygood].
Rapture Index: Closes +1 on oil supply/price. "The price of oil sees multi-year high" [Rapture Ready]. Record High, October 10, 2016: 189. Current: 188. Holy moley!
Today's Fear & Greed Index: 60 Greed (previous close: 53, Neutral) [CNN]. One week ago: 64 (Greed). (0 is Extreme Fear; 100 is Extreme Greed. Last updated Jan 2 at 11:17am.
Water
"Unfiltered Fervor: The Rush to Get Off the Water Grid" [New York Times]. "the off-grid water movement has become more than the fringe phenomenon it once was, with sophisticated marketing, cultural cachet, millions of dollars in funding and influential supporters from Silicon Valley…. The most prominent proponent of raw water is Doug Evans, a Silicon Valley entrepreneur. After his juicing company, Juicero, collapsed in September, he went on a 10-day cleanse, drinking nothing but Live Water. 'I haven't tasted tap water in a long time,' he said." Grifters gotta grift. Of course, from a public policy perspective, the Silicon Valley squillionaires are now free to abandon another public good. Yay!
Gaia
"What 2017 Was Like for the World's Oldest Trees" [Atlas Obscura]. "Methuselah and Old Hara, 5,000-year-old bristlecone pines in California: The sun shone. Rain fell, no more than three inches each month. Fire blazed nearby but did not touch the grove. Small limber pines grew further upslope than ever in human memory, creeping into bristlecone territory." And: "Pando, 50,000-year-old clonal aspen stand in Utah. Pando struggled. Its root system, 80,000 years old, supports more than 47,000 trees, most of which are nearing the end of an aspen stem's lifespan of 110 to 130 years. In June, the new shoots—the young trees that could replace the senescent—sprouted. Outside the fencing that the park rangers have erected, deer feasted on the shoots; inside, fewer were eaten. It will be another decade before the community's survival is assured."
Nice idea:
The Living Fence: In the small town of Ohrdruf, in the state of Thuringia, there's an abandoned fence made entirely from trees. @atlasobscura https://t.co/CVdADOAJ0l pic.twitter.com/TNSmoqXwQE

— JSTOR Global Plants (@JSTORPlants) January 1, 2018
Neoliberal Epidemics
"About half of adults with a disability receiving Medicare benefits received at least one opioid prescription in a year, and they're more likely to be from the suburbs, small cities or rural areas" [MarketWatch]. "Opioid prescriptions were highest in places with lower median household incomes and higher unemployment rates and those aged 55 to 64 years old rather than younger Americans, according to research from the Centers for Disease Control and Prevention, which analyzed data of almost 3.5 million adults younger than 65 with disabilities and were receiving Medicare Part D benefits for at least a year in 2014…. , particularly in the South, Southwest and Midwest."
Big Brother Is Watching You Watch
Yikes. Readers, has anything like this happened to you?
The time I saw a nurse practitioner for a sinus infection and she recommended Mucinex over Sudafed and I immediately received and still get Mucinex ads on Twitter two months later. https://t.co/CrkXMx32s6

— jeff deeney (@jeff_deeney) December 31, 2017
Guillotine Watch
Best of the genre:
Mar-a-Lago vs France before the storming of the Bastille pic.twitter.com/WSwHgHbllo

— Nai Mei (姚耐梅)??‍⚕️ (@naimeiyao) January 1, 2018
(Even if "before" the Bastille, at right, turns out to be 1745!)
Imperial Collapse Watch
America, 2018:
Train disabled by power outage at Penn Station https://t.co/TQcYpQE2to pic.twitter.com/ATUmarNTff

— Eyewitness News (@ABC7NY) January 2, 2018
Busiest trackage in the country.
Class Warfare
"Working Class w/ No Living Wage: The Absurd Math of US Income" [John Laurits]. Summarized in this handy chart:
Well worth a read, and I'd welcome your (critical) thoughts. Laurits is taking a road not traveled, at least in the world of neoliberal economics departments. For example, is his definition of income correct?
"America's Worst Graveyard Shift Is Grinding Up Workers" [Bloomberg]. "[N]o one knows how many [meatpacking] sanitation workers get sick and injured on the job, according to the U.S. Government Accountability Office, an arm of Congress. The Occupational Safety and Health Administration doesn't require plants to report contractors' injuries, and the highly fragmented sanitation industry uses multiple job codes, so cleaners fall through the data cracks, the GAO says.
Judging from [Packers Sanitation Services Inc.'s] record, the nightly storm of high-­pressure hoses, chemical vapors, blood, grease, and frantic deadlines, all swirling in clouds of steam around pulsing belts, blades, and blenders, can be treacherous. From 2015 through September 2016, Packers had the 14th-highest number of severe injuries—defined as an amputation, hospitalization, or the loss of an eye—among the 14,000 companies tracked by OSHA in 29 states." Nice definition of "severe."
"Pockets of Rural America at Risk of Being Undercounted in Census" [Daily Yonder]. "The Census will rely more on the internet for data collection. Since rural residents trail in internet connectivity, with 21% of rural homes lacking service compared with 13% of urban residents, response rates from rural areas could be under-represented. The rural regions with the most at risk, and the least likely to have internet service, are African-Americans communities in the South, Hispanics in the Southwest, and Native Americans living near tribal lands and reservations. Low participation rates are also expected in "deep Appalachia" and among migrant farmworker families. [Demographer William O'Hare] said that approximately 40% of impoverished rural people in these regions have no internet access."
Splendid black and white photos [Geography of Poverty]. Like a modern-day Let Us Now Praise Famous Men, but with no text.
New Year's Wrapup
Yes, this is what my New Years' was like:
Party Poopers Peter Arno https://t.co/hEf84wWaa9 pic.twitter.com/xinXQMaVw0

— Cory Doctorow (@doctorow) January 1, 2018
Brain damage at multiple altitudes:
Check Out These Stunning Aerial Photos Of The U.S. Air Force B-2 Stealth Bomber Doing The Rose Parade And Rose Bowl Flyovers https://t.co/aapELgrbkp pic.twitter.com/e5wt7KORYf

— The Aviationist (@TheAviationist) January 2, 2018
The City that Loves You Back:
Most don't know this but the Mummers Parade got its name from its founder, Mumia Abu Jamal

— Adam (@EvilOmarVizquel) January 1, 2017
Or not:
Important thread. Growing up in LA this used to be a known thing. Don't let kids run around outside soon after New Years. Unbelievably sad and preventable https://t.co/gzqDmPPw7q

— MGiraldi (@MGiraldi) January 1, 2018
Sigh:
On this day in 1995, the last Calvin and Hobbes was printed. pic.twitter.com/qHupEMI7pa

— Evan B. (@HeartofNeon) December 31, 2017
Not a bad thing to be a Dancing Grandpa (he has his own video channel):
I'm pretty sure this is the best dancing grandpa video of 2017. #BestOf2017 #china pic.twitter.com/fMVoRU4eYQ

— Ray Kwong (@raykwong) December 31, 2017
News of the Wired
"New lensless camera creates detailed 3-D images without scanning" [Phys.org]. "The camera is compact and inexpensive to construct because it consists of only a diffuser – essentially a bumpy piece of plastic – placed on top of an image sensor. Although the hardware is simple, the software it uses to reconstruct high resolution 3D images is very complex."
"Use this Harvard Law checklist to prepare for any negotiation" [Quartz]. 32 items!
"Neil Young just launched a high-quality archive of his entire back catalog" [The Verge]. Young: "I don't need my music to be devalued by the worst quality in the history of broadcasting or any other form of distribution." He doesn't like crapification any better than we do….
* * *
Readers, feel free to contact me at lambert [UNDERSCORE] strether [DOT] corrente [AT] yahoo [DOT] com, with (a) links, and even better (b) sources I should curate regularly, (c) how to send me a check if you are allergic to PayPal, and (d) to find out how to send me images of plants. Vegetables are fine! Fungi are deemed to be honorary plants! If you want your handle to appear as a credit, pleas s e place it at the start of your mail in parentheses: (thus). Otherwise, I will anonymize by using your initials. See the previous Water Cooler (with plant) here. Today's plant (CC):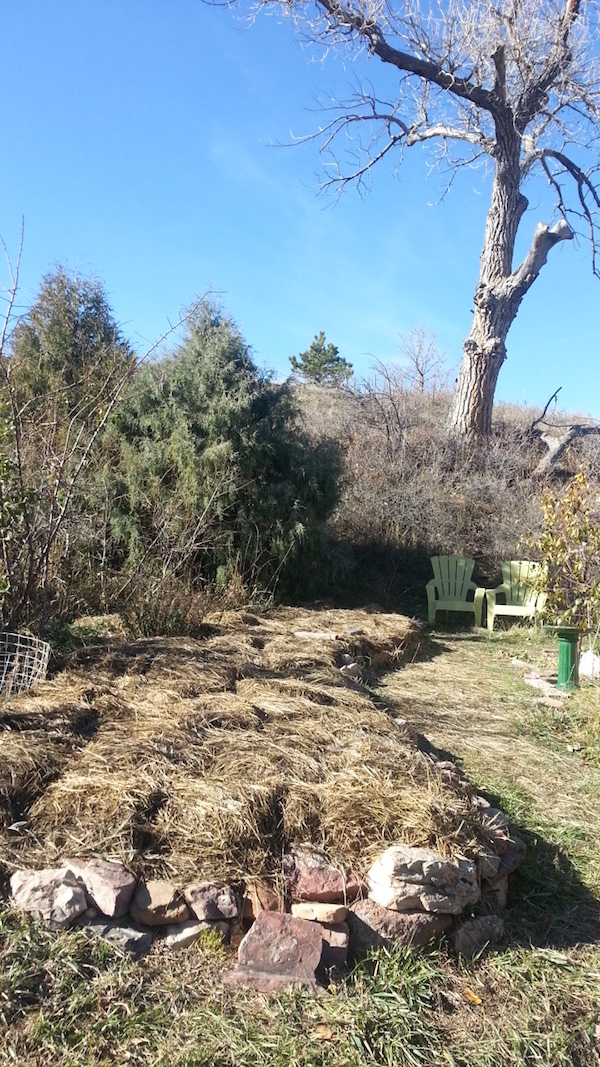 CC: "Here's one of my gardens buttoned up for the winter on the Front Range of Colorado. I have been sheet mulching with hay flakes overtopping whatever is handy for the past four years, building up the soil. This year it was rabbit manure, some years it's shredded leaves." That chair in the shade makes me want plop down and just sit and watch and listen. I bet this garden is covered with snow, now!
* * *
Readers: Water Cooler is a standalone entity not covered by the NC fundraiser. So do feel free to use the dropdown and click the hat to make a contribution today or any day. Here is why: Regular positive feedback both makes me feel good and lets me know I'm on the right track with coverage. When I get no donations for five or ten days I get worried. More tangibly, a constant trickle of small donations helps me with expenses, and I factor that trickle in when setting fundraising goals. So if you see something you especially appreciate, do feel free to click the hat!