By Lambert Strether of Corrente.
Politics
"But what is government itself, but the greatest of all reflections on human nature?" –James Madison, Federalist 51
"They had one weapon left and both knew it: treachery." –Frank Herbert, Dune
2020
Biden (D) (1): "Abrams on Biden: 'We cannot have perfection as a litmus test'" [The Hill]. • "I'm Neera Tanden, and I approved this message."

Biden (D) (2): "Three more women come forward with allegations against Biden after pledge to change behavior" [The Hill].Biden's statement: "'Social norms have begun to change, they've shifted, and the boundaries of protecting personal space have been reset, and I get it,' Biden said in the video. 'I hear what they're saying. I understand it. I'll be much more mindful. That's my responsibility, and I'll meet it.' A spokesperson for Biden declined to comment on the allegations and referred the Post to Biden's video. The Hill has reached out to Biden for comment. Biden is widely expected to announce a bid for the presidency soon and has been seen as the front-runner in a large Democratic field."

Buttigieg: "'Mayor Pete' Buttigieg is sweeping the media off their feet. Time for a few deep breaths." [Margaret Sullivan, WaPo]. "before we breathlessly agree that Mayor Pete is the next Barack Obama — and sure to be the first millennial president — it might be wise to recall that he hasn't even officially declared his candidacy. Deep breaths, everyone." • Although he is, I believe, teasing an announcement in South Bend.

Gravel (D): "A Pair Of Leftist Teens Are Tired Of The Democratic Party's "Bullshit." They're Launching A Presidential Campaign To Fix It." [Buzzfeed]. "David Oks, 17, and Henry Wiliams, 18, met in high school and previously ran a mayoral campaign in suburban Ardsley, New York… Gravel gave Oks and Williams his blessing, and they filed paperwork with the Federal Elections Commission on his behalf to start working toward accepting donations to get Gravel on the debate stage. They know the Democratic National Committee's rules to get onstage — you need to either hit a polling threshold or get 65,000 donations from people in 20 different states…. Gravel gave them access to his once-defunct Twitter account after Politico first reported that they had filed the campaign paperwork. Since then, they've been roasting other presidential candidates for their policy records, posting memes, and providing takes on the moral clarity needed in the Democratic Party in a Very Online voice that's grown the account from under 4,000 to nearly 34,000 followers in a week; 200 people have signed up to volunteer for the nascent campaign."

Ryan (D): "Rep. Tim Ryan announces presidential run" [The Hill]. "In jumping into the Democratic nominating contest, [Rep. Tim Ryan (D-Ohio)] is betting that his credentials as a moderate from Ohio will help him appeal to centrist, working-class voters in the Midwestern states that Democrats are eager to win back in 2020."

Sanders (D) (1): "UIC graduate workers get boost from Bernie Sanders on sixth day of strike" [Chicago Tribune]. • Sanders makes such statements regularly. How come we don't see this from other candidates?

Sanders (D) (2):

Please never forget where Dr. King was when he was shot 51 years ago: in Memphis to stand with exploited sanitation workers. He was killed while fighting for a country where every person is able to live a life with dignity. That is the mission we must carry every day. #MLK51

— Bernie Sanders (@BernieSanders) April 4, 2019

Sanders (D) (3): "Show Us the Money" [Jacobin]. "It's not that others in the crowded primary field can't raise big money. Glitzy fundraisers and corporate schmoozing are second nature to Democrats. But the senator from Vermont has thrown them a curveball. By refusing to cozy up with titans of industry and relying instead on ordinary working people to fund both of his presidential campaigns, he's turned Democrats' most reliable fundraising strategies into a political liability. Presidential hopefuls who lack Bernie's sizable small-donor base are awkwardly contorting themselves to both meet their fundraising goals and win the favor of an increasingly progressive constituency."

Sanders (D) (4): "Bernie Sanders Is the Frontrunner. Obviously." [The New Republic]. "certain someone is missing from this picture: the candidate who consistently polls first among declared candidates, and who, in the first quarter, raised $18 million from an astounding 900,000 donors. He is the frontrunner for the nomination until someone proves otherwise. And yet, Bernie Sanders is being treated as something of an afterthought, as the national press and Beltway pundits hop from one shiny object to the next." • Odd!

O'Rourke:

Here's a 2007 video of El Paso city councilman Beto O'Rourke getting confronted by frightened residents of the Segundo Barrio over his support for a gentrification plan pushed by his developer father-in-law. Full story: https://t.co/wFf1HTxrf3
Full video: https://t.co/O6nOWJ3vRp pic.twitter.com/FOoUIw24OV

— Walker Bragman (@WalkerBragman) March 31, 2019

"'Unspoken Sexism' Dampens Fundraising For Women Running In 2020" [HuffPo (RH)]. "[Brianna Wu, a software engineer, who ran for Congress in Massachusetts last year and plans to give it another shot in 2020,] said she was frustrated to see some of the male candidates pull ahead in online fundraising. 'It was frustrating to me to see pulling in so much money," she said. I think it speaks to the unspoken sexism in the Democratic party with fundraising.'" • Lol. Meanwhile, an article on women running in 2020 that doesn't give one single mention to Tulsi Gabbard?

"Latino outreach or Google Translate? 2020 Dems bungle Spanish websites" [Politico]. Using Google to translate English text into Spanish is a trick used by high school students to avoid doing their Spanish homework — not something you'd expect to see from candidates for the highest office in the land. Yet several Democratic White House hopefuls appear to be doing precisely that. They're posting passages in Spanish on their websites that bear striking similarities to the output from Google's translation service, appearing to perform only minor cleanup before publishing the copy on their sites. While Google Translate can serve as a workable starting point, more often than not it needs a human hand to produce Spanish that would pass muster with a native speaker." • It's mu abuela all over again!
2019
"Paul Ryan Says AOC Wasn't Interested in His Advice: Didn't Listen 'To a Thing I Said'" [Mediate]. • And she'd listen, based on what?
Realignment and Legitimacy
"As it Works to Stifle Primary Challengers, DCCC Takes More Money from Corporate Lobbyists" [Sludge]. "The DCCC raised nearly $19 million in the first two months of this year, more money than it had raised by this point last election cycle, and the committee is relying more heavily on corporate lobbyists to collect checks. Lobbyists whose clients include health care, oil, gas, and coal interests, raised almost $440,000 for the DCCC in January and February, Federal Election Commission records show. Many of their clients oppose progressive priorities like a "Medicare for All" health-care system or a Green New Deal to mitigate climate change… This year, led by centrist Democratic Rep. Cheri Bustos of Illinois, the DCCC has already received almost as much money via donations bundled by corporate lobbyists than in all of 2017." • It's all about the benjamins ?!

"Cheri Bustos takes on the new left" [Politico]. "'We don't have time for games, we don't have time for hugs and kisses,' Rep. Cedric Richmond (D-La.), former chairman of the Congressional Black Caucus, said in an interview, praising Bustos for taking a hard line to protect the party's incumbents ahead of a difficult 2020 campaign." • Jayapal comments: "It is not playing games for the Democratic party to be inclusive of all its members perspectives. I have refrained from commenting publicly on this issue until now, but I am extremely disappointed that there is no movement on this issue."

"Interstate Crosscheck on the Verge of Collapse" [Greg Palast]. "Ten states in total have now withdrawn from the Interstate Crosscheck system, including in the past few weeks, Arizona, Colorado, Pennsylvania and in alliance with my co-litigant, Rev. Jesse Jackson, the state of Illinois. And Kansas, after Kobach lost his race for Governor, has stopped creating the purge list for Crosscheck states. Unfortunately, nearly a score of states still use Crosscheck. Worse, even those states which left Crosscheck continue to purge hundreds of thousands of voters who found themselves on Kobach's lists in 2013 through 2017." • Good news, though.

"America's socialist surge is going strong in Chicago" [Micah Uetricht, Guardian]. "Add them up and you've got at least five, maybe six democratic socialists who will be on the 50-member Chicago city council. Few major American cities have seen even a single socialist councilor in generations; the third-largest city in the US could soon have half a dozen. It's the largest socialist electoral victory in modern American history. The socialists won by strong, straightforward campaigning on working-class issues. Rosa, for example, made his race a referendum on affordable housing in a rapidly gentrifying neighborhood, painting big real estate developers as the enemy and demanding rent control in the city." • But see Benjamin Studebaker's cautionary tale of what happened in Pittsburgh if you want to know how fast a DSA chapter can be captured and go bad.
Stats Watch
Jobless Claims, week of March 30, 2019: "There have been cracks in the labor numbers the last several months and one of those cracks — initial jobless claims — is beginning to close" [Econoday]. "Initial claims came in much lower than expected for a second straight week."
Challenger Job-Cut Report, March 2019: In what has yet to lead to a comparable rise in actual jobless claims, the number of lay-off announcements has clearly shifted higher over the last half year" [Econoday]. "Challenger's data point squarely at a comparable shift higher in jobless claims which did begin to move up from historic lows late last year and early this year but have since moved back lower. There's always an unknown time lag between announcements and layoffs but the risk for a rise in claims is clear. The results are also likely signaling a slowing in payroll growth ahead yet are not likely to affect expectations for tomorrow's employment report where a substantial bounce-back from a weak February is the universal call."
Housing: "Average Americans can't afford a home in 70 percent of the country" [CBS]. "Out of 473 U.S. counties analyzed in a report, 335 listed median home prices more than what average wage earners could afford, according to a report from ATTOM Data Solutions. Among them are the counties that include Los Angeles and San Diego in California, as well as Miami-Dade County in Florida and Maricopa County in Arizona. New York City claimed the largest share of a person's income to purchase a home, according to the report. While average earners nationwide need to spend only about one-third of their income on a home, residents in Brooklyn and Manhattan must shell out more than 115 percent of their income. In San Francisco, residents must spend 103 percent, and in Hawaii's Maui County, it takes 101 percent. Homes were found to be affordable in Chicago, Cleveland, Houston, Detroit and Philadelphia." • And Philly is a great town…
Housing: "Heaven or High Water" [Popula]. "Amazingly, in the face of these incontrovertible facts about the climate the business of [Miami] [uxury real estate is chugging along just fine, and I wanted to see the cognitive dissonance up close." • Running gag: "It's been fixed."
The Bezzle: "Tesla Plunges 11% as Delivery Drop Deepens Demand Concerns" [Bloomberg]. "The electric-car maker delivered 63,000 vehicles in the three months that ended in March, down from 90,966 in the fourth quarter… Bloomberg's experimental Model 3 tracker also missed the dip in Tesla's production numbers. While the tool has outperformed the average estimate of Wall Street analysts in four out of five quarters, its prediction of 79,130 for the first three months of the year was much too high." • Hmm.
The Bezzle: "Power drain" [Reuters]. "Elon Musk is driving Tesla into the mire. The electric-car maker suffered a big drop in both production and delivery in the first three months of the year, right as the company was supposed to be powering up to churn out up to 500,000 vehicles a year. Tweeting that goal landed Musk in hot water with the Securities and Exchange Commission; now it looks nigh on impossible…. The slump will send Tesla careening into the red for the quarter, though it has 'sufficient cash on hand.' That won't last, though, if Musk cannot boost sales of its expensive, high-margin cars and the Model 3. Having enough capital on hand to power through problems would be the smart path to take. Musk's constant refusal to consider doing so for most of the past two years now looks ever more dicey."
The Bezzle: Tesla "autopilot" driving on the wrong side of the road (DK). Thread (videos):
Tesla autopilot is intended to be only used on highways, but people use it off highways anyway because they can. Watch this and hold on to your hat! (fw version 19.8.3) 3/ pic.twitter.com/hKGqitAWvn

— green (@greentheonly) April 2, 2019
Also, of course: "Moreover, there's no way to report an autopilot bug from a customer car at all. Your best bet is capturing some dashcam footage and contacting them by email, but even that seems to be often futile."
The Bezzle: Creepy indeed:
How do you educate your consumers of an emerging tech, which they are worried of currently, and that in which you are investing in currently? By creeping them out! What were you thinking BMW? Driverless tech, as your own engineers will tell you, will save lives! pic.twitter.com/jj4cMYeGcc

— Subrahmanyam KVJ (@SuB8u) April 4, 2019
The Bezzle: "Uber CEO hopes to have self-driving cars in service in 18 months" [TechCrunch]. Note the date: 1/23/2018. Looks like the Clinton campaign isn't the only institution that lights money on fire and throws it up in the air.
Tech: "Grindr Not Liable for Man Who Sent 1,000+ Sex-Seeking Men to His Ex-Boyfriend's Home: Court" [Towlerroad]. • Platforms totally unproblematic…
Manufacturing: "First lawsuit filed in Ethiopian Airlines crash by the family of consumer advocate Ralph Nader's niece" [ABC]. "The lawsuit filed in U.S. District Court in Chicago names Chicago-based Boeing, the manufacturer of the aircraft and Ethiopian Airlines as defendants. The suit also names Rosemount Aerospace Inc., the Delaware company that made the airplane's flight control system known as MCAS, which is now under scrutiny by investigators." • Oh, a new player: Rosemount.
Manufacturing: "Boeing's 737 Max Isn't Going to Fly Anywhere Soon" [Bloomberg]. "Today, Boeing continues to produce the 737 Max at full tilt, which will rapidly create billions of dollars of immobile plane inventory. This suggests the manufacturer is confident in the fixes that it has proposed, and that customers will be able to take delivery and fly the plane again before too long. But will they?" • Too big to fail?
Transportation: "Your First Look At The MTA's New Subway Turnstile Tap Card Readers In the Wild" [Gothamist]. "Given the new electronic system's reliance on smartphones, it also raises questions about privacy and data collection. New York City Transit President Andy Byford and Chrissy Ditmore, the director of strategy for Cubic Transportation System, addressed this during a UK International trade fair panel Wednesday. Regarding the potential to collect vast amounts of data from riders, Ditmore said, it's happening already. 'Anyone that owns a cell phone is sending your personal information, data movements, shopping your everything to someone already anyway,' she said. 'The reality is that ship has sailed, in the U.S.'" • Yes, you'll be able to purchase a card with cash. By 2021. So far.
Transportation: "Freight railroads are overhauling their networks to run more like commercial airlines, and they're looking for shippers to get on board. Norfolk Southern Corp. is the latest operator to embrace 'precision-scheduled railroading,' a tactic pioneered by the late rail executive Hunter Harrison. The operating plan boosted profits at rival CSX Corp. but… left some shippers grumbling over congestion and missed deliveries" [Wall Street Journal]. "Norfolk Southern is trying to avoid those problems as it works to speed the flow of goods by unclogging freight yards and running fewer trains. The rail operator is dismantling and reassembling schedules one yard at a time and says it's bringing customers in during the planning process to reduce friction. Still, some shippers with their own freight cars are resisting efforts to prune their fleets."
The Biosphere
"Global CO2 Emissions Hit an All-Time High in 2018; is a Hothouse Earth in our Future?" [Jeff Masters, Weather Underground]. "Global energy-related emissions of carbon dioxide jumped by 1.7% in 2018, reaching the highest levels ever recorded, 33.1 metric gigatons, announced the International Energy Agency (IEA) last week. The United States' CO2 emissions grew by 3.1% in 2018, reversing a decline a year earlier, while China's emissions rose by 2.5% and India's by 4%. The global CO2 growth rate was the highest since 2013. Global energy consumption rose 2.3% in 2018, nearly twice the average rate of growth since 2010, and was driven by a robust global economy as well as higher heating and cooling needs in some parts of the world…. The authors of the Hothouse Earth paper have given us a convincing argument that even strong action to control greenhouse gas emissions and limit global warming to 2°C may not be enough to prevent the destruction of a livable climate for humans. They applaud the significant progress that has been made in driving the renewable energy revolution and in slowing down population growth, but emphasize that 'widespread, rapid, and fundamental transformations will likely be required to reduce the risk of crossing the threshold and locking in the Hothouse Earth pathway.'" • And the 1% wants to save the 1%; the 10% wants to save the 10%; only the left wants to save the 90% — I would urge.
"Democratic Green New Deal Defectors Chart Their Own Climate Path" [Bloomberg]. "Casten is a Democratic Green New Deal defector, one of a group of moderates who are rejecting the progressive package that has become a lightning rod for critics and are instead crafting their own climate-change policies. Among the ideas some defectors are considering are measures that would impose a national mandate for the use of cleaner power sources or implementing a carbon tax. Many, such as Virginia freshman Democratic Representative Elaine Luria, defeated Republican incumbents in moderate-to-conservative districts and helped their party win back the House. 'The Green New Deal is aspirational,' Luria said. 'What we plan to do is offer tangible, achievable things.'" • What could go wrong?
"Highly compatible: pollinator-friendly solar projects and farming" [Minnesota Post (Michael)]. "Last fall, our team of graduate students at the Yale School of Forestry & Environmental Studies conducted a cost-benefit analysis of solar development on farmland in Minnesota, and the results were illuminating. By developing projects as pollinator-friendly — the practice of planting deep-rooted grasses and wildflowers throughout a project site — solar developers have the potential to provide habitat for threatened pollinator species, restore important prairie ecosystems, and boost the crop yields of nearby fields. That's right: Our model suggests — even when accounting for the land taken out of production by the solar project. While unexpected, this result has sound basis in research and practice. Iowa State University research extending over 10 years has shown that prairie strips in agricultural areas increase the abundance of native pollinators while also decreasing runoff and increasing soil and nutrient retention; crop pollination scientists in New Jersey and Michigan have published peer-reviewed research showing that an increased abundance of wild pollinators boosts yields for specialty crops. Now we have the potential to add solar to the mix." • Lovely!
"Filming 30 feet down: underwater movie studio opens in Belgium" [Reuters]. "[A] brand-new underwater studio… = has opened in Belgium — a 9-metre (30-foot) deep pool specially built as a movie lot. The studio includes a moveable floor that means sets constructed on dry land can be lowered into the water. Poolside cranes lift in boats or other props, and staff are on hand to train actors." • That will certainly be useful when the Antarctic ice sheet melts.
Black Injustice Tipping Point
"Historians expose early scientists' debt to the slave trade" [Science]. "Although he rarely left London, [an apothecary and naturalist named James Petiver] ran a global network of dozens of ship surgeons and captains who collected animal and plant specimens for him in far-flung colonies. Petiver set up a museum and research center with those specimens, and he and visiting scientists wrote papers that other naturalists (including Carl Linnaeus, the father of taxonomy) drew on. Between one-quarter and one-third of Petiver's collectors worked in the slave trade, largely because he had no other options: Few ships outside the slave trade traveled to key points in Africa and Latin America. Petiver eventually amassed the largest natural history collection in the world, and it never would have happened without slavery. Petiver wasn't unique. By examining scientific papers, correspondence between naturalists, and the records of slaving companies, historians are now seeing new connections between science and slavery and piecing together just how deeply intertwined they were." • Obvious when you think about it!
"Reparations bill wins new momentum in Congress" [The Hill]. "Rep. James Clyburn (S.C.), a CBC member and the third-ranking House Democrat, has long fought to eliminate racial disparities on jobs, wages, housing and wealth. But he's repeatedly argued against reparations in the form of cash payments, saying it would simply be too difficult to implement. 'You've got to satisfy two problems, one of which is the legality of it and the other is the practicality of it,' Clyburn said in an interview last month. Clyburn highlighted just one of the thorny questions a reparations panel would have to resolve, noting that mixed-raced people, following the Civil War, had access to certain schooling that black former slaves did not. 'Are mulattoes descendants of slaves? Yes, they are. But they got a leg up,' he said. 'So I don't know how you can fairly deal with that. That's the practicality part.' Clyburn is instead pushing for direct investments in the nation's poorest regions. Known as the 10-20-30 plan, Clyburn's model operates under the simple premise that federal development dollars are best spent in the areas of greatest need.'" • This bill is, I think, HR40 (another plan to have a plan, which isn't a bad thing). I think that Clyburn's objection on mulattoes, which is typical, is answered by the two tests Darity proposes: (1) proof of ancestry, (2) proof of a claim of identity. (The 1870 Census was the first to include ex-slaves, and also included names (!). That, plus insurance records and records of sale should provide a good start on the proof of ancestry issue.)
Class Warfare
"Community, Democracy, and Mutual Aid" (PDF) [John Michael Colón, Mason Herson-Hord, Katie S. Horvath, Dayton Martindale, & Matthew Porges, The Next System Project]. "This next system we imagine is a libertarian ecosocialism grounded in the direct participation of citizens rather than the unaccountable authority of elites; in the social ownership of the economy rather than exploitation; in the equality of human beings rather than the social hierarchies of race, gender, nationality, and class; in the defense of our common home and its nonhuman inhabitants rather than unfettered environmental destruction; and in the restoration of community rather than isolation. Above all else, our aim is to lay out a framework for crafting such a society from the ground up—to, as the Wobblies declared, build the new world in the shell of the old." • Hmm.
News of the Wired
"Cats know their names — whether they care is another matter" [Nature]. "'Cats are just as good as dogs at learning — they're just not as keen to show their owners what they've learnt,' says John Bradshaw, a biologist at the University of Bristol, UK, who specializes in human–animal interactions…. [Jennifer Vonk, a cognitive psychologist at Oakland University], who owns several cats, often debates with her husband whether their pets know their own names. Turner says that both of his two cats seem as likely to respond to the other's name as their own — particularly at feeding time." •
"Decoding Dictatorial Statues untangles the agency of sculpted bodies" (photos) [It's Nice That]. • "Relational objects." Hmm….
Fun with machine tools (Bob):
* * *
Readers, feel free to contact me at lambert [UNDERSCORE] strether [DOT] corrente [AT] yahoo [DOT] com, with (a) links, and even better (b) sources I should curate regularly, (c) how to send me a check if you are allergic to PayPal, and (d) to find out how to send me images of plants. Vegetables are fine! Fungi are deemed to be honorary plants! If you want your handle to appear as a credit, please place it at the start of your mail in parentheses: (thus). Otherwise, I will anonymize by using your initials. See the previous Water Cooler (with plant) here. Today's plant (MGL):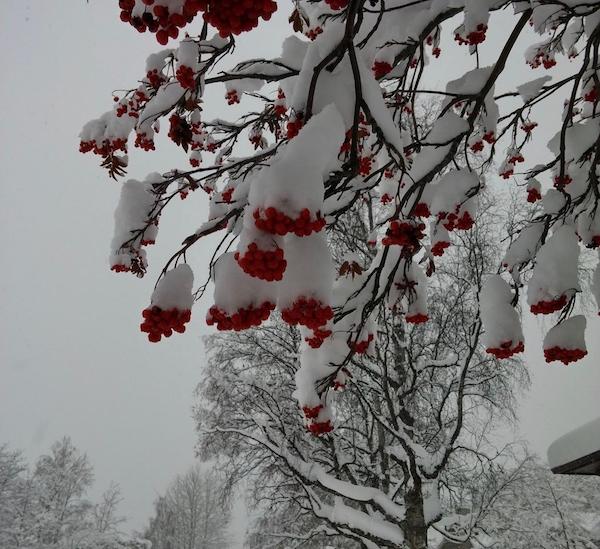 MGL writes: "White mountain ash berries after a big snow, January 2017, Anchorage, AK. Bohemian waxwings love 'em!"
Readers, I'm running short on plants. Maybe time for some shots of spring? Or at least mud?
* * *
Readers: Water Cooler is a standalone entity not covered by the annual NC fundraiser. So do feel free to make a contribution today or any day. Here is why: Regular positive feedback both makes me feel good and lets me know I'm on the right track with coverage. When I get no donations for five or ten days I get worried. More tangibly, a constant trickle of small donations helps me with expenses, and I factor in that trickle when setting fundraising goals. So if you see something you especially appreciate, do feel free to click this donate button:
Here is the screen that will appear, which I have helpfully annotated. Because it's new and improved, I'll leave it up for a few days: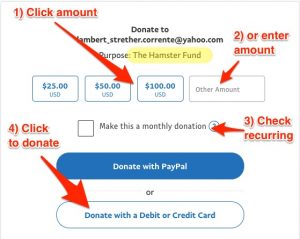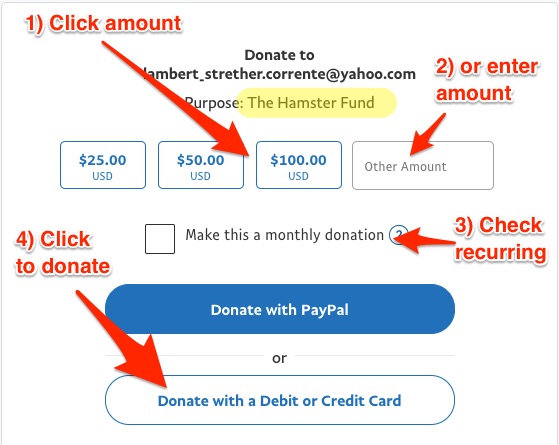 If you hate PayPal, you can email me at lambert [UNDERSCORE] strether [DOT] corrente [AT] yahoo [DOT] com, and I will give you directions on how to send a check. Thank you!