By Lambert Strether of Corrente.
Readers, politics is a little light because I spent too much time on Boeing. I'll add a bit more shortly. –lambert UPDATE All done!
Trade
"Exclusive: China's huge Airbus order padded by old or incomplete deals – sources" [Reuters]. "A landmark order from China for 300 Airbus jets signed during a state visit last week was bolstered by repeat announcements of dozens of existing deals and advance approval for deals that have yet to be struck, two people familiar with the matter said. Echoing an umbrella order for 300 Boeing jets awarded during a visit to Beijing by U.S. President Donald Trump in 2017, the headline figure for the new 'framework order' for European jets was partly driven by political considerations, the people said." • Film at 11!
Politics
"But what is government itself, but the greatest of all reflections on human nature?" –James Madison, Federalist 51
"They had one weapon left and both knew it: treachery." –Frank Herbert, Dune
2020
Biden: "2020 presidential election: Joe Biden advisers smell a conspiracy" [Axios]. "Joe Biden advisers believe coverage of allegations of inappropriate behavior is being stoked by rival Democrats — a dynamic that could actually fire up the vice president at a time when others see success as increasingly improbable. Why it matters: Several around Biden think advisers to Bernie Sanders are at least partly behind the anti-Biden campaign. One prominent backer thinks Biden will run, and 'is ready to kill Bernie.' I got this text last night from a source close to Biden: 'VP directed staff this evening to reach out to supporters and donors with a simple message — full steam ahead.'" • If you read the quote carefully, you can see that Biden might have any number of reasons to "kill Bernie."

Festival of Buttigieg today:

Buttigieg (D) (1): "Buttigieg Says Flooding in the Midwest Is Not Big Deal, Just a Small Fraction of Year's Rainfall" [CEPR]. "That is not quite what he said, but it is pretty much in the same spirit as what Buttigieg said about trade and jobs, according to the Washington Post. The post told readers: 'Buttigieg has said six times as many jobs were lost because of automation as trade from 2000 to 2010.' This is more or less right in the same way that Nebraska will get far more rain over the course of 2019 than the rain that caused the recent flooding. And, the assertion makes about as much sense in the context of the floods as in the context of jobs lost to imports." • Looks like Mayor Pete is trying to drive in Yang's lane?

Buttigieg (D) (2): "After Gaza slaughter, Buttigieg praised Israeli security responses as 'moving' and faulted Democrats for easy judgment" [Mondoweiss]. "Buttigieg is a quick study; and what leaps out from these remarks is how completely the Rhodes Scholar imbibed the official pro-Israel version of events, and showed contempt for Palestinian understanding. There is no sense in Buttigieg's remarks that Israel is a militarized, rightwing country that adores Donald Trump and that is led by a strongman and that answers resistance to the existing order with overwhelming force that international human rights organizations said at the time of his remarks were likely war crimes. Buttigieg did not meet with AIPAC last week; but we can expect Buttigieg to take a centrist pro-Israel position in opposition to the Democratic base, which is highly critical of Israel."

Buttigieg (D) (3): "Have You Heard? Pete Buttigieg Is Really Smart" [Jacobin]. "For the upper professional-managerial class (PMC), guys like this represent a dreamy ideal of human supremacy. That's because for them, all of life is an Ivy League application. Well-rounded 'smartness' is everything, even in the wake of recent news that this is not necessarily what elite college admissions are based upon. As a result, BOOTedgedge has been the focus of a media frenzy, despite polling far behind Sanders and Biden (even 538 is skeptical of his recent much-ballyhooed jump in Iowa). CNN's Chris Cillizza finds his resumé 'remarkable.' Some call him 'bookish.' Queerty.com exults that he 'represents the best and brightest of our country.' A New Republic headline uses the word 'Genius.'" • "Best and brightest" without irony? Really? And, as usual, see Thomas Frank on "smart."

Buttigieg (D) (4): "South Bend mayoral candidate says her code violations will help a push for 'equal protection'" [South Bend Tribune]. "[Common Council Member Regina Williams-Preston] claims the city targeted her and her husband's properties, and those of their neighbors, with "aggressive code enforcement" to further two goals: Mayor Pete Buttigieg's pledge to address 1,000 vacant and abandoned homes in 1,000 days, and the West Side Main Streets Plan, which calls for revitalizing the neighborhoods between Western Avenue and Lincoln Way West… In light of her mayoral campaign, Williams-Preston sought to frame the discussion more broadly than her case, saying the city's aggressive code enforcement — a revitalization "tool" in which the city gradually buys up and consolidates properties to give or sell cheaply to developers — ended up hurting many African-Americans during the 1000 Homes initiative. She argues that many of the owners were local African-Americans who had inherited dilapidated houses from their parents and wanted to fix them up but couldn't afford to." • Hmm. Second story on Black "intergenerational wealth" I've seen in the last week.

Gravel (D):

We are in the midst of a crisis of the everyday: people do not have access to healthcare, housing, or clean water; we devote trillions to unending wars in places most couldn't identify; the people's will is an afterthought.

Don't be afraid to say it: this country is broken!

— Mike Gravel (@MikeGravel) April 2, 2019

Sanders (D) (1): This should cause a liberal Democrat extracranial splatterfest:

INBOX: FOX News to host Town Hall with Democratic Presidential Candidate Bernie Sanders pic.twitter.com/kLw7NiOBrk

— Saagar Enjeti (@esaagar) April 3, 2019

Sanders (D) (2): "Takeaways from the first 2020 presidential fundraising numbers" [CNN]. "As expected, Sanders set the early pace in fundraising, with Sanders has a massive existing list from his 2016 campaign, and in that race, demonstrated his appeal in the online giving world. (He raised an unbelievable $228 million for his primary against Hillary Clinton, a number that still boggles the mind.) Still, just because Sanders' number isn't surprising, it also shouldn't be taken for granted. Sanders' fundraising ability — and the fact that he rarely if ever holds fundraisers to collect cash — is a major advantage for his campaign as we move forward into the rest of this year and into 2020 when voters start voting." • I like the Sanders' average contribution has dropped. It means the 90% are donating.

Sanders (D) (3): "Sanders launches mega volunteer program" [Politico]. "Bernie Sanders' campaign will unveil a slate of top hires and kickoff events Wednesday — the latest sign that he plans to harness his record-breaking grassroots army earlier and more strategically than he did during his first run for the White House. More than 1 million people have signed up to volunteer for his campaign, aides said, and the Sanders team will ask them Wednesday to host house parties across the country on April 27, a date that will double as the official launch of Sanders' 2020 organizing program." • Looks like [lambert preens] I was right: There are three carefully assembled strategic assets for the Sanders campaign: From 2016, the list (not available to other Democrats); from 2018, the media empire (not available to other Democrats); and for 2020, the canvassing operation (not available to other Democrats). Expect continued volatility as liberal Democrat power brokers and media assets discover they don't have the power they are accustomed to having.

Trump: "Trump says Biden accusations are work of Dem 'socialists'" [Politico]. "President Donald Trump said Tuesday that former Vice President Joe Biden is 'being taken care of pretty well by the socialists,' suggesting that a recent wave of criticism of the potential 2020 presidential candidate is the product of attacks hatched by his own party's left wing." • Liberal Democrats agree! (Personally, I think Putin planted the clips in the C-SPAN video library.)

Warren: "Elizabeth Warren: Corporate executives must face jail time for overseeing massive scams" [WaPo]. "we should enact the Ending Too Big To Jail Act, which I introduced last year. That bill would make it easier to hold executives at big banks accountable for scams by requiring them to certify that they conducted a "due diligence" inquiry and found that no illegal conduct was occurring on their watch. This would force executives to look for wrongdoing or face prosecution for filing false certifications with the government. The proposal would also create a permanent and well-funded unit dedicated to investigating financial crimes." • That's the stuff to give the troops! Although oddly, or not, Warren focuses on Wells-Fargo, and not not on Holder and Obama's miserable record of non-prosecution after the Crash.

"Black leaders blast Dem war on super PACs" [Politico]. "In a letter obtained by POLITICO, The Collective PAC — which helps elect black candidates to office — asked major liberal groups like Indivisible and Democracy for America to stop calling for Democratic presidential contenders to distance themselves from single-candidate super PACs. Such groups play an important role in electing candidates of color, they argued, especially in primaries, when the Democratic establishment has often overlooked black contenders and left it to outside donors to bolster their campaigns."
RussiaGate
"List: Attorney General William Barr Summarizes Famous Broadway Musicals – McSweeney's Internet Tendency" [McSweeney's Internet Tendency]. "Little Shop of Horrors: "Man feeds plant."
Realignment and Legitimacy
"How a Petty Tyrant Turned a Functional DSA Branch into a Church" [Benjamin Studebaker]. "In the beginning, Pittsburgh was a great branch. As recently as six months ago, there were 1,000 dues-paying members. There were four elected officials in Pittsburgh who had won with the aid of the branch's endorsement and hard work, and the branch was running a wide array of issue-based campaigns in the city on labor, housing, and more. The success of the branch in the 2017 elections led many more candidates to seek its support in 2018. Everything was looking up…. Today the chapter's membership is decimated. Only around 50 members attended the February 2019 general meeting." • Due to "the clique." More: "I admit to feeling a certain degree of sympathy. These [the clique] are clearly deeply alienated people who have been forced to retreat into political organising to find the meaning and community they cannot get outside it. Capitalism regularly creates miserable people, and miserable people lack the psychological resources to put the needs of the community or the movement ahead of their own. They are themselves emotionally under-resourced, and we cannot expect people with this much pain inside them to protect others from their pain." • My first thought was to be reminded of the problem (unrealized (unrealizable?) opportunity) the homeless posed for Occupy. My second thought was to reread the piece and note that the head of the clique was "previously expelled from the Israeli Communist Party for 'internal subversion.'" Or, in LeCarrés world, so they say. This is an excellent piece of reporting, well worth read.

An absolutely horrifying anecdote of the Obama administration. Thread:

For the fourth time, I've come across a Democrat involved in stimulus negotiations in 2008-2009 saying some version of "we could have done nothing and let things get worse, like FDR did." FDR didn't do that. You guys should own your own mistakes.

— Eric Rauchway (@rauchway) March 29, 2019

Chris Arnade returns, and very good thing, too (via Brindle):

(Open twitter, clear throat)

1. So many people dying from drugs & it keeps going up & it is an absolute national disgrace. It isn't just a white thing, or a rural thing — it is happening in communities of every race in every place

— Chris Arnade (@Chris_arnade) April 2, 2019

"Nancy Pelosi Believes in Nothing" [Jacob Bachrach, Truthout]. "There is a curious void at the heart of Democratic politics. It isn't necessary to believe in some absurd, magical notion of willpower to note that at its highest level, the party seems to lack an essential, motivating will. Instead, it views itself as something more akin to a professional membership organization that has a convention in a nice hotel every few years. They are not so much an emperor without clothes—that grand, ridiculous figure for the delusions of power—as they are clothes without an emperor; a lot of nice fabric blown away in a breeze and borne aloft on someone else's hot air." • Taking office but not taking power.
Stats Watch
ADP Employment Report, March 2019: "ADP estimates that private payroll growth in Friday's employment report for March will rise", but below consensus [Econoday]. "[A] sharp upward revision to February in Friday's data is a possibility," as this month. And but: "This month the rate of ADPs private employment year-over-year growth is on the low side of the tight range seen over this year. However, the rolling average of the year-over-year rate of growth remains unchanged for the last 7 months. Last month's employment numbers were revised upward" [Econintersect]. "ADP employment has not been a good predictor of BLS non-farm private job growth." And: "Below the consensus forecast" [Calculated Risk].
Institute For Supply Management Non-Manufacturing Index, March 2019: "Forecasters were leaning the right way but just not enough as ISM's non-manufacturing index moderated more than expected" [Econoday]. "Volatility like this is not the norm for this composite index where monthly change is usually muted…. But backlogs and employment are offsets to exports and inventories. Altogether and despite the swing lower for the headline index, this report is probably consistent with stable and healthy conditions for the bulk of the U.S. economy which may or may not have slowed at quarter end." • The future lies ahead! And: "This suggests slower expansion in March than in February" [Calculated Risk].
PMI Services Index, March 2019: "[A] solid pick-up in composite activity" [Econoday]. "The report describes order growth as solid including for exports, something that underscores what remains strong foreign demand for U.S. services. Yet business confidence isn't improving, slipping now to its least optimistic showing since December 2017. On the price front, the results are softening with pressure in costs and traction for selling prices easing."
MBA Mortgage Applications, week of March 29, 2019: "The big drop in mortgage rates isn't going unnoticed by homeowners who filed refinancing applications in droves" [Econoday]. And: "Now that mortgage rates have fallen more than 50 bps from the highs last year, a number of recent buyers are able to refinance" [Calculated Risk]. "According to the MBA, purchase activity is up 10% year-over-year."
Commodities: "A Key to the Arctic's Oil Riches Lies Hidden in Ohio" [New York Times]. The deck: "The findings of a test well drilled in Alaska three decades ago have been a closely guarded secret. We found answers in a Cleveland courthouse." • Spoiler alert: It's a dry hole.
Commodities: "The Biggest Saudi Oil Field Is Fading Faster Than Anyone Guessed" [Bloomberg]. "Now the market finally knows: Ghawar in Saudi Arabia, the world's largest conventional oil field, can produce a lot less than almost anyone believed. When Saudi Aramco on Monday published its first ever profit figures since its nationalization nearly 40 years ago, it also lifted the veil of secrecy around its mega oil fields. The company's bond prospectus revealed that Ghawar is able to pump a maximum of 3.8 million barrels a day — well below the more than 5 million that had become conventional wisdom in the market." • Oopsie.
* * *
Boeing 737 MAX:
Manufacturing: "Lithuanian man flies alone on commercial plane to Italy" [Associated Press]. " A Lithuanian man flying to Italy got a pleasant surprise when he boarded the plane: He was the only passenger on the Boeing 737-800….. The Novaturas travel agency said it had chartered the plane to fly a group home from Italy, and to avoid flying empty, one-way tickets were sold. Only one person bought one." • I wonder why?
Manufacturing: "Between Two Boeing Crashes, Days of Silence and Mistrust" [New York Times]. "In the days after the crash, American aviation officials visiting Jakarta cast aspersions on their Indonesian counterparts, even as they refused to speak on the record: Which was more reliable? An airplane manufacturer that was one of the most respected companies in the United States, or a low-cost carrier with a long history of shocking safety lapses operating in a country troubled by corruption and weak regulation?" • "A country troubled by corruption and weak regulation…."
Manfacturing: "Whistleblowers in 737 Max Case Say FAA Was Lax in Inspector Training" [Bloomberg]. "'Multiple whistleblowers' provided the committee with information alleging that 'numerous FAA employees, including those involved in the Aircraft Evaluation Group for the Boeing 737 MAX, had not received proper training and valid certifications,' Senator Roger Wicker, a Mississippi Republican, said in a letter to the FAA's Acting Administrator Daniel Elwell Tuesday."
Manufacturing: "U.S. Air Force Again Halts Delivery of Boeing's Tanker Over Debris" [Bloomberg]. Amazing quotes: "Elaborating on the trash left behind by workers, [Secretary Heather Wilson] told the House Appropriations Defense subcommittee later in the day that it was a '' issue on the assembly line where 'we saw a breakdown.' ',' she said. 'You have to wipe down surfaces so you don't have pieces of aluminum that over time get in the midst of things and cause serious problems.' The latest delivery halt was prompted after the service opened up some closed compartments, such as inside wings, and found flaws, she said without elaborating." • Sounds like a demoralizes workforce, to me. I sure hope there aren't loose wrenches sliiding around inside the wings of civilian aircraft, because that would be bad.
Manufacturing: "Pontifications: I don't know what to make of this" [Leeham News]. "One can't help but think, a lot, about the two Boeing 737 MAX crashes and the facts that Boeing created the system, linked it to one sensor, not two, didn't tell the airlines pilots about it, didn't include it in pilot manuals, didn't have a safety alert system as standard equipment, initially blamed the Lion Air pilots and reportedly lobbied Donald Trump not to ground the airplanes." • And self-certified the system too, let us remember. More: "Four concurrent commercial airplane programs (the KC-46A being a hybrid between commercial and military) each had trouble. Two of their last four airplanes have been grounded by regulators. A third airplane had such poor quality control the customer stopped taking delivery. Three of the four were years late. What's going on here? Boeing resources were clearly stretched too thin. Billions of dollars were going out the door in cost overruns. Were bad management decisions made by the bean-counting McNerney regime? Was there something systemic happening? Or just a run of bad luck and bad timing?" • Good questions. Well worth a read.
Manufacturing: "Disaster and the Boeing CEO" [Crain's Chicago Business]. "Though [Boeing CEO Dennis] Muilenburg's career will be defined by the 737 Max, [Leeham's Scott] Hamilton and [Cowen's Cai von Rumohr] say the crisis is unlikely to end it. That would require a game-changing development, like federal prosecutors discovering that executives misled regulators about safety.* But [Erik Gordon of the University of Michigan's Ross School of Business], who views Muilenburg's performance in the hot seat less favorably, is less sure. He is particularly critical of Boeing's decision after the crashes to make standard on the Max a safety feature that was previously optional and cost extra. He argues that the move makes it appear as if safety were optional. 'It has negative PR consequences in the way that punching a guy in the face has PR problems: The real problem is that you punched someone,' Gordon says. ** Ironically, the crisis Muilenburg faces is largely of McNerney's making. Decisions about the Max's design and budget, as well as to rush production to beat competition from Airbus, happened on McNerney's watch. The first Max test flight came seven months after Muilenburg became chief executive in 2015. By then, Hamilton says, the die was already cast." • Yup. Boeing stumbled with the 787, but still kept moving forward, though off balance. Then, with the 737, it fell. NOTES * MCAS was self-certified by Boeing, and filed the tech doc with the FAA late. Perhaps that's what the criminal investigation is looking into. ** So, I'm not the only one.
* * *
Manufacturing: "Daimler CEO: Boeing safety debate highlights challenge for autonomous tech" [Reuters]. "'What is very important is the psychological dimension. If you look at what is happening with Boeing then you can imagine what happens when such a system has an incident,' Zetsche said, commenting on the motor industry's efforts to develop autonomous cars. Half of U.S. adults think self-driving vehicles are more dangerous than those driven by people, while two-thirds would not buy a fully autonomous vehicle, a Reuters/Ipsos poll found this week. In the same poll, about 63 percent of respondents said they would not pay more to have a self-driving feature on their vehicle, and 41 percent of the rest said they would not pay more than $2,000." • Don't worry. Silicon Valley will be programming ethics into the robot car AIs.
Tech: "Microsoft announces it will shut down ebook program and confiscate its customers' libraries" [Boing Boing]. "Microsoft has a DRM-locked ebook store that isn't making enough money, so they're shutting it down and taking away every book that every one of its customers acquired effective July 1. Customers will receive refunds. This puts the difference between DRM-locked media and unencumbered media into sharp contrast. I have bought a lot of MP3s over the years, thousands of them, and many of the retailers I purchased from are long gone, but I still have the MP3s. Likewise, I have bought many books from long-defunct booksellers and even defunct publishers, but I still own those books. When I was a bookseller, nothing I could do would result in your losing the book that I sold you. If I regretted selling you a book, I didn't get to break into your house and steal it, even if I left you a cash refund." • Well, that's why we need DRM, right?
Tech: "Toyota to allow free access to 24,000 hybrid and electric vehicle tech patents to boost market" [Japan Times]. "Toyota said it will offer around 23,740 patents related to electrification technology, with the grant period running from Wednesday to the end of 2030. Toyota also hopes that opening up its technology for motors and batteries, which are key components of electric and fuel-cell vehicles, will increase their supply and help it to cut costs in developing such vehicles…. But it remains uncertain whether the use of Toyota patents will be as widespread as the carmaker hopes, observers said. Toyota said in January 2015 it will offer patents related to its fuel-cell vehicles but it has only led to a dozen contracts."
Tech: "The ugliness of photorealism" [Wireframe]. "The issue of photorealism in games is a matter of personal taste, a question of aesthetics. I'd argue that what people are responding to is the technical mastery. That we've been conditioned to believe more polygons, more particles, newer more advanced shaders are what is crucial and amazing…. Beauty can rise up out of ugliness. It is possible. But I can't help but find the reflexive need to fall over these massive commercial ventures and characterise them as 'beautiful' extremely distasteful. We should know better. Most, if not entirely all, game developers who work at triple-A studios don't enjoy many protections from abusive crunch practices: massive layoffs (as we've just seen at Activision Blizzard) to make earnings calls sound better, or the ability to petition for the kinds of bonuses or residuals they deserve from shipping a title that sells. We know that labour conditions in this industry suck because we know how quickly people burn out and leave."
Transport: "Filling the Friendly Skies With Hot Air" [Bloomberg]. "In 2016, Lockheed Martin Corp. won a nearly $500 million order for as many as a dozen of its hybrid-electric LMH-1 airships (operational in 2020 or 2021) from a buyer who plans to lease their 20-tons of freight capacity to Arctic oil and gas companies. Leasing an airship is cheaper than building new roads across permafrost melting due to climate change, and roughly seven times cheaper per ton than using heavy-lift helicopters. As China and the rest of the world extend their search for raw materials into ever-more remote regions, airships are likely to become crucial links in logistics chains."
The Biosphere
"What can bees teach economists about how markets work?" [BBC]. "In the 1830s, a bee-rights movement emerged in the US, with the motto: 'Never kill a bee.'" • Time presses, and I can't summarize this article. But it's full of facts and interesting twists and well worth a read, especially for how Nobel [sic] Prize-winning economist James Meade used bees as an example of positive externalities, when he didn't know anything about bees!
"Fossil Fuel Industry, Corporate Lobbyists & Neoliberal Economists Push Carbon Pricing Schemes to Attack Green New Deal" [Little Sis]. "Steven Rattner – the ex-Obama official, longtime private equity investor, and overseer of Michael Bloomberg's vast wealth – is the latest big name establishment figure to go after the Green New Deal." • Here's a handy map of some of his connections: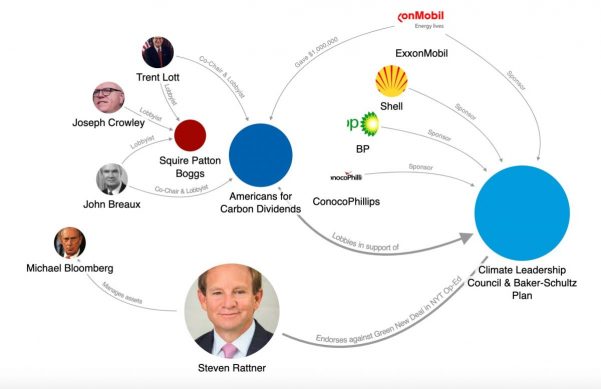 Whenever you hear one of these grifters use the word "common sense," check your valuables.
"Can we truly think about climate change at all?" [The Outline]. The deck: "Part one of a three-part series on how philosophy contends with our possible annihilation." Not sure about this one, but I am pleased that the culture hasn't completely rotted. Here are the first paragraphs:
In Butler's 2017 video installation, "On Exactitude in Science," is one of the most remarkable things I've seen in the last few months. The work consists of two screens. On the left plays Godfrey Reggio's Koyaanisqatsi: Life Out Of Balance, the 1982 stoner classic of slow motion and time lapse footage of cities and landscapes; complete with pulsing, shimmering Philip Glass soundtrack. On the right: Butler's shot-by-shot remake, in which he has — somehow, marvelously, painstakingly — reproduced the film in its entirety by modding Grand Theft Auto V.

On paper, reproducing Koyannisqatsi in GTA form sounds like it would be an impressive technical feat — surely nothing more. But when you actually sit down and watch the thing, it turns out to be utterly spellbinding. For long stretches, it can be hard to remember which screen is which: Butler's land- and city-spaces are so unerringly accurate that I found myself checking left and right to keep my bearings, miming writing with my dominant hand to confirm. But then every now and then — and as the film develops, increasingly often — a human face will enter, and the difference becomes bluntly, laughably obvious.

On the left, commuters walk briskly. People — builders, waitresses, fighter pilots — stand by machines, looking into the camera intently, often slightly uncomfortably. On the right, their doubles simply mill about, almost at random; their faces, at any rate generic, have nothing in them.
Impressive. Do we have any philosophers in the readership who can venture into the piece for several more paragraphs?
Guillotine Watch
A MAP OF RECENT EVENTS
Green arrow = legal representation
Red arrow = alleged blackmail or criminal setup
Orange = pursued case against

In a green box = not in legal trouble
Red box = definitely in trouble
Yellow box = maybe in trouble
Orange = "not charged but not exonerated" pic.twitter.com/P3khPVpp9k

— Alan Cole (@AlanMCole) March 27, 2019
Class Warfare
Paging Upton Sinclair:
Lerner was absolutely right. This is from "The National Debt and the New Economics," by Seymour Harris, 1947. The critique of Functional Finance boils down to: 'Lerner may be right, but people won't get it so we can't do it.' pic.twitter.com/DYXQfTuE4T

— Deficit Owls ? (@DeficitOwls) April 3, 2019
News of the Wired
Fun with large machines (1):
When using the large GUI based Linux app for something simple that can be done with the CLI easily … pic.twitter.com/othzXv7Nno

— The Best Linux Blog In the Unixverse (@nixcraft) April 3, 2019
Fun with large machines (2):
Wearable Raspberry Pi by Jason Benson on flickr, who is clearly living in 3018 https://t.co/Eb7Pit5lBM pic.twitter.com/mqYGcBUnLx

— Masque of the Red Death (@doctorow) April 3, 2019
* * *
Readers, feel free to contact me at lambert [UNDERSCORE] strether [DOT] corrente [AT] yahoo [DOT] com, with (a) links, and even better (b) sources I should curate regularly, (c) how to send me a check if you are allergic to PayPal, and (d) to find out how to send me images of plants. Vegetables are fine! Fungi are deemed to be honorary plants! If you want your handle to appear as a credit, please place it at the start of your mail in parentheses: (thus). Otherwise, I will anonymize by using your initials. See the previous Water Cooler (with plant) here. Today's plant (JU):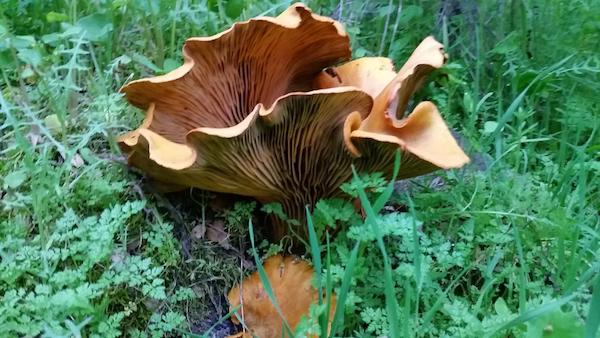 JU writes: "A foot wide goliath mushroom of some sort, from a distance it had the look of a folded Carhartt jacket, I couldn't figure out what it was."
* * *
Readers: Water Cooler is a standalone entity not covered by the annual NC fundraiser. So do feel free to make a contribution today or any day. Here is why: Regular positive feedback both makes me feel good and lets me know I'm on the right track with coverage. When I get no donations for five or ten days I get worried. More tangibly, a constant trickle of small donations helps me with expenses, and I factor in that trickle when setting fundraising goals. So if you see something you especially appreciate, do feel free to click this donate button:
Here is the screen that will appear, which I have helpfully annotated. Because it's new and improved, I'll leave it up for a few days: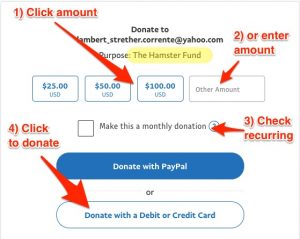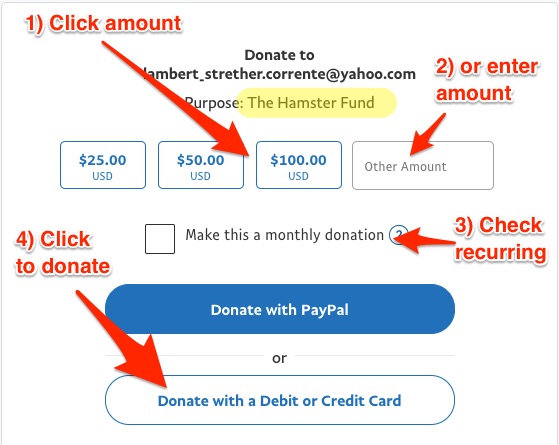 If you hate PayPal, you can email me at lambert [UNDERSCORE] strether [DOT] corrente [AT] yahoo [DOT] com, and I will give you directions on how to send a check. Thank you!