By Lambert Strether of Corrente.
Politics
"But what is government itself, but the greatest of all reflections on human nature?" –James Madison, Federalist 51
"They had one weapon left and both knew it: treachery." –Frank Herbert, Dune
2020
* * *

"A Democratic Group Is Asking 2020 Candidates To Sign A New Pledge: Play Nice And Then Support The Nominee" [Buzzfeed]. "A national progressive group, Indivisible, is asking the 20 candidates in the Democratic presidential race to sign a pledge promising a positive, 'constructive' primary that ends with all participants coming together to support the eventual nominee — 'whoever it is — period.' The '2020 Candidate Pledge,' posted online on Tuesday, sprang out of discussions among prominent Democratic organizations about a unity pledge in the weeks after Bernie Sanders accused the 'political establishment' of 'plotting' to undermine his presidential campaign, reflecting a field that remains fractured after the bitter primary fight three years ago." • So how many loyalty oaths will there be? And could we get CAP to sign on, too?

A festival of Biden! I'll return in a few minutes with other candidates –lambert

Biden (D)(1): "Biden jumps in, finally" [Politico]. "Biden is to attend a fundraiser in Philadelphia later today at the home of Comcast executive David Cohen, along with former Gov. Ed Rendell, former Philadelphia Mayor Michael Nutter, former state Sen. Connie Williams, U.S. Sen. Bob Casey and Reps. Lisa Blunt Rochester, Brendan Boyle, Matt Cartwright, Madeleine Dean, Dwight Evans, Chrissy Houlahan and Mary Gay Scanlon." • Promise me, Dad, you'll always take money from Comcast.

Biden (D)(2): Gracefully letting Obama off the hook:

Biden to reporters at Wilmington train station: "I asked President Obama not to endorse."

— David Chalian (@DavidChalian) April 25, 2019

Biden (D)(3): "Joe Biden is running as Obama's heir. The problem: He's not Obama." [Politico]. "The generational split is clear in a February POLITICO/Morning Consult poll showing Biden is weakest with voters younger than 30. But, the poll showed, Biden's age — he will be 78 on the next Inauguration Day — isn't a fatal problem for him among Democrats, with 30 percent of them agreeing he's "too old to run for president;" 58 percent disagreed."

Biden (D)(4): "Biden hires over a dozen senior advisors from Obama administration for 2020 campaign: Sources" [CBS]. "Former Vice President Joe Biden and his team have hired over a dozen senior advisors from President Barack Obama's administration for his upcoming 2020 campaign for president, CNBC has learned. Many of these people didn't work within Biden's office throughout Obama's tenure as president, but they have extensive campaign experience ranging from political consulting to communications, according to sources with direct knowledge of the matter. Since their time in the Obama White House, some of these aides have gone on to work on Hillary Clinton's 2016 presidential campaign and later helped Democrats retake the U.S. House of Representatives during the 2018 congressional midterm elections, these people said."

Biden (D)(5): "Biden hires strategist Symone Sanders, adds diversity to bid" [Associated Press]. "Joe Biden has hired Symone Sanders, a prominent African American political strategist, as a senior adviser to his newly launched presidential campaign…. Sanders, 29, rose to prominence during the 2016 campaign as press secretary for Vermont Sen. Bernie Sanders. She then became a high-profile political analyst on CNN and is likely to be a forceful Biden defender on television. Democratic strategist and former Democratic National Committee Chair Donna Brazile called Sanders 'battle-tested' and said the hire was 'one of the best moves' the Biden campaign could make. 'She understands how to build a coalition, and that women of color are the backbone of the Democratic Party,' said Brazile, who added that Sanders also helped her bridge the gap with millennials after the contentious 2016 primary elections.'" • Hmm.

Biden (D)(56: "Joe Biden's long record supporting the war on drugs and mass incarceration, explained" [Vox]. "As the head of the Senate Judiciary Committee in the late 1980s and early '90s, Biden did not just support the war on drugs and mass incarceration; he wrote many of the laws that helped build a punitive criminal justice system. That included measures that enacted more incarceration, more prisons, and tougher prison sentences for drug offenses, particularly crack cocaine….. 'There's a tendency now to talk about Joe Biden as the sort of affable if inappropriate uncle, as loudmouth and silly,' Naomi Murakawa, author of The First Civil Right: How Liberals Built Prison America, told the Marshall Project in 2015. "But he's actually done really deeply disturbing, dangerous reforms that have made the criminal justice system more lethal and just bigger.'" • So why shouldn't all the felons Biden put in jail get the vote? One might ask.

Biden (D)(7): By contrast:

Biden is everything Trump"s not. He knows policy. He's a uniter. He calls for our better angels. He's empathetic, draws on his own grief to console and encourage others through theirs. He laughs easily. He's decent. Gold-leaf and wealth do not define him. https://t.co/hEiggMoEQO

— Ana Navarro-Cárdenas (@ananavarro) April 25, 2019

Biden (D)(8): Biden's logo (animated):

Our country is being put to the test, but I've never been more optimistic about America. Together we can do this. Make a Day One donation to join us. https://t.co/xfD5pLtmAf #Joe2020 pic.twitter.com/UbLPMfE8Ui

— Joe Biden (@JoeBiden) April 25, 2019

Others can compare and contrast Biden's logo to Obama's. I'm reminded of this:

Awkward.

Buttigieg (D)(1): "Gwyneth Paltrow, Bradley Whitford Among Co-Hosts for Pete Buttigieg's Next L.A. Fundraising Swing" [Variety]. "Gwyneth Paltrow and Bradley Whitford are among the co-hosts for an event on May 9, as Buttigieg makes another fundraising swing through L.A., having courted donors at meet and greets and in private meetings with key bundlers in earlier visits…. According to sources, there was some friction among Hollywood bundlers in the effort to land one of the events for Buttigieg on that date, a reflection of how his star has risen in the 2020 field. Some fundraisers agreed to hold events at a later date." • Bradley Whitford is — hold on to your hats, here, folks — a star of West Wing, portraying White House Deputy Chief of Staff Josh Lyman.

Buttigieg (D)(2): "Logo Reveal" [Buttigieg Campaign Site]. "Pete Buttigieg is a new kind of presidential candidate. He is a millennial and he is mayor of a blue collar city in the heartland. He is unapologetically substantive, yet refreshingly salt-of-the-earth. He is a millennial, Episcopalian, Maltese–American, gay, left–handed, veteran running for the highest office. He is progressive, yet pragmatic. He is uniquely positioned to bridge the divides tearing this country apart." • "Unapologetically substantive" [chokes].

Buttigieg (D)(3): "What the Press Is Missing About Pete Buttigieg" [Rahm Emmanuel (!), The Atlantic]. "Should Buttigieg become the Democratic nominee, I hope it's because voters have been convinced that he's the person best equipped to solve the nation's problems, lead us on the world stage, and ensure peace and prosperity through the course of his tenure. And what of the fact that he's married to a man? Well, that sounds just great, too."

Buttigieg (D)(4): "Buttigieg says he doubts Sanders can win general election" [The Hill]. "Buttigieg added that at the time 'people were refreshed by the novelty of that boldness' of Sanders's ideas, but that they are now less exciting." • Wait, what? That's divisive!

O'Rourke (D)(1): "Beto O'Rourke Refashioning Himself as an Insider" [Ryan Grim, The Intercept]. "BETO O'ROURKE STARTED his presidential run with a nearly unprecedented asset: a trained and functioning ground operation, staffed and ready to deploy at the flick of a switch. When he lit it up on March 30, his campaign generated tens of thousands of text messages sent by volunteers and raised some $6 million in the first 24 hours. Days later, he named Jen O'Malley Dillon, a Barack Obama veteran, as campaign manager. The decision led inexorably to the jettisoning of that field operation and its two architects, Bernie Sanders alumni Becky Bond and Zack Malitz, whose departures from the O'Rourke campaign were reported on Saturday by BuzzFeed News. The internal conflict between O'Malley Dillon and Bond is more than just personnel drama — it suggests that O'Rourke has settled on a strategic direction for his campaign. O'Rourke, who won an insurgent primary campaign to get to Congress, and ran as a political outsider against Sen. Ted Cruz, is refashioning himself as an insider." • Hmm. I wonder where Bond and Malitz will go?

Sanders (D)(1): "Bernie Sanders' Campaign Has More Money Than the DNC, the DSCC, and the DCCC Combined" [GritPost]. "When factoring in the total cash on hand and subtracting all debts and loans owed, [the DNC, DSCC, and DCCC] campaign committees combined have just $5,164,948.91. To compare, FEC records for Sen. Sanders' campaign show that, as of March 31, 2019, the Vermont senator has $17,850,355.55 in cash on hand, with no debts or loans owed. This means that Sanders' 2020 campaign has more than three times as much money as the Democratic Party's three main campaign committees, combined." • Of course, the three campaign organizations aren't Sanders' opponents — or running as his opponents, more precisely — so the figures aren't really comparable. Still it's interesting!

Sanders (D)(2): Sanders campaign chair freelancing?

"One thing that could be healthy for the Democratic Party to unify is for Senator Sanders and Secretary Clinton to meet and to articulate the common goal of defeating Donald Trump," said Rep. Ro Khanna (D-Calif.), a natl co-chair of the Sanders campaign.https://t.co/FDXzgbOrOn

— Sean Sullivan (@WaPoSean) April 21, 2019

Will any Sanders supporter believe Clinton? And will any Clinton supporter believe Sanders?

Trump (R)(1):

Great meeting this afternoon at the @WhiteHouse with @Jack from @Twitter. Lots of subjects discussed regarding their platform, and the world of social media in general. Look forward to keeping an open dialogue! pic.twitter.com/QnZi579eFb

— Donald J. Trump (@realDonaldTrump) April 23, 2019

Supposedly about Trump's follower count, whiich took a hit during a bot purge (along with many others).

Trump (R)(2): "Pro-Trump Sinclair Media Poised for National Expansion by 2020" [New York Magazine]. "]Sinclair Broadcasting Group] currently airs original programming on 193 channels throughout the country, enough to reach 39 percent of all American homes. …. Since the mogul's election, the media giant has ordered all of its affiliates to air commentary that advances White House talking points, and coerced their own anchors into personally reporting that the mainstream news media is biased against the president… Earlier this year, it launched an ad-free streaming channel called STIRR that aims to deliver local TV news and other entertainment to cord-cutters coast to coast… Meanwhile, Sinclair also bought itself a piece of YES, the New York Yankees broadcast network, and is currently the top bidder for a package of regional sports networks that the Walt Disney Company is auctioning off." • I bet the circle of Sinclair media watchers and the circle of Acela riders don't intersect at all.

Trump (R)(3): "Trump camp descends on Pennsylvania as alarms grow over 2020" [Politico]. "Trump's campaign is moving to shore up the state after 2018 midterm elections that saw Republicans get blown out in races up and down the ballot. Compounding the situation is a state party organization riven by turmoil and infighting…. Trump won Pennsylvania by less than 1 percentage point in 2016, and reelection aides view the state's 20 electoral votes as crucial to his 2020 hopes. Pennsylvania also has symbolic significance: In 2016, Trump geared his campaign toward the state's large proportion of blue-collar voters, many of whom had traditionally voted Democratic. The Trump contingent is expected to include political director Chris Carr, who is orchestrating the campaign's national field deployment, as well as Bill Stepien and Justin Clark, who are overseeing outreach to delegates and state party organizations. Republican National Committee officials are also expected to attend. The meeting is the first of what Trump aides say will be a series of visits to battleground states." • Trump, in case anybody hasn't noticed, is already in full campaign mode.

Trump (R)(4): "Drug Distributor And Former Execs Face First Criminal Charges In Opioid Crisis" [NPR]. Yves posted on this, but I cannot forbear to point out that here, too, Trump is already in full campaign mode — on a topic that will help him in the flyover states, too (if Maine be a flyover state). And where the liberal Democrats? Sanders introduced a bill in 2018, and did mention "deaths of despair," or similar recently — I can't find the link — but to the rest of them…. Deplorable lives don't matter.
Impeachment
"Opinion: As Collusion Narrative Fails, Democrats Consider Impeachment" [MarketWatch].

Paging Thomas Frank!
2019
"Democrats close but still short votes needed to pass $15 minimum wage" [Roll Call]. "Proponents of a $15 minimum wage are bullish about the prospects of the House passing a bill to incrementally double the current $7.25 federal standard over five years, despite Democrats seemingly being short the votes to do so… Roll Call contacted the offices of the 22 uncommitted members, and less than half responded — most said their bosses support raising the minimum wage but signaled they remain undecided on the best proposal for doing that."
Realignment and Legitimacy
"What Would A Left Cabinet Look Like?" [Current Affairs]. Summarizing: Secretary of State: Chris Murphy, Jeff Merkely, Russ Feingold; Secretary of Defense: Ro Khanna, Barbara Lee, Tulsi Gabbard; Secretary of the Treasury: Robert Reich, Stephanie Kelton, Sarah Bloom Raskin, Elizabeth Warren; Attorney General: Vanita Gupta, Larry Krasner, Tom Perez (!), Cory Booker; Secretary of the Interior: Raúl Grijalva, Jay Inslee, Bill McKibben; Secretary of Health & Human Services: Abdul El-Sayed, Don Berwick, Pramila Jayapal, Adam Gaffney, RoseAnn DeMoro, Claudia Fegan; Secretary of Homeland Security: Vanita Gupta, Jeff Merkely, David Cole, Ron Wyden. • The article goes through the entire cabinet, but those are the ones I'm most interested in. (Then there's the CIA, and the Fed.) On the domestic side, not unimpressive. On the war machine foreign policy side, not impressive at all, and that's a problem, since unless those guys are fed some wars and plenty of weapons, they'll be in open revolt, along with most of official Washington, exactly as with Trump. I'm a little at a loss, here; the left really needs their own equivalent of Rumsfeld and Cheney — the sort who brought a gun to a gunfight — and since this is a very large country, they're probably out there somewhere (way out, having been driven out of the corridors of power into a second-tier school, for example). A Sanders Administration really would need to do better than Khanna, Lee, or Gabbard, IMNSHO. FDR didn't rely on the Ivies, let us remember.
Stats Watch
Durable Goods Orders, March 2019: "Good news on US manufacturing is now much less scarce following a much better-than-expected jump in durable goods orders for March" [Econoday]. "The gain is skewed higher by a very welcome 60 percent monthly gain in commercial aircraft orders and also by an equally welcome 2.1 percent rise in motor vehicle orders… Today's report won't be raising expectations for business investment in tomorrow's first-quarter GDP report but will be raising general expectations for manufacturing which, until this report, had been stumbling along. And strength in commercial aircraft, which also includes a 0.2 percent rise in related unfilled orders, should cool worries over 737 Max cancellations."
Jobless Claims, week of April 20, 2019: "No states were estimated and there were no special factors — at least none cited by the Labor Department — to explain a jolting surge in weekly data for initial jobless claims" [Econoday]. "[T]he week [which] ended April 20, was very likely affected by the Easter holiday (April 21) where calendar shifts, in this case from April 1 last year, typically play havoc with statistical adjustments, especially those on a weekly basis. Still the move higher completely stumped forecasters…
Kansas City Fed Manufacturing Index, April 2019: "After recovering to the highest level in four months in March, the growth slowdown in tenth district manufacturing activity resumed in April" [Econoday]. "Contrasting with the general weakness, however, is arguably the most important component, new orders, which rose…., the strongest reading since November."
Banks: "Germany's Troubled Banking Giants Decide Against a Merger" [New York Times]. "Deutsche Bank and Commerzbank, Germany's two largest banks, called off widely criticized merger talks on Thursday, saying that they had concluded the risks of combining outweighed the benefits…. But the collapse of negotiations means that Germany's banks must find another solution to a long list of urgent problems, including meager profitability, excessive labor costs and a shift to online banking that they have been slower than competitors to embrace."
Manufacturing: "Five things we still don't know about the Boeing 737 Max crisis" [WaPo]. "Seth Seifman, an analyst at JPMorgan, called 2019 a "lost year" for Boeing in terms of financial performance, because sales of the company's biggest cash generator are on hold until the grounding is lifted. With potentially no sales of 737 Max jets during the entire second quarter, a business that runs on cash flow suddenly has to prepare for the risk of having few funds on hand to make needed investments in its business or insulate itself against unexpected shocks. To free up some cash, Boeing said Wednesday that it paused its plan to buy back $18 billion in stock from investors. It said it expects its to eventually resume the buyback program."
The Bezzle: "Elon Musk says Tesla owners could make up to $30,000 a year turning their cars into 'robotaxis'" [Elon Musk]. "Tesla's CEO Elon Musk unveiled a plan to repurpose Tesla vehicles into robotaxis. This would allow owners of Teslas equipped with autonomous functionality to rent out their car while it is not in use via an app. Musk estimates a single robotaxi can make $30,000 a year. He said he thinks the program can be implemented as early as next year." • [nods vigorously]. So now Tesla is adopting AirBnB's business model…..
Tech: "Hacker Finds He Can Remotely Kill Car Engines After Breaking Into GPS Tracking Apps" [Vice]. "A hacker broke into thousands of accounts belonging to users of two GPS tracker apps, giving him the ability to monitor the locations of tens of thousands of vehicles and even turn off the engines for some of them while they were in motion…. By reverse engineering ProTrack and iTrack's Android apps, [the hacker] said he realized that all customers are given a default password of 123456 when they sign up. At that point, the hacker said he brute-forced 'millions of usernames' via the apps' API. Then, he said he wrote a script to attempt to login using those usernames and the default password." • Well, I'm sure nothing like that wil lhappen when millions of robot cars are running Waymo software…
Tech: "Amazon Has Gone From Neutral Platform to Cutthroat Competitor, Say Open Source Developers" [OneZero (DK)]. "Because AWS has thousands of customers, the company has a godlike perspective of broad industry trends, including insight into which third-party tools are most popular. The suspicion, one executive of an open source cloud tool company told me off the record, is that AWS is watching "run rates" — the amount of money spent on a particular tool per year. When they see a service provider like Elastic start to generate serious revenue, Amazon incorporates the functionality of that tool into its own proprietary service." • When your business depends on a platform….
The Biosphere
"Reports: Iowa water quality getting worse and underfunded" [The Gazette]. "A report by the not-for-profit Iowa Policy Project took a look at the state's spending commitment to water quality and sought to identify funding levels needed to make "meaningful progress" on nutrient pollution reduction. The report found that, despite the 2013 adoption of the state's Nutrient Reduction Strategy, water quality spending from Iowa's general fund dropped off post-recession and has yet to return…. A joint report released by the Environmental Working Group and the Iowa Environmental Council analyzed state records from 2002 to 2017. The study found that in private wells that were tested, the average nitrate levels grew from 3.1 parts per million in 2003 to 5.7 ppm in 2013… According to the report, as many as 290,000 Iowans use private wells for drinking water, yet only 55,000 wells have been tested for nitrates and/or bacteria in the last 16 years. Of those tested, more than 40 percent tested positive for coliform bacteria at least once." • Something to pay attention to in the Iowa caucus….
"Floods stall fertilizer shipments in latest blow to U.S. farmers" [Reuters]. "Farm supplier CHS Inc has dozens of loaded barges trapped on the flood-swollen Mississippi River near St. Louis – about 500 miles from the company's two Minnesota distribution hubs…. The shipping delays follow months of bad weather in the rural Midwest…. Reduced or poorly timed fertilizer applications can hurt yields, potentially denting this year's U.S. farm profits, which are already predicted to be about half of their 2013 peak, according to the latest U.S. government forecast." • Ditto.
* * *
"Assessment of Glyphosate Induced Epigenetic Transgenerational Inheritance of Pathologies and Sperm Epimutations: Generational Toxicology" [Nature]. "Ancestral environmental exposures to a variety of factors and toxicants have been shown to promote the epigenetic transgenerational inheritance of adult onset disease. One of the most widely used agricultural pesticides worldwide is the herbicide glyphosate (N-(phosphonomethyl)glycine), commonly known as Roundup…. we propose glyphosate can induce the transgenerational inheritance of disease and germline (e.g. sperm) epimutations. Observations suggest the generational toxicology of glyphosate needs to be considered in the disease etiology of future generations." • Female rats, n=25-50, three generations.
"Four Ways to Reduce the Climate Hit from Plastics" [Weather Underground]. "Global plastics production has increased at a breakneck pace, from 2 million metric tons in 1950 to 70 million by 1980 and 381 million by 2015, according to a 2017 analysis in Science Advances led by UCSB's Roland Geyer. Since plastics are growing more rapidly than total greenhouse emissions, 'business as usual' means an ever-growing share of the global greenhouse burden will come from plastics… the full life cycle of plastics—from manufacture to disposal—accounted for 3.8% of global greenhouse gas emissions in 2015, expressed as carbon dioxide equivalent. That percentage drops to 3.5% when the benefits of recycling in reducing new plastics are taken into account. More than half (61%) of the emissions arose early on, from using hydrocarbons (usually from fossil fuels) as "feedstocks" to make polymer resins. The heating and shaping of resins into various types of plastics accounted for 30% of the emissions. "End-of-life" processes (landfills, recycling, and especially incineration) led to the remaining 9%."
"Just 10% of U.S. plastic gets recycled. A new kind of plastic could change that" [Science]. "Most plastics have a chemical history that makes starting a new life a challenge. The dyes and flame retardants that make them perfect for say, a couch cushion or a bottle of detergent, make them tough to transform into a desirable end product—one of the reasons just 10% of plastic in the United States gets recycled. Now, researchers have created a plastic with a special chemical bond that helps it separate out from those additives, turning it back into a pure, valuable product that can be reused again and again. To make the new material, researchers tweaked a type of vitrimer, a glasslike plastic developed in 2011, by adding molecules that change the chemical bonds holding it together. These new bonds, called dynamic covalent diketoenamine bonds, require less energy to break than those in traditional plastics. As a result, the new plastic can be broken down into its constituent parts using just a solution of water and a strong acid at room temperature." • Science is popping!
"Sea creatures store carbon in the ocean – could protecting them help slow climate change?" [The Conversation]. "Forests and wetlands can capture and store large quantities of carbon. These ecosystems are included in climate change adaptation and mitigation strategies that 28 countries have pledged to adopt to fulfill the Paris Climate Agreement. So far, however, no such policy has been created to protect carbon storage in the ocean, which is Earth's largest carbon sink and a central element of our planet's climate cycle…. Scientific understanding of marine vertebrate carbon is still in its infancy. Most of the carbon-trapping mechanisms that we have identified are based on limited studies, and can be refined with further research. So far, researchers have examined the carbon-trapping abilities of less than 1% of all marine vertebrate species."
"The media are complacent while the world burns" [Columbia Journalism Review]. "You can't solve a problem by ignoring it. Moderators did not ask presidential candidates a single question about climate change during the three prime-time general-election debates in 2016—or in 2012 or 2008 or ever…. This journalistic failure has given rise to a calamitous public ignorance, which in turn has enabled politicians and corporations to avoid action." • That's not a bug…
"The Extinction Rebellion scorecard: what did it achieve?" [Guardian]. They have demands:
What are Extinction Rebellion's demands?

1) Tell the truth. The government must tell the truth about the scale of the ecological crisis by declaring a climate emergency, "working with other groups and institutions to communicate the urgent need for change".

2) Zero emissions by 2025. The UK must drastically cut its greenhouse gas emissions, hitting net zero by 2025.

3) Citizens' assembly. The government must create a citizens' assembly to hear evidence and devise policy to tackle the climate crisis.
The "Citizens' Assembly" demand is interesting: "A citizens' assembly would, say advocates, help lend public legitimacy to what will need to be a radical overhaul of the economy and our society. It has been used successfully elsewhere – including in Ireland in 2016 on the issue of abortion – and could bypass the party political point-scoring in Westminster…. [But] there is no sign at the moment that the government intends to set up a citizens' assembly to address the climate crisis."
Health Care
"House Dems to hold hearing on 'Medicare for All' next week" [The Hill (SlayTheSmaugs)]. "The House Rules Committee will hold a hearing on "Medicare for All" legislation next week, a step forward for the legislation that is gaining ground in the progressive wing of the party. The hearing on Tuesday will examine a bill from Reps. Pramila Jayapal (D-Wash.) and Debbie Dingell (D-Mich.) that has over 100 co-sponsors in the House. According to the Rules Committee, the hearing will be the first ever that Congress has held on Medicare for All legislation. 'It's a serious proposal that deserves serious consideration on Capitol Hill as we work toward universal coverage,' Rep. Jim McGovern (D-Mass.), the chairman of the Rules Committee and a co-sponsor of the Medicare for All bill, said in a statement…. The main health care panels, the Ways and Means Committee and Energy and Commerce Committee, have so far declined to commit to holding a hearing on Medicare for All, illustrating the divide among House Democrats over the legislation."
"Health Industry Lobbyists Pump More Money into Democrats' Congressional Campaign Arm" [Sludge]. "The DCCC has already raised more than $32 million overall—a record first-quarter haul for the committee, according to Illinois Rep. Cheri Bustos, a moderate Democrat who leads the campaign arm. The committee's seven corporate lobbyist bundlers and their firms represent health care and energy interests whose balance sheets are threatened by key progressive priorities like a 'Medicare for All' health-care system and a 'Green New Deal' to address climate change. So far, Democratic leaders have resisted both proposals." • Strictly speaking, they didn't pump the money into the Democrat's campaign arm; they pumped the money into a vein of the Democrat's campaign arm.
News of the Wired
"The Happiest Cats on Earth" [Alta]. "On the Cats of Disneyland Instagram account, self-identified park employees and visitors describe a hidden world of cat colonies. These wild examples of Felis catus stalk around the park and sometimes allow guests to pet them behind the ears. A white-chested feral cat named Ned, for instance, occasionally can be seen welcoming guests at the Disneyland Hotel. A longhaired tortoiseshell cat that Instagram fans have named Francisco is known to hang out in the shade near Grizzly River Run. "We found Francisco at California Adventure today. He was just hanging out watching us silly hoomans [sic] riding water ride," reads one of numerous posts from fans of this grouchy-faced, bushy-maned feline…. The cats may be a source of joy for the more than 67,000 people who follow them on Instagram. But they're also a public health threat, according to local officials whose job it is to prevent plagues. They say Disneyland has defied their demands that the park expel the swarm of feral cats." • If you are a cat or feral cat fan, this is a must-read. There is a whole "TNR" (Trap-Neuter-Release) movement, and a lot of controversy.
"The Sixties seer who warned of wokeness" [UnHerd]. Marshall McLuhan! "If one looks around today on a train or tube carriage, or even down a busy street, McLuhan's insistence that technology is an "extension" of human beings is made strikingly clear. Smartphones are melded to the palm of travellers' hands, their eyes glued to the small screen, as – fascinated by any number of simultaneously occurring electronic conversations, caught in an international deluge of information – they seem increasingly oblivious to their immediate surroundings. They are both physically present and mentally transported into potentially innumerable, fast-changing elsewheres." * Read on for a great word, new to me: hoicked!
"Visualizing Power-Law Distributions" [Economics from the Top Down]. "Unlike the normal distribution, power-laws are unintuitive to the human mind. My goal here is give you some intuition about power laws by visualizing some of their properties." • Hmm. Or we were all "educated" to think of the bell curve as "normal." More: "Power laws are very different than the familiar normal distribution. In a normal distribution, extreme outliers are essentially forbidden. We will never find a human as tall as an elephant, let alone Mount Everest. In statistical terms, this means that the 'tail' of the normal distribution dies off quickly. This 'thin' tail forbids extremely large observations. But unlike the normal distribution, a power law has a 'fat' tail that dies off slowly. This fat tail permits extremely large observations to occur…. [M]any aspects of human social organization obey power laws. We'll look here at the example of business firms." • If you want to think about income distribution, for example, the power law is what's "normal"…
Guess who wins:
3 professional football players take on 100 children ⚽️ pic.twitter.com/Gq7AXgTaNA

— Rupert Myers (@RupertMyers) April 25, 2019
2016 Democrat primary, anyone?
* * *
Readers, feel free to contact me at lambert [UNDERSCORE] strether [DOT] corrente [AT] yahoo [DOT] com, with (a) links, and even better (b) sources I should curate regularly, (c) how to send me a check if you are allergic to PayPal, and (d) to find out how to send me images of plants. Vegetables are fine! Fungi are deemed to be honorary plants! If you want your handle to appear as a credit, please place it at the start of your mail in parentheses: (thus). Otherwise, I will anonymize by using your initials. See the previous Water Cooler (with plant) here. Today's plant (Carla R):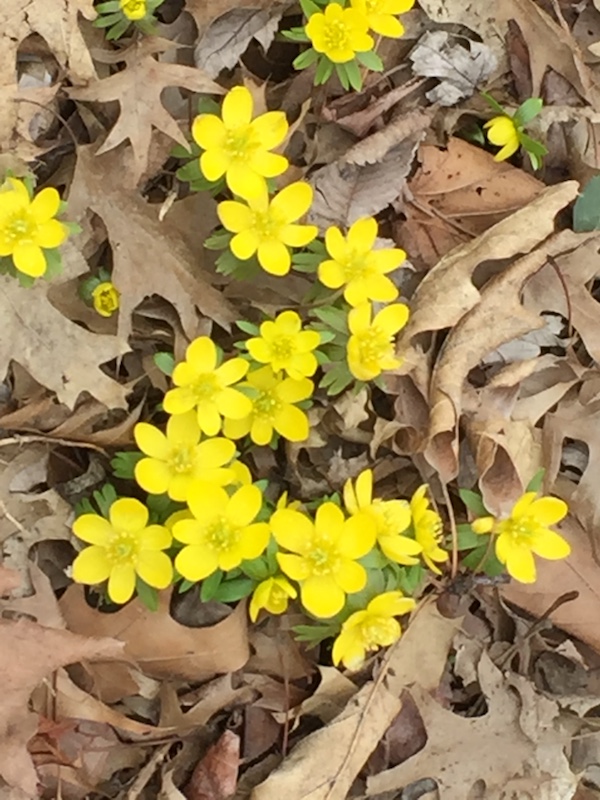 Another great spring moment!
* * *
Readers: Water Cooler is a standalone entity not covered by the annual NC fundraiser. So do feel free to make a contribution today or any day. Here is why: Regular positive feedback both makes me feel good and lets me know I'm on the right track with coverage. When I get no donations for five or ten days I get worried. More tangibly, a constant trickle of small donations helps me with expenses, and I factor in that trickle when setting fundraising goals. So if you see something you especially appreciate, do feel free to click this donate button:
Here is the screen that will appear, which I have helpfully annotated.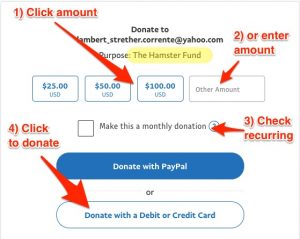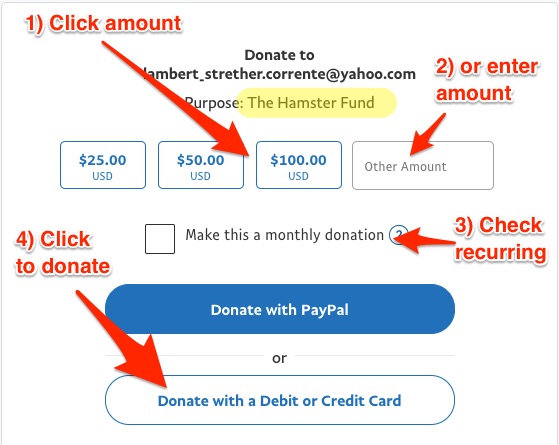 If you hate PayPal, you can email me at lambert [UNDERSCORE] strether [DOT] corrente [AT] yahoo [DOT] com, and I will give you directions on how to send a check. Thank you!