Jumbo effort to rescue elephants Strait Times (TYJ)
USDA Ends Program That Led to Deaths of Thousands of Cats USNews (David L)
Killer fungus is wiping out world's amphibians Futurity
What can bees teach economists about how markets work? BBC (David L). Help me.
A glacier the size of Florida is on track to change the course of human civilization Alternet (David L)
Canada warming twice as fast as the rest of the world, report says BBC (David L)
In Norway, electric cars outsell traditional ones for the first time Market Watch (Kevin W)
Can We Stop AI Outsmarting Humanity? Guardian
Behold the Beefless 'Impossible Whopper' New York Times (David L)
Turning Bystanders Into First Responders New Yorker (furzy). I see this differently. It's too bad we have to have a fact set like this lead to what should already be normal in society: widespread emergency training. I am bothered that I don't know how to perform a Heimlich maneuver or do CPR. I am also bothered that movies often show what I understand is bad medical practice: moving a severely injured person. If you at all can, you leave in place because if they have any spinal cord damage, moving them could make it worse. But that understanding may be dated….
More measles cases in the US in first 3 months of 2019 than all of CNBC2018: CDC ABC
English judge says man having sex with wife is 'fundamental human right' Guardian. Only a man could think this way.
China?
Pentagon Obsession: China, China, China Pepe Escobar, Strategic Culture Watch (Kevin W)

US and China are reportedly drawing closer to a final trade agreement CNBC
Brexit
Brexit: PM asks Corbyn to help break deadlock BBC

May inflames Tory civil war with shift to softer Brexit Financial Times

Corbyn tells PM: You'd better start giving ground on Brexit The Times

Video has emerged of soldiers on a shooting range in Kabul firing at a target of Jeremy Corbyn. MOD confirms it as legit: pic.twitter.com/qOr84Aiivj

— Alistair Bunkall (@AliBunkallSKY) April 3, 2019
Venezuela
Venezuela: Juan Guaidó stripped of parliamentary immunity Guardian. Kevin W: "Funny quote 'Guaidó urged supporters to respond to Maduro's "brute force' with intelligence, audacity, hope'. Audacity and hope? Does the man think that he is Obama?"

Venezuela: Another Regime Change Disaster? AND Magazine (martha r)

NATO chief Stoltenberg meets Trump, encourage German 'fair share' DW
New Cold War
CNN And WaPo Demand That Trump Further Escalate Tensions With Russia Caitlin Johnstone (Kevin W)

Russia and China Forced America's Hand on the INF Treaty National Interest (Kevin W)
Syraqistan
Goldman Sachs CEO turns up in Saudi Arabia as uproar fades over Khashoggi killing Bloomberg (martha r)
Big Brother is Watching You Watch
IT and Security Professionals Think Normal People Are Just the Worst ZDNet
Trump Transition
McConnell to Trump: We're not repealing and replacing ObamaCare The Hill

Trump mocks Green New Deal as done by 'young bartender' Ocasio-Cortez The Hill (UserFriendly)

Top House Democrat Cites Labor, Enforcement Concerns on New NAFTA Reuters
2020
Biden controversy splits Dems on generational, political lines The Hill

Bernie Sanders' immense fundraising haul reflects a resilient movement Los Angeles Times (martha r)
Lori Lightfoot elected Chicago mayor, will be 1st black woman and 1st openly gay person to hold post NBC (furzy)
MMT
What Modern Monetary Theory Gets Right and Wrong Wall Street Journal. Furzy: "MMT finally getting some recognition….WSJ still critical, and struggling to understand it!!" Not paywalled. But you don't have to get far in to read…groan…hyperinflation….

The @WSJ now expressly says #MMT gets the economics right but that it prefers anti-democratic & anti-poor policies that favor elite control & mass social & ecological suffering. Thus the question is no longer "can we afford it." It's *what is to be done.*https://t.co/truRObyJdS

— Scott Ferguson ??? (@videotroph) April 2, 2019
737 Max
Pilots at the controls of the Boeing Co. 737 MAX that crashed in March in Ethiopia initially followed emergency procedures laid out by the plane maker but still failed to recover control of the jet, according to people briefed on the probe's preliminary findings.

After turning off a flight-control system that was automatically pushing down the plane's nose shortly after takeoff March 10, these people said, the crew couldn't get the aircraft to climb and ended up turning it back on and relying on other steps before the final plunge killed all 157 people on board.

The sequence of events, still subject to further evaluation by investigators, appears to undercut assertions by Boeing and the U.S. Federal Aviation Administration over the past five months that by simply following established procedures to turn off the suspect stall-prevention feature, called MCAS, pilots could overcome a misfire of the system and avoid ending in a crash.
Deutsche Bank's U.S. Unit Enabled a $150 Billion Laundromat Bloomberg
Startups Are Hawking Zoloft and Beta-Blockers for Off-Label Uses Bloomberg (UserFriendly)
Top Democrat Proposes Annual Tax on Unrealized Capital Gains Wall Street Journal. Hoo boy.
Equities & the Fed: A Dependent or Codependent Relationship? CME Group (furzy). Need you ask?
Justice Department Warns Academy About Changing Oscar Rules To Exclude Streaming TechCrunch. This is the sort of anti-trust enforcement we are getting. Help me.
Zuckerberg Op-Ed: New Rules Would Hurt Everyone But Facebook Bloomberg (furzy). Quelle surprise.
Class Warfare
Antidote du jour. MGL: "The great egret on the right landed in a tree full of snowy egrets. This little confrontation occurred and then the great flew off. Oceanside, CA harbor, March, 2019."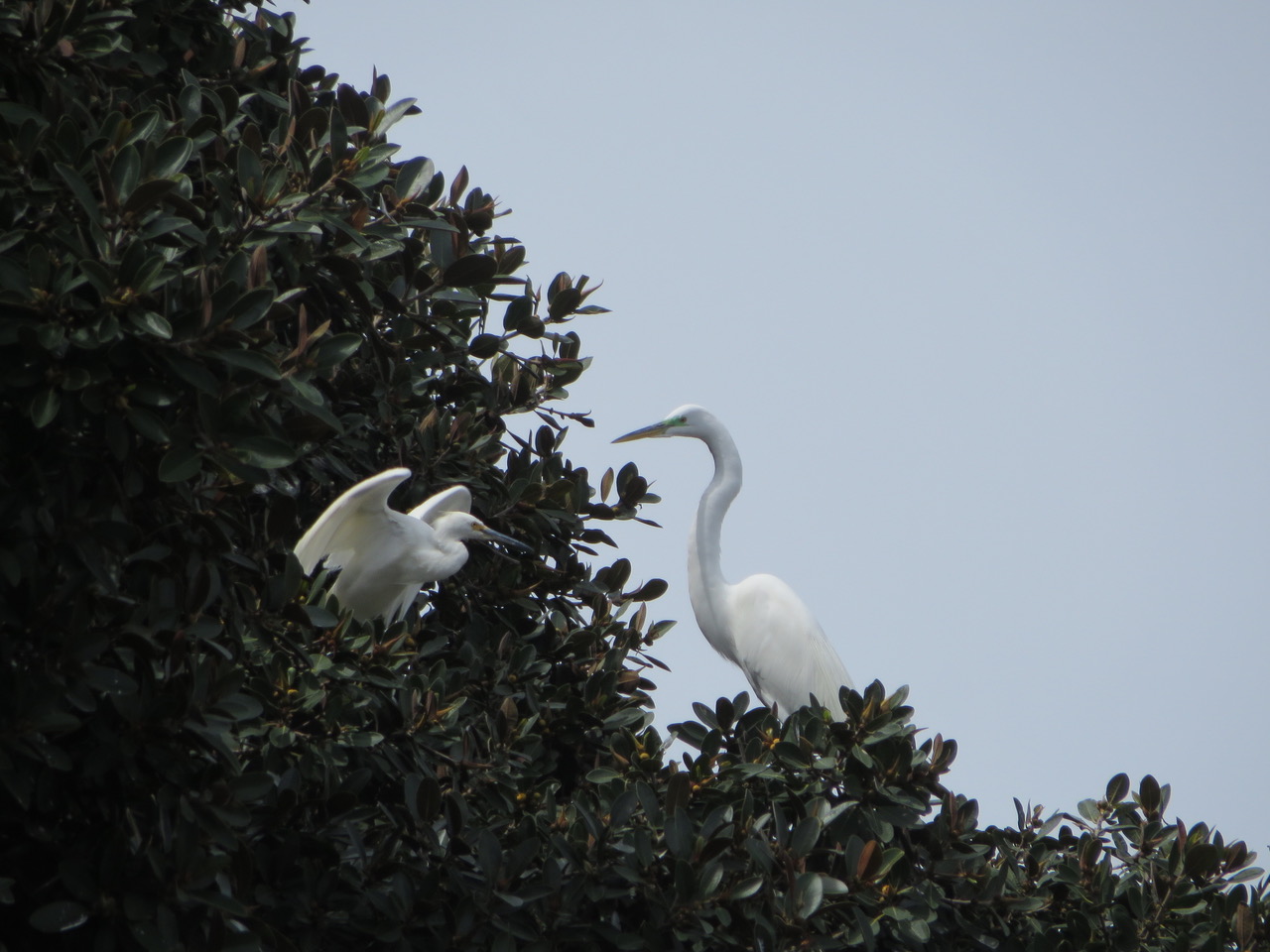 And a bonus (hat tip guurst):
If you had a bad day, here is a water slide for ducklings pic.twitter.com/W6NyrSB0CK

— Eric Alper ? (@ThatEricAlper) March 20, 2019
See yesterday's Links and Antidote du Jour here.