By Lambert Strether of Corrente.
Patient eeaders, my workflow remains disrupted because Apple has not yet returned control to me of the tablet I putatively own. So this is a little unbalanced. If any of you want to send me Water Cooler-appropriate links — especially from sources I don't read, and also not already having appeared in the morning's Links — that would be helpful (and fun). Thank you! –lambert
Trade
"China Promises Response If U.S. Slaps Tariffs on all Remaining Imports" [Bloomberg]. "China's government promised to respond to a U.S. proposal to tariff the rest of the goods it buys from China, raising the stakes for the dispute between the world's two largest economies. 'The U.S. bullying and application of extreme pressure goes against multilateral trading rules,' Chinese Ministry of Commerce Spokesman Gao Feng said in Beijing on Thursday. 'China is strongly opposed to such practices. If the U.S. persists, China will be forced to take necessary actions.'"
Politics
"But what is government itself, but the greatest of all reflections on human nature?" –James Madison, Federalist 51
"They had one weapon left and both knew it: treachery." –Frank Herbert, Dune
2020
"2020 Democratic Presidential Nomination" [RealClearPolitics] (RCP average of five polls). Sanders (16.3%) claws back 1.6% from Biden (39.8%), others status quo, as of May 14.

"*" = New candidate.

* * *

A tranche of mail I sent to myself before Apple took control of my machine away from me emerged from email purgatory, so I've used the material that didn't seem stale.

Biden (D)(1): "Biden tops field of 2020 Dems in digital spending" [The Hill]. "Biden's $1.2 million in total ad spending on the two platforms is topped in the Democratic field only by Sens. Kamala Harris (D-Calif.), Elizabeth Warren (D-Mass.) and Bernie Sanders (I-Vt.), all of whom have been on the campaign trail for months longer than Biden. Biden's spending in the days after launching his presidential campaign nearly matches that of Sanders, who has spent roughly $1.22 million advertising on the two platforms since his February campaign announcement. Last week, the Vermont senator spent about $57,000 on Facebook and Google ads."

Buttigieg (D)(1): "Buttigieg making inroads with West Coast donors who helped fuel Obama's rise" [NBC]. "As dusk descended Thursday over the posh hills of Brentwood, actor Martin Sheen gathered with his former 'West Wing' co-stars Bradley Whitford and Mary McCormack to open up their checkbooks for Pete Buttigieg. Hollywood mogul Rob Reiner was also there for the event at actress Gwyneth Paltrow's home, along with President Obama's former Deputy Attorney General Sally Yates and several former ambassadors who showed up to get a glimpse at the South Bend, Indiana mayor, two sources with knowledge of the event told NBC News. It was just one of nearly a dozen high-rolling fundraisers that Buttigieg has been holding this week in Los Angeles, San Diego and finally San Francisco, where he is collecting money Friday from Silicon Valley execs at a trio of fundraisers — including one hosted by Michelle Sandberg, sister of Facebook's Sheryl Sandberg, and her venture capitalist husband Marc Bodnick…. As he works to solidify his place in the top tier of Democratic presidential candidates, Buttigieg is making inroads with the same coalition of West Coast Democratic donors who provided critical fuel to Barack Obama's 2008 campaign and Hillary Clinton's eight years later: The Hollywood glitterati, tech entrepreneurs and major LGBT donors." • The race to see which candidate is most West Wing-Adjacent™…

Buttigieg (D)(2): "President Trump Insulted Pete Buttigieg With a 'Mad' Magazine Reference. Mayor Pete Might Be Too Young to Get It" [Time]. "In an interview with Politico released on Friday, Trump derided Buttigieg's 2020 run, saying, 'Alfred E. Neuman cannot become president of the United States.'… 'I'll be honest: I had to Google that. I guess it's a generational thing. I didn't get the reference,' Buttigieg said. 'It's kind of funny, I guess. He's also the President of the United States. I'm surprised he's not spending more time trying to salvage this China deal.'" • Plenty of dunking on Buttigieg for this from people who look, from their Twitter profiles, like they're more or less his age:

when i was a kid i always wanted to write for Mad magazine. i loved it, i know the plot of a ton of old movies only from their parodies, and i still have their lyrics for the Jeopardy! theme song memorized. mayor pete could never

— mulch mother ? (@spindlypete) May 12, 2019

More pointedly:

I'm two years older than Mayor Pete and had a subscription to MAD when I was a kid. So either I'm of a different generation than him or he's full of shit. https://t.co/pBvkIHoSmi

— The Jewish Worker (@JewishWorker) May 11, 2019

I would say the teenage Buttigieg was too busy buffing and polishing his resumé for Harvard to read Mad Magazine.

Gravel (D)(1):

As the climate crisis creates a global crunch for resources, US hegemony – and the military-industrial complex which props it up – will be used as a tool to protect the dominance of the elite at the expense of the global poor and those most affected.

— Mike Gravel (@MikeGravel) May 15, 2019

And see Warren below.

Klobuchar (D)(1): "Coons and Klobuchar: Most Americans can't save for retirement. We want to fix that" [By Senator Chris Coons and Senator Amy Klobuchar, CNN Business (RH)]. I read this twice, and I don't understand it. Here is the key paragraph: "We both believe in the power of capital markets to create broadly shared wealth, but we've also seen that parts of our financial system have been badly broken, and the savings crisis is a perfect example of that. Despite the relatively strong economy, too many American workers make too little to invest any savings in capital markets, and as a result, they don't benefit when the market succeeds. To put it simply, if you don't have enough money to invest, you don't benefit when the market rises. The Saving for the Future Act is a way to help all American workers hold some equity in the economy so that when corporations do well, they do, too." • So, apparently, the bill credits workers by "topping up" their wages per hour worked along with voluntary contributions. That's where the "Saving" comes from. But Coons and Klobuchar never do say how the "savings" get invested. So to me, it looks like laundering a subsidy for the capital markets through workers savings accounts. I've never understood the whole "saving for retirement" paradigm anyhow. If Social Security were properly funded, add-ons like this wouldn't even be needed. So why not do that? Oh, and there are tax credits. Because there are always tax credits.

O'Rourke (D)(1):

Beto O'Rourke is livestreaming his haircut. At one point, he notes that his earhair is getting trimmed. Something he says needs to be done as you get older. pic.twitter.com/um040cwpTU

— Matt Viser (@mviser) May 15, 2019

Yeah, but what about nose hair?

Sanders (D)(1): Sanders organizing kick-off video (via DCBlogger). This is a long video, but important:

Lambert here: The Sanders canvassing operation will include voter registration and appeals to the "disaffected" as well as GOTV. There has been very little coverage of this so far; the Intercept focused on the canvassing app, about which there was a brief moral panic, even though every other campaign does the same thing. Politico focused on scale, and framed the effort as a repeat of the 2016 operation, done right. CNN focuses on the house parties, and the risks of a bottom-up, DIY campaign culture. I've been saying that the Sanders campaign has three strategic strengths or pillars that make it unique: The mailing list (independent of the Democrat Party); the media operation (exemplified in this video, also independent); and the canvassing operation (also independent of the Democrat Party). I've been asserting based on pure logic [lambert preens modestly] that the Sanders campaign must expand the base (which is both addled by RussiaRussiaRussia, and also contains a significant faction that prefers an Obama restoration in the form of a Biden Presidency); now here (hat tip again, DCBlogger) is the evidence that is exactly what they are doing, with the logic fully worked for the organizers. Note that the structure of the Sanders campaign does not support existing narratives at all (even "frontrunner"), one reason — the other being opposition, or even hatred — that it has gotten little coverage in the press. The metric for the mailing list pillar will be donor numbers; the metric for the media operation will be negative: attacks that fail to get traction in the mainstream, where one might have expected success (the Sanders open-access videos in Burlington come to mind), because there is a countervailing force in the media operation; and I'm not sure what the metric for the canvassing operation would be. Votes, obviously, but before that! I don't think house party counts are a good metric, because what if everybody just went home from the party feeling good about themselves, and then didn't canvass? I'd have expected to see little incidents on the Twitter by now, as with DSA; perhaps the campaign has a policy against that. If so, good discipline! I guess I'm looking for the equivalent of yard signs…

Sanders (D)(2):

Nurses and staff at Mercy Health St. Vincent Medical Center in Toledo should not be working 20-hour shifts without decent health insurance, while the CEO of Mercy Health makes $1.7 million.@UAW nurses and staff in Toledo deserve fair pay, health care and work schedules.

— Bernie Sanders (@BernieSanders) May 10, 2019

Support for union actions is a regular part of the Sanders campaign. It certainly is odd that he's the only one. (All do this to a degree, but Sanders is the only one who is relentless about it.)

Warren (D)(1): "Trump backers applaud Warren in heart of MAGA country" [Politico]. West Virginia: "It was a startling spectacle in the heart of Trump country: At least a dozen supporters of the president — some wearing MAGA stickers — nodding their heads, at times even clapping, for liberal firebrand Elizabeth Warren…. LeeAnn Blankenship, a 38-year-old coach and supervisor at a home visitation company who grew up in Kermit and wore a sharp pink suit, said she may now support Warren in 2020 after voting for Trump in 2016. 'She's a good ol' country girl like anyone else,' she said of Warren, who grew up in Oklahoma. 'She's earned where she is, it wasn't given to her. I respect that.'" Also: "The 63-year-old fire chief, Wilburn 'Tommy' Preece, warned Warren and her team beforehand that the area was 'Trump country' and to not necessarily expect a friendly reception. But he also told her that ." (More on West Virginia in 2018. Best part is a WaPo headline: "Bernie Sanders Supporter Attends Every DNC Rule Change Meeting. DNC Member Calls Her a Russian Plant." • Lol. I've been saying "lol" a lot, lately.)

Warren (D)(2): "Our military can help lead the fight in combating climate change" [Elizabeth Warren, Medium]. "In short, climate change is real, it is worsening by the day, and it is undermining our military readiness. And instead of meeting this threat head-on, Washington is ignoring it — and making it worse…. That's why today I am introducing my Defense Climate Resiliency and Readiness Act to harden the U.S. military against the threat posed by climate change, and to leverage its huge energy footprint as part of our climate solution. It starts with an ambitious goal: consistent with the objectives of the Green New Deal, the Pentagon should achieve net zero carbon emissions for all its non-combat bases and infrastructure by 2030….. We don't have to choose between a green military and an effective one…. Together, we can work with our military to fight climate change — and win." • On the one hand, the Pentagon's energy footprint is huge, and it's a good idea to do something about that. On the other, putting solar panels on every tank that went into Iraq… Well, there are larger questions to be asked. A lot of dunking on Warren about this. It might play in the heartland, though.
2019
Across the aisle. Thread:

About an hour ago, I was walking out of my office for the day.

There was a man what I believe was his teenage son hanging a small sign they made outside my office (we let people leave well wishes on our wall).

Astonishingly, his sign read: "Trump supporters for Ocasio-Cortez." pic.twitter.com/IjVKbvetEI

— Alexandria Ocasio-Cortez (@AOC) May 10, 2019
Realignment and Legitmacy
"College Democrats' Protest of Democratic Campaign Arm Grows to 70 Chapters" [Newsweek]. "In just two weeks, the Harvard College Democrats-spearheaded boycott of the Democratic Congressional Campaign Committee (DCCC) over a 'blacklist' of vendors who work with Democratic incumbent challengers almost doubled in size [from 40 to 70]. Representative Cheri Bustos, DCCC chairwoman, told Politico in January that her job was to 'support Democrats in the House,' not primary challengers. In April, during another interview with Politico, she reiterated her stance, claiming Democratic leadership supported the policy. 'We've got a policy that the caucus supports, the leadership supports, and it plays the long game,' Bustos said with regard to reversing the policy. 'That's where things are right now.'" • Plays "the long game" by denying young challenger the ability to run? And not merely by remaining neutral, but by blacklisting vendors who help challengers?

"DCCC Chair To Help Anti-Abortion Dem Fundraise Amid Severe Abortion Laws" [Talking Points Memo]. "'Extreme and unconstitutional state abortion laws in AL and GA put women's lives at risk, and we won't stand for their assaults on our fundamental rights,' the DCCC tweeted. 'Democrats in Congress will continue to fight back while working to expand access to quality, affordable health care for all.'… When asked how the DCCC's position on the abortion laws squares with its endorsement of Lipinski, DCCC communications director Jared Smith told TPM that it was a matter of the organization upholding its mission to help incumbent Democrats." • It's a lot simpler to understand establishment Democrat if you abandon the idea they're capable of taking a principled stand on anything.

"If Liberals Want to Change Minds on Abortion, We Must Understand Why People Oppose it" [The Stranger]. "However, when you look at data, this picture gets a little more complicated. According to a 2018 Gallup survery, Americans are evenly divided on abortion: 48 percent of respondents said they were pro-choice; 48 percent said they were pro-life. That's not too surprising: Abortion is one of the most divisive issues in the country, and the numbers have been relatively stable over time. What is surprising is the breakdown by sex, because there are nearly as many women who call themselves pro-life as there are men. Forty-nine percent of male respondents said they were pro-life and 47 percent of women agreed with them. And this includes women in power: The Alabama representative who introduced this anti-choice legislation, is, herself, a woman, as is Governor Kay Ivey, who signed the bill into law on Wednesday afternoon…. It's not easy to change people's firmly held beliefs, but it can and does happen. Take gay rights." • Well worth a read.

"Sick Of 2020 Already? Most Voters Aren't." [FiveThirtyEight]. "Democrats have lost their edge in voter enthusiasm, according to an NBC News/Wall Street Journal poll out this week. When asked how interested they were in the 2020 elections on a scale of 1 to 10 (10 being the most interested), 73 percent of Democratic registered voters and 75 percent of Republican registered voters responded with a 9 or a 10. At first glance, this doesn't look good for Democrats…. To me, the real takeaway from this poll question is not the enthusiasm gap between the parties, but the high level of voter interest overall at this point in the cycle. Voters are currently more interested in the presidential election than they were at this point in the 2016 cycle."

"Reading polls" [Charles Franklin, Medium]. • Useful.
Stats Watch
Retail: "How Online Shopping Makes Suckers of Us All" [The Atlantic]. "Our ability to know the price of anything, anytime, anywhere, has given us, the consumers, so much power that retailers—in a desperate effort to regain the upper hand, or at least avoid extinction—are now staring back through the screen. They are comparison shopping us. They have ample means to do so: the immense data trail you leave behind whenever you place something in your online shopping cart or swipe your rewards card at a store register, top economists and data scientists capable of turning this information into useful price strategies, and what one tech economist calls 'the ability to experiment on a scale that's unparalleled in the history of economics.' In mid-March, Amazon alone had 59 listings for economists on its job site, and a website dedicated to recruiting them." • That's great. What could go wrong with an enormous experiment on consumers run by mainstream economists?
The Bezzle: "Google Payment Privacy Settings Hidden Behind Special URL" [Bleeping Computer]. "It has been discovered that Google is hiding three Google Pay privacy settings unless you access the service's Settings screen through a special URL. These settings allow you to restrict whether Google Pay shares your creditworthiness, personal information, or Google Pay account information." • Google "fixed" this, certainly. But how many other Easter Eggs like this are there?
Tech: "Tesla Fires Sound Alarms About Safety of Electric-Car Batteries" [Industry Week]. "For EVs, the risk of a fire or explosion is comparable — or potentially slightly lower — than for gas or diesel-fueled models, according to a 2017 report by the U.S. National Highway Traffic Safety Administration. However, safety risks may increase as manufacturers work to boost performance and push battery cells closer to their limits, the study found… Rapid growth means the sector 'will no doubt see increasing quality control issues with the supply chain,' [Simon Moores, London-based managing director of industry consultant Benchmark Mineral Intelligence] said. 'The biggest challenge for all EV makers is to ensure quality and consistency runs right through the supply chain — from raw material selection to chemicals to battery cell — and into the pack and vehicle.'" •
The Biosphere
"Lenders Scolded for Climate Ignorance in 'Insane' Florida Real Estate Deals" [Bloomberg]. "[I]nvestors have yet to pay any kind of meaningful attention, buying up long-dated debt and financing real estate decades into the future. That kind of market neglect means the Florida economy can be expected to 'go to hell,' warned Spencer Glendon, a senior fellow at the Woods Hole Research Center and a former partner and director of investment research at Wellington Management. 'No one should be lending for 30 years in most of Florida,' he said at an investment conference in New York last week. 'During that time frame, insurance will disappear and terminal values' — future resale income — 'will shrink. I tell my parents that it's fine to rent in Florida, but it's insane to own or to lend.'" • And where is that not true…
Class Warfare
"We froze the salaries of 20 executives – and it improved the lives of 500 employees" [Guardian]. "Raising wages in the midst of a business turnaround was not easy. We needed our executive team to buy into a vision of business success where every employee had a fair shot at success. It worked. Our business has tripled over the past five years. Our minimum wage is now approaching $16.50 per hour and last year we broadened profit sharing to all levels of the company. I share my story at CareCentrix so that politicians and the public remember the role and responsibility of the business community in contributing to the success of the American Dream, and so that business leaders understand that an investment in the workforce is one of the best financial decisions to make."
News of the Wired
Via SlayTheSmaugs, "Hypocrisy is the Greatest Luxury," Disposable Heroes of Hiphoprisy
* * *
Readers, feel free to contact me at lambert [UNDERSCORE] strether [DOT] corrente [AT] yahoo [DOT] com, with (a) links, and even better (b) sources I should curate regularly, (c) how to send me a check if you are allergic to PayPal, and (d) to find out how to send me images of plants. Vegetables are fine! Fungi are deemed to be honorary plants! If you want your handle to appear as a credit, please place it at the start of your mail in parentheses: (thus). Otherwise, I will anonymize by using your initials. See the previous Water Cooler (with plant)
here
. Today's plant (ChiGal):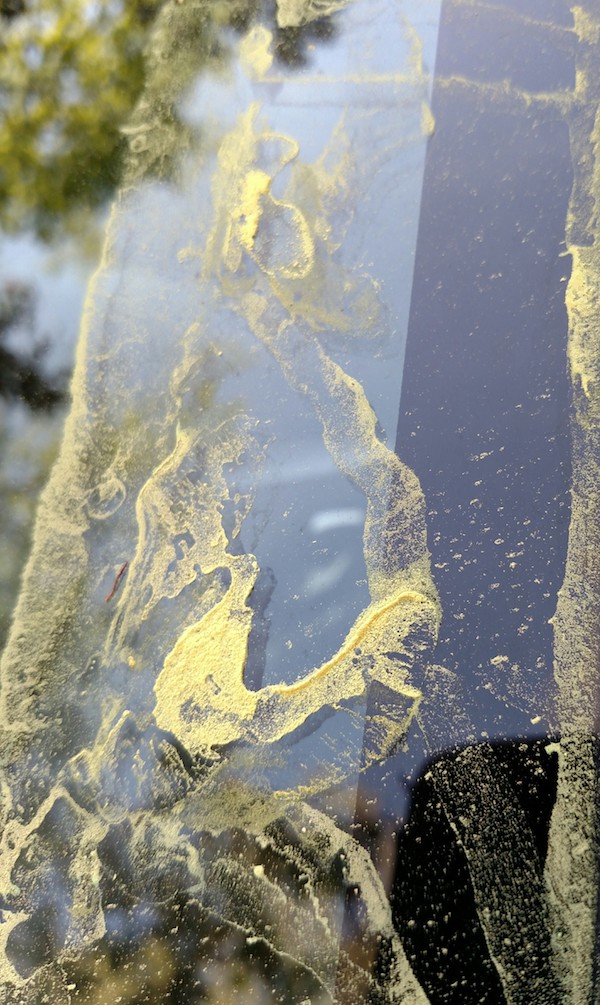 ChiGal: "Reflected tree in a car windshield caked with pine pollen: an abstract." This must have been fun to notice — and take.
* * *
Readers
: Water Cooler is a standalone entity
not
covered by the annual NC fundraiser. So do feel free to make a contribution today or any day. Here is why:
Regular positive feedback both makes me feel good and lets me know I'm on the right track with coverage
. When I get no donations for five or ten days I get worried. More tangibly, a constant trickle of small donations helps me with expenses, and I factor in that trickle when setting fundraising goals. So if you see something you especially appreciate, do feel free to click this donate button:
Here is the screen that will appear, which I have helpfully annotated.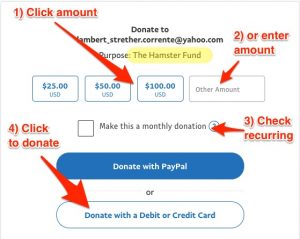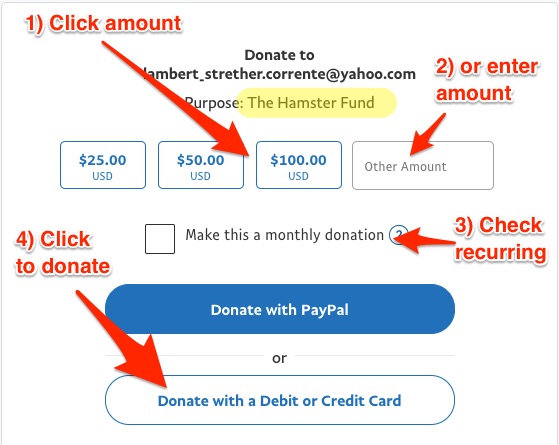 If you hate PayPal, you can email me at lambert [UNDERSCORE] strether [DOT] corrente [AT] yahoo [DOT] com, and I will give you directions on how to send a check. Thank you!