By Lambert Strether of Corrente.
Politics
"But what is government itself, but the greatest of all reflections on human nature?" –James Madison, Federalist 51
"They had one weapon left and both knew it: treachery." –Frank Herbert, Dune
2020
"2020 Democratic Presidential Nomination" [RealClearPolitics] (RCP average of five polls). Biden up, Sanders down, Warren sneaking up.

* * *

"*" = New candidate.

* Bennet: "Sen. Michael Bennet announces he's running for president in 2020" [CBS]. • D-Fracking. If you're looking for confirmation that using local oligarchies ("favorite sons") to suck away delegates from the leaders is one way to avoid any candidate (but especially Sanders) winning a majority, Bennet's entry would provide it. Oh, Sanders won the Colorado caucuses in 2016.

Festival of Biden:

Biden (D)(1): "Joe Biden Wants Everyone to Lower Their Expectations" [Edward Isaac-Dovere, The Atlantic]. "Other candidates spent most of last year reaching out and getting to know potential staffers, investing early to lock them in and begin the long and almost absurdly microcosmic work that goes into winning the Iowa caucuses and the early primaries. Bernie Sanders, Elizabeth Warren, Cory Booker, and, to a lesser extent, Kamala Harris are months into building operations for an extended primary fight that some Democrats think could even lead into a contested convention next summer. Biden doesn't have that yet, but 'he'll have a good campaign by February of next year,' said Ed Rendell, the former Pennsylvania governor and a vocal Biden supporter. 'By the time that it matters, he'll be fine*.'" • The first debate isn't February of next year. It's this coming June. Good piece by Dovere, though, giving the flavor of a Biden event. NOTE * Old-time Patriots fans: Remember Kenneth "Game Day" Sims?

Biden (D)(2): "Obama Fundraisers-Turned-Ambassadors Are Back to Make It Rain for Biden" [Sludge]. "On the heels of a big-money fundraiser hosted by Comcast's top government affairs executive, Joe Biden's recently-made-official presidential campaign has announced another ritzy affair, hosted by former Ambassador James Costos. A slew of Barack Obama and Hillary Clinton fundraisers will now raise money for Obama's vice president, Biden, at Costos' Los Angeles home on May 8… It costs $2,800 to enter the May 8 event, and if you raise $10,000, you can become a host. Among the hosts are four major fundraisers for President Obama's 2012 campaign who were later rewarded with ambassadorships to Denmark, Hungary, Spain, and the United Nations." • How nice for them.

Biden (D)(3): "Biden goes light on policy, heavy on emotion" [Politico]. "Joe Biden has a healthcare plan, but doesn't 'have the time to completely lay out all the details.' He also has a proposal for college debt, but no specifics on that either because 'I don't have time; I don't want to keep you standing any longer.'" • Sanders fills stadiums with this stuff.

Biden (D)(4): "A reporter approached @JoeBiden to ask a question and a member of his staff told the reporter to leave" [Marcus DiPaola]. "This third reporter just told me that the @JoeBiden staffer blocked his camera shot by putting up her hands." • Hmm. f

Buttigieg (D)(1): "Buttigieg meets with Hillary Clinton" [The Hill]. "'She has a lot to share and is happy to give advice to the 2020 candidates,' one Clinton ally said. The former secretary of State met with Buttigieg at her office in New York, a source said. Clinton has not endorsed anyone in the race and her allies don't expect an endorsement to come until at least the end of the primary. The development follows reports that Buttigieg has gained the support of several top fundraisers who worked for Clinton during her presidential bid. Among them was Steve Elmendorf, who bundled more than $100,000 for her in 2016." • I imagine Clinton will wait until the last possible moment to play the card of her endorsement. If indeed it ends up as a card.

Buttigieg (D)(2):

Did Pete Buttigieg write this pic.twitter.com/FfRU2kdru8

— Ken Klippenstein (@kenklippenstein) May 1, 2019

Buttigieg (D)(3): "Buttigieg's campaign considering copying McCain bus tour strategy" [The Hill]. "Lis Smith, a Democratic operative and a Buttigieg aide, told Politico that she is planning to recreate McCain's 'Straight Talk Express.' McCain traveled on a campaign bus and invited reporters on the bus to ask him questions as he sought the Republican nomination in the presidential primary that was ultimately won by then-Texas Gov. George W. Bush." • McCain did lose….

Gabbard (D)(1): "Presidential hopeful Tulsi Gabbard talks foreign policy, Medicare in Iowa City" [The Gazette (Carla)]. Gabbard: "I know firsthand the cost of war. The most important responsibility that the president has is to serve as commander-in-chief. And the experience and the understanding that I bring to that forefront makes me uniquely qualified to fill that position to bring about an end to regime-change wars, to work to end this new Cold War and nuclear arms race." • Best way to support the troops….

Gabbard (D)(2): "Rep. Gabbard on Venezuela: Trump WH 'saber-rattling,' US should broker diplomatic solution with Russia" [FOX]. Gabbard: "Any time we are in this situation where you have tensions being ratcheted up and this conflict being pushed closer and closer between nuclear-armed countries like the United States and countries like Russia and China, this is something that poses an existential threat to the American people. And, when you hear this kind of saber-rattling coming from the Trump administration from people like [National Security Adviser] John Bolton and [Secretary of State] Mike Pompeo, pushing this civil war and for the United States to get involved, we are dealing with dangerous consequences." And: "The United States is not helping the situation by interfering and basically pushing for externally yet another regime change war that history shows us has not turned out to have a positive impact on people in the countries where we wage these wars. That's why I'm pushing for diplomacy." • No wonder she's not getting any coverage….

Sanders (D)(1): "Bernie Sanders Pushed False Flag Conspiracy Theory About Domestic Bombings" [The Daily Caller]. Key sentence: "Attacking intelligence agencies has been a constant feature of Sanders's political career." • Aside from showing the conservative genius treating positives as negatives, I wonder how long it will take for this talking point to migrate from the Daily Caller to Mother Jones or Salon? And from thence to the majors?

Yang (D)(1): "2020 candidate Andrew Yang wants to give an Iowan $12,000 over the next year to demonstrate the value of his policy plans" [Des Moines Register]. "'I'm going to be giving a Freedom Dividend to a person or family in Iowa. That's $1,000 a month for 12 months out of my own pocket,' Yang, a lawyer and entrepreneur from New York, said. Iowans interested in receiving the cash, or nominating others, can apply at Yang's website…. He started the giveaway part of his plan in January, after selecting the Fassi family of Goffstown, New Hampshire, to receive the monthly cash. Reports say Charles Fassi lost his job a few years ago, just as his daughter was starting college. Yang said he expects to facilitate payments to someone in South Carolina and maybe Nevada as well. 'And obviously … these are the first-voting states,' Yang said about his reasons for targeting the four states." • Original, but isn't this vote buying, albeit on a small scale?

"How to settle on a favorite Democratic presidential candidate? Good question" [Los Angeles Times]. "Choosing among Democrats, however, feels more like a nightmare right now. Do Democrats want an experienced hand, or a shiny new face? A man? A woman? A person of color? And for many voters, the most important question: Who can beat Trump?" Nothing about policy? More: "if they all agree on almost everything, how the heck are Democratic voters supposed to pick just one?" • They don't. They clearly don't. Warren and Sanders are clearly differentiated both from the field, and from each other. It shouldn't be possible for a reporter to emit a sentence like "they all agree on almost everything" when only one candidate supports #MedicareForAll; "almost" is doing far too much work.

"Democrats Have Created an "Electability" Monster" [The New Republic]. "'Electability' is a crock of sh*t. It is defined, like political 'moderation,' only in terms of opposition to things people want, but are told they can't have….. But Democratic voters did not teach themselves to prioritize electability over their own actual concerns. They were trained to, over many years, by party figures…. Democratic candidates and their most loyal voters are stuck in an absurd feedback loop. The politicians campaign and govern as if they themselves don't believe a majority of voters prefer their agenda, signaling to their most loyal voters that they must vote not for what they want, but for what they imagine their more-conservative neighbors might want. But when voters in 2016 did exactly that, and nominated the candidate they were repeatedly told was most qualified to defeat Trump in the general election, they chose a person who went on to lose to him." • Electability is why we can't have nice things.

"'Electability' is a terrible reason to pick a candidate" [The Week]. "The election of Donald Trump ought to have put paid to the idea that anybody knows anything about who can win. The man was a reality TV show host, credibly accused of multiple instances of sexual assault, patently corrupt to his back teeth, and had no political experience whatsoever. Surely this guy can't win, right? For the whole campaign, political commentators were openly contemptuous of the idea that he could win either the primary or the general election. All the election data shops predicted that Clinton would win easily. But nope!"

"Assessing electability: Like nailing Jell-O to a wall" [Larry Sabato's Crystal Ball]. "Logically, the most 'electable' Democrat would be able to claw back some Trump voters who reside in that populist ideological portion of the electorate. We already mentioned Biden's strength in general election polls against Trump compared to other Democrats, although we don't think such polls are all that predictive at this point. Still, a polling edge combined with Biden's support from the more moderate elements of the Democratic Party and his coolness to some of the more progressive policy proposals that have been discussed during the Democratic primary so far, like Medicare for all, might lead one to believe Biden is the most electable. That said, Bernie Sanders is already going after Biden for his votes to authorize the Iraq war and in support of NAFTA. Couldn't Trump do the same, effectively getting to the left of Biden on international issues and holding his populist support in the key heartland states as a result? From that standpoint, maybe Sanders actually would be the more electable candidate; in addition to his votes against NAFTA and the Iraq war, Sanders' political arguments are couched more on class than on race, which has sometimes gotten him into trouble with nonwhite activists who want the Democratic nominee to focus more on racial injustice and issues of white privilege. But isn't it possible that de-emphasizing racial disparities in favor of emphasizing more color-blind class distinctions is a more electorally plausible path to winning back some white working-class voters?" • This is a really fun article.
RussiaGate
"CNN sees ratings swoon in April" [CNN]. "CNN's prime-time ratings dropped a whopping 26 percent in April compared to last year, according to Nielsen Media Research. MSNBC's ratings were down 14 percent in April 2019 compared to April 2018, while Fox News's ratings overall were flat." • So now we have a number for the benefits a really rich scandal can bring to the television "industry."
"'The Mueller Report' debuts at No. 1 on NYT best sellers list" [CNN]. ""The Mueller Report" is debuting at No. 1 on the nonfiction best sellers list compiled by The New York Times.
The report is also No. 11 on the combined print and e-book list. That's because there are several versions available for sale. Yes, people are buying print copies of the report, even though it's available for free on the web and on e-readers…. While numerous other publications also have best seller lists, The Times list is the publishing industry's gold standard." • I'll have to read it, won't I. Oy.
Realignment and Legitimacy
"Clinton-era politics refuses to die. Joe Biden is its zombie that staggers on" [Hamilton Nolan, Guardian]. "[T]here are a significant number of people who genuinely believe that Joe Biden is the best possible presidential nominee. Their belief is not cynical, or at least not wholly cynical. His constituency is real. It is not illuminating to think of them just as centrists, arguing for the gentlest sprinkling of sugar over the top of America's poison. It's better to think of them as zombies: the product of three decades of self-serving, triangulating brainwashing. They are the Democrats who had their eyelids propped open and were forced to watch the Clinton era, year after year after year. It is not so much that they do not, deep down, harbor a vague wish for a better world; it is that, like stray dogs dining exclusively on garbage, life has taught them that this is the best that they will ever get." • And yet Sanders will have to peel off some of those voters. For example–

"The Great Work" (interview) [The Sun]. Ralph Nader: "Appeal to people's sense of fair play and justice. When you do that, suddenly the red state/blue state divide disappears. When I talk to conservatives in Alabama and Mississippi and Georgia, guess what? They get hurt, too, when there are dangerous cars and toxic air pollution. They get ripped off by the credit-card companies and insurance companies and banks. Focus on these issues that hurt people directly, and suddenly you have an unbeatable political coalition of conservative and liberal people who want a safe environment. You have conservative and liberal taxpayers who don't want their taxes to subsidize big business and Wall Street. You have conservative and liberal voters locking arms. Do you know that some of the biggest legal victories against corporations are won in the most conservative areas of the country? They are won in Texas or Alabama, not Massachusetts or New York. Why? Because people resent the way they're being treated. And when they're in that jury box, they give the plaintiffs an adequate award, plus punitive damages."

"Online church: Ministries use VR, apps to deliver digital services and virtual baptisms" [USA Today]. "Instead of ceremoniously sitting in a sanctuary on Easter Sunday like millions of Americans, dozens of experience-driven parishioners from all around the world took a walk into Jesus' tomb, peering at the massive stone that once blocked the entrance before taking a tour of the cross where their savior was crucified. No plane tickets to Jerusalem required. All they needed was an internet connection and a VR headset." • The Sanders campaign should to this for a visit to the doctor's office… And I shudder to think what will happen if Trump 2.0 is the first to leverage this.

Identity politics is eating the world:

The Washington Post's take on World War II: white supremacy was the biggest threat in World War II, not Nazism. https://t.co/bOj1dxeekc

— The_War_Economy (@The_War_Economy) April 30, 2019
Stats Watch
Factory Orders, March 2019: "Factory orders rose 1.9 percent in a March report that is widely mixed yet fundamentally favorable" [Econoday]. "The best news in the report is a 1.4 percent surge in orders of core capital goods." • This, and the productivity figures next, are what you want to see under capitalism…
Productivity and Costs, Q1 2019: "It took a far less increase in hours to produce a far greater amount of output in the first quarter, driving productivity sharply higher" [Econoday]. "When adjusted for inflation, compensation rose at a 1.7 percent rate which is down 6 tenths from the fourth-quarter pace. Though wages are considered to be on the rise, the improvement is still very modest compared to the acceleration underway in output."
Jobless Claims, week of April 27, 2019: "Jobless claims failed to move back lower" [Econoday]. "Aside from tomorrow's employment report, the last two weeks of initial claims data are echoing the rise recorded in Challenger's job-cut counts and do challenge the general outlook for an uninterrupted run of steady and strong payroll growth in the months ahead."
Challenger Job-Cut Report, April 2019: "Challenger's layoff count finally eased back" [Econoday]. "[Y]ear-to-date announcements of job cuts are 31 percent higher than this time last year. The report notes special concern over this year's pace of cuts in the manufacturing and auto sectors which it warns could trickle down and mean greater cuts for other industries."
Banks: "Deutsche Bank Report Says Student Loan Debt Is a 'Micro Problem'" [Bloomberg]. "Student debt is a hot-button issue, and Senator Elizabeth Warren's proposal to cancel such debt for many borrowers strikes a visceral chord for anyone who's struggled with the loans. But viewed next to the $104 trillion in household net worth, that $1.6 trillion is more of an unfortunate 'micro problem' for individuals than a macro problem for the economy, [Torsten Slok, chief economist at Deutsche Bank Securities] said. Some 0.8 percent of the U.S. population have student loan balances that top $100,000. Loan balances for most of the 14 percent of the U.S. population with student loans are between $10,000 and $25,000." • But you can drown in an inch of water. Anyhow, if the problem is trivial, why not just solve it?
The Bezzle: "Tesla shares pop on plan to raise $2 billion from investors, including CEO Elon Musk" [CNBC]. "Tesla said Thursday it plans to raise up to $2 billion, with $1.35 billion coming from convertible notes and $650 million from new equity, including a big purchase from CEO Elon Musk…. The move comes only a week after Musk deferred on questions about the company raising capital any time soon."
The Bezzle: "Musk's Settlement Blasted by SEC's Jackson for Being Too Weak" [Bloomberg]. "'As a policy matter, those who settle cases with the SEC must be held to the bargain they struck,' Jackson said in a statement. 'Given Mr. Musk's conduct, I cannot support a settlement in which he does not admit what is crystal clear to anyone who has followed this bizarre series of events: Mr. Musk breached the agreement he made last year with the commission.'" • Dude's a crook. But he has impunity! What a unique situation.
The Bezzle: This is brilliant. A customer service dark pattern:
So frustrating. @tesla you must let us talk to service! pic.twitter.com/vP1xCloOuV

— Rat Things (@Rat_Things) May 1, 2019
Took a lot of work to set this up, too. Good use of programmer and management time.
The Bezzle: More light reading from the shorts:
We learn from FOIA footnotes that the SEC has multiple, active investigation in to $TSLA. More importantly that SEC has shared its subpoena'd/other info w DOJ.

We further learn the DOJ has active investigations beyond $420 fraud, in to $TSLA controls & procedures writ large. pic.twitter.com/bBORuN1nq2

— luis carruthers (@orthereaboot) May 1, 2019
Tech: "A doorbell company owned by Amazon wants to start producing "crime news" and it'll definitely end well" [Nieman Labs]. "That's right: A doorbell company wants to report crime news." • The logo will be an ice cream cone. Self-licking, of course.
Manufacturing: "When Your Amazon Purchase Explodes" [The Atlantic (DK)]. Lithium-Ion batteries. "Jones had unwittingly collided with one of e-commerce's strangest and most vexing truths: In the massive global network of manufacturers, distributors, sellers, and resellers, it can be nearly impossible to tell who's actually responsible for getting any given product into your living room. Even when it sets your couch on fire…. An untold number of lithium-ion-battery incidents go unreported, and no one agency tracks them. But the U.S. Fire Administration declared the batteries the "root cause" of at least 195 separate fires and explosions from 2009 to 2017. The Federal Aviation Administration has reported a few hundred incidents of smoke, fire, extreme heat, or explosions involving lithium-ion or unknown batteries in flight cargo or passenger baggage. And there were 49 recalls of high-energy-density batteries from 2012 to 2017." • Yikes.
Manufacturing: "5 Things To Know About Boeing's Ongoing Issues" (video) [The Onion]. • Not that far off….
Manufacturing: "Boeing's South Carolina Plant Subject to Increased Scrutiny" [New York Times]. "From June 2013 to October 2014, the agency did not allow employees from the plant to certify aircraft, instead requiring that F.A.A. personnel directly sign off on all jets made there, the memo said. Typically, the agency relies on the manufacturer's employees to help certify the aircraft. Even today, the agency is visiting the plant "every other week" to ensure that tools are not being lost, an extra level of vigilance by the regulator." • Every other week…..
Manufacturing: "NASA Says Aluminum Fraud Caused $700 Million Satellite Failures" [Industry Week]. "NASA's Orbiting Carbon Observatory mission in 2009 and Glory mission in 2011 didn't reach orbit and broke-up on re-entry into the Earth's atmosphere after payloads failed to separate from Taurus XL rockets. Aluminum producer Sapa Profiles Inc. [a unit of Norsk Hydro] had altered test results and provided false certifications to the rocket's manufacturer relating to extrusions used in a key component for the payload delivery system, NASA said in a statement." • So Norsk paid a $46 million fine for $700 million worth of busted satellites (although to be fair there's the reputation damageMR SUBLIMINAL Lol. Kidding! And I thought the Nordic countries were clean! Except for their banks, of course. I sure hope no fraudulent alumninum made its way into our aircraft.
The Fed: "The Fed's Third Mandate is to Reelect President Trump" [The Reformed Broker]. "Donald Trump is smarter than the Fed. Not about the economy or interest rates or any of that stuff. He's smarter about the only thing that matters anymore – public perception. That's why they'll bend the knee. Everyone bends the knee eventually. It's not like they're going to be able to fight back in his Twitter arena. You watch what happens…. Now, you're saying to yourself (or yelling at your screen) 'But Josh! The Federal Reserve Chair cannot be removed by the President! That's not how it works.' LOL, tell me more about the old rules. What was it like in olden times? I love your old stories about the way things used to be. So cute!" • It does seem to be true that the Fed hasn't taken away the punchbowl (which is the size of a thimble anyhow). They would need to do it soon, if they want Trump to have a recession on his watch. Though manufacturing and the employment situation seem sketchy…
The Biosphere
"Microsoft joins group seeking to kill off historic climate change lawsuits" [Guardian]. "Microsoft has joined a conservative-led group that demands fossil fuel companies be granted legal immunity from attempts to claw back damages from the climate change they helped cause. The stated goals of the Climate Leadership Council (CLC) include a $40-a-ton fee on carbon dioxide emissions in return for the gutting of current climate change regulations and 'protecting companies from federal and state tort liability for historic emissions'. Microsoft has become the first technology company to join the CLC, which includes oil giants BP, ExxonMobil, Shell, Total and ConocoPhillips among its founding members. Handing legal immunity to these oil companies would squash a cavalcade of recent climate lawsuits launched by cities and counties across the US, including one by King county, Washington, where Microsoft is based." • Totally on-brand?
"Trump fracking plan targets over 1 million acres in California" [Los Angeles Times]. "Trump's plan – first proposed by the administration in 2018 — targets public and private land spread across eight counties in Central California: eastern Fresno, western Kern, Kings, Madera, San Luis Obispo, Santa Barbara, Tulare and Ventura…. Once a plan is finalized and approved, environmental groups are expected to sue to block it, as they have in the past." • And rightly, given the air quality in the Central Valley?
"UK climate panel sets big goals: less meat, electric cars" [Guardian]. "The U.K. should eliminate almost all greenhouse gas emissions by 2050 by rapidly adopting policies that will change everything from the way people heat their homes to what they eat, an independent committee that advises the British government on climate change recommended Thursday. A report from the Committee on Climate Change said the government must adopt ambitious goals if it wants to be a leader in the fight against global warming and limit the impact of climate change. While Britain has laid the groundwork to achieve net-zero emissions of greenhouse gases, existing plans 'must be urgently strengthened' because 'current policy is not enough even for existing targets,' the committee said. … The government said it would respond to the recommendations 'in due course.'" •
Health Care
"Woman Infected With Measles May Have Exposed 'Avengers: Endgame' Audience" [Yahoo News]. "Orange County officials warned Wednesday that a woman with measles apparently saw the opening night's midnight showing of "Avengers: Endgame" in Fullerton before realizing she was sick. As a result, she may have exposed others in the region to the highly contagious disease, according to the Los Angeles Times. The twenty-something patient lives in Placentia and had just returned from a trip to Vietnam, where there has been widespread measles activity, according to 'Inside Edition.'" • So, not an anti-vax story?
Big Brother Is Watching You Watch
Enter the Egg Man:
Great example of user expectations by @neemaguliani "If I buy eggs from store and give my address for delivery, I expect they're going to use my address to get eggs to me. What I don't expect is they're going to tell an insurance company I bought eggs to charge me higher rates."

— Jason Kint (@jason_kint) May 1, 2019
Big Dat: "I want them all! I'll have the brown ones, and those great big white ones, and I'll have those over there. And I want them for frying and for scrambling, and for hard-boiled for snacks. Oh, God!"
Groves of Academe
"A Chinese Cheating Ring at UCLA Reveals an Industry Devoted to Helping International Students Scam Grades" [Los Angeles Magazine]. "According to prosecutors, [Liu] Cai, along with four current and former UCLA students and another student at Cal State Fullerton, helped at least 40 Chinese nationals obtain student visas by fraudulently taking the TOEFL, an English proficiency exam, on their behalf. Cai's ringers would show up to testing sites with fake Chinese passports bearing their own photos but with the names of the clients. Where Cai slipped—and where investigators caught up to him—was charging 39 test registration payments to his credit card…. While the UCLA case is less shocking [than operation Varsity Blues]—bribes in thousands of dollars instead of millions; Chinese high schoolers instead of Full House cast members—it represents an equally notable underbelly of American college admissions. If Varsity Blues is about the American ruling class perpetuating its privilege, the UCLA scandal reveals the extreme pressures and perverse incentives facing international students, many of them far less privileged and desperate to not screw up their shot." • Hmm. I'm not sure those students were not highly privileged — by the standards of their home countries.
Class Warfare
"Reform capitalism or face revolution, billionaires are told at Milken Conference" [Los Angeles Times]. "The gathering of billionaires, hedge fund managers and other financial industry professionals who converged on the Beverly Hilton hotel largely had a particular end in mind: how to increase their alpha, which, not to get too complicated, means improving their investment returns. But while the 5,000 attendees could go to sessions on the state of capital markets, listen to the chairwoman of the International Monetary Fund and strike up conversations with some of the world's most savvy investors, it all had to go down with a rather large dose of bitter medicine. If the barricades have not been erected in the streets, they were told several times over, they could soon be unless there is reform of the American economic system." • For example, one obvious reform–
"Freelancers Want to Join Unions but Labor Laws Won't Let Them" [Teen Vogue (Joe Well)]. "[The] imperfect [National Labor Relations Act] still governs the lives of working people today, and the way an employer uses it to classify the people who work for them has a huge impact on an employee's ability to protect and advocate for themselves. Worker misclassification under the NLRA is the source of many of the ongoing labor disputes in multiple industries, from tech to digital media. That means that there are millions of workers who are left unprotected by the country's most important labor law, and who can't join most unions even if they wanted to. 'There isn't a clear-cut way for workers to determine if they are misclassified on their own,' Amity Paye, a representative from Service Employees International Union Local 32BJ, tells Teen Vogue." • I'm not a labor law expert, but this article seems sound to me, and it's well worth a read. Teen Vogue mind you.
"Minneapolis Uber drivers are striking May 8 over sub-minimum wages"[Minneapolis City Pages]. ". The movement is being supported by Gig Workers Rising, a 'community of app and platform workers' trying to improve conditions and pay at jobs with companies like Uber, TaskRabbit, and DoorDash. The group didn't respond to interview requests, but it told the Guardian in no uncertain terms why its 4,000 or so Uber-driving members are going dark next week. 'Uber is paying drivers poverty wages and continues to slash wages while executives make millions,' organizer Shona Clarkson said." • I wonder how we will be able to track the success of the strike, other than anecdotally? What's a strike without a picket line?
"RockStar Games Begins Imprisoning Programmers For 'Red Dead Redemption 3" [The Onion]. "'We've herded an incredibly talented team of programmers into holding pens, and they're already hard at work making sure Red Dead 3 is the most immersive installment in franchise history,' Rockstar producer and company president Sam Houser told us by phone." Meanwhile, on Planet Earth–
"Exclusive: The Saga Of 'Star Citizen,' A Video Game That Raised $300 Million—But May Never Be Ready To Play" [Forbes]. "What's really rough is the current state of Star Citizen. The company Roberts cofounded, Cloud Imperium Games, has raised $288 million to bring the PC game to life along with its companion, an offline single-player action game called Squadron 42. Of this haul, $242 million has been contributed by about 1.1 million fans, who have either bought digital toys like the Kraken or given cash online. Excluding cryptocurrencies, that makes Star Citizen far and away the biggest crowdfunded project ever."
News of the Wired
"To feed the world, begin with maggot sausage and insect ice cream, says scientist" [CNN]. "Lobsters are not pretty. Dip these unsightly creatures into warm butter and they instantly become a different matter to most of us. Why, then, do we gag at the thought of eating insects? One Australian researcher hopes to change that. University of Queensland Meat Science Professor Dr. Louwrens Hoffman is exploring how maggots, locusts and other 'alternative' proteins might be used or added to a range of specialty foods. So why turn to bugs when you could have, say, a tasty steak? Quite simply, Hoffman believes conventional livestock will not be able to meet the global demand for meat, so alternatives are needed to replace or at least complement traditional protein sources."
"Robot Mimicry or Mastery? The End of Bench Manufacturing Is Near" [Industry Week]. "When we asked the plant manager why humans do the bench work versus other jobs in the factory like pick and pack, he said that the pick and pack of the trays of components was done by robots because it was a source of tedium and potentially repetitive stress injury. What kept running through my head was, "What about the bench itself?"… I would characterize most bench assembly operations as "robot mimicry," where we are being asked to mimic a task that a robot would ideally do—if an affordable one existed that could do that task. What brain power needed to be applied was mostly devoted to visual inspection of whether the parts appeared to be defect free and calculating just where your hand should be to do the task very quickly. I could tell as I watched the people doing the work, they were good at their jobs, fluidly grabbing parts and punching in screws in motions so smooth it was almost ballet-like. On the other hand, I imagined them getting up at 6:30 a.m., making breakfast for the kids, driving to work, clocking into the job, and getting to their bench only to then be prized for essentially how well they moved their hands." • I filed this here, as opposed to "Manfacturing" under Stats, or Class Warfare, to give it prominence. This is not a trivial "Here come the robots!" piece.
* * *
Readers, feel free to contact me at lambert [UNDERSCORE] strether [DOT] corrente [AT] yahoo [DOT] com, with (a) links, and even better (b) sources I should curate regularly, (c) how to send me a check if you are allergic to PayPal, and (d) to find out how to send me images of plants. Vegetables are fine! Fungi are deemed to be honorary plants! If you want your handle to appear as a credit, please place it at the start of your mail in parentheses: (thus). Otherwise, I will anonymize by using your initials. See the previous Water Cooler (with plant) here. Today's plant (SS):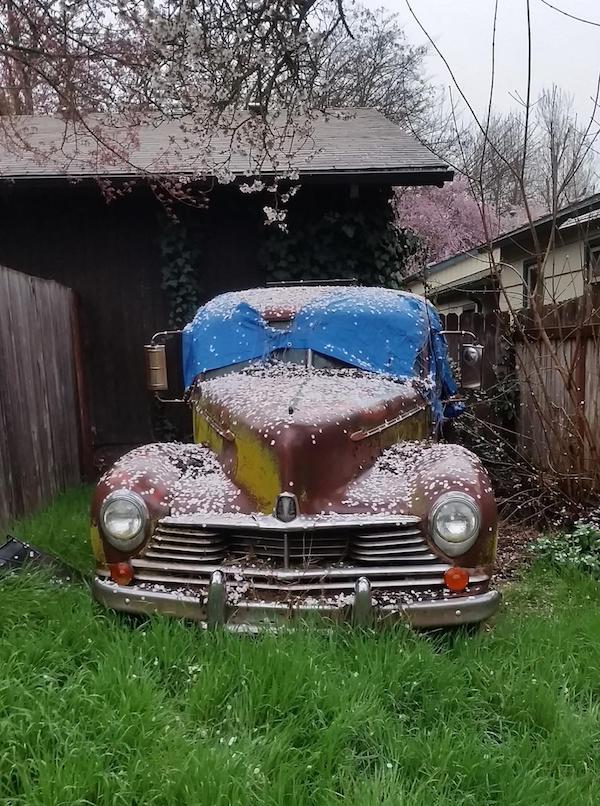 SS: "The Hudson in Spring." The vehicle, not the river valley." Besides the color and the subject, I love the symmetry.
* * *
Readers: Water Cooler is a standalone entity not covered by the annual NC fundraiser. So do feel free to make a contribution today or any day. Here is why: Regular positive feedback both makes me feel good and lets me know I'm on the right track with coverage. When I get no donations for five or ten days I get worried. More tangibly, a constant trickle of small donations helps me with expenses, and I factor in that trickle when setting fundraising goals. So if you see something you especially appreciate, do feel free to click this donate button:
Here is the screen that will appear, which I have helpfully annotated.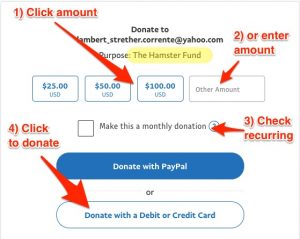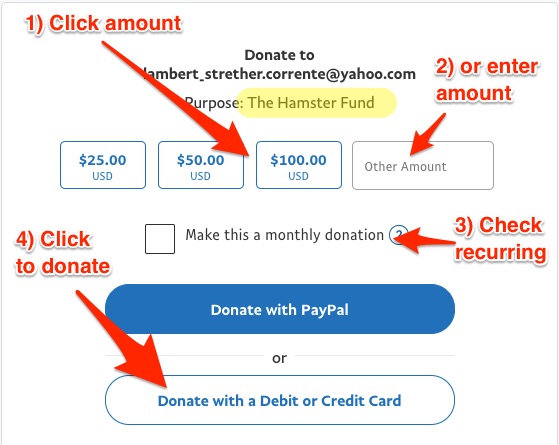 If you hate PayPal, you can email me at lambert [UNDERSCORE] strether [DOT] corrente [AT] yahoo [DOT] com, and I will give you directions on how to send a check. Thank you!