By Lambert Strether of Corrente.
Politics
"But what is government itself, but the greatest of all reflections on human nature?" –James Madison, Federalist 51
"They had one weapon left and both knew it: treachery." –Frank Herbert, Dune
2020
"2020 Democratic Presidential Nomination" [RealClearPolitics] (RCP average of five polls). Sanders (16.3% 18.8%) claws back 1.5% from Biden ( 38.3%), others status quo, as of May 21.

* * *

Biden (D)(1): "The Weapons Industry Lobbyist Advising Joe Biden" [In These Times]. "Stuart Eizenstat, a long-time player in Democratic politics, is advising Joe Biden's presidential campaign [on foreign policy]…. As a lawyer and lobbyist at the firm Covington & Burling, Eizenstat has represented fossil fuel companies Shell, BP and Noble Energy, as well as defense contractors Caterpillar, Raytheon, BAE Systems, Boeing and the notorious private security firm Blackwater."

Gravel (D)(1): I really hope Gravel makes it into the debates:

The Democratic Party's weak-kneed consultant class has brought you nothing but mediocrity and failure: wars, bank bailouts, a government fully owned by corporations. They have no interest in a government for the people. Don't listen to a word these soulless idiots tell you.

— Mike Gravel (@MikeGravel) May 21, 2019

Moulton (D)(1): "Moulton roll outs proposal for revamped national service program" [CBS News]. "Aimed at recruiting young Americans into a national service program, the proposal would provide educational or vocational scholarships in exchange for a service commitment of one to three years by Americans between the ages of 17 and 24. Specifically, Moulton's plan would cover 60 percent of the cost of in-state college tuition or job-training up to $14,000 for a one-year commitment of national service. That benefit would increase on a sliding scale, covering full in-state tuition or $24,000 in training for a three year commitment from enrollees. Now in his third term, the Massachusetts native said in a statement he hopes to give young Americans 'a chance to confront the challenges our country faces today, be a part of something bigger than themselves, and earn a promise that they will be rewarded for their efforts.'" • And everybody has a share!

Sanders (D)(1): "Walmart workers invited a special guest to crash the company's annual meeting: Bernie Sanders" [WaPo]. "The presidential candidate, who has repeatedly called on Walmart to improve its working conditions, is heading to Bentonville, Ark., on June 5 to introduce a shareholders' proposal that would give hourly Walmart workers a seat on the company's board… The presidential candidate, who has repeatedly called on Walmart to improve its working conditions, is heading to Bentonville, Ark., on June 5 to introduce a shareholders' proposal that would give hourly Walmart workers a seat on the company's board….. 'We really want Walmart to think about us — the lowly associates who, behind the scenes, are the ones bringing in the money,' said Davis, who works as certified pharmacy technician in New Bern, N.C…. Davis said she invited Sanders to speak at the shareholders meeting because he has supported workers in their fight for better pay and paid sick leave." • That's weird. There are so many real Democrats running I can't imagine why Davis chose Sanders…

Trump (R)(1): "Trump rallies in Pennsylvania 'deep state' territory" [Politico]. • This is really interesting, on the effects of the crash of TWA Flight 800 on Montoursville, PA.

IA: "The Candidates with a Secret Weapon in Iowa" [Iowa Starting Line]. A candidate round-up. This caught my eye. Sanders: "Bernie Sanders arrived back in Iowa this year with essentially a turnkey operation, one built by his insurgent 2016 caucus campaign. Volunteers flooded Sanders' initial events in Iowa, who in turn signed up new attendees. Sanders already claims 24,000 sign-ups for their Iowa campaign, and they should start packing their field offices as they open them across the state. A recent national organizing launch from the campaign saw over 60 volunteer-led events in Iowa alone. There may be other candidates this year that surge in the Iowa polls closer to caucus night. But each one of those will have precious little time to take advantage of that momentum and use it to lock in precinct captains and volunteers. Sanders already has that infrastructure built, which gives him a big advantage over the rest of the field that is hard to overstate." And, amazingly enough, Booker: "The Booker family's roots lay in Buxton, Iowa, the former town where southern blacks and white European immigrants moved to work together in a coal mine…. Close to 80 Booker family members live in Iowa – that alone is enough to swing a few precincts in his favor on caucus night. The campaign has also signed up several already to serve as precinct captains, and the family members, of which at least one is at every local Booker event, already take to calling the Iowa staffers 'cousins.'" • No signage, though!
Obama Legacy
"It's Time to Hold American Elites Accountable for Their Abuses" [Rahm Emanuel (!), The Atlantic*]. "[E]ven after being bailed out, the nation's banking executives never faced any real consequences. No one went to jail. They never had to repay the personal fortunes they'd made by passing out those bad loans. Once again, the middle class was called to bail out the elites who were responsible for the mess while the elites got off scot-free…. As the White House chief of staff, I argued, unsuccessfully, that the American people needed the catharsis of seeing that the bankers who had gotten the country into this mess were being forced to take responsibility—that faith in government would plummet if we failed to deliver some 'Old Testament justice.'" • I must be dreaming. If this weren't Rahm Emanuel, I'd swear Obama — and, by extension, Biden — just went under the bus. What gives? NOTE * Emanuel is now a Contributing Editor at The Atlantic….
RussiaGate
"Russian documents reveal desire to sow racial discord — and violence — in the U.S." [CBS]. Dateline, London: "The documents were obtained through the Dossier Center, a London-based investigative project funded by Russian opposition figure Mikhail Khodorkovsky. NBC News has not independently verified the materials, but forensic analysis by the Dossier Center appeared to substantiate the communications." • I thought London hadn't been lit by gas since the Victorian Era. I guess I was wrong…
Impeachment
"Buzz grows Amash will challenge Trump as a Libertarian" [The Hill]. "There is growing buzz that Rep. Justin Amash (R-Mich.) will leave the Republican Party to mount a challenge against President Trump as the Libertarian Party's presidential candidate…. Amash has vented about the "two-party duopoly" while leaving the door open to running as a Libertarian." • The presence of a Republican challenger and a third party run are both Lichtman Presidential keys that work against Trump.

"Why Justin Amash's impeachment comments probably won't change Nancy Pelosi's mind" [WaPo]. "Pelosi has laid down a marker that she'd need bipartisan support for impeachment. It's a line she may have purposefully set knowing that Republicans would never get there. One Republican member of Congress doesn't mean she has Republican support. But now, if impeachment were to happen, this would not be an entirely Democratic exercise, as Trump has tried to cast it. But Amash can be seen as an outcast in the Republican Party…. Now that Amash has taken the first step to say publicly what others in his party are thinking privately, who else may join him? (Notable: Romney's not one of them. He said Sunday that while Amash made "a courageous statement," he didn't agree that the president should be impeached.)"

"'We're at an inflection point': More Dems pressure Pelosi on impeachment" [Politico]. "Pelosi and her top deputies announced they will hold a closed-door meeting Wednesday to fully brief members on the House Democrats' sprawling oversight efforts and investigations — an attempt to mollify the faction of Democrats who have begun to demand more drastic measures against Trump…. Key members of leadership are also backing up the speaker, who worries any impeachment push would distract from the party's agenda and could backfire politically." • The "agenda" [snicker] being winning wealthy suburban Republican voters.

What rule of law?

It is just as politicized a maneuver to not impeach in the face of overwhelming evidence as it is to impeach w/o cause.

Congress swore an oath to uphold the Constitution. That includes impeachment.

We have a duty to preserve our institutions + uphold the rule of law. https://t.co/oqguoDLUVC

— Alexandria Ocasio-Cortez (@AOC) May 21, 2019

And which institutions?
Realignment and Legitimacy
"Young Democrats Are Furious Over the DCCC's Blacklist Punishing Insurgents" [In These Times]. DCCC Chair Cheri Bustos at College Democrats of Illinois Convention: "The DCCC blacklist inspires particularly strong emotions in Illinois for a reason. It's here that pro-choice challenger Marie Newman has seen consultants, pollsters, mail firms and a communications group abandon her bid to unseat Lipinski, an eight-term Congress member who vocally opposes abortion. It's a situation that threatens to become the norm for any insurgent challenger under the policy, as wary vendors steer clear of challengers' campaigns lest they lose out on the DCCC's business. 'I interned at a small political consulting firm, and while they don't agree with the policy, they have no choice but to go with it," says Koffsky. "They need the income and to keep their employees employed.'… Sparks says that, after informing the Sanders-aligned group Our Revolution of the boycott, the organization cited the embargo in an April 25 meeting about the blacklist with Bustos in Chicago, in which Our Revolution presented Bustos with a letter criticizing the blacklist. [After agreeing to a meeting,] a member of Bustos' staff informed him the meeting was off, owing to an Our Revolution press release about the event that led to bad press for Bustos. Balanoff believes the complaint about press is a 'red herring,' and Our Revolution and the College Democrats are now deciding on next steps." • Ha ha. See aletheia33's comment here for Our Revolution mailer's on the DCCC blacklist.
Stats Watch
Existing Home Sales, April 2019: "Trends are still improving though existing home sales in April came in below Econoday's consensus range" [Econoday] "Firmness in prices and the rise in supply are two important details that help to offset the weakness in April's overall rate, and both are likely tied to this year's pick up in the new home sales market"
Commodities: "An American chemicals company and an Australian miner want to build a new supply chain for rare earths that bypasses China. The plan by Blue Line Corp. and Lynas Corp. is aimed at shoring up supplies of important commodities caught up in the U.S.-China trade conflict, … highlighting how companies are growing more worried about the Washington-Beijing showdown" [Wall Street Journal]. "Production of rare earths is dominated by China, and some of the world's biggest buyers are U.S. technology companies that use rare earths in a wide range of electronics, including military equipment. The White House has been reluctant to impose tariffs on China's rare-earths shipments, but China has slapped higher tariffs on American shipments of the unprocessed minerals. Lynas has become the largest producer of rare earths outside China and runs a unique supply chain shipping rare earths from Australia to Malaysia for processing."
Retail: "Dressbarn is going out of business, plans to shut all 650 stores" [CNBC (DK)]. "Ascena Retail Group said Monday it's winding down its Dressbarn business and plans to shut all 650 or so of the women's clothing stores in order to focus on its more profitable brands…. The announcement comes amid a wave of store closures across the country this year. More than 6,000 closures have been announced so far in 2019 by companies ranging from Payless ShoeSource to Gymboree to Charlotte Russe, Victoria's Secret and Gap. That's more store closures than in all of 2018, when 5,864 closures were announced over the duration of the entire year, according to a retail real estate tracker by Coresight Research."
Tech: "Millions of Instagram influencers had their private contact data scraped and exposed" [TechCrunch]. "A massive database containing contact information of millions of Instagram influencers, celebrities and brand accounts has been found online. The database, hosted by Amazon Web Services, was left exposed and without a password allowing anyone to look inside. At the time of writing, the database had over 49 million records — but was growing by the hour. From a brief review of the data, each record contained public data scraped from influencer Instagram accounts, including their bio, profile picture, the number of followers they have, if they're verified and their location by city and country, but also contained their private contact information, such as the Instagram account owner's email address and phone number…. Facebook, which owns Instagram, said it was looking into the matter." • Lol.
Transportation: "The U.S. Postal Service is testing self-driving trucks on the long stretches of highway between Phoenix and Dallas, providing a real-world look at new technology that's drawing growing interest from investors and vehicle makers" [Wall Street Journal]. "The pilot with startup TuSimple will have tractor-trailers haul mail for roughly 1,000 miles each way between distribution centers, providing the kind of predictable and closed-loop operation that developers believe should be ideal for autonomous trucks. " • If you consider a snow-free environment "the real world." More importantly, note that "predictable and closed-loop operation" has suddenly become the norm. Farewell, Level 5! As I said from the beginning: If the programmers can't fix the algorithm, they'll control their inputs. And here we are! In essence, Silicon Valley has reinvented the train. That may be a good thing, but it's not what was promised.
Rapture Index: Closes up one on food supply. "The Central U.S. is very wet and cold; with late planting for crops" [Rapture Ready]. Record High, October 10, 2016: 189. Current: 183. Remember that bringing on the rapture is a good thing. (It's been awhile since I looked at the Rapture Index; it's still hovering just above the 180 floor.
The Biosphere
"Global change microbiology — big questions about small life for our future" [Nature]. "The story of the evolution of life on Earth and its biogeochemical functions is foremost a story of unicellular life, rising before 3.8 billion years ago, and shaping Earth ever since. The core functions of microorganisms, including hydrogen oxidation and production, CO2 and N2 fixation, methanogenesis and methanotrophy, photosynthesis and more, enable them to support complex ecosystems sustainably using sunlight, water, air and minerals. These ingenious core functions are enabled by a set of ancient enzymes with genetic codes1 that have survived major catastrophic events during Earth's history, including giant meteorite impacts, extreme hot and icy eras of Earth, the rise of oxygen and the global colonization of land and water by plant and animal life. The replication and survival of the microbial core gene set is supported by a huge, yet unknown, diversity of host systems that provide for the adaptation to environmental dynamics, comprising potentially a billion taxa…. ." • Somehow I doubt this is in Inslee's plan.
Health Care
"The Ethical Quandary in Health Care Reform" [Scientific American]. "How can health care be made affordable for everyone in the United States, given the country's preferential economic philosophy of free markets? … [I]t is unlikely that the American health care system will ever be completely socialized. Similar to the health system in Canada, it will likely be a system that combines public and private funding options for health care. Given the country's value system, a system where people are free to choose will likely prevail. In addition, for those who seek exclusivity or services that are costlier than usual, paying extra would be an acceptable option as well."
"78% Consider Online Medical Sites Reliable" [Rassmussen]. "Seventy-eight percent (78%) of voters nationwide believe online medical information is at least somewhat reliable. A ScottRasmussen.com national survey found that total includes 13% who think it is Very Reliable. Not surprisingly, then, 74% visit medical websites to learn about possible causes when they have unfamiliar medical symptoms. However, 77% of Americans say they would rather see a doctor in person than online." And now the policy implications:
It seems reasonable to think that attitudes about telemedicine could change thanks to the long wait times and costs Americans are facing to see a doctor in person. It takes an average 18.4 days to actually see the doctor after making an appointment. Then, it takes two hours out of the day to spend just 20 minutes with the physician. That's because a typical visit involves 101 minutes in the waiting room and travel time. People living in remote rural areas may have to set aside even more time. Meanwhile, the cost of seeing a doctor has made a real impact on a significant number of American voters. 38% have put off a doctor's visit due to the costs involved. The survey found that this jumps to 47% among those earning less than $75,000 annually.
Average figures conceal triage, of course (at least in Canada). It's hard to imagine that wait time would be 101 minutes without the insane health insurance company paperwork; ditto costs.
Guillotine Watch
"How San Francisco broke America's heart" [WaPo (DK)]. "Who can live on $15 an hour in this city transformed by innovation?… Downtown is a theme park of seismic start-ups — Uber, Airbnb, Slack and Lyft, with Twitter in the nearby Tenderloin, every app a skyscraper." • What WaPo doesn't and perhaps cannot (***cough*** Jeff Bezos ***cough***) say, is that Uber, Lyft, and AirBnB are all poster children for regulatory arbitrage, Uber and Lyft are not and never will be profitable, and that Uber is run by crooks. So the skyscrapers are built on fraud. Such are the "optimistic, diverse, dynamic, moving forward" areas that power liberal Democrats.
Class Warfare
"The Conditions of Labor in China" [David Harvey, YouTube (kaguve1)]. Important:
Sounds like there's a big market in China for anti-union consulting firms, a field in which the United States is world-class. I'm sure if Trump understand this, he would be happy to accomodate Xi in this aspect of importing professional services.
"Many More Students, Especially the Affluent, Get Extra Time to Take the SAT" [Wall Street Journal]. "At Scarsdale High School north of New York City, one in five students is eligible for extra time or another accommodation such as a separate room for taking the SAT or ACT college entrance exam. At Weston High School in Connecticut, it is one in four. At Newton North High School outside Boston, it's one in three." • They claim learning disabilities. In a lot of ways, this form of corruption is far worse than Varsity Blue. Not only is it far more pervasive, it perverts a system meant to help those who are genuinely disabled. "Accommodation," forsooth. I bet there's not one single minute these kids haven't been "accommodated" in one way or another, all their lives. And all those Ivy League high flyers in the political class…. I wonder how many of them gamed the system this way?
News of the Wired
"The Hidden Heroines of Chaos" [Quanta]. • As usual with Quanta, this article is almost impossible to extract. The best I can do is quote the teaser: "Ellen Fetter and Margaret Hamilton were responsible for programming the enormous 1960s-era computer that would uncover strange attractors and other hallmarks of chaos theory." • Holy moley, Margaret Hamilton! Yes, this Margaret Hamilton:
As NASA's first-ever software engineer, Margaret Hamilton wrote the code by hand that took us to the moon .?? https://t.co/SbChptvwWA pic.twitter.com/WeQuUS6VXX

— MAKERS (@MAKERSwomen) May 20, 2019
When I was a teenager, I read James Watson's The Double Helix, which was given to my mother by her best friend. I noted Watson's animus and poor treatment of Rosalind Franklin, but made nothing of it. Only later in life has it occurred to me that my mother's friend might have given the book for a reason; they were both university wives, after all, besides being writers. Hamilton does have a Medal of Freedom, but where's the statue? Is she even on a stamp?
* * *
Readers, feel free to contact me at lambert [UNDERSCORE] strether [DOT] corrente [AT] yahoo [DOT] com, with (a) links, and even better (b) sources I should curate regularly, (c) how to send me a check if you are allergic to PayPal, and (d) to find out how to send me images of plants. Vegetables are fine! Fungi are deemed to be honorary plants! If you want your handle to appear as a credit, please place it at the start of your mail in parentheses: (thus). Otherwise, I will anonymize by using your initials. See the previous Water Cooler (with plant)
here
. Today's plant (Eureka Springs):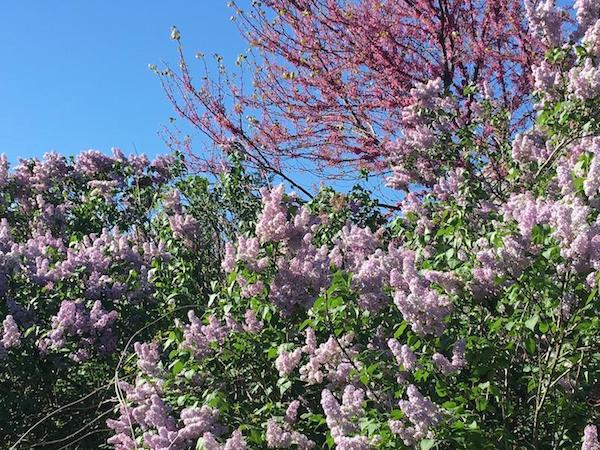 Eureka Springs: "Redbud over intoxicating lilac. Just twenty feet from my dining room chair where I sip morning coffee and read Naked Capitalism. Extended duration of heavy blooms this year. Dramatic reduction in butterflies with no honey bees at all. I live five miles as the crow flies from the nearest cell tower." I'm a sucker for masses of color in the garden, so wow! And thanks for the (sad) report on pollinators, too. (Here is a link on cell-phone radiation and insects; it rings true — insects didn't evolve in a bath of electromagnetic radiation, being protected by the atmosphere, so it stands to reason they're at least vulnerable. I wish I had better studies…
–
* * *
Readers
: Water Cooler is a standalone entity
not
covered by the annual NC fundraiser. So do feel free to make a contribution today or any day. Here is why:
Regular positive feedback both makes me feel good and lets me know I'm on the right track with coverage
. When I get no donations for five or ten days I get worried. More tangibly, a constant trickle of small donations helps me with expenses, and I factor in that trickle when setting fundraising goals. So if you see something you especially appreciate, do feel free to click this donate button:
Here is the screen that will appear, which I have helpfully annotated.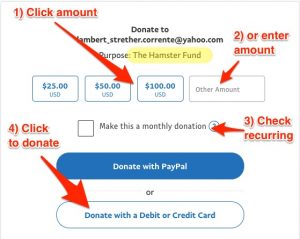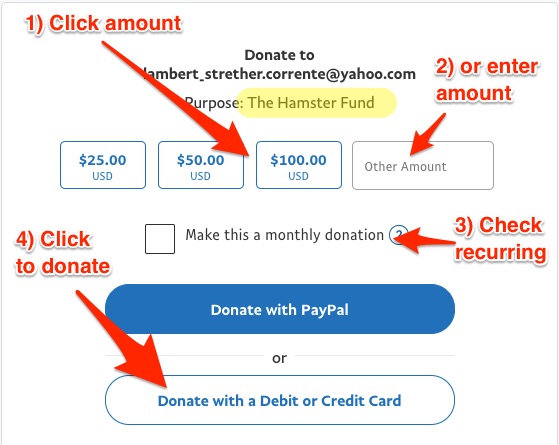 If you hate PayPal, you can email me at lambert [UNDERSCORE] strether [DOT] corrente [AT] yahoo [DOT] com, and I will give you directions on how to send a check. Thank you!