By Lambert Strether of Corrente.
Readers, more shortly! Especially on that lovable goof, Joe Biden….
Politics
"But what is government itself, but the greatest of all reflections on human nature?" –James Madison, Federalist 51
"They had one weapon left and both knew it: treachery." –Frank Herbert, Dune
2020
Biden (D)(1): "Democrats dismiss Biden as front-runner in name only" [Politico]. "In another election, at another time, the late entrance of a well-funded candidate leading in the polls might send convulsions through the primary field. But Joe Biden's arrival into the 2020 race has not had that effect. No Democratic rival appears doomed. No one's fundraising seems in danger of drying up. Instead, in joining the race, the former vice president has laid bare how unsettled the entire 20-candidate contest remains — and how many in the party don't believe the 76-year-old Biden is prepared for the rigors of a modern campaign, or the demands of a party transformed…. The key milepost, nearly every campaign agrees, is the first official debate in June." • June 26, 2019 is not far off. Something to look forward to….

Biden (D)(2): "Can Biden be the helmsman who gets us past the storm?" [E.J. Dionne Jr., WaPo]. "Helmsman." Lordy, has E.J. lost his mind? "But Biden's most clarifying comment came later Thursday, in Wilmington, Del., when a reporter asked whether he had a message to the world. Biden replied: 'America's coming back like we used to be — ethical, straight, telling the truth . . . supporting our allies, all those good things.' A lot hangs on the phrase ' It suggests that the nation's priority is a restoration of its core principles and normal life. " • Remember all the #Resistance types yammering "This is not normal?" Well, yes, the sense of chaos and disempowerment is normal. Just not for them. In any case, I would suggest that after the debacle of the Crash, there aren't that many voters who would see rolling back to the clock to 2008 as the solution for the woes — except posssibly the professional 10% classes on up, whose income didn't really skip a beat.

Biden (D)(3): "Joe Biden's long record supporting the war on drugs and mass incarceration, explained" [Vox]. "When it comes to criminal justice issues, Biden's record also puts him at sharp odds with where Democrats are today: He has one of the most punitive, "tough on crime" records on criminal justice issues within the 2020 field — more so than even opponents Kamala Harris or Amy Klobuchar, both of whom have already been criticized for their records. This was a problem for Hillary Clinton in 2016, when she had to answer for the criminal justice policies of her husband as Black Lives Matter and criminal justice reformers took center stage in the Democratic primaries. As another politician who came up in the same era, Biden is vulnerable to identical criticisms." • What if — hear me out — Biden's idea of what's "normal" is, like, really bad?

Biden (D)(4): "Joe Biden's Big Gamble" [The American Conservative]. "The Biden dilemma is that the rationale for his candidacy, a return to pre-Trump normalcy, reinforces his biggest liabilities…. Biden has to bet that there are enough older and more moderate Democrats to get him through the primaries. Then he must hope Trump's failure to deliver on his more populist campaign promises will make some of the lines of criticism that derailed Hillary implausible. All while staying a step ahead of the cultural revolution—remember the erstwhile Defense of Marriage Act supporter actually preempted Obama by coming out in favor of gay marriage first—without joining it. Doable, certainly, but a tall order for an aging and undisciplined candidate. Biden accumulated political capital as Obama's vice president. He is betting he has enough to spend to become president."

Biden (D)(5): "Biden and Obama's 'Odd Couple' Relationship Aged Into Family Ties" [New York Times]. "By the time that Mr. Biden began weighing a campaign, the president had long since concluded that Hillary Clinton had the best chance of winning in 2016. Beyond that, Mr. Biden was awash in grief over the death of his son, hardly the state of mind for a grueling presidential marathon. But Mr. Obama did not want to push and sought to give his vice president room to come to the decision himself. Over the course of weekly lunches, he gently pressed Mr. Biden on his thinking. Eventually, the president arranged for his own strategist to deliver a daunting assessment of the odds against a race. Mr. Biden got the message. 'The president was not encouraging,' he later acknowledged." • Obama's so passive-aggressive. As usual with liberal Democrats, he sticks in the shiv in the nicest possible way…

Buttigieg (D)(1): "How Pete Buttigieg's Meaningless Erudition Made Him the 'Smart' Candidate" [New York Times]. "As these stories [of Buttigieg speaking Norwegian] spread, accompanied by more video evidence, Buttigieg became a case study in what a friend of mine calls 'internetty smarts' — intelligence reduced down to a collection of references and images. Like all internetty things, this type of intelligence plays to the viewer's vanities and prejudices. In this case, it seemed driven by the sorts of people who study literature, and wring their hands about public-school segregation while quietly sending their kids to elite private schools." • Unusual self-awareness from the Times. I wonder if it will last?

Buttigieg (D)(2): "Pete Buttigieg Stuns Campaign Crowd By Speaking To Manufacturing Robots In Fluent Binary" [The Onion]. "'…01000001 01101101 01100101 01110010 01101001 01100011 01100001 01101110 01110011 00101110 00100000,' said the 37-year-old South Bend, IN mayor to the awe-struck machines, delivering the message by emitting a series of high-pitched tones and beeps with a perfect accent. 'To all of you, I say 01100001 01110011 00100000 01110000 01110010 01100101 01110011…'" • I can't believe The Onion did that! (There are a lot more zeroes and ones in the original….).

Buttigieg (D)(3): "'I Want Him on Everything': Meet the Woman Behind the Buttigieg Media Frenzy" [Politico]. "Our meeting was part of a strategy, one run with surprising sophistication and efficacy for a candidate whose highest-profile gig so far is a local office in the fourth-biggest city in Indiana. Buttigieg's rise from unlikeliest of contenders to actual top-tier presidential candidate has been fueled in part, maybe in large part, by his astonishing success courting the press. And when I began asking around to figure out who was behind that strategy, the same name kept coming up: Lis Smith. Smith is a fierce New York City-based Democratic operative who helped engineer the plan to get Buttigieg in front of not just national political reporters, but anybody with a camera or microphone." Smith worked for O'Malley, and "knew Axelrod from 2012, when she worked as director of rapid response for President Barack Obama's reelection effort." • I was thinking it was about time that the press started pulling the wings off the Buttigieg fly, as they do, but it sounds like Smith would make that hard.

Gravel (D)(1): "Oops, folks, here's the real news: WE'RE RUNNING TO WIN" [Mike Gravel] (fund-raising email sent to me by CI). "Hey, so we accidentally used an old subject line for the last email we sent (even though we still believe it), but here is the email again because we still think everyone should see it…. I don't intend to be a disruption, I intend to hold up a mirror. America's elections come and go, but the blood on our hands gets thicker by the day." • Do note the URL….

Hickenlooper (D)(1):

The minimum wage must be a living wage. That's why, as President, I will not only set it to $15 an hour, I will make sure it's permanently tied to an area's cost of living – which means in some high-cost areas, we'll go even higher. pic.twitter.com/TWyhvJNgZo

— John Hickenlooper (@Hickenlooper) April 27, 2019

Pandering to the working class! Well, I never!

Moulton (D)(1): "Moulton: Sanders, Warren too liberal to beat Trump in 2020" [The Hill]. • That message should rake in the bucks! Heck, Pelosi is too liberal for Moulton…

O'Rourke (D)(1): "Beto O'Rourke opens his California campaign Saturday in Los Angeles" [Los Angeles Times]. "Democratic presidential candidate Beto O'Rourke of Texas will launch his 2020 California primary campaign Saturday with a four-day driving tour of the state. The former El Paso congressman will stop at Los Angeles Trade-Technical College downtown for an outdoor rally at 4 p.m. Saturday. On Sunday, O'Rourke is planning a town hall at the United Irish Cultural Center in San Francisco, followed by multiple stops in the Central Valley on Monday. He wraps up his visit Tuesday morning with a town hall in San Diego." • I hear he did OK in one of these venues, at least; policy specifics. I forgot to ask if he was standing on anything…

Sanders (D)(1): "Bernie Sanders Campaign Holds Thousands of House Parties for Supporters" [New York Times]. "On Saturday, Mr. Sanders's campaign kicked off its national organizing program with what it says are roughly 5,000 events across every state. Mr. Sanders addressed supporters via a prerecorded video that was filmed in Boston. 'Let's run a historic grass-roots campaign,' he said. 'And when we do that, the 1 percent can spend all the money that they want — we're going to beat them.' 'Us! Us! Us!,' he shouted when the audience at the filming in Boston began to chant his name.'" • One thing I like about Sanders is that he's clear about who his enemies are. I don't see that with, for example, Warren. The campaign video for the event:

This is what a political revolution looks like: thousands of people across the country coming together to fight for justice. pic.twitter.com/SVCSiVv4lG

— Bernie Sanders (@BernieSanders) April 28, 2019

Sanders (D)(2): "Bernie Sanders' 2020 campaign unveils tech tool to increase its voter database" [NBC]. "Sen. Bernie Sanders flaunted his ground operation Saturday with what he called the "largest distributed day of action ever in a presidential campaign" and announced a new online organizing tool called BERN…. The online tool allows everyday supporters to contribute to the campaign's voter database by logging names and background information of anyone from a family member to a stranger met at a bus stop. It matches each name to a voter record before noting their level of support, priority issue and even union membership." • Hmm. On campaign tools, I remember remarking that some candidate had better get into the gaming world, and if they did, they'd have real first mover advantage. A reader responded with an excellent explanation of how to do just that, and now I can't find their comment. Can they raise their hand, or does anyone else remember?

Sanders (D)(3): Object lesson:

Many Republican voters are realizing that Trump is a fraud and he lied to the American people. Our message to Trump: you're not going to get away with your lies any longer. We will defeat you. pic.twitter.com/x4JSm7cNNI

— Bernie Sanders (@BernieSanders) April 26, 2019

Hopefully not a plant.

Trump (R)(1): "Trump Will Win in 2020, Money Managers Say in Exclusive Poll" [MarketWatch]. • No doubt. Wait 'til you get to their views on "entitlements" and "the deficit," for which MarketWatch dutifully asks.

Warren (D)(1): "'The queen of policy': Warren builds campaign around detailed plans, but is that what Iowa caucusgoers want?" [Des Moines Register]. "The Massachusetts senator has created a policy-rich campaign focused on "rewriting the basic rules in our economy" that she says favors the wealthy and leaves behind working families. She has rolled out more policy proposals than any other Democratic presidential candidate so far in the 2020 cycle. Since formally announcing her run for president 12 weeks ago, Warren has unveiled nine policy proposals on everything from breaking up big tech companies and agribusinesses, to taxing the ultra-wealthy and major corporations, to providing universal child care to all American children." • I don't think there's an issue with voters wanting policy; the issue is, do they want wonkery? Details, after all, are something that a successful executive will delegate… (I'd also be a lot happier with Warren if she'd revive her propasal for a Post Office Bank.)

Weld (R)(1): "Bill Weld on Nixon, Mueller and How He Plans to Beat Trump in the Primary" [New York Times]. "The New York Times interviewed Mr. Weld about the states where he will start campaigning next month, his belief that the president has committed acts far worse than Richard Nixon, and what his high school production of "Julius Caesar" taught him about Mr. Trump's exercise of power." For example:

The president takes an oath to uphold the Constitution. Among his duties specified in the Constitution is that he shall take care that the laws be faithfully executed. Mr. Nixon violated that when he said to Haldeman and Ehrlichman, "We've got to stop this Watergate investigation. Tell them it's national security, so they should just stand down." That's failing to take care that the laws be faithfully executed.

That's just one thing. With Mr. Trump you have dozens of things that amount to failing to take care that the laws be faithfully executed.

I was wondering when Weld would make an appearance! (IIRC, he wasn't the hardest-working candidate or governor.)

"The Clintons Are Nervous About 2020" [Edward-Isaac Dovere, The Atlantic]. "Many Democrats are still bitter about what happened in the last election. They can't shake the feeling that they were robbed, and that nothing makes any sense any more. Many of those same Democrats worry they're going to blow it against Trump again. If the Democratic candidates 'just want to slime people, we'll never be as good at it as they are,' Bill said, referring to Republicans. 'Especially the current chief executive—he's good at that.'" • So, clearly Bill concurs with Sanders' letter to Neera… I read the piece, and I have to assume it's all Clintonian bafflegag, because there's no coherence to it at all. But the idea that the Clintons don't have a preferred outcome doesn't strike me as credible….

"Wall Street Democrats Are Absolutely Freaking Out About Their 2020 Candidates" [Gabriel Debenedetti, New York Magazine]. "One night in early April, roughly 20 of the Democratic Party's highest-profile donors from the financial industry sat down over dinner to discuss how exactly they were feeling about the 2020 presidential race…. 'There's tremendous fear,' said one banker who was there. The candidates who had long cultivated relationships with Wall Street — such as Cory Booker and Kirsten Gillibrand — were struggling to gain traction and had grown more hostile to finance as their party had, too…. 'How do we come up with an alternative?' asked one person at the dinner…. What agitates them instead is — in a replay of the alienation they felt during the Obama presidency thanks to a few stray 'fat cats' comments — how Democratic rhetoric threatens their sense of status…. Over coffee recently in midtown, an investment pro with a long history in Democratic politics described the struggle to resist the unexpected pull of Trump. 'What matters more?' he asked, looking up at me. 'My social values or my paycheck?'" •

Lambert here: Somebody who knows Wall Street better than I do will have to comment on how much of this bankster angst is really driven by status, and how much by class. What's that saying? "When they say 'It's not about the money,' it's about the money"? What none of the donors interviewed seem to understand about fundraising is that mailing lists and candidates are not necessarily fungible; it is true that Beto did very well in his Senatorial campaign, using Sanders staffers and fundraising tactics; but that was against the eminently punchable Cruz, one of the most disliked politicians in America. The same approach didn't translate neatly to a Presidential run. Nor, if I am right in my views, do they understand the strategic strengths of the Sanders campaign: Not just the list, but an independent media campaign, and an independent canvassing operation (the house party numbers are impressive). You also have a candidate who's been saying the same thing for twenty years, so you know he's not an opportunist, even if you disagree. None of this can be purchased and dropped from the sky by hiring fancy Democratic strategists; it has to be built.

My instinct is that donors will revert to doing what they do best, and that's spending lots and lots of money to get what they want (which, whatever else it may be, is never Bernie, and never Liz). There will also be plenty of grifters who want, no need to send their offspring to top schools, and so they will have plenty of new friends willing to help them spend their money. Since fearful bankers aren't the nicest people in the world — and are more than willing to share their feelings with others — I'd expect to see lots and lots of oppo, and lots of yammering about "socialism." They'll make Neera Tanden look classy. We'll see if that's like pushing on a string, or not. This is a long article, but well worth a read.
RussiaGate
James Comey is a scab:

#FiveJobsIveHad 1. Grocery store clerk
2. Vocal soloist for church weddings
3. Chemist
4. Strike-replacement high school teacher
5. FBI Director, interrupted

— James Comey (@Comey) April 27, 2019

Fits right in….

Becoming what you oppose:

"The enemy does not sleep … Be vigilant!" Soviet poster, 1961 pic.twitter.com/Bosmbj1zJD

— Soviet Visuals (@sovietvisuals) April 29, 2019
Realignment and Legitimacy
"Federal court strikes down Michigan districts drawn by GOP" [Roll Call]. "A three-judge panel on Thursday ruled that Michigan must use new congressional and legislative maps in 2020, potentially setting up a more favorable battlefield for House Democrats, who flipped two seats in the state last fall. The federal court invalidated portions of the existing maps, drawn by the GOP-controlled legislature in 2011, pointing to an unconstitutional partisan gerrymander that violates the First and Fourteenth Amendment rights of voters."

"GOP hoping voters open to warnings of Democrats' socialism" [Associated Press]. • And not only the GOP!

"As Trump stands by Charlottesville remarks, rise of white-nationalist violence becomes an issue in 2020 presidential race" [WaPo]. "First came Joe Biden's campaign announcement video highlighting President Trump's "very fine people on both sides" comment about the 2017 white-nationalist rally in Charlottesville that left a counterprotester dead. Then Trump dug in, arguing that he was referring not to the self-professed neo-Nazi marchers, but to those who had opposed the removal of a statue of the 'great' Confederate Gen. Robert E. Lee. Less than 24 hours later came another act of violence described by authorities as a hate crime: Saturday's shooting at a synagogue in Poway, Calif., in which a gunman killed one person and injured three others. Those events have pushed to the forefront of the 2020 presidential campaign, putting Trump on the defensive and prompting even some Republicans to acknowledge that the president is taking a political risk by continuing to stand by his Charlottesville comments." • Hmm. My counter-suggestibility is really kicking in on this one. The antifa Joe Biden is pretty implausible, to start witih. I did search the article for "Russia," but didn't find anything. (Not to say white nationalism, as an ideology, isn't anything but vile. But surely the numbers say it's fringe? As compared to, say, declining life expectancy causing tens of thousands of excess deaths a year? If you want to create the material conditions for serious white nationalism — i.e., with an armed militant wing, the one missing piece of the puzzle for outright fascism — then our elites should definitely continue along the path they have set for us.

DSA: Concrete material benefits:

Because of the amazing work of the mighty teams of @detroitdsa @HuronValleyDSA and @detroitdsam4a raising funds for @Reclaim_Project with @AbortionFunds, we just funded a FULL YEAR of abortion access for women across the Midwest. Socialist feminism saves lives.

— Detroit DSA ? (@detroitdsa) April 28, 2019

Go out there and serve the working class!

IA: "Here's one thing Democrats can do to win rural voters: Fight factory farms" [Guardian]. "In Iowa – site of the first caucus, and a state that went for President Obama twice and then swung soundly to Trump – more than 750 waterways are impaired. The cause? Chemical fertilizers and factory farm manure. Iowa is home to a little more than 3 million people. It is also home to 26 million hogs, living on over 10,000 factory farms. These hogs produce as much waste as 65 million people. That waste, full of dangerous nitrates, runs into Iowa's waterways and eventually the drinking water. As a result, the city of Des Moines has the largest nitrate removal system in the world. Barb Kalbach, fourth-generation family farmer from Adair county, says the path to cleaner Iowa water starts with stopping the expansion of factory farms: "Plain and simple, we need a moratorium on factory farms. We also need tough rules paired with tough enforcement, and we need the big ag polluters that created this mess to pay to clean it up." Kalbach, the board president of the grassroots organization Iowa CCI Action Fund, is not alone." • CCI has clout, or should.
Stats Watch
Personal Income and Outlays, March 2019: "In mixed results that point to consumer momentum but weakness for inflation, the Bureau of Economic Analysis has now caught up from the government shutdown issuing personal income data for the month of March as well as consumer spending and price data for both March and February" [Econoday]. "Today's numbers were all rolled together in last week's GDP report which will limit their impact on the markets. Yet the monthly composition is news and is mixed, showing strong acceleration for consumer spending and sharp deceleration for inflation. The caveat here is seasonal adjustments tied to Easter, a holiday that shifted this year deep into April. This clouds the results at least for inflation which may, given Easter's positive effect on demand, pick up in the next report."
Dallas Fed Manufacturing Survey, April 2019: "The Dallas Fed report, like other manufacturing surveys, shows growth slowing more than expected in April" [Econoday]. "Today's Dallas Fed report confirms other regional surveys suggesting weakness in the manufacturing sector persisting but also pointing to future growth with strength in new orders. The sharp drop in employment seconds last week's Kansas City Fed report also seeing surprising weakness here, and is a new development that will likely draw the attention of FOMC doves."
The Biosphere
"Britain's Fracking Dream Is Fading Fast" [Bloomberg]. "Britain's quest to tap domestic supplies of shale gas is looking increasingly bleak as the government's liaison between the industry and local communities resigned after just six months in the job. Natascha Engel left the government appointed job telling a newspaper that the U.K.'s policy on hydraulic fracturing technology is being driven by environmental protesters and not scientific evidence…. Fracking is one of the few technologies that could slow or even reverse the sharp declines in oil and gas production from the North Sea as conventional deposits are pumped dry." • Heavy regulation of micro-earthquakes seems to be the problem, though it's hard to see why that, with all the other problems fracking causes. So, leaving it in the ground. (Not saying coal could or should be a solution, but I recall reading recently that around 1900, Britain was like the Saudi Arabia of coal, because it had a lot of it, and could easily transport it for sale internationally by sea. Odd.)
"How Plastic Production Is Affecting Our Climate and Oceans" [Forbes]. "[The Bren School of Environmental Science and Management] researchers found that polyester, polyamide, and acrylic fibers which are found in many clothing items, made up the greatest proportion of GHGs throughout the plastic production cycle. Not only do these fibers contribute to our carbon footprint, but they also frequently enter our waterways and cannot be broken down, regardless of whether they are in fresh or salt water. According to the International Union for Conservation of Nature, these fibers make up 35 percent of all microscopic plastics in the oceans. These plastics are even being consumed by marine organisms, including the shellfish we eat." • Capitalism is an enormous medical experiment being performed on the population without their informed consent….
"Into the overworld: modified spy plane to see whether towering storms pose new threat to ozone layer" [Science]. "[O]ver the U.S. Great Plains, scientists suspect, towering summer thunderstorms are lofting water and pollutants high into the stratosphere, where they can catalyze ozone destruction. And researchers worry the problem could worsen as the planet warms." • Another feedback loop….
"Pattern of Mozambique storms 'unprecedented': UN" [Phys.org]. "The back-to-back cyclones that have ravaged Mozambique are unprecedented in recorded history, the UN said Friday, as it planned to examine the country's defences against extreme weather in the light of climate change…. The UN weather agency added that a fact-finding mission currently in Mozambique will in part look at the 'impact of climate change and sea-level rise on Mozambique's resilience' to extreme weather. Climate change has made cyclones more damaging, as rising sea levels have increased the strength of storm surges, WMO spokeswoman Clare Nullis told AFP." • Another feedback loop!
"'Plant a Tree, Save the Planet' Isn't Enough" [Bloomberg]. "A global effort toward reforestation has begun. Dozens of countries have joined the Bonn Challenge, launched in 2011 with a goal of restoring 350 million hectares (more than 1.35 million square miles) of forest by 2030. Participating countries have already pledged nearly half the required area. But a new analysis by British scientists has revealed a big problem: The countries' pledges are not nearly as ambitious as they need to be. Too many countries seem to assume it will be good enough to merely expand commercial tree plantations or agroforestry operations, which involve planting trees amidst crops such as coffee or corn. Only one-third of the area so far committed to 'reforestation' worldwide is slated to return to uncultivated forestland. . Plantations absorb little more than empty land does. And every time trees are harvested, more carbon dioxide is released." • A problem for BECCS, those carbon emissions?
"PFAS contamination is Michigan's biggest environmental crisis in 40 years" [RT New Day MN)]. "Michigan may have more than 11,000 sites contaminated with these once-common chemicals, now linked to cancer and a host of other ailments. Regulators have identified 46 sites statewide with levels above the EPA's health limit in groundwater…. From the late 1940s to the 2000s, PFAS was the 3M Corporation's wonder product. The compounds made by the Minnesota-based company repelled grease and water, so they could be used for a host of processes and consumer products, from wrapping paper for hamburgers to microwave popcorn bags, from nonstick cookware to carpet and upholstery stain guards, from waterproofing shoes and clothes to use in chrome plating industries and even dental floss. The qualities that made it so useful, however, also make it virtually impossible to break down in nature — giving the compounds the ominous nickname "the forever chemical." PFAS can now be found in the blood of nearly 99% of Americans. It has even been found in polar bears in the Arctic Circle, as the chemicals have worked their way up the food chain from fish and seals." • Oddly, I can't the story at the Detroit Free Press's original link, in multiple browsers.
"A New Generation of Activists Is Taking the Lead on Climate Change" [Rolling Stone]. • A set of profiles. "'Young people have been leading this movement for a long time,' says veteran activist Bill McKibben." • Not to kick a puppy, but….
"David Bernhardt Denies Business Interests Influenced Yellowstone's Name Change To Frito Lay Presents Doritos Flamin' Hot Nacho National Park" [The Onion]. "'I guarantee that as the head of all national parks in this country, no amount of personal donations went into the newly renamed Jacked Ranch Dipped Hot Wings Geyser or Kickin' Spicy White Cheddar Cheese Trail Supreme,' said Bernhardt, emphasizing that those names were in the works far before he took the position, and that many of the park's most famous natural features, including the Mountain Dew Code Red River, had borne their traditional names for decades. "
Our Famously Free Press
"Inside the Shrinking Newsroom of the Paper That Shapes the Primaries" [Politico]. • The Des Moines Register. "The newspaper is but a shadow of the behemoth it once was. A decade's worth of layoffs and buyouts have gutted the editorial operation and purged the administrative staff crucial to running a metro daily. The institutional knowledge critical to covering a state—and paramount to reporting on the Iowa caucuses—has been all but eradicated. And yet, the reality is that many comparable small-city newspapers have it much worse; if it weren't for the global obsession with Iowa's role in choosing leaders of the free world, the Register bullpen would be even emptier."
Dear Old Blighty
Brexit may be changing this:
British passive aggressiveness at its finest pic.twitter.com/qSBsSIcbJR

— The Museum of English Rural Life (@TheMERL) April 28, 2019
With further correspondence and other examples (!).
Groves of Academe
"Stanford Moves to Stop Supporting Its University Press" [Inside Higher Ed]. "Many academics were stunned and angry to learn that Stanford University has announced that it will no longer provide any financial support for its press. Professors at Stanford are pushing back, but there are no signs that the university will reconsider. Without support from the university, dozens of books released by the press each year would no longer be published. 'At first glance the proposition that a university of Stanford's stature would voluntarily inflict damage upon an asset like the Stanford University Press seems shockingly improbable. The press is a world-class scholarly publisher with a 125-plus-year history — a global ambassador of the university's brand,' said Peter Berkery, executive director of the Association of University Presses, via email. 'It appears the Stanford administration is proceeding from the misperception that university presses are self-funding — which, with only a handful of highly circumstantial exceptions, is demonstrably not the case.'" • Well, Stanford hasn't been about scholarship for some time, has it? Or, for that matter, American universities as such. So this decision by the Stanford administration — endowment, $25 billion — is long over-due and wonderfully clarifying.
"There Is No Excuse for How Universities Treat Adjuncts" [The Atlantic]. "Even while keeping funding for instruction relatively flat, universities increased the number of administrator positions by 60 percent between 1993 and 2009, 10 times the rate at which they added tenured positions. In the old days, different professors would take their turn as dean for this or that and then happily escape back to scholarship and teaching. Now the administration exists as an end in itself and a career path disconnected from the faculty and pursuit of knowledge. Writing a few years ago for this publication, the Johns Hopkins professor Benjamin Ginsberg described colleges and universities as now being "filled with armies of functionaries—vice presidents, associate vice presidents, assistant vice presidents, provosts, associate provosts, vice provosts, deans, deanlets, and deanlings, all of whom command staffers and assistants—who, more and more, direct the operations of every school." So while college tuition surged from 2003 to 2013 by 94 percent at public institutions and 74 percent at private, nonprofit schools, and student debt has climbed to over $1.2 trillion, much of that money has been going to ensure higher pay for a burgeoning legion of bureaucrats. As administrators make more and more faculty positions part-time, allegedly for cost savings, they don't apply that same logic to themselves." • So why don't we gut the administration, and keep the press? (This article is from 2015, but we somehow missed at the time. Still true today!)
"Despite his ouster, Max Nikias is still a force at USC, leaving some worried" [Los Angeles Times]. "The 66-year-old has important allies at the university, especially among the wealthy and powerful trustees who credit him with singularly elevating the school's ambition and reputation… Around the time The Times revealed that [former campus gynecologist Dr. George Tyndall] had been accused repeatedly of misconduct at the student health clinic over three decades, Nikias told some on the board that he might have to step down….. There had been numerous scandals during Nikias' tenure — at the medical school and the athletic department in particular. And while critics saw a systemic failure in the president's leadership, trustees seemed to regard those affairs as largely eclipsed by his contributions, according to interviews." • As one does…
Guillotine Watch
"Facebook's Zuckerberg Builds His Wife a Glowing 'Sleep Box'" [Bloomberg]. "Mark Zuckerberg said he built a glowing wooden box to help his wife Priscilla sleep better through the night without having to check her phone to see if it's time to look over their children…. The 'sleep box' emits a very faint light between 6 a.m. and 7 a.m. — when their daughters are expected to wake up." • Silicon Valley re-invents the dawn! (And read to the end for a weirdly inorganic topic shift.)
News of the Wired
No spoilers here:
Remember, no spoilers.

Duuun duuun dundunduuun#GameOfThrones #BattleOfWinterfell pic.twitter.com/NhxinQHov3

— Dogecoin (@dogecoin) April 28, 2019
Cheeky monkeys (1):
I'm a responsible parent so I use the controls on iOS to limit screen time on the old iPhone my 9-year old uses. A white-listed exception is iMessage; he's worked out he can send someone a YouTube vid then watch it in iMessage to circumvent the control. So proud ? pic.twitter.com/XyD0rq4YpQ

— Troy Hunt (@troyhunt) April 27, 2019
Cheeky monkeys (2):
So, I was wondering why the battery on my laptop was running down every time I left it at home.
Turns out the kids have been using my election leaflets to get through the facial recognition lock…
I'm not sure whether to be proud by the wit or concerned by the sneakiness? pic.twitter.com/rtDsuNRB8B

— Matt Carthy MEP (@mattcarthy) April 23, 2019
Candidate for "Dad of the Year"?
* * *
Readers, feel free to contact me at lambert [UNDERSCORE] strether [DOT] corrente [AT] yahoo [DOT] com, with (a) links, and even better (b) sources I should curate regularly, (c) how to send me a check if you are allergic to PayPal, and (d) to find out how to send me images of plants. Vegetables are fine! Fungi are deemed to be honorary plants! If you want your handle to appear as a credit, please place it at the start of your mail in parentheses: (thus). Otherwise, I will anonymize by using your initials. See the previous Water Cooler (with plant) here. Today's plant (PM):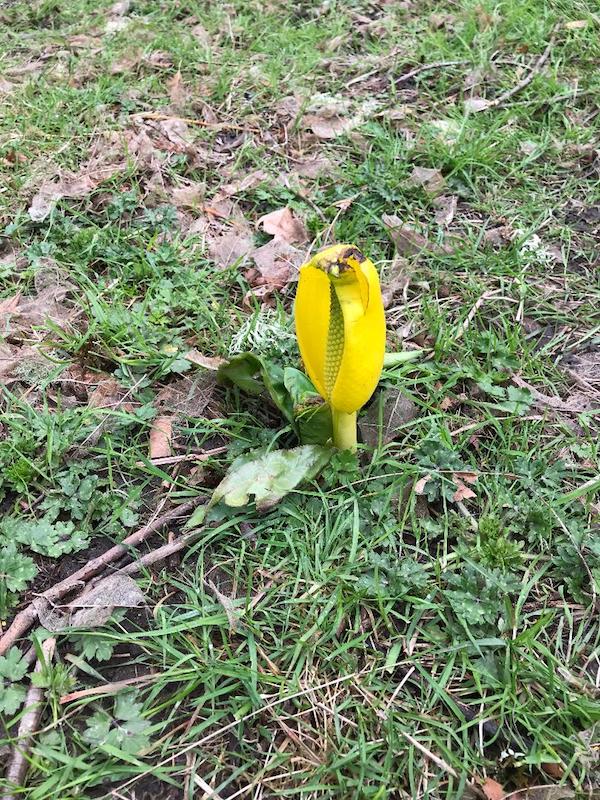 PM writes: "First Skunk Cabbage, Idylwood-Redmond, WA." It's as if new plants appear with an audible popping sound.
* * *
Readers: Water Cooler is a standalone entity not covered by the annual NC fundraiser. So do feel free to make a contribution today or any day. Here is why: Regular positive feedback both makes me feel good and lets me know I'm on the right track with coverage. When I get no donations for five or ten days I get worried. More tangibly, a constant trickle of small donations helps me with expenses, and I factor in that trickle when setting fundraising goals. So if you see something you especially appreciate, do feel free to click this donate button:
Here is the screen that will appear, which I have helpfully annotated.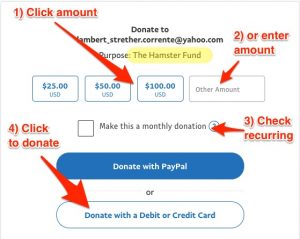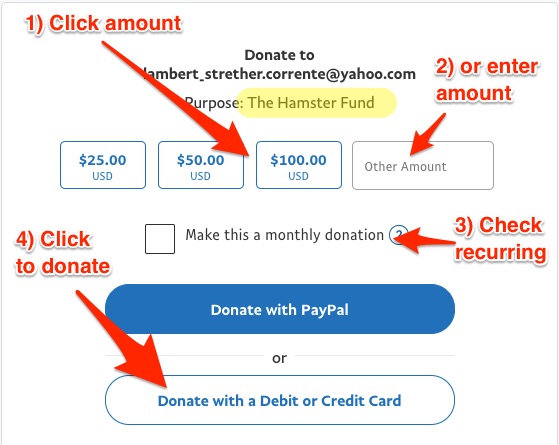 If you hate PayPal, you can email me at lambert [UNDERSCORE] strether [DOT] corrente [AT] yahoo [DOT] com, and I will give you directions on how to send a check. Thank you!