By Lambert Strether of Corrente.
"But what is government itself, but the greatest of all reflections on human nature?" –James Madison, Federalist 51
"They had one weapon left and both knew it: treachery." –Frank Herbert, Dune
"2020 Democratic Presidential Nomination" [RealClearPolitics] (RCP average of five polls). Sanders (18.8% 18.2) 0.6 down (38.3% 37.6), Warren blips up, as of May 22. Who knows, maybe it's just noise….
* * *
2020
Biden (D)(1): "Biden finds unexpected success with low-dollar donors" [Associated Press]. "Biden is a relative newcomer, though he did have one major advantage: Obama's email list." • That's the lead, buried nine paragraphs down.

Biden (D)(2): "Why Joe Biden is the Least Electable Democrat" [Ted Rall, Counterpunch]. "The party is ramming Biden the corporatist down the throats of Democratic primary voters using classic divide-and-conquer. It will work. The Democrats will emerge from this nomination fight even more divided than the last cycle. Like the Mad Queen at the conclusion of 'Game of Thrones,' Biden will inherit the ruins of a party he destroyed." • Rall says "a party he destroyed" like that's a bad thing. That said, the party is genuinely divided, from voters to electeds to donors, from top to bottom (rather like Brexit, in fact). That situation wasn't created by the Party apparatchiks.

Buttigieg (D)(1): "Why I'm Not Here for Pete Buttigieg's Moderate Politics in the 2020 Primaries" [Teen Vogue]. "Buttigieg's focus on political narratives—as opposed policy ideas—is the political playbook that Democrats have run on for years. And while Obama's hope-and-change campaign had great success in 2008, mainstream attitudes toward LGBTQ rights aren't the only things that have shifted on the left since then—there's also, I believe, a growing sense among even centrist liberal voters that style without substance isn't the answer to the questions of our nation's future." • Ouch!

Sanders (D)(1): "Bernie's new approach to raising cash: 'Grassroots fundraisers'" [Politico]. "The Vermont senator has decided to hold in-person fundraising events where donors of all means will be invited and the media will be allowed. He has also hired a fundraiser to oversee the effort, a position he did not have in his 2016 bid. The moves, described by campaign sources to POLITICO, amount to an acknowledgment by Sanders that his online-only approach to raising money was leaving significant amounts of money on the table. That cash could be decisive in a primary with nearly two dozen candidates competing fiercely for money." • So, even if most of those candidates fall by the wayside, they will have served their purpose…. (Also, fundraising events with big donors are typically closed to the press — a practice that has in fact caused many gaffes, as candidates say the quiet part out loud, as with Clinton's "deplorables," Romney's "47%", and Obama's "bitter" people who "cling to" guns and religion.)

Sanders (D)(2): "The Exact Way the DNC will Deny Bernie Sanders the 2020 Nomination" [IVN]. "Having many candidates is a standard Democratic Party tactic to draw down support for any insurgent candidate. When it was just Bernie vs. Hillary, all the anti-Hillary Democratic voters had to go somewhere, and they all went to Bernie. But now Bernie's votes will be split with progressive icons like Warren and Gabbard, as well as with progressive-sounding corporate politicians like Buttigieg, Harris, and Biden. It will be impossible for any candidate to secure the votes needed to win on the first ballot, at which point the super delegates will anoint their corporate-approved candidate."
Impeachment
"Calls for Trump's impeachment grow in the House" [Los Angeles Times]. "But the move toward impeachment on Tuesday puts Pelosi in the middle of a divided House Democratic caucus. She has advocated for a cautious approach, arguing that she would only support impeachment if it is bipartisan and amid overwhelming evidence. She has called a closed-door speaker's meeting with her members for Wednesday morning to discuss where the House's many investigations and lawsuits stand. Several Democrats on Tuesday came out publicly in support of an impeachment inquiry for the first time. Among them were prominent Democrats such as Reps. Mark Pocan of Wisconsin and Pramila Jayapal of Washington, co-chairs of the influential Congressional Progressive Caucus; freshman Rep. Mary Gay Scanlon of Pennsylvania, vice chair of the Judiciary Committee; and Rep. Madeleine Dean of Pennsylvania, who is also on the panel."
2018 Post Mortem
"Voter Turnout Rates Among All Voting Age and Major Racial and Ethnic Groups Were Higher Than in 2014" [United States Census (Rolling Mountain)]. Here is a summary:

National averages conceal. But the highlighted categories of voters… They aren't really brunch-adjacent, are they?
Realignment and Legitimacy
"Crooks":

A significant majority of Americans think their politicians are crooked. And they didn't used to think that. The change was almost entirely in the Bush and Obama eras, though the survey hasn't gone out in the Trump era yet. pic.twitter.com/6cJM0jZ4tO

— Matt Stoller (@matthewstoller) May 21, 2019

Oddly, or not, Obama didn't reverse the trend.

"DCCC Vendors Work for Corporations Lobbying Against Democratic Policies" [Sludge (DK)]. "Consulting firm Vision Strategy and Insights has gotten $7,500 from the DCCC so far in the 2019 election cycle for strategic and political consulting services, and it scored nearly $6.6 million from the DCCC in the 2018 cycle. On its website, Vision Strategy and Insights' client list includes multiple health care and pharmaceutical companies that are members of trade associations in the Partnership for America's Health Care Future (PAHCF), a "dark money" group with a stated objective to "change the conversation around Medicare for All" and "minimize the potential for this option in health care from becoming part of a national political party's platform in 2020." The Vision Strategy and Insights clients affiliated with PAHCF include Pfizer, GlaxoSmithKline, and Johnson & Johnson." • So working with PAHCF is jake with the angels, but working with challengers is a mortal sin. That's our Democrats!

"Changing the party rules" [Newsday]. "New York Democrats have reached a deal on when voters can join a political party. They will shorten what has been the nation's longest deadline to switch parties before an election to only 60 days, and 25 days when voters are not members of an established party." • Good news!

"A Comprehensive Guide to Rahm Emanuel's Failures as Mayor" [The Intercept]. "A national audience deserves to know what those of us in Chicago have already figured out: Emanuel's mayoral administration is littered with failures and false claims, and the recent elections in Chicago represents a complete repudiation of the Emanuel years. The new mayor, Lori Lightfoot, was one of Emanuel's foremost critics on police reform. Alderman Patrick O'Connor, Emanuel's City Council floor leader, a 40-year incumbent, was one of several top mayoral allies who were defeated — in O'Connor's case, by a young Latino Democratic socialist. Meanwhile, Emanuel's finance committee chair is now facing federal corruption charges, and his zoning committee chair disappeared in December when word leaked that he wore a wire for the feds after coming under investigation himself. And on a significant range of issues, Chicagoans are turning away from Emanuel's initiatives." • Holy moley, Obama's chief of staff. How did that happen?
Stats Watch
There are no statistics of note today.
Contracts: "ALI Consumer Contracts Restatement-What's at Stake" [Credit Slips]. "The American Law Institute's membership will vote next Tuesday (the 21st) on whether to approve the ALI's Consumer Contracts Restatement project. Let me recap why you should care about this project: it opens the door for businesses to use contract to abuse consumers in basically any way they want. The Restatement would do away with the idea of a "meeting of the minds," as the touchstone of contract law for consumer contracts, and allow businesses to impose any terms they want on consumers, even if the consumers are unaware of the terms and haven't consented to them. Under the proposed Restatement, a consumer would be bound by any and all of a business's standard form terms if the consumer (1) assented to a transaction, (2) had notice of the terms, and (3) had a reasonable opportunity to review the terms. In other words, the consumer would not actually have to know or agree to any of the terms to be bound by them. The Restatement would replace meaningful assent with a legal fiction of notice." • Dark patterns, here we come! Fortunately, alert reader AF forwarded us this from Litigation Daily: "After sharp pushback from 24 state AGs, consumer advocates including Sen Elizabeth Warren, more than a dozen trade groups and even some stalwart business champions, the elite and highly influential group of 4,000-odd judges, legal scholars and lawyers postponed its draft restatement on consumer contracts." • Dodged a bullet there! For now….
Commodities: "China Raises Threat of Rare-Earths Cutoff to U.S." [Foreign Policy]. "U.S. oil refiners rely on rare-earth imports as catalysts to turn crude oil into gasoline and jet fuel. Permanent magnets, which use four different rare-earth elements to differing degrees, pop up in everything including ear buds, wind turbines, and electric cars. China supplies about 80 percent of the rare-earth elements imported by the United States, which are used in oil refining, batteries, consumer electronics, defense, and more. 'It would affect everything—autos, renewable energy, defense, and technology,' said Ryan Castilloux, the founding director of Adamas Intelligence, a strategic metals consultancy….Those concerns became a lot more tangible this week when Xi, accompanied by his point man for U.S. trade talks, visited a facility in the heart of China's rare-earths industrial complex."
Tech: "Facebook, Instagram and Twitter are parasites. Maybe they should disappear: Senator" [USA Today]. "Facebook, Twitter, Instagram — they devote massive amounts of money and the best years of some of the nation's brightest minds to developing new schemes to hijack their users' neural circuitry. That's because social media only works — to make money, anyway — if it consumes users' time and attention, day after day. It needs to replace the various activities we enjoyed and did perfectly well before social media existed." • Hawley again. But wait! Facebook is "optimistic, diverse, dynamic, moving forward"!
Tech: "Apple Finally Did the Right Thing (Sort of)" [Gizmodo]. "With today's announcement [of updated MacBook Pros], Apple has now, finally, done the right thing. All MacBook models with butterfly keyboards—all three generations of the design—qualify for free repairs. The company also announced new MacBook Pro models with a fourth-generation butterfly design that uses a new material for the keyboard mechanism, although it stopped short of saying what that new material is. There are a couple of caveats. The repair program only covers MacBook models for four years after the original purchase. That means some people who bought a 13-inch MacBook in April 2015, when the new model came out, do not qualify for a free repair. Apple also says that only MacBook models with third-generation keys will get the new fourth-generation keyboard from a free repair." • There's considerable skepticism that the "new material" for the butterfly keyboard will fix the issue; all we can do is wait for user reports.
The Biosphere
Following up on #WorldBeeDay:
"Exposure of Insects to Radio-Frequency Electromagnetic Fields from 2 to 120 GHz" [Nature (Phil)]. "[T]his is the first paper that investigates the exposure of electric fields with RF frequencies associated with 5 G wireless communication and that shows that the absorbed power in insects is expected to increase in unchanged environmental conditions with respect to the one of current wireless communication systems (3 G and 4 G)…. A shift of 10% of the incident power density to frequencies above 6 GHz would lead to an increase in absorbed power between 3–370%. This could lead to changes in insect behaviour, physiology, and morphology over time due to an increase in body temperatures, from dielectric heating." • The 5G spectrum, apparently, includes 6 GHz.
"Changes in honeybee behaviour and biology under the influence of cellphone radiations" (PDF) [Current Science (Phil)]. From the abstract: "Honeybee behaviour and biology has been affected by electrosmog since these insects have magnetite in their bodies which helps them in navigation…. We have compared the performance of honeybees in cellphone radiation exposed and unexposed colonies. A significant (p < 0.05) decline in colony strength and in the egg laying rate of the queen was observed. The behaviour of exposed foragers was negatively influenced by the exposure, there was neither honey nor pollen in the colony at the end of the experiment." • Thanks to alert reader Phil for finding these two studies. Why do we need to do 5G, again?
* * *
"Virtual Pipelines: A Dangerous New Way to Transport Fracked Gas by Truck" [DeSmogBlog]. "[Virtual pipelines involve] loading cylinders filled with compressed natural gas (CNG) onto specially designed trucks and hauling the gas between existing pipelines or to areas not connected to a natural gas distribution system, such as rural towns, and remote factories, universities and hospitals…. 'The concept,' wrote Pennsylvania energy expert John Siggins in a 2016 report, 'was born out of the lack of pipeline infrastructure in the New England area,' and a natural gas boom in nearby Pennsylvania's Marcellus shale play that lowered gas prices. 'As the shale energy revolution took off,' wrote Siggins, 'a system for off-pipeline natural gas deliveries became of interest.' The 2016 report lists nine virtual pipeline companies, operating from Texas to Maine. Two of the most prominent companies are Xpress Natural Gas (XNG), based in Andover, Massachusetts, and Vermont-based NG Advantage….. Meanwhile, for retired New York Department of Transportation commercial vehicle inspector and whistle-blower Ron Barton, the calculus on virtual pipelines is much more simple. 'These containers,' he said, 'should not be on the road.'" • One more example of hydrocarbon projects that should be opposed where found.
"Rewilding feral horses to reinvigorate grasslands" [Anthropocene]. "[R]esearchers think that Gotland ponies—an ancient breed thought to be derived from a now-extinct horse subspecies called tarpans—could perform some of the ecological functions once fulfilled by their ancestors. Foremost among these is the sustenance of grasslands, which in the absence of horses were maintained by traditional pasture-based farming practices. As small farms are abandoned, though, and remaining farms become intensified and industrial, grasslands are in danger of vanishing…. Over the course of three years the researchers tracked plant and pollinator populations inside and outside the enclosures. Where horses grazed, the total number of plant species increased, as did populations of butterflies and bumblebees. The vegetation shifted towards a grassland state. "Ecological replacements of extinct wild horses can have significant effects on the functional composition of grasslands," write [biologists Pablo Garrido and Carl-Gustaf Thulin, both of the Swedish University of Agricultural Sciences]."
Health Care
"'Medicare for All' Falters as Top Democrats Fret Over Backlash" [Bloomberg]. "The House Budget Committee is holding a hearing on Wednesday to explore 'design components and considerations for establishing a single-payer health care system,' which could serve as a preliminary step toward overhauling how Americans get health insurance coverage…. 'The caucus understands that we're not going to pass Medicare for All this year,' Representative John Yarmuth of Kentucky said in an interview. He said it would be a 'long process' to develop consensus legislation and "nobody's going to wade into the weeds and spend a lot of time developing a bill.'" • Defense in depth to protect the health insurance industry. That's our Democrats!
"CBO: Medicare for all gives 'many more' coverage but 'potentially disruptive'" [The Hill]. "Republicans pressed the CBO officials for a cost estimate of the proposal, a crucial figure, but Hadley replied that 'we don't have an estimate yet,' because how the system is designed would greatly affect the cost." • Odd, since the CBO was certainly able to give an estimate for the ACA.
The 420
"Exclusive: Facebook will not allow marijuana sales on its platform" [MarketWatch]. "Overall, Facebook executives and staff determined that because cannabis laws around the world vary widely and are unstable, it would be impossible to roll out a feasible, global policy on pot sales. The company also said that, partially because of regulatory uncertainty, it would be 'operationally difficult' to implement policies — for example, determining who is a legitimate operator and who is not, across hundreds of jurisdictions."
Class Warfare
"Tech billionaires who donate millions are just "bribing society at large," Anand Giridharadas says" (interview) [Anand Giridharadas, Vox]. "If you watch Downton Abbey, you understand the idea. There's a guy in a castle, and then no one else owns land in the show. And any time that people who don't own land get a weird idea about how maybe they should own stuff too, they die in a car accident. And the rich people are nice, but they're in charge of how the help works. They're in charge of shaping the society through their kindness, through their generosity. And this is the Zuckerberg model." • A little meandering, but definitely fun.
"'MissionRacer': Amazon turns tedium of warehouse work into a game" [Seattle Times (RS)]. "Developed by Amazon, the games are displayed on small screens at employees' workstations. As robots wheel giant shelves up to each workstation, lights or screens indicate which item the worker needs to pluck to put into a bin. The games simultaneously register the completion of the task, which is tracked by scanning devices, and can pit individuals, teams or entire floors against one another to be fastest, simply by picking or stowing real Lego sets, cellphone cases or dish soap. Game-playing employees are rewarded with points, virtual badges and other goodies throughout a shift. Think Tetris, but with real boxes. Amazon's experiment is part of a broader industry push to gamify low-skill work, particularly as historically low unemployment has driven up wages and attrition. Gamification generally refers to software programs that simulate video games by offering rewards, badges or bragging rights among colleagues…. In at least one warehouse, said an employee, workers have used high achievement on the games to push managers to reward them with extra Swag Bucks, a proprietary currency that can be used to buy Amazon-logo stickers, apparel or other goods." • So Amazon pays you with junk from the company store. Cool, cool.
"Contra Vance" [The Baffler]. "For every depiction of Appalachia that depends on classist, dysgenic, and monolithic tropes, there is an Appalachian voice with a response. People from other regions can continue to diagnose the problems in Appalachia and posit solutions—things like teaching unemployed coal miners to code—but none of these solutions will be adequate, helpful, or non-exploitative unless we stop giving money to figures who perpetuate the deeply flawed images of the Deliverance effect in action. America already loves to hate the poor and have their classist beliefs confirmed. It feels good to assign racism and structural inequality to an imaginary region, because to do so assuages the guilt of the white middle class. If we didn't use Appalachia as a scapegoat, we'd have no one to blame for national economic suffering but ourselves."
News of the Wired
"A top 'Fortnite' player who won more than $500,000 is suing his team over an 'oppressive' contract. Here's why other YouTubers are taking notice." [Business Insider]. "In a copy of the lawsuit obtained by The Hollywood Reporter, Tenney alleges that FaZe Clan retained 80% of the revenue generated from his sponsored videos and advertisement deals, as well as 50% of the revenue generated by his in-person appearances. 'Faze Clan's goal is essentially to 'own' Tenney and other content creators/streamers and professional gamers,' the lawsuit alleges. 'FaZe Clan, which is not a licensed talent agency, exploits young artists like Tenney through oppressive and predatory long-term contracts whereby FaZe Clan essentially 'owns' the artist and the artist's career.'" • Sounds like K-Pop. Or MoTown.
* * *
Readers, feel free to contact me at lambert [UNDERSCORE] strether [DOT] corrente [AT] yahoo [DOT] com, with (a) links, and even better (b) sources I should curate regularly, (c) how to send me a check if you are allergic to PayPal, and (d) to find out how to send me images of plants. Vegetables are fine! Fungi are deemed to be honorary plants! If you want your handle to appear as a credit, please place it at the start of your mail in parentheses: (thus). Otherwise, I will anonymize by using your initials. See the previous Water Cooler (with plant)
here
. Today's plant (timotheus):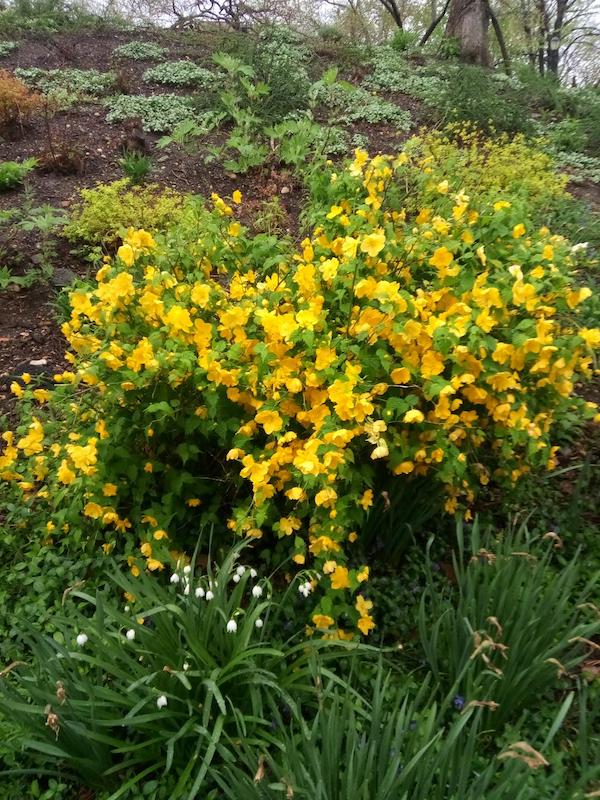 Timotheus writes: "Some pretty things in Isham Park, which your highly informed readership will be able to identify if you like them enough to use." Readers?
* * *
Readers
: Water Cooler is a standalone entity
not
covered by the annual NC fundraiser. So do feel free to make a contribution today or any day. Here is why:
Regular positive feedback both makes me feel good and lets me know I'm on the right track with coverage
. When I get no donations for five or ten days I get worried. More tangibly, a constant trickle of small donations helps me with expenses, and I factor in that trickle when setting fundraising goals. So if you see something you especially appreciate, do feel free to click this donate button:
Here is the screen that will appear, which I have helpfully annotated.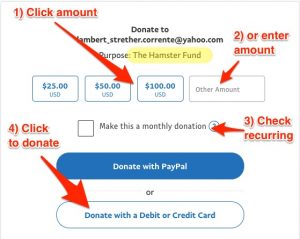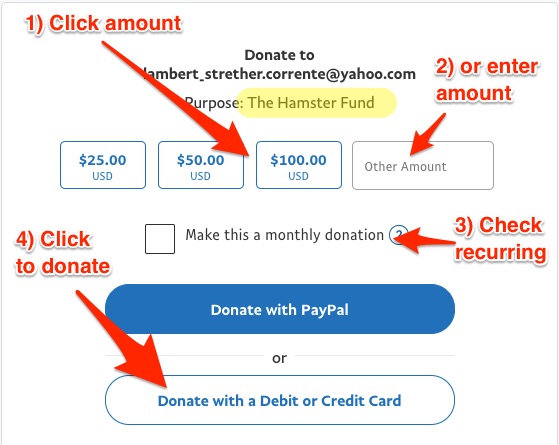 If you hate PayPal, you can email me at lambert [UNDERSCORE] strether [DOT] corrente [AT] yahoo [DOT] com, and I will give you directions on how to send a check. Thank you!