By Lambert Strether of Corrente.
Trade
"How This Trade War Will Remake the World" [Bloomberg]. "President Donald Trump has long said the goal of his trade policy is simply to get better deals for Americans. But as the trade war intensifies, it seems increasingly likely that his policies will lead to something more: a lasting break with China and a new alignment of global power…. As China and the U.S. form two opposing economic and geopolitical coalitions, the rest of the world will be forced to choose. Maybe the European Union can form a third unaligned pole, as France and Germany's membership in the EU (and the U.K.'s absence from it) provides them with the negotiating power to avoid falling under the Chinese or American sphere of influence. Of course, in some ways this type of multipolar alignment would be a return to the past. The dual-superpower world that existed for much of the second half of the 20th century was always an exception, and the era of American supremacy that began after the collapse of the Soviet Union was never going to last. Until recently, however, a new kind of bipolar arrangement seemed possible: a kind of competitive partnership between China and the U.S., with the EU playing a supporting role. The events of the last few weeks have left that looking increasingly unlikely."
"How The Left Should Think About Trade" [Current Affairs]. "Rich states should demand, as a condition of trade agreements, adjustments in wages, taxes, and regulations to reduce or eliminate disparities in the treatment of rich workers and poor workers. It's one thing if we import stuff from a foreign state because that state has real productive advantages in making the stuff. It's quite another if we're importing stuff from a foreign state because that state is treating its workers like meat…. This is what a socialist trade policy looks like—not unadulterated protectionism, but trade deals that put workers first by creating strong international minimum standards on wages, taxes, and regulations. This must be led by the USA and EU, because only they command enough market share to successfully push governments in poor countries to adopt more humane and sustainable models of development." • I'd like to see this argument fleshed out for China. Obviously, forty years of bipartisan conventional wisdom that capital in China would automagically produce a liberal democracy was insanely stupid; if we had strengthened unions in China, we might be looking at a different world today. Whether that's remotely possible now, I don't know. The world may have moved on.
Politics
"But what is government itself, but the greatest of all reflections on human nature?" –James Madison, Federalist 51
"They had one weapon left and both knew it: treachery." –Frank Herbert, Dune
"2020 Democratic Presidential Nomination" [RealClearPolitics] (RCP average of five polls). Biden (38.3% 34.7%) and Sanders (18.8% 17.7%) both drop, Warren, Harris, Buttigieg up, as of May 23.
* * *
2020
Biden (D)(1):

From alert reader RM in response to my request for interesting short clips.

Sanders (D)(1): "The Trailer: Why the 2016 Sanders voter is still up for grabs" [WaPo]. "A majority of Democrats who picked Sanders [in Iowa] in 2016 are, at the moment, up for grabs. The 23-candidate pileup in Iowa is partly a reflection of that, with plenty of hopefuls who believe they can build a base that includes some former Sanders voters…. The old Sanders coalition did not consist of only what he would call "progressive" voters, a fact that poses some challenges in 2020. As the only credible challenger to Clinton, Sanders stitched together a network of left-wing voters, independents and even some conservatives that allowed him to run in every primary…. According to exit polls from Iowa, just 33 percent of caucusgoers wanted a president with "more liberal" polices than President Barack Obama; Sanders won those voters by 55 points. He was boosted into a tie with Clinton because a smaller share of voters, the 7 percent who wanted a "less liberal" president than Obama, also backed Sanders, by a 50-to-43 margin. Given a binary choice, conservatives who disliked Clinton opted for the democratic socialist." • Context matters, as we saw with Beto v. Cruz vs. Beto v. anybody else.

"Inside the 2020 Democrats' survival strategies" [Politico]. "The 23 candidates chasing the Democratic presidential nomination are piling up events and plowing resources into the four early-nominating states, telegraphing which states they're prioritizing and which ones they're writing off." On Iowa: "As the adage goes, Iowa doesn't always pick the winners, but it almost always picks the losers. That's likely to be truer in 2020 than ever before."

"Are The Democratic Debates Already A Mess?" [FiveThirtyEight]. "This is a recurring problem for parties. They try to solve a lot of these problems informally by limiting who runs.But when these conversations break down like they did in 2016, the formal solutions — like trying to come up with a fair threshold for inclusion in a debate with so many candidates — show why those problems were being solved informally: It's a mess."
Impeachment
"Pelosi: Trump 'crying out' for impeachment" [The Hill]. "'There's no question: the White House is just crying out for impeachment. That's why he flipped yesterday, because he was just hoping,' Pelosi told reporters in the Capitol…. 'I think what really got to him was that these court cases and the fact that the House Democratic Caucus is not on a path to impeachment, and that's where he wants us to be,' she said. 'And when he saw that that was not happening, that — again, with the coverup, which he understands is true — just struck a cord [sic].'" • So Trump is saying "Please throw me in the briar patch!" Because that would distract the Democrats from delivering… what?
Realignment and Legitimacy
"A Country Divided: The Onion Takes An In-Depth Look At How State Boundaries Work" [The Onion]. • The Times-style cover is the joke.
Stats Watch
Jobless Claims, week of May 18, 2018: "Initial unemployment claims remain low but not quite as low as April which will limit expectations for the May employment report" [Econoday]. "however low claims data are, they're not as low as they were during the historic lows of April, and it's this comparison that points to an easing of strength, however moderate, in this month's labor market."
Purchasing Managers' Index Composite (Flash), May 2018: "In what offers an initial glimpse into the early effects of the US-China trade breakdown is sweeping slowing in the flash PMIs for May, all three of which came in well under Econoday's consensus range" [Econoday]. "Manufacturing is the most immediately impacted by trade issues… Key here is outright contraction, that is a sub-50 reading, for new orders. This is an unwelcome first since August 2009 and the last recession. Demand sank for both domestic and foreign orders, while growth slowed for output, employment and pre-production inventories…. Headlines in today's report do remain above 50 but only marginally to indicate a falling number of respondents reporting composite growth relative to a rising number reporting monthly contraction."
Kansas City Fed Manufacturing Index, May 2019: "Tenth district manufacturing activity continued to moderate to a sluggish growth pace in May" [Econoday]. "The weakness in today's Kansas City survey contrasts with the strength reported last week in the Philadelphia and Empire State reports but confirms today's weaker-than-expected PMI manufacturing flash report."
New Home Sales, April 2019: "Low mortgage rates are having their predictable and very welcome effect on home sales — driving them significantly higher" [Econoday]. "Much of the data in April's report are headfakes, indicating slowing following, however, significant strength in prior months. The housing sector, lifted now by the possibility of re-acceleration in prices, is shaping up to be a major positive of the 2019 economy and a possible offset to what perhaps is becoming a slowing year for consumer and business spending."
Shipping: "Conditions for fleets are deteriorating and it will get bloody" [Freight Waves]. "Starting earlier this month, it appeared that the spring surge might deliver quality results in the second quarter. Volumes had been moving up since early April, showing a muted, but promising trend for the quarter. That all changed on May 9. On that day, the U.S. accelerated tariffs on Chinese imports, forcing importers to reconsider their supply chains. Port volumes have been driving the freight market for the past year, but that appears to be over….. Starting earlier this month, it appeared that the spring surge might deliver quality results in the second quarter. Volumes had been moving up since early April, showing a muted, but promising trend for the quarter. That all changed on May 9. On that day, the U.S. accelerated tariffs on Chinese imports, forcing importers to reconsider their supply chains. Port volumes have been driving the freight market for the past year, but that appears to be over."
The Bezzle: "Zuck's New Scam" [The Baffler]. "A better understanding of privacy will not be limited to design concepts generated by highly profitable social media platforms. It needs to encompass how privacy is an essential component of our agency as human beings. Agency, to be explored and expressed fully, requires that we have space outside the influence of capitalism—to have freedom from market forces seeking to manipulate our unconscious. Privacy demands that human emotions like shame, joy, guilt, and desire be explored without someone seeking to profit from the process without us noticing."
The Bezzle: "Tesla Plunges as Analyst Delivery Warning Adds to Week of Losses" [Bloomberg]. "Loup Ventures co-founder Gene Munster wrote in a note that Tesla will probably miss its 2019 delivery target range as sales shrink in China amid a trade war between the two countries. The analyst cut his estimate for Tesla's full-year global car sales by about 10% to 310,000 vehicles, versus the minimum 360,000-unit target the manufacturer set in March….. Compounding woes for the company, Morgan Stanley analyst Adam Jonas, who earlier this week said that Tesla stock could plunge to as low as $10 in a worst-case scenario, held a private call with investors Wednesday in which he said the company is 'seen more as a distressed credit and restructuring story.'" • Ouch!
Tech: "Apple needs its new services to succeed because the existing ones will slow considerably: Bernstein" [MarketWatch]. "Bernstein analyst Toni Sacconaghi wrote Thursday that Apple Inc. needs to succeed with its new services offerings given that he predicts the company's existing services business could start showing growth of less than 10% in the next three or four years. 'Services growth is critical in driving Apple's overall top line, as well as potentially stabilizing overall company gross margins, which have fallen in each of the last five years,' he wrote. 'Given that Apple's installed base should be relatively flat going forward, services growth will likely depend entirely on additional [average revenue per user] expansion, whether through new offerings or increased monetization of existing businesses.'" • A flat user base…
Transportation: "Hands off the wheel" [Tucson Weekly (RH)]. "[Technology company] TuSimple's trucks are currently driving at level four, known as "high automation," in which the vehicle is capable of performing all driving functions, but only under certain conditions, such as only on specific routes. According to [Vivian Sun, senior director of business development at TuSimple], complete level five is not necessary at this time for TuSimple… [Mathieu Joerger, Ph.D. is an assistant professor of aerospace and mechanical engineering at UA. His] research focuses on using aircraft navigation safety standards to ensure the safety of autonomous vehicles. Safety is one of the most emphasized benefits of autonomous vehicles. And while Joerger said there are many benefits to automation, he also believes safely taking humans out of vehicles is a huge challenge….. Human drivers cause traffic fatalities roughly once per 100 million miles of driving, whereas the aircraft safety standards Joerger works with cannot accept crashes even in one out of one billion landings."
Infrastructure: "Any optimism left over from Infrastructure Week didn't last long" [Wall Street Journal]. "Business groups that have raised hopes for a $2 trillion package for highways, ports and bridges lamented the sudden end to the talks, with a road builders' group saying 'political theatrics won the day.' But the collapse was also a reminder of the big hurdles that any infrastructure deal already faced before Wednesday's events. , and Republican lawmakers are unlikely to support one. Republicans and Democrats also remain divided on big questions over the direction of federal dollars." • So it was all kayfabe on both sides. Sheesh.
Mr. Market: "Dow tumbles 300 points as investors brace for a protracted U.S.-China trade standoff" [Bloomberg]. "Trade talks can only continue when the U.S. adjusts its 'wrong actions,' Gao Feng, a spokesperson for China's Ministry of Commerce, reportedly said Thursday in a briefing, according to translated remarks. He added that the U.S. crackdown on China companies is threatening the 'global industrial and supply chain.'" • They do.
The Biosphere
"Global Climate Revolt Escalates: 1,351+ Strikes in 110 Countries Planned for Friday" [EcoWatch]. Greta Thunberg:
May 24th.
Global strike for the climate.
Activism works. So act.
Join us!

Find or register your local strike on https://t.co/TNBxafQoQL and follow Fridaysforfuture on Instagram for updates.
Please share this information.#fridaysforfuture #climatestrike #SchoolStrike4Climate pic.twitter.com/TMWcLCmpMs

— Greta Thunberg (@GretaThunberg) May 18, 2019
"8,000 Amazon employees asked the company to do more on climate change. Shareholders just said no." [Amazon]. "Amazon shareholders just voted down a proposal backed by more than 7,500 Amazon employees asking Jeff Bezos to create a comprehensive climate-change plan for the company. But just because the proposal didn't get through this time doesn't mean it doesn't matter. While the push may have failed, that it existed in the first place shows the increased pressure corporations are under to act on global warming and take their role in it seriously. It also signals that tech workers, historically hesitant to speak out, are becoming more willing to serve as corporate activists and weigh in on the moral and ethical decisions of the firms that employ them."
"Global change drives modern plankton communities away from the pre-industrial state" [Nature]. "However, despite evidence for ongoing change, it remains unknown whether marine ecosystems have entered an Anthropocene6 state beyond the natural decadal to centennial variability. This is because most observational time series lack a long-term baseline, and the few time series that extend back into the pre-industrial era have limited spatial coverage. Here we use the unique potential of the sedimentary record of planktonic foraminifera—ubiquitous marine zooplankton—to provide a global pre-industrial baseline for the composition of modern species communities…. These observations not only confirm the existing evidence for changes in marine zooplankton communities in historical times, but also demonstrate that Anthropocene communities of a globally distributed zooplankton group systematically differ from their unperturbed pre-industrial state."
Class Warfare
"Understanding alt-Right obsessions" [Unherd]. On Jack London: "Jack London had a fascist strain. The American author was a socialist, sure – but one who, as Orwell noted, was 'temperamentally… very different from the majority of Marxists'. He worshipped the natural world, as well as the physical strength of 'alpha' males, and he was deeply impressed by the Social Darwinist writers of his day. This element, detectable in his later body of work, feels like a first cast of the ideological tendencies of today's Alt-Right – with their narrative that men have grown weak and 'beta' under the tempering influence of a feminised society."
News of the Wired
"Closing in on what motivates motivation" [Nature]. "As well as providing evidence for the textbook view that a spike in the activity of dopamine neurons is accompanied by dopamine release, albeit not in all target regions, the unexpected observation of dopamine release in the absence of activity of dopamine neurons provides a new depth of understanding of dopamine signalling in the brain. Like the ramping up of dopamine, this is bound to provide the motivation for more work." • And — I hate to say it — more funding. Just think what Silicon Valley could do if dopamine's brain pathways were fully mapped out!
* * *
Readers, feel free to contact me at lambert [UNDERSCORE] strether [DOT] corrente [AT] yahoo [DOT] com, with (a) links, and even better (b) sources I should curate regularly, (c) how to send me a check if you are allergic to PayPal, and (d) to find out how to send me images of plants. Vegetables are fine! Fungi are deemed to be honorary plants! If you want your handle to appear as a credit, please place it at the start of your mail in parentheses: (thus). Otherwise, I will anonymize by using your initials. See the previous Water Cooler (with plant)
here
. Today's plants (KS):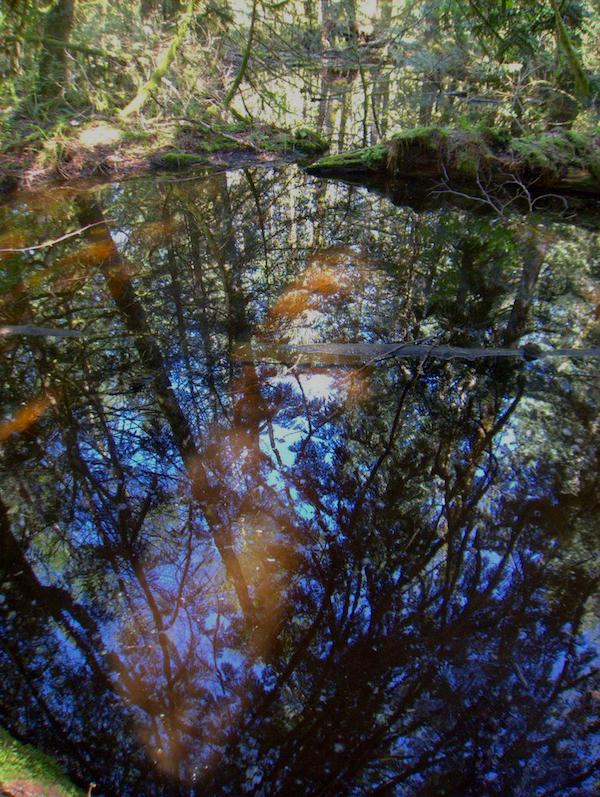 A lovely pool in the Pacific NW temperate rain forest!
* * *
Readers
: Water Cooler is a standalone entity
not
covered by the annual NC fundraiser. So do feel free to make a contribution today or any day. Here is why:
Regular positive feedback both makes me feel good and lets me know I'm on the right track with coverage
. When I get no donations for five or ten days I get worried. More tangibly, a constant trickle of small donations helps me with expenses, and I factor in that trickle when setting fundraising goals. So if you see something you especially appreciate, do feel free to click this donate button:
Here is the screen that will appear, which I have helpfully annotated.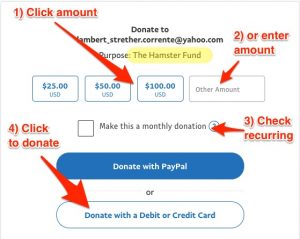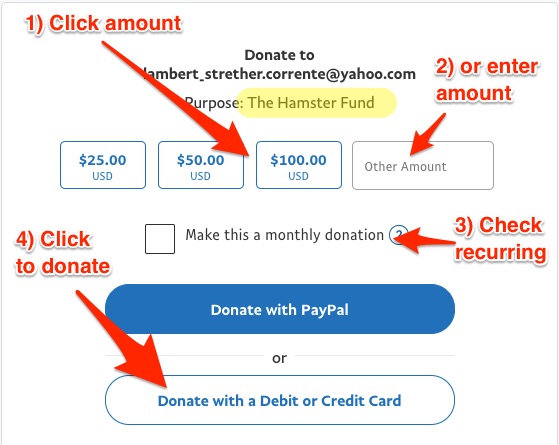 If you hate PayPal, you can email me at lambert [UNDERSCORE] strether [DOT] corrente [AT] yahoo [DOT] com, and I will give you directions on how to send a check. Thank you!