By Lambert Strether of Corrente.
Trade
"Donald Trump is a business 'killer' who 'never plays by the rules', say Chinese exporters after tariff threat" [South China Morning Post]. "US President Donald Trump is a business 'killer' who 'never plays by the rules', according to China's manufacturers who have been left reeling by the news that tariffs will be increased from 10 per cent to 25 per cent on US$200 billion of Chinese imports into the United States. Trump issued the threat to increase the tariffs in a tweet on Sunday, changes which were confirmed US trade representative Robert Lighthizer some 24 hours later, with the new rates set to become effective at 12.01am on Friday morning US time."
"China confirms Liu will join trade talks this week as US says tariffs will rise on Friday" [CNBC]. "Chinese Vice Premier Liu He is expected to join a delegation in the United States this week, a potentially positive sign for a trade agreement between the U.S. and China even as the Trump administration says it will hike tariffs on Chinese goods…. [T]he U.S. would reconsider the duties if talks get back on track, Treasury Secretary Steven Mnuchin also said."
"US accuses China of backtracking on trade deal" [BBC]. "US trade representative Robert Lighthizer has accused China of backtracking on commitments in trade talks, but insisted a deal on tariffs is still possible. He said President Trump's threat to impose new taxes on Chinese exports came after China reneged on promises." • A translation problem?
"China vice premier going to U.S. for trade talks despite Trump threats" [Reuters]. "China's Commerce Ministry confirmed that [Chinese Vice Premier Liu He], who leads the talks for Beijing, will visit the United States on Thursday and Friday. The ministry did not elaborate or give the expected topics of discussion. 'Talks are by their nature a process of discussion. It's normal for both sides to have differences. China won't shun problems and is sincere about continuing talks,' [Foreign Ministry spokesman Geng Shuang] said. 'We hope the U.S. side can work hard with China, to meet each other halfway, and on the basis of mutual respect and equality, resolve each other's reasonable concerns, and strive for a mutually beneficial, win-win agreement.'" • I wonder how to say "Please don't feed the trolls" in Mandarin…
Politics
"But what is government itself, but the greatest of all reflections on human nature?" –James Madison, Federalist 51
"They had one weapon left and both knew it: treachery." –Frank Herbert, Dune
2020
"2020 Democratic Presidential Nomination" [RealClearPolitics] (RCP average of five polls). Biden up 20, everybody else down.

"*" = New candidate.

* * *

Festival of Biden:

Biden (D)(1): "Cable News Is Covering Biden As Much As Every Other Democratic Candidate Combined" [FiveThirtyEight]. "According to data from the TV News Archive, which chops up TV news into 15-second clips that we access using the GDELT Project's Television API, Biden was mentioned in more clips that any other candidate across the three networks last week, and he was mentioned almost four times as often as Sen. Bernie Sanders, who had been getting the most coverage of any 2020 candidate before Biden joined the race. For the second consecutive week, Biden, who has also been well ahead in polling and endorsements, was mentioned in about as many clips as all the other candidates combined." • Odd!

Biden (D)(2):

If the original poster has you blocked, here is the video where Joe Biden says"I spent last summer going through the black sections of my town trying to get black men to understand it's not unmanly to wear a condom" pic.twitter.com/tQ3s7VuHvh

— Esha ??? (@eshaLegal) May 6, 2019

Sharpton doesn't look happy at the end…..

Biden (D)(3): In 2.0.1.8.

at a Brookings event in May 2018 Biden argued for means-tested cuts to Social Security and Medicare ht @drogon_dracarys https://t.co/2OQOFrDL1t

— ryan cooper (@ryanlcooper) January 2, 2019

Biden (D)(4): "Joe Biden pivots to courting black voters in South Carolina" [Morning Call]. They buried the lead. Here it is: "Biden also told donors that he's heard from 14 heads of state from around the world who've voiced concerns to him about Trump. That list included Margaret Thatcher, he said, before correcting what he called a 'Freudian slip,' that he was actually referring to current British Prime Minister Theresa May. Thatcher died in 2013." • Whatever that is, it's not a Freudian slip. Can you imagine the hysteria if Sanders mixed up Thatcher and May?

Biden (D)(5): "Here's How Deep Biden's Busing Problem Runs" [Politico]. "Now that [Biden] has declared his candidacy for president, a number of commentators have suggested his record on busing would hurt him in the Democratic primary. But don't count on it. School desegregation, as part of a broader suite of civil rights reforms, was once as a vital component of the Democratic Party platform. Yet since the 1970s, Democrats, in the face of concerted white backlash, have largely accommodated themselves to increasing segregation in public schools across the nation. Party leaders, even the most progressive among them, rarely propose serious solutions to this vexing problem. A sincere critique of Biden's busing record would require a broader reckoning of the Democratic Party's—and by extension the nation's—abandonment of this central goal of the civil rights movement. And it's hard to see that happening anytime soon."

Biden (D)(6): "Critics lament Joe Biden's support for a bill leading to Teamsters pension cuts, after he hosted his campaign kickoff at Pittsburgh Teamster hall" [Pittsburgh City Paper]. "On April 29, former vice president Joe Biden kicked off his 2020 presidential campaign with a rally at the Teamsters Temple in Lawrenceville…. 'I make no apologies, I am a union man, period,' said Biden. But the rank-and-file members of that Teamsters hall and others might not be reciprocating that admiration. International Brotherhood of Teamsters retirees eligible for pensions, including 17,000 in the Pittsburgh region, are feeling the pinch thanks to a law passed in 2014, which was supported by Biden. The Kline-Miller Pension Act allows multi-employer pension plans at risk of failure to reduce pensioner benefits to as little as $13,000 a year." • Oy.

Biden (D)(7): "Joe Biden Wants To Make Donald Trump Deplorable Again" [CNN]. "'I've had two people — and I think this is interesting — come up to me and say that for the first time since the election of the current president, they feel safe,' [Teri Goodman, a Democratic activist and longtime Biden ally in Dubuque, Iowa] said. 'They didn't realize how stressful it's been to witness him day after day spewing hatred … and encouraging people who would divide us as a country.' Biden, she added, is 'reassuring people that we're still OK, that we can be OK again.'" • I guess brunch didn't do it. However — and it's very hard for me to take this seriously — there really are people out there who think this way. Perhaps this will help explain why–

Democratic primary voters are doing well personally. They are wealthy and educated. Nearly all of them have gone to college. Three in ten have post-graduate degrees, and four in ten make $100k+. A third are over 60. https://t.co/PG3mS2oI1s

— Matt Stoller (@matthewstoller) May 4, 2019

I would bet Goodman's two people are doing fine, just fine. Their feelings of being unsafe are just that. And they're hardly representative of the voting population in the general; the whole primary system resembles a rotten borough.

Sanders (D)(1): Know your enemy:

We must combat oligarchy. A new study shows that the top 10% now own 70% of the wealth, while the bottom half have virtually no net wealth at all. We need an economy that works for all, not just the few. https://t.co/jTVeLlaH9U

— Bernie Sanders (@SenSanders) May 6, 2019

Sanders (D)(2): "Democratic Candidates Are Preparing For A Contested Convention — By Courting Superdelegates" [Buzzfeed]. "[A]fter helping to strip superdelegates of a significant portion of their power after his first presidential campaign, Sen. Bernie Sanders' campaign officials are planning to take 'superdelegates strategy seriously,' they say, with an outreach program designed to 'prepare for multiple convention scenarios' — even as the candidate continues to bemoan superdelegates at his rallies. Superdelegates — the elected officials, party officers, and activists who have been given a say in the Democratic nominating system since 1982 — were stripped of their vote in the first round of convention voting last year, a move to appeal to Sanders supporters who felt the system unfairly benefited Hillary Clinton in 2016. But across the field of 21 candidates, campaigns with the resources to do so are already courting superdelegate support to prepare for the possibility of a contested convention next summer — a scenario in which superdelegate votes could come back into play."

"Which Pollsters To Trust In 2018" [FiveThirtyEight]. • HarrisX, the latest in the "ZOMG!!!! Biden has a commanding lead!" genre, isn't even on the list. I have a hard time getting excited about individual polls this far out, and I'm even less excited about digging into methodology. We'd expect Biden to have a core of support, from name recognition, from people who have Obama's portrait on the wall and call him Barack, from the West Wing types who think a restoration of the Obama administration would be fine, and people who want to back a winner. And interestingly, Sanders is the second choice for a lot of Biden voters. So please, a little calmness. If anybody can do a detailed exegesis of the polling (with links) that woud be great, but otherwise, it's just not that exciting. The very first furlong of a horse race never is.
2019
"The Democratic Party Just Ticked Off Its Youngest Organizers" [The Atlantic]. "Sixty-eight chapters of the College Democrats are urging voters not to donate to the party's congressional-campaign arm after it instituted a new policy to protect incumbents from primary challenges. The protesting students say that the change will deter young candidates and people from historically marginalized communities from running for office. Their outrage isn't just noteworthy because they represent younger voters in the electorate—these young people are also some of the party's key organizers and activists. 'As College Democrats, we did a lot of work to build the new Democratic majority,' says Hank Sparks, the 20-year-old president of the Harvard College Democrats, which is spearheading the boycott. 'This is a policy that's going to silence a lot of voices like ours.' They did do a lot of work: College Democrats help form the backbone of the party's organizing infrastructure." • That's OK. They can always join the Sanders campaign. There's plenty of space for them there.

"New York Machine Trying to Toss Kat Brezler, Organizer for Alexandria Ocasio-Cortez, Off Local Ballot" [The Intercept]. "A textbook case is unfolding this week in White Plains, Westchester County, where New York's Democratic machine is trying to force a progressive Common Council candidate off the ballot. Kat Brezler is a public school teacher, but the role that has her in the machine's sights goes back to the 2018 midterms. She was a lead organizer for the primary campaign of Rep. Alexandria Ocasio-Cortez, and if she can get a foothold in the council, she's a potential threat to run for Congress herself. To get on the ballot on the Democratic Party line, Brezler had to turn in a minimum of 696 signatures. She submitted 1,175 signatures, 780 of which the Board of Elections found to be valid. Her opponent objected to the signatures, and Westchester County Supreme Court Judge Sam Walker threw out dozens of them after comparing the signatures collected from people on the street to the ones on their voter registrations cards, some of which are up to 40 years old. Walker also refused the campaign a handwriting expert." • They're gonna redistrict AOC out, sure as shootin'.
Stats Watch
The Bezzle: "Elon Musk owes $507 million to banks helping Tesla raise capital" [Reuters]. "Goldman Sachs Group Inc has $213 million in loans outstanding to Musk, while he owes Morgan Stanley $209 million, and another $85 million to Bank of America Corp . Goldman was not mentioned as a personal lender to Musk in the 2017 filing. Those loans are backed by Musk's shares in Tesla, currently worth a total of around $8 billion. If Tesla's stock declines, then Musk could be forced to sell some of those shares under terms of the loan, according to the Tesla filing." • If you owe the bank $100 million….
The Bezzle: "Uber's Big Problem: It's a Zombie Corporation That Can't Make Any Money" [MishTalk]. "Uber loses money at everything it does. It is also far behind Google (Waymo) in driverless technology…. As long as Uber has the confidence of investors, it can survive by raising money. But if that confidence wanes before Uber makes enough to pay interest on accumulated debt, Uber is toast. Right now, Uber is a zombie corporation, totally dependent on investors' willingness to keep funding Uber's cash needs." • Capital is to important to be left to the capitalists….
Transportation: "How the Koch Brothers Are Killing Public Transit Projects Around the Country" [New York Times]. "At the heart of their effort is a network of activists who use a sophisticated data service built by the Kochs, called i360, that helps them identify and rally voters who are inclined to their worldview. It is a particularly powerful version of the technologies used by major political parties*. In places like Nashville, Koch-financed activists are finding tremendous success. Early polling here had suggested that the $5.4 billion transit plan would easily pass. It was backed by the city's popular mayor and a coalition of businesses. Its supporters had outspent the opposition, and Nashville was choking on cars. But the outcome of the May 1 ballot stunned the city: a landslide victory for the anti-transit camp, which attacked the plan as a colossal waste of taxpayers' money." • NOTE * Like BERN, eh? Watch this space…
Transportation: "The Fight for the Right to Drive" [The New Yorker]. Interesting. This caught my eye: "Waymo, the driverless-car firm owned by Google's parent company, Alphabet, has been test-driving its autonomous vehicles in Arizona since 2016. People there have attacked the cars in a variety of ways: throwing rocks; cutting tires; aiming guns; trying to run them off the road. Like the Luddites of the early nineteenth century, who brandished hatchets, hammers, and muskets and smashed the mechanical looms that were taking their jobs, these attackers seem to be expressing a visceral feeling of contempt for the promised disruptions of autonomous technology. Their distrust and resentment may be widespread. According to the Pew Research Center, a majority of Americans say that they would not want to ride in a driverless vehicle; seventy-two per cent of the skeptics said that they don't trust the cars, have safety concerns, or simply worry about giving up control. And yet the same study shows that two-thirds of Americans expect cars to become driverless in the next fifty years. Who wouldn't feel resentment, contemplating a future they don't want but is going to happen anyway?" • Wish I had some numbers on Waymo in Arizona; I've never seen any.
Tech: "21 years in, the only way to get effective support from Google is to have friends who work there. Going in without personal connections is like trying to get a liquor license from the Ottoman Empire" [@Pinboard]. Thread:
Hey Google friends, Tock uses GCP, we pay for support, we've got half a dozen former Google Staff SWEs, and we email a completely lucid support request, we still get level 1 dumb support questions. Is there anyway to get a flag flipped in our acct so they'll give us REAL support?

— Brian Fitzpatrick (@therealfitz) May 3, 2019
Mr. Market: "Wall Street's 'fear gauge' surges 30% — on track for biggest jump in 7 months as stocks slump" [MarketWatch]. "The Cboe Volatility Index VIX, commonly known as the VIX and often referred to as Wall Street's fear gauge, was on track Tuesday for its sharpest daily jump in nearly seven months amid fears of increased tariff tensions between the U.S. and China. The VIX was recently up nearly 30%, with a daily surge at that level representing the biggest since Oct. 10, 2018 when the gauge surged by about 44%."
Mr. Market: "A business boom defies the forecasts" [The Week]. "The U.S. economy blew past expectations in the first months of 2019 in a burst of growth that feels like the 1990s, said Heather Long at The Washington Post. Last week, the government reported a 3.2 percent annualized GDP growth rate in the first quarter, energizing supporters of President Trump and his economic policies. Most of the growth 'was driven by an unusually low trade deficit and a surge in inventories, with companies beefing up their supplies after depleting them last year.' In addition, unemployment and inflation remain low, wages are rising, and the stock market 'has been on a bullish ride' that's reminiscent of the dot-com boom 20 years ago. Tax cuts gave the economy what looked like a 'sugar high,' said Jon Hilsenrath at The Wall Street Journal, but now productivity and labor force gains suggest that faster growth might well be sustained."
Mr. Market: "McKenna On Buffett, Berkshire Hathaway, and Kraft Heinz" [Re: The Auditors]. "Buffett has also chronically touted a type of non-GAAP metric he calls 'intrinsic value.' He defines it as the 'discounted value of the cash that can be taken out of a business during its remaining life.' Buffett and his partner Charlie Munger never disclose their estimates of Berkshire Hathaway's intrinsic value, because, they say, it's an estimate and very subjective. 'What our annual reports do supply, though,' Buffett wrote for the 2017 annual report, 'are the facts that we ourselves use to calculate this value,'" • Oh.
The Biosphere
"How Carbon Farming Can Help Stop Climate Change in Its Tracks" [The Nation]. "'How do we get greenhouse gases out of the air?' Masters asks the people at this workshop. Our host, a rancher named Steve Charter, answers, 'Photosynthesis.' 'Right,' she says. Plants not only take in carbon dioxide but also create ground cover—and this gets carbon back in the soil… Soil microbes eat sugar. And feeding these soil microbes builds soil and sequesters atmospheric carbon in the ground 'at a rate previously thought impossible.'" • This is a must read, and not only for soil fans.
"Start-Ups Hoping to Fight Climate Change Struggle as Other Tech Firms Cash In" [New York Times]. "Despite all the money sloshing around Silicon Valley, few venture capitalists have been willing to join him in backing companies trying to address climate change…. The start-ups face a fundamental challenge: Carbon dioxide is plentiful but lacks the chemical energy that makes fossil fuels and other materials useful for generating power. So far, no one has found an obvious way to turn capturing carbon dioxide into a profitable business." • Once again, capital is too important to be left to the capitalists.
"Skip the insecticide this summer. Fight mosquitos with bat homes" [Fast Company]. "Summer draws nigh, which means it's mosquito season. You have your usual arsenal of tiki torches, insect repellent oil, electric zapping lamps, and insecticide needed to fight them and the nasty viruses they carry. But there's a more nature-friendly way to destroy these buzzing annoyances: bats, which can eat up to a 1,000 mosquito-size insects per hour. That's what BatBnB wants you to know. The company first took shape in 2016, with some sketches and brainstorming by an Google employee and an architectural designer. Their mission: to turn bats into a pest-control weapon for homeowners by creating nice homes for them that look great in people's yards." • OK, OK, so you're worried a bunch of bats from out of town will turn your bat house into a bat party house. Still, those bat houses look pretty neat! And they, along with bird houses, are something I've never gotten around to… I create habitat by creating a mess, because birds love a mess….
"Sand mining 'mafias' destroying environment, livelihoods: UN" [Reuters]. "Global demand for sand and gravel, used extensively in construction, is about 50 billion tonnes or an average of 18 kg (40 lb) per person per day, according to a report published by the UN Environment Programme (UNEP)… Current legal frameworks are not sufficient, and "sand mafias" comprising builders, businessmen and dealers in countries such as Cambodia, Vietnam, India, Kenya and Sierra Leone regularly flout existing laws, said the UNEP. The science to support responsible consumption and extraction is lagging, it said, adding that new technologies and materials that can substitute or limit the use of traditional concrete are growing in use, but still limited."
"U.S. sinks Arctic accord due to climate change differences: diplomats [Reuters]. "Scientists believe the Arctic contains around 13 percent of the world's undiscovered reserves of oil and 30 percent of its reserves of natural gas as well as huge deposits of minerals such as zinc, iron and rare earth metals. Harvesting them remains expensive, but melting ice is making that more feasible, as well as affecting the world's weather, and the Arctic's wildlife and indigenous residents. [S]ources with knowledge of the discussions said the United States balked at signing a final declaration as it disagreed with wording that climate change was a serious threat to the Arctic. It was the first time a declaration had been cancelled since the Arctic Council was formed in 1996." • Weirdly, this Pompeo quote does not appear in the Reuters report: "[S]teady reductions in sea ice are opening new passageways and new opportunities for trade… Arctic sea lanes could become the 21st century Suez and Panama Canals."
"Key State Certification Denied For SW Oregon Natural Gas Export Project" [Oregon Public Broadcasting]. "Oregon environmental regulators delivered a blow Monday to a controversial energy export proposal on Oregon's south coast, saying the Jordan Cove liquefied natural gas pipeline and terminal project falls short of meeting clean water standards." • Excellent! Hydrocarbon projects should be opposed where encountered. Leave it in the ground!
Game of Thrones
"'Is the Coffee Cup in Game of Thrones Actually From Starbucks?" [New York Magazine] • Digital detectives discover that it's not a cup of coffee. It's a cup of herbal tea, with teabag, as available from a café near the set, in Ireland.
"HBO Edits 'Game of Thrones' Episode to Remove Errant Coffee Cup" [Variety]. • Each day, some time each hour, brings change. One might wonder what else has been edited out. Of everything.
Neoiberal Epidemics
"Can Economic Policies Reduce Deaths of Despair?" [NEBR]. "higher minimum wages and EITCs significantly reduce non-drug suicides. A 10 percent increase in the minimum wage reduces non-drug suicides among adults with high school or less by 3.6 percent; a 10 percent increase in the EITC reduces suicides among this group by 5.5 percent. Our estimated models do not find significant effects for a college-educated placebo sample. Event-study models confirm parallel pre-trends, further supporting the validity of our causal research design. Our estimates suggest that increasing both the minimum wage and the EITC by 10 percent would likely prevent a combined total of around 1230 suicides each year." • Note the class distinction is real (taking college education as a proxt for membership in the 10%.)
Class Warfare
"A Functional Class Framework for Modern Western Leftists" [Nina Illingworth]. • Interestingly, supports the same 0.1%/10%/90% framework many of us have been using for some time but written with a good deal of verve and detail. Worth a read.
"The hosts of capitalism's biggest party endorse the social safety net" [Quartz]. Charlie Munger: "Now if you get a place like Denmark or Sweden or something, a lot of these modern students would like it better, free education, free medical care and so forth. And if you have to bet, , in terms of more free education at the university level and more Medicare and some kind of medicine for all. And that we can afford without ruining the productivity of the civilization." • That's nice, and it would certainly help if the leadership of both major parties weren't doing everything possible to prevent it.
"Seniors owe billions in student loan debt: 'This will follow me to the grave'" [CBS]. "Americans age 60 and older owe more than $86 billion in unpaid college loans. Forty percent of them 65 and older are in default, according to the Consumer Financial Protection Bureau (CFPB). Many of them now have their Social Security benefits garnished to pay off their student debt." • Seems that would be a good campaign issue for somebody. Joe Biden, say.
Our booming economy:
Ads on urban radio station in Baltimore in past half hour: 1) house-flipping training 2) car loans for "anyone" 3) help in dealing w/ IRS 4) med malpractice 5) selling blood plasma

As @just_shelter noted in "Evicted," there's a lot of money to be made from low-income Americans.

— Alec MacGillis (@AlecMacGillis) May 7, 2019
Readers, what are the radio ads like in your area?
It is good to see Chris Arnade tweeting again. Thread:
In honor of International Workers' Day, a few pics of working folks I met across the country.

Starting with

Priscilla, El Paso TX. "Domestic help" pic.twitter.com/kNrL1R5OdW

— Chris Arnade (@Chris_arnade) May 1, 2019
News of the Wired
"Artist Travels To Scenic Locations Only To Paint The Pattern of His Own Shirt" [Sad and Useless]. • This is pretty great. I like the one with Monet's haystacks.
This reads to me like it's good film criticism, but I've never seen Terminator 2:
The 90s where bookended by two sci-fi action movies, both about computers/robots turning on their creators, both of which broke stylistic and technological ground and changed american film: Terminator 2 and The Matrix

— socialism with gamer characteristics (@Discourse_Stu) May 7, 2019
Nothing, yet everything:
Police detained a young man holding a blank poster in central square in Uralsk, Western Kazakhstan today. They released him shortly after as they couldn't figure out what he would be charged with pic.twitter.com/nLtIneIsr6

— Dina Baidildayeva (@baidildayeva) May 6, 2019
* * *
Readers, feel free to contact me at lambert [UNDERSCORE] strether [DOT] corrente [AT] yahoo [DOT] com, with (a) links, and even better (b) sources I should curate regularly, (c) how to send me a check if you are allergic to PayPal, and (d) to find out how to send me images of plants. Vegetables are fine! Fungi are deemed to be honorary plants! If you want your handle to appear as a credit, please place it at the start of your mail in parentheses: (thus). Otherwise, I will anonymize by using your initials. See the previous Water Cooler (with plant) here. Today's plant (EG):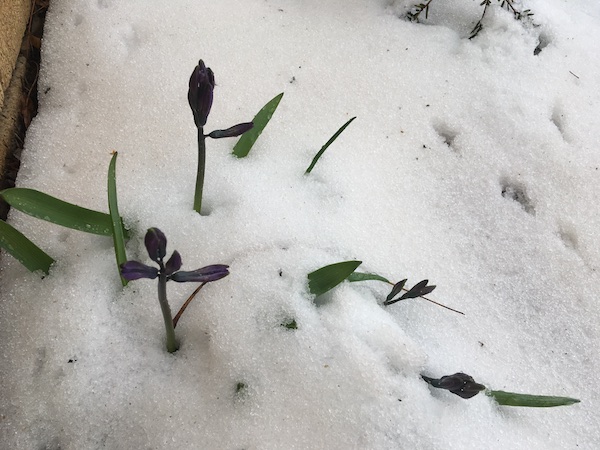 EG writes: "Hyacinth in snow." Winter is going.
* * *
Readers: Water Cooler is a standalone entity not covered by the annual NC fundraiser. So do feel free to make a contribution today or any day. Here is why: Regular positive feedback both makes me feel good and lets me know I'm on the right track with coverage. When I get no donations for five or ten days I get worried. More tangibly, a constant trickle of small donations helps me with expenses, and I factor in that trickle when setting fundraising goals. So if you see something you especially appreciate, do feel free to click this donate button:
Here is the screen that will appear, which I have helpfully annotated.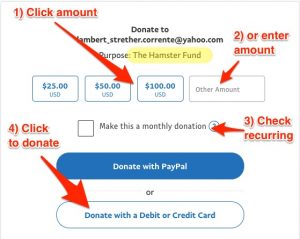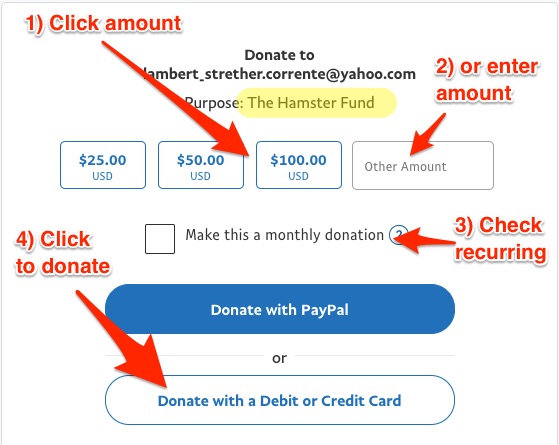 If you hate PayPal, you can email me at lambert [UNDERSCORE] strether [DOT] corrente [AT] yahoo [DOT] com, and I will give you directions on how to send a check. Thank you!