By Lambert Strether of Corrente.
Trade
"Yes, there will be a US-China trade deal" [Asia Times]. "Economic reformers in Beijing have long been frustrated with the state-owned enterprises, which constitute a formidable political constituency opposed to internal economic transformation. Trump may be doing Xi Jinping a favor by giving him a political rationale to cut subsidies to SOE's, something which he wants to do in any case…. America's intensive diplomatic efforts to exclude the Chinese firm from the global rollout of 5G failed only because Huawei has a better product, and even close American allies such as the UK fear being left behind. The lesson that Beijing will have taken from the Huawei affair is that China's prestige, power and economic growth depend on its most innovative companies, not on stagnant state-owned enterprises. In short, what we observe is entirely consistent with the rational self-interest of Trump and Xi, and the logic of their self-interest dictates a trade deal. The scenario requires a swoon in equity prices, and the market graciously obliged today."
Politics
"But what is government itself, but the greatest of all reflections on human nature?" –James Madison, Federalist 51
"They had one weapon left and both knew it: treachery." –Frank Herbert, Dune
2020
"2020 Democratic Presidential Nomination" [RealClearPolitics] (RCP average of five polls). Biden up 20, everybody else down.

"*" = New candidate.

* * *

Biden (D)(1): ""This Is Do-or-Die": Joe Biden's "Electability" Argument Is How Democrats Lose Elections" [Vanity Fair]. "Since Vietnam, every time a Democrat has won the presidency, it's because Democrats voted with their hearts in a primary and closed ranks around the candidate who inspired them, promising an obvious break from the past and an inspiring vision that blossomed in the general election. Jimmy Carter. Bill Clinton. Barack Obama. All were young outsiders who tethered their message to the culture of the time. When Democrats have picked nominees cautiously and strategically—falling in line—the results have been devastating, as Michael Dukakis, Al Gore, John Kerry and Hillary Clinton made plain." • So, being Democrats…

Biden (D)(2): Where are the crowds?

Biden Vegas rally. Half the crowd is press. A bunch of people are leaving already. His whole speech about how Trump said there are fine people on both sides. pic.twitter.com/Po0dTsGBOf

— ?Joshua Collins 4 Congress (@Joshua4Congress) May 7, 2019

Buttigieg: "How Pete Buttigieg became the new toast of Silicon Valley's wealthiest donors" [Vox]. "'If he came in and pitched a startup at Founders Fund,' said Cyan Banister, a venture capitalist there, 'he would be in the A-player category of founders.'" • People keep thinking Buttigieg negatives are positives.

* De Blasio (D)(1): "Critics say Bill de Blasio's presidential aspirations are delusional. Can he prove them wrong?" [Yahoo News]. • lol no.

Sanders (D)(1): Uber strike:

Uber is not a poor company. It paid its top five executives $143 million in compensation last year, including $45 million to its CEO.

So why are Uber drivers struggling to put food on the table?

I stand with striking Uber and Lyft drivers today. The greed has got to end. pic.twitter.com/4esvwHApjX

— Bernie Sanders (@BernieSanders) May 8, 2019

I just don't understand why all the candidates aren't doing this…

Sanders (D)(2): A new UFCW bargaining unit:

Inbox: The @BernieSanders campaign has ratified a union contract with its bargaining unit of workers pic.twitter.com/7cQSSkGC5k

— Scott Heins (@scottheins) May 8, 2019

I just don't understand why all the candidates aren't doing this…

Sanders (D)(3): "Bernie Sanders campaign unveils plan to prevent sexism among staff" [Guardian]. • I just don't understand why all the candidates aren't doing this…

Sanders (D)(4): "Bernie Sanders: Medicare for All will save Americans from health care crisis" [USA Today]. "Medicare is the country's most popular and cost-effective health care program. Americans who are covered by Medicare report significantly higher satisfaction rates than those with private insurance. That is not surprising: Unlike private insurance, Medicare does not threaten to bankrupt people in order to enrich greedy CEOs. Instead, it guarantees coverage. Now here's more good news: By expanding that coverage to everyone, we will save Americans money. Under a Medicare for All system, we will no longer be paying those exorbitant CEO compensation packages, or the absurdly high administrative costs in the private insurance system. We will also be able to negotiate lower drug prices." • It's good that Sanders understands he has to make the case that #MedicareForAll saves money. But he's got to change his bill to get rid of ACOs, if he wants to do that!

Sanders (D)(5): "The Long Shot" [Matt Karp, The Nation]. "Such deep roots in third-party struggle make Sanders a black swan not only among today's Democratic elite but across American political history. To find an influential national figure with such an extensive background outside the two-party system, you have to return to Debs and the Socialists in the early 20th century or, perhaps, Salmon Chase and the antislavery radicals who helped found the Republican Party before the Civil War. Like the political abolitionists of that era, Sanders has spent his life working to find a party to advance his cause, rather than finding a cause that can advance his party. Nor has that cause wavered very much in half a century. Interviewed by United Press International at the start of his first Liberty Union Party campaign in 1972, he produced a paragraph that could be pasted into a tweet today: 'If we wanted to, we could have decent housing and free medical care and jobs for everyone…. It won't happen because the wealth and money lies in the hands of a few people who are not concerned with the welfare of others.'" • But can Bernie speak Norwegian?

Warren (D)(1):

Any efforts to address climate change must include our public lands. That's why on the first day of a Warren administration, I will sign  a total moratorium on all new fossil fuel leases, including for drilling offshore and on public lands. pic.twitter.com/b0VYglvX3F

— Elizabeth Warren (@ewarren) May 6, 2019

Warren (D)(2):

It was unusual to hear or read an American public figure talking about inequality & debt squeeze 15 years ago—it was cultural heresy. Researching inequality was near impossible, it was assumed that only cranks & commies cared. https://t.co/2Kjd7HWO8W

— Mark Ames (@MarkAmesExiled) May 7, 2019




"The Electability Trap" [Amy Walter, Cook Political Report]. "I know I just walked through a bunch of poll numbers, but that's not what Democratic voters are doing right now. While political pros and cable TV talkers are debating the 'electability' game, they are mostly making it more than it really is. The debate over 'electability' at this stage of the game is still based on what happened in the last one. A lot of Democrats look at Biden and think he would've won in 2016 and as such see him as the safest choice for 2020. If however, Biden starts to look like a risky bet (he stumbles in a debate, bumbles on the trail, etc) the rationale on which is campaign is based collapses. The winner of the 2020 primary will be the candidate who can prove he/she is best suited for the unique challenges of the upcoming campaign, not the one who is still fighting over what they should do the same/differently from 2016." • Too sensible!
2016 Post Mortem
"Hillary Clinton Said Russia Infiltrated All Florida Election Systems. A State Official Disputes That" [Time]. Not only a state official; the Mueller report itself. "Special Counsel Robert Mueller's report said that Russian spies attempted to hack into many of Florida's local election systems, succeeding in penetrating 'at least one' county government network. But Mueller did not say any more than that. At Tuesday's TIME 100 Summit, Hillary Clinton went much further, claiming that the government had said that every Florida county election system was hacked during the 2016 election." • This is the sort of detail that you'd expect a good-faith advocate to get right. It takes real chutzpah to inflate "one" to "all," although, to be fair, that sort of thing is pardonable in a warmonger.
RussiaGate
"America in denial: Gabor Maté on the psychology of Russiagate (Interview transcript)" [Grayzone Project] (interviewed by his son, Aaron Maté). "So I really believe that really this Russiagate narrative was, on the part of a lot of people, a sign of genuine upset at something genuinely upsetting. But rather than dealing with the upset, it was an easier way to in a sense draw off the energy of it in to some kind of a believable and comforting narrative. It's much more comforting to believe that some enemy is doing this to us than to look at what does it say about us as a society. I mean there was a massive denial of the actual dynamics in American society that led to the election of this traumatized and traumatizing individual as President, number one." • In general, I resist purely psychological explanations. (For example, the "brunch" meme mocking Clinton irredentists includes a psychological element (denial) but a class element, too, since not a lot of working class people do brunch.) But Maté sounds calm and humane. Well worth a read (especially for the part where he explains Trump's trauma, visited upon him by his horrible father, Fred.

Could the New York Times have coined "short-fingered vulgarian"? No:

In which NYTimes regurgitates 30-year-old Spy magazine exposés of Trump—minus everything that made those articles fun to read https://t.co/0DGwiGTErp

— Mark Ames (@MarkAmesExiled) May 8, 2019
Our Famously Free Press
George McClellan probably would have gone into data journalism:

if we had data journalist-pundits in the 1860's they'd be writing pieces like "Slavery: You May Not Like It, But Most Americans Do" and "Does The Emancipation Proclamation Even Matter?"

— friendly neighborhood blupman (@blippoblappo) May 8, 2019
Health Care
This is just bizarre:

While you attempt to make money off us, your one-size-fits-all plan would double every American's taxes and reduce the quality of care. https://t.co/brAYPvZquY

— Partnership for America's Health Care Future (@P4AHCF) May 7, 2019

I suppose by "make money" is meant "raise campaign contributions. So that's the worldview of the Obama and Clinton staffers running PFAHCF! But we don't want to "make money" off the health insurance industry. We want to abolish it!!
Realignment and Legitimacy
"Why you should care about the Nate Silver vs. Nassim Taleb Twitter war" [Toward Data Science]. Long and a bit dated, but I thought these two concepts were interesting: "Predictions have two types of uncertainty; and . Aleatory uncertainty is concerned with the fundamental system (probability of rolling a six on a standard die). Epistemic uncertainty is concerned with the uncertainty of the system (how many sides does a die have? And what is the probability of rolling a six?). With the latter, you have to guess the game and the outcome; like an election! Bespoke models, like FiveThirtyEight's, only report to the public aleatory uncertainty as it concerns their statistical outputs (inference by Monte Carlo in this case). The trouble is that epistemic uncertainty is very difficult (sometimes impossible) to estimate." • I would say that in a legitimacy crisis, epistemic uncertainty would bulk large; I barely know Taleb's work, so I don't know if he takes this issue up.
Stats Watch
Consumer Credit, March 2019: "Consumer credit came in below expectations" [Econoday]. "The March decline in revolving credit and the slowdown in credit card debt growth during the first quarter suggests the consumer is becoming more frugal, which is a plus for household wealth but a drag on consumer spending."
JOLTS, March 2019: "Imbalances between openings and hires deepened sharply in March" [Econoday]. "Job openings surged… at the same time that hires fell. The gap between the two stands at a new record…. Though workers may not be shifting among employers, scarcity in the labor market is indicated in this report by the comparison of openings vs hires and was underscored very strongly in last week's employment report by…. dip in the unemployment rate to a 49-year low at 3.6 percent. Full employment, a theoretical flashpoint for stress, would appear to be here."
MBA Mortgage Applications, week of May 3, 2019: "After slipping through late April, mortgage applications for home purchases rose" solidly [Econoday].
Real Estate: "Long Island City's Amazon effect" [Axios]. "When Amazon announced its retreat from Queens amid a backlash from local activists, Long Island City seemed to have lost 25,000 new jobs and billions of dollars in investment. Instead, two months later, the neighborhood is experiencing a boom: Other companies have grabbed much of the 1.5-million-square-foot, all-glass building that was to be the beachhead of Amazon's Queens expansion, and interest has surged in nearby commercial real estate." • Lol, no effect at all. Remember all the pissing and moaning?
The Bezzle:
Classic Bitcoin. $41 million dollars gets swiped overnight. And yet, people can't help but marvel, at the low transaction fees to move so much money from one account to another. https://t.co/qs8DDxdi1b

— Joe Weisenthal (@TheStalwart) May 8, 2019
Prosecution futures!
Tech: "AirPods Are a Tragedy" [Vice]. "For roughly 18 months, AirPods play music, or podcasts, or make phone calls. Then the lithium-ion batteries will stop holding much of a charge, and the AirPods will slowly become unusable. They can't be repaired because they're glued together. They can't be thrown out, or else the lithium-ion battery may start a fire in the garbage compactor. They can't be easily recycled, because there's no safe way to separate the lithium-ion battery from the plastic shell. Instead, the AirPods sit in your drawer forever…. AirPods are a symbol of wealth. They're physical manifestations of a global economic system that allows some people to buy and easily lose $160 headphones, and leaves other people at risk of death to produce those products. If AirPods are anything, they're future fossils of capitalism." • Well worth a read, especially if you want to understand product design at Apple (ugh).
Mr. Market: "Global Stock Sell-Off Exposes Stretched Valuations" [Bloomberg]. The conclusion: " I figure the reaction has been mild because most investors still think Trump is unlikely to go through with his threat at the end of this week. I agree. As everyone had worked out from months of examining the situation, it's in the interests of neither the U.S. nor China to press on into a full-blown trade war. My own guesstimate (and it is no more than that) is that the market is pricing the risk of Trump going through with his threats at not much more than 20 percent. If the brinkmanship is taken too far, there is a lot further for the markets to fall. For now, the sell-off has been unremarkable. And it has not been unhealthy."
The Biosphere
"The breakdown of biodegradable plastic, broken down" [Anthropocene]. "[A] new study shows that even after being buried in the soil or immersed in seawater for three years, plastic bags marketed as biodegradable can still carry a full load of groceries without breaking… The study suggests that there's no simple technological solution to the problem of single-use plastic. Instead, the solution is a human one that basically boils down to an ethic of care. That means, as individuals, choosing and reusing durable items rather than throwaway ones when possible, and taking care to discard items appropriately. And collectively, it means designing disposable products and waste management systems that help individuals follow through." • Hmm.
"This global map of manure could help save farming as we know it" [Science]. "To grow the world's wheat, corn, and beans, farmers need phosphorus—an essential nutrient that comes from bird and bat droppings and rock deposits. But the global supply of easily mineable phosphorus is dwindling; to stave off the coming drought, scientists are exploring an alternative: recycling animal manure for its phosphorus content. Now, they've come up with the world's first map of this underappreciated resource, which shows that most manure is exactly where farmers need it—in their own backyards.." • If they can be induced to recycle it, and apparently the process for that is too expensive "for small family farms, which supply most food in parts of Asia, sub-Saharan Africa, and Latin America."
"Losing Marine Stratocumulus Clouds Could Create a Mega-Hothouse Climate" [Weather Underground] (original). "The theorized breakup of the marine stratocumulus decks is because of a disrupted balance between heating from above and cooling at the cloud top. Because they are so bright and thick, marine stratocumulus are highly reflective clouds, sending much more energy into space than is radiated their way by the carbon dioxide that sits above them. As CO2 accumulates in the atmosphere, though, it sends more and more energy toward the top of the marine stratocumulus. Eventually, this leads to a breakdown of the fine-scale upward and downward motions that sustain the cloud deck…. The last time earth was so warm was during the hottest part of the Eocene era, 50 million years ago, when tropical vegetation grew in Alaska and Greenland. Since the real atmosphere is far more complicated than their idealized model, and the modeling was not done on a global scale, their results should be viewed as highly experimental until more research with better models is performed."
"Climate Change, Climate Policy, and Economic Growth" (slide deck) [NBER].
Health Care
"A Watered-Down Medicare for All Won't Work. Just Ask Ireland." [The New Republic]. "Beto O'Rourke, for his part, has gone from endorsing Medicare for All to endorsing the misleadingly named Medicare for America, a public option policy borne of several years of research from the Center for American Progress. With his support, it has quickly become the most popular moderate plan du jour…. It would put more Americans on a Medicare program, but the rest would still be required to purchase health insurance, either through their employers or privately. The plan would also introduce more government regulation to health care giants that charge wildly inflated prices for services and medication. This might sound like an improvement, but in fact, a comparable system already exists, in the Republic of Ireland, where it's created a crisis of care…. Hundreds of thousands fall through the cracks in Ireland's system, too wealthy to get comprehensive benefits from the public system, but too poor to pay for private insurance entirely out of pocket." • Exactly like ObamaCare (see the six-part series, "ObamaCare's Relentless Creation of Second-Class Citizens"). Liberals just can't help creating complex eligibility requirements that end up sending some people to Happyville, and others to Pain City, randomly. Well worth a read.
Big Brother Is Watching You Watch
"The Tenants Fighting Back Against Facial Recognition Technology" [CityLab]. "Last year, residents of Atlantic Plaza Towers, a rent-stabilized apartment building in Brooklyn, found out that their landlord was planning to replace the key fob entry system with facial recognition technology. The goal, ostensibly, was to modernize the building's security system… Last week, lawyers representing 134 concerned residents of the building filed an objection with the state housing regulator. It is the first visible opposition in New York City to the deployment of such technology in the residential realm."
Police State Watch
"GEO Group's Own Shareholders Concerned About Human Rights in the Company's Prisons" [Miami New Times]. "Activists regularly protest outside GEO Group's facilities, which include prisons and immigration detention centers. White-supremacist groups send the company thank-you packages. Meanwhile, people are dying inside GEO facilities — one immigration detainee in California died last month at the age of 27. Now even the company's own shareholders say they're concerned. GEO, a Boca Raton-based company now considered the largest private, for-profit prison firm in America, held an annual shareholder meeting today — and a majority of shareholders passed a resolution demanding that GEO better report human rights policies and violations to investors." • GEO Group uses prison labor, awfully close to being a human rights violation in and of itself.
Gunz
""I always knew this would happen': STEM families shocked, but not surprised, by school shooting" [Colorado Independent]. "'I always knew. I live close to Columbine. I always knew this would happen,' [8th-grader Gianni] told me. 'It's bound to happen sooner or later.'" • Other children felt the same way. What a world.
Black Injustice Tipping Point
"Huge Racial Disparities Found in Deaths Linked to Pregnancy" [New York Times]. "African-American, Native American and Alaska Native women die of pregnancy-related causes at a rate about three times higher than those of white women, the Centers for Disease Control and Prevention reported on Tuesday. The racial disparity has persisted, even grown, for years despite frequent calls to improve access to medical care for women of color. Sixty percent of all pregnancy-related deaths can be prevented with better health care, communication and support, as well as access to stable housing and transportation, the researchers concluded."
Class Warfare
"Worker 'used device to block webcam at home'" [Asia Times]. "An employer has accused his domestic worker of buying and hiding a device to interfere with a web-camera at his home…. such devices can easily be found on Taobao.com, a Chinese shopping website. The gadget that blocks WiFi signals is promoted as a device to "get your children off internet addiction" and sells for around 118 Chinese yuan (US$17)." • Those maids aren't dumb…
News of the Wired
"Reducing Crime Through Environmental Design: Evidence from a Randomized Experiment of Street Lighting in New York City" [NBER]. "Through a unique public partnership in New York City, temporary streetlights were randomly allocated to public housing developments from March through August 2016. We find evidence that communities that were assigned more lighting experienced sizable reductions in crime. After accounting for potential spatial spillovers, we find that the provision of street lights led, at a minimum, to a 36 percent reduction in nighttime outdoor index crimes." • Anecdotally, downtown Philly got a lot safer after they replaced those horrid tall, streamlined aluminum harsh orange-lit streetlights with old-fashioned, warm streetlights, close to the ground.
News you can use:
An anger scale for online discourse by masc nicknames:

dude: not that mad
buddy: solidly peeved
my man: pretty annoyed
bro: steamed for real
chief: uh oh
my guy: furious

— Meredith Haggerty (@manymanywords) May 7, 2019
I've never encountered "my guy" in the wild. My entry for furious, incandescent rage would be "champ." Otherwise, the scale seems pretty accurate to me!
"Archaeologists find richest cache of ancient mind-altering drugs in South America" [Science]. "[T]he 1000-year-old bag contains the most varied combination of psychoactive compounds found at a South American site, including cocaine and the primary ingredients in a hallucinogenic tea called ayahuasca. The contents suggest the users were well versed in the psychoactive properties of the substances, and also that they sourced their goods from well-established trade routes. 'Whoever had this bag of amazing goodies … would have had to travel great distances to acquire those plants,' says Melanie Miller, lead author of a new study on the discovery and a bioarchaeologist at the University of Otago in Dunedin, New Zealand. '[Either that], or they had really extensive exchange networks.'" • "Amazing goodies"!
* * *
Readers, feel free to contact me at lambert [UNDERSCORE] strether [DOT] corrente [AT] yahoo [DOT] com, with (a) links, and even better (b) sources I should curate regularly, (c) how to send me a check if you are allergic to PayPal, and (d) to find out how to send me images of plants. Vegetables are fine! Fungi are deemed to be honorary plants! If you want your handle to appear as a credit, please place it at the start of your mail in parentheses: (thus). Otherwise, I will anonymize by using your initials. See the previous Water Cooler (with plant) here. Today's plant (Angie Neer):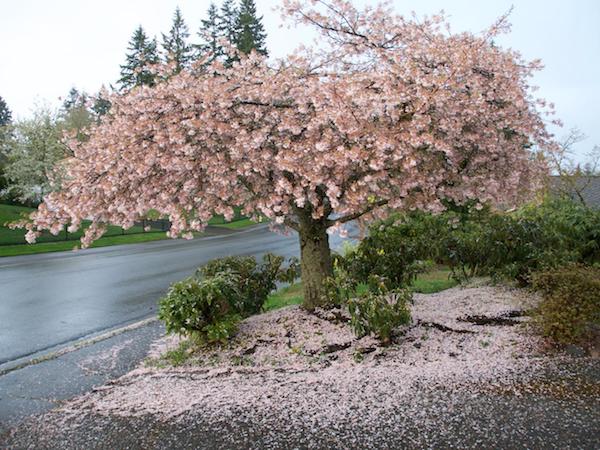 Angie Neer writes: "Here in the NW the blossoms are already being rained off the cherries."
* * *
Readers: Water Cooler is a standalone entity not covered by the annual NC fundraiser. So do feel free to make a contribution today or any day. Here is why: Regular positive feedback both makes me feel good and lets me know I'm on the right track with coverage. When I get no donations for five or ten days I get worried. More tangibly, a constant trickle of small donations helps me with expenses, and I factor in that trickle when setting fundraising goals. So if you see something you especially appreciate, do feel free to click this donate button:
Here is the screen that will appear, which I have helpfully annotated.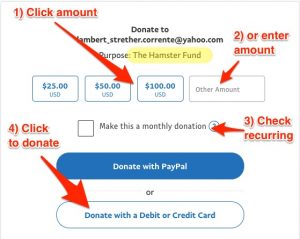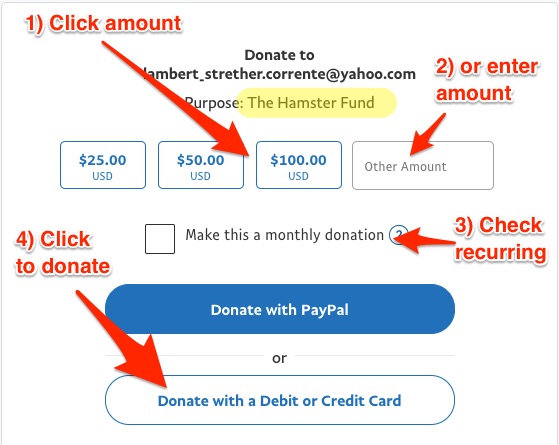 If you hate PayPal, you can email me at lambert [UNDERSCORE] strether [DOT] corrente [AT] yahoo [DOT] com, and I will give you directions on how to send a check. Thank you!