By Lambert Strether of Corrente.
Trade
"A Mysterious Account in China Seems to Have an Inside Track on Trade Talks" [Bloomberg]. "For many China observers, one question has popped up since a pair of President Donald Trump's tweets roiled Chinese stocks this week: Who or what is Taoran Notes? As most of China's media fell into collective silence Monday following Trump's threat to escalate the trade war, Taoran Notes, a once obscure account on Tencent Holdings' WeChat platform, somehow escaped the intensified censorship. It became one of the few voices offering an opinion on China's negotiation strategy. In a 1,500-character commentary published Monday, Taoran warned the U.S. not to fantasize about China making concessions that will damage its own interests. The comment was later re-published by the WeChat account of People's Daily, a rare move for the official newspaper of the Communist Party." • From the article, this seems to the site. Do we have any Mandarin readers who'd care to update?
"Tariffs Will Cut China Growth by One Point, Citi Says" [Bloomberg]. "An increase of tariffs on $200 billion of Chinese goods would cut 0.5 percentage points off China's growth over one to two years, and the impact could more than double if duties are slapped on all its shipments to the U.S. That's according to Citigroup Global Markets Inc economist Cesar Rojas, who also wrote in a May 8 note that raising tariffs on $200 billion of China's goods to 25 percent from 10 percent on Friday would slice 0.2 percentage points off global growth over the same period. The impact on global expansion also would also double if duties of 25 percent are slapped on the remaining Chinese imports, he said."
"Has Trump's 'Art of the Deal' met its match in Xi Jinping's long game? FBI's former crisis negotiator breaks it down" [South China Morning Post]. "[James Chip Massey, a former crisis negotiator at the US Federal Bureau of Investigation (FBI), who now advises CEOs on business negotiations,] pointedly disagreed with Trump's assessment of Chinese President Xi Jinping as a 'world class poker player'. 'Xi is a world-class chess player,' Massey said, who has been a featured speaker at the Carnegie New Leaders programme, the US Military Academy at West Point, and to law enforcement and business organisations around the US. 'He is well-versed in strategy and [can read] the mind of his opponent. And he is patient. From what I've seen so far, I'm not convinced that President Trump has an equivalent amount of discipline or patience, or an appreciation for the strategic instruments that successful international relations require.'" • On the one hand, sure. On the other, the people with the "appreciation for the strategic instruments that successful international relations require" also handed our industrial base over to China, gutting flyover. So, dilemmas wherever you look.
Why didn't I think of this:
Xi loves me
Xi loves me not
Xi loves me
Xi loves me not

— shinebox (@ljzaz) May 9, 2019
Politics
"But what is government itself, but the greatest of all reflections on human nature?" –James Madison, Federalist 51
"They had one weapon left and both knew it: treachery." –Frank Herbert, Dune
2020
"2020 Democratic Presidential Nomination" [RealClearPolitics] (RCP average of five polls). Biden up 20, everybody else down.

"*" = New candidate.

* * *

Readers, that impeachment section with the table took longer than I thought. I will return shortly with a festival of Biden, etc. –lambert UPDATE I read up on the "Protect Democracy" project, and got wrapped around the axle. UPDATE All done. Life's rich pageant!

Biden (D)(1):

Former Vice President Joe Biden visits a taco shop in Los Angeles, where he pledges to never speak ill of a fellow Democratic presidential candidate pic.twitter.com/15KTHCTaO9

— Reuters Top News (@Reuters) May 9, 2019

Biden (D)(2): Union guy:

According to an early donor list mistakenly attached to an invitation to Biden's first fundraiser, the event raised at least $46,850 from employees and family members of attorneys at the union-busting law firm Cozen O'Connor. https://t.co/uDE1osrIa6 pic.twitter.com/8yDGkLBuoo

— Scott Bixby (@scottbix) May 2, 2019




Buttigieg (D)(1): "Buttigieg is the only top 2020 candidate not offering staffers health care yet" [NBC News]. "But as he staffs up a national campaign, the upstart Democratic presidential candidate isn't providing health care coverage to any of his own campaign workers, an NBC News review of his campaign spending disclosures shows. Instead, Buttigieg is providing a monthly stipend to workers to buy insurance on their own through the Obamacare exchanges, his campaign said, with plans to offer health care in the future. The practice stands in contrast to the other leading presidential candidates this year, as Democrats have made a point of aligning their internal practices with the policies and values they are emphasizing on the campaign trail." • What Buttigieg's staffers need is a union. Sanders staffers have one.

O'Rourke (D)(1): "Jeff Berman's delegate strategy helped make Barack Obama president" [Politico]. "The low-profile Democratic lawyer who played a central role in Barack Obama's and Hillary Clinton's election campaigns, and who literally wrote the book on the obscure and crucial art of delegate selection, has gone to work for Beto O'Rourke… The hire of the detail-oriented, fastidious Berman also indicates that O'Rourke plans to emulate Obama in building a technical campaign machine under the surface of what he hopes will feel like a movement." • Brokered convention, anyone?

Sanders (D)(1): "Open Forum: Drivers for ride-booking services deserve better pay and job protections" [San Francisco Chronicle]. "We can no longer accept a situation in which a tiny handful of Americans become extraordinarily wealthy by paying their workers starvation wages. Today, the median worker at these ride-booking services makes between $8.55 and $10 an hour. And yet in 2017, Lyft's CEO made more than $41 million and Uber's CEO was paid $45 million last year. Additionally, Uber executives this week are expected to become instant millionaires from the company's multibillion-dollar initial public offering on Wall Street… And now, shock of all shocks, President Trump — the man who campaigned as a champion of workers — is actively helping companies rip off workers…. Trump's administration not only rescinded previous rules designed to classify gig economy workers as full-time employees, his Labor Department just this past week issued a 'get out of jail free card' to employers such as Uber and Lyft to let them keep classifying their workers as 'independent contractors.' That makes it harder for these workers to join unions, and harder for workers to sue when they are being fleeced." • Right in Pelosi's backyard, too. Cheeky!

Sanders (D)(2): "Bernie Sanders's political revolution on foreign policy, explained" [Vox]. "It took every ounce of political will fighting Saudi Arabia's powerful lobby, a legacy of hawkish anti-Iran lawmakers — both Democratic and Republican — and President Trump's personal affinity for MBS to pass the War Powers Resolution through the Republican-controlled Senate and the Democrat-run House, where it was led by Rep. Ro Khanna (D-CA) (who is, incidentally, now Sanders's presidential campaign co-chair). It was the first time Congress has ever adopted such a resolution, directing Trump to remove troops involved in a war Congress never authorized. When it passed, Sanders went on Fox News and urged Trump to sign it. The next day, Trump vetoed the resolution. Even so, for Sanders, the War Powers Resolution has served as a clarifying issue for his 2020 foreign policy message. The fight against the Yemen war fits so perfectly within his worldview that to listen to him explain it, you can hear the echoes of his famed speeches about millionaires and billionaires on Wall Street. 'MBS, who I think has the unique distinction of owning the largest home in the world and the largest yacht in the world — he should not be determining American military and foreign policy,' Sanders told me with a smile." And from the coiner of the term, "The Blob," Ben Rhodes: "'It's no small achievement to essentially unite the entire Democratic caucus in both houses behind this progressive position and also to peel off a little bit of Republican support,' Rhodes said. 'It shows there is actually progressive momentum in the Democratic Party that wasn't there when Obama was in office.'" • No kidding, but I imagine the Sanders campaign will take it.

Sanders (D)(3): "Sanders, Ocasio-Cortez Propose 15% Cap on Credit Card Interest" [Bloomberg]. • I'm glad to see AOC back in the fray, but shouldn't that decimal point be moved one digit right left? As in 1.5%? But more importantly: "The two self-identified democratic-socialists are set to propose legislation on Thursday capping rates on credit card and other consumer loans and , such as loans and checking and savings accounts." • Awesome!!!! And stealing Elizabeth Warren's issue, too. (Plus I can see AOC demolishing the usual yammering about the Post Office and big gummint with a video about how much she loves the Post Office (maybe while sending a package). I see nothing wrong with the Post Office that funding won't cure; it's obviously an enormously tough and effective institution. Oh, and put a WiFi antenna on top of every Post Office building so there's free municipal WiFi. Why not?

Trump (R)(1): "Trump political machine sets massive fundraising target" [Politico]. "President Donald Trump's outside political machine is setting a $300 million fundraising goal and is pitching major GOP donors on a plan to target six swing states that are likely to decide the 2020 election, according to people familiar with the group's blueprint…. With Democrats embroiled in a crowded primary, the Trump 2020 financial network is beginning to take shape. On Tuesday, around 250 Republican bundlers from across the country met in Washington for a retreat sponsored by the Trump campaign. Senior party figures including Vice President Mike Pence and Republican National Committee Chairwoman Ronna McDaniel attended… Republican officials briefed attendees on plans to build a traditional fundraising program that would include establishment-aligned bundlers who snubbed Trump in 2016." • Sounds like the Trump campaign isn't placing its bets on small donors. But I bet impeachment will help with that!

Warren (D)(1): "My comprehensive plan to end the opioid crisis" [Medium]. " in the United States dropped again in 2017, part of the longest sustained decline in a century — one largely driven by the opioid epidemic. More than 685,000 Americans have died from a drug overdose in the United States this century, and it's getting worse… Life expectancy in the United States dropped again in 2017, part of the longest sustained decline in a century — one largely driven by the opioid epidemic. More than 685,000 Americans have died from a drug overdose in the United States this century, and it's getting worse…. The CARE Act proposal is modeled on the Ryan White CARE Act, providing resources directly to first responders, public health departments, and communities on the front lines of this crisis — so that they have the resources to provide prevention, treatment, and recovery services for those who need it most…. This week, I'll visit Kermit, West Virginia, a small town located along the Kentucky-West Virginia border. Kermit has been hard-hit by the opioid epidemic — and not by accident. Over a period of just a few years, this town of only 400 people was flooded with approximately 13 million prescription opioid pills, all delivered to a single local pharmacy — that's more than 30,000 pills per resident… I have a plan to pay for it: my ultra millionaire tax on the richest 75,000 families in America." • Finally, Warren is singing my song!

NH: "Trump Bigger Factor than Obama for 2020 Dem Primary Voters" [Monmouth]. "In a field of 24 announced and potential candidates, Biden holds a clear lead with 36% support of registered Democrats and unaffiliated voters who are likely to participate in the February 2020 primary. He is followed by Vermont Sen. Bernie Sanders at 18%." More importantly: "The overwhelming majority (68%) of likely Democratic voters prefer to have a nominee who would be a strong candidate against Trump even if they disagree with that candidate on most issues. If they were forced to choose, just 25% say they would favor a Democratic candidate who they are aligned with on the issues even if that person would have a hard time beating Trump. Among those who say having a nominee that builds on Obama's legacy is very important to them, 79% prioritize beating Trump while just 15% say they want a candidate who they agree with on the issues even if he or she would be weaker against the incumbent." • Reifying "electability." Worse, a beauty contest for electability. Trump wasn't electable. And here we are (although, to be fair, Trump had Clinton's help).
Impeachment
"Statement by Former Federal Prosecutors" [Medium]. From the statement:

Each of us believes that the conduct of President Trump described in Special Counsel Robert Mueller's report would, in the case of any other person not covered by the Office of Legal Counsel policy against indicting a sitting President, result in multiple felony charges for obstruction of justice.

The Mueller report describes several acts that satisfy all of the elements for an obstruction charge: conduct that obstructed or attempted to obstruct the truth-finding process, as to which the evidence of corrupt intent and connection to pending proceedings is overwhelming. These include:

· The President's to fire Mueller and to falsify evidence about that effort;

· The President's to limit the scope of Mueller's investigation to exclude his conduct; and

· The President's to prevent witnesses from cooperating with investigators probing him and his campaign.

Lambert here: IANAL, but I notice the thrice-repeated word "effort." Apparently, these efforts all came to nothing, or else the prosecutors would surely have listed them in their indictment. It's the same with all Trump's business dealings with Russia, such as they are; they never came to anything, either. No hotels, nothing. So I'm not sure that impeaching Trump for pufferies of smoke, as opposed to real fire, would make sense in, well, the West Wing. (Nixon, for example, wiped destroyed physical evidence. So far as I know, Trump has done nothing like that.) There is also, so far as I know, no universally respected figure to sort the smoke from the fire: There is no Sam Ervin, for example; and no Judge Sirica, so it's hard to see how the whole effort won't be framed, and rightly, as a partisan effort. And please don't talk to me about "the rule of law" or "saving the Republic" when Obama didn't prosecute any bankers for accounting control fraud after the Crash, and torturers, perjurers, and entrapment artists like Brennan, Clapper, and Mueller are all over the airwaves.

Trying to put myself in Pelosi's shoes: RussiaRussiaRussia did no harm in the midterms (41 seats!), so maybe impeachment will have the same effect. The only real worry is suburban Republicans; the Prosecutors' letter and similar should help with that. On the bright side: Impeachment will suck away all the oxygen from #MedicareForAll, Green New Deal, etc; will amplify calls for war with Russia; will justify continued McCarthyism; and will strengthen the control of our allies in the intelligence community of Presidential selection and election legitimacy. Best of all, since Republicans hold the Senate, our stand on "principle" will go nowhere, so (1) we won't have to govern, and (2) the donor class won't be upset, although (3) there will be plenty of small donor money and #Resistance oomph. Really, what's not to like?

Stepping out of Pelosi's shoes, I thought I'd see if the data from at the Statement told me anything. I downloaded the CSV and made this table:

Three things: First, the letter is truly bipartisan — in fact, more Republicans than Democrats! In consequence, the professional classes really hate Trump. But then we knew that. Finally: I should actually compliment the "career prosecutor" signatories who put their name to the Letter; that shows courage. That said, and again, Toto, we're not in the West Wing anymore. If they, or anybody, thinks that the rule of law was in great shape until Trump came along, they're living in a fantasy world.

"Hundreds of Former Federal Prosecutors Would Indict Donald Trump" [John Cassidy, The New Yorker]. "[T]he letter was aimed at William Barr, the current Attorney General, as well as Trump. Indeed, the letter can be interpreted as an unprecedented rebuke of a sitting Attorney General from former employees of the department he oversees…. As early as next week, or, perhaps more likely, after he has joined the ranks of former Justice Department employees, later this month, Mueller himself may get the chance to say in public whether he, too, agrees with this assertion." • So, cornering Mueller! And: "Protect Democracy, a nonpartisan, nonprofit group that helped to organize and publicize the letter at the request of this group, and verify the identity of its signatories, was founded by two lawyers who worked in the White House under Barack Obama." • Oh. I looked at the About page of their site–

"What is Protect Democracy?" [Protect Democracy]. One nugget: "The Protect Democracy Project focuses on research and public education to confront threats to our democracy, as well as litigation." If they're engaged in litigation, I can't find any mention of it on their site. Perhaps it's been stood up in consideration of litigation to come? More: "Protect Democracy was conceived by a group of former White House and Administration lawyers and experienced constitutional litigators, all with a deep understanding of how the federal government works. As we were the ones tasked with implementing and enforcing the that have constrained presidential power for decades, we know what those guardrails are and when those in power may be tempted to violate them. As we defended past presidents against legitimate oversight and illegitimate attacks, we also know how to leverage tools outside government to prevent the exploitation of power within it. One thing that we know about those tools, however, is they require an engaged public—they require all of us to unite to make them effective." • Read the whole thing; it's an interesting exercise in cant. Hats off to the Norms Fairy! Also, unity (unconsciously belied, hilariously, by the blue color scheme). And of course you could ask "Where were you when ____" all day with these guys. Like: "Where were you when Obama whacked a U.S. citizen with no due process?" Or "Where were you when Holder decided that "collateral consequences" made it impossible to prosecute big banks?" The gall, the incredible gall.
Realignment and Legitmacy
Meet the Blue Dogs empowered by the mid-terms:

"Meet the Democratic Counterrevolution's Self-Appointed Leader" [The Intercept]. "Breaking down Tlaib, Omar, and their allies on the left has been one of Gottheimer's primary goals since the November elections. He has worked assiduously to carve out a role in the Democratic caucus as something of an avenger, a centrist proud of his centrism and willing to take the fight directly to the squad of freshmen trying to push the party in a progressive direction. He even has a name for his handpicked adversaries: 'the herbal tea party.'" • "[T]he herbal tea party" is pretty good. I wonder if it was developed for him professionally? Funny how this "unity" thing goes only one way…

And:

Lmao pic.twitter.com/T0JVJYgHjg

— Andrew Perez (@andrewperezdc) May 7, 2019

Ouch:

Pelosi would be a great leader if she were accomplishing massive amounts on "climate change, health care, voting rights, income equality, etc." Dems aren't doing anything on anything. Who cares about their seats? https://t.co/tVBwujgszt

— Matt Stoller (@matthewstoller) May 8, 2019

Donors? The electeds? Media and intelligence community assets? Factions in the oligarchy? Lots of people care!

Concrete material benefits:

Getting ready to bring Burrito Brigade burritos and homemade hot sauce to hungry 4J teachers. They have a long march to Salem today and need the fuel! #RedForEd pic.twitter.com/T8AuJ5W8Bq

— Eugene DSA??? (@DSA_Eugene) May 8, 2019

As I keep saying: Get on out there and serve the working class. Who else does that? Republicans? Democrats?
Stats Watch
International Trade, March 2019: "Pulled down in part by a sharp narrowing in the deficit with China, the US monthly trade deficit came in at a relatively moderate $50.0 billion in March. This is slightly lower than expectations" [Econoday]. "Today's report comes on the same day that US and China trade talks are entering what may be their final and unamicable resolution. Going into a possible tariff war, the imbalance in cross-border trade remained a heavy but lightening burden for the US economy."
Jobless Claims, week of May 4, 2019: "Initial unemployment claims may have pivoted higher, in line with this year's lay-off data in the Challenger report" [Econoday]. "Initial unemployment claims may have pivoted higher, in line with this year's lay-off data in the Challenger report and a factor that may likely limited expectations for US payroll growth."
Producer Price Index (Final Demand), April 2019: "Producer prices were moderate in April but probably a little less so than the headlines suggest" [Econoday]. "Pointing to positive pressure for rates is a strong bounce back in fees for portfolio management services, a factor related to the strength of financial markets which Jerome Powell cited at last week's FOMC that would likely help move the core PCE index from its annual 1.6 percent rate back toward 2 percent."
Real Estate: "'Dead Malls' Are Still Being Used To Satisfy Consumers: Amazon's Approach" [Yahoo News]. "Amazon is buying out abandoned malls, the same malls that they put out of business, and converting them into fulfillment centers. These "ghost malls" provide many advantages to Amazon's fulfillment centers conversions. Malls provide the fulfillment center with sufficient size needed to run their extensive operations. The malls are usually located in residential areas allowing Amazon to get its goods out to consumers quicker and more efficiently. Malls are typically built close to highways to make it easier/quicker for consumers to make it there in a timely fashion. This is useful to Amazon's converted fulfillment centers for obvious logistical reasons, goods are able to come and go from the distribution centers seamlessly. These abandoned malls all have the necessary infrastructure already in place, such as sewage, electrical lines, gas lines, and water. Having this infrastructure already established makes Amazon's conversion quicker and allowing the fulfillment center to be up and running sooner. Amazon is able to transition these forsaken voids in communities into productive business centers that create quality jobs for residence. This shift in retail from brick-and-mortar to e-commerce is precisely that: just a shift. These malls are still being used to fulfill consumer needs, it is just done in a different way." • Except the public space aspect of the mall is gone.
Manufacturing: "Former Boeing Engineers Say Relentless Cost-Cutting Sacrificed Safety" [Bloomberg]. • This article is a must-read, but this near the end is important: "Now Boeing is seeking FAA approval for the 777X as an update of an existing model, the 777. Internal tensions about this approach are being exposed in the proceedings of a wrongful termination suit brought by a former Boeing engineer, Michael Neely, who claims he was fired in 2016 after citing design and safety problems. Neely had been working for Boeing's space and defense operation in Alabama when he was brought to the Seattle area to help define a plan to adapt an electrical load management system from an earlier model of the 777. Disagreements escalated as a deadline approached for Boeing to send plans for the system to the electrical contractor, a GE unit. Neely argued that reusing the previous system, essentially an enormously complicated and computerized version of a fuse box, wasn't adequate for the new design and didn't meet FAA standards, according to emails filed in the suit. Within months, GE, too, had objected, saying the system would need to be significantly expanded." • Yikes. Remember the battery fires on the 787? And then, they buried the lead. The final paragraph:
[Muilenburg] his public comments about the 737 Max, though, he has shown an extremely limited range of vocabulary, and he frequently boils his plan down to this: a software update. He insists that the design and certification process for the Max went exactly as planned. On March 27, Boeing invited 200 airline representatives, regulators, and pilots to Seattle for a first look at the changes it had made to the MCAS software. A day before, a group of engineers was summoned to a session with Muilenburg and Kevin McAllister, head of the commercial airplanes business. McAllister spoke emotionally, and a staffer wept in the background. Then Muilenburg fielded five or six questions with the same artfully vague responses he's provided reporters. A company spokesman says Muilenburg was greeted warmly. An engineer present had a different take: It was, he told colleagues, "a nothingburger."
Muilenburg won't leave until he's carried out first or defenestrated. So I guess that's what's will have to happen!
Manufacturing: "Here's How This Key Boeing Supplier Is Coping With the 737 MAX Grounding" [Yahoo Finance]. "Spirit, a one-time wholly owned subsidiary of Boeing, is still highly dependent on the company. Spirit is responsible for about 70% of the 737's structure, as well as a range of engine components and wing parts, and the 737 accounts for about half of Spirit's annual sales…. Boeing and Spirit in April signed an agreement that allowed Spirit to keep current production levels in place, with all airframes above Boeing's production rate being paid for upon completion but stored at Spirit facilities." • Hmm. I wonder if anybody's watching Spirit's facilities to see if they're filling up (like shorts watch Tesla lots).
The Biosphere
"Study: U.S. Fossil Fuel Subsidies Exceed Pentagon Spending" [Rolling Stone]. "The United States has spent more subsidizing fossil fuels in recent years than it has on defense spending, according to a new report from the International Monetary Fund. The IMF found that direct and indirect subsidies for coal, oil and gas in the U.S. reached $649 billion in 2015. Pentagon spending that same year was $599 billion." • How ya gonna pay for it?
"Grading conservation: Which reserves defend forests?" [Science Daily]. "A group of scientists from Michigan State University (MSU) have focused on what makes a protected area the most effective at preventing deforestation. Preserving forests means more trees to suck up greenhouse gasses, as well as prevent erosion, mitigate flooding, purify water and quell sandstorms…. The group evaluated the effectiveness of China's 472 protected areas in reducing deforestation from 2000 to 2015. The study, reported in this month's journal Environmental Science and Pollution Research, concluded that had not the reserves been established, the protected area's deforested parts would have been 50 percent larger. The estimated amount of carbon sequestered by those forests that avoided deforestation within protected areas was about 1,271 megatons per year. A tree can sequester one ton of carbon dioxide by the time it reaches 40 years old, according to North Carolina State University." • Hmm. A forest, as opposed to a plantation, surely sequesters more carbon than its trees alone?
"Mapping the world's free-flowing rivers" [Nature]. "Free-flowing rivers (FFRs) support diverse, complex and dynamic ecosystems globally, providing important societal and economic services…. Only 37 per cent of rivers longer than 1,000 kilometres remain free-flowing over their entire length and 23 per cent flow uninterrupted to the ocean. Very long FFRs are largely restricted to remote regions of the Arctic and of the Amazon and Congo basins. In densely populated areas only few very long rivers remain free-flowing, such as the Irrawaddy and Salween."
Black Injustice Tipping Point
"How one reporter got the Sandra Bland cell phone video" [Columbia Journalism Review]. "After all the open cases around the incident had wrapped up, [Brian Collister, a lead investigative reporter for KXAN,] decided to file a records request to the Texas Department of Public Safety (DPS)….. In September of that year, following a series of records requests, Collister got his scoop: a 39-second video shot by Bland on her cell phone during her traffic stop. The video, which Collister obtained that month, captures Brian Encinia, a state trooper, drawing a stun gun on her at close range. "Get out of the car!" he shouts. "I will light you up!" Encinia tells her to get off the phone. Bland says "I have a right to record" before apparently complying with the demand." • A couple of morals to this story: (1) Public Records Requests are extremely important; I can't imagine why eliites haven't choked them off; and (2) local TV stations seem to have picked up some of the slack on reporting from local newspapers. Readers, would you agree?
"Reconstruction, one of the most misunderstood chapters in American history" [CBS]. "[Harvard historian Henry Louis Gates] said Reconstruction is one of the most misunderstood chapters in American history, when black men could vote, and would be elected to represent Southerners in Congress. [Correspondent Mo] Rocca said, 'You go and you ask people on the street who the first black person was elected to the U.S. Congress, they're gonna guess it's the 1960s, the 1970s.' 'And they would never guess it was Hiram Revels from Mississippi,' said Gates. Hiram Rhodes Revels was born free and served as a chaplain to black regiments during the Civil War. On February 25, 1870 he was sworn in as a Senator from Mississippi, an office once held by Jefferson Davis, who left the U.S. Senate to become president of the Confederate States of America." • I wonder if there's a statue of Revels anywhere. Like the Capitol Rotunda. Apparently not. And I won't hold his being a college adminstrator against him!
MMT
"House Republicans Say Democrats Should Answer for MMT in Hearing" [Bloomberg]. • This is probably driving the sort of Democrat who thinks Republicans can be placated crazy.
News of the Wired
"Workers Love AirPods Because Employers Stole Their Walls" [The Atlantic]. "Now that open offices are the norm, their limitations have become clear. Research indicates that removing partitions is actually much worse for collaborative work and productivity than closed offices ever were. But something as expensive and logistically complicated as an office design is difficult to walk back, so, as Jeff Goldblum wisely intones in Jurassic Park, life finds a way. In offices where there are no walls, millions of workers have embraced a work-around to reclaim a little bit of privacy: wireless headphones."
"Took On the American Cheeseburger, and It Defeated Me" [McSweeney's Internet Tendency]. • Ouch.
"Rural areas drive increases in global obesity" [Nature]. "But some research findings have indicated that the levels of overweight and obesity are increasing faster in rural than in urban areas, even in many low- and middle-income countries (LMICs)4. This is likely to be linked to the fact that rural areas in LMICs have begun to resemble urban areas, because the modern food supply is now available5 (Fig. 1) in combination with cheap mechanized devices for farming and transport. Ultra-processed foods are becoming part of the diets of poor people in these countries, and there are reports that infants are even being fed with these foods."
"126 Minutes With Ani DiFranco The folk singer on her memoir, Hadestown, and reckoning with the 1990s' [Vulture]. "'Everywhere we went,' DiFranco writes, 'some woman seemed to be dedicating herself to protecting some other theoretical woman who might be triggered or feel tacitly oppressed by some tiny detail of the known universe … the quest to make everyone seem happy all the time seemed to have led to a world of micromanagement.'" • An interesting artist; she started her own label when she was twenty so she'd never have to take corporate money. Impressive! I had stepped off the popular music train when she came rolling along, sadly. DiFranco seems to have had an interesting career and an interesting life.
* * *
Readers, feel free to contact me at lambert [UNDERSCORE] strether [DOT] corrente [AT] yahoo [DOT] com, with (a) links, and even better (b) sources I should curate regularly, (c) how to send me a check if you are allergic to PayPal, and (d) to find out how to send me images of plants. Vegetables are fine! Fungi are deemed to be honorary plants! If you want your handle to appear as a credit, please place it at the start of your mail in parentheses: (thus). Otherwise, I will anonymize by using your initials. See the previous Water Cooler (with plant) here. Today's plant (JF):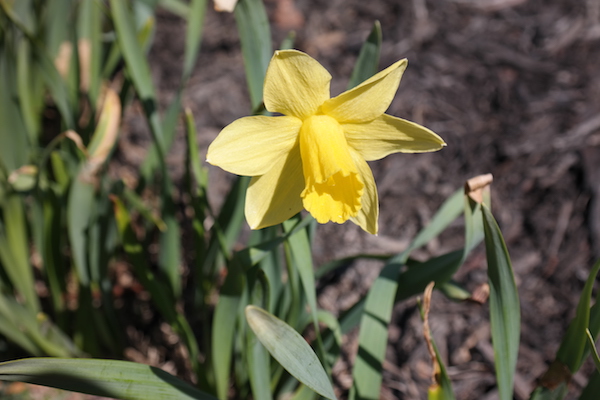 With the cryptic note: "Pictures." I should do more with bulbs, but my much loved invasives take over their space…
* * *
Readers: Water Cooler is a standalone entity not covered by the annual NC fundraiser. So do feel free to make a contribution today or any day. Here is why: Regular positive feedback both makes me feel good and lets me know I'm on the right track with coverage. When I get no donations for five or ten days I get worried. More tangibly, a constant trickle of small donations helps me with expenses, and I factor in that trickle when setting fundraising goals. So if you see something you especially appreciate, do feel free to click this donate button:
Here is the screen that will appear, which I have helpfully annotated.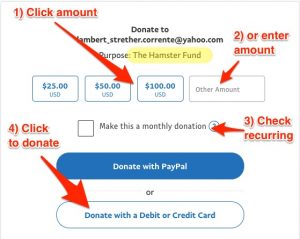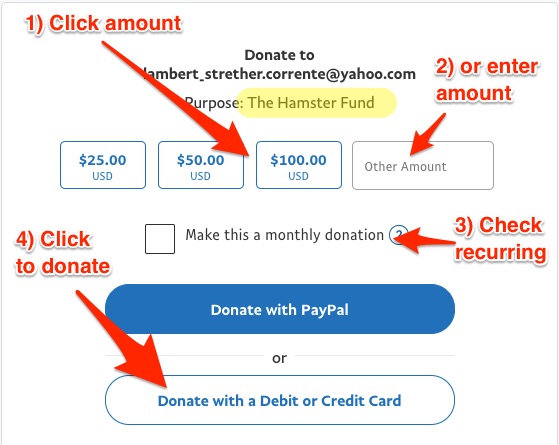 If you hate PayPal, you can email me at lambert [UNDERSCORE] strether [DOT] corrente [AT] yahoo [DOT] com, and I will give you directions on how to send a check. Thank you!