Why do cats—and so many other animals—look like they're wearing socks? Popular Science (David L)
Mapping Begins of Lands Lost To North Sea During the Stone Age Guardian
Roman mining activities polluted European air more heavily than previously thought PhysOrg (Robert M)
New type of plastic can be recycled indefinitely without quality loss Slashgear (David L)
George Clooney releases PSA against climate change "dumbf**kery" Fast Company
Scientist to politicians: End oil, farm subsidies to save planet – Reuters. UserFriendly: "Not nearly enough."
WATCH: Flooding In The U.S. Is Getting Worse NPR (David L)
Binance Loses $40 Million In Record-Breaking Crypto Heist SafeHaven
dernConsensus
Artificial Intelligence May Not 'Hallucinate' After All Wired (Robert M)
Opinion: Our brother and uncle Robert F. Kennedy Jr. is part of the campaign to attack the institutions committed to reducing the tragedy of preventable infectious diseases https://t.co/93Qg1MEfH7

— POLITICO (@politico) May 8, 2019
San Francisco Investigates Doctor Over Measles Vaccination Exemptions Wall Street Journal
A student sued because he didn't want the chickenpox vaccine. Then he got chickenpox CNN (Kevin W)
Diabetes complications soar in the US, but not Canada, as teenagers become young adults MedicalXpress (Dr. Kevin)
Denver just voted to decriminalize psychedelic mushrooms Vox (David L)
China?
Exclusive: China backtracked on nearly all aspects of U.S. trade deal – sources Reuters (resilc). So for once, Trump isn't making things up. The problem is he does so so often that the reflex is to at best severely discount what he says.
Why China Decided to Play Hardball in Trade Talks Wall Street Journal
Asia Stocks Drop With U.S. Futures as Tariffs Loom: Markets Wrap Bloomberg
UK far-right extremism: hate spreads from the fringe Financial Times
Brexit
UK government rejects visa application to start a business in the UK, on the grounds that fact applicant thinks UK is (economically) "very stable" shows s/he is too clueless to be allowed into the country…. https://t.co/tF1qltLzUV

— Jonathan Portes (@jdportes) May 7, 2019
From Politico's morning European newsletter:
TWO WEEKS TO GO: Three of the U.K.'s four main parties launch their European election campaigns today with two weeks to go until polling day. Labour, the Liberal Democrats and the Scottish National Party will all hold big events around the country as Britain gears up for the most surreal election in recent times. The missing link will be the Tory Party, which has no real campaign to speak of and no launch event planned at all. The Daily Mail's Political Editor Jason Groves quotes party sources who confirm there will be no manifesto either. "What would we put in it?" a source shrugs. It's going to be a tough couple of weeks at Conservative Campaign HQ.
Venezuela
Venezuelan police tow deputy opposition leader Edgar Zambrano to jail in his car ABC (witters)
Syraqistan
Will the U.S. And Israel Wage A "Summer War"? Moon of Alabama (Kevin W)
The Saudi Shia: Between an Iranian rock and a Saudi hard place Al Jazeera (resilc)
Pompeo in Baghdad to Pressure Iraq to join Press against Iran; Iraq declines Juan Cole (resilc)
Trump Administration Inflated Iran Intelligence, U.S. Officials Say Daily Beast
On the road to war with Iran? Sic Semper Tyrannis
Iran's Master Plan To Beat U.S. Sanctions OilPrice (resilc)
Big Brother is Watching You Watch
Airbnb host thrown in the clink after guest finds hidden camera inside Wi-Fi router The Register (Chuck L)
Amazon Accused of Violating Kids' Privacy With Smart Speakers Wall Street Journal
Imperial Collapse Watch
Trump's Dogs of War LobeLog (resilc)
A Military Psy-Ops Campaign in the Heart of Washington is Directed at U.S. Citizens by Pat Elder + Abby Martin on Failed April 30th Coup in Venezuela Dandelion Salad (Kevin W)
Tom Stevenson reviews 'AngloArabia' by David Wearing London Review of Books. Resilc flagged this part:
America wants to discourage those powers from developing the means to protect that resource for themselves.' Much of US power is built on the back of the most profitable protection racket in modern history.
Hartung and Smithberger, A Dollar-by-Dollar Tour of the National Security State TomDispatch. This article is both valuable and frustrating. It does a fine job of putting all of the disparate parts of budgeted defense/security spending together. However, it doesn't even mention that the DoD has an official off-budget, and is widely believed to have even more in the way of a black budget
Trump Transition
US House panel holds Attorney General William Barr in contempt BBC
House panel votes to hold Barr in contempt, escalating feud The Hill
New York Senate OKs Giving US House Trump State Tax Return Bloomberg (furzy)
House Intel panel subpoenas Barr for full Mueller report, evidence The Hill (resilc). Ahem, there is grand jury testimony in there…..and it isn't clear Congress has the right to get at it. From the Congressional Research Service last month:
On April 5, 2019, the three-judge panel in McKeever ruledthat federal courts lack "inherent authority" to authorize the disclosure of grand jury matters in circumstances not covered by an explicit exception set out in Rule 6(e) of the Federal Rules of Criminal Procedure. It thus appears that, for the time being, the panel's decision has closed off one potential avenue for Congress to obtain grand jury material in federal court in the District of Columbia (though the decision could always be reheard en banc or overturned by the Supreme Court). That said, as the McKeeverdecision notes, Congress previously was successful in obtaining grand jury materials pursuant to the Rule 6(e) exception for disclosure "preliminarily to or in connection with a judicial proceeding" on the theory that an authorized impeachment inquiry is preliminary to such a proceeding. That avenue appears to remain available to Congress after McKeever. Furthermore, Congress has in the past taken the positionthat it possesses independent constitutional authority to obtain grand jury materials regardless of the applicability of any Rule 6(e) exceptions—i.e., that the rule of grand jury secrecy simply does not apply to Congress when it is acting within the "sphere of legitimate legislative activity." But while two courtshave appearedto agree with that position, the Department of Justice (and some other courts) have contested it.
Justice Department Shuts Dark Web Drug Directory, Arrests Alleged Owners NBC
Rep. Adam Schiff introduces constitutional amendment to overturn Citizens United CNN (David L)
2020
Joe Biden Might as Well Be a Republican Norman Solomon, Truthdig
Joe Biden's comments from a 1973 City Club appearance show it may be hard to reconcile past with present cleveland.com (TF). From last week, still germane.
Sanders shores up Dem superdelegate support The Hill (martha r)
The Weird Conventional Wisdom About the 2020 Democratic Candidates and Foreign Policy American Conservative (resilc):
To suggest that Bernie Sanders has been indifferent on matters of foreign policy would be especially bizarre, since he has done more than any of the other declared candidates over the last two years to challenge the Trump administration over the war on Yemen and support for Saudi Arabia.
Pro-Biden Poll Based On BullS**t Jimmy Dore, YouTube
Corporate Media Target Gabbard for Her Anti-Interventionism—a Word They Can Barely Pronounce FAIR (UserFriendly)
Americans' living standards are at an all-time high. Here's proof MarketWatch (Robert M)
Three Mile Island Nuclear Plant To Close, Latest Symbol of Struggling Industry NPR
Pilots union slams Boeing over communication failures Financial Times. From yesterday, still germane.
Ridesharing companies worsened congestion in San Francisco: study TechXplore (Chuck L) and Uber and Lyft may be making San Francisco's traffic worse Science Magazine. Notice difference in headlines.
Uber Set to Price IPO at Midpoint of Target Range or Below Wall Street Journal
Road test proves adaptive cruise control can add to traffic jam problem -TechXplore
Amazon Hit by Extensive Fraud With Hackers Siphoning Merchant Funds Bloomberg
Class Warfare
Bill Gates Actually Made a Good Point About the Socialism Debate in America Gizmodo (furzy)
Antidote du jour. Craig: "Mumford watching life from the stoop":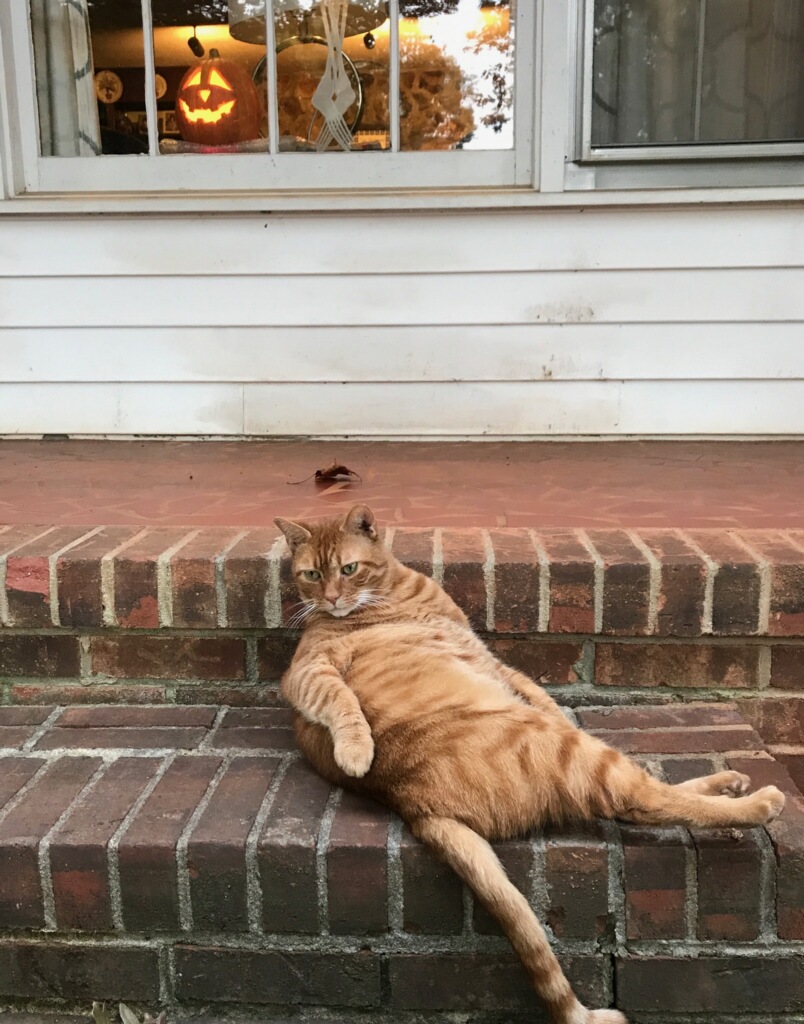 And a bonus video:
See yesterday's Links and Antidote du Jour here