By Francesc Badia i Dalmases, editor of DemocraciaAbierta and a journalist. He has been senior fellow and general manager at the Barcelona Centre for International Affairs (CIDOB), general manager at the European Institute of the Mediterranean and at the Interarts Foundation. He was executive director of URB-AL-III, adecentralised and urban cooperation program for Latin America of the European Commission. Follow him on Twitter: @fbadiad. Originally published at openDemocracy and produced in partnership with CIVICUS in the context of the International Civil Society Week conference 2019, held this year in Belgrade, Serbia
The globalizing way of promoting sports as a way of thinking and a way of life really just serves the dominant capitalist system. We interview Ivan Ergic, an international Serbian ex-football player for a critical view of the sports industry.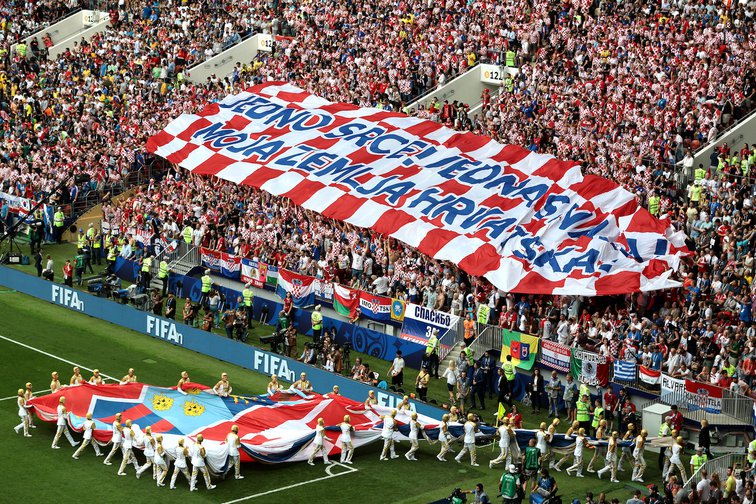 Croatia fans prior to the start of the FIFA World Cup Final at the Luzhniki Stadium, Moscow. Photo by: Aaron Chown/PA Images. All rights reserved.
In the context of the International Civil Society Week organised by CIVICUS in Belgrade in early April, we took the opportunity to talk to Ivan Ergić, a famous Serbian football player that has developed a very critical view of the sports industry and how it has become en epitome of global capitalism. Gradually, the industry's macho-type winner and looser dynamics have also captured political campaigns.
Francesc Badia: I am interested in your critical view of sports, and how the industry more generally is not being tackled in the right way.
Ivan Ergic: Sport has its own dynamic and its own identity. It has become one of the dominant global institutions, fully commercialised and professionalised. Sports industry today serves as a way of promoting socially domineering capitalism, particularly through the idea that competition brings the best results and the best out of humanity. This, I think, is completely wrong. It is also one of the last domains in which macho culture, and its relation to militarism, is still present. No wonder women's sports are not accepted on the same level as mens': the women that we do see become completely masculinised and can only enter the field as such. This only shows how militant the industry of sports actually is. All in all, the globalising way of promoting sports as a way of thinking and a way of life really just serves the dominant capitalist system.
FB: What do you make of the values that sports promotes, in particular through team sports?
IE: The team-effort part has become converted into a pseudo-value. The industry wants to give people a feeling that there is something collectivistic about sports and this would be true if sports teams and sports organisations did not function like an average corporation. These days, sports teams have a clear hierarchy and a clear focus with a rationalisation of an aim, which is to win the title. This has nothing to do with solidarity or collectivist humanism.
FB: Can you talk about thesportisationof politics?
IE: I like to use the phrase "sportisation of politics and the politicization of sports" as even politics and political campaigns nowadays are gaining the same momentum and flavour. Similarly to sports contests, political campaigns are selling entertainment, have an equivalent element of competition and political arenas are increasingly becoming emotionalised, particularly on account of populists. A good example of this is what Berlusconi did in Italy. I think the "sportisation of politics" is a useful phrase as it pushes these parallel issues forward.
FB: And what about the polarisation in sports, the idea that one's team needs to be defended at all costs?
IE: This is a big issue as most sports fans come from the working class. Completely passivised, they watch the contests sitting in front of their televisions they don't even go to the stadiums anymore. We live in a world of hyper commercialisation and this is visible in sports as well. People from all over the world come to England to watch Manchester or Chelsea play for example. These aren't just sports clubs anymore: these are global corporations. The fact that the working classes are becoming passivised is problematic as it diverts attention from the real issues. The fan movement is the only movement in the world that doesn't have a collective institution or a body governing it. The divisions that this creates clearly show how sports segment different classes.
FB: What about the identities that people build around their sports teams?
IE: People construct their identities around their sports clubs as these are historically local clubs, which breed local patriotism. As symbolic representatives of a region, the connection that people feel to them is understandable. The issue with this is that it results in diverting attention from more existential issues. Fans go and protest energetically against corruption in a club, or a club going bankrupted, but they protest much less about losing their jobs in the local factory.
FB: What, in your view, is the connection between sports and nationalism, particularly if we look at Olympics, the World Cup, etc. ?
IE: Nationalism is one of the most profiting mechanisms of reorienting people towards issues related to their identities. It is an ideology that de-politicises peoples in a certain way, as its focus on identity blurs all other social and political issues. Its grip is most powerful amongst groups devastated by economic and cultural processes as it gives them a false promise of recuperating their lost pride. Politicians are well aware of the power that this has and continuously manipulate it. The World Cup, Olympics, etc. are events supposedly meant to unite people. At the same time they intensify national sentiments and national identities, which again diverts attention from the real issues. People should unite in the common aim of fighting political, economic and ecological issues, yet instead focus on the small narcissistic differences between different nations, on who wins, who doesn't … identifying themselves with the teams in a common "we" have lost or "we" have won, this "we" being the team and the nation at the same time.
FB: Is there a role for civil society in our way out of this? A way of reforming the current state of affairs that could bring more positive values to the fore instead?
IE: Unfortunately the processes we are witnessing cannot be reformed within the sports industry's own power dynamics, and this holds true of any institution today. What needs to be reformed is the structure of the system itself of which sports are an important part of. Of course there are attempts to de-commercialise sports such as financial fair-play, which is an innocent approach that pretends to bring more passion and enthusiasm and less money into football for example. But the sad fact is that sports are becoming increasingly more commercialised and globalised. This cannot be stopped unless the institutions that hold it in place in the first place themselves are revolutionised, and here global civil society, if it develops awareness of this structures, can definitely play a role.