By Lambert Strether of Corrente.
Trade
"Treasury Secretary Mnuchin says China trade talks are done for the day" [CNBC]. "U.S. trade talks with China ended Friday as Liu He, the top Chinese trade negotiator, left the Office of the U.S. Trade Representative. 'They were constructive discussions between both parties, that's all we're going to say. Thank you,' Treasury Secretary Steven Mnuchin said after Liu's departure. Both Mnuchin and U.S. Trade Representative Robert Lighthizer shook hands with Liu as he left the office." • Well, that's better than "a full and frank exchange of views," I suppose.
"Donald Trump says trade deal with China may still happen after Xi Jinping sent him a 'beautiful letter' [South China Morning Post]. But: "Though Trump seemed to connect the participation of Liu – whom he called 'one of the highest officials in China' – in this week's talks as a sign that a deal was possible, the vice-premier's status is not as authoritative as it was in some previous rounds.
A statement issued by the Chinese Ministry of Commerce ahead of this week's trip did not include the title 'Special Envoy to Chairman Xi Jinping' in its list of Liu's credentials.
Liu's apparent demotion, combined with the reduced size of the delegation and the short length of stay in Washington, suggested 'a narrower range of negotiated topics and room for compromise,' [Scott Kennedy, a senior fellow at the Centre for Strategic and International Studies (CSIS)] said. 'It could be the higher the stakes, the tighter the decision-making authority is.'" • Meaning, I take it, that Liu must return home to consult.
"Trump vows to protect farmers as China trade war escalates" [Financial Times]. "Donald Trump vowed to shield US farmers from the pain of his rapidly escalating trade war with China, after Beijing promised to retaliate following the imposition of higher US tariffs on $200bn of Chinese imports early on Friday…..In another twist, Mr Trump said US purchases of farm products would be directed towards poor countries in the form of food aid: 'Our Farmers will do better, faster, and starving nations can now be helped.'"
"Trump's trade fight with China hasn't affected most Americans so far. That could change." [MarketWatch]. "The White House has faced little backlash from the public and thus little pressure to change its tactics. How come? Most consumers haven't noticed the effects on tariffs on what they spend or on the broader U.S. economy. The cost of many widely imported consumers goods, for instance, haven't risen very much, and in some cases. they've actually declined. Take clothing. The cost of apparel actually dropped 2.2% in the past year — the biggest yearly decrease since 2003, government figures show. Prices of TVs, toys and computers have also fallen. One of the few imported goods to see a substantial price increase is appliances. After declining from 2013 to early 2018, the cost of major appliances in the U.S. has surged almost 9% in the past year — the biggest increase of any imported good exposed to tariffs. Yet most households don't need to buy a new fridge, dishwasher or dryer every year. The U.S. economy, meanwhile, grew 2.9% last year to match the fastest annual increase since the end of the Great Recession a decade ago. If anything, the relatively strong performance of the U.S. economy appears to have emboldened the Trump White House to stand fast."
"Flaring friction between the U.S. and China may disguise a deeper, more fundamental shift in the trans-Pacific trade order. Whether talks ultimately yield a deal, the decades-long integration of the two economies appears bound to go into reverse…., as manufacturing supply chains shift gears and deeper investment relationships begin to fracture" [Wall Street Journal]. "Trade flows once driven by cost, quality and proximity to customers increasingly reflect political priorities, whether it is Chinese purchases of U.S. energy and agriculture or the location of factories. Among the clear changes, apparel production is moving to Southeast Asia, camera maker GoPro is moving some production from China to Mexico and Foxconn Technology Group is weighing assembling iPhones in India. The result may leave American and Chinese businesses and investors increasingly operating in separate spheres pursuing disparate strategies and distinct trading relationships."
Politics
"But what is government itself, but the greatest of all reflections on human nature?" –James Madison, Federalist 51
"They had one weapon left and both knew it: treachery." –Frank Herbert, Dune
2020
"2020 Democratic Presidential Nomination" [RealClearPolitics] (RCP average of five polls). Biden 40, Sanders 14, and a bunch of small fry.

"*" = New candidate.

* * *

Biden (D)(1): "Biden tells wealthy donors he is from the 'corporate state of Delaware'" [Washington Times]. "Joe Biden told supporters at a private fundraising event in Los Angeles that he hails from the 'corporate state of Delaware,' while protesters gathered outside objecting to corporate greed… The meeting took place at the home of Cynthia Telles and Joe Waz in the upscale Hancock Park neighborhood on Wednesday. Telles is on the board of Kaiser Foundation Hospitals and the Kaiser Foundation Health Plan. Waz is a media executive for Comcast and NBCUniversal." • Biden's just trolling us, isn't he? Note that the protestors were from National Union of Healthcare Workers, but it was only a protest, so Biden did not technically cross a picket line. He might have visited with them, though.

Biden (D)(2): "Presidential hopeful Biden looking for 'middle ground' climate policy" [Reuters]. "The backbone of the policy will likely include re-joining the United States with the Paris Climate Agreement and preserving U.S. regulations on emissions and vehicle fuel efficiency that Trump has sought to undo, according to one of the sources, Heather Zichal, who is part of a team advising Biden on climate change. She previously advised President Barack Obama. The second source, a former energy department official also advising Biden's campaign who asked not to be named, said the policy could also be supportive of nuclear energy and fossil fuel options like natural gas and carbon capture technology, which limit emissions from coal plants and other industrial facilities." • The Sunrise Movement comments:

.@JoeBiden's "middle ground" climate plan is a death sentence for our generation.

Read our full statement: pic.twitter.com/AxMfJcZ1pY

— Sunrise Movement ? (@sunrisemvmt) May 10, 2019

And:

"Middle-ground" pic.twitter.com/eQ9I2kz22j

— Stephanie Kelton (@StephanieKelton) May 10, 2019

Biden (D)(3):

Biden's "middle ground" on climate policy is being advised by Health Zichal, who left the Obama admin to join the board of gas export firm Cheniere Energy. Filings show she made about $250k a year in stock/cash from the gig. https://t.co/sQA7eJCSd7

— Lee Fang (@lhfang) May 10, 2019

Ka-ching.

Gravel (D)(1): "The Ripple Effect" [The Nib]. • A comic!

Sanders (D)(1): Epistemic uncertainty for pollsters:

Quick note: Bernie Sanders' campaign strategy—engaging the nearly half of the electorate who is eligible but doesn't vote—cannot be well anticipated by pollsters' models, because they are built presuming only minor changes from the previous election. 1/4 https://t.co/j6Wu5ObuLH

— ? Clark Feels The Bern (@Clarknt67) May 10, 2019

Risky, expensive…. and the only way forward.

Trump (R)(1): "Trump campaign disavows 'dishonest' fundraising groups" [The Hill]. "The scathing statement came in the wake of an Axios report that found former Trump deputy campaign manager David Bossie raised millions of dollars ostensibly to support candidates aligned with the president, but that much of the money covered additional fundraising and administrative costs like Bossie's salary." • Oopsie.
RussiaGate
"FBI's Steele story falls apart: False intel and media contacts were flagged before FISA" [The Hill]. "[Deputy Assistant Secretary of State Kathleen Kavalec's] observations were recorded exactly 10 days before the FBI used Steele and his infamous dossier to justify securing a Foreign Intelligence Surveillance Act (FISA) warrant to spy on Trump campaign adviser Carter Page and the campaign's contacts with Russia in search of a now debunked collusion theory… [T]he FBI swore on Oct. 21, 2016, to the FISA judges that Steele's 'reporting has been corroborated and used in criminal proceedings' and the FBI has determined him to be 'reliable' and was 'unaware of any derogatory information pertaining' to their informant, who simultaneously worked for Fusion GPS, the firm paid by the Democratic National Committee (DNC) and the Clinton campaign to find Russian dirt on Trump…. She quoted Steele as saying, "Payments to those recruited are made out of the Russian Consulate in Miami," according to a copy of her summary memo obtained under open records litigation by the conservative group Citizens United. Kavalec bluntly debunked that assertion in a bracketed comment: "It is important to note that there is no Russian consulate in Miami." Kavalec, two days later and well before the FISA warrant was issued, forwarded her typed summary to other government officials. The State Department has redacted the names and agencies of everyone she alerted. It is unlikely that her concerns failed to reach the FBI." • "It is unlikely" is doing a lot of work there; surely we can find out of the FBI was on the distribution list of Kavalec's memo? That said, wowsers, does Steele look sketchy.
Impeachment
"Here's why Democrats may rethink impeaching Trump" [Politico]. "there's another rationale for launching impeachment that has some Democrats reconsidering the idea — getting access to the sensitive documents and testimony that Trump's team is withholding. Judges have repeatedly ruled that Congress has a greater claim to sensitive government documents and personal information when it can point to an ongoing legal matter, instead of just a congressional investigation or legislative debate. And impeachment would give lawmakers that legal matter — the process is essentially a court procedure run by Congress where the House brings charges and the Senate holds the trial." • Treating impeachment like a fishing expedition? Sounds legit.

"Impeach Trump Now, Advocates Say as They Deliver Over 10 Million Signatures to Congress" [Newsweek]. "The 10 million signatures included more than 8 million gathered by the Need to Impeach campaign launched by billionaire Democratic donor Tom Steyer in October 2017. Other organizations involved in the effort include Free Speech for People, MoveOn, CREDO, Democracy for America, Women's March, Courage Campaign and By the People."

"Pelosi's Trump impeachment approach is coming together" [NBC]. "Speaker Nancy Pelosi portrayed herself Thursday as the protector of the Constitution, Congress and the country as House Democrats braced for war with President Donald Trump over his refusal to give them full access to special counsel Robert Mueller's report, related documents and witnesses. 'This is very methodical, it's very Constitution-based, it's very law-based, it's very factually based,' Pelosi said about House plans to hold Attorney General William Barr in contempt for withholding documents. 'It's not about pressure. It's about patriotism."' • I suppose it will end up it the courts…..

"The Executive Branch Escalates Its Clash With Congress" [Lawfare]. "The Justice Department redacted four types of information from the report: (1) grand jury material prohibited from public disclosure under Federal Rule of Criminal Procedure 6(e); (2) classified information that implicates the sources and methods of the intelligence community; (3) information that is sensitive based on other ongoing law enforcement matters; and (4) information that would 'unduly infringe' on the 'personal privacy and reputational interests of peripheral third parties.' The underlying investigative materials were also not made available to the committee." • Much useful information on the detail of the Mueller report redactions, and the larger political context (a classic power struggle between executive and legislative branches, no doubt to be resolved by the judicial branch. Or not, eh?)

"Is This the Official Trump Constitutional Crisis?" [Susan Glasser, The New Yorker]. "Elisabeth Bumiller, the Washington bureau chief of the Times, even has on her desk a lighthearted sign that her staff gave her for Zeitgeist checks. 'Current status: _____ in a constitutional crisis,' it reads. For now, the word 'not' has been taped over the blank. The capital's obsessive constitutional pulse-taking, I imagine, resembles the way Californians greet the initial tremors of an earthquake: Is this finally the Big One?" • I linked to Article X of Andrew Johnson's impeachment the other day, which includes this: "…. make and deliver with a loud voice certain intemperate, inflammatory and scandalous harangues, and did therein utter loud threats and bitter menaces…" I may be too jaded at this point, but — and this is really the subtext of Glasser's article — the cries for impeachment have been so loud and so long, it's hard to know when a serious case is being made. (I have read that one feature of Third World regimes is that no independent arbiter exists; everything is a personal network of some sort. There are times when I struggle to distinguish us from the Third World.)
Realignment and Legitmacy
"Foreign agents introduced Ukranian politician to US political figures in secretive lobbying arrangement" [OpenSecrets]. "Foreign agents and lobbyists accused of orchestrating a disinformation campaign attacking former Ukrainian Prime Minister and 2019 presidential candidate Yulia Tymoshenko actually introduced her to key U.S. political players last year, an investigation by the Center for Responsive Responsive Politics has found. New FARA records reveal foreign agents and lobbyists on the payroll of Livingston Group, a lobbying firm run by former Rep. Bob Livingston (R-La.), played a previously unreported role in Tymoshenko's meetings with lawmakers during a December 2018 trip to Washington, D.C., including House Intelligence Committee chairman Rep. Adam Schiff (D-Calif.) and Sen. Tom Cotton (R-Ark.)." • Mostly Republicans, to be sure, but Schiff's presence is interesting. UkraineGate. SaudiGate. UAEGate….

* * *

"Georgia Just Criminalized Abortion. Women Who Terminate Their Pregnancies Would Receive Life in Prison." [Slate]. "n one sweeping provision, it declares that 'unborn children are a class of living, distinct person' that deserves 'full legal recognition.' Thus, Georgia law must 'recognize unborn children as natural persons'—not just for the purposes of abortion, but as a legal rule. This radical revision of Georgia law is quite deliberate: The bill confirms that fetuses 'shall be included in population based determinations' from now on, because they are legally humans, and residents of the state. But it is not clear whether the bill's drafters contemplated the more dramatic consequences of granting legal personhood to fetuses. For instance, as Georgia appellate attorney Andrew Fleischman has pointed out, the moment this bill takes effect on Jan. 1, 2020, the state will be illegally holding thousands of citizens in jail without bond. That's because, under HB 481, pregnant inmates' fetuses have independent rights—including the right to due process. Can a juvenile attorney represent an inmate's fetus and demand its release? If not, why? It is an egregious due process violation to punish one human for the crimes of another. If an inmate's fetus is a human, how can Georgia lawfully detain it for a crime it did not commit?" • The bill also penalizes women who travel out of state for abortions. Swell.
Stats Watch
Commodities: "Party City is closing 45 stores and finding a fix for a global helium shortage — here's the list of closing stores" [Business Insider]. "Party City plans to close 45 of its 870 stores in 2019, the company said on Thursday. The party-supplies company also said it has secured a new source of helium that should help relieve pressure from a global helium shortage that has squeezed balloon sales. The store closures are unrelated to the helium shortage, the company said."
Shipping: "Many big U.S. companies say they have inventories in place and are prepared for the U.S. to impose higher tariffs on $200 billion of Chinese imports…. Illinois Tool Works Inc., Dollar Tree Inc. and Honeywell International Inc. are among those that have already factored the trade friction into their financial forecasts, and some have raised prices, diversified their supply chains or doubled up on goods to brace for a tariff hit" [Wall Street Journal]. "The stockpiling has shown up at U.S. ports in sharp swings in shipping volumes: Loaded container imports into the Port of Los Angeles slipped in April after a big surge in March. Overstuffed warehouses will provide only a temporary cushion, however. Snowmobile-and-motorcycle manufacturer Polaris Industries Inc. says its tariff costs would more than double to about $150 million if the administration follows through on its plans to raise levies."
Manufacturing: "Boeing Sends 737 Max to Brand Rehab to Avoid Fate of Ford Pinto" [Bloomberg]. "Commercial jetliner programs have recovered time and again from horrific accidents. The trend started at the dawn of the jet age with de Havilland Comets that blew apart due to a window-design flaw. A redesigned version was never a hot seller, but flew for the U.K. military until 2011. Bargain-hunting consumers in the Internet age quickly forgot their aversion to Boeing's 787 Dreamliner after battery fires grounded it in 2013." • So, optimism.
Manufacturing: "FAA prepared to act alone to lift MAX grounding" [Leeham News]. "'The FAA has been pretty clear from the beginning that its review of MCAS and the software enhancement would be independent from what the rest of the world is doing,' LNA is told by a source close to the FAA. '[The FAA] will be meeting with other regulators later this month to bring them up to speed on what [it's] been doing and what [the] decision-making process has been, but each country retains its own authority on timing.'"
The Bezzle: "Uber Raises $8.1 Billion in IPO Priced Near Bottom of Range" [Bloomberg]. "Based on the amount of stock outstanding after the offering, the IPO price gives San Francisco-based Uber a market value of $75.5 billion, just below its last private market value of $76 billion. The fully diluted value, including restricted stock units and other shares, could be about $82 billion. Uber has prioritized selecting shareholders — particularly institutional investors — that it thinks will hold on to the stock for a long time, according to a person familiar with the matter." • Crime pays.
The Bezzle: "Uber Stock Slides in Disappointing Trading Debut That Followed Muted I.P.O." [New York Times]. "By 2014, Mr. Kalanick's company had moved from noun to verb. To "Uber" somewhere meant to catch a ride, even as competitors with identical offerings popped up across multiple continents. Mr. Kalanick, known for his competitive spirit and no-holds-barred approach to capitalism, raised billions in venture capital, building a war chest to battle his rivals with . By 2016, Uber's valuation had soared well north of $60 billion." • And the fares are still subsidized. What now?
The Bezzle: "Why You Should Root for the Uber I.P.O. to Fail" [New York Times].
The Bezzle: "Uber's Twisted Logic Means This Isn't a Strike. It's a Boycott" [Jalopnik]. " That customer/labor unrest will continue as long as Uber, Lyft, and similar businesses that rely on the gig economy refuse to abide by the legal, economic, and social definitions we have created over centuries about our role in this sordid capitalist play every time money is exchanged. It may suit these behemoths to pretend words don't have meaning, but you can only live in a fantasy for so long. Another realization from Uber's S-1 has been the immense amount of leverage drivers in the company's few largest markets have. One quarter of its business happens in just five cities. With collective action, those drivers could have immense influence over the future of the company." • One quarter of its business? That's an amazing statistic. The cities are: "New York, Los Angeles, San Francisco, London, and São Paulo." Finance, media, tech.
Tech: "Amazon's Alexa records private conversations" [The Times]. "Geoffrey Fowler, a columnist at The Washington Post, listened to thousands of recordings of his interactions with Amazon's digital assistant. In addition to legitimate recordings, it had recorded snippets of speech and household noises when it should not have, owing to apparent technical errors. A Times reporter checked her own account and also found multiple unauthorised recordings, raising privacy concerns about the technology present in millions of British homes. Alexa provides information such as weather forecasts and controls smart-home devices in response to voice commands. It is only supposed to 'listen' after someone says the 'wake word', usually 'Alexa'." • "Apparent technical errors," lol.
The Biosphere
"Food waste starts long before food gets to your plate" [Yale Climate Connection]. "Thirty percent of the food produced globally is wasted every year. But hold onto your leftovers. In the U.S., it's more – 40 percent…. If food waste were a country, it would be the third-largest emitter of greenhouse gases behind China and the U.S., according to the World Resources Institute. A study by Project Drawdown, a coalition of experts focused on climate change solutions, ranks reducing food waste as the No. 3 action item out of 80 – to the tune of more than 70 gigatons of carbon reduction. And that's not including any number of other food-related solutions on the list. And there are studies that indicate as much as 11 percent of greenhouse gas emissions could be eliminated if food waste were brought to zero. Fat chance, that." • Impressive.
"Iowa's real population" [Bleeding Heartland]. "Iowa has around 3 million people, a total that has changed little over the last 80 to 90 years. People are large animals, and as such our bodies produce a lot of waste. That being said, we produce much less waste than the animals that we eat…. Statewide, we have around 20-24 million hogs; 250,000 dairy cattle; 1.8 million beef cattle, 80 million laying chickens, and 4.7 million turkeys. I did not consider sheep, goats, horses or broiler chickens. In total, these five species generate the waste equivalent to that produced by about 134 million people, which would place Iowa as the 10th most populous country in the world, right below Russia and right above Mexico. (Caveat: obviously Russia and Mexico have their own livestock that I am not counting.)
"Life thrives in Antarctic hot spots created by seal and penguin poop" [Science]. "In the desolate Antarctic landscape, life is hard to come by—unless you're near some seal and penguin poop. The nitrogen-rich feces enrich the soil and create hot spots with lots of biological diversity that can extend more than 1000 meters beyond the borders of penguin and seal colonies, according to a new study…. The feces partially evaporate as ammonia, which then can get blown more than 1000 meters inland by the wind and is absorbed into the soil, the scientists note. This ammonia then creates a cycle of nutrient enrichment: The nitrogen is consumed by plants and lichens, which in turn support an incredible number of invertebrates, including mites, springtails, and roundworms. In fact, the team identified millions of invertebrates per square meter of soil surrounding the seal and penguin colonies—up to eight times higher than the number found in other parts of the peninsula." • Maybe Iowa…
Our Famously Free Press
"Disney put more than $400 million into Vice Media. Now it says that investment is worthless." [Vox] • Couldn't happen to a nicer ginormous oligopoly.
Guillotine Watch
Bezos is crazypants:
Bezos is talking about building enormous, rotating habitats in space that can hold upwards of a million people. Some would be cities, some would be natural parks, he said. pic.twitter.com/QHeqN0gz7M

— Jacqueline Klimas (@jacqklimas) May 9, 2019
I'm sure his warehouse workers are chuffed to be contributing to a project larger than themselves.
News of the Wired
"Cats rival dogs on many tests of social smarts. But is anyone brave enough to study them?" [Sciencehttps://www.sciencemag.org/news/2019/05/cats-rival-dogs-many-tests-social-smarts-anyone-brave-enough-study-them]. "After years when scientists largely ignored social intelligence in cats, labs studying feline social cognition have popped up around the globe, and a small but growing number of studies is showing that cats match dogs in many tests of social smarts. The work could transform the widespread image of cats as aloof or untamed. It also may eventually offer insight into how domestication transformed wild animals into our best friends, and even hint at how the human mind itself changed over the course of evolution. That is, if the cats themselves deign to participate." • Ha. And the headline: "A few years back, [Péter Pongrácz, Eötvös Loránd University] brought a cat into his lab for a study. 'In less than a minute, it escaped and got into an air duct,' he says. 'We were terrified. We had to wait an hour for it to come out.' Things didn't go much better with his gaze experiments. Pongrácz's team did the work in cats' homes, thinking they would be better behaved there, but some felines either didn't cooperate or dived under the sofa. Other cats—frustrated by being held when they knew the researchers had treats—scratched and wriggled their way out of their owners' arms. 'It's like suddenly the cat has 10 legs,' Pongrácz says. The team started with 99 cats but got usable data on only 41. In other labs, , leaving the whole setup in disarray." • Good kitties!
* * *
Readers, feel free to contact me at lambert [UNDERSCORE] strether [DOT] corrente [AT] yahoo [DOT] com, with (a) links, and even better (b) sources I should curate regularly, (c) how to send me a check if you are allergic to PayPal, and (d) to find out how to send me images of plants. Vegetables are fine! Fungi are deemed to be honorary plants! If you want your handle to appear as a credit, please place it at the start of your mail in parentheses: (thus). Otherwise, I will anonymize by using your initials. See the previous Water Cooler (with plant)
here
. Today's plant (JF):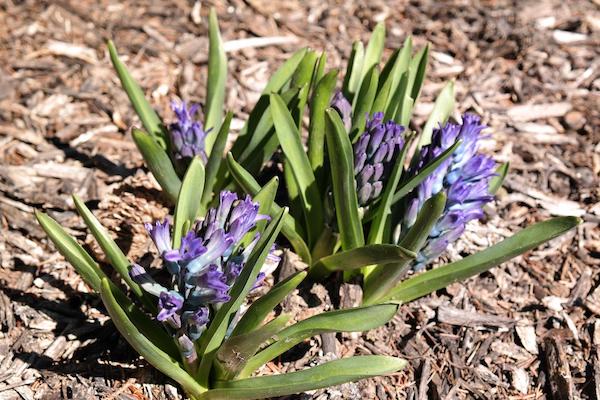 Another lovely spring flower popping up (though bark mulch makes me cranky, because typically it doesn't rot, so it doesn't improve the soil).
* * *
Readers
: Water Cooler is a standalone entity
not
covered by the annual NC fundraiser. So do feel free to make a contribution today or any day. Here is why:
Regular positive feedback both makes me feel good and lets me know I'm on the right track with coverage
. When I get no donations for five or ten days I get worried. More tangibly, a constant trickle of small donations helps me with expenses, and I factor in that trickle when setting fundraising goals. So if you see something you especially appreciate, do feel free to click this donate button:
Here is the screen that will appear, which I have helpfully annotated.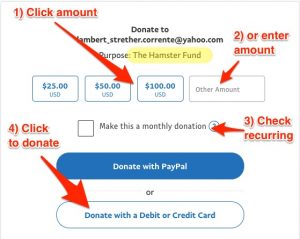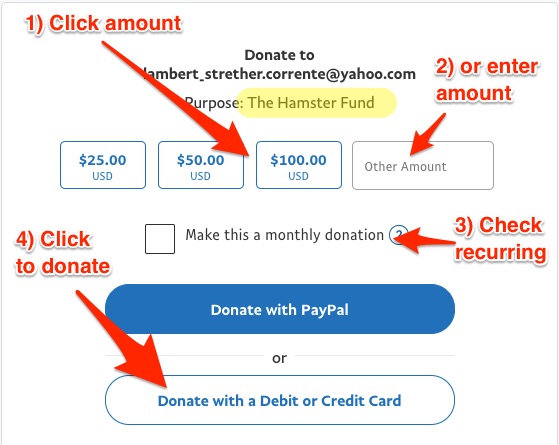 If you hate PayPal, you can email me at lambert [UNDERSCORE] strether [DOT] corrente [AT] yahoo [DOT] com, and I will give you directions on how to send a check. Thank you!