By Lambert Strether of Corrente.
Patient readers, this is a bit short because I was finishing up my status report on Grenfell Tower, and my sorta not review of Chris Arnade's Dignity. I'll see what I can do to fill this out later. –lambert UPDATE Sadly, I cannot. I must push along to other matters, and make it up to you on another day.
Trade
"The Political Economy Consequences of China's Export Slowdown" (PDF) [Filipe R. Campante, Davin Chor, and Bingjing Li NBER]. From the abstract: "We exploit detailed customs data and the variation they reveal about Chinese prefectures' underlying exposure to the global trade slowdown, in order to implement a shift-share instrumental variables strategy. Prefectures that experienced a more severe export slowdown witnessed a significant increase in incidents of labor strikes. This was accompanied by a heightened emphasis in such prefectures on upholding domestic stability, as evidenced from: (i) textual analysis measures we constructed from official annual work reports using machine-learning algorithms; and (ii) data we gathered on local fiscal expenditures channelled towards public security uses and social spending. The central government was subsequently more likely to replace the party secretary in prefectures that saw a high level of "excess strikes", above what could be predicted from the observed export slowdown, suggesting that local leaders were held to account on yardsticks related to political stability." • This reinforces both my priors: First, that an export slowdown will cause labor unrest; and second (suggested by David Harvey) that China's surprisingly decentralized governing structures will absorb unrest before they reach XI and company.
Politics
"But what is government itself, but the greatest of all reflections on human nature?" –James Madison, Federalist 51
"They had one weapon left and both knew it: treachery." –Frank Herbert, Dune
"2020 Democratic Presidential Nomination" [RealClearPolitics] (average of five polls). As of June 14: Biden up 32.3% (32.2%) and Sanders down 16.5% ( 16.8%). Warren up 11.8% (10.8%), Buttigieg up 7.8% (7.2%), others Brownian motion. Of course, it's absurd to track minute fluctuations at this point. although Harris looks like she's sliding. Again, Warren's jump over the last week isn't Brownian; the chart makes that vivid.
* * *
2020
Warren (D)(1): "Elizabeth Warren to introduce bill cancelling up to $50,000 in student debt for most borrowers" [MarketWatch]. "The Democratic Senator of Massachusetts plans to introduce legislation in the coming weeks that mirrors her presidential campaign proposal… Under the proposal Warren released as part of her presidential campaign in April, borrowers with a household income of less than $100,000 would have $50,000 of their student debt cancelled and borrowers with an income between $100,000 and $250,000 would be eligible for some student debt cancellation — though not the full $50,000. Borrowers earning $250,000 or more would receive no debt cancellation. Her campaign estimated the plan would cost $640 billion, which would be paid through a tax on the ultra-wealthy." • I don't think it makes sense to introduce free college without giving relief to those who, because they chose to be born at the wrong time, are subject to a lifetime of debt, so kudos to Warren. That said, note the complex eligibility requirements; Warren just can't help herself. Also, of course, you can drown in an inch of water, so pragmatically, even $50,000 might not mean all that much, especially since servicers gotta servicer.

Warren (D)(2): "Elizabeth Warren's plan to pass her plans" (interview) [Ezra Klein, Vox]. Klein: "Do you think that there's a way to sequence your agenda such that you're building momentum as opposed to losing it?" Warren: "Here's my theory: It starts now. That's what true grassroots building is about. Green New Deal. More and more people are in that fight and say that matters to me. Medicare-for-all, that fight that matters to me [No, it doesn't. –lambert]. As those issues over the next year and a quarter get clearer, sharper, they're issues worth fighting for, and issues where we truly have leadership on it, have people out there knocking doors over it…. You asked me about my theory about this. This is the importance of engaging everyone. The importance not just of talking to other senators and representatives but the importance of engaging people across this country." • This language seems awfully vague, to me. For example, when Sanders says "Not me, us," I know there's a campaign structured to back the words up. I don't get that sense with Warren. I also know that Sanders knows who his enemies are ("the billionaires"). Here again, Warren feels gauzy to me ("the wealthy"). And then there's this. Warren: "I believe in markets… But markets without rules are theft." This is silly. Markets with rules can be theft too! That's what phishing equilibria are all about! (And the Bearded One would would argue that labor markets under capitalism are theft, by definition.) But I'd very much like to hear the views of readers less jaundiced than I am. Clearly Warren has a complex piece of policy in her head, and so she and Klein are soul-mates.
Realignment and Legitimacy
"Training the Next Generation of Progressive Organizers" [The Intercept]. "Alexandria Ocasio-Cortez's 2018 campaign are taking on the consultant class with a new initiative to train the next generation of progressive organizers and staffers. Movement School, a 10-week professional development program launched by Organize for Justice, the sister organization of Justice Democrats, is teaching fellows how to work as campaign managers, communications directors, and field directors. The Campaign Fellows program is meant to create a pathway for young activists from working-class backgrounds to enter official campaign roles and to preserve the lessons grassroots campaigns have learned throughout the years by passing them down to future staffers — all while setting up an alternative political infrastructure that operates outside of the Democratic Party." • Good, though I'd love to see the curriculum. Here's a link to Movement School site. Applications now open! (Sadly, there seems to be nothing behind the "Core Topics" and "Sample Sessions" icons on the Applications page.)
Stats Watch
Retail Sales, May 2019: "The latest retail sales report… mostly beat expectations in May and includes sharp upward revisions to April" [Econoday]. "[B]ack-to-back gains in April and May for the control group are a very positive indication for personal consumption expenditures and will be lifting second-quarter GDP estimates. Retail sales data had been jaggedly saw toothed since December's collapse though the latest report, and its big upward revision, levels the view out to show a favorable consumer trend."
Consumer Sentiment, June 2019 (Preliminary): "Consumer sentiment is falling back this month" [Econoday]. "Tariff uncertainty, whether over Mexico but especially over China, is behind the decline in sentiment according to the text of the report… But sentiment is steady enough in contrast to inflation expectations."
Industrial Production, May 2019: "Industrial production proved mixed in May, up stronger-than-expected… at the headline level but up only a modest[lly] and as-expected… for manufacturing" [Econoday]. "Though mixed, this report should be taken at its headline face value, that is [the] overall rise is respectable enough, and though manufacturing was soft the gains for vehicles and hi-tech are positive."
Business Inventories, April 2019: "Business inventories rose as-expected… in April which will be a positive input for second-quarter GDP though the gain hints at the risk of overhang" [Econoday].
Tech: "Tech Giants Amass a Lobbying Army for an Epic Washington Battle" [New York Times]. "The four companies spent a combined $55 million on lobbying last year, doubling their combined spending of $27.4 million in 2016, and some are spending at a higher rate so far this year, according to the Center for Responsive Politics, which tracks lobbying and political contributions. That puts them on a par with long-established lobbying powerhouses like the defense, automobile and banking industries…. Of the 238 people registered to lobby for the four companies in the first three months of this year — both in-house employees and those on contract from lobbying and law firms — about 75 percent formerly served in the government or on political campaigns, according to an analysis of lobbying and employment records. Many worked in offices or for officials who could have a hand in deciding the course of the new governmental scrutiny." • Flexians.
Tech: Look on my Works, ye Mighty, and despair:
Most popular social networks by year. RIP Friendster pic.twitter.com/XkhdCAFZ2y

— ian bremmer (@ianbremmer) June 13, 2019
Tech: "How AI is catching people who cheat on their diets, job searches and school work" [MarketWatch]. "Darrell West, founding director of the Brooking Institution's Center for Technology Innovation, said the use of artificial intelligence is widespread. It powers robo-advisers like Betterment and Wealth, it assists in medical diagnoses, and it aids school systems when they sort through students' ranked preferences for charter schools…. He's not surprised the technology is being deployed against dishonesty. 'Artificial intelligence can detect cheating just because it can compare what we say with what we do.'… 'Everybody lies to themselves about various things,' said West. 'We lapse, we snack, we sneak that candy bar. …People want to present an image of themselves that's not exactly true.'" • And you can bet that AI technology will be applied to people when they buy candy bars, and not when they write the algos for financial advice, medical diagnosis, or charter schools.
Honey for the Bears: "Business conditions are at their worst level since the 2008 financial crisis, says Morgan Stanley" [Bloomberg]. "The business environment is deteriorating — fast. That is according to a gauge of business conditions tracked by Morgan Stanley, which said in a recent note that its proprietary Business Conditions Index, or MSBCI, fell 32 points last month, marking its sharpest collapse since the metric was formulated. The gauge touched its lowest point since the 2007-08 financial crisis. A separate composite business-condition index also fell by the most since 2008 and hit its lowest level since February of 2016…. Swirling anxiety around the U.S.'s trade relationship with China and other major international counterparts has hurt the confidence of business leaders because the unresolved tariff battles have made it difficult for corporate chieftains to develop business strategies and forced many companies to alter their supply chains." • And to think I thought entrepreneurialism was all about embracing risk.
Honey for the Bears: "Surging Cash Piles Leave States as Ready as Ever for a Recession" [Bloomberg]. "If a recession comes soon, America's state governments are better prepared than ever. With most states seeing tax collections rise at a faster-than-expected pace, governments have been setting aside more money to help them avert deep spending cuts the next time the economy contracts. Those so-called rainy-day funds have swelled to about $68.2 billion, with the median state having enough to cover about 7.5% of its annual budget, the most on record…. The financial improvements have been lauded on Wall Street, where investors have been demanding smaller yield penalties from some states that were hard hit by the last recession as money floods into the $3.8 trillion municipal-debt market."
Water
SlayTheSmaugs threw this over the transom:
Websites I check obsessively (daily) are https://nsidc.org/greenland-today/ and http://nsidc.org/arcticseaicenews/

If you look at the Greenland Surface Melt Extent Interactive Chart in the Greenland article–read the article too if you want, the tone is kind of interesting–you'll see that the 2010+ data seems to reflect a different pattern than 1980-2010, as if we're in a new climate pattern.

Similarly, if you go to the arctic site, and look in the right hand column, second graphic down, "Sea Ice Data and Analysis Tools", and click on it, you can get an interactive version of the

Charctic Interactive Sea Ice Graph and if you activate the years 2010 through now, it also looks like we're in a different era of melting than 1980-2010.

Interestingly, the antarctic isn't the same. At the top of the Charctic Interactive Sea Ice Graph, click the Antarctic button and again add 2010-present, it looks like the ice extent is more extreme–often outside the decile range–but in both directions, more and less ice. 2017-present is largely outside the decile to more melting/less ice range, but that's too short a span to make a pattern given the variability overall.
I'm not sure I know how to interpret these charts (which are a great resource). What do readers think?
"Plant / Life: Jo Ferguson" [The Planthunter]. "'To me the act of gardening is totally immersive and hypnotising. It takes me deeply into the realms of subconscious and represents beauty, love and freedom,' Jo says. 'I am interested in creating gardens that connect people to the feelings in their bodies of past memories, to help them feel safe and uplifted in the joy and beauty of nature.'"
Water
"That chocolate cake won't last forever, but the chemicals in it might" [Grist]. "Researchers have long known that PFAS are pretty ubiquitous. The so-called 'forever chemicals' have been used in various types of manufacturing including fire-fighting foams, non-stick products such as certain types of food packaging. A recent study found that an estimated 95 percent of the population has a detectable level of PFAS in their blood. That's bad news considering the chemicals have been associated with serious health problems including cancer…. The Food and Drug Association recently decided to test 91 common food items for PFAS and 14 products came back positive…. The worst culprit with — so sorry — chocolate cake with chocolate frosting, which tested at levels 250 times higher than the federal guidelines for PFAS in drinking water." • Convenience comes at a price.
"All Flint water crisis criminal charges dismissed by attorney general's office — for now" [Detroit Free Press]. "The [Michigan Attorney General's Office] announced on Thursday the dismissal of charges against all eight remaining defendants, including involuntary manslaughter charges against Nick Lyon, the former director of the Department of Health and Human Services. Charges were also dismissed against other officials from the health department, plus two former Flint emergency managers and current or former employees of the Michigan Department of Environmental Quality and the City of Flint…. Not all evidence was pursued and Todd Flood, Schuette's special prosecutor, wrongly allowed private law firms representing former Republican Gov. Rick Snyder and other defendants to have "a role in deciding what information would be turned over to law enforcement," according to a joint statement from Solicitor General Fadwa Hammoud, who is handling the criminal cases, and Wayne County Prosecutor Kym Worthy, who is assisting her." • So the story is more encouraging than the headline. And but: "In a separate statement, [Democrat Attorney General Dana Nessel] said she wants Flint residents to know that 'justice delayed is not always justice denied.'" • "Always" is doing a lot of work, there. We'll see.
"Ecological Detectives Hunt for San Francisco's Vanished Waterways" [Scientific American]. "We have so radically transformed our cities and towns that few visual clues remain to their natural landscapes and waterways. Creeks have been holstered into pipes. Wetlands have been filled with dirt and paved…. Today subverted water is reappearing in inconvenient ways because we have constrained the space it once had to ebb and flow, and climate change is amplifying storms and droughts. To cope, cities are increasingly funneling runoff into green infrastructure such as permeable pavement and bioswales (essentially shallow ditches dressed with water-loving plants). But a scientific research center, the San Francisco Estuary Institute (SFEI), is proposing a more ambitious approach that involves redesigning cities to brace for bigger rainstorms, longer droughts and stronger heat waves. 'We need to be surrounded by marshes and [tree] canopies and floodplains; those are the buffers,' says Robin Grossinger, a historical ecologist at SFEI. 'Otherwise our cities are brittle and actually multiply the intensity of environmental catastrophes.'" • Yep.
MMT
Nice to see Ed Harrison on TV. Here's a link to RealVision with comments on the video below:
MUST WATCH: @wbmosler – The Father of MMT on Policy, Profits, and Politics – exclusive hour-long interview with me on @realvision https://t.co/G9xgD0kgbN

— Edward Harrison (@edwardnh) June 14, 2019
Class Warfare
"Home Internet Is Becoming a Luxury for the Wealthy" [OneZero]. "This year, 26% of U.S. adults who earn less than $30,000 said they're "smartphone only" internet users. That's up from 12% in 2013, 20% in 2015, and 21% in 2016. The number of smartphone-reliant people in the top income bracket of $75,000 sits at 6% — relatively unchanged from 5% in 2013…. This divide makes it crucial for certain websites, like government services or job boards, to function properly on mobile browsers. There are other issues for using smartphones as a primary way of connecting to the internet, including data caps and the ability to fill out online forms required for tasks like job applications…." • I don't think it's so much a matter of the mobile browser but the cellphone form factor, which is inferior in every way to a laptop, at leat for tasks requiring text entry or complex workflow.
"American tipping is rooted in slavery—and it still hurts workers today" [Ford Foundation]. "When the practice [of tipping] was brought to the United States in the 19th century, the American public was deeply uncomfortable with it. Many saw tipping as undemocratic and therefore un-American. A powerful anti-tipping movement erupted, fueled by the argument that employers, not customers, should be paying workers. But American restaurants and railway companies fought particularly hard to keep tipping, because it meant they didn't have to pay recently freed black slaves who were now employed by those industries."
"A Historic Breakthrough for Sex Workers' Rights" [The New Republic]. "Back in February, advocates for sex worker rights in New York announced their intention to fully decriminalize prostitution in the state. But no one really suspected then that within two weeks, Democratic candidates for president would be pledging support for competing legislative visions of what they called (at times, incorrectly) sex work decriminalization. Quite suddenly, the enlightened thing to do—or at least to say you were doing—was to support these measures, a development that came as a shock even to many sex workers who had long campaigned for decriminalization." • It will be interesting to see if this is brought up in the debates.
News of the Wired
"Chuck Jones' 9 Rules For Drawing Road Runner Cartoons, or How to Create a Minimalist Masterpiece" [Open Culture]. Rule 5: "The Road Runner must stay on the road — otherwise, logically, he would not be called Road Runner."
"This psychologist explains why people confess to crimes they didn't commit" [Science]. "[Saul Kassin, a psychologist at the John Jay College of Criminal Justice] explained that false confessions are not rare: More than a quarter of the 365 people exonerated in recent decades by the nonprofit Innocence Project had confessed to their alleged crime. Drawing on more than 30 years of research, Kassin told the legal team how standard interrogation techniques combine psychological pressures and escape hatches that can easily cause an innocent person to confess. He explained how young people are particularly vulnerable to confessing, especially when stressed, tired, or traumatized. … [Kassin] began to wonder how often… confessions were genuine, after he learned about the Reid interrogation technique, the near-universal method taught to police. Its training manual—now in its fifth edition—was first published in 1962 by John Reid, a former Chicago detective and lie detector expert, and Northwestern University law professor Fred Inbau. 'I was horrified," Kassin says. "It was just like Milgram's obedience studies, but worse.'" • I don't think we've run this video in awhile, so here it is. "Don't talk to the police":
* * *
Readers, feel free to contact me at lambert [UNDERSCORE] strether [DOT] corrente [AT] yahoo [DOT] com, with (a) links, and even better (b) sources I should curate regularly, (c) how to send me a check if you are allergic to PayPal, and (d) to find out how to send me images of plants. Vegetables are fine! Fungi are deemed to be honorary plants! If you want your handle to appear as a credit, please place it at the start of your mail in parentheses: (thus). Otherwise, I will anonymize by using your initials. See the previous Water Cooler (with plant) here. Today's plant (SlayTheSmaugs):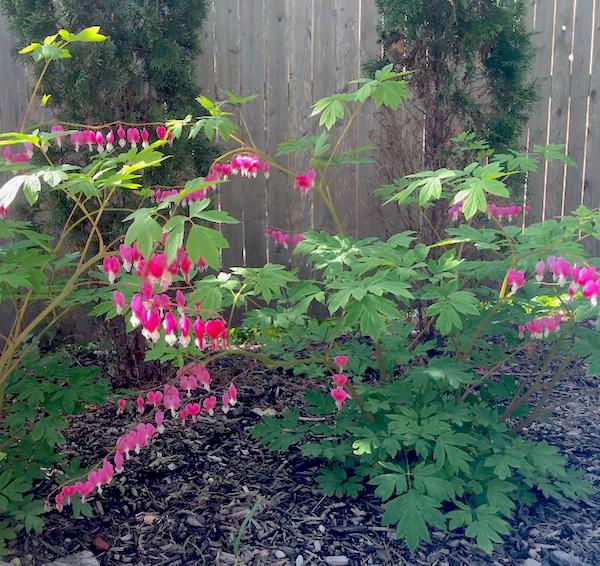 * * *
Readers: Water Cooler is a standalone entity not covered by the annual NC fundraiser. So do feel free to make a contribution today or any day. Here is why: Regular positive feedback both makes me feel good and lets me know I'm on the right track with coverage. When I get no donations for five or ten days I get worried. More tangibly, a constant trickle of small donations helps me with expenses, and I factor in that trickle when setting fundraising goals. So if you see something you especially appreciate, do feel free to click this donate button:
Here is the screen that will appear, which I have helpfully annotated.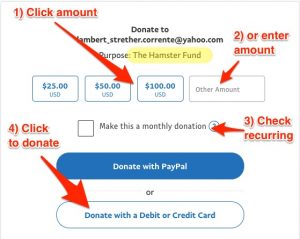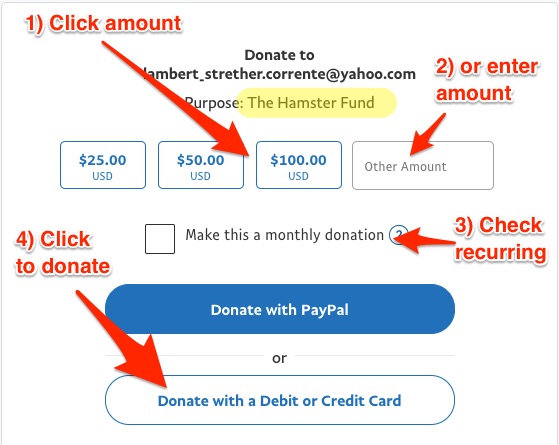 If you hate PayPal, you can email me at lambert [UNDERSCORE] strether [DOT] corrente [AT] yahoo [DOT] com, and I will give you directions on how to send a check. Thank you!