By Lambert Strether of Corrente.
Politics
"But what is government itself, but the greatest of all reflections on human nature?" –James Madison, Federalist 51
"They had one weapon left and both knew it: treachery." –Frank Herbert, Dune
"2020 Democratic Presidential Nomination" [RealClearPolitics] (average of five polls). Biden down 34.9% ( 35%) and Sanders up 16.9% (16.5%) stabilize. Warren down 8.4%, others Brownian motion. Of course, it's absurd to track minute fluctuations at this point.
* * *
2020
Bennet (D)(1): A little premature for Bennet to be speaking of himself in the third person:

Let's start with the facts: Michael is not on a government plan. He's fortunate to be covered by his wife's private insurance.
– Team Bennet https://t.co/9FopYinzJu

— Michael Bennet (@MichaelBennet) May 31, 2019

"Fortunate" is rather the point, no?

Biden (D)(1):

So this is a story I'll bet a lot of people haven't heard.https://t.co/dxT8WHyMxW pic.twitter.com/uZgZcu3XVk

— Paul Waldman (@paulwaldman1) June 3, 2019

Gravel (D)(1): [dunks]

Our condolences to @ericswalwell, @SenGillibrand, @sethmoulton, and @amyklobuchar (all fake progressives and stooges for corporate power) for polling below us in the new Harvard/Harris poll. There's always next time!

— Sen. Mike Gravel (@MikeGravel) June 1, 2019

Sanders (D)(1): "'No middle ground.' Bernie Sanders jabs Joe Biden at California Democratic Party convention" [Sacramento Bee]. "Presidential candidate Bernie Sanders told a California Democratic Party convention Sunday that America's best path forward is to the left. Speaking to a crowded room of Bernie supporters, the Vermont senator said that in order to advance a 'political revolution,' Democrats must not settle for 'middle ground' on issues ranging from environmental policy to cutting prescription drug prices…. Unlike 'those who have chosen for whatever reason not to be in this room,' [Biden] Sanders said, the party must 'give millions of young people and working people …a reason to believe that politics is relevant to their lives.'…. That message earned roaring applause and a standing ovation from Democrats who gathered in San Francisco for the state party's three-day convention."

Sanders (D)(2): "Rep. Barbara Lee finds Kamala Harris a tough sell before Bernie Sanders' crowd" [San Francisco Chronicle]. "It was a tough crowd, however — the progressive caucus is heavily tilted toward independent Vermont Sen. Bernie Sanders, whose campaign is co-chaired by Khanna, a Fremont Democrat. Even after Lee spoke on behalf of Harris, many of those in the crowd chanted, 'Ber-nie! Ber-nie! Ber-nie!' Harris isn't even in the second choice of many progressives in the caucus, said the group's outgoing Northern California vice chair, Mark Van Landuyt. Khanna was at the caucus and signed its list of priorities on the senator's behalf. Lee declined to do so for Harris, saying she had to check with the campaign first. 'Most here are for Bernie, then after that it's Elizabeth Warren,' Van Landuyt said."

Warren (D)(1): Hadn't thought of Warren as a charters supporter:

Most Democratic presidential candidates are in the Bay Area. Elizabeth Warren held a huge rally in Oakland, and she was introduced by a representative of Great Oakland Public Schools, a billionaire-funded anti-teacher, pro-charter, pro-"reform" operation. Does she know?

— Diane Ravitch (@DianeRavitch) June 1, 2019

Warren (D)(2):

this is pretty cringe pic.twitter.com/w4jUmjAFlH

— katie ?️‍?? (@Ah_occ_o) May 31, 2019

At a minumum, not very good prep work. (I should say, word is that Warren was very enthusiastically received by CA Dems. Speculating very freely, I would say that Warren appeals to the "better angels" of 2016 Clinton voters: Warren is a [x] woman, she has a track record with the CPFB, has a lot of detailed plans, and is not remotely threatening to the professional class, being credentialed and "capitalist to her bones" (I do not love Warren for the enemies she has made; I don't think she's made nearly enough of them).

Yang (D)(1):

According to twins studies between one-third and one-half of political alignment is linked to genetics; that is most of us are born somewhat wired to be liberal or conservative. If this is the case we need to build bridges as much as possible. It's not just info or culture.

— Andrew Yang (@AndrewYang) June 1, 2019

Science!
Impeachment
"Democrats keep censure for Trump on the table" [The Hill]. "A censure resolution — essentially a public reprimand — lacks the teeth of impeachment's intrinsic threat to remove a sitting president. But supporters say it would send a clear and immediate message to voters that Democrats are taking seriously their constitutional responsibility to be a check on executive misconduct." • Lol. That's exactly what it doesn't do. Still, a slap with a wet noodle might not alienate suburban Republicans, and that's the main thing, isn't it?
Realignment and Legitimacy
"The Family Style in American Politics" (interview) [Melinda Cooper, Medium]. "When the prefix 'family' is stuck onto any particular policy it tends to play a similar role to words such as 'productive,' 'hard-working,' or 'tax-paying' — that is, it serves to designate certain recipients of redistributive public spending as deserving and others as less deserving." • Think gatekeepers, whether as law enforcement or trained professionals.
Stats Watch
Factory Orders, April 2018: "April's factory orders report closes the book on what was a weak month for US manufacturing" [Econoday]. "Core capital goods (nondefense ex-aircraft) are very weak in the report…. Both [orders and shipments] hint at slowing for second-quarter business investment. General weakness is evident in the market breakdown with orders for primary metals, fabrications, machinery, and new vehicles all weak."
Real Estate: "Blackstone Group LP is betting e-commerce trends are more enduring than fluctuations in the logistics market. The private-equity giant's $18.7 billion acquisition of the U.S. warehouse portfolio held by Singapore's GLP comes at a generous price" [Wall Street Journal]. "The warehousing market has been booming because companies such as Amazon and Walmart Inc. are snapping up space close to big cities to handle the tricky logistics of short-term shipping. Some industry indicators have been softening recently, however, and new construction has started to catch up to demand, Deloitte says in a new report the market may have peaked last year and is set to cool down. Yet retailers also are stepping up their competition over next-day and same-day delivery, and they'll likely have to pay a premium to get closer to consumers." • I don't know of a study that compares the carbon impact of online + delivery to brick and mortar retail. My guess is that when everything is taken into account (including server farms) bricks and mortar would far better. (Yes, people drive to the mall — what a shame our downtowns were destroyed — but they tend to consolidate trips.)
The Bezzle: "Swedish Startup To Bring Pogo Sticks To San Francisco As E-Scooter Alternative" [KPIX]. "Earlier this month, start-up company Cangoroo announced plans to deploy hundreds of pogo sticks in select cities to directly compete with electric scooters as a transportation option…. On Friday, Cangoroo CEO and co-founder Adam Mikkelsen said his company chose San Francisco as one of its launch cities because of its reputation as place of innovation. He added that Cangoroo could start deploying anywhere between 100 and 200 pogo sticks in San Francisco as early as late summer or possibly in the fall." • Not April 1, not The Onion.
Tech: "Apple Announces Plans To Sell Power Mac G4 For $120" [The Onion]. "Bringing to an end weeks of fevered anticipation, Apple CEO Tim Cook announced plans Monday to sell a Power Mac G4 for $120 that can still run Photoshop CS without a hitch. "Today, Apple is proud to announce the sale of a really phenomenal personal computer featuring a 350 MHz processor, 64 MB of ram, and a fully functioning zip drive bay—all for only $120," said Cook, adding that Apple would listen to any other competitive offers for the 2002 desktop, which comes in a sleek Graphite case with only a few cosmetic nicks and scratches." • How's the keyboard?
Tech:
The stand for Apple's new computer monitor costs as much as an iPhonehttps://t.co/OGjz37qSmN

— Mike Murphy (@mcwm) June 3, 2019
Thanks, Jony.
Tech: "How capitalism killed one of the best video game studios" [The Week (UserFriendly]. "Valve — once one of the most artistically creative game studios in the world — has all but stopped producing games altogether. What happened? In a word: capitalism. Valve has mutated from a game developer into a ruthless financial middleman through its platform Steam, which has become the largest platform for digital game distribution — allowing them to make huge amounts of money while creating virtually nothing original themselves…. The platform, which serves as a one-stop shop for gamers to buy and download titles from nearly every major game developer, reportedly made roughly $4.3 billion in revenue in 2017 (as it takes a substantial cut of every sale), up from $3.5 billion in 2016 — and that doesn't include revenue from downloadable content and "microtransactions" (that is, in-game purchases of cosmetic items and such). There is clearly a lot more money in being an Amazon-style distribution platform than in developing games. What's more, that money is a lot easier to make. First-mover advantage and network effects do most of the work for you." • Another "platform." We really need another word than "platform," which sounds so neutral (and is also by definition flat — literally "flat form," from Old French plat "flat" (see plateau (n.)) + forme "form" — which helpfully prevents visualization of inputs, outputs, and the rental extraction mechanisms inside). Also, hat tip for the games link.
Tech: "Mental Health App Raises $50 Million for Expansion" [Bloomberg]. "A startup whose app connects people with mental health clinicians for counseling through text messages and video chats raised $50 million and forged ties with the biggest U.S. health insurer, a sign that the market for delivering psychotherapy remotely is growing." • Maybe instead of "remote psychotherapy" we could say "impoverished bandwidth" therapy. Since when is talking to somebody on the phone the same as, let alone superior to, talking to them in person?
Tech: Thanks, @jack. Thanks a lot:
FYI: there IS an edit button. (In your brain)

— Twitter (@Twitter) May 29, 2019
Tech:
Come on in! Our fulfillment centers are open for tours. See first-hand how we deliver for you! #AmazonFCTours

— Amazon News (@amazonnews) June 1, 2019
Will Grigory Potemkin please pick up the nearest courtesy phone?
Marketing: "The Price-to-Logo Correlation that Underlies the Market's Most Expensive Handbags" [The Fashion Law]. "In looking at a wide range of handbags – from cheap, mass-market ones to much more expensive Gucci and Bottega Veneta bags, what [Jonah Berger, a marketing professor at the University of Pennsylvania's Wharton School of Busines, and Morgan Ward, a professor at Emory University's Goizueta Business School] found more specifically was this: among the market's cheapest handbags – and other fashion items, such as sunglasses and footwear, the visibility of logos or other branding elements tends to be minimal. This changes – and logos grow in size and centrality – as price tags grow. As reported by Business Insider, Berger and Ward found that "as prices increase, branding becomes more prominent." This is true particularly for mid-market to more accessibly-priced designer products. But the logo prominence does not increase from there. In fact, as prices increase further, the prominence of branding begins to decrease. "For example, of ten different models of sunglasses ranging between $100 and $300 that Berger and Ward studied, the majority featured visible logos, while only a few out of ten $500-plus sunglasses had a brand name or logo on them," per BI. For handbags, the difference in branding by price point is significant, according to Berger: for every $5,000 increase in price, the size of the logo or other branding is reduced by an average of one centimeter." • "One does not—at least, you and I and this gentleman do not—consider the brand to be the guarantee of quality. For , the quality guarantees the brand." Dorothy Sayers, Murder Must Advertise.
The Fed: "Powell signals it might be time to wave goodbye to the Fed's 'dot plot'" [MarketWatch]. "Don't bet on the survival of the Fed's so-called dot plot, the central bank's innovative approach to showing where central bankers expect interest rates to go if the economy performed as they expected. The dot plot is a graph that shows where all 19 top Fed officials individually expected interest rates to go….. 'In times of high uncertainty, the median dot might best be thought of as the least unlikely outcome,' Powell said."
The Fed: "The Fed's dangerous 'new normal'" [Politico]. "while they helped it fight the Great Recession, the Fed's quantitative easing powers also fudged the traditional boundary line between fiscal policy, which Congress controls and which includes decisions about government funding, and monetary policy, which the Fed controls and which is supposed to be dedicated solely to fighting recessions and limiting inflation… BY BLURRING THAT boundary line, the Fed's new methods threaten to undermine its critically important independence. An independent central bank ensures that neither the president nor Congress can decide to fund special projects or tweak economic growth by compelling the Fed to print more money. But the longer the Fed retains its "new normal," the more that independence is at risk." • Hey, maybe we won't have to #MintTheCoin after all!
Honey for the Bears: "If U.S. Economy Hits Trouble, It Won't Be Like 2008" [Conor Sen, Bloomberg]. "To be clear, the economy hasn't hit any of those supply shocks yet. It's unclear to what extent trade tensions will result in less trade with China and Mexico, and while the bond market is increasingly expecting interest rate cuts, the bond market might be wrong. Beyond the risk of a downturn, investors should keep in mind that the next downturn won't look like the previous two. A negative supply shock and lost output for a period of time are unlikely to stall inflation and the labor market like the 2001 and 2008 recessions did. If you're bracing for a slowdown, don't be surprised if demand and inflationary pressures roar back quickly this time."
The Biosphere
"In quest to destroy PFAS, MSU diamond tech shows promise" [MLive (MN)]. This caught my eye: "Wastewater plant sludges are often either landfilled themselves, or spread on farm fields as a soil amendment. If contaminated, they can further spread PFAS by polluting soil and groundwater." • I tried some of landfill operator Casella's stuff — as a large out-of-state company, they destroyed all the local producers — because it sounded like a good idea, like recycling "night soil" in Asia. Horrible stuff that didn't help the plants at all; you could tell from the consistency alone there was something terribly wrong with it.
"FDA: Sampling finds toxic nonstick compounds in some food" [Associated Press]. "The Food and Drug Administration found substantial levels of a worrisome class of nonstick, stain-resistant industrial compounds [PFAS] in some grocery store meats and seafood and in off-the-shelf chocolate cake, according to FDA researchers…. Last year's federal toxicology review concluded the compounds are more dangerous than previously thought, saying consistent studies of exposed people 'suggest associations' with some kinds of cancers, liver problems, low birth weight and other issues. The compounds have been dubbed 'forever chemicals' because they take thousands of years to degrade, and because some accumulate in people's bodies." • A high price to pay for convenience.
Water
"Ex-governor's phone seized in Flint water probe" [Associated Press]. " Authorities investigating Flint's water crisis have used search warrants to seize from storage the state-owned mobile devices of former Gov. Rick Snyder and 65 other current or former officials, The Associated Press has learned…. Solicitor General Fadwa Hammoud and Wayne County Prosecutor Kym Worthy, who is helping with the probe, confirmed they executed a series of search warrants related to the criminal investigation of Flint's lead-contaminated water in 2014-15 and a deadly outbreak of Legionnaires' disease…. Solicitor General Fadwa Hammoud and Wayne County Prosecutor Kym Worthy, who is helping with the probe, confirmed they executed a series of search warrants related to the criminal investigation of Flint's lead-contaminated water in 2014-15 and a deadly outbreak of Legionnaires' disease."
Health Care
Health care in Iceland. Thread (DG):
When I lived in Iceland, I found a lump. I had no idea how to navigate finding a doctor, so I went to our show's production manager.

Me: I found a lump. Can you help me find a doctor?
PM: Just go to the cancer center.
Me: Okay. How do a get a referral?
PM: What's a referral?

— Mary Robinette Kowal (@MaryRobinette) June 3, 2019
"What's a referral." Reads like a Monty Python script, doesn't it? And I was cracking up at this point: "I don't need an appointment?"
Health care in the United States (don't read on if you don't want dark). Thread:
1/ It has been exactly one year since I lost my dad. The events that led up to his death are dark, but I think it is important to share what and why it happened as Let me start by introducing my dad…

— Andrew Kimmel (@andrewkimmel) June 2, 2019
"1.1 million Americans lost health insurance coverage in 2018" [Fast Company]. • Well, if people misplace things, they should just look harder for them. Did you check under the couch?
"Opinion: GTA Exposed My Son to Unrealistic Portrayals of Quick and Affordable Hospital Visits" [Hard Drive]. "I sat down with my son when he started playing, and I quickly realized the offensive ideas this thing is teaching our children…. The next thing I knew my son was leaving a hospital the next morning. For a reasonable one time payment he was back in peak physical condition; no lingering injuries, no inescapable debt. This is an outrage! I'm trying to teach my kid about the real world, and this sick, twisted game is NOT helping."
"U.S. Citizens Are Dying and We Can Save Them" [New York Times]. 17-year-old Student Editorial Contest Winner: "There is only one way to prevent innocent people like Alec from dying: adopt national health insurance. With a single payer-program where the government subsidizes the cost of treatment, any and all citizens would be able to receive and afford any medically necessary treatment. Many fear that this program would cost an exorbitant amount of money and it is true that U.S. citizens would have to pay more in taxes to support it. However, US families, would save more money because they are no longer paying as much for health care costs like co-pays, premiums and deductibles." • "More money in your pocket!" is always a good pitch (plus not dying for lack of care, like Alec, who had to ration his insulin). Of course, that assumes "we" wish to save "them."
Our Famously Free Press
The Times faithfully implemented Clinton's "Pied Piper" strategy, I see:
pulled some data for my first tweet pic.twitter.com/goC1luQQSI

— Ash Ngu (@ngusletter) May 31, 2019
And cashed in, too, as outraged #Resistance types subscribed. One hand washes the other!
"If it bleeds it leads," except if the bleeding is internal:
From the indispensable @OurWorldInData, a chart that should be printed, cut out, and taped to every computer monitor and TV screen in the world: 1) causes of death; 2) what people Google; 3) what the news media cover. pic.twitter.com/3iv6yva7QA

— Dan Gardner (@dgardner) May 30, 2019
Sports Desk
Why do fans have to have confidence?
The Playoffs are all about confidence. These NBA superfans use rituals to get hyped up for game day and every day.

B/R X @StitchFixMen pic.twitter.com/AWXrMAOYKC

— Bleacher Report (@BleacherReport) May 30, 2019
Why can't fans be introverted, bemused, ironic, or even depressed, and still be fans?
"Everest Needs to Go More Commercial" [Bloomberg]. "The most straightforward would be to establish concessions whereby a select group of qualified operators are offered exclusive rights to guide expeditions. A reduced number of well-qualified operators would boost climbing fees and local-government revenues while lowering numbers and boosting safety. It's a model that has a track record of success around the world, including in the U.S., where the National Park Service leases multiyear concessions on some of its signature peaks, including Denali and Mount Rainier." • Also, why not sell the naming rights? Who knows from "Everest"? And can any of our outdoors-y readers comment on arrangements at Denali and Mount Rainier?
Class Warfare
"The U.S. labor market in 2050: Supply, demand and policies to improve outcomes" (PDF) [Brookings Institution]. I'll just quote the whole summary, because "the liberal Brookings Institution" paints about as bleak and dystopian future for the working class as its possible to paint:
Current estimates suggest that over the coming decades, slower population growth and lower labor force participation will constrain the supply of labor in the U.S. The U.S. labor force will also become more diverse as immigration and fertility trends increase the size of minority populations. New forms of automation will likely require workers to adapt to keep their old jobs, while many will be displaced or face less demand for their work (while others benefit). Firms will continue to implement alternative staffing arrangements, like turning workers into independent contractors or outsourcing their human resource management to other firms; and many will adopt "low-road" employment practices to keep labor costs low. Exactly whom these changes will benefit or harm remains unclear [lol], the author finds, though non-college workers will likely fare the worst; higher productivity from new technologies and reduced labor supply could raise average wages, but many workers will clearly be worse off. According to the author, policymakers should provide incentives for firms to train current employees, rather than replace them, and should encourage schools and colleges to teach flexible, transferable skills, as the future workforce will likely need to adapt quickly to new and changing job requirements. Lifelong learning accounts for workers could help. Expanding wage insurance and improving unemployment insurance and workforce services could help workers adapt after suffering job displacement. , like the EITC, and others designed to increase labor force attachment, like paid family leave, could help mitigate declines in the labor force. Reforms in immigration and retirement policy will help as well, as would policy experimentation at the state and local level (with federal support).
(I underlined my favorite part.) Obviously, liberalism is completely exhausted; decadent, even. Although as an expression of class hatred, the piece holds up rather well.
News of the Wired
"Endangered baby dolphin dies after swimmers pass it around for selfies" [WaPo]. "At no point in the footage does it appear that anyone in the crowd intervened or attempted to return the animal to the water." • :-(
* * *
Readers, feel free to contact me at lambert [UNDERSCORE] strether [DOT] corrente [AT] yahoo [DOT] com, with (a) links, and even better (b) sources I should curate regularly, (c) how to send me a check if you are allergic to PayPal, and (d) to find out how to send me images of plants. Vegetables are fine! Fungi are deemed to be honorary plants! If you want your handle to appear as a credit, please place it at the start of your mail in parentheses: (thus). Otherwise, I will anonymize by using your initials. See the previous Water Cooler (with plant) here. Today's plant (Oguk):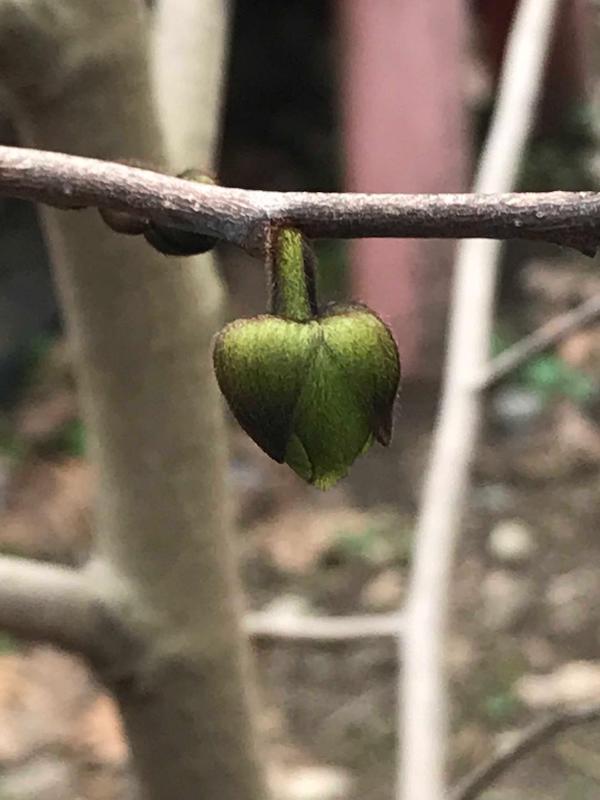 Oguk writes: "Pawpaw flower! I've had flowers but no fruits yet (need 2 for pollination and so far only one blooms)."
* * *
Readers: Water Cooler is a standalone entity not covered by the annual NC fundraiser. So do feel free to make a contribution today or any day. Here is why: Regular positive feedback both makes me feel good and lets me know I'm on the right track with coverage. When I get no donations for five or ten days I get worried. More tangibly, a constant trickle of small donations helps me with expenses, and I factor in that trickle when setting fundraising goals. So if you see something you especially appreciate, do feel free to click this donate button:
Here is the screen that will appear, which I have helpfully annotated.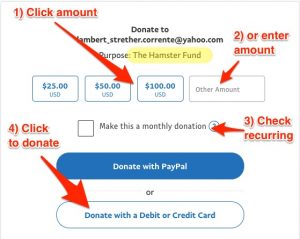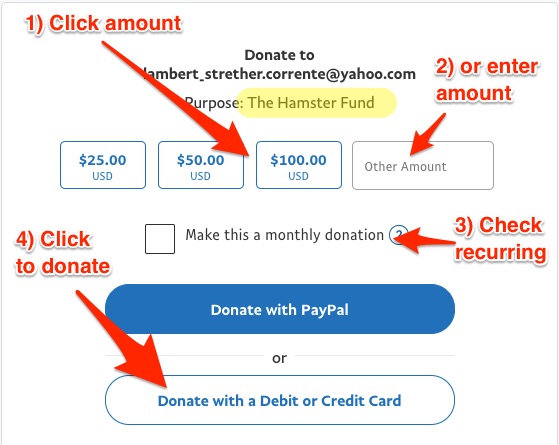 If you hate PayPal, you can email me at lambert [UNDERSCORE] strether [DOT] corrente [AT] yahoo [DOT] com, and I will give you directions on how to send a check. Thank you!