By Lambert Strether of Corrente.
Trade
"Trade War 'Losers' Have Been Bond-Market Winners" [Bloomberg]. "Unlike economists and stock investors, bond traders don't look at growth numbers, but rather exposure to credit risk. And China's Ministry of Finance needs the bond market on its side this year – if only to finance $1 trillion worth of infrastructure projects. While we might see a few "technical" defaults every once in a while – most of which are repaid in a matter of days – Beijing hasn't allowed any government-affiliated bonds to go under. Corporate bond yields with sovereign support? What a good deal!… The truth is, local governments in China are dirt poor. On average, one-third of their fiscal income comes from central-government handouts, according to Moody's Investors Service. What we have in Asia right now is a bear rally. Traders are investing on faith, not facts." • So China, in essence, minted the coin? Readers? \
"German firms find US less reliable than China as trading partner after getting caught between Trump and a hard place to do business" [South China Morning Post]. "German companies think China is a far more reliable trading partner than the US or Great Britain, according to a survey by Commerzbank.
China was ranked third in an assessment based on political and economic conditions affecting trade, with a score of 30, led by Germany itself way out ahead on 65, and France on 39. The US, in fourth place, was a long way behind on 17 points, followed by Italy (11), Russia (10), Great Britain (8), Brazil (5) and Turkey (3)."
"Rich farmers, not mom-and-pop farms, will collect most of Trump's tariff bailout" [Michael Hiltzik, Los Angeles Times]. "The vast majority of the dollars flowing to the agriculture industry via the bailouts is likely to go to farms with annual revenues of several million dollars. Most of them are major beneficiaries of federal crop support programs that steer billions in subsidies and low-priced crop insurance — including insurance that already covers some of their losses in the trade war."
"Everyone's winning the US-China trade war except the US and China" [Quartz]. "The tariffs imposed on goods traded between the United States and China are re-shaping the global economy, but not the way the chief antagonist in that battle, US president Donald Trump, has predicted. While trade with China has fallen slightly, the statistics also show that imports to the United States from other developing economies are fast increasing. In other words, the White House's nationalist trade policy is changing where the United States sources its imports, not growing production at home…. As the Council on Foreign Relations' Brad Setser pointed out, one of the biggest winners is Vietnam, which has seen its trade with the United States increase dramatically."
Politics
"But what is government itself, but the greatest of all reflections on human nature?" –James Madison, Federalist 51
"They had one weapon left and both knew it: treachery." –Frank Herbert, Dune
"2020 Democratic Presidential Nomination" [RealClearPolitics] (average of five polls). Biden 35% (34.8%) and Sanders (16.5% 16.4%) stabilize. Warren down 0.8%, others Brownian motion. So Sanders staunches the bleedings. Of course, it's absurd to track minute fluctuations at this point.
* * *
2020
Booker (D)(1): "Cory Booker Shoots Down Joe Biden's Claims On Crime Bill And Mass Incarceration" [HuffPo]. "New Jersey Sen. Cory Booker, a contender for the 2020 Democratic presidential nomination, sharply criticized one of the signature legislative achievements of former Vice President Joe Biden, the contest's front-runner, calling a decades-old crime law that Biden helped write and pass "awful" and "shameful" for its role in increasing mass incarceration." • Good for Booker.

Buttigieg (D)(1): "Leaked Report Contradicts Buttigieg Claims About Controversial Police Incident" [TYT]. "Mayor Pete Buttigieg's controversial claim that a secret report exonerated his chief of police in an incident with racial undertones appears to be contradicted by the report itself, according to a leaked excerpt obtained by The Young Turks….[Lt. David Newton], now chief investigator for the county prosecutor, told TYT that, "In my opinion Buttigieg killed the report because it made [then-Chief Ron Teachman] look bad." • This is starting to read like the mini-series version of LA Confidential…

Buttigieg (D)(2): "Weeks After Standing With Uber Drivers, Buttigieg Fundraises With Company's Executive" [Daily Beast]. "South Bend Mayor Pete Buttigieg is set to attend a fundraiser with a top Uber executive just weeks after expressing solidarity for drivers protesting the ridesharing company… Buttigieg's presence at the fundraiser illustrates the fraught position he occupies as one of the most tech-friendly candidates in a primary campaign where candidates are trying to demonstrate their pro-worker bona fides. He has deep ties to Silicon Valley heavyweights and even went to college with tech titans such as Facebook co-founder Chris Hughes, who has long supported Buttigieg's political career. Yet Buttigieg is also a ubiquitous presence alongside striking workers at picket line." • "Yet."

Festival of Sanders:

Sanders (D)(1): "Bernie Sanders: I Know Where I Came From. Does President Trump?" [Bernie Sanders, New York Times]. "Conservatives dishonestly try to link the policies I favor with those of authoritarian regimes. But I am calling for a true democracy, one that abides by the principle of one person, one vote, and that doesn't allow billionaires to buy elections. F.D.R. did it. We can do it again." • Trump knows. He's Fred Trump's son, and grew up in the outer boroughs. That's not unproblematic, of course.

Sanders (D)(2): "Americans should be very concerned about Bernie Sanders' record of opposing mass murder" [Ryan Cooper, The Week]. '[Jonathan] Chait is also correct to be disturbed by Sanders' cranky response to New York Times reporter Sydney Ember. It's simply outrageous for an interviewee to refuse to accept a questioner's framing of the issue. It's not as if she is a political reporter rather than a specialist in Latin America, or evinced a grotesque misunderstanding of Nicaraguan history. After all, as Chait points out, "she had just written a long New York Times story" about the issue, and therefore must have known what she was talking about. When has the New York Times ever supported imperialist war, or rated insults to American pride over the lives and liberty of poor foreigners?" • Last week's controversy, but still fun. And the "issue" will come up again.

Sanders (D)(3): I'm not very knowledgeable about California state politics, but this looks like an impressive staff

Bernie announced top California hires earlier today, including @JaneKim, a former city supervisor and mayoral candidate who supported him in 2016. pic.twitter.com/xoiTRw4M6K

— Daniel Marans (@danielmarans) May 31, 2019

Sanders (D)(4): Spreadsheet of Sanders rally attendance:

Bernie Sanders 2020 rallies, fb events and attendance counts with sources https://t.co/7Bat47EVfQ pic.twitter.com/De9vXw1sYO

— Davis Tom (@Datoism) March 11, 2019




Sanders (D)(5): Excitement:

Latino caucus at #CADem19 breaks into chaos as @BernieSanders walks into the room. "If we're all trying to get selfies, we'll never get through this," someone says, asking the crowd to sit down.

— Alexei Koseff (@akoseff) June 1, 2019




Trump (R)(1): "Barely Even Registers: President Trump Just Revealed That His Tongue Is Long Enough To Comb His Hair, But It Got Lost In All The Other Crazy Trump News From Today" [ResistanceHole]. "Had President Obama or Bill Clinton reeled roughly 18 inches of tongue out of their mouths and let it flop about on their shirtfronts like dead eels before thousands of cheering supporters, there would've been weeks of sensational front-page write-ups and heated talk show debates about the slobbery appendage's significance in the macrocosm of American politics. Yet in 2019, such a story doesn't warrant a two-line blurb on the AP newswire."

"Democrats have 23 candidates but just one issue: Electability" [Bill Schneider, The Hill (RH)]. "Vice presidents usually go on to win their party's nomination for president for a simple reason: loyalty. Loyalty is a vice president's job description. Nominations for president are dominated by party loyalists and — news flash! — party loyalists value party loyalty. General election voters do not value party loyalty…. If you believe that the 2020 election will be a "battle of the bases," the lack of excitement over Biden among liberal Democrats could be a problem. Except that there really are swing voters…. Today's swing voters are mostly affluent, well educated suburban whites who are horrified by Trump. They delivered the House of Representatives to the Democrats last year. And turned affluent suburbs like Orange County, California, and Fairfax County, Virginia, into Democratic strongholds. In American politics today, the wealthier you are, the more likely you are to vote Republican. But the better educated you are, the more likely you are to vote Democratic. When I explain that to students, they usually ask, 'What happens to voters who are wealthy and well educated?' They are what sociologists call 'cross-pressured.' If they vote their economic interests, they vote Republican. If they vote their cultural values, they vote Democratic." • Schneider is a resident [***cough***] scholar [***cough***] at Third Way, "a Washington think tank." Notice how expanding the base is simply erased as a possibility.

"There is hard data that shows that a centrist Democrat would be a losing candidate" [Salon (RH]. "nominating centrist Democrats who don't speak to class issues will result in a great swathe of voters simply not voting. Conversely, right-wing candidates who speak to class issues, but who do so by harnessing a false consciousness — e.g. blaming immigrants and minorities for capitalism's ills, rather than capitalists — will win back those same voters who would have voted for a more class-conscious left candidate. Piketty calls this a 'bifurcated' voting situation, e.g. many voters will connect either with far-right xenophobic nationalists or left-egalitarian internationalists, but perhaps nothing inbetween. Piketty's paper is an inconvenient truth for the Democratic Party. The party's leaders see themselves as the left wing of capital — supporting social policies that liberal rich people can get behind, never daring to enact economic reforms that might step on rich donors' toes. Hence, the establishment seems intent on anointing the centrist Democrats of capital, who push liberal social policies and neoliberal economic policies." • Here is the original Piketty paper, "Brahmin Left vs Merchant Right: Rising Inequality & the Changing Structure of Political Conflict (Evidence from France, Britain and the US, 1948-2017" (PDF), linked to at NC on Aprill 4, 2018.
2019
Still bartending:

.@AOC: "Any job that pays $2.13/hour is not a job. It's indentured servitude. All labor has dignity and the way that we give labor dignity is by paying people the respect and the value that they are worth at minimum… We have to raise the national minimum wage."
Via The Hill pic.twitter.com/OjNFUP9aj7

— Kyle Griffin (@kylegriffin1) June 1, 2019
Realignment and Legitimacy
"Gen Z, Millennials and Gen X outvoted older generations in 2018 midterms" [Pew Research Center]. "Millennials, Gen Xers and Boomers all set records for turnout in a midterm election in 2018. Turnout rates increased the most for the Millennial generation, roughly doubling between 2014 and 2018 – from 22% to 42%. Among Generation Z, 30% of those eligible to vote (those ages 18 to 21 in this analysis) turned out in the first midterm election of their adult lives. And for the first time in a midterm election, more than half of Gen Xers reported turning out to vote. While turnout tends to increase with age, every age group also voted at higher rates than in 2014, and the increase was more pronounced among younger adults."

"Hillary Clinton and Daughter Chelsea to Form Production Company" [Bloomberg]. "The family hopes to use film and television to influence culture and society now that Hillary Clinton is out of politics. They plan to focus on stories by and about women. The production company is one of many potential business opportunities that Hillary Clinton, 71, is considering." • No doubt Chelsea will find this useful for her Senate run.

NY: "NY's Party Enrollment Deadline Saga Somehow Just Got More Confusing" [Gothamist]. "The state party supported shifting the party switch deadline to 60 days before the primary and allowing voters unaffiliated with a party—the many independents who make up voting rolls—to register as Democrats 25 days before the April 28th, 2020 primary…. But the long-anticipated date change to New York law may run into one major snag: the State Board of Elections does not believe it can be enforced. 'The consensus at the State Board is that there still must be legislation to implement the deadline for enrollment in a political party,' Cheryl Couser, the deputy director of public information at the State BOE, said in a statement. • That did seem too easy…

DSA resolutions for upcoming national convention. Thread:

as we get closer to the resolution sign-on deadline for the DSA convention, here is a thread compendium of resolutions without regard to author or subject.

you can also find a wiki of all resolutions and amendments on the discussion forum, along with threads on each resolution.

— jen (@cruciverberella) May 30, 2019
Stats Watch
Purchasing Managers Manufacturing Index, May 2019: "This index broke to 10-year lows in the May flash and is at risk of falling below 50 and into contraction. For now, the index is signaling only marginal growth for a US manufacturing sector that is being held down by weak exports and risk, giving building trade tensions with China and Mexico, of falling into outright contraction" [Econoday]. "Today's report falls in line with other global PMIs that are balancing precariously at breakeven… The factory sector is increasingly not looking like it is contributing to overall growth." But: "The ISM Manufacturing survey declined but continued in expansion. The key internals were mixed. The Markit PMI manufacturing Index remained barely in positive territory and declined" [Econintersect]. "Based on these surveys and the district Federal Reserve Surveys, one would expect the Fed's Industrial Production index growth rate to be around the same level of growth as last month. Overall, surveys do not have a high correlation to the movement of industrial production (manufacturing) since the Great Recession. The ISM and Markit manufacturing surveys were similar this month."
Institute For Supply Management Manufacturing Index, May 2019: "The factory sector is a listing vessel [(!)] based on the ISM for May which came in on the low side of estimates" [Econoday]. "Today's report fits into an unwanted trend. The manufacturing component of the industrial production has fallen steeply this year while factory orders, which are expected to contract in tomorrow's report for April, have been uneven at best. Yet not all the private and regional reports are moving lower but some are including the ISM which is by far the most closely watched source for advanced signals on manufacturing."
Construction Spending, April 2018: "Unusual volatility is routine for construction spending data where today's data include an unchanged reading for April but a full percentage point upward revision to March" [Econoday]. "Unusual volatility is routine for construction spending data where today's data include an unchanged reading for April but a full percentage point upward revision to March…. Unusual volatility is routine for construction spending data where today's data include an unchanged reading for April but a full percentage point upward revision to March." And: "Inflation-Adjusted April 2019 Construction Spending Year-over-Year Growth Deep In Contraction" [Econintersect]. "The rolling averages declined. Also note that inflation is grabbing hold, and the inflation-adjusted numbers are deep in contraction. The employment gains currently are not correlating with construction spending."
Manufacturing: "Boeing Ordered to Replace 737 Wing Parts Prone to Cracking" [Bloomberg]. • Sounds routine. Spirit AeroSystems Holdings gets 85% of its revenues from Boeing.
Supply Chain: "Is Logistics Sucking Your Resources?" [Industry Week]. "But the cost differential between the traditional and current logistics operations is not the greater of the cost associated with sourcing from distant suppliers. I'm not disputing whether today's logistics departments find the lowest-cost transport. Nor am I questioning whether they—for the most part—get parts to their destination on time. Rather, the primary cost differential lies in the remedial back-up steps required to ensure distant sources can support factory and business needs, including things like being able to capitalize on incremental sales where demand exceeds what was forecast. So, I am in fact questioning whether relying on an extensive logistics function is a lean approach to supply chain management. Or is it just a way of realizing incremental savings on freight?" • I think that's an ouch. Also interesting to see more nimble thinkers adjusting to the idea that today's suly chain operations are not sacrosanct (and, implicitly, involve political risk).
Mr. Market: "Big Tech Shares Slide as Antitrust Concerns Mount" [New York Times]. "A sharp decline in shares of Google, Amazon and Facebook punctuated an otherwise quiet day on Wall Street…. The Justice Department is exploring an investigation of Google's advertising and search business. In Amazon's case, the F.T.C. is looking into whether the company's e-commerce platform edges out new competition, though the scrutiny doesn't mean official federal investigations have been opened…. Facebook whose data-privacy practices and potential role as a conduit of election meddling have already drawn the ire of lawmakers in Washington, may also be investigated by the F.T.C."
Gentlemen Prefer Bonds: "The Bond Market Is Not the Economy, Just Traders' Bets on It" [Bloomberg]. "Treasury yields shouldn't be viewed as a perfect assessment of the U.S. economic picture. The argument that a low 10-year yield is ominous for risk assets, for example, is not quite the correct causal relationship. In fact, low interest rates are typically a boon to stocks and weaker corporate debt. It comes down to the reason yields are falling. If it's because the economy is worse than expected, then stock investors are right to worry. If bond traders are merely trying to get ahead of a slowdown, the decision is less clear." • Beauty is more than skin deep. Except in a beauty contest, of course.
Gentlemen Prefer Bonds: "Capital Reallocation and Capital Investment" (PDF) [David Rodziewicz, Federal Reserve Bank of Kansas City]. From the discussion: "Recent growth in the volume of corporate debt used to finance acquisitions has raised questions about how this credit issuance is associated with real economic activity. This article demonstrates a simple fact about acquisition activity and investment—capital expenditures tend to rise in parts of the U.S. economy where funding for acquisitions tends to flow. Put differently, large volumes of capital reallocation do not fully crowd out new investment by firms; instead, increases in M&A activity tend to complement growth in investment. Market watchers often pay close attention to movements of workers between firms or between cities as indicators of the overall health and activity in labor markets. Our results suggest flows of capital between firms can similarly be useful in assessing the overall conditions that drive U.S investment. While acquisitions of other firms do not constitute new investment activity, they do allow acquiring firms to strategically position themselves and build their productive capacity, subsequently influencing overall growth in the U.S. economy."
Rapture Index: Closes down one Oil Supply/Price. "The oil prices are down on recession fears" [Rapture Ready]. Record High, October 10, 2016: 189. Current: 181. Remember that bringing on the rapture is a good thing.
The Biosphere
"Ground Will Shake and Snakes Will Flee as the Mississippi Drains" [Bloomberg]. • Well, at least we'll have our cellphones to record it all. Apparently, the spillway is opening this Thursday.
"Mississippi River flood is longest-lasting in over 90 years, since 'Great Flood' of 1927" [USA Today]. "All of this year's flooding is due to both early spring snowmelt and seemingly endless rain: Since the start of 2019, much of the lower Ohio and lower Mississippi River Valleys have picked up more than 2 feet of rain. A few spots have even received over 40 inches of rain, the Weather Channel said…. As the planet warms due to human-caused climate change, heavy downpours are increasing in the Midwest, according to the National Climate Assessment. From the early 1990s to the mid-2010s, very heavy precipitation events in the Midwest increased by 37%, the assessment said."
"Canada's forests actually emit more carbon than they absorb — despite what you've heard on Facebook" [CBC]. From February, still germane: "[T]rees don't just absorb carbon when they grow, they emit it when they die and decompose, or burn. When you add up both the absorption and emission, Canada's forests haven't been a net carbon sink since 2001. Due largely to forest fires and insect infestations, the trees have actually added to our country's greenhouse gas emissions for each of the past 15 years on record." So Canada plans to jigger the numbers: Don't count our wildfires or the devastation from our pine beetles, but do count our forestry and farming practices." • The article isn't saying forests are useless; it's saying they're not a panacea.
"The Bank of Canada declared climate change a financial risk. Now what?" [Globe and Mail]. "This month, the Bank of Canada released its 2019 Financial System Review. For the first time, it listed climate change as one of six major vulnerabilities facing Canada's economy. It's significant given that for years, the bank has been virtually silent on the issue. In fact, until March of this year, not a single member of the bank's leadership team had publicly mentioned the words climate change for two years. Now, the Bank has identified the physical and transition risks of climate change as vulnerabilities facing Canada's financial system, mentioned in the same breath as household debt and housing market imbalances…. The carbon-intensive nature of Canada's economy means we can't ignore the risk climate change poses to our financial system. The Bank of Canada has acknowledged this risk and begun to make commitments for action. It's well positioned to now make clear the economic consequences to Canada of inadequate action in addressing climate change."
Health Care
"Healthcare CEOs again lead the way in pay" [Modern Healthcare]. "The highest pay packages go to CEOs at healthcare companies. For the third time in four years, chief executives in the healthcare field led the S&P 500 in terms of total compensation…. [M]edian compensation of $16.1 million, up from $14.7 million a year earlier." • That's nice.
Class Warfare
"Floating sweatshops: Is the fish you eat caught by 'slaves'?" [Agence France Presse]. "The global fishing industry is riddled with forced labour, anti-trafficking experts say, warning that consumers are unaware of the "true cost" of the seafood they buy in stores and restaurants. Exploited workers face non-payment, overwork, violence, injury, and even death. Indonesia and Southeast Asia are major sources of such labour and unscrupulous brokers target the poor and uneducated with promises of good wages at sea…. 'We couldn't fight back — I'm from a village and didn't know any better,' added Rahmatullah, who had never worked on a fishing boat before." • Other things being equal, we would expect slavery to increase as fisheries decline, yes?
News of the Wired
"Man Restoring a Classic Synthesizer Goes On a 9-Hour Acid Trip After Accidentally Touching LSD-Covered Knob" [Gizmodo]. • Now that's turning the knobs up to 11! And speaking of self-checkout–
"Why Self-Checkout Is and Has Always Been the Worst" [Gizmodo]. "For every automated appliance or system that actually makes performing a task easier—dishwashers, ATMs, robotic factory arms, say—there seems to be another one—self-checkout kiosks, automated phone menus, mass email marketing—that actively makes our lives worse. I've taken to calling this second category, simply, shitty automation." • The word is "crapification." The place where I buy (sorry) my morning coffee was abolished physical "Buy-5-Get-One-Free" cards. Now you have to enter your [family blogging] phone number into a touch screen by the register. Fortunately, the cashier showed me how to game the system by typing in a fake number. But still. Slower, more error prone, more intrusive: The only possible reason they're doing it is to sell my data. No thanks. I hope the cashier survives.
* * *
Readers, feel free to contact me at lambert [UNDERSCORE] strether [DOT] corrente [AT] yahoo [DOT] com, with (a) links, and even better (b) sources I should curate regularly, (c) how to send me a check if you are allergic to PayPal, and (d) to find out how to send me images of plants. Vegetables are fine! Fungi are deemed to be honorary plants! If you want your handle to appear as a credit, please place it at the start of your mail in parentheses: (thus). Otherwise, I will anonymize by using your initials. See the previous Water Cooler (with plant) here. Today's plant (TCD):
TCD writes: "Mom planted this crabapple tree in my backyard some 35 years ago. Taken during a spring snow." On a day like today, snow doesn't feel that far away. As readers know, I'm a sucker for this sort of "tapestry" photo, and painterly masses of color, too. But look at the branches; this is nicely composed, too.
* * *
Readers: Water Cooler is a standalone entity not covered by the annual NC fundraiser. So do feel free to make a contribution today or any day. Here is why: Regular positive feedback both makes me feel good and lets me know I'm on the right track with coverage. When I get no donations for five or ten days I get worried. More tangibly, a constant trickle of small donations helps me with expenses, and I factor in that trickle when setting fundraising goals. So if you see something you especially appreciate, do feel free to click this donate button:
Here is the screen that will appear, which I have helpfully annotated.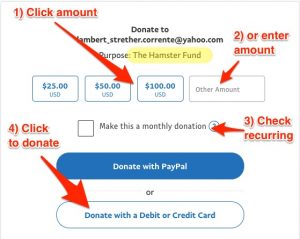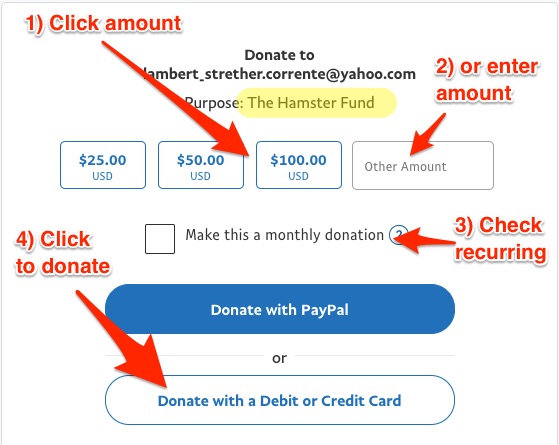 If you hate PayPal, you can email me at lambert [UNDERSCORE] strether [DOT] corrente [AT] yahoo [DOT] com, and I will give you directions on how to send a check. Thank you!