By Lambert Strether of Corrente.
Politics
"But what is government itself, but the greatest of all reflections on human nature?" –James Madison, Federalist 51
"They had one weapon left and both knew it: treachery." –Frank Herbert, Dune
"2020 Democratic Presidential Nomination" [RealClearPolitics] (average of five polls). As of June 6: Biden down 33.5% ( 34.9%) and Sanders down 16.7% (16.9%) stabilize. Warren up 8.2% (7.4%), others Brownian motion. Of course, it's absurd to track minute fluctuations at this point.
* * *
2020
Biden (D)(1): "The election-defining Biden-can-win narrative just got a big boost" [Washington Post]. "Is 2020 the year that Democrats win Texas?…. There's this new poll of Texans by Quinnipiac University. It has Trump struggling against a number of the Democrats running for the party's 2020 nomination. He's up only four points on Sen. Kamala D. Harris (D-Calif.) — and that's the race in which he's doing the best. Despite his relative success last year, O'Rourke loses to Trump by three points. Against Sen. Elizabeth Warren (D-Mass.), Trump's only up one. Against former vice president Joe Biden? Trump is losing by four points…. These differences are statistically insignificant, but the power of being the only candidate to place ahead of Trump is huge. Remember: If a Democrat wins Texas, there's almost no way Trump can win the presidency. If Clinton had won Texas, she would be president now, despite having lost Michigan, Wisconsin and Pennsylvania. This is really good news for Biden." • So what does the oil bidness have to say about Biden? Let's look–

Biden (D)(2): "Biden Campaign Admits Plagiarizing Part of Climate Plan From Fossil Fuel Groups" [Truthout]. "Josh Nelson, vice president of the progressive organization CREDO Mobile, was the first to highlight possible instances of plagiarism in Biden's plan, noting on Twitter that the section 'about carbon capture and sequestration includes language that is remarkably similar to items published previously by the Blue Green Alliance and the Carbon Capture Coalition' — two organizations backed by major fossil fuel companies and labor unions. 'Membership of the Carbon Capture Coalition, where some of Biden's language seems to have originated, includes Shell, Peabody Energy, Arch Coal, and Cloud Peak Energy,' wrote Nelson, who tweeted side-by-side screenshots of language from the Carbon Capture Coalition and Biden's plan." • It's like Biden didn't plagiarize Neil Kinnock, but, well, Tony Blair. Or Maggie Thatcher.

Gravel (D(1): "Are These Teenagers Really Running a Presidential Campaign? Yes. (Maybe.)" [New York Times]. "Mike Gravel": "Pete Buttigieg is what you get when Patrick Bateman decides to pursue politics instead of banking." • I think the Gravel campaign is unequivocally great.

Inslee (D)(1):

.@JayInslee says in a statement that the DNC turned down his request for a climate debate and "if we participated in anyone else's climate debate, we will not be invited to future debates." pic.twitter.com/uT628MnoS0

— Gideon Resnick (@GideonResnick) June 5, 2019

Would a debate on climate flip suburban Republican votes? No?

Inslee (D)(2): "Democratic National Committee to Jay Inslee: No climate-focused debate" [Grist]. "Not only did the the party's leadership say there will be no climate debate, the Washington governor said in a statement that he was told that if he participates in any non-DNC-affiliated debate, he would not be invited to future debates held by the committee.' … The Sunrise Movement, a mostly youth-led group of environmental activists, called the DNC's decision outrageous. 'Almost every major candidate has supported the call for a Climate Debate,' Varshini Prakash, Sunrise co-founder, said in a statement to Grist. 'It is an outrage to not only deny the American people an opportunity for a real debate on the greatest existential threat of our time, but threaten any candidates who participate in a climate debate.' The organization is planning a climate-themed protest at the second Democratic primary debate in Detroit this July."

Inslee (D)(3): "Election 2020 Series with Jay Inslee: The U.S. Role in Global Climate Action" [Council on Foreign Relations]. "I'm going to talk about a full mobilization of the United States which intends to save us from the demon of the climate crisis. And my comments and my passion on this subject is built on four pillars that I think undergird the proposal I have for the United States on sort of four principles. Number one, the principle that we need to expand our powers of imagination in dealing with this problem…. Second, I believe that we should use our power of confidence in Americans to solve this problem…. Third, this is based on the idea of total commitment, and we have to adopt a foreign policy apparatus, goals, prioritization, strategy, and relationships that is totally committed to this effort…. Fourth principle, to think about when Lincoln said as our case is new, so we must think anew. And I think that's important because the things we're going to talk about are revolutionary. They are both necessary and they are also productive in the United States economy." • Hmm. Any readers have comments on Inslee as a governor?

Sanders (D)(1): "Bernie Sanders, Walmart CEO find unlikely common ground on need for minimum wage hike" [Roanoak Times]. "Grant, Lee find unlikely common ground at Appomattox."

Sanders (D)(2): "Bernie Sanders Wants to Change America. But He May Have to Change Himself First." [Anand Giridharadas, Time]. "Faced with these testimonies of struggle [at rallies; well done, staff], Sanders doesn't usually do what other leaders do in our therapeutic culture: doesn't hug people, tell them he feels their pain, ask follow-up questions about how the family is doing. What he does with their pain is analyze it; contextualize it; connect it to laws and agencies and instances of greed they may not know about; and offer it back to them as steaming, righteous, evidence-based anger." The conclusion: "[I]n that moment Sanders became a little clearer to me: He isn't the person you want sitting beside you on a long boat ride, passing time. He's the person who will notice when you fall overboard and begin to drown." • This whole article is well worth a read. Remember when the test of a good candidate was whether you wanted to have a beer with them? Good times…

Lambert here: Note especially Sanders' stumble on reparations. The reparations crowd have done themselves no favors with bad numbers, shifting proposals, and factionalism (compare #MedicareForAll as a movement). That said, there's a justice issue in reparations and Sanders should be able to address it respectfully. FWIW, I think many black voters — as opposed to the Black Misleadership Class — don't talk about Obama "outside the house," as is the phrase I've heard. But the destruction of a generation of black wealth on Obama's watch cannot have gone unnoticed; it's too widespread, as is the failure of the Democrat Party to deliver generally. The Obama model — "a President who looks like me" — failed a lot of people. And the reparations movement, which has a different model of community — ancestry, not melanin — is driven by academic and media figures, not (say) the black church or NGOs. So, from very much outside the house, I would uninformedly speculate that the reparations movement also represents a power surge, a potential changing of the guard. And if successful — concrete material benefits for 13% of the population would not be nothing, after all — the Black Misleadership Class would be overthrown (not a bad thing). The real question is strategic, as Adolph Reed points out: Mass movement, or elite brokerage? And there is, after all, one gift elites would like very much: The political corpse of Bernie Sanders, suitably gift-wrapped in "He's a racist" paper. Not that I'm foily.

Sanders (D)(3): "What We Learned From Watching Long-Lost Footage of Bernie Sanders in the USSR" [Mother Jones]. "One member of the delegation was documenting the trip: Burlington's city clerk, Michelle Weiss. Assisted by her companions, Weiss shot hours of footage of the expedition. But for years her tapes, whose existence was first reported by Politico, have collected dust at the Burlington offices of the CCTV Center for Media & Democracy. Though they are listed in the station's online archive, CCTV executive director Lauren-Glenn Davitian told me in an email that it had no plans to make them available for purchase or distribution—with the exception of a couple minutes of boozy footage that were inadvertently included in a 2015 compilation video—because the videos had never aired. It was in a sort of archival purgatory. But, she added, if I wanted, I could drop by the station and watch the tapes myself. So, one morning in late April, I did…. It is hard to draw sweeping conclusions from four hours of b-roll. But this is not the smoking-gun footage of a man of who, in the words of Sen. Lindsey Graham (R-S.C.), "went to the Soviet Union on his honeymoon and I don't think he ever came back." • Well…

Warren (D)(1): "Elizabeth Warren Recognizes 2020 Campaign Staff's Union" [HuffPo]. • Good. More camaigns should follow Sanders in this.

IA: "Cory Booker and Elizabeth Warren Are Making Massive Bets on Iowa" [New York Magazine]. "While most campaigns, including some of the top-tier ones, have fewer than a dozen aides on the ground in the state, it's Booker — whose 42 full-time Iowa staffers, including in-state digital and data teams, blanket the state — and Warren — who now has over 50 paid staffers there, about three-quarters of whom are organizers — who are dominating the traditional organizing game." • Then again, Sanders has 25,000 volunteers, or so the camaign says… And: "Warren's team has also employed unusual tactics while canvassing the state. Her team of organizers has built up a constant presence in supporters' lives, aiming to keep them engaged even when Warren isn't in Iowa by hosting events like book clubs, policy conversations, and road races." • Smart!

"When and How the Democratic Field Will Shrink" [Charles Cook, Cook Political Report]. "As of Thursday afternoon, in the RealClearPolitics.com average of major national polls, Joe Biden averaged 34.8 percent of the vote, and Bernie Sanders 16.4 percent, for a combined 51.2 percent of the vote. Add in Elizabeth Warren's 9.8 percent, Kamala Harris' 7.4 percent, and Pete Buttigieg's 6 percent, and the total for the top five candidates is 74.4 percent. That sucks a lot of oxygen out of the room. Add in Beto O'Rourke's 3.8 percent, Cory Booker's 2.2 percent, and Amy Klobuchar's 1.8 percent, and we've reached 82.2 percent among seven candidates, leaving just 17.8 percent of the vote for the other 17 candidates…. That's why this field is likely to be much smaller by Halloween or Thanksgiving: Once a candidate misses qualifying for a debate or two, they are ignored and their candidacies just wither and die on the vine. This is a cold and cruel process; there are going to be very bright and talented people, some of them arguably highly qualified to be president, who simply aren't going to get more than a passing glance by Democratic voters. As President Kennedy once said, 'Life is unfair.'" • Halloween?

"For many black voters, 2020 isn't about pride or making history. It's about beating Trump" [Los Angeles Times]. "The former vice president may not excite [Catrena Norris Carter] like some candidates. But he boasts one asset that, to Carter's mind, surpasses all others: As a white male firmly embedded in the political establishment, Biden — more than a female or black candidate — stands the best chance of winning the White House…. 'We really need to be taking the temperature of the entire country," said Carter, 51, who two years ago helped rally black women across Alabama to put Democrat Doug Jones in the U.S. Senate. 'Not just people who think like us.'" • Oh, Doug Jones…. Notice, of course, that appealing "Not just people who think like us" most definitely does not include expanding the voting population…..

"The 2020 campaigns aren't ready for deepfakes" [Axios]. "Do-it-yourself deepfakes are within reach of anyone with some computer savvy and a decent laptop, though the most convincing videos take extra effort…. The Pelosi clip was a wakeup call. More videos are coming, whether the campaigns are ready or not." • See the Sanders footage, above…
Impeachment
"Pelosi tells Dems she wants to see Trump 'in prison'" [Politico]. "Pelosi has repeatedly said she doesn't think trying to impeach Trump is "worth it," arguing that without the public on their side, the best way to beat the president is to persuade voters to kick him out of office in 2020. She and some other top Democrats worry that pursuing impeachment would swamp their legislative agenda and embolden the Republican base, possibly costing them the House next year and ensuring Trump's reelection." • Thing is, putting Trump in prison is something law enforcement can do. But only Congress has the Constitutional authority to impeach, and a showing of criminality isn't necessary. So the two are not commensurate. Oh, and what "legislative agenda"? Nothing will pass, but they won't even virtue signal! Unless they consider what they're doing virtue signaling of course…
RussiaGate
"It's Time to Move on From Mueller" [Aaron Maté, The Nation]. "Now that it has become no longer tenable to call Trump a Russian agent or accomplice, the goalposts have shifted. The main issue is no longer collusion, but Trump's alleged obstruction of justice. Mueller's choice of words at his closing news conference has been widely interpreted to endorse the narrative that Trump is guilty of an impeachment-worthy effort to interfere with the probe. But it is far from clear that that's what Mueller meant. And even if that were a fair reading of Mueller's remarks, it is another matter entirely whether that should spur congressional action…. Rather than determining whether or not Trump committed a crime, Mueller, in both his report and in his public statement, framed the issue around whether or not the evidence exonerates him of one. "If we had had confidence that the president clearly did not commit a crime, we would have said so," Mueller said last week. But given that the US justice system is supposed to grant everyone the presumption of innocence, Mueller was under no obligation—and in fact, had no mandate—to clear Trump of a crime. His job was only to decide whether or not to accuse Trump of committing one." • I've read Volume I of the Mueller Report. There's no there there, and there never was. (IOW, when Clinton set the baseline for RussiaRussiaRussia by claiming that Trump was a "Russian puppet," she was lying through her teeth). Now I have to read Volume II. FFS.
2019
Premature triumphalism:

55 signatories just came out in favor of @BernieSanders' & my joint call to cap ALL interest at 15%.

Supporters include the fmr Chief Economist of the World Bank, private equity CEOs, leading economists, fmr members of Congress, and more. https://t.co/FU28XYA4Ah

— Alexandria Ocasio-Cortez (@AOC) June 5, 2019

That means the cap is not low enough.
Realignment and Legitimacy
"Public Policy Mood Updated, 1952 to 2018" [Stimson, James A]. "The annual estimate for 2018 is the most liberal ever recorded in the 68 year history of Mood, just slightly higher than the previous high point of 1961. It represents the expected leftward movement in thermostatic reaction to the Presidency of Donald Trump. The biennial estimate shows the same leftward movement, but the 2018 level is not as left as the early 1960s estimates. It should not be taken, however, as only a personal reaction to Trump because its defining items are the issues of American politics of earlier generations, the New Deal and Great Society agenda. And the estimates do not include Trump's signature issues of immigration restriction and trade protectionism." • Via: Stimson's "Mood" is a "measure of public demand for more or less government."

The epitome of the captured NGO:

#24 A slight deviation here. Willing to back any Dem candidate, but man do I dislike the @DNC. For young voters (and for the future), climate far and away the biggest issue–so why the heck not have a debate centered on it? #demunitytwitterprojecthttps://t.co/e0dmBhG2Cu

— Bill McKibben (@billmckibben) June 6, 2019

"Willing to back any Dem candidate…"
Stats Watch
Productivity and Costs, Q1 2019: "Nonfarm productivity rose at a very strong… annual rate in the first quarter" [Econoday]. "Compensation also rose… but still modest relative to output which pulled down unit labor costs [steeply]. This report has been very favorable over the last year, helping to ease what had been persistent concern over the slow pace of productivity improvement."
Quarterly Services Survey, Q1 2019: "Information sector revenue for the first quarter of 2019 rose" [Econoday]. "Overall services revenue… also rose."
Jobless Claims, week of June 1, 2019: "Jobless claims remain low and favorable and are consistent with strong conditions in labor market" [Econoday]. "The unemployment rate for insured workers remains at 1.2 percent. These data are pointing at strength for tomorrow's monthly employment report."
Challenger Job-Cut Report, May 2019: "After easing back in April… Challenger's layoff count jumped back higher in May" [Econoday]. " Yet these higher levels in announcements have not corresponded with unemployment claims, which have remained near historic lows, nor payroll growth which has been strong. Tech companies announced the most layoffs in April while retailers, which have been closing stores, have announced the most this year. Layoff announcements at industrial manufacturers and auto makers have been on the rise."
International Trade, April 2019: "April was a very weak month for US cross-border trade" [Econoday]. "April's data mark a signpost for trade activity going into May, a month when US trade friction with China and Mexican rose significantly. Though declines for imports will help the US trade balance, declines for exports will not."
Big Ag: "U.S. Corn Crop May Fall 10% in 2019 on Torrential Rain, UN Says" [Bloomberg]. "The relentless rain bashing the U.S. Corn Belt could cut output by 10% this year, according to forecasts from the United Nations' Food & Agriculture Organization. The U.S., the world's largest corn grower, may harvest 330 million tons, after 'prolonged, excessive wet conditions' derailed fieldwork, the group said in a report. The FAO is one of the first global crop agencies to account for the impact of the downpours and planting delays. A harvest that size would be the smallest in seven years, according to U.S. Department of Agriculture data. July corn futures in Chicago have surged 17 percent from a mid-May low, as the waterlogged soils prevent farmers from seeding."
The Bezzle: "Report: Facebook plans to create independent foundation to manage its cryptocurrency; will charge members $10M licensing fees for right to operate node" [The Block]. "Facebook plans to license out the right to operate nodes on its new cryptocurrency network, charging companies $10 million apiece for the privilege. Node operators will also be allowed to send a representative to the independent foundation. Facebook hopes to launch its network with 100 nodes, generating $1 billion in licensing fees. The firm then plans to use these fees to back its cryptocurrency with a basket of currencies and low-risk securities from different countries. Facebook's cryptocurrency will primarily live in Facebook's app ecosystem, but the firm plans to partner with merchants to accept it for payment. Facebook also plans on adding physical crypto ATMs to exchange local currencies for its token. The Information also reports that while CEO Mark Zuckerberg has taken a personal interest in the project, Facebook's COO and CFO have been skeptical of it." • Too bad "the mark" is already taken…
Tech: "Boston Dynamics' creepy dog-like robot is about to go on sale" [New York Post]. "[Boston Dynamics' CEO Marc Raibert] went on to say the company is aiming to start churning out 1,000 robots a year. What will be interesting to watch is whether Boston Dynamics can turn this into a commercially viable enterprise. The company is not alone in this field, with a number of rivals to contend with and it remains to be seen whether and why companies will buy robots like Spot enough to represent significant revenue for the manufacturer." • First, they came for the workers. Then, they came for their dogs.
Gentlemen Prefer Bonds: "'Greed and Lies on Wall Street' Is Opening Argument in Bond-Marking Trial" [Bloomberg]. "Premium Point Investments co-founder Anilesh "Neil" Ahuja and a trader led a two-year scheme overvaluing the firm's mortgage bonds by more than $200 million to attract new investors and keep current ones, prosecutors said at the start of their fraud trial. Ahuja, a former head of Deutsche Bank's global residential mortgage-bond trading, and trader Jeremy Shor are accused of mismarking securities in the firm's funds to inflate their value, allowing them to charge higher management and performance fees and ward off withdrawals." • Bottom feeders from the foreclosure crisis…
Concentration: "Chicken Farmers Thought Trump Was Going to Help Them. Then His Administration Did the Opposite." [Pro Publica]. "Over the last two years, Trump appointees have not only reversed the regulations put in place at the end of Obama's presidency [which per the story were not all that good], they have retreated from enforcing the preexisting rules. The Trump administration dissolved the office charged with policing meat companies for cheating and defrauding farmers. Fines for breaking the rules dropped to $243,850 in 2018, less than 10% of what they were five years earlier…. The administration's siding with big meat companies over small farmers is already becoming campaign fodder for Trump's opponents. Bernie Sanders and Elizabeth Warren have vowed to restore the Obama-era regulations and dust off atrophied antitrust laws to break up big meat companies…. Chicken farmers who considered themselves staunch Trump supporters say their worsening circumstances since he took office are making them reconsider their votes."
The Biosphere
"Yeah, but it's controlled"
this is exactly how america reacts to global warming pic.twitter.com/cgsb8xk9t3

— ziwe (@ziwe) June 5, 2019
(Apparently a movie promotion of some kind, but still useful.)
"PG&E to Plan $11 Billion Fund to Settle Wildfire Claims" [Bloomberg]. "PG&E Corp. has spoken to lawmakers about putting together a pool of capital worth about $11 billion to settle claims related to wildfires blamed on the bankrupt California utility, according to people familiar with the matter. The utility has considered the plan in consultation with law firm Jones Day and boutique investment bank PJT Partners Inc., which are advising a group of PG&E's equity holders that recently helped overhaul its board and appoint Bill Johnson as chief executive officer, the people said. The holders include Knighthead Capital Management, Redwood Capital Management and Abrams Capital Management, which collectively own about 10% of PG&E's shares. The plan calls for PG&E to set up a special purpose vehicle into which it would redirect about $400 million a year in earnings, the people said. The fund would help finance a pool of capital that would earmark about $8 billion to settle wildfire claims from 2017 and 2018, one of the people said. At least another $3 billion would be earmarked for future claims, the person said." • they call it a "vehicle" because it's designed to drive off with your money….
"Plastic pollution seems like such an overwhelming problem. What can I do?" [Grist]. From February, still germane. And in Thailand:
Supermarkets in Vietnam and Thailand are replacing plastic packaging with banana leaves.

What do you think of the idea? pic.twitter.com/AjyWs7zmhE

— TicToc by Bloomberg (@tictoc) June 4, 2019
Back to the future! (Southeast Asia generally has a terrible problem with plastic bags; I'd speculate that this is because plastic bags occupy the same mental space as banana leaves, which can be thrown away without (bad) consequences, because they rot.
Water
"'That's just how things go in Keystone': Water woes indicative of town's troubles" [Charleston Gazette-Mail]. "The town's water system, which is comprised of a mishmash of terra cotta, concrete and steel piping crisscrossing under its roads and buildings, was installed in the early 1900s when Keystone was a coal company town. In the years since, no maintenance has been performed on the system, and as money has continued to leave the town — per the Secretary of State's business database, there are only two businesses operating in Keystone, neither of which pay the total business and occupational taxes they owe, Scott said — those in charge have been left with more debt and less money to fix problems… When service is out, like it has been, drinking water is available at city hall, off U.S. 52, the main drag of Keystone." • Why don't they just move…
Games
New bucket, so encourage alert readers to forward links:
"New 'Call Of Duty' Encourages Support For The White Helmets" [Caitlin Johnstone (UserFriendly)]. "The official trailer for the latest Call of Duty was released a few days ago, and it features the Syria narrative management operation known as the White Helmets depicted in heroic roles…. To give you an idea how popular the CoD franchise is, as of this writing the official Youtube version of the trailer has 27 million views… The White Helmets are what legendary journalist John Pilger describes as "a complete propaganda construct", an operation designed by former British army officer and private military contractor James Le Mesurier to manipulate the narrative about what's going on in Syria…. It's a brilliant invention, really. Have a purportedly neutral group filming on the ground in "rebel"-held areas (where the White Helmets exclusively operate), and you can ensure an endless supply of footage which can be used to paint a longtime western target for regime change as a barbarian who needs to be ousted…. Propaganda in video games doesn't get the kind of pushback you see against propaganda in news media and movies, largely because the content in the games is generally only viewed individually by those who are engrossed in playing them. It's this whole closed-off world that is manipulating minds with very little scrutiny compared to other forms of media, which is troubling, because the video game industry is so vast that for many years its earnings have eclipsed those of the movie and music industries combined." • One reason I keep wanting to know more about it…
Game of Thrones
"Game of Groans" [n+1]. "It was far worse than I had imagined. Instead of mere schmaltz, the arc of the last few episodes served up a hamfisted scramble of bourgeois showrunner Deep Thoughts about "power." These thoughts—mostly noxious clichés in ways that I will unpack shortly—seemed to stall out in the banality of so-called "horseshoe theory," a topological intuition, commonly expressed late at night in dorm rooms, that political extremes of left and right must somehow eventually meet. It's nonsense. But all the same, in the fallout of the atrocities committed during the sack of King's Landing—as victorious dragon queen Daenerys celebrates her gruesome victory over Cersei Lannister with her mostly brown troops, while the appalled white people in her coalition look on in impotent horror and then start edging towards a coup—horseshoe theory is put to work by the screenwriter/director pair David Benioff and D. B. Weiss as a kind of visual language of political allegory that works to rationalize her assassination as a necessary precursor to the triumph of electoral politics." • This being n+1, it's lengthy and dense. But certainly a unique thesis!
News of the Wired
"Against Pedantry" [SENTENTIAE ANTIQUAE]. "Let's talk about what I think Seneca is saying: he is claiming that as teachers we model the wrong kind of behavior for our students by emphasizing obscure knowledge and rigorous argumentation over very specific matters. This emphasis leads to the interrogation of and expertise in rather minor affairs, but not in a greater awareness of what life is for, what death means, or how we should treat our fellow human beings. When Seneca says 'the pursuit of wisdom' has now just become 'the pursuit of argumentation', what he means is that learning about meaningful questions has been transformed into the pursuit of trifling things."
"Fairness-aware Machine Learning: Practical Challenges and Lessons Learned (WSDM 2019 Tutorial)" [WSDM 2019 Tutorial (DK)]. Slide 3: "Automated decision-making and profiling based on special categories of personal data should only under very specific conditions." • Who's doing the allowing?
* * *
Readers, feel free to contact me at lambert [UNDERSCORE] strether [DOT] corrente [AT] yahoo [DOT] com, with (a) links, and even better (b) sources I should curate regularly, (c) how to send me a check if you are allergic to PayPal, and (d) to find out how to send me images of plants. Vegetables are fine! Fungi are deemed to be honorary plants! If you want your handle to appear as a credit, please place it at the start of your mail in parentheses: (thus). Otherwise, I will anonymize by using your initials. See the previous Water Cooler (with plant) here. Today's plant (HF):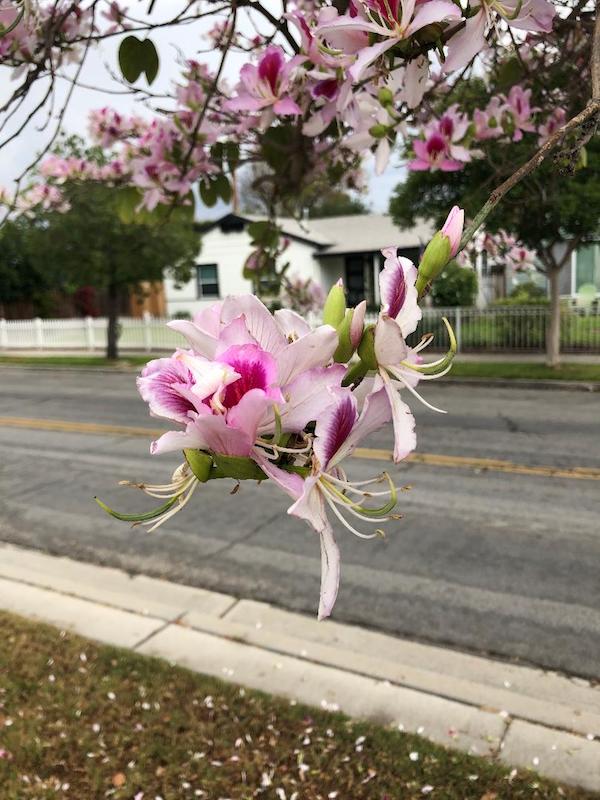 HF: "Picture is a Bauhinia tree or more commonly known as the Flowering Orchid tree from Asia. These trees are all over Burbank, California where this picture was taken."
* * *
Readers: Water Cooler is a standalone entity not covered by the annual NC fundraiser. So do feel free to make a contribution today or any day. Here is why: Regular positive feedback both makes me feel good and lets me know I'm on the right track with coverage. When I get no donations for five or ten days I get worried. More tangibly, a constant trickle of small donations helps me with expenses, and I factor in that trickle when setting fundraising goals. So if you see something you especially appreciate, do feel free to click this donate button:
Here is the screen that will appear, which I have helpfully annotated.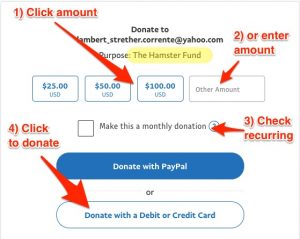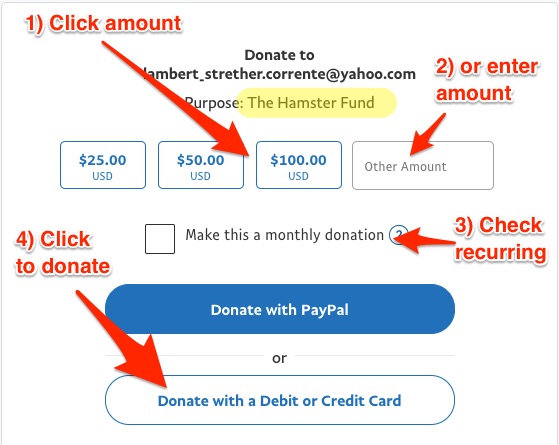 If you hate PayPal, you can email me at lambert [UNDERSCORE] strether [DOT] corrente [AT] yahoo [DOT] com, and I will give you directions on how to send a check. Thank you!