By Lambert Strether of Corrente.
Let's jump right in and get a sense of the scale and scope of the flooding. Here's a map of the flooding from the United States Geological Service (USGS) as of today, June 9, 2019: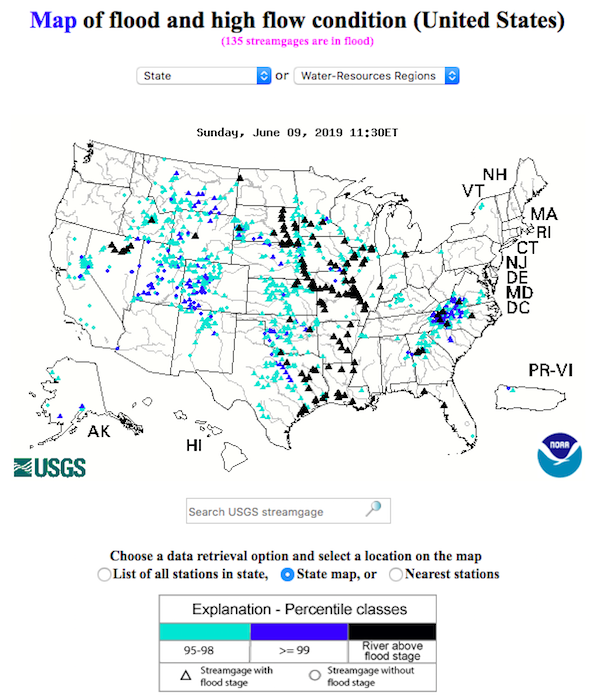 The black triangles, as you can see, show flooding, and there are rather a lot of them. As best I can determine, the aqua ("95-98") and blue (">=99") show the streamflow value compared to 30 years of average streamflow conditions, where streamflow is "the amount of water flowing in a river." So, add 1% plus a smidge to a blue (99) triangle, and you have a flood.
And here — because it's hard to plant when your field is mud, even if your field isn't flooded — is a map of soil moisture from the National Oceanic and Atmospheric Administration (NOAA) as of yesterday, June 8, 2019: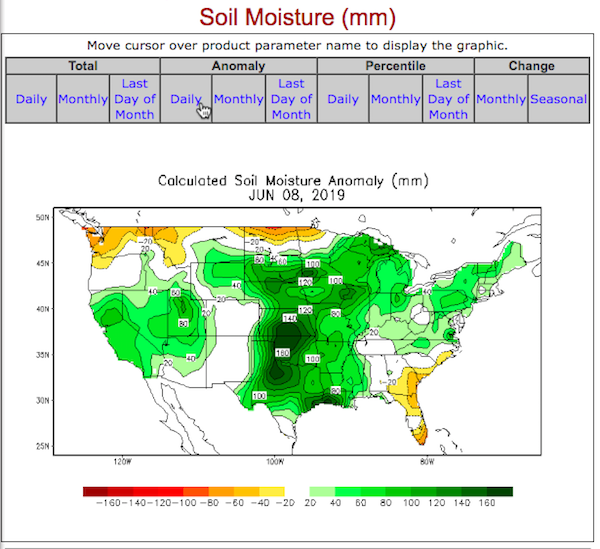 Calculated soil moisture anomaly is "is intended to reflect the degree of dryness or saturation of the soil compared with normal conditions," in this case by measuring departure from a 1971-2000 dataset, measured in millimeters. From NOAA:
[S]oil moisture is the water that is held in the spaces between soil particles. Surface soil moisture is the water that is in the upper 10 cm of soil, whereas root zone soil moisture is the water that is available to plants, which is generally considered to be in the upper 200 cm of soil.
Taking a moment to break out my calculator, 10cm is 3.9 inches, and (from the map) those dark green areas are saturated to depth of 160m = 6.29 inches, and even the light green areas to a depth of 100mm = 3.9 inches, so for vast areas of the Midwest, the surface soil is waterlogged, and for lesser but still vast areas, the root zone is waterlogged too.
For those less arithmetically minded, here is the requisite image of a flooded farm: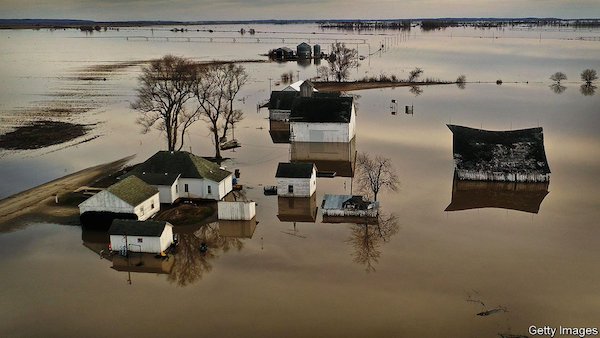 And here is drone footage of the Missouri River in Southern Iowa:
(The photo and the video give me the opportunity to say I welcome comments from any actual farmers in the readership; doing my research for the post gave me some sense of how complex and risky the decisions that farmers must make are, and so I'd welcome revisions, extensions, and corrections.)
So, yikes. 1993-scale[1] yikes. With flooded fields and waterlogged soil all across the Midwest, we would expect planting to be bad, and so it is. The key concept — perhaps the locus of greatest risk[2]– seems to be the "planting window." From the Washington Post:
Planting season is more loosely defined than you would think. Farmers are resilient, and commodity markets are responsive. Planting in June is so absurd that Midwest universities typically do not even test dates that late when determining optimal growing seasons, [University of Illinois economist Scott Irwin] said. But if fears of a bad crop spread and corn prices rise enough — they are already up about 20 percent since their mid-May low — some farmers will plant late crops, even if they are likely to harvest far less per acre. Even under the most generous definitions, much of the Corn Belt has only one hail-Mary planting window left. The coming week's weather will make or break this year's crop.
There are two key crops: Corn, and soy. The planting window for corn is about to close; the window for soy closes a little later. Here is a handy map from the Federal Reserve Bank of St Louis showing the difference between last year's corn planting and this year's, in percentage terms:
This year's planting will be low. Very low. From Accuweather, "AccuWeather predicts another historic low for corn planting as 'billion-dollar disaster' looms"
AccuWeather predicts corn planting will remain at its record-low rate when the U.S. Department of Agriculture releases its latest Crop Progress report Monday.

A new AccuWeather analysis estimates 82% of corn will be reported as planted in the 18 key U.S. corn-producing states, an historic low for the second week of June since record keeping began in 1980.

Corn planting has been at an all-time low percentage for the last three reports and remains behind schedule in 17 of the 18 states monitored, according to the most recent Crop Progress.
Here is a handy chart (source) of acres left to plant, in numerical terms:
corn this week went from bad to woooorse things are not looking great! pic.twitter.com/BfJux1W5k2

— ⚷ she came down in a BUBBLE, Doug! ⚶ (@malloy_online) June 7, 2019
As you can see, at this time last year, Illinois corning planting was done. This year, they have over six million acres to go.
And now soy. A second map from the Federal Reserve, again in percentage terms: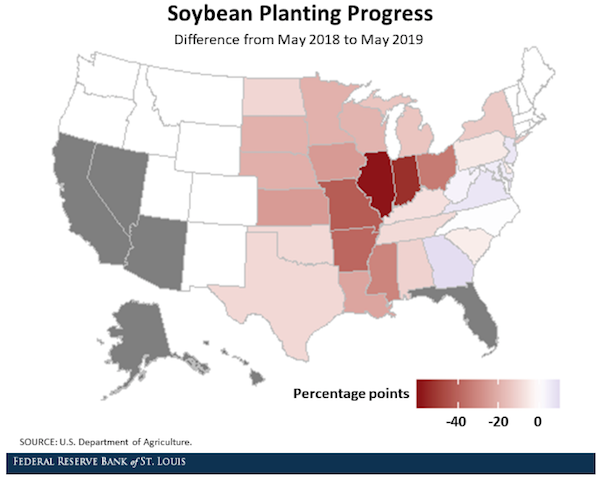 Pacific Standard describes the situation:
Soybeans are usually planted later than corn, but they're also behind schedule. For both commodities, government reports and industry projections have grown more dire by the month. 'It's the slowest time we've had going back to 1980 [when the agency began collecting the data]," says Anthony Prillaman, head of field crops at the USDA's National Agricultural Statistics Service. Prillaman says it's too early for analysts to predict losses, but "the feeling is that prevented plantings are going to be higher this year."
("Prevented planting" affects crop insurance claims[3], a topic which is definitely out of scope for this post, although it has a huge impact on farmer's planting decisions.) The St Louis Fed once more:
Only 16% of soybean acres were planted through the week ending May 26, compared to 40% by the same time historically.
So, yikes, corn. Yikes, soy. Now let's turn to knock-on effects from the flooding. I'll look at effects on transportation networks, on trade, and on politics globally (i.e., not, for example, the Iowa caucuses, which are, after all [checks calculator], 239 days away, assuming the Democrats don't rejigger the calendar).
Of transport, Bloomberg writes in "'Punched in the Face': U.S. Floods Snarl Trucks, Trains, Barges"
Hundreds of barges are stalled on the Mississippi River, clogging the main circulatory system for a farm-belt economy battered by a relentless, record-setting string of snow, rainstorms and flooding.

Railways and highways have been closed as well, keeping needed supplies from farmers and others, and limiting the crops sent to market.

At just two locks along the upper Mississippi, almost 300 barges are being held in place as a result of high water and fast currents, according to Waterways Council Inc., which tracks barge movements. And hundreds more are waiting in St. Louis, Cairo, Illinois and Memphis, Tennessee, said Deb Calhoun, the council's senior vice president.

Almost 200 miles of the Mississippi has been shut down, [said Tim Eagleton, senior engineering specialist for FM Global, an industrial insurer] said.
Barges won't be allowed to go through St. Louis until the Mississippi River falls to 38 feet, which may not happen until June 17…. "It's going to be two or three months before we're able to safely and consistently move cargo on the river," Bryan Day, executive director of the Little Rock Port Authority told KATV on June 4. "The negative economic impact—the loss of jobs, the cost of goods and delivery—you're talking hundreds of millions of dollars."

The Port of New Orleans on the Gulf Coast—or Port NOLA as it's often called—is connected to America's heartland by the Mississippi River and its tributaries. It handles a wide range of cargoes such as agricultural products, rubber, coffee, steel, containers, coal and manufactured goods. Several thousand vessels carry around 500 million tons of cargo up and down the Mississippi each year. This includes more than half of the country's grain exports. The local New Orleans economy stands to take a hit as long as upstream barge traffic is paralyzed.

Barge grain movements have been decreasing recently, presumably because of the flooding (at least in part), as well as closed locks and stoppages at ports. Here's what happened the week ending June 1: overall movements were 50 percent lower than the previous week, and 72 percent lower than the same period last year; 1, 153 grain barges moved down river for export from the New Orleans region, which is 171 fewer barges than the previous week.
So let's just hope the Old River Control Structure doesn't fail. Ha ha. I think. I guess my bottom line here — day-to-day and quarter-to-quarter business effects aside — is that we should start thinking of the transportation system in the Mississippi watershed as being much more fragile than we think of it is being. The mindset seems to be that things will "return to normal" when the floods recede. Maybe so. But, to spitball a future case study, we know there's an enormous bottleneck of barges (300 at two locks alone), and the commercial pressures to move them will be huge. But suppose — like everywhere else — the MBAs have optimized the labor force, as was not the case in 1993, and there's a shortage of the skilled labor to move them… So unskilled labor is thrown into the breach… And an errant barge takes out a bridge or a lock because the captain or pilot or lookouts didn't know how to use whatever the equivalent of MCAS is on a barge. So then the river is shut down again. What then?
Of trade, the case of soy seems most interesting. There is, of course, the Trump tariff subplot. The Los Angeles Times:
It doesn't help that the world's largest soybean purchaser, China, has apparently put purchases of the commodity — resumed in December as a goodwill gesture — on hold amid a ramp-up of its trade dispute with the Trump administration. The move is seen as targeting the president's Midwestern political base.
But — plot twist! — an even bigger question is whether we'll be able to deliver to China the soybeans we've already sold them (see barges, supra). From Reuters, "U.S. soy exporters struggle with huge China export commitments in midst of trade war"
U.S. soybean exporters are facing what may be their busiest and most logistically challenging summer due to an unprecedented backlog of soybeans purchased by China that still needs to be shipped and widespread floods in the U.S. Midwest. Some 7 million tonnes of U.S. soybeans bought before talks broke down last month will need to be delivered to Beijing in coming months, U.S. exporters and industry analysts said.

China would face steep penalties if it tried to cancel the orders and, as the world's top soy importer, it still needs the soybeans, traders said. Cancellations of deals made during trade talks earlier this year could also escalate diplomatic tensions.

"You have a contractual obligation so you're going to need a mutually agreed-upon cancellation price or it would be considered default," said a U.S.-based soy exporter who asked not to be named.
Yikes.
Of politics globally, U.S. farmers supply a quarter of the world's grains. Let's assume that the Midwest flooding leads to a decreased supply of corn (and soy), and hence increased prices for foodstuffs that take those products as inputs. From Scientic American, "Climate Change and Rising Food Prices Heightened Arab Spring":
If the Arab Spring taught us something, it is that the effects of climate change can serve as stressors, contributing to regional instability and conflict, experts said.

In a report published last week, researchers from the Center for American Progress, the Center for Climate and Security and the Stimson Center examined the role of climate change in the Middle East's upheaval during 2010 and 2011. Looking at long-term trends in rain, crops, food prices and migration, they were able to determine how these factors contributed to social instability in the region.

"The Arab Spring would likely have come one way or another, but the context in which it did is not inconsequential. Global warming may not have caused the Arab Spring, but it may have made it come earlier," the report says.

The Middle East and North Africa region is extremely vulnerable to fluctuations in food supplies and prices. According to the report, with little arable land and scarce water supplies, the region is one of the top food importers in the world.
As the Bourbons learned to their distress, food riots are bad (certainly if you're a Bourbon.) Besides the Middle East, and thinking of corn, we might consider our neighbor Mexico — since our insane NAFTA policies destroyed their local varietals and capabilities, replacing them with the product of a Corn Belt now underwater or soggy, and likely to be so more in the future. Or we might consider China, where the price of pork could rise 70% this year because of swine flu. What happens if we can't deliver on their soy? The villagers won't be happy at all, especially the ones whose children can't send home money from Foxconn any more.
* * *
So, yikes seems to sum it up; I hope this review has been helpful. The behemoth in the room is, of course, climate change, and I will get to that in a post later this week.
NOTES
[1] In the previous great flood, in 1993, "At least 787 levees either failed or were overtopped. At least 10,000 homes were damaged or destroyed. NOAA estimated damages of $37.3 billion (2019 dollars) from the flood, making it the nation's costliest non-tropical inland flood." Until now!
[2] WaPo: "Farmers could switch to soybeans, but then they would find themselves even more exposed to President Trump's trade war with China, the world's largest soybean market. And beans face many of the same planting issues as corn, Newlin said. But the alternative is to bow out and collect crop insurance." And the Guardian: "Since Trump wiped out our soybean market – three-quarters of Iowa's beans were bound for China – he threw farmers and livestock producers $12bn in trade disaster aid. Farmers call it the "Trump bump". Agriculture secretary Sonny Perdue announced another bump last week: $16bn to be targeted at the farm counties worst hit by losses in soy and pork trade. Nobody out here knows how much it will be or who gets paid. What they do know is that to get any of this next Trump bump you must plant a crop this year, come hell or high water." My head hurts, and I'm not even a farmer.
[3] Flood insurance for homes, also important, is also out of scope for this post.