By Lambert Strether of Corrente
Politics
"But what is government itself, but the greatest of all reflections on human nature?" –James Madison, Federalist 51
"They had one weapon left and both knew it: treachery." –Frank Herbert, Dune
"2020 Democratic Presidential Nomination" [RealClearPolitics] (average of five polls). As of July 16: Biden continues rise at 27.8% (27.6%), Sanders steady at 15.0% ( 15.0%), Warren down sharply at 15.0% (16.3%), Buttigieg down at 4.8% (5.0%), Harris down 13.4% ( 13.6%), others Brownian motion.
* * *
2020
Castro (D)(1): "Julián Castro and the predatism of private equity" [WaPo]. "[W]hen former housing and urban development secretary Julián Castro took questions at the event's Saturday presidential forum, surely he should have had an answer at the ready for attendee Sarah Woodhams, a former employee of Toys R Us, another company gutted by private equity firms, who asked, 'As president, what would you do to hold hedge funds and private equity accountable for destroying our communities and our livelihoods?' He did not." More: "Private equity firms put money in a company to make money from their investment. On paper, of course, there is nothing wrong with that. The issue comes when, as happens all too often, making money is prioritized over the health of the business and/or the community." • If I understand this, the issue with private equity goes deeper: As an industry, it can no longer justify its fee structure with the returns from its performance; an earlier generation of locusts was already eaten the land bare, and moved on.)

Harris (D)(1): "Kamala Harris rises into second place in new Saint Anselm College poll of NH primary voters" [WMUR]. "Harris, apparently still resonating with voters following her debate performance more than two weeks ago, is backed by 17.5 percent of likely Democratic first-in-the-nation primary voters. That support puts her just more than 3 percentage points behind former Vice President Joe Biden, who received 20.8 percent. Sen. Elizabeth Warren is a close third, at 16.7 percent, less than a percentage point behind Harris. Sanders registered 9.9 percent, behind Mayor Pete Buttigieg, who is fourth in the poll with 11.5 percent." • Alarm bell for Sanders, or fluke?

Harris (D)(2): "Kamala Harris Blasts, Then Takes Money From Jeffrey Epstein's Law Firm" [KPIX]. "Kamala Harris bemoaned the influence of the powerful and connected elite last Tuesday when she called on top Justice Department officials to recuse themselves from any matter related to Jeffrey Epstein. She said their former law firm's work on behalf of the financier accused of sexual abuse 'calls into question the integrity of our legal system.' Yet the same day, Harris' husband headlined a Chicago fundraiser for her presidential campaign that was hosted by six partners of that firm — Kirkland and Ellis, according to an invitation obtained by The Associated Press."

O'Rourke (D)(1): "Rose and Eliza" [Beto O'Rourke, Medium]. "I was recently given documents showing that both Amy and I are descended from people who owned slaves. Along with other possessions listed in their property log were two human beings, Rose and Eliza…. The way that fortune was passed through the generations from Andrew to me, misfortune was passed through the generations from Rose and Eliza to their descendants who are alive today. Rose and Eliza were denied their freedom and the benefits that their labor produced; they and their children were then denied their civil rights after the end of Reconstruction; and their descendants endured open terrorism, economic exclusion and racism in the form of Jim Crow, lynchings, convict leasing, voter suppression, red lining, predatory lending, and mass incarceration. Everything their descendants have accomplished in their lives is despite having all of these odds stacked against them. In the aggregate, slavery, its legacy and the ensuing forms of institutionalized racism have produced an America with stark differences in opportunities and outcomes, depending on race."

O'Rourke (D)(2): "Beto O'Rourke's fundraising plummets to $3.6 million in 2019's second quarter" [CNN]. "The small-dollar fundraising machine Beto O'Rourke expected to power his presidential bid sputtered in 2019's second quarter, with O'Rourke's $3.6 million haul falling short of the torrid pace he'd set in the early days of his campaign. The former Texas congressman's drop from $9.4 million in the first quarter — which at the time was the third-highest total of Democrats' 2020 contenders — follows a decline in his poll numbers." • Lots of quotes from Jen O'Malley Dillon, former executive director of the DNC.

Steyer (D)(1): "'Karl Marx failed to consider software': billionaire Tom Steyer on inequality and his 2020 run" [Guardian]. "'Should we put a limit on what Beyoncé makes? I don't see why,' Steyer told the Guardian by phone. 'I don't think in the United States of America, we should put a ceiling on how far people can go.' Steyer transitioned to a critique of communism and the argument that 'at the heart of every great fortune is a crime': 'What Karl Marx failed to take into consideration was software – that if you are Michael Jackson or Rihanna or Beyoncé or anyone producing an idea, with software you aren't just the best singer in your village … you have an ability to reproduce that song infinitely at very low cost around the world.'" • So, learn to code?

Warren (D)(1): "Elizabeth Warren's Campaign Turned To A Big Donor To Pay For The DNC Voter Database, Despite Her Fundraising Pledge" [BuzzFeed]. "Elizabeth Warren relied on a multimillion-dollar Democratic donor to cover the cost of an expensive voter database [the DNC's national voter file]— a move that risks putting her campaign at odds with the spirit, if not the letter, of the pledge she made to abstain from "big money" fundraising…. Warren officials said she did not violate that pledge when her campaign turned to one of California's top Democratic donors, a wealthy Silicon Valley physician named Karla Jurvetson, to help pay for access to a crucial voter database earlier this spring… In a statement, a Warren campaign official said that the candidate herself did not make any calls to Jurvetson in order to facilitate the contribution, nor did the campaign solicit the money at a fundraising event." • Oh. So spontaneous gifts are OK.

Warren (D)(2): "Hollywood A-listers, tech executives top Warren's donor list" [Politico]. Scarlett Johansson, Heidi Fugeman, Jeffrey Katzenberg, Marilyn Katzenberg, Damon Lindelof, Rob Reiner, Ryan Reynolds, Shonda Rhimes, Amy Schumer. "Donors who gave the maximum contribution account for just 2 percent of the $19.8 million Warren raised in the year's second quarter, most of which was given by small donors online. But Warren's growing big-name support reflects the enthusiasm that has built up for her campaign since the beginning of the year. She raised just over $6 million in the first quarter of 2019. Warren also drew some high-profile donations from Silicon Valley, which she has targeted during her campaign with a proposal to break up giants like Facebook, Amazon and Google."

* * *

"The roster for the second Democratic debate will be determined this week" [Vox]. "If more than 20 candidates meet either the polling or the donor threshold, a tiebreaker kicks in. Those who met both thresholds will get the advantage. After that, whoever is polling best under the standard the DNC laid out will win out. (First, they'll average each candidate's top three poll results to see whose is highest. If there's still a tie after that, whichever candidates have hit 1 percent or more in the greater number of polls overall will win out.)…. All that is to say that the most likely outcome is that it will be the same 20 candidates as the last debate, except with Swalwell replaced by Bullock. (Those 19 other likely qualifiers: Joe Biden, Elizabeth Warren, Kamala Harris, Bernie Sanders, Pete Buttigieg, Beto O'Rourke, Cory Booker, Amy Klobuchar, Julián Castro, Kirsten Gillibrand, Jay Inslee, Tulsi Gabbard, Michael Bennet, John Hickenlooper, Bill de Blasio, Tim Ryan, John Delaney, Andrew Yang, and Marianne Williamson.)" • And not Gravel, who makes the donor count, but not the polling threshhold. So, gatekeeping for "serious" candidate selection has been handled by pollsters, who didn't include Gravel in many polls, even though when they did, he outpolled Klobuchar, Gillibrand, and Swalwell. The nice think about thinking about the Democrat Party as a professional association is that you don't have to think about whether pollsters are independent organizations or not. NOTE That's Vox. CBS, on Gravel, disagrees. Complex and opaque algorithms for candidate selection; how Third World!
2019
"Alexandria Ocasio-Cortez on the 2020 Presidential Race and Trump's Crisis at the Border" (transcript) [The New Yorker (Rubydog). This is the transcript for the audio I linked to yesterday. AOC, interviewed by the prehensile David Remnick:

AOC: And so one of the things that I wanted to do was to hold a strong line, and redefine our values, and remind people that I think what we need to be doing right now is coming home as a party. . And it feels to me that at some point we did start becoming afraid of those things.

REMNICK: And became the party of what instead?

AOC: I think we became the party of hemming and hawing and trying to be all things to everybody.

In the coverage I saw (and linked to) "the party of hemming and hawing" was the quote. And "I don't think we should be afraid of being the party of working people" was very much not the quote.

"They're Not Just Mad at AOC — They're Scared of Her" [Jacobin]. "Mainstream outlets have characterized the conflict as driven by generational tensions, or (on Pelosi's side) simply a desire to protect Democratic incumbents from criticism. But the feud in fact speaks to something much deeper: Ocasio-Cortez and her allies are pushing for bold, transformational policies that would upend the current economic and political system. That campaign is coming into open conflict with a Democratic establishment that would prefer to just keep things as they are."

AOC is doing fine:

NEW FEC F3
OCASIO-CORTEZ, ALEXANDRIA (DEM-Inc) #NY14

RCPT $1,225,644
EXPN $632,335
COH $1,419,669https://t.co/Ntao3gisxB pic.twitter.com/lylXXcnRrW

— CATargetBot (@CATargetBot) July 15, 2019

I just hope her constituent services operation is top notch.

"Nancy Pelosi Has Lost Control" [Zach Carter, HuffPo]. This is a good timeline of the whole Pelosi v. AOC affair. "One of Pelosi's top lieutenants, Rep. Hakeem Jeffries (D-N.Y.), the caucus chair, effectively declared war on Ocasio-Cortez and her chief of staff Saikat Chakrabarti on Friday night. Nobody in leadership has apologized for it, recanted or publicly rebuked anyone. The tweet is still live. Not since Anthony Weiner's sexual misconduct scandal in 2011 had the Democratic Party leadership targeted one of its own with such ferocity. Divided over how to oppose Trump and his agenda, party leadership attempted to purge its own ranks, and only eased up when the president himself attacked the same members that leadership had been blasting for weeks…. The divide between Ocasio-Cortez and Pelosi represents just about every split in the modern Democratic coalition ― generational, ideological, race, class, strategy, values, all of it. But beneath it all is a simple struggle for power. House Democrats and their agenda [if any] have been hijacked by the corrupt machine politics of New York state…. Ocasio-Cortez represents a greater threat to this machine than Trump, which is why Democratic leadership in Congress is now diverting time, attention and resources to defend the machine's turf, instead of focusing on the president…. A competent House speaker wouldn't allow party energy to be squandered this way. But a speaker in firm control also wouldn't set caucus-wide rules of conduct ― stop criticizing other Democrats on Twitter, say ― only to see them flagrantly violated by the chair of the caucus itself. Nancy Pelosi may look like she's in charge of the House majority, but the New York machine is running its own show." • Well worth a read.

"All The Problems With This Anonymous Poll About Alexandria Ocasio-Cortez" [HuffPo]. The poll from Axios linked to yesterday. "n this case, readers have no way of knowing who commissioned the poll, who conducted it, how they identified the voters they surveyed, what methodology they used to interview them or what exactly respondents were asked. That makes it basically impossible to evaluate the survey in any meaningful way." • Which would be why even the horrid Celinda Lake thought the poll was laughable; I take it, then, that the real message was that the Democrat establishment was putting out a hit.

"The Koch Brothers Want to Prevent Future AOCs" [GQ]. "In a memo obtained by CNBC, Emily Seidel, CEO of the Koch-affiliated political-action committee Americans for Prosperity, announced that the organization would be backing incumbent Democrats against progressive primary challenges in the upcoming congressional primaries." • That's nice. Getting the DLC band back on the road!
Realignment and Legitimacy
Our group paper – the brilliant Dr. Arjumand Siddiqi is first – is accepted and almost published. Which, woot! "Growing Sense of Social Status Threat and Concomitant Deaths of Despair Among Whites" in Population Health. We engage Case and Deaton.

— The Dr. Tressie McMillan Cottom (@tressiemcphd) July 7, 2019
Stats Watch
Industrial Production, JUne 2019: "The Federal Reserve may ready to cut rates because of weakness in the manufacturing sector but weakness isn't very apparent in June's industrial production data" [Econoday]. "[M]anufacturing is by far the largest component in this report and June's results are almost uniformly strong… But putting the long term aside and looking just at June, today's results are consistent with the growing string of monthly acceleration."
Import and Export Prices, June 2019: "Cross-border trade is slowing and cross-border inflation appears non-existent, in fact appears to be in deepening contraction" [Econoday]. "A drop in oil prices is only a superficial answer for the decline on the import side as prices excluding petroleum fell… [T]he export side weak farm prices have been to blame but not in June as non-agricultural prices fell."
Retail Sales, June 2019: "Taking out a policy-insurance rate cut when the main driver of the economy is booming sounds a little counter-intuitive, in retail sales results that came in much stronger than expected in June" [Econoday]. "Strength abounds in this report… The most surprising strength in the report, at least for forecasters, is a … jump in auto sales that conflicts with what was a flat month for unit sales (a series, however, that is clouded with special factors)….. A key strength, and one that underscores discretionary power, is yet another strong gain for restaurants… The list of strength goes on with both furniture and building materials snapping back."
Business Inventories, May 2019: "Business inventories rose slightly lower-than-expected" [Econoday]. "There are hints that inventory growth is exceeding underlying demand…. [y]et any imbalances aren't increasing as the inventory-to-sales ratio in May held steady at 1.39."
Housing Market Index, July 2019: "Confidence among home builders remains solid" [Econoday]. "These results are solid and should confirm expectations for steady showings in tomorrow's data on housing starts."
Banking: "Central Bankers Are Sick of Rescuing the World Economy Alone" [Bloomberg]. "Amid slowing global growth, the Federal Reserve, European Central Bank and perhaps even the Bank of Japan are all set to ease monetary policy in coming months. But with less room to act than in the past, their leaders are telling politicians they will need to assist if a downturn takes hold… 'For most advanced industrial countries, the monetary policy space is extremely limited,' said Willem Buiter, a former Bank of England policy maker now special economic adviser to Citigroup. 'We need the fiscal tools to safeguard ourselves against a possible slide into a global recession.'" • A lot of mainstream economists are going to be put out to pasture then. Which didn't happen after the Crash, did it?
Retail: "Amazon's made-up shopping holiday could be paying off for its competitors" [Business Insider]. "New data released by Adobe Analytics on Tuesday indicated that some of Amazon's biggest competitors, such as Walmart and Target, saw a 64% increase in online sales on Monday during Amazon Prime Day. These retailers, which have launched their own deals during this period, are increasingly cashing in on Amazon's invented shopping holiday, or what's been dubbed by analysts as 'Black Friday in July.'" • I'm worried that Amazon Prime Day is losing its original spiritual significance.
The Bezzle: "Tesla Motors Tumbles In Key Trust Measure" [Forbes]. "According to the recently released 2019 Trusted Automotive Brand Study (TABS) from AMCI, Tesla has fallen off its previously lofty perch in the study to land at third from the bottom, besting only Acura and BMW among luxury marques….. Since the AMCI study again affirmed that trust accounts for more than 50% of a consumer's decision to repurchase or recommend an automotive brand or its dealers, Tesla's precipitous drop has to be considered yet more evidence that the brand is in trouble. How did Tesla find itself in this position when the move to go 'dealerless' was so broadly hailed?… 'One of the most telling things,' [Ian Beavis, AMCI Global's chief strategy officer] said, 'is that all the luxury brands that are ahead of Tesla in the study use franchised dealers. Franchised dealers can do an excellent job of building trust if they use the right standards and practices.'"
Tech: "To Break Google's Monopoly on Search, Make Its Index Public" [Bloomberg (DK)]. "Fortunately, there is a simple way to end the company's monopoly without breaking up its search engine, and that is to turn its "index"—the mammoth and ever-growing database it maintains of internet content—into a kind of public commons. There is precedent for this both in law and in Google's business practices. When private ownership of essential resources and services—water, electricity, telecommunications, and so on—no longer serves the public interest, governments often step in to control them…. Doesn't Google already share its index with everyone in the world? Yes, but only for single searches. I'm talking about requiring Google to share its entire index with outside entities—businesses, nonprofit organizations, even individuals—through what programmers call an application programming interface, or API." • I wish Google did not decide what and what not to index. I have often been able to find material I know exists, often because I wrote it. So I think the operations of Google's crawler should be regulated as well.
The Biosphere
"Fossil Fuels Are Far Less Efficient Than Previously Thought" [Bloomberg]. "Oil, coal and natural gas have generally returned energy at a ratio of 25:1, meaning that for every barrel of oil used in production, 25 barrels have been made. But that measurement, called energy return on investment (EROI), has traditionally been taken when fossil fuels are removed from the ground, and fails to account for energy used during the refining process. When the refining process is accounted for, EROI drops to about 6:1, according to a new University of Leeds study. That's comparable to the EROI for solar. 'The transition from fossil fuels to renewables actually might not be as bad as people thought,' said Paul Brockway, a co-author of the study."
"Making it mainstream – CA100+ power utilities profiles" [Carbon Tracker]. "Our profiles allow investors to understand whether a company's coal generation is aligned with the temperature goal in the Paris Agreement and the extent to which its coal capacity is at risk from becoming financially (i.e. EBITDA negative) or economically obsolete (i.e. uncompetitive based on a on levelised cost of energy (LCOE) and LRMC analysis). With regards to our below 2°C scenario analysis, to be Paris-aligned, companies need (i) a coal retirement schedule consistent with a credible climate scenario (such as the IEA's Beyond 2°C Scenario); and (ii) a date assigned to each coal unit. No CA100+ power utility with coal capacity is Paris-aligned based on our methodology."
"Call for database of fossil fuel assets and reserves" (letter) [Financial Times]. "The plans of the majority of international oil companies to increase production, while knowing that most fossil fuels have to remain underground, remains the central challenge, however. Carbon Tracker estimates that the proven reserves of oil and gas are already a multiple of what can possibly be burnt. Cancellation of new exploration licences and capital expenditure is now urgent." • For "Carbon Tracker," see above.
"'Impossible for palm oil farmers to harm environment': Acting Aceh governor" [Jakarta Post]. "The massive campaign against the use of palm oil in Europe has led the EU Commission to adopt a directive on renewable energy that will phase out the use of palm oil in the EU's biofuel sector and ban it by 2030, arguing that the production of CPO led to deforestation, reduced biodiversity and increased greenhouse gas emissions. Indonesia, the world's largest producer of the commodity, strongly opposes the regulation and calls the ban discriminatory. The country has been sending high-level envoys and ministers to lobby the EU."
"Ancient Mongolian nests show that dinosaurs protected their eggs" [Nature]. "An exquisitely preserved dinosaur nesting site discovered in the Gobi Desert shows that some of these prehistoric animals nested in groups and, like birds, protected their eggs. 'Dinosaurs are often portrayed as solitary creatures that nested on their own, buried their eggs and then just went away,' says François Therrien, a palaeontologist at the Royal Tyrrell Museum of Palaeontology near Calgary, Canada. He co-authored a study published this month in Geology describing the find. 'But here we show that some dinosaurs were much more gregarious. They came together and established a colony that they likely protected,' Therrien says."
"Don't Waste Your Emotions on Plants, They Have No Feelings, Grumpy Scientists Say" [LiveScience]. "Though plants lack brains, the firing of electrical signals in their stems and leaves nonetheless triggered responses that hinted at consciousness, researchers previously reported…. Plant biology is complex and fascinating, but it differs so greatly from that of animals that so-called evidence of plants' intelligence is intriguing but inconclusive, the scientists wrote…. And what's so great about consciousness, anyway? Plants can't run away from danger, so investing energy in a body system that recognizes a threat and can feel pain would be a very poor evolutionary strategy, according to the article."
Health Care
"Special Health Care for Congress: Lawmakers' Health Care Perks" [ABC]. "This fall while members of Congress toil in the U.S. Capitol, working to decide how or even whether to reform the country's health care system, one floor below them an elaborate Navy medical clinic [Office of the Attending Physician (OAP)]– described by those who have seen it as something akin to a modern community hospital — will be standing by, on-call and ready to provide Congress with some of the country's best and most efficient government-run health care…. Members of Congress do not pay for the individual services they receive at the OAP, nor do they submit claims through their federal employee health insurance policies. Instead, members pay a flat, annual fee of $503 for all the care they receive. The rest of the cost of their care, sources said, is subsidized by taxpayers." • That's nice.
Black Injustice Tipping Point
"Eric Garner's Death Will Not Lead to Federal Charges for N.Y.P.D. Officer" [New York Times]. "Mr. Garner, who was 43, died on a Staten Island sidewalk on July 17, 2014, after Officer Pantaleo wrapped an arm around his neck from behind and took him to the ground and other officers put their weight on him, compressing his chest against the pavement…. To prove criminal conduct, the official said, the government had to convince a jury that in the middle of a dynamic arrest Officer Pantaleo made a clear decision in his mind to apply a chokehold, a burden prosecutors did not believe they could meet, the official said."
"Fearing for His Life" [The Verge]. "Ramsey Orta filmed the killing of Eric Garner. The video traveled far, but it wouldn't get justice for his dead friend. Instead, the NYPD would exact their revenge through targeted harassment and eventually imprisonment — Orta's punishment for daring to show the world police brutality."
Class Traitors
"Disney heiress 'livid' after going to one of her family's theme parks undercover" [MarketWatch]. "'Every single one of these people I talked to were saying, 'I don't know how I can maintain this face of joy and warmth when I have to go home and forage for food in other people's garbage,' Disney, 59, told Yahoo News host and human rights activist Zainab Salbi in an interview posted Monday." • Emotional labor does tend to be poorly paid…
Class Warfare
"Disgruntled Amazon Pilots Will Use Prime Day as a Pulpit for Their Concerns" [Bloomberg]. "As Amazon readies for what will likely be two of its busiest days of the year, the pilots who transport its cargo are releasing a digital ad campaign on Facebook to highlight "concerns about how they are being overworked, underpaid and disrespected by their carriers. It's the latest move in an increasingly bitter logistics saga as Amazon appeals to customers with faster and faster delivery options. In addition, he said the pilots are standing in solidarity with the Amazon warehouse workers in Minnesota who are planning a Prime Day strike. A representative from the pilots' union will be on the ground to show striking workers they have the support of Teamsters Local 1224." • This is easy for me to say, since I have no skin in the game, but wouldn't it be better to bring the entire supply chain to a halt, across the board?
"Antisemitism and Oppression: a Leftist Polemic" [Verso]. "Many of the accusations of antisemitism in the Labour Party have their roots in the dogma that . But the case of the antisemitism scandals demonstrates how this dogma is something the left needs to criticise. Many of Britain's Jews believe that anti-Zionism is in itself antisemitic, believe that the demonisation of the Labour leadership for its sympathy to Palestinian liberation is part of an anti-racist struggle, and believe that their views on these matters are sacrosanct because they speak as an oppressed group. The left cannot be afraid of confronting these positions." • "Sovereign" is an interesting choice of words; perhaps the word "ally" stems from the concept.
"Another leader of the giant Google Walkout protest is leaving the company" [Business Insider]. "Meredith Whittaker, a research scientist who founded and headed up Google's Open Research group, was one of six women who organized the Google Walkout last November. She is now the second to have left in the space of little more than a month after Claire Stapleton left her role as a YouTube marketing manager in June…. Another of the Google Walkout organizers, Stapleton, said she was experiencing retaliation. Stapleton left the company in June, and said had she stayed, she could expect 'public flogging, shunning, and stress.'"
"3 Million Americans Over 60 Are Stuck With Student Loans. They Owe a Total of $86 Million" [Inc]. "CBS News reports that 3 million Americans over the age of 60 still have student debt. And the Wall Street Journal reports that in 2017, their average debt was $33,800, up 44 percent from 2010. And more than 40,000 people over 65 are having their Social Security payments, tax refunds, or other government payments garnished because they aren't paying their student loans. That number has more than tripled in the last decade."
"Uber and Lyft drivers were paid up to $100 to protest a bill that could make them employees" [Los Angeles Times]. "Drivers who attended the rally were offered and are expected to receive $25 to $100 within five days of gathering in Sacramento to cover "travel, parking, and time," according to an email The Times obtained. The email was sent to drivers from the I'm Independent Coalition, a group funded by the California Chamber of Commerce, along with a long list of professional associations, trade groups and on-demand companies. The coalition has been working closely alongside Uber and Lyft to call for changes to AB 5 and helped organize the Tuesday rally." • "I'm independent."
News of the Wired
I guess I'm not wired at all, today. Damn!
* * *
Readers, feel free to contact me at lambert [UNDERSCORE] strether [DOT] corrente [AT] yahoo [DOT] com, with (a) links, and even better (b) sources I should curate regularly, (c) how to send me a check if you are allergic to PayPal, and (d) to find out how to send me images of plants. Vegetables are fine! Fungi are deemed to be honorary plants! If you want your handle to appear as a credit, please place it at the start of your mail in parentheses: (thus). Otherwise, I will anonymize by using your initials. See the previous Water Cooler (with plant) here. Today's plant (Carla):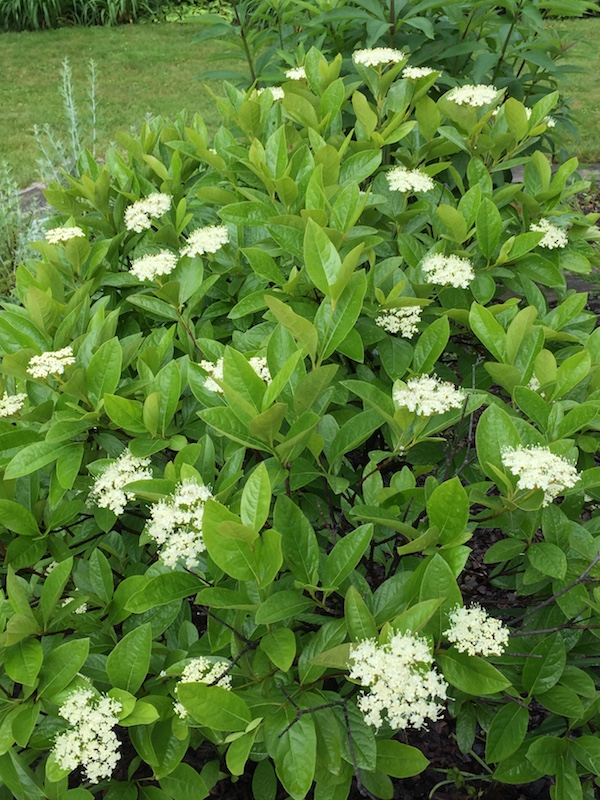 Viburnum, from Northeast Ohio. Look at those glossy leaves!
* * *
Readers: Water Cooler is a standalone entity not covered by the annual NC fundraiser. So do feel free to make a contribution today or any day. Here is why: Regular positive feedback both makes me feel good and lets me know I'm on the right track with coverage. When I get no donations for five or ten days I get worried. More tangibly, a constant trickle of small donations helps me with expenses, and I factor in that trickle when setting fundraising goals. So if you see something you especially appreciate, do feel free to click this donate button:
Here is the screen that will appear, which I have helpfully annotated.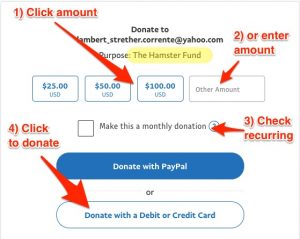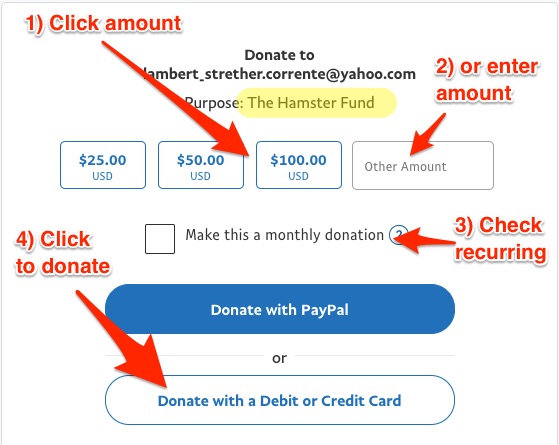 If you hate PayPal, you can email me at lambert [UNDERSCORE] strether [DOT] corrente [AT] yahoo [DOT] com, and I will give you directions on how to send a check. Thank you!