By Lambert Strether of Corrente
Politics
"But what is government itself, but the greatest of all reflections on human nature?" –James Madison, Federalist 51
"They had one weapon left and both knew it: treachery." –Frank Herbert, Dune
"2020 Democratic Presidential Nomination" [RealClearPolitics] (average of five polls). As of July 16: Biden continues rise at 27.8% (27.6%), Sanders steady at 15.0% ( 15.0%), Warren down sharply at 15.0% (16.3%), Buttigieg down at 4.8% (5.0%), Harris down 13.4% ( 13.6%), others Brownian motion.
* * *
2020
Castro (D)(1): This is good:

Julián Castro—the only candidate with a policing reform policy—was asked to respond to news that U.S. prosecutors won't pursue charges against the NYPD officer that killed Eric Garner.

Take a look at his answer. pic.twitter.com/Pxad6PhTXc

— Sawyer Hackett (@SawyerHackett) July 17, 2019

You can't leave money out of the equation, though. Ferguson was a "law enforcement for profit" town!

Gabbard (D)(1): "Twitter's Jack Dorsey Donated $5,600 To Tulsi Gabbard" [Buzzfeed]. "Twitter CEO Jack Dorsey followed up his earlier 2019 donation to Andrew Yang — by giving several thousand dollars to Rep. Tulsi Gabbard's presidential campaign and another thousand to Yang. According to the FEC filings for Tulsi NOW, Dorsey donated $5,600 — the maximum donation — to Gabbard the day after the first Democratic debate."

Sanders (D)(1): "Sanders vows to reject donations from drug and health insurance industry, seeking to pressure Biden" [WaPo]. "Sen. Bernie Sanders plans to challenge his Democratic presidential rivals Wednesday to refuse campaign donations from executives and lobbyists of health insurance and pharmaceutical companies, escalating a growing conflict over health care with Joe Biden and among Democrats more broadly…. ',' Sanders said in a statement. 'That is why I am calling on every Democratic candidate in this election to join us in rejecting money from the insurance and drug industries.'" • Ouch.

Sanders (D)(2): Only eighteen seconds:

if you come at the king pic.twitter.com/uDaO0o02Lz

— Current Affairs (@curaffairs) July 16, 2019

"When you come at the king, you best not miss." Good staff preparation, too.

Warren (D)(1): "This Was Elizabeth Warren's Plan All Along" [HuffPo]. "Instead of relying on the traditional D.C. think tank world, she made her office into her very own think tank. This vast, over-qualified policy team then consulted with a kitchen cabinet of legal academics, economists and other scholars outside the Beltway. Her goal all along has been to craft and sell policies to help solve one overarching problem: inequality in American society." • All good, but how come we're rolling out white papers in an election year instead of having already introduced legislation?

IA: "Presidential candidates have spent millions on Iowa, with Bernie Sanders and Beto O'Rourke leading the pack" [Des Moines Register]. "Sen. Bernie Sanders led the way, with $443,000 spent on things like rent, events and staff in Iowa. Former U.S. Rep. Beto O'Rourke, of Texas, dropped almost $300,000 on his go-everywhere strategy to woo caucusgoers. Former Maryland Rep. John Delaney rounded out the top three, with $259,000 spent…. Out of all the candidates, Sanders, I-Vermont, had the highest number of itemized donations from Iowans, with 895 contributing to his campaign. Only donors who have given more than $200 need to be itemized, so donors who have not hit that mark do not need to be specified."

PA: "Women for Trump is a new army in a country divided by anger. And Pa. is primed for battle" [The Inquirer]. "But the Republican women who came to King of Prussia for the Trump campaign's first women's coalition rally were also there to block the Democratic women who have fueled a surge in voter turnout in local, state, and congressional races in Southeastern Pennsylvania since Trump's election in 2016. If Republicans are to hold the state for Trump, their women must multiply."

* * *

"Cash burn rate in 2020 campaign highlights laggards" [Financial Times]. "The candidates who placed in the top five for money raised — Mr Buttigieg, Bernie Sanders, Elizabeth Warren, Joe Biden and Kamala Harris — all managed to keep second-quarter spending within about 55 per cent of total money raised… Kirsten Gillibrand's presidential campaign spent $4.2m in the second quarter of this year, despite raising only $2.3m in the same period, giving her the top "burn rate" among the candidates of about 183 per cent." • Full of interesting facts and figures. I didn't know Sanders transferred $7.6 million from earlier campaigns.

"Huge Turnout Is Expected in 2020. So Which Party Would Benefit?" [New York Times]. "The 2020 presidential election is poised to have the highest turnout in a century, with the potential to reshape the composition of the electorate in a decisive way. But perhaps surprisingly, it is not obvious which party would benefit. There are opportunities and risks for both parties…. The increase in turnout among the young in 2018 came overwhelmingly from anti-Trump voters, giving the Democrats a wide advantage among voters under age 45. The advantage was largest among those 18 to 24: The president's approval rating was 28 percent for voters in that group, and 45 percent among those who stayed home." • Better keep kicking AOC, then. It's the obvioius winning strategy.

"The fascists in the White House" [WSWS]. Cutting through the tankie rhetoric, we finally come to this which is sensible: "The ongoing wave of strikes in the United States was touched off by thousands of teachers in West Virginia—a state which Trump carried overwhelmingly in 2016—who defied state law, a Republican legislature, and a Democrat-turned-Republican governor to fight for higher pay and secure benefits and against school privatization and charterization. These teachers, and hundreds of thousands of other workers in subsequent strikes and protests, have demonstrated that class, not race, is the fundamental dividing line in American society. Trump is not the president of 'white people.' He is the president who seeks to use racism and anti-immigrant prejudice to divide the working class and maintain the supremacy of Wall Street and the giant corporations. Politicians and pundits who oppose the unity of the working class in struggle against capitalism play right into the hands of Trump and his effort to build a fascist movement in America." • If this analysis is correct, "White Supremacy" as the liberal Democrat Theory Of Everything is going to be problematic.
2019
Republican challenger to AOC emerges:

You deserve someone who will fight for you, not fight for the limelight. Someone who will build bridges, not burn them down. Join me, let's #unitethefight, & build bridges together. https://t.co/vrfRk69hiN #NY14

— Scherie Murray (@ScherieMurray) July 17, 2019

Republicans display adaptability, nominate [x] black [x] woman. Whaddaya know.

"Ocasio-Cortez Denies Fracture With Pelosi, Seeks Meeting" [Bloomberg]. "Ocasio-Cortez and the group's three other members said in their first joint interview — which aired Wednesday — that they're happy to sit down with Pelosi and work out their differences, which stem in part from a $4.5 billion border funding bill they said didn't do enough to rein in the Trump administration on immigration. ;Just as there were members of Congress that did not vote for the Speaker on the House floor the day of our swearing in, just as there members who challenge her conclusions, who disagree with her, so do we from time to time,' Ocasio-Cortez told CBS. 'But that does not mean that there is a fundamental fracture or a dehumanizing going on within our caucus.'" • Feed whatever you're going to feed to Pelosi at the end of a stick, or she'll take your arm off to the shoulder.

"Barney Frank Defends Nancy Pelosi from Her Critics" [The New Yorker]. Frank: "There have always been, on the Democratic side—Howard Dean, etc.—people who are very passionate and are frustrated because reality isn't as pliable as they wish. They are people who I think make the fundamental mistake—I often agree with them on substance—but they make the fundamental mistake of thinking the general public is much more in agreement with them than it is, and forget about or just reject the notion of trying to figure out how to get things done." • Get things done. Yeah, you know; like the bailouts that lost the Democrats the House in 2010 in a re-apportionment year.
Realignment and Legitimacy
Remember Stoller's "On Mocking Dying Working Class White People" right after election 2016? It still goes on:

Syncs with American studies that show diseases of despair up in Trump counties, life expectancy down. https://t.co/Dx3CJPkui7

— Virginia Heffernan (@page88) July 16, 2019

Heffernan's Twitter bio: "contributing editor @WIRED / columnist @latimesopinion / tv @MSNBC." So their opinion is mainstream; there's a lot of speaking the quiet part out loud just now.

"How the Democratic Netroots Died" [Politico]. "Twelve years ago, progressive political bloggers were so influential that nearly every 2008 Democratic presidential candidate attended the Yearly Kos convention—a gathering of liberal online activists named after Markos Moulitsas' popular Daily Kos website. This year, that same event, now called Netroots Nation, attracted a measly four of the 24 Democratic candidates. Only one of them, Elizabeth Warren, even polls in double digits…. What happened? Not all that long ago, liberal bloggers had genuine achievements to point to: Only a year before the 2007 Yearly Kos, Ned Lamont, a wealthy but little known Connecticut businessman, beat Joe Lieberman—the incumbent and a former vice presidential nominee of the Democratic Party—in a U.S. Senate primary by embracing the "blogosphere," a ridiculous word for a not-ridiculous force: progressive online activists who could drive discourse, cultivate small donors and legitimize outsider politicians. Lamont made common cause with bloggers to punish Lieberman for his vote to authorize the Iraq War." • What happend? Obama happened.

"Measuring illegal immigration: How Pew Research Center counts unauthorized immigrants in the U.S." [Pew Research]. " our estimate of unauthorized immigrants is the total number of immigrants living in the country minus the number of immigrants living here as lawful residents. In concept, it's a very simple relationship. There's a lot that goes into producing the final estimate, but the basic estimate is just this difference." • Handy chart:

"The Computer Voting Revolution Is Already Crappy, Buggy, and Obsolete" [Bloomberg]. • This is a must read. It's all so horrific I can't even excerpt it.
Stats Watch
Housing Starts, June 2019: "Once again the down part of the housing sector's up-and-down year appears, this time in an unexpected…. drop in permits to a much lower-than-expected [level]" [Econoday]. "Housing had a poor year last year and negative showings for ongoing yearly rates suggest that 2019 may also prove, despite promise in the spring, to hold back the sector's contribution to economic growth. Still starts did pick up compared to the first quarter and residential investment, after five straight quarter's of pulling down GDP, may yet prove to be a positive for the second quarter."
MBA Mortgage Applications, week of July 12, 2019: "The purchase index has been firm but fell back" [Econoday]. "[T[he refinance index rose."
Concentration: "Tech's day of reckoning on Capitol Hill was long and harsh" [MarketWatch]. "Nonetheless, shares of the four companies that were placed under the microscope of three different Congressional hearings remained largely unchanged, underscoring their inexorable march to record market valuations, generally strong quarterly results and mounting influence on the global economy." • Sound and fury, then?
Tech: "Amazon Is Using Prime Day to Lock People into a Giant Surveillance Network" [Vice]. "As a part of Prime Day, Amazon is offering a 30 percent discount on select Ring products, and a 39 percent discount on an eight-part set of Ring products. Ring, which was acquired by Amazon in 2018, produces WiFi-powered home doorbell cameras, outdoor security cameras, and flood light cameras. Footage captured on these cameras can be posted on Neighbors, a free 'neighborhood watch' app that lets people post about crime, safety, 'suspicious' people, 'strangers,' and lost pets. However, Ring and Neighbors market themselves as a crime-fighting tools only by actively encouraging people to fear their neighbors." • This sounds horrible and dystopian. Have readers encountered Ring in the wild?
Tech: "New study of 26,000 people disputes years of studies linking Facebook and depression" [MarketWatch]. "In a study published in the peer-reviewed Journal of Computer Mediated-Communication, Hampton analyzed 2015/2016 data from 26,000 people or 13,000 adult relationships in the Panel Study of Income Dynamics, which is widely regarded as the world's longest-running household survey. That survey includes a series of questions about social-media platforms and psychological distress. What Hampton found runs contrary to a raft of studies that have suggested a relationship between social media and isolation and depression. Social-media users are 63% less likely to experience serious psychological distress, Hampton said. Connecting with extended family members on social media also helped, as long as those family member's mental health was not in decline. He also concluded that social networkers are actually 1.63 times more likely to avoid serious psychological distress…. Not everyone agrees. A separate recent study conducted by psychologists at the University of Pennsylvania showed quite the opposite — a link between time spent on social media and depression and loneliness."
The Biosphere
"New EU chief makes bold climate pledges" [Nature]. "In a speech in parliament a few hours before her election, von der Leyen said that she intends to make climate and the environment top priorities in all EU policy areas. She pledged to strengthen the EU's short-term goal on greenhouse-gas emissions from a 40% reduction to a 50% cut, at least, by 2030, relative to 1990 levels. The EU will also take a lead role in forthcoming international climate negotiations and will encourage other major economies to increase their level of ambition by 2021, she said… Von der Leyen is also set to announce a 'European Green Deal' in her first 100 days in office, which would include a law to make Europe carbon neutral by 2050. 'I want Europe to become the first climate-neutral continent in the world,' she said." • 2050? Is that really "bold"?
"Christians Care About Climate Change If It's About Saving 'God's Creation'" [Vice]. "A new study from the Yale Program on Climate Change shows that one of the most effective ways to get Christians to care about global warming is to frame it as 'protecting God's creation.' The study, 'A Social Identity Approach to Engaging Christians in the Issue of Climate Change,' tested various religious, moral, and social messaging to find the most effective ways to involve Christian people in environmental justice efforts. The results showed that many Christians view the issue of climate change through a religious, rather than scientific or environmental lens. So, a good way to get them on board is simply speaking their language." • No duh?
"House orders Pentagon to say if it weaponized ticks and released them" [Roll Call]. "The amendment, by New Jersey Republican Christopher H. Smith, says the inspector general 'shall conduct a review of whether the Department of Defense experimented with ticks and other insects regarding use as a biological weapon between the years of 1950 and 1975.' … A book called "Bitten," published this year, makes the case that the Defense Department research occurred and hints at a possible connection between the experiments and the spread of maladies such as Lyme disease, which is borne by ticks." • If we're going to think about reforesting lawns, we need to think about ticks. Opposums eat ticks! And don't carry them, either.
"Arctic science at risk as University of Alaska braces for draconian budget cuts" [Science]. "Paul Layer, UA's vice president for academics, students, and research in Fairbanks, says one of his highest priorities 'is to maintain our status in Arctic research. It's the one thing we do better than anybody.' UAF's International Arctic Research Center, which partners with scientists across the United States and Japan to study weather, ocean acidification, and other topics, is funded largely by grants from nonstate sources. But it relies on state funding to pay for support staff and operations, as well as work requested by state agencies. And at UAF's Center for Alaska Native Health Research, state funds often pay for sending researchers to remote villages, says Deputy Director Diane O'Brien. 'Even when we are bringing in millions of dollars of [nonstate] support, these are research services that we depend on the university to provide from their state allocation,' she says."
"Parts of the Marshall Islands are more radioactive than Chernobyl and Fukushima, study finds" [CNN]. "From 1946 to 1958, the US government conducted 67 nuclear tests on several small islands — called atolls — in the Marshall Islands….. More than 60 years later, researchers at Columbia University say radiation on four of these atolls remains alarmingly high — in some areas ten to 1,000 times higher than radioactive areas near the Chernobyl powerplant, which exploded in 1986, and Fukushima, where an earthquake and tsunami caused a nuclear disaster in 2011."
Games
"It's possible to build a Turing machine within Magic: The Gathering" [Ars Technica]. "It may be a highly unlikely scenario, but a recent paper posted on the physics arXiv proves that it's possible in principle to build a simple computer within this massively popular tabletop game using just the right combination of Magic cards. While the inputs must be pre-programmed, 'Literally any function that can be computed by any computer can be computed within a game of Magic,' said co-author Alex Churchill, a longtime Magic fan who has been working on the problem for several years. Furthermore, he and his co-authors—Stella Biderman of the Georgia Institute of Technology and Austin Herrick of the University of Pennsylvania—have concluded that Magic might be as computationally complex as it's possible for any tabletop game to be. In other words, '," the authors write." • Surely that's an extraordinary result?
"There will be no cigar-chomping or vaping in Gears 5" [Quarter to Three]. "Thanks to a partnership between Xbox Game Studios developer The Coalition, non-profit anti-tobacco organization Truth Initiative, and Turner Sports ELeague division, the upcoming Gears of War game will have no smoking, vaping, or any other tobacco references that 'glorify' smoking. Gears 5 will still have chaingun beheadings and point-blank shotgun kills, so it still won't be family-friendly. It will just not tempt teens into smoking while tearing enemies into puddles of eviscera." • Baby steps, albeit through puddles of (digital) blood…
Health Care
Partnership for America's Health Care Future (with a name like that….) thinks even Biden's public option is a bridge too far:
Building upon the ACA should not mean creating a glide path to a one-size-fits-all system, which is what the "public option" would do. Americans deserve lower costs, expanded choice and improved access. One-size-fits-all systems like a public option won't get us there. https://t.co/HwiqK1PLUV

— Partnership for America's Health Care Future (@P4AHCF) July 16, 2019
"Rising health insurance deductibles fuel middle-class anger and resentment" [Los Angeles Times]. "Many wealthy Americans — already reaping most of the benefits of the last decade's [decades'] economic growth — have weathered the dramatic increase in deductibles in recent years in part by putting away money in tax-free Health Savings Accounts. Very poor Americans, millions of whom gained coverage through the 2010 Affordable Care Act, can see a doctor or go to the hospital at virtually no cost, thanks to Medicaid, the half-century-old government safety net program. Squeezed in the middle are legions of working Americans who face stagnant wages, insurance premiums that take more and more of their paychecks and soaring deductibles which leave them with medical bills they can't afford."
Black Injustice Tipping Point
"Kicked Off the Land" [The New Yorker]. "In the United States today, seventy-six per cent of African-Americans do not have a will, more than twice the percentage of white Americans. Many assume that not having a will keeps land in the family. In reality, it jeopardizes ownership. David Dietrich, a former co-chair of the American Bar Association's Property Preservation Task Force, has called heirs' property 'the worst problem you never heard of.' The U.S. Department of Agriculture has recognized it as 'the leading cause of Black involuntary land loss.' Heirs' property is estimated to make up more than a third of Southern black-owned land—3.5 million acres, worth more than twenty-eight billion dollars. These landowners are vulnerable to laws and loopholes that allow speculators and developers to acquire their property. Black families watch as their land is auctioned on courthouse steps or forced into a sale against their will." • Holy moley, land title issues?! In the First World? (I just finished Eric Foner's Reconstruction: America's Unfinished Revolution, 1863-1877, and my amateur opinion is that land reform in the former Confederate states — that is, breaking up the plantations and given the land to the former slaves — was the only real way forward (besides hanging enough traitors to get the elite's attention). Generalize Sherman's Special Field Order #15, in other words. Whether that was ever a possible future is dubious; certainly it would never have happened after a vengeful Slave Power whacked Lincoln, and the ideological dominance of Wage Labor in the victorious North also worked against it (see the fate of the Port Royal experiment).
Eric Garner memorial:
Eric Garner died 5 years ago today.

The police officer who held him in an apparent chokehold still has his job. He was never disciplined.

The Justice Dept. has decided not to file charges, and the statute of limitations expires today. pic.twitter.com/AOHm0jCd30

— AJ+ (@ajplus) July 17, 2019
"The NYPD never choked a banker."
Class Warfare
"Free trade doesn't just lead to job loss. It means more deaths from drug overdoses and increased military recruitment." [WaPo]. "In a recently published study, my co-author and I find that trade-related job losses are closely related to spikes in opioid-related overdose deaths. Less-educated males in Appalachia bear the brunt of free trade as well as the opioid epidemic. And as young people look for ways out of communities hurt by trade, enlistment in the U.S. Army also surges. It's not just that youth are more willing to enlist after trade shocks — the military tends to send more recruiters to these communities…. In a recently published paper, Simeon Kimmel and I explored the nationwide relationship between free trade and the opioid epidemic. We found that 1,000 trade-related job losses in a given locality were associated with a 2.7 percent increase in opioid-related overdose deaths." • Everything's going according to plan!x
"After Years of Organizing, Duke's Grad Students Got a Raise. Duke Still Won." [Indy Week]. "In giving the students a higher stipend while fighting their unionizing efforts, Duke might be playing a long game, says professor David Zonderman, a historian of labor movements at N.C. State: The university pays a little more, but the power dynamic remains fundamentally unchanged. 'We call that a 'union avoidance strategy,' and you can use a carrot or a stick,' Zonderman says. 'It's about power or control.' Actually, Duke's long game need not be that long: In September, the NLRB—now run by anti-union Trump appointees—will revisit whether grad students at universities like Duke should even be able to unionize in the first place."
"The Status Anxiety of Pussyhat Moms" [The American Conservative]. "For Pussyhat parents, it's not my son or daughter the doctor, not very often anyway, since America's reality is increasingly Dr. Kim, not Dr. Smith." • Reminds me of the old joke about Patrick Buchanan: He sounds better in the original German.
News of the Wired
"OSP Galaxy" [Open Syllabus]. "This visualization shows the 164,720 most frequently-assigned texts in the Open Syllabus corpus, a database of 6,059,459 college course syllabi." • An enormous citation graph. Here are the top ten: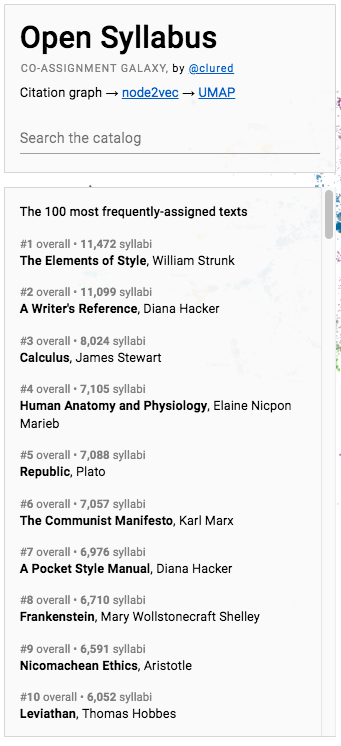 Hmm. Three of the top ten explain how to write. I wonder if that's true for the Ivies?
"Elon Musk: Tesla founder reveals plans to implant tiny computer chips in brains" [Sky News]. • No.
* * *
Readers, feel free to contact me at lambert [UNDERSCORE] strether [DOT] corrente [AT] yahoo [DOT] com, with (a) links, and even better (b) sources I should curate regularly, (c) how to send me a check if you are allergic to PayPal, and (d) to find out how to send me images of plants. Vegetables are fine! Fungi are deemed to be honorary plants! If you want your handle to appear as a credit, please place it at the start of your mail in parentheses: (thus). Otherwise, I will anonymize by using your initials. See the previous Water Cooler (with plant) here. Today's plant (DK):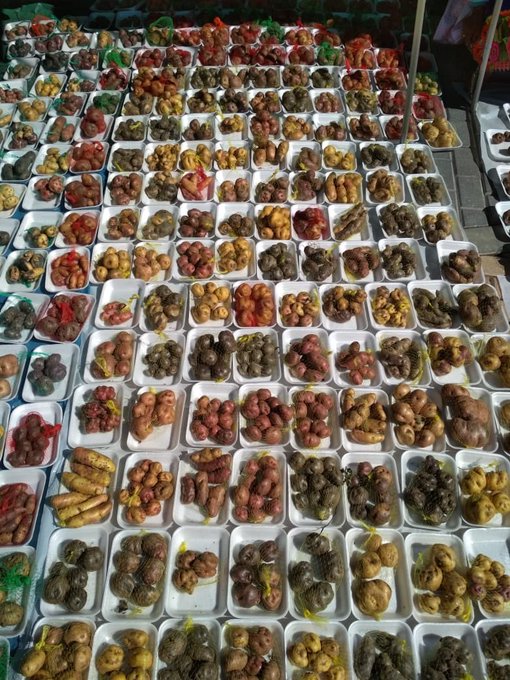 Via: "This is the family heritage of one single Peruvian farmer, a unique collection of heirloom seeds (potato landraces), inherited from her parents."
* * *
Readers: Water Cooler is a standalone entity not covered by the annual NC fundraiser. So do feel free to make a contribution today or any day. Here is why: Regular positive feedback both makes me feel good and lets me know I'm on the right track with coverage. When I get no donations for five or ten days I get worried. More tangibly, a constant trickle of small donations helps me with expenses, and I factor in that trickle when setting fundraising goals. So if you see something you especially appreciate, do feel free to click this donate button:
Here is the screen that will appear, which I have helpfully annotated.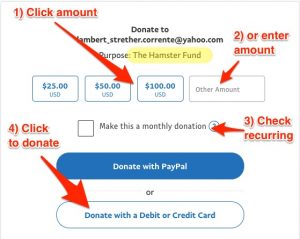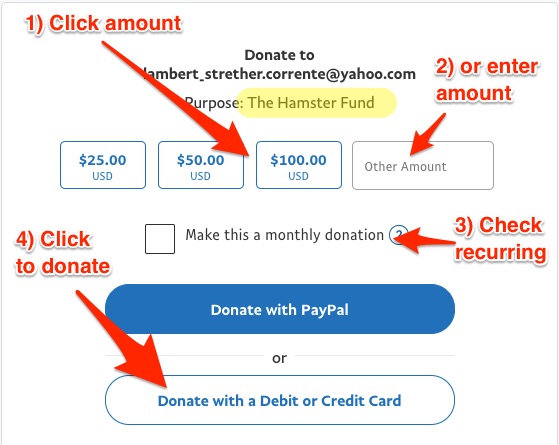 If you hate PayPal, you can email me at lambert [UNDERSCORE] strether [DOT] corrente [AT] yahoo [DOT] com, and I will give you directions on how to send a check. Thank you!