By Lambert Strether of Corrente
Patient readers, this is a temporarily shortened Water Cooler until I finish a post on fascism. Then I will return with more. –lambert UPDATE All done!
Trade
"China's war chest of rare earth patents give an insight into total domination of the industry" [South China Morning Post]. "China is strengthening its grip on the rare earths supply chain and could use its dominant position as a bargaining chip in its trade war with the US. China has been investing heavily on facilities to do the bulk of the dirty and environmentally damaging mining and ore processing work for the world, systematically turning its know-how and methodologies into patents that could give it a competitive edge against its rivals… Meanwhile, US government reports have noted that it would take years for the US to build enough domestic processing capacity to match China's." As Michael Hudson wrote at NC yesterday:
[T]he trade balance is not simply a matter of comparative international price levels. The United States has dissipated its supply of spare manufacturing capacity and local suppliers of parts and materials, while much of its industrial engineering and skilled manufacturing labor has retired. An immense shortfall must be filled by new capital investment, education and public infrastructure, whose charges are far above those of other economics.
Thanks, neoliberals!
Politics
"But what is government itself, but the greatest of all reflections on human nature?" –James Madison, Federalist 51
"They had one weapon left and both knew it: treachery." –Frank Herbert, Dune
"2020 Democratic Presidential Nomination" [RealClearPolitics] (average of five polls). As of July 17: Biden still climbing at 28.4% (27.8), Sanders still steady at 15.0% (15.0%), Warren down sharply at 14.6% (15.0%), Buttigieg steady at 4.8% (4.8%), Harris losing her post-debate bump 12.6% (13.4%), others Brownian motion. Polls still as of July 17.
* * *
2020
Harris (D)(1): "Kamala Harris joins Katy Perry, Demi Lovato and Ariana Grande for fundraiser hosted by Scooter Braun at his $20M LA compound – prompting Taylor Swift fans to attack Democratic hopeful" [Daily Mail]. "Kamala Harris added some major star power to her campaign on Saturday night at a fundraising event in Los Angeles…. The cozy gathering took place at the $20 million compound of starmaker Scooter Braun, who has helped guide the careers of A-listers including Justin Bieber, Kanye West and supermodel Karlie Kloss. … Fans of Swift have been upset with Braun ever since the Grammy winner attacked him on Tumblr following his purchase of her entire music catalogue. And now, they are upset with Harris for attending a fundraiser hosted by Braun. 'If @KamalaHarris thinks this will get her votes she is delusional and @scooterbraun is a thief who uses these women to advance his bank account just like Kamala used a man to advance her career,' wrote one Swift supporter. And another spelled out Harris' inevitable doom, stating: 'please don't do a fundraiser with @scooterbraun you will lose a lot of votes to @ewarren I want to support you but cannot if you associate with a bully and misogynist @taylornation13 why don't you reach out to her instead!'"

Sanders (D)(1): "Bernie Sanders makes my skin crawl." They really do hate him:

Apparently, expressing generalized, completely non-specific and substance-free personal hatred of Bernie Sanders is now considered serious and legit political analysis on MSNBC ?? https://t.co/oFA8s8NenL

— David Sirota (@davidsirota) July 21, 2019

Must be listened to, to be believed.

Sanders (D)(2): Same:

Corporate journalists laugh right at Bernie Sanders' face and his foolish, foolish integrity. #FeelTheBern pic.twitter.com/eO9wB2MWAp

— ? Clark Feels The Bern (@Clarknt67) July 19, 2019

Sanders (D)(3): "Sanders Tops Democrats' List of Most Liked 2020 Candidates: Gallup" [Newsweek]. "Out of 10 candidates ranked in the poll, Gallup found that Democrats had the most favorable opinion of Sanders, with 72 percent of respondents indicating a favorable view of the senator. Former Vice President Joe Biden, who has been leading every national poll of the 2020 roster, earned the second-highest favorable rating from Democrats, at 69 percent…. Gallup wrote that, as it has periodically measured Democrats' favorability ratings over the course of 2019, 'the only notable change has been a decline in Biden's favorable score,' a pattern observed 'among Democrats as well as U.S. adults overall.'"

Trump (R)(1): "Paralyzed by the God Emperor: As Democrats dither and bicker, the media gets punk'd again" [Salon]. "Donald Trump is not actually a Machiavellian political mastermind, whatever his supporters and many of his supposed enemies may believe. But he has a salesman's cunning for identifying the weak spots and vulnerabilities of his marks, and is an expert bullshitter and gaslighter. That leaves his opponents confused and cautious amid his blitzkrieg of lies, as well as understandably fearful that whatever path they choose will end by leading them straight into Trump's chasm. But every fear hides a wish, as a character in David Mamet's play 'Edmond' puts it, and the Democratic Party's fears of division and self-destruction have a noteworthy tendency to become reality."

Trump (R)(2): "White Supremacists Warn Idealistic Trump Some Compromise Will Be Necessary To Achieve Their Goals" [The Onion]. "Stormfront spokesperson Marshall Riley [claimed] Trump's fiery rhetoric and refusal to find common ground threatens to alienate the moderates who white supremacists rely on to advance their agenda."

Warren: "Elizabeth Warren and Ashlee Marie Preston on Making Policy Intersectional" [Paper]. "In an interview with PAPER, Warren shared, "We need to build a lasting foundation for LGBTQ+ rights until each and every person feels safe to be who they are and to love who they love. As president, I would fight to extend protections for LGBTQ+ Americans, particularly transgender and gender non-conforming individuals, who continue to face discrimination in housing, education, employment, and health care"…. It's Warren's understanding of these issues that perhaps matters most to activists like [political commentator and trans activist Ashlee Marie Preston] who support her candidacy. "I needed to know that candidates had a firm understanding of intersectionality," Preston clarifies." • Despite the headline, Warren herself doesn't use the word "intersectionality." Preston projects that onto her.

* * *

"Sanders and Warren have a similar message, but they're battling different weaknesses" [WaPo]. "Their trips highlighted that Warren and Sanders are betting their candidacies on divergent strategies, and they believe they can grow in different areas. Warren, faced with questions of electability, is trying to show her message appeals in unlikely places. Sanders, meanwhile, is fishing for votes among older Iowans more likely to support former vice president Joe Biden." • Note the final paragraph: "Pocahontas" has national recognition.
2019
Pelosi on governing:

.@SpeakerPelosi to the @indystar: "I'm a left-wing San Francisco liberal. But that's not the message for the country. And that's not how you govern." https://t.co/RSMF4Um8cS

— Susan Page (@SusanPage) July 20, 2019

"Top 4 Ways the Squad of young Congresswomen represent more Americans than Trump" [Informed Comment]. "If you look at that kind of identity politics, the Squad constituencies are similar in size to Trump's core of evangelicals and the upper middle class and the rich. But . That is what this is really about. If they unite workers across race, the Squad could deprive Trump of one of his constituencies. Only 14% of blue collar workers who voted for Obama switched and voted for Trump. He promised them health care and better jobs. He hasn't delivered. The Squad is appealing to them." • Hopefully. The numbers are there, but the message needs to be delivered. (Note that the "voices" of the various identities have no incentive to deliver that larger, universal message at all. That's why identity politics is all about allyship, as if the various identity siloes were sovereigns, and not solidarity.
Realignment and Legitimacy
"Think Republicans are disconnected from reality? It's even worse among liberals" [Guardian]. "In a surprising new national survey, members of each major American political party were asked what they imagined to be the beliefs held by members of the other. The survey asked Democrats: "How many Republicans believe that racism is still a problem in America today?" Democrats guessed 50%. It's actually 79%. The survey asked Republicans how many Democrats believe "most police are bad people". Republicans estimated half; it's really 15%…. what's startling is the further finding that higher education does not improve a person's perceptions – and sometimes even hurts it. In their survey answers, highly educated Republicans were no more accurate in their ideas about Democratic opinion than poorly educated Republicans. For Democrats, the education effect was even worse: ."

"In key Senate races, Democrats buck leftward tilt on issues" [Associated Press]. "Democrats need to gain at least three seats next year to capture the Senate majority, and the map is an uphill climb. GOP seats are at stake in 22 states, but Trump carried 20. The argument is over whether the better approach is bold liberalism or cautious centrism. In some contested states, if the leftward presidential tilt continues, the party's nominee and Senate candidates could wind up contradicting on almost every major issue, from immigration and race to health care and education. Democratic consultants say that's not a problem now: most voters at this stage are only broadly listening to whether candidates are on the same team." • Democratic consulants like the five who run the DNC?

"John Nichols: It was not a dream, it was Wisconsin" [The Cap Times]. "The book, as readers of this newspaper are well aware, is a memoir and a history that reflects on the journey of David's father, Elliott Maraniss, from 1930s radical to 1950s target of anti-communist zealots to his distinguished tenure at The Capital Times — where in the late 1970s and early 1980s he served as the editor…. "Elliott's wanderings take him to an Iowa newspaper that grew out of a strike by union typographers. Later, he sees his revered new publisher, William T. Evjue of The Capital Times, in Madison, talking and laughing in his office with Carl Sandburg and Frank Lloyd Wright. Did we ever live in such an America? Did we just dream it?' Of course, it existed. I grew up in it." • Sigh…
Stats Watch
Chicago Fed National Activity Index, June 2019: "Judging by the national activity index, a Federal Reserve rate cut not would seem to pose much risk of economic overheating" [Econoday]. "This index is a giant cocktail of 85 different indicators with June so far including 51, yet the trend all year has been flat to negative."
Housing: "Almost 40% of U.S. Homes Are 'Free and Clear' of a Mortgage" [Bloomberg]. "About 37% of U.S. households are "free and clear," meaning they no longer have a home mortgage to pay, according to a Zillow data analysis. This number ticked upward after the Great Recession and over the past 10 years the share of homeowners paying off their mortgages has risen 5.5 percentage points… Mortgage characteristics vary by state and those with lower housing prices typically have higher rates of fully-paid mortgages. In 2017, the most recent available data, West Virginia had the highest share of "free and clear" ownership at 54%. Maryland and the District of Columbia were on the other end of the spectrum with rates of 27% and 24%, respectively."
Retail: "How China's Simi Mobile is conquering Africa, one country at a time" [South China Morning Post]. "In 2013 Chow established his new business in the northern African country, where he began importing and selling semi-knocked down (SKD) kits for smartphones. When the government introduced a rule restricting the sale of imported phones, Chow turned a potential set back into an opportunity…. Chow's decision to establish a local factory in Ethiopia came around the same time that smartphone consumption was exploding in China, with domestic brands like Xiaomi, Oppo, Vivo and Huawei starting to dominate the market…. The decision by the Ethiopian government effectively blocked the hundreds of cheap Chinese-made knock-off phone brands that were eyeing the same market as Chow, enabling Simi to compete with fewer rivals by selling products produced by its own factory." • So tariffs work, then? At least for Third World countries like our own?
Retail: "Due To A Poor Harvest Season, We Are Experiencing Shortages On Many Of Our Canned Vegetable Items" [Economic Collapse]. • Signage from Krogerts and Walmart; no mainstream coverage. I went looking for this after seeing this week's Rapture Index; readers, have you seen similar?
The Bezzle: "Tesla Enters 'Whistleblower Hell' [The Drive]. "In light of [Tesla whistleblower Karl Hansen's] disclosures of investigations on behalf of other whistleblowers, still more such lawsuits seem likely to surface. Indeed, recent years have brought an exponential increase not just in auto production but in legal filings against Musk, Tesla and its solar division, formerly called SolarCity. … Hansen, a former Senior Investigator for the Federal Maritime Commission, states that he continues to provide investigative assistance to former colleagues, meaning that "whistleblower hell" may soon join "production hell" and "service hell" in the Tesla lexicon — not just in reference to allegations of retaliation against whistleblowers, but in a ramp of whistleblower claims against the company."
The Bezzle: "Elon Musk Wants to Read Your Brain" [OneZero]. "Eventually, Musk sees a future in which anyone could opt in to getting one of these interfaces and achieve what he calls a 'symbiosis with artificial intelligence.' Musk envisions an elective brain surgery that would be minimally invasive and take just a few hours, similar to a modern LASIK procedure. With such an interface, he says people will 'have the option of merging with A.I.' — an area of particular interest for Musk, who has warned about the existential threat that ever more powerful A.I. could eventually pose to humanity." • Symbiosis is an interaction between organisms, so, creepy, dude. More: "While Musk focused on future use of the interface technology in human beings — and claims that the first human subjects could be part of a trial by the end of 2020 — the white paper the company released on Wednesday describes a small study in rats. In 19 surgeries, the robot was able to successfully place the threads 87% of the time in the rats' brains." • n=19. Really, Elon?
The Bezzle: "This Bill Could Destroy Uber's Unsustainable Business Model" [Vice]. "Last week, the California Senate's Labor, Public Employment and Retirement Committee held a hearing and passed Assembly Bill 5 (AB5), which promises to make it harder for companies to claim workers are independent contractors and increase the operating expenses of Uber, Lyft, and other on-demand companies that already find themselves unable to turn a profit." • Lol, "find themselves unable."
Transportation: "Can We Use Special Sails To Bring Old Satellites Back Down To Earth?" [Universe Today]. "[E]very satellite has a shelf-life. What do we do with them when they've outlived their usefulness and devolve into simple, troublesome space debris? There are already almost 5,000 satellites orbiting Earth, and many of them are non-functioning space debris now, clogging up orbital paths for newer satellites…. There's no shortage of potential solutions to this problem. Some exotic-sounding solutions involve harpoons, nets, magnets, even lasers. Now NASA has Purdue University-related startup Vestigo Aerospace money for a six month study that looks at using drag sails to de-orbit space junk, including satellites, spent rocket boosters, and other debris, safely…. [D]rag sails are designed to be built into a satellite and deployed at the end of their useful life."
* * *
Isn't a capitalist economy supposed to reinvest its capital? What am I missing?
Global corporate capex grew a mere 2% last year and Standard & Poor´s expect a similarly feeble 3% expansion in 2019. This is thin gruel after years of stimulus and low rates, and means that capex will not offer much help in sustaining the current economic cycle. pic.twitter.com/SarRvW2R9i

— Daniel Lacalle (@dlacalle_IA) July 21, 2019
Rapture Index: Closes up one on food supply. "Large food chains have posted notices that warn of a shortfall in canned vegetables." [Rapture Ready]. Record High, October 10, 2016: 189. Current: 184. Remember that bringing on the rapture is a good thing.
The Biosphere
"Farmers Earn More From YouTube Than Their Crops" [Bloomberg]. • Interesting, but the headline is hype. The article give just a few examples, and YouTube is a long-tail phenomenon.
"Plant Parenthood" [The Baffler]. "Until I got into houseplants, my idea was that plants were best left in the wild, with our roles in their lives restricted to being good-hearted environmental stewards and reverent observers. Now, I have twenty-five houseplants, and despite some encounters with spider mites and clumsy repottings, they are all thriving. This isn't because I followed a specific, top-secret recipe for plant success or because I have some kind of natural gift, a green thumb, if you will. It's because I haven't been consumed by the dreaded expectations of so-called 'houseplant culture,' which are fueled almost wholly by Instagram."
Health Care
"More ACOs Taking Accountability Under MSSP Through 'Pathways To Success'" [Seema Verma, Health Affairs]. "Accountable Care Organizations or "ACOs" represent one of the first and most widespread efforts to make this vision of value-based care a reality. ACOs are groups of health care providers that take responsibility for the total cost and quality of care for patients, and in exchange they can receive a portion of the savings they generate. Many providers view participating in an ACO as an opportunity to deliver better care in a more coordinated fashion…. I am especially encouraged to see that an increasing fraction of ACOs are taking on real accountability. Forty-eight percent of ACOs starting on July 1, 2019 are taking on risk for spending increases above their cost target; If they exceed this target, they will be on the hook to pay back to CMS up to at least 2 percent of their revenue or 1 percent of their cost target, and as noted below most of these ACOs will put at risk significantly greater amounts." • Why am I thinking it won't really be the ACO that ends up bearing the risk?
Black Injustice Tipping Point
"'I Beat That N***r Like He Owed Me Money': New Jersey Cop Faces Up to 40 Years for Federal Charges Including Using Excessive Force" [Atlanta Black Star]. "On the false police report charge, Toledo, 30, would work with fellow [Paterson, NJ] officers Matthew Torres, Eudy Ramos, Daniel Pent and Jonathan Bustios — who have also been charged in the probe along with two other officers not involved with Toledo — to stop and search vehicles without justification. The officers would loot the vehicles of valuables and cash, splitting it among themselves. And stealing money wasn't just reserved for traffic stops. The newspaper also reported they'd stop and frisk people on the street and steal their money." • So law enforcement for profit goes freelance.
Class Warfare
"Black Metal For The Oppressed" [Protean]. "Dawn Ray'd, a Terrorfest headliner, were soon joined by vocally antifascist bands like Closet Witch, Cloud Rat, Dead to a Dying World, and Despise You—all defying a persistent stereotype that casts black metal as a cesspool of reactionary white nationalist mysticism…. The media's portrayal of metal only fueled the inferno of controversy, as metal fans and the media alike loved the idea that a musical genre might grow so powerful and pernicious that it could corrupt an entire generation. In part, this narrative helped to foster the "Satanic Panic" of the 1980s and 1990s, where bogus stories of Satanic cults and ritual abuse led to an obsession with "subliminal messages" ostensibly found hidden in popular songs, metal and otherwise. The eventual upshot of this hysteria was debacles like the case of the "West Memphis Three," wherein three teenagers were convicted of murdering three boys in West Memphis, Arkansas primarily because they wore Metallica t-shirts and were too poor to afford a superstar defense… Metal has expanded in recent years as antifascist and leftist revolutionary bands have entered the fold, building a loose community of tours, labels, festivals, and publications for a metal fandom hostile to far-right shock jocks."
"The New Imperialist Structure" [Monthly Review]. "Contemporary capitalism is a capitalism of generalized monopolies. What I mean by that is that monopolies no longer form islands (important as they may be) in an ocean of corporations that are not monopolies—and consequently are relatively autonomous—but an integrated system, and consequently now tightly control all productive systems. Small and medium-sized companies, and even large ones that are not themselves formally owned by the oligopolies, are enclosed in networks of control established by the monopolies upstream and downstream. Consequently, their margin of autonomy has shrunk considerably. These production units have become subcontractors for the monopolies. This system of generalized monopolies is the result of a new stage in the centralization of capital in the countries of the triad that developed in the 1980s and '90s. Simultaneously, these generalized monopolies dominate the world economy." • Try this if you like your whiskey neat. Gets prolix toward the end, though. Schematic, too.
"The role of early career supports, continuous professional development, and learning communities in the teacher shortage" [Economic Policy Institute]. "The teacher shortage—the gap between the number of qualified teachers needed in the nation's K–12 schools and the number available for hire in a given year—is an increasingly recognized but still poorly understood crisis. The shortage is discussed by the media and policymakers, and researchers have estimated its size (about 110,000 teachers short in the 2017–2018 school year, according to Sutcher, Darling-Hammond, and Carver-Thomas [2016]) and even quantified part of its cost. The shortage constitutes a crisis because of its negative effects on students, teachers, and the education system at large." • It's not a shortage if you don't think the working class should be educated.
News of the Wired
"The plan to mine the world's research papers" [Nature]. "Carl Malamud is on a crusade to liberate information locked up behind paywalls — and his campaigns have scored many victories. He has spent decades publishing copyrighted legal documents, from building codes to court records, and then arguing that such texts represent public-domain law that ought to be available to any citizen online. Sometimes, he has won those arguments in court. Now, the 60-year-old American technologist is turning his sights on a new objective: freeing paywalled scientific literature. And he thinks he has a legal way to do it. Over the past year, Malamud has — without asking publishers — teamed up with Indian researchers to build a gigantic store of text and images extracted from 73 million journal articles dating from 1847 up to the present day…. No one will be allowed to read or download work from the repository, because that would breach publishers' copyright. Instead, Malamud envisages, researchers could crawl over its text and data with computer software, scanning through the world's scientific literature to pull out insights without actually reading the text." • That's quite a workaround…
Not quite Jackpot-Ready™:
I can't drink water until my water bottle updates pic.twitter.com/56eFgaFkl8

— pinguino ? SDCC (@pinguino) July 15, 2019
* * *
Readers, feel free to contact me at lambert [UNDERSCORE] strether [DOT] corrente [AT] yahoo [DOT] com, with (a) links, and even better (b) sources I should curate regularly, (c) how to send me a check if you are allergic to PayPal, and (d) to find out how to send me images of plants. Vegetables are fine! Fungi are deemed to be honorary plants! If you want your handle to appear as a credit, please place it at the start of your mail in parentheses: (thus). Otherwise, I will anonymize by using your initials. See the previous Water Cooler (with plant) here. Today's plant (JN):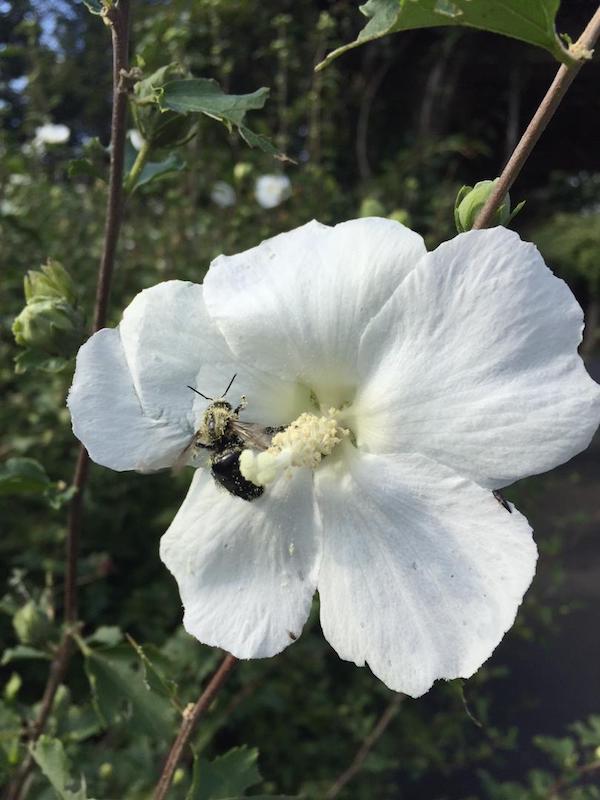 Make sure you take care of your pollinators in your garden. Pollinators are a public good.
* * *
Readers: Water Cooler is a standalone entity not covered by the annual NC fundraiser. So do feel free to make a contribution today or any day. Here is why: Regular positive feedback both makes me feel good and lets me know I'm on the right track with coverage. When I get no donations for five or ten days I get worried. More tangibly, a constant trickle of small donations helps me with expenses, and I factor in that trickle when setting fundraising goals. So if you see something you especially appreciate, do feel free to click this donate button:
Here is the screen that will appear, which I have helpfully annotated.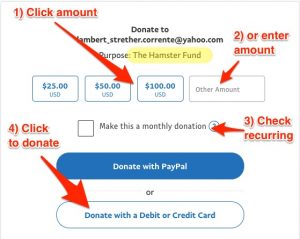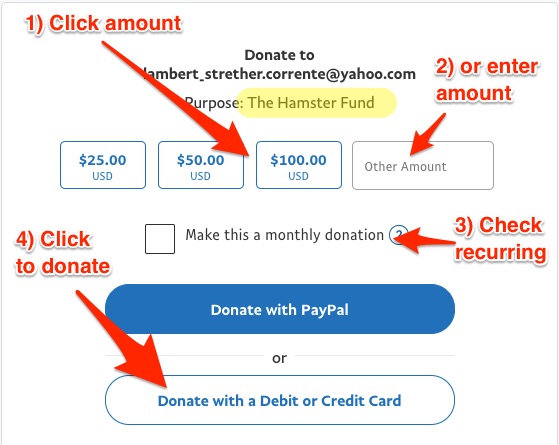 If you hate PayPal, you can email me at lambert [UNDERSCORE] strether [DOT] corrente [AT] yahoo [DOT] com, and I will give you directions on how to send a check. Thank you!