By Lambert Strether of Corrente
Politics
"But what is government itself, but the greatest of all reflections on human nature?" –James Madison, Federalist 51
"They had one weapon left and both knew it: treachery." –Frank Herbert, Dune
2020
"2020 Democratic Presidential Nomination" [RealClearPolitics] (average of five polls). As of July 17: Biden still climbing at 28.4% (27.8), Sanders still steady at 15.0% (15.0%), Warren down sharply at 14.6% (15.0%), Buttigieg steady at 4.8% (4.8%), Harris losing her post-debate bump 12.6% (13.4%), others Brownian motion.

* * *

Booker (D)(1): "Democrats warm to idea of studying reparations" [The Hill]. "Senate Minority Leader Charles Schumer (D-N.Y.) on Tuesday told a small group of reporters that he supports legislation sponsored by Sen. Cory Booker (D-N.J.) and Rep. Sheila Jackson Lee (D-Texas) that would set up a commission to explore reparations, signaling changing attitudes among Democrats on the charged issue. Booker said he "absolutely" thinks he's getting traction as more Democrats come around to supporting an examination of the issue. "I'm excited that people can really focus past the bluster of people who want to demonize the idea that we should study a way to address specific past economic harms and try to create more economic equality," Booker, who is running for president, told The Hill. Booker's bill has 15 co-sponsors in the Senate, and he says he is actively seeking to expand the list…. Sens. Kamala Harris (D-Calif.), Elizabeth Warren (D-Mass.), Bernie Sanders (I-Vt.), Amy Klobuchar (D-Minn.) and Kirsten Gillibrand (D-N.Y.), who are all running for the Democratic presidential nomination, have co-sponsored Booker's bill."

Sanders (D)(1): "On Medicare for All, Bernie Is Ready to Rumble" [Jacobin]. Sanders: ""=Today I am calling on every Democratic candidate in this election to join me in rejecting money from the insurance and drug companies. Reject that money. Candidates who are not willing to take that pledge should explain to the American people why those… donations are a good investment for the healthcare industry." • There are times when doing the right thing is also doing the tactically right thing. More than you would think!

Sanders (D)(2): "Sanders Calls for Rivals to Reject Money From Health Care Industry" [Sidney Ember, New York Times]. Must be read to be believed. "… seeking to bring fresh momentum … a small auditorium … seemed intended to garner maximum news media exposure … his well-worn rationale for a single-payer system … seemed as enthusiastic as he has been on the campaign trail … hoots from the audience … hardly broke new ground, even if he seemed to enjoy himself." • I dunno. Seems to me that a pledge that sorts out who's servicing the health insurance industry and who isn't breaks new ground. Anyhow, they hate him. They really hate him.

Sanders (D)(3): "Bernie Sanders, Anti-Imperialism and Venezuela" [Counterpunch]. "A quick perusal of conservative outlets, from the Heritage Foundation to the National Review to Fox News, will find you a litany of articles likening a potential Sanders presidency to an economic implosion à la Venezuela. All other serious Democratic candidates have avoided and even explicitly denounced socialist policies. Elizabeth Warren, for instance, provided Trump with a standing ovation when he denounced socialism during his recent State of the Union Address, and she has described herself as a 'capitalist to the bone.' While Sanders himself has continually pointed to Scandinavia as providing inspiration for his policies, critics have sought to seize upon his disposition toward the Venezuelan government as evidence that he would allegedly destroy the U.S. economy 'because socialism.' Sanders, however, has never embraced the Venezuelan government — either under former President Hugo Chavez or now under President Nicolas Maduro." • I suppose the real point of such a comparison would be a capital strike if Sanders wins.

Sanders (D)(4): "U.S. Senator Bernie Sanders honoured with Coast Salish name" [CBC]. "Vermont Senator Bernie Sanders received a Coast Salish name during a campaign visit in Seattle on March 20. In the video posted to YouTube, former Tulalip councillor Deborah Parker presents Sanders with the Lushootseed name dxʷshudičup (pronounced dooh-s-who-dee-choop). 'We say it four times that carry [it] in the four directions. We name you this name … in the Lushootseed language the translation is, the one lighting the fires for change and unity,' said Parker in the video. Sanders has focused considerable attention on indigenous issues during his campaign, visiting communities including the Meskwaki territories in Iowa and the Navajo territories in Arizona. He has also appointed Tara Houska, from Couchiching First Nation in Ontario, as his Native American adviser." ¨• Today is my day to be nice, so I'll avoid invidious comparisons.

Trump (R)(1): "EXCLUSIVE: Trump says he's 'not unhappy' with racism fight's result because 'the race card' is 'the only thing they have' now, telling DailyMail.com his back-and-forth with Pelosi was 'one of the all-time classics'" [Daily Mail]. "President Donald Trump said Wednesday that he's 'not unhappy' with the result of a political war over his recent comments that Democrats were quick to brand as racist, but he's not 'relishing' the dispute with four women of color, either…. 'Look, they [the four] played the race card on Nancy Pelosi.' he said. 'She then – it's one of the all-time classics, they played it on Nancy Pelosi! And I came to her defense.' He added: 'She then, a week later, played it on me! It was rather amazing.' … 'The only thing [Democrats] have, that they can do is, now, play the race card,' [Trump] said. 'Which they've always done.'" • That's hardly fair. After all, Joe Biden came out in favor of the public option.

Trump (R)(2): "'A top-tier priority': Trump rally highlights NC's big role in picking next president" [McClatchy]. "Asked if Trump could avoid talking about the 'go back' controversy during the rally, [Sen. Thom Tillis] said slyly, as the doors of his elevator closed: 'I don't know what you're talking about.'" • Typically, the candidate takes the high road, and operatives take the low road, to provide the candidate with plausible deniability. Trump is unique, in that he does the opposite (that's not to say that Pence et al. take a very high road; just that it's higher than Trump's). Or, in kayfabe terms, most Presidential candidates seek to be the Face, and make their opponents the Heel. Trump plays the Heel, and quite well, too. Of course, he's not exactly playing against type.

* * *

"2nd Democratic Primary Debate: See Which Candidates Made The Cut" [NPR]. "The 20-person lineup for the two-night Democratic presidential debate on July 30 and 31 will look familiar, with just one change from last month's event. Last week, California Rep. Eric Swalwell became the first major candidate to end his White House bid. Montana Gov. Steve Bullock — after only narrowly missing the mark last time — will take his place." • So Gravel is out. Steak in your cell, Tom! You've earned it.

"Obama and Clinton's bundlers are betting on these 3 candidates" [Politico]. "Big-money Democratic donors have jumped off the sidelines of the presidential race, and three candidates are the clear winners of their support: Joe Biden, Pete Buttigieg and Kamala Harris. Each of those three candidates received more than 220 donations from top fundraisers who helped raise at least $100,000 — and sometimes many multiples more — for Hillary Clinton's 2016 campaign or at least $50,000 for Barack Obama in 2012, according to a POLITICO analysis of Federal Election Commission data. Members of this group of nearly 2,000 bundlers have tapped their personal networks in the past to collectively raise tens of millions of dollars for Democratic campaigns." • I think Mayo Pete would make an excellent Secretary of Defense in a Biden administration. His expertise with data reminds me of Robert McNamara, and then of course there's his experience as a driver in Afghanistan. "Where to, Major?" is excellent training for dealing with the military industrial complex.
2019
The House Resolution condemning Trump for "racist comments":

Everyone should actually read the House Resolution condemning President Trump's disgraceful comments.

For any decent American – Republican or Democrat – not to support this simple resolution is shameful. pic.twitter.com/ap3FBpws8R

— Rep. Mike Levin (@RepMikeLevin) July 16, 2019

Read the first page. The preamble, crafted by Democrats, quotes Ronald Reagan extensively. You know, the Ronald Reagan who began his 1980 campaign with a "States Rights" speech at Neshoba County Fair:

Neshoba County is known as the site of one of the most infamous race-related crimes in American history, which took place in 1964 during Freedom Summer in Mississippi, a period of heightened civil rights activity in a voter registration drive. White supremacists brutally murdered three civil rights activists, James Chaney, Andrew Goodman and Michael Schwerner in Philadelphia, the county seat.

Nothing against Neshoba County, but Reagan was surely sending the mother of all dog-whistles with the location and the speech. And this is the man they quote in a resolution condemning "racist comments"? I'm used to a certain level of inconsistency in my politicians, but the current Democrat leadership seems completely unmoored from any principles whatever. You want to do some virtue signaling against racism? Well and good. Why on earth quote Reagan? Would you quote Bill Clinton in a resolution against rape or workplace abuse?

What are the drums saying, Jake? Thread:

House Democrats appeared unified in their votes this week but I've spent the day talking to a bunch of them and many are extremely frustrated. All agree POTUS's tweets needed to be condemned; they spoke under condition of anonymity so they could be candid. (Thread)

— Jake Tapper (@jaketapper) July 17, 2019

Tapper speaks with House centrists on "the squad" and it's everything. This is good:

2/ "The president won this one," said House Dem 1 of the Trump v Squad (AOC, Tlaib, Omar & Pressley) showdown. "What the president has done is politically brilliant. Pelosi was trying to marginalize these folks and the president has now identified the entire party with them."

— Jake Tapper (@jaketapper) July 17, 2019

The beauty part is that only weeks ago, Pelosi et al. painted a big fat target on Ilhan Omar's back by passing a resolution condemning her (falsely) for anti-semitism ("It's all about the benjamins"). Now they have to defend her! It's as if, whenever they spot a corner, the Democrats have to paint themselves into it.

"Democrats Fear Primary Challenges Like Ohio's Morgan Harper" [The Intercept]. "[Rep. Joyce Beatty's] funding is part of a K Street strategy that exploits the large wealth gap persisting in many majority- or plurality-black districts — a gap that makes it much harder for CBC members to raise from wealthy donors the kind of money needed to safely stay in Congress. That, in turn, makes corporate PAC money attractive to fill the gap. CBC members privately bristle when Democrats from wealthy districts announce pledges to forswear corporate PAC money, but still fill their coffers with max-out checks from local millionaires and billionaires in San Francisco or Seattle." Fair enough, given the givens. More: "But now Beatty, who is 69, is facing a primary challenge from Morgan Harper, a 36-year-old progressive who leapfrogged the usual path to a seat, threatening the fragile machinery constructed in Ohio to guide and constrain party politics…. Harper is running on her own, without any assistance from Justice Democrats or other national progressive groups." • And now this little sentence slips by: "Harper's time at elite colleges and universities, as well as her successful career, , gives her access to a universe of contributors that may help get a campaign off the ground fast, before a small-dollar network can be built." • Teneo? Really? "Consulting firm" my sweet Aunt Fanny. More like influence peddling.
Stats Watch
Philadelphia Fed Business Outlook Survey, July 2019: "Regional Feds don't state their sample sizes for individual manufacturing reports but the big jump in July that follows a big slump in June suggests that respondent participation in the Philly Fed's recent samples may be on the thin side" [Econoday]. • This is the first methodological attack on the surveys that I can recall seeing at Econoday. Remember that the divergence of surveys and data is a continuing scandal (at least in my mind).
Leading Indicators, June 2019: "Slow growth for the rest of the year is the signal from the index of leading economic indicators which fell" unexpectedly [Econoday].
Jobless Claims, week of July 13. 2019: "New jobless claims are signaling substantial strength in the labor market" [Econdoay]. "This report offers a significant signal that the labor market, after June's sharp 224,000 rise in nonfarm payrolls, is strong and growing at the same time it would appear that the Federal Reserve, at its month-end policy meeting, will be cutting interest rates."
Manufacturing: "Are Cellphones a Flight Danger? They Are on These Boeing Jets" [Bloomberg]. "U.S. government officials in 2014 revealed an alarming safety issue: Passenger cellphones and other types of radio signals could pose a crash threat to some models of Boeing 737 and 777 airplanes. More than 1,300 jets registered in the U.S. were equipped with cockpit screens vulnerable to interference from Wi-Fi, mobile phones and even outside frequencies such as weather radar, according to the Federal Aviation Administration, which gave airlines until November 2019 to replace the units made by Honeywell International Inc." • Five years seems rather a long time.
The Bezzle: "The Sad Truth About Sleep-Tracking Devices and Apps" [New York Times]. "[In a] recent study from Rush University Medical College and Northwestern University's Feinberg School of Medicine [, researchers noticed] patients complaining about sleep data collected by apps and devices from Nike, Apple, Fitbit and others. In their study, the researchers warned that sleep-tracking tech could provide inaccurate data and worsen insomnia by making people obsessed with achieving perfect slumber, a condition they called orthosomnia. It was one of the latest pieces of research supporting the idea that health apps don't necessarily make people healthier." • Well, that wouldn't fit with a subscription model, would it?
The Biosphere
"U.S. military consumes more hydrocarbons than most countries — massive hidden impact on climate" [Science Daily]. "The researchers' examination of the US military 'carbon boot-print' started with the US Defense Logistics Agency — Energy (DLA-E), a powerful yet virtually unresearched sub-agency within the larger Defense Logistics Agency. It is the primary purchase-point for hydrocarbon-based fuels for the US Military, and a powerful actor in the global oil market, with the fuels it delivers powering everything from routine base operations in the USA to forward operating bases in Afghanistan. 'An important way to cool off the furnace of the climate emergency is to turn off vast sections of the military machine,' added [Dr Benjamin Neimark, Associate Director of the Pentland Centre for Sustainability in Business at Lancaster]. 'This will have not only the immediate effect of reducing emissions in the here-and-now, but create a disincentive in developing new hydrocarbon infrastructure integral to US military operations.'"
"Corrections to ocean-temperature record resolve puzzling regional differences" [Nature]. "Initially, SST estimates were made using wooden buckets that were thrown over the sides of ships, filled with water and hauled up. The temperature of the water in the buckets was then measured using a thermometer. While the buckets were being hoisted up, evaporative cooling and exposure to ambient conditions would often reduce the temperature of the water by a few tenths of a degree Celsius. This bias was exacerbated by a transition to poorly insulated canvas buckets in the late nineteenth century, and these buckets continued to be the main means of SST measurement until the period of the Second World War. Accounting for the cold bias in bucket measurements is the single largest adjustment to the ocean (and global) temperature record. Without the adjustment, the estimated rate of ocean warming from 1850 to the present would be about 30% higher." • Then fix it, dear Henry.
"Warming climate likely leading to larger California fires" [Ars Technica]. "Overall, the average area burned by fires each year in California has increased by a factor of five since 1972—a remarkable increase. However, this is mostly due to an even larger increase in the forested parts of the state, as the central and southern coastal regions haven't really seen an increase…. California has gotten warmer over this time period, and at a rate that matches climate model simulations of human-caused warming. There isn't a clear trend in precipitation, though mountain snowpack has declined with rising temperatures. But the temperature change alone can have a huge impact on fire conditions. Hotter air sucks more moisture out of the soil and out of the vegetation that the fire burns."
"Former UK intelligence chief: Extinction Rebellion wants to 'break up the state'" [Guardian]. "In a report published Wednesday by Policy Exchange, Richard Walton, former head of the Metropolitan Police Counter Terrorism Command, accused Extinction Rebellion of seeking 'the breakdown of democracy and the state.' 'It's very clear that they're a hard core anarchist group that want to basically break up our democracy,' he told BBC's today program. 'It's anarchism with a smile.'" • There's that "our democracy" phrase again.
"Climate Solution: Use Carbon Dioxide to Generate Electricity" [Scientific American]. "One method explored in the past decade might now be a step closer to becoming practical, as a result of a new computer simulation study. The process would involve pumping airborne CO2 down into methane hydrates—large deposits of icy water and methane right under the seafloor, beneath water 500 to 1,000 meters deep—where the gas would be permanently stored, or sequestered. The incoming CO2 would push out the methane, which would be piped to the surface and burned to generate electricity, to power the sequestration operation or to bring in revenue to pay for it. Many methane hydrate deposits exist along the Gulf of Mexico shore and other coastlines. Large power plants and industrial facilities that emit CO2 also line the Gulf Coast, so one option would be to capture the gas directly from nearby smokestacks, keeping it out of the atmosphere to begin with. And the plants and industries themselves could provide a ready market for the electricity generated." • Hmm. Sounds less insane than BECCS. Readers?
Games
"How I transformed my crappy laptop into a powerful gaming machine" [The Outline (UserFriendly)]. "I have seen the future of gaming on my dying MacBook Air. Even though it's six years old, most of its vents are clogged with gunk-dust, and it's a grizzled survivor of the Great Tea Spill of 2017, it can now run most PC games with the specs maxed out and somehow not burst into flames. This is all thanks to a new-ish cloud streaming service that will most likely change gaming as we know it…. Specifically, the cloud service I've been using is Nvidia's GeForce Now… It's one of several similar services being developed by a number of corporations that are tossing unsettling amounts of money and resources at the idea… Still, this kind of thing could be a democratizing force for PC gaming, which is typically limited to enthusiasts with ~$1,000 to burn on a dedicated desktop machine. It's possible that this means console dominance might also gradually decline over the years, or at the very least change significantly from the current Giant Box Every Five Years model…. A recent study suggests that music streaming has a pretty high carbon footprint, as it turns out that operating giant data centers burns a tremendous amount of energy. Game streaming could be just as bad, if not worse." • So, Big Stream is just around the corner for gaming. I don't know how to net out the carbon footprint for data centers with the carbon footprint of manufacturing new laptops (and consoles) however.
The 420
"Booming Demand for CBD Is Making Hemp the Cannabis Cash Crop" [Bloomberg]. "But the business of getting people high is only part of the cannabis craze. Marijuana is still banned for recreational use across much of the world, and even medical access, while expanding, is restricted in most countries. So players in the $340 billion global cannabis market are turning their attention to weed's less-regulated cousin, hemp…. [B]usinesses are buzzed about its other defining characteristic: a higher concentration of cannibidiol, or CBD, a nonpsychoactive chemical at the center of a trend sweeping the U.S. and expanding worldwide…. CBD is being pitched as an all-natural way to alleviate ailments including pain, inflammation, anxiety, and insomnia. , CBD has become a coveted ingredient in a host of consumer products, from skin lotions to sparkling water to tinctures to dog biscuits. The surge in demand is fueling a global Green Rush, even in countries where a legal market for cannabis products was unthinkable just a few years ago." • I should really file this under The Bezzle.
Guillotine Watch
"Jeff Bezos: I spend my billions on space because we're destroying Earth" [CNBC]. Bezos: "We humans have to go to space if we are going to continue to have a thriving civilization. We have become big as a population, as a species, and this planet is relatively small. We see it in things like climate change and pollution and heavy industry. We are in the process of destroying this planet. And we have sent robotic probes to every planet in the solar system — this is the good one. So, we have to preserve this planet…. Eventually it will be much cheaper and simpler to make really complicated things, like microprocessors and everything, in space and then send those highly complex manufactured objects back down to earth, so that we don't have the big factories and pollution generating industries that make those things now on Earth. And Earth can be zoned residential." • I dunno. Not sure how the ozone layer is going to react to having our supply chain punched through it.
News of the Wired
"Perky 'Canada' Has Own Government, Laws" [The Onion]. • From 2016, still germane.
Imagine! An in-house corporate library! Who knew such things were possible?
Awe inspiring scale: This is the in-house corporate library at the Artron factory in Beijing. Artron is one of China's largest colour printers, specializing in deluxe and special edition art books. There are libraries on the same scale at Artron's Shanghai and Shenzen factories. pic.twitter.com/13CngQt9jG

— Incunabula (@incunabula) July 14, 2019
Email? No.
me every time I need to send an email pic.twitter.com/xV7isfgqdv

— Saladin Ahmed (@saladinahmed) July 12, 2019
"The man who started 'Storm Area 51' campaign comes forward after hundreds of thousands sign up for his 'joke' plans to invade the air force base" [Daily Mail]. "The man who started the viral 'Storm Area 51' internet craze has broken cover and owned up to the 'joke' in a TV interview. Matty Roberts, who did not reveal his age or home town, told Nevada's KLAS-TV via video call on Wednesday he was amazed at how his hoax took off. Roberts said he had decided to come forward out of fear the FBI would come to question him over the joke after millions of UFO conspiracy theory fans signed up to invade the top-secret US Air Force base." • Storming Area 51 seemed as sensible to me as anything else, these days. But: "The last known person who went hunting for aliens at Area 51 was shot dead by guards back in January." Not a good lock for Roberts if that happens. But "shot dead"? Really?
* * *
Readers, feel free to contact me at lambert [UNDERSCORE] strether [DOT] corrente [AT] yahoo [DOT] com, with (a) links, and even better (b) sources I should curate regularly, (c) how to send me a check if you are allergic to PayPal, and (d) to find out how to send me images of plants. Vegetables are fine! Fungi are deemed to be honorary plants! If you want your handle to appear as a credit, please place it at the start of your mail in parentheses: (thus). Otherwise, I will anonymize by using your initials. See the previous Water Cooler (with plant) here. Today's plant (MF):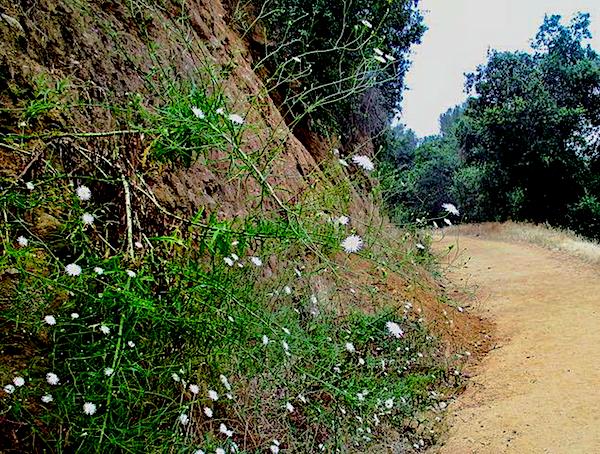 MF writes: "While taking a walk in Griffith Park I noticed what appeared to be flowers hovering in midair. As I approached nearer to the bend in the trail I was walking on, I saw that the hovering flowers were actually supported by long, thin stems. I'd been fooled by distance, angle, and failing eyesight."
* * *
Readers: Water Cooler is a standalone entity not covered by the annual NC fundraiser. So do feel free to make a contribution today or any day. Here is why: Regular positive feedback both makes me feel good and lets me know I'm on the right track with coverage. When I get no donations for five or ten days I get worried. More tangibly, a constant trickle of small donations helps me with expenses, and I factor in that trickle when setting fundraising goals. So if you see something you especially appreciate, do feel free to click this donate button:
Here is the screen that will appear, which I have helpfully annotated.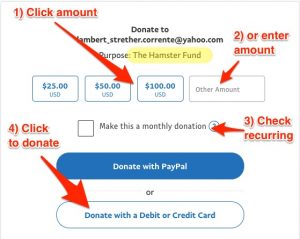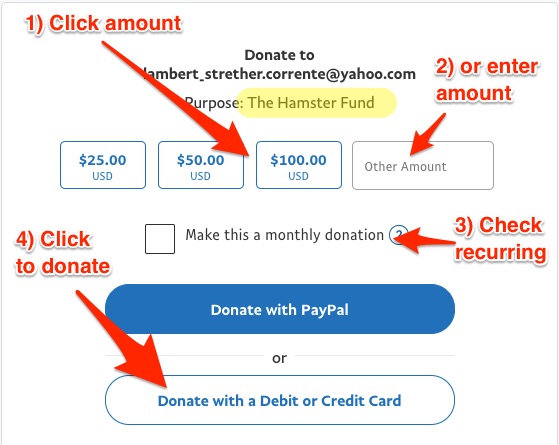 If you hate PayPal, you can email me at lambert [UNDERSCORE] strether [DOT] corrente [AT] yahoo [DOT] com, and I will give you directions on how to send a check. Thank you!