Taiwanese Leopard Considered Extinct, Spotted For The First Time Since 1983 Disclose.tv (Furzy Mouse). Surely the leopard was spotted the whole time?
The Invasion of Giant Pythons Threatening Florida Smithsonian
Insects feel chronic pain after injury Phys.org
The climate change policy with the most potential is the most neglected Vox
As Fresh Water Grows Scarcer, It Could Become a Good Investment NYT
Iowa Crops Look Like Food — But No One's Eating Heated
«We want to change the course of history,» says Northern Sea Route operator The Barents Observer
Brexit
Will Boris Johnson's bluster over a no-deal Brexit collide with reality? FT. By Betteridge's Law, no.

Beer, Boris and Brexit (interview) Politico
NHS fees: 'Couple couldn't take baby's body home' BBC
Contaminated blood inquiry: Twins with HIV 'treated like lab rats' BBC (KW).
Amazon in NHS deal to give patients medical tips The Times
How Europe smothered the radical Left Unherd
China?
* * *
Japanese revisionists' meddling backfires Journal of Critical Asian Studies
India
Steelmakers Plan for Water Crisis Bloomberg

Room to improve sustainable agricultural practices in India Harvard School of Public Health
Syraqistan
Iran Keeps Calm While U.S. And Britain Continue Their Provocations Moon of Alabama

Turkey vows to keep drilling off Cyprus despite EU warnings Agence France Presse
Trump Transition
In killing citizenship question, Trump adopts Census Bureau's preferred solution to a thorny problem Science

U.S. House of Representatives Creates Requirement That There Be Some Basis for Any Foreign Bases World Beyond War
The Revelations of WikiLeaks: No. 4—The Haunting Case of a Belgian Child Killer and How WikiLeaks Helped Crack It Consortium News (UserFriendly). The Marc Dutroux case presents some interesting parallels to Epstein's.
Jeffrey Epstein
Deutcshe Bank only cut ties with Jeffrey Epstein a few MONTHS AGO after an extensive relationship, lending him money and providing trading services, despite being warned he was a 'reputational risk' because he was such a lucrative client Daily Mail

"A Lot of Friends in Every Industry": How Did Jeffrey Epstein Charm Hollywood? Vanity Fair (Re Silc).

Charities say they never got the donations Jeffrey Epstein claims he made NBC (Furzy Mouse).
The comeback state of 2019: Kansas economy rebounds from tax-cutting disaster CNBC (Furzy Mouse).
Democrats in Disarray
Alexandria Ocasio-Cortez suggests dissolving Department Homeland Security CBS.

Ocasio-Cortez: Democrats have become 'party of hemming and hawing' The Hill. Where's the lie?
Drugmakers braced for opioid crisis reckoning FT
She could have gone to prison. Here's the path she took instead. Bangor Daily News
Boeing 737 MAX
Boeing 737 programme head retires as Max stays grounded FT. Totally routine, move along, move along, there's no story here.
Big Brother Is Watching You Watch
It turns out that Juggalo makeup blocks facial recognition technology Consequences of Sound. Collective action problem, though.
Imperial Collapse Watch
A Majority of Military Veterans Think the Wars in Afghanistan and Iraq Were a Mistake Mother Jones

Annual Polling Confirms Sustained Public Confidence in U.S. Intelligence Lawfare
Good New Idea LRB. UBI.
Class Warfare
The world's super wealthy just collectively lost $US2 trillion – and Trump's trade war is to blame Business Insider (KW). Just let me grab my violin, here… Damn. It's so small I can't find it!

What is it and why do we need one? Asia Floor Wage. Any Open Borders advocate should also support this. Otherwise, they're supporting labor arbitrage.

Many College Students Are Too Poor to Eat The Atlantic
Debt Relief and Slow Recovery: A Decade after Lehman NBER. "Regional variation in the extent and speed of recovery is strongly related to frictions affecting the pass-through of lower interest rates and debt relief to households including mortgage contract rigidity, refinancing constraints, and the organizational capacity of intermediaries to conduct loan renegotiations."
Finding the Future in Radical Rural America Matt Stoller, Boston Review. "The problem is not capitalism; it is our markets. Markets that Obama screwed up."
Antidote du jour (EM):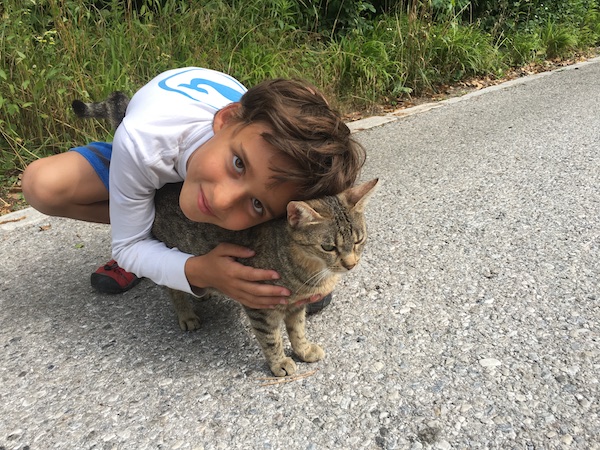 EM writes: "My nephew Leo's beloved cat Rufus died a couple months ago of old age, Leo really misses him and is clearly on the lookout for another kitteh to shower with love. This was from a recent hike with his brother and their Mom (my sister) on a European visit – first pic is "Mom, can we take him home?", second is a close-up of the handsome (but clearly locally owned and operated) furry fellow.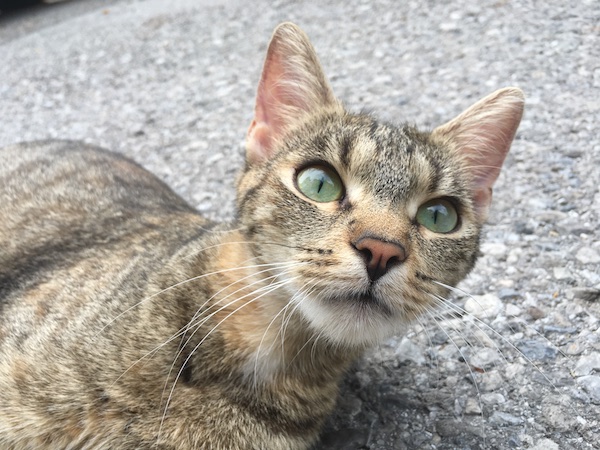 Bonus antidote:
T-REX RACE: People wearing T-rex costumes raced at the Emerald Downs racetrack in Auburn, Washington on Saturday. The competitors lined up in the race stalls and ran down the track! https://t.co/1Dkrm8eFau pic.twitter.com/1aYV7wl9Wc

— CBS Los Angeles (@CBSLA) July 9, 2019
Tell me it's not a great country!
See yesterday's Links and Antidote du Jour here.