By Lambert Strether of Corrente
Trade
"'Very Painful' Trade War Has Tech Suppliers Moving Out of China" [Bloomberg]. "From Inventec to Apple-assembler Hon Hai Precision Industry Co., Taiwanese companies that make most of the world's electronics are reconsidering their reliance on the world's No. 2 economy as Washington-Beijing tensions simmer. Rising tariffs on Chinese-made products threaten to wipe out their margins and up-end a well-oiled, decades-old supply chain. Microsoft Corp., Amazon.com Inc., Sony Corp. and Nintendo Co. are said to be among those now weighing their options away from the line of fire, such as Southeast Asia and India. Alphabet Inc.'s Google has already shifted much of its production of U.S.-bound motherboards to Taiwan, Bloomberg News has reported."
"US Delays 10% Tariffs on Some Chinese Products" [Industry Week]. "The Trump administration will delay until mid-December the 10% tariff on some Chinese products on many holiday-shopping lists. By granting a grace period for everyday items like phones and toys, the U.S. concession appears designed to avoid any disruption or price increases for American consumers heading into the final four months of the year — from back-to-school purchases to Christmas shopping. Any goods imported for holiday sales would need to arrive several weeks before Dec. 15. The announcement also came as the two sides spoke for the first time since the recent escalation in tensions."
Politics
"But what is government itself, but the greatest of all reflections on human nature?" –James Madison, Federalist 51
"They had one weapon left and both knew it: treachery." –Frank Herbert, Dune
"2020 Democratic Presidential Nomination" [RealClearPolitics] (average of five polls). As of August 12: Biden down to 30.8% (31.4), Sanders flat to 16.5% (16.6%), Warren leaps to 18.3% ( 15.5%), Buttigieg 60 at 6.5% (6.0%), Harris flat at 8.3% (8.4%), Beto back among the bottom feeders. Others Brownian motion.
* * *
2020
Biden (D)(1): "What will it take for the Democratic establishment to abandon Biden?" [The Week]. Concludes: "Democrats value unity and loyalty and knowing one's place in the pecking order more than they do anything else, including winning elections. We saw this in 2016, when at least 10 of today's candidates running against a non-incumbent Trump would have had a better shot than Hillary Clinton, whose serious weaknesses were as apparent long before Iowa as they were on November 9. Hillary wanted for her turn. Now it's Joe's." • The aristocrats!

Sanders (D)(1): Let's stop thinking small:

Amazing @BernieSanders chides crowd in Wolfboro, NH for thinking "conservatively" about their approach to stopping climate change. It's not about holding fossil fuel companies "accountable" or banning fracking on Federal Land. It's about a *complete transition* to renewables.

— Jacob Kramer🍝🐘 (@jknotjk) August 12, 2019

Warren (D)(1): "Betting Markets See Warren As Likeliest Democratic Nominee for the First Time" [New York Magazine (re Šilc)]. "For the first time since the beginning of the Democratic presidential primary, Elizabeth Warren took the lead in PredictIt's online betting markets over the weekend. Shares of the Massachusetts senator were going for as high 29 cents on Sunday, one cent more than Joe Biden's. Senators Kamala Harris and Bernie Sanders were a fairly distant third and fourth…. Warren's ascent comes as Biden falls." • November 8, 2016: "Markets predict Clinton will beat Trump."

Yang (D)(1):

Elon Musk: "I support Yang" https://t.co/sNvGX2YDzc pic.twitter.com/SZsh1pJiRI

— The Hill (@thehill) August 10, 2019

Oh.

* * *

"DNC Chair Tom Perez Introduced a Resolution That Could Kill a Climate Debate" [Mother Jones]. "When members of the Democratic National Committee meet in San Francisco later this month, they will likely consider a resolution introduced by DNC Chair Tom Perez this week that activists say would kill chances of a formal, DNC-sponsored debate devoted to climate change. …[P]erez has been reluctant to hold a climate debate, fearing it would lead to a proliferation of single-issue debates." The title of the resolution is rich: "Resolution Recommitting the Democratic Party to the Work of Combating Climate Change and Creating Jobs by Growing Our Clean Energy Economy." "While reaffirming Democrats' commitment to fighting climate change [lol], at the very end of his proposal is a section that suggests the existing debate formats plus the two unofficial climate forums that are already scheduled in September should take the place of a debate." • Hard to see what issue is more important, but then liberal Democrats aren't about the issues, are they?
Our Famously Free Press
I thought privieleged cis-het males were supposed to learn to code switch?

Peak Bernie Sanders: a heckler yells, and he yells back even louder with a mic (on a question about the fairness of canceling student debt) #NABJ19 pic.twitter.com/7HekeFvhvg

— Sudeep Reddy (@Reddy) August 8, 2019

Well, you know how they are…

More in sorrow than in anger:

Would have thought Sen. Sanders was better than this https://t.co/lRVnlOrFko

— Wesley (@WesleyLowery) August 13, 2019

Required reading: "Sydney Ember's Secret Sources" [FAIR], "Washington Post Ran 16 Negative Stories on Bernie Sanders in 16 Hours" [FAIR'].
L'Affaire Joffrey Epstein
One for Mayo Pete's dad:

"The historical unity of the ruling classes is realized in Epstein's flight logs."
— Antonio Gramsci, probably

— broccoli rob 🥦 (@turnip_tops) August 10, 2019

Only if you believe that what everyone who is anyone is telling you is true.

Maybe if the Times hadn't gutted its copy editing department:

Free edit for the @nytimes https://t.co/kLP8elHvre pic.twitter.com/10417AwNh3

— Glenn Greenwald (@ggreenwald) August 10, 2019
Pollsters
Another pollster says the quiet part out loud:

You get these hints of a sense of entitlement from Sanders, i.e. he feels as though that by virtue of having been the runner-up last time, he's entitled to the nomination this time, and if he doesn't win it, it's only because "the media"/"the establishment" took it away from him.

— Nate Silver (@NateSilver538) August 13, 2019

Who's "you?" "We"?
Realignment and Legitimacy
"Meet the titans of finance, tech and philanthropy funding New York's socialist surge" [Crain's New York Business]. "A Crain's analysis of the financial base of the three most prominent socialists in New York politics—Rep. Alexandria Ocasio-Cortez, state Sen. Julia Salazar and Tiffany Cabán, who lost the Queens district attorney primary by just 55 votes—reveals a startling pattern: all three drew substantial support from finance, technology and nonprofit leaders. This is a marked divergence from the city's real estate industry, which generally supported their Democratic primary opponents." • Hmm. Readers?

"Quiz: Let Us Predict Whether You're a Democrat or a Republican" [New York Times]. "This quiz, based on recent surveys with more than 140,000 responses, presents a series of yes-or-no questions to predict whether someone is more likely to identify as a Democrat or a Republican. It captures divisions that should make you worried about the future of American democracy." • It would be fun to run this again with ranked-choice voting and multiple parties (maybe even some regional). A lot of the "polarization" is manufactured.

"Right-Wing Literature in the United States since the 1960s" [Oxford Research Encyclopedia]. "Examining fiction and nonfiction written explicitly by and for members of right-wing movements provides a deeper understanding of points of affinity as well as contention in the midst of increased polarization in United States political culture. Primary materials include fiction penned by conservative politicians and pundits, fiction written by right-wing agitators, and nonfiction movement literature such as periodicals, advice books, and tactical instruction guides. Since the middle of the 20th century, right-wing literature has sustained and motivated an increasingly formidable political force that undermines democratic ideals and encourages reformatory or revolutionary action."

"Overcoming the Global Despondency Trap: Strengthening Corporate Accountability in Supply Chains" [Alice Evans, King's College, London]. "Many activists are stuck in a despondency trap. Never seeing radical reform, they assume it is impossible, moderate their ambitions, and invest in more feasible but sub-optimal alternatives. This creates a negative feedback loop, in which the dearth of radical reform becomes self-fulfilling. But if reformists see advances at home and abroad, they may become more optimistic about collective mobilisation and break out of their despondency trap. This is shown by tracing the drivers of ground-breaking legislation. From 2018, large French firms must mitigate risks of environmental and human rights abuses in their global supply chains, or else be liable. This bill – the world's first of its kind – was vociferously contested by businesses. But French campaigners and politicians persisted for four years, because fortuitous circumstances fueled hope for reform. The outcome of their campaign was highly uncertain and contingent on many idiosyncratic factors unique to France. But legislative success in France delivered a positive shock to activists across Europe, who were emboldened to launch similar campaigns and escape their despondency trap."

"The Left Needs a Language Potent Enough to Counter Trump" [George Packer, The Atlantic]. "[The language of the contemporary left is anti-populist. Its vocabulary, much of it taken from academia, is the opposite of accessible—it has to be decoded and learned. Terms such as centered, marginalized, intersectional, non-binary, and Eurocentric gender discipline separate outsiders from insiders—that's part of their intent, as is the insistence on declaring one's personal pronouns and showing an ability to use them accordingly. Even common words like ally and privilege acquire a resonance that takes them out of the realm of ordinary usage, because the point of this discourse is to create a sense of special virtue. The language of the left also demands continuous refreshing and can change literally overnight: A writer is told that the phrase born male is no longer okay to use and has to be replaced with assigned male at birth. Many of these changes happen by ambush—suddenly and irrevocably, with no visible trail of discussion and decision, and with quick condemnation of holdouts—which gives them a powerful mystique. The language of the left creates a hierarchy of those who get it and those who don't." • I know, I know. If only there were a candidate on the left who used simple language like "the billionaire class." If there is, Packer doesn't mention them.
Stats Watch
Consumer Price Index, July 2019: "Emerging pressure in medical costs and steady pressure in housing are providing fundamental lift to consumer prices" [Econoday]. "Three tenth gains for the monthly core are rare and a back-to-back 0.3 percent gain is even more rare with June and July this year showing the most two months of core pressure since 2005. Whether some of this emerging pressure is tied to higher tariffs is hard to pin down in the data but questions over this possibility are certain to be discussed by the Fed. Whether including food and energy or stripping them out, consumer prices may be turning higher and pose a counter-policy signal for extension of lower rates."
NFIB Small Business Optimism Index, July 2019: "Small business optimism recovered in July" [Econoday]. "Sentiment readings in general, whether for business or the consumer, have been recovering from downticks in May and June that were tied to escalation in US-China trade tensions."
* * *
Today's Fear & Greed Index: 27 Fear (previous close: 23, Extreme Fear) [CNN]. One week ago: 22 (Extreme Fear). (0 is Extreme Fear; 100 is Extreme Greed). Last updated Aug 13 at 12:00pm. • Restored at reader request. Note that the index is not always updated daily, sadly.
The Biosphere
When a lovely flame dies:
A cloud of smoke and soot bigger than the European Union is now billowing across Siberia as wildfires rage into an unprecedented third month. pic.twitter.com/UaLIQFWUAD

— DW News (@dwnews) August 12, 2019
"The future of groundwater in sub-Saharan Africa" [Nature]. "The population of sub-Saharan Africa is currently about 1 billion, and is predicted to double by 2050 (go.nature.com/2zj9kca), whereas the region's climate is predicted to become drier during the same period1. Clearly, the demand for fresh water will increase. Whether groundwater can satisfy this demand is a looming question. Little is known about the rates at which water is replenished to groundwater aquifers in that region, and thus the rate of sustainable withdrawal. Writing in Nature, Cuthbert et al. identify the processes involved, and examine the long-term trends of aquifer replenishment in sub-Saharan Africa. The authors conclude that future drying climatic trends could affect surface-water supplies, but might not decrease groundwater supplies."
"Fields on fire: Alternatives to crop residue burning in India" [Science]. "Although intentional use of fires to transform land has decreased globally, particularly among highly capitalized countries through regulatory and market-oriented approaches and moral suasion, regulatory strategies have been less effective in southern and eastern Asia. Some densely populated agricultural regions in China and India buck the global trend, showing increases in agricultural fires. This is particularly true in northwestern India, where rice residue burning makes a substantial contribution to air pollution and short-lived climate pollutants. Regulations are in place to reduce agricultural fires, but burning continues because of uncertainty regarding policy implementation and regarding access and returns to alternative technologies." • In Thailand, the farmers of the Northeast, when asked why they continued to burn off the fields illegally, answered that they could not afford tractors. (That's how "uncertainty regarding policy implementation and regarding access and returns to alternative technologies" translates on the ground.)
"The New Outlooks: Will El Niño's Demise Boost the Atlantic Hurricane Season?" [Bob Henson, Weather Underground]. "In a press conference, [Gerry Bell, lead seasonal hurricane forecaster at NOAA's Climate Prediction Center] noted that there is some persistence to El Niño-related weather patterns that can suppress Atlantic hurricanes, so part of the influence of the 2018-19 El Niño is already baked into the seasonal cake. However, the just-ended El Niño was a weak event to begin with. NOAA's May forecast was predicted on a 60% chance of El Niño continuing, so the event's demise helped push the August odds toward a busier-than-usual season, though a near-average season would still fall within NOAA's forecast range." • The headline is a little deceptive; Henson doesn't mean demise demise, just this year's end.
Water
"How Removing One Maine Dam 20 Years Ago Changed Everything" [The Revelator]. "As soon as the dam came down, the river rebounded. Fish immediately had access to 18 more miles of habitat, up to the town of Waterville at the mouth of the Sebasticook River. Atlantic sturgeon began to swim past the former dam site, and alewife and shad soon returned. Within a year seals could be seen chasing alewives, a type of river herring, 40 miles upstream from the ocean. And with alewives coming back, so did everything that eats them — river otters, bears, mink, bald eagles, osprey and blue herons. But the best indicator of the ecosystem's recovery was the resurgence of aquatic insects like mayflies and stoneflies, which signaled improved water quality."
Black Injustice Tipping Point
"The Great Land Robbery" [The Atlantic]. "TIAA is one of the largest pension firms in the United States. Together with its subsidiaries and associated funds, it has a portfolio of more than 80,000 acres in Mississippi alone, most of them in the Delta…. Unlike their counterparts even two or three generations ago, black people living and working in the Delta today have been almost completely uprooted from the soil—as property owners, if not as laborers. In Washington County, Mississippi, where last February TIAA reportedly bought 50,000 acres for more than $200 million, black people make up 72 percent of the population but own only 11 percent of the farmland, in part or in full…. This is not a story about TIAA—at least not primarily. The company's newfound dominance in the region is merely the topsoil covering a history of loss and legally sanctioned theft in which TIAA played no part. But TIAA's position is instrumental in understanding both how the crimes of Jim Crow have been laundered by time and how the legacy of ill-gotten gains has become a structural part of American life."
"Colored Property & State Debt with David Freund" (interview) [Freund]. "My first book–Colored Property–is centered on a story about the federal government's role in creating a racially segregated housing market in the United States after World War II. Many people might be familiar with the story of the Federal Housing Administration and redlining…. Ultimately, it's a story about mortgage lending and the creation of debt instruments… as I was encountering this story about money and debt, it seemed very odd to me. The documentary evidence showed me that government policy was creating debt instruments and that those debt instruments were creating conditions under which new homes were literally being built. Public policy was creating wealth. Meanwhile, I saw how those policies explicitly channeled that new wealth primarily to white people, especially to white men. People of color and single women were usually denied these new mortgages and this was by federal mandate. To me, that suggested that the government was creating wealth for some and not for others."
"The New Deal State and Segregation" [Jacobin]. "In turn, it is hard to cleanly align the local politics of racial segregation with class rule. While realtors, developers, and other property interests exploited and profited from racial occupancy and racial transition, the defensive localism that maintained the color line in northern cities was rooted in white anxieties and prejudices." • I'm not so sure. "Property values!"
Guillotine Watch
"Blankfein and Bezos Party With Geffen on a Yacht in the Balearics" [Bloomberg]. "Ex-Goldman Sachs chief Lloyd Blankfein is taking time off from feuding with Bernie Sanders on Twitter to hang with billionaires and celebrities — including Jeff Bezos and his new girlfriend, Lauren Sanchez — on David Geffen's mega-yacht off the coast of Spain… While it may not rival the Gilded Age gatherings of Astors, Vanderbilts and Mellons, the assembled group has a net worth in excess of $120 billion." • For some definition of "worth."
Class Warfare
"The New Servant Class" [The Atlantic]. "In an age of persistently high inequality, work in high-cost metros catering to the whims of the wealthy—grooming them, stretching them, feeding them, driving them—has become one of the fastest-growing industries. The MIT economist David Autor calls it 'wealth work.' Low-skill, low-pay, and disproportionately done by women, these jobs congregate near dense urban labor markets, multiplying in neighborhoods with soaring disposable income. Between 2010 and 2017, the number of manicurists and pedicurists doubled, while the number of fitness trainers and skincare specialists grew at least twice as fast as the overall labor force." • So open borders is not just for yard men and someone to take care of little Madison. Good to know.
"What the New Deal can teach us about winning a Green New Deal: Part I" [Monthly Review]. "What the experience of the Great Depression shows is that years of major economic decline and social devastation are not themselves sufficient to motivate business and government elites to pursue policies likely to threaten the status quo. It was only after three and a half years of organizing had also created a political crisis, that the government began taking halting steps at serious change, marked by the policies associated with the First New Deal. In terms of contemporary lessons, this history should serve to dispel any illusions that simply establishing the seriousness of our current multifaceted crisis will be enough to win elite consideration of a transformative Green New Deal."
News of the Wired
Zeitgeist Watch:
VIDEO: Former pastry chef, Guido Camia, is now making a living offering Neanderthal survival courses in the Italian Alps pic.twitter.com/mhl5T3ctYo

— AFP news agency (@AFP) August 13, 2019
"Tourism Is Eating the World" [Noah Smith, Bloomberg]. "As the Everest example shows, travel to the most popular destinations is subject to what economists call congestion externalities — when you go to a famous place, your presence makes the experience just a little less convenient and comfortable for everyone else. Multiply that effect by the millions, and the world's tourists are crowding each other out of a good time…. [E]ventually there will be no choice but to start charging tourists a fee…. The inevitable rise of congestion pricing will be bad news for the emerging global middle class. It means that the dream of cheap globetrotting will never be for everyone — at least, not if you want to go to famous places." • That sounds good.
""Maslow's pyramid" is based on an elitist misreading of the psychologist's work" [Quartz at Work]. "Though Maslow gave us the hierarchy of needs theory, he did not envision his framework in pyramid form at all, according to a new study published in the Academy of Management Learning & Education journal…. The effects of the colorful final product, they argue, have not been benign. What we know as Maslow's pyramid has tainted our view of work and our expectation that people are concerned with "higher" or "lower" level needs depending on their income or professional status. It gives the impression that some employees need to have their hearts and souls attended to, their creativity tapped and fostered, while others are merely concerned with covering the rent every month and putting food on the table." • Fascinating history, well worth reading in full.
* * *
Live blog from Hong Kong: "LIVE: Violent clashes between riot police and protesters at Hong Kong airport" [Sky News]. "US President Donald Trump has tweeted claiming that the Chinese government is moving troops to the Hong Kong border." • Reinforcing the mainland's line…
* * *
Readers, feel free to contact me at lambert [UNDERSCORE] strether [DOT] corrente [AT] yahoo [DOT] com, with (a) links, and even better (b) sources I should curate regularly, (c) how to send me a check if you are allergic to PayPal, and (d) to find out how to send me images of plants. Vegetables are fine! Fungi are deemed to be honorary plants! If you want your handle to appear as a credit, please place it at the start of your mail in parentheses: (thus). Otherwise, I will anonymize by using your initials. See the previous Water Cooler (with plant) here. Today's plant (TH):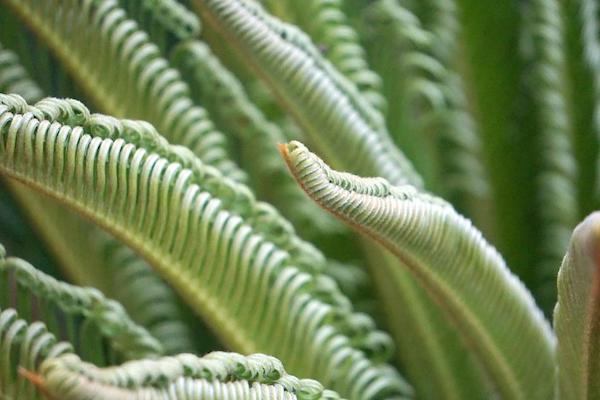 TH writes: "This June's new leaves on our King Sago Palm. Which, like all other Sago Palms, is actually not a palm, but a cycad." It's another alien being, is what it is.
* * *
Readers: Water Cooler is a standalone entity not covered by the annual NC fundraiser.Remember, a tip jar is for tipping! So if you see a link you especially like, or an item you wouldn't see anywhere else, please do not hesitate to express your appreciation in tangible form. Regular positive feedback both makes me feel good and lets me know I'm on the right track with coverage. When I get no donations for five or ten days I get worried. More tangibly, a constant trickle of donations helps me with expenses, and I factor in that trickle when setting fundraising goals:
Here is the screen that will appear, which I have helpfully annotated.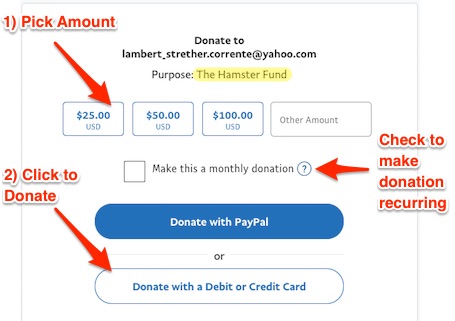 If you hate PayPal, you can email me at lambert [UNDERSCORE] strether [DOT] corrente [AT] yahoo [DOT] com, and I will give you directions on how to send a check. Thank you!