By Lambert Strether of Corrente
Trade
The Japanese-Korean trade war seems serious. Thread:
Another report that says Samsung Electronics is cutting all Japanese components from all of its product lines. Not just semiconductors, but smartphones and home appliances as well. | [단독] 삼성, 日소재 부품 빼기 '반도체,스마트폰, 가전' 모두 추진 https://t.co/AcB1UxSrk0

— T.K. of AAK! (@AskAKorean) August 9, 2019
Politics
"But what is government itself, but the greatest of all reflections on human nature?" –James Madison, Federalist 51
"They had one weapon left and both knew it: treachery." –Frank Herbert, Dune
"2020 Democratic Presidential Nomination" [RealClearPolitics] (average of five polls). As of August 7: Biden down to 31.0% (31.6), Sanders down to 15.8% (16.6%), Warren flat at 15.5% (15.6%), Buttigieg flat at 5.5% (5.4%), Harris down at 8.3% (9.4%), Beto separating himself from the bottom feeders, interestingly. Others Brownian motion.
* * *
2020
Biden (D)(1): "Biden's Newest Advisor Is a George W. Bush Appointee Who Supported the Iraq War" [GritPost]. "Nicholas Burns, who joined the Biden campaign as a foreign policy advisor this week, was an avid supporter of the Iraq War during his time in the George W. Bush administration. CNN reported Monday that Burns — who was the Under-Secretary of Political Affairs at the U.S. State Department during Bush 43's administration — had joined Biden's 2020 campaign for the presidency to drive the former vice president's foreign policy agenda. Burns also served on the National Security Council in both the Bill Clinton and George H. Bush administrations, and is a professor at Harvard University's Kennedy School of Government, according to his LinkedIn profile. According to The Intercept, Burns is a senior counselor at the Cohen Group, which the outlet describes as 'a global lobbying and influence firm' that 'represents weapon-makers and other companies with interests in the U.S. and overseas.'" • So what's the issue?

Biden (D)(2): "President Joe Biden? First, he'd need to answer for his record on drug prices" [Stat]. Full of horrid detail. Here's a good one: "After leaving office, Biden claimed that he would seek a 'more rational way of paying' for expensive treatments, whatever that means. By hiring a former Pfizer executive to run his charity, count me as skeptical that Biden is about to do anything that really challenges the pharmaceutical industry."• "Hiring"? Looks more like a pay-off, to me.

Biden (D)(3): "Don't Blame Black Voters for Supporting Joe Biden" [Medium]. "But it takes more than just being Obama's first mate to secure the African American vote. It all comes down to beating Trump. If Warren, Sanders, or Harris show and prove that they can take on the president, they might siphon black voters from the Biden camp. For the well-meaning, far-left white progressive contingent looking to change the minds of African American voters who view Joe Biden as the only option, here's a little advice: Prove that someone else can knock Trump on his ass. And that starts by not going after the record of the most popular Democrat alive today (Obama)."

Buttigieg (D)(1): "Buttigieg ramps up outreach to Democratic superdelegates" [Associated Press]. "Pete Buttigieg (BOO'-tuh-juhj) is ramping up his outreach to Democratic Party superdelegates with a phone call to them outlining the scope of his 2020 presidential campaign. The outreach suggests Buttigieg's campaign is looking beyond the early primary states to the possibility of a convention fight for the nomination. Superdelegates, who include Democratic National Committee members, elected officials and other party dignitaries, have historically held an outsized influence over the nominating process."

Gabbard (D)(1): "Tulsi Gabbard's daredevil act" [Politico]. "Gabbard delivered a piercing, if inaccurate, appraisal of Kamala Harris' law enforcement record — then turned it into a misleading, yet effective, online ad push." • That's all Politico says. I heard what Gabbard said, when she said it, and could have backed up every line of it with links. Gabbard was even nicer than she could have been, because she left out Mnuchin. I wish I could say this article was shocking, but it isn't.

Sanders (D)(1): "Bernie Sanders killed it on Joe Rogan" [Boing Boing]. "Bernie Sanders' appearance on Joe Rogan's podcast was a gamble; the show has dabbled with some pretty reactionary politics in the past, but it has a vast audience (the Sanders episode has had nearly 5m views), and Rogan gave Sanders the space to expound both on policy specifics and wider "vision" questions, and Sanders nailed it…. The vast dark matter of the electorate is at the core of any political campaign, and that's who Sanders is speaking to in this hour-long interview, and judging from the comments, he's reaching them." • Yep.

Trump (R)(1): "This Week Has Already Produced Three Bad Signs for Trump's Reelection" [Bloomberg]. "The president needs to keep suburbanites, rural voters, and industrial states on his side for 2020, and the last few days have been bad for all of them…. The mass shootings in El Paso and Dayton, Ohio—and Trump's reluctance to push strong gun control measures—is likely to exacerbate collapsing Republican support among suburban voters… Trump owes much of his electoral victory to his strength in farm states. Many are already suffering from retaliatory tariffs imposed by China. On Monday, their plight worsened when the U.S. trade rival said it would suspend all imports of American agricultural products. Of all the groups in Trump's coalition, falling support among farmers may be the least costly in electoral terms, since they hail from such deeply red areas."

Warren (D)(1):

So why did you applaud a white supremacist

Bernie didn't applaud the white supremacist pic.twitter.com/hkPZkyIVex

— Yusuf: "Tweets aren't enough, get out and protest" (@yusufsaysbernie) August 9, 2019

Opportunism knocks time after time.

TX: "Yes, the GOP Should Worry About Texas" [RealClearPolitics]. "Most importantly, one has to ignore the nature of political coalitions in the Age of Trump. Trump has generally improved GOP fortunes in rural American and in the towns, and in states like Wisconsin, Michigan and Ohio, all of which has generally helped the Republican Party. But there is little doubt that the GOP has suffered substantial losses in the suburban areas that once formed the backbone of the party while doing little to advance its cause in the major cities. Once one realizes that these urban/suburban areas cast a supermajority of the vote in Texas, one realizes quickly that the rural and small-town areas can't keep the Republican Party afloat in Texas forever. I wouldn't bet the farm, or the cattle ranch if one prefers, on Texas turning blue this cycle. But the state is not safe for Republicans in 2020 either, and it will likely be very competitve." • I do have the feeling that Texas suburbanites really like their guns, however.
El Paso and Dayton Shootings
This is a bad take (1):

We must treat this violent racism like the security threat that it is. That means investing in law enforcement resources to combat the growing population of white nationalists who are engaging in violence. 4/4

— Bernie Sanders (@BernieSanders) August 4, 2019

Ferguson aside, one keeps reading law enforcement stories like this.

This is a bad take (2):

Just like the hateful terrorism of Al Qaeda & ISIS, domestic right-wing terrorism & white nationalism is completely incompatible with our American values. It is a threat to American safety & security, & we must not tolerate it in the United States.

— Elizabeth Warren (@SenWarren) August 4, 2019

Holy gawd, I can hear the national security establishment and the intelligence community licking their chops from here!

This is bad take (3): "Who Should Fight the War on White Nationalism" [Bloomberg]. • Please name the "War on ____" efforts that have succeeded since, oh, 1980.

All these efforts read like they were pulled out of the drawer, not written for the occasion. Of course, there may be only bad takes to be had.
Impeachment
"Nadler presses ahead with impeachment probe as Pelosi keeps door open" [CNN]. "The House Judiciary Committee is now engaged in a full-blown investigation and legal fight with the goal of deciding whether to recommend articles of impeachment against President Donald Trump by the end of the year, according to Democratic officials involved in the effort…. 'This is formal impeachment proceedings,' Nader told CNN's Erin Burnett Thursday on 'OutFront.' The committee's argument that it's effectively conducting an impeachment inquiry already comes after months of House Democrats slowly growing in numbers backing the formal opening of an impeachment inquiry…. But the committee is now arguing that the Democrats' calls for an impeachment inquiry are unnecessary… Democrats argue that the forthcoming committee hearings will be clearly linked to their impeachment deliberation." • So, who knows.

"Clinton's advice for impeachment inquiry: Don't pursue for 'trivial partisan political purposes'" [CNN]. • [puts head in hands].
Realignment and Legitimacy
How Soviet:

Abandoned Presidents Heads in a rural Virginia field pic.twitter.com/6F9WRYSMAr

— 41 Strange (@41Strange) August 8, 2019

"Insulin" [Eschaton]. "One reason I am very pessimistic about the possibilities for the current dominant democrats is that if they can't even take on insulin… [T]his is the ultimate low hanging fruit and the "oh people want to talk about kitchen table issues" crowd can't even fix this." • Maybe Chuck and Nancy should hold a presser and promise to "fight for" it.

"Exclusive: Critical U.S. Election Systems Have Been Left Exposed Online Despite Official Denials" [Vice]. "The top voting machine company [Election Systems & Software] in the country insists that its election systems are never connected to the internet. But researchers found 35 of the systems have been connected to the internet for months and possibly years, including in some swing states." • The only reason I can imagine, besides corruption, for election officials to buy these things is that they want the capability to fix elections, and that goes for both parties.
Stats Watch
Producer Price Index, July 2019 (Final Demand): "A swing higher in energy prices held up producer prices in July which otherwise were very soft" [Econoday]. "Personal consumption measures…are very soft. Overall, personal consumption prices managed only a 0.1 percent increase on the month."
Banking: "Goldman Sachs, bank of the rich and powerful, is dipping into subprime lending with Apple Card" [CNBC]. "'I was absolutely shocked I got it,' said one early user with a FICO score of 620." • Everything is fine.
Energy: "For Pipeline Builders, a Long Road to Understanding Rust" [Undark]. This is a really interesting article! The bottom line: "It's easy to forget how newfangled our constructions are. The first successful pipeline was built in 1862. Corrosion theory wasn't laid out until 1938. Smart pigs, dreamed up in the 1950s, weren't especially useful until the 1990s. Though our history is rife with technological hiccups, we expect infrastructure to last, and forget what Stuart Eynon and Alyeska know well: the best maintenance starts with surveillance." • Sounds like we don't understand soil, either.
Transportation: "Public Transit Projects Cheaper Than Uber's $5.2 Billion Q2 Losses, Ranked" [Jalopnik]. "Uber announced a $5.2 billion loss last quarter, bringing the company's total losses to $16.2 billion since 2016. In completely, totally unrelated news, here are some public transportation projects currently under construction in the United States that cost less than $5.2 billion individually…. Combined, these seven major public transportation projects are projected to cost $16.89 billion, or about four percent more than Uber's cumulative losses since 2016." • So much capital sloshing about, so little good sense about where to invest it. (Unless you want to increase traffic and hurt public transportation, which Uber's funders are doing.)
Tech: "Tech Companies Want Out of the Censorship Business" [Bloomberg]. "Decentralized platforms represent the resilient communications system that the internet was intended to be. As a result, obnoxious opinions don't simply disappear when they're removed from mainstream service providers. As undesirables are removed from social networks, they find like-minded individuals in darker corners of the web. Gab.com is often described as a "safe haven" for right-wing extremists, even though its founder emphasizes that the site welcomes dissidents of all stripes. The people who seek refuge in Gab tend to be those who have been banned from Twitter, and it just so happens that a lot of them represent the far right. Similarly, 8chan gained traction as a haven for those who had been censored on 4chan, which had previously served as a refuge for those who had been banned by SomethingAwful, a rather dark site to begin with. Facebook moderators have told of the mental distress suffered after viewing relentlessly awful content. This must be what it's like to be an 8chan user. If society wants to reform radical extremists, it's probably not a good idea to force them into a cesspool with other radical extremists."
* * *
Today's Fear & Greed Index: 27 Fear (previous close: 25, Extreme Fear) [CNN]. One week ago: 36 (Fear). (0 is Extreme Fear; 100 is Extreme Greed). Last updated Aug 9 at 12:38pm. • Restored at reader request. Note that the index is not always updated daily, sadly.
The Biosphere
"Interactive: How climate change could threaten the world's traditional dishes" [Carbon Brief]. "From the US hamburger to South Korea's kimchi, Carbon Brief explores how some of the world's most iconic traditional dishes could fare as the world warms…. Canada's most well-known dish is poutine – a combination of french fries, cheese curds and gravy…. The country currently sources the majority of its potatoes domestically…. Canada's potato crops face threats from extreme weather…. Another key ingredient of poutine is cheese curds, which are made from curdled milk. Canada's milk industry is concentrated in Quebec and Ontario which, together, are home to 82% of the country's dairy farms. A study published in 2015 found that dairy cows in Southern Ontario are increasingly dying as a result of heat stress. Poutine's final key ingredient – gravy – can be made from various meats, but chicken is often used. A government report found that poultry farming in Quebec is "particularly sensitive" to heat stress."
"Gone" [California Sunday]. "In the mid-1970s, Jane Dolan, who was raised in Chico and became the student-body president at the local state college, decided nothing would change until the makeup of the Butte County Board of Supervisors was changed. She had watched Paradise go from a rustic outpost, where her father took the family every Father's Day for a spaghetti dinner at Tony's, to a full-blown city with no governance. The four men and one woman who sat on the board acted as little more than minions for a handful of developers, builders, and realtors. None was more compliant than Supervisor Bob Lemke, a big, bearded man who represented Paradise and could be found inebriated and slapping backs at the annual Gold Nugget Days celebration. 'The reason Paradise had no infrastructure is Lemke and the rest of the board wouldn't consider charging the developer fees to pay for any,' Dolan said. 'As crazy as it sounds, there was no zoning on the ridge. They had these categories, A-1, A-2, A-3, but they meant nothing. We called it zoning by septic tank.'" • A good long read.
"Sometimes the road to discovery starts with a walk in a local marsh" [Stanford Engineering] (original). "Without touching and without electrical or chemical signals, individual Spirostomum can coordinate their ultrafast contractions so closely that groups of them appear to shrink simultaneously — a reaction to predators that makes them release paralyzing toxins in sync." •.I know I get a little "Wonders of Nature"-y in this section, but the story of this discovery, and the discovery, are both wonderful.
Our Famously Free Press
Too bad, I liked Pacific Standard:
Today is an extremely difficult day, the worst day—and I'm heart-broken and devastated. We learned this morning, without any warning, that our primary funder is cutting off all charitable giving and that our board is shutting down @PacificStand, effective next Friday.

— Nicholas Jackson (@nbj914) August 7, 2019
Turns out capricious squillionaire funding wasn't the best model.
Too bad, I liked Governing:
Today is an extremely difficult day, the worst day—and I'm heart-broken and devastated. We learned this morning, without any warning, that our primary funder is cutting off all charitable giving and that our board is shutting down @PacificStand, effective next Friday.

— Nicholas Jackson (@nbj914) August 7, 2019
Two casualties on the same day!
Black Injustice Tipping Point
"Mysterious Deaths Leave Ferguson Activists 'On Pins and Needles'" [Rolling Stones]. Re-upping from March: "Since the 2014 shooting, about six people connected to the protests following Brown's death have died — some in violent, mysterious ways, the Associated Press reports. While police say there is no evidence that foul play was involved in the men's deaths, those within the community report feeling as if they are "on pins and needles," Rev. Darryl Grey said. The prominent African American leader added that he has received anonymous threats, and that he recently found an unmarked box containing a 6-foot python in his car." • Nice.
Class Warfare
"Low-Wage Legacies, Race, and the Golden Chicken in Mississippi: Where Contemporary Immigration Meets African American Labor History" [Southern Spaces]. From 2013, a story about the ICE raids the other day in Scott County, MS: "In Scott County's seat of Forest, population six thousand, there are five large-scale poultry processing plants dominating local industry. Local high school football teams compete for the "Golden Chicken" trophy.4 Typical for poultry-producing areas, many of Scott County's residents struggle to make ends meet, and nearly half of Forest's households earn less than $25,000 per year. Just under 50 percent of Forest's population is African American, approximately 30 percent is white, and almost 25 percent self-identifies as "Hispanic."5 Scott County, then, differs from some areas of the US South that have attracted large numbers of Latin American immigrants in the past twenty years. Here, these new arrivals have joined workplaces and communities where the largest demographic group is African American rather than white." • Hmm.
News of the Wired
"The Harvard Professor Scam Gets Even Weirder Six other men describe their encounters with the same mysterious Frenchwoman." [The Cut]. • I don't even know where to file this. Cambridge has changed since my day.
"AI felt like the next frontier" [It's Nice That]. Composer Holly Herndon: "I think we should avoid training AI on existing canon. So far, instead of making new training sets, and instead of trying to take AI to a new place, a lot of work has been focussed on "let's train it on Bach and then have new pieces of Bach forever." I feel like that can really get us into like an aesthetic and creative cul-de-sac of rehashing and recycling ourselves. Culturally, we struggle with that anyway, a kind of retromania and nostalgia. Of course, we're always building on a shared language, we're never entirely starting from scratch, but I think it's important that it continues to build and that we don't get stuck in a loop." • Herndon's AI, an ensemble member, is named "Spawn."
"The Fundamental Link Between Body Weight and the Immune System" [The Atlantic]. "Just as antibiotics are associated with faster growth in cattle, a decrease in diversity in the human microbiome is associated with obesity. As the usage of animal antibiotics exploded in the 20th century, so too did usage in humans. The rise coincides with the obesity epidemic. This could be a spurious correlation, of course—lots of things have been on the rise since the '50s. But dismissing it entirely would require ignoring a growing body of evidence that our metabolic health is inseparable from the health of our gut microbes…. Because leanness and obesity seem to be transmissible through the microbiome, 'metabolic disease turns out to be, in some ways, like an infectious disease,' says Lora Hooper, the chair of the immunology department at the University of Texas Southwestern Medical Center… Seeing obesity as a manifestation of the interplay between many systems—genetic, microbial, environmental—invites the understanding that human physiology has changed along with our relationship to the species in and around us." • So there's hope! A lot of good research.
* * *
Readers, feel free to contact me at lambert [UNDERSCORE] strether [DOT] corrente [AT] yahoo [DOT] com, with (a) links, and even better (b) sources I should curate regularly, (c) how to send me a check if you are allergic to PayPal, and (d) to find out how to send me images of plants. Vegetables are fine! Fungi are deemed to be honorary plants! If you want your handle to appear as a credit, please place it at the start of your mail in parentheses: (thus). Otherwise, I will anonymize by using your initials. See the previous Water Cooler (with plant) here. Today's plant (JN):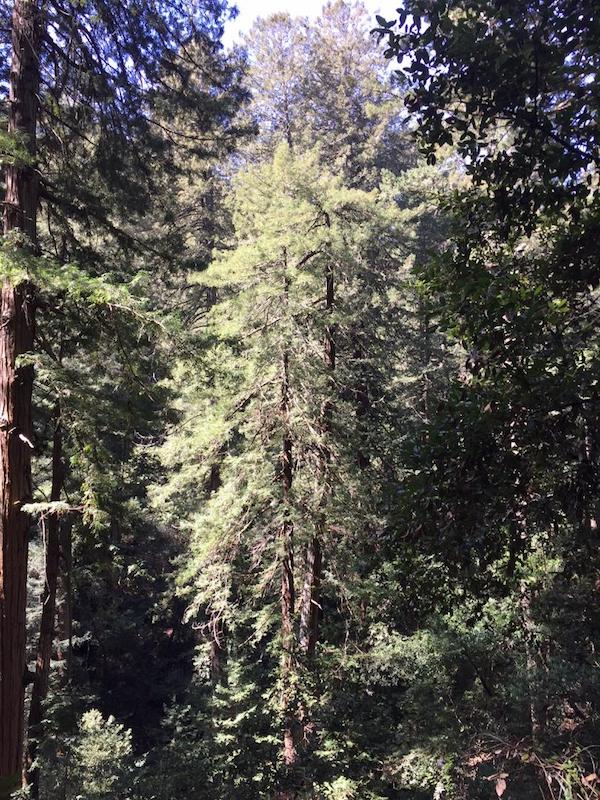 * * *
Readers: Water Cooler is a standalone entity not covered by the annual NC fundraiser.Remember, a tip jar is for tipping! So if you see a link you especially like, or an item you wouldn't see anywhere else, please do not hesitate to express your appreciation in tangible form. Regular positive feedback both makes me feel good and lets me know I'm on the right track with coverage. When I get no donations for five or ten days I get worried. More tangibly, a constant trickle of donations helps me with expenses, and I factor in that trickle when setting fundraising goals:
Here is the screen that will appear, which I have helpfully annotated.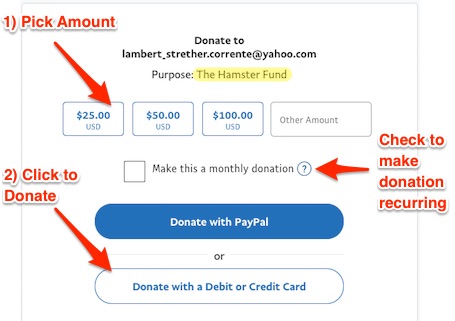 If you hate PayPal, you can email me at lambert [UNDERSCORE] strether [DOT] corrente [AT] yahoo [DOT] com, and I will give you directions on how to send a check. Thank you!