By Lambert Strether of Corrente
Politics
"But what is government itself, but the greatest of all reflections on human nature?" –James Madison, Federalist 51
"They had one weapon left and both knew it: treachery." –Frank Herbert, Dune
"2020 Democratic Presidential Nomination" [RealClearPolitics] (average of five four polls). As of August 15: Biden flat at 30.4% (30.3%), Sanders down to 17.2% (17.5%), Warren dives to 16.8% (18.5%), Buttigieg down to 5.6% (6.3%), Harris down at 8.0% (8.3%), Beto rising from the bottom feeders once more. Others Brownian motion. So back to five polls again, which no doubt accounts for the fluctuations. Again, I could use some transparency on why these choices are made!
* * *
2020
Biden (D)(1): "Biden allies float scaling back events to limit gaffes" [The Hill]. "Allies to Joe Biden have been floating the idea of altering the former vice president's schedule in an effort to reduce the gaffes he has made in recent days…. Biden has a tendency to make the blunders late in the day, his allies say, particularly after a long swing on the road, like he had last week in Iowa. They say something needs to be done to give the candidate more down time as the campaign intensifies in the fall…. 'A lot of people are nervous that he's lost some of his mojo,' said one major Democratic donor. 'They're getting nervous about him going toe to toe with Trump. But the problem is, .'" • Lol, now they know ho TINA feels. And it looks like Trump was right with "Sleepy Joe." Hey, if Michelle doesn't want to run, how about Bloomberg?

Biden (D)(2): "Biden keeps large lead in SC's 2020 Democratic presidential primary" [Post and Courier]. "Despite two shaky debates and some recent misstatements, South Carolina Democratic voters still prefer former Vice President Joe Biden in the South's first presidential primary…. His advantage dropped by only one point from the last poll taken two months ago…. But the vice president under Barack Obama dominated among black voters, who account for more than 60 percent of ballots cast in South Carolina Democratic presidential primaries. At 45 percent, Biden received three times as much African American support as Harris and Sanders. He used a trip to South Carolina in July to apologize for his remarks about working well with segregationists."

Hickenlooper (D)(1): "AP source: John Hickenlooper ending his 2020 White House bid" [Associated Press]. "ohn Hickenlooper will drop out of the Democratic presidential primary on Thursday, according to a Democrat close to him. The former two-term Colorado governor, who ran as a moderate warning of the perils of extreme partisanship, struggled with fundraising and low polling numbers. His planned departure from the 2020 race was confirmed Wednesday night by a Democrat who wasn't authorized to speak publicly before the announcement….

Sanders (D)(1): "Why the Rich Want to Bury Bernie, the Not-Really-Socialist" [Glen Ford, Black Agenda Report (CI)]. Really excellent. Here's "why": "The reason the ruler's have decreed 'anybody but Bernie' is that Sanders' (and to a lesser perceived degree, Warren's) campaign proposals challenge the austerity regime that has been relentlessly erected since the 1970s precisely to set American workers and the whole capitalist world on a Race to the Bottom, in which each year brings lower living standards and more insecurity to the population at large. The obscene increases in wealth inequality are the desired result and true essence of austerity." There's much more, but this on local oligarchies is important: "the top one-tenth of one percent (.1%) of the population — households making $2.757 million a year — now number almost 200,000 families, a cohort big enough to create and inhabit a large and coherent social world of its own. From their rich enclaves in every state of the country, this formidable "base" of truly wealthy folks effectively dictate the politics of their regions for the benefit of themselves and the oligarchs at the top of the pyramid. "

Sanders (D)(3): Our famously free press:

#Bernie2020 #NotMeUs #ForProfitNews

NYT = "The Vermont senator power-walked through the fairgrounds, surrounded by media, occasionally giving a wave. Forget about talking to voters"

Reality =pic.twitter.com/WaA15MBhwg https://t.co/ChNkE9rD3q

— J̶O̷N̶ (@_memorable2) August 13, 2019

Sanders (D)(3): From yesterday, the "Hoarse Wisperer" [sic] Twitter account spotlighted by MSNBC has a name:

"Michael Goodnough"

AKA @HoarseWisperer https://t.co/iCcltWstAnhttps://t.co/Ulok04W8LU pic.twitter.com/gtLmivAg6K

— th0rn (@th0rn0210) August 14, 2019

I'm not sure how the connection was made, but remember the Democrat operative who said Beto made her calves cramp? She confirms it:

He has been doxxed. Photo, name, LinkedIn, work email.

I reported the tweets.

Sam is responsible for amplifying the fact of the doxxing even if not personally doxxing him.

All because MSNBC used his tweet (without his knowledge beforehand, btw).

This isn't worth defending, J.

— Leah McElrath ?️‍? (@leahmcelrath) August 14, 2019

UPDATE Steyer (D)(1): "Democratic official sees Steyer with early on-the-ground 'advantage' in Iowa" [The Hill]. "'Tom Steyer starts with a little bit of an advantage in that he's had organization on the ground here for a long time through NextGen,' Troy Price, who is chairman of the Iowa Democratic Party, told Hill.TV, referring to the billionaire philanthropist's nonprofit environmental advocacy group, NextGen America. 'They organized on dozens of college campuses last couple of election cycles,' he added. Price's comments were in response to a recent Monmouth University poll, which found Steyer with 3 percent support among likely Democratic caucus goers in Iowa." • Working through a shell was smart of Steyer; regulatory arbitrage!

* * *

"The Democratic Party's future is at stake in state legislative races" [WaPo]. "This is the last election cycle before redistricting could lock them out of power in key states for another decade — and severely hamper their ability to keep their majority in the House. After losing nearly 1,000 seats during the Obama years, Democrats need to win back as many state legislatures as possible by the end of next year before states redraw their state and congressional election districts based on new 2020 census population data… It wasn't until Democrats' disastrous 2016 election, when the GOP won control of all of Washington, too, that they realized what a dire situation they were facing ahead and how little time they had left to fix it. After Barack Obama left the White House, his former attorney general started the National Democratic Redistricting Committee to call attention to the plight. 'After 2016, we started a national conversation about how you need to rebuild the party from the ground up," [said Jessica Post, president of the Democratic Legislative Campaign Committee (DLCC)]…. 'We're still paying the price for getting wiped out in 2010," said Matt Harringer, communications director for the DLCC.'" • Thanks for everything, Obama! "A national conversation," forsooth.
Our Famously Free Press
Y'all may return from the fainting couch now. The Times says Sanders was right about WaPo:

"The editorial page of The Post clearly sides with its owner" https://t.co/odRJbjFhPp pic.twitter.com/Ln9vqsZEMu

— Shuja Haider (@shujaxhaider) August 14, 2019
L'Affaire Joffrey Epstein
"Sacha Baron Cohen Says He Turned Over Disturbing "Who Is America?" Footage to the F.B.I." [Vanity Fair]. • Look, it's not like this is ubiquitous among elites. Oh, wait…
Realignment and Legitimacy
"Judge: Georgia must scrap old voting machines after 2019" [Associated Press]. "U.S. District Judge Amy Totenberg's order on Thursday prohibits the state from using its antiquated paperless touchscreen machines and election management system beyond this year. She also said the state must be ready to use hand-marked paper ballots if its new system isn't in place for the March 24 presidential primary election."
Stats Watch
Jobless Claims, week of August 10, 2019: "Claims data rose in the latest report to indicate easing but still very strong demand for labor" [Econoday]. • No signs of recession in this leading indicator.
Retail Sales, July 2019: "Unexpected strength has not been an overstatement in recent retail sales reports including July's where all major readings easily surpass Econoday's consensus range" [Econoday].
Business Inventories, June 2019: "Business inventories were unchanged in June and were slightly on the low side compared to business sales" [Econoday]. "Low inventories may be a negative for inventory change in the GDP report but they are a strong positive for business health and the outlook for future production and employment growth."
Philadelphia Fed Business Outlook Survey, August 2019: " Philadelphia Fed's manufacturing sample has really snapped back" [Econoday]. "This report has been unusually volatile in recent showings but nevertheless contrasts with mostly soft readings in other manufacturing data."
Empire State Manufacturing Survey, August 2019: "Empire State's sample is reporting improvement reflected in a better-than-expected… headline in a report that includes a solid snapback for new orders [Econoday]. "The gain in new orders is of paramount importance and does speak to the strength seen in the Philadelphia Fed's report… The factory sector, at least based on these two reports, is having a solid month so far in August."
Productivity and Costs, Q2 2019 (Preliminary): "Output was respectable and hours worked dipped while compensation rose favorably, making for a positive second-quarter report" [Econoday]. "The decline in hours does raise the issue whether demand for labor will continue to rise. This topping is also hinted by this year's leveling in job openings though evidence of slowing in payroll growth is hard to find, at least yet. The gains in compensation, though negatives for corporate profits, are a strong positive for the consumer and are undoubtedly reflected in the strength underway in consumer spending (evident once again in this morning's retail sales report)."
Industrial Production, July 2019: "A jump in utility output couldn't save industrial production in July which, pressured by contraction in both manufacturing and also mining, came in near the low end of Econoday's consensus range" [Econoday]. "The weakness in this report was signaled by declines in hours worked in the July employment report, yet the results are more negative than expected and will boost arguments at the Federal Reserve for further interest rate cuts. The Fed is especially focused on manufacturing, a sector that is directly exposed to global slowing and global trade tensions and which is structurally considered to account for most of the domestic economy's cyclical variation."
Housing Market Index, August 2019: "The improvement in traffic may well reflect this month's drop in mortgage rates, a decline tied indirectly to last month's rate cut by the Federal Reserve and directly tied to demand in the financial markets for the safety of the bond market" [Econoday].
Shipping: "Amazon-FedEx split draws battle lines in online delivery feud" [MSN]. "The loss of a major courier ahead of the peak holiday season increases the risk for Amazon as it promises quicker deliveries, said Marc Wulfraat, a logistics consultant and founder of MWPVL International…. FedEx will seek to 'get Walmart to realize that they're not working with Walmart's biggest competitor and to have Walmart make FedEx their primary carrier,' Satish Jindel, founder of SJ Consulting Group, said."
Retail: "Map of Amazon Ring Partnerships" [Shreyas Gandlur]. "Ring has partnered with "over 225 law enforcement agencies," according to police memos obtained by Gizmodo. However, as Ring has repeatedly declined to reveal information about their agreements, the extent of their partnerships has been unknown—until now. Compiled using a combination of news reports and press releases, the map above contains 238 law enforcement agencies partnered with Amazon Ring."
The Bezzle: "Companies are pressuring auditors to leave criticism out of audit opinions, research finds" [Francine McKenna, MarketWatch]. "Companies pressure auditors on fees and even fire them when they disclose information that's critical of management in their audit opinions, according to new research. The penalties are even bigger for auditors who step up and do their job when the client is more well-known and the criticism is more severe, according to the working paper, "Don't make me look bad: How the audit market penalizes auditors for doing their job," by Elizabeth N. Cowle, an accounting Ph.D. candidate and Stephen P. Rowe a professor of accounting at University of Arkansas…. When an auditor issues an internal control material weakness, or ICMW, that should tell the company and investors that the auditor conducted its work well enough to identify a weakness and then communicated that information to investors via its opinion…. However, other research has found that ICMWs damage client reputations, and sometimes share price, and that the reputational impact of ICMWs for the client and auditor diverge — they are bad for clients and neutral or positive for auditors. Supplemental analyses by Cowle and Rowe found evidence that companies at greater risk of ICMWs avoid hiring auditors with a reputation for issuing them. "
Tech: "AT&T workers took $1 million in bribes to unlock 2 million phones, DOJ says" [Ars Technica]. "A Pakistani man bribed AT&T call-center employees to install malware and unauthorized hardware as part of a scheme to fraudulently unlock cell phones, according to the US Department of Justice. Muhammad Fahd, 34, was extradited from Hong Kong to the US on Friday and is being detained pending trial…. A Pakistani man to install malware and unauthorized hardware as part of a scheme to fraudulently unlock cell phones, according to the US Department of Justice. Muhammad Fahd, 34, was extradited from Hong Kong to the US on Friday and is being detained pending trial." • Well, well.
Tech: "It Sure Feels Like the Headphone Jack Is Dead" [New York Magazine]. "[T]he headphone jack was also universal: if you had headphones, they would work with the jack. It was nice, simple. Now we are in a hell wear you either have to have specialty headphones with a specific connection mechanism, or have to remember to charge your headphones — one more thing for me to forget — or use the dongle, which will fray and you will lose. I hate it. (Personally speaking, I tried to be a dongle holdout but have switched to a pair of cheap Bluetooth headphones from Anker. I will be dead and in Hell before I buy a set of AirPods or pay four figures for a smartphone.) There are still approximately 600 bazillion devices that still feature the headphone jack. A total and complete phase-out, if it ever truly happens, will take years if not decades to truly take effect. And then we'll be stuck with headphones that are not universally compatible, or rely on batteries that wear out and eventually need to be replaced. The fight to save the headphone jack is over. It sure seems like we lost." • And as usual, Tim Cook's Apple led the way in degrading the user experience.
Manufacturing: "With the Boeing 737 MAX Grounded, Top Boeing Bosses Must Testify Before Congress Now" [Ralph Nader]. "As for Boeing, the company cannot afford another one or two crashes attributed to continued indifference to longstanding aerodynamic standards of stability. that, over the judgement of its best engineers, has brought the company to its present predicament. How long before the Securities and Exchange Commission or the Department of Transportation or the Congress and the betrayed airlines themselves call for the resignation of both officers and the Board and, end the career conflict of interest these failed incumbents have with the future well-being of the Boeing Corporation itself?" • Everything is like CalPERS. Ergo, Boeing is like CalPERS.
Manufacturing: "U.S. Navy Sub Firepower Upgrade Delayed by Welding Flaws" [Bloomberg]. "Welding flaws by subcontractor BWX Technologies Inc. are delaying delivery of the first missile tubes for a U.S. Navy submarine weapons upgrade by at least seven months, according to the service…. The previously undisclosed seven-month delay by Lynchburg, Virginia-based BWX was due to "substandard welding" and "improperly administered" testing, the Naval Sea Systems Command said a statement…. The welding flaws were similar to those the company acknowledged last year for missile tubes that will go on the new Columbia-class submarines. Those continue to be repaired…. since previous major submarine construction in the 1980s.'" • Welders, who needs 'em in a service economy. Hey, why don't we just ask China?
* * *
Today's Fear & Greed Index: 20 Extreme Fear (previous close: 21, Extreme Fear) [CNN]. One week ago: 25 (Extreme Fear). (0 is Extreme Fear; 100 is Extreme Greed). Last updated Aug 15 at 11:19am. • Restored at reader request. Note that the index is not always updated daily, sadly.
The Biosphere
"South America's Glaciers May Have a Bigger Problem Than Climate Change" [Bloomberg]. "Chile has one of the world's largest reserves of fresh water outside the north and south poles, but the abundant glaciers that are the source of that precious commodity are melting fast. That's not just an ecological disaster in the making, it's rapidly becoming an economic and political dilemma for the government of Latin America's richest nation. A toxic cocktail of rising temperatures, the driest nine-year period on record and human activity, including mining, is proving lethal for the ice of Chile's central region. Built up over thousands of years, the ice mass is now retreating one meter per year on average. Glaciers happen to cover some of the massive copper deposits that make Chile the world's largest producer of the metal, with about a third of the world's copper output coming from its mines each year. Mining is key to Chile's economy, making up 10% of its gross domestic product and comprising just over half its exports. That economic reality is at the heart of the government's quandary, evaluating the trade-offs required to protect the environment while supporting an industry worth some $19 billion to the economy." • $19 billion? That's all? Why don't we just write them a check?
"Climate deniers get more media play than scientists: study" [Phys.org]. "From 2000 through 2016, hundreds of academics, business people and politicians who doubted global warming or attributed rising temperatures to 'natural' causes got 50 percent more ink than an equal number of top scientists, according to a study in Nature Communications, a peer-reviewed journal. Even in a more select group of mainstream English language news outlets with high standards of evidence—from the New York Times and The Guardian to The Wall Street Journal and the Daily Telegraph—sceptics were still cited slightly more often."
"Climate expert at CDC poised to file whistleblower complaint over treatment" [Science]. "George Luber, who led the CDC's Climate and Health Program, plans to file his complaint this week, E&E News has learned. It will allege that the agency retaliated against him for speaking out on climate change and will raise concerns that the CDC is shifting climate funds to other programs…. Luber [is] still employed at the CDC and holds his official title, according to [Public Employees for Environmental Responsibility (PEER)] staff counsel Kevin Bell. However, he is not allowed at his former office unsupervised, and he works from home 5 days a week. Bell said that when Luber does go to the office, he is accompanied by an armed escort. 'He was one of the world's leading experts of the public health impacts of climate change,' Bell said. 'He has essentially been gagged at the agency.'"
"Alaska governor halves massive funding cut to state university system" [Nature]. "The agreement spreads $70 million in cuts over 3 years, beginning with $25 million this year. Governor Michael Dunleavy, who faces a mounting effort to remove him from office, announced the compromise on 13 August at a press conference with John Davies, chair of UA's governing board…. When asked about how the $25 million in cuts will be distributed this year, Davies said that the board will prioritize student programmes and reduce administrative costs." • Attaboy. Gut that adminstrative layer.
Health Care
"ACA market continues to lose those who don't qualify for financial help" [Health Care Dive]. "The gap between those on the exchanges with subsidized coverage and those without it continues to grow. Last year, the subsidized market was 122% larger than the unsubsidized…. What's staggering is the number of states that lost at least 50% or more of their unsubsidized shoppers. Iowa lost nearly all of its unsubsidized enrollment by 2018. From 2017 to 2018, the state experienced an 85% drop among its shoppers who didn't receive subsidies. Five other states lost 50% or more of its unsubsidized market over the same period, including Georgia, Nebraska, Tennessee, Virginia and Kentucky…. recent KFF analysis found that affordability depends largely on where shoppers live, based on 2019 premiums. For example, a 60-year-old earning $50,000, or slightly above 400% of the federal poverty level, would spend 32% of his or her income on the lowest-cost plan in Thomas County, Nebraska, or $1,314 in average monthly premiums. But that same 60-year-old would spend only $384 in monthly premiums, or 9% of income, in Albany County, New York." • So, if you live in Albany County, you go to HappyVille. If you live in Thomas County, you go to Pain City. Random discrepancies like that are why I hated ObamaCare from the beginning, as I pointed out "relentlessly" in 2013.
"Obamacare's Unpopularity Suggests Medicare For All May Be A Hard Sell" [FiveThirtyEight]. "The ACA also highlights an important difference between how policymakers and the public think about a complex policy. For the ACA's architects, the legislation was an integrated whole, with various provisions working in tandem to increase access to comprehensive insurance. The individual mandate, for example, was thought to be critical to driving younger, healthier people to buy insurance and to keep overall costs down. But when making sense of that same policy, citizens focused on just a few of its most salient — and controversial — elements. In other words, when it comes to public opinion, the ACA made it clear that the whole is often not the sum of its parts — and that could spell trouble for other big policy proposals." • A Rube Goldberg device is "an integrated whole, with various [parts] working in tandem." Maybe a program with fewer moving parts will not only work better, but be easier to sell?
Class Warfare
No:
Come take a free tour at an Amazon fulfillment center and see what our warehouses are really like. Check out the locations and reserve your spot online. #AmazonFCTours

— Amazon News (@amazonnews) August 1, 2019
The saddest tweet:
I suffer from depression too, and at one point I wanted to quit Amazon. But I realized it was my fault for the problems I was dealing with, and not Amazon's. I'm allowed to talk to people, but sometimes I don't want to. Now I have some great coworkers to pass the nights with.

— Hannah – Amazon FC Ambassador ? (@AmazonFCHannah) August 15, 2019
Or not:
the Amazon FC ambassadors aren't bots, but the reality is a little weirder: their accounts are company property and get switched out monthly. here, Ciera seamlessly becomes Hannah after Ciera's month long assignment ends pic.twitter.com/Wu664Q2d1W

— Computer Literacy Psyduck (@null_fruit) August 15, 2019
News of the Wired
Speaking of gutting the administrative layer:
Don't be absurd. Your office isn't the size of a veal pen. It's the size of four veal pens — a solid 5 square meters!

— Associate Deans (@ass_deans) August 14, 2019
* * *
Readers, feel free to contact me at lambert [UNDERSCORE] strether [DOT] corrente [AT] yahoo [DOT] com, with (a) links, and even better (b) sources I should curate regularly, (c) how to send me a check if you are allergic to PayPal, and (d) to find out how to send me images of plants. Vegetables are fine! Fungi are deemed to be honorary plants! If you want your handle to appear as a credit, please place it at the start of your mail in parentheses: (thus). Otherwise, I will anonymize by using your initials. See the previous Water Cooler (with plant) here. Today's plant (Expat2Uruguay):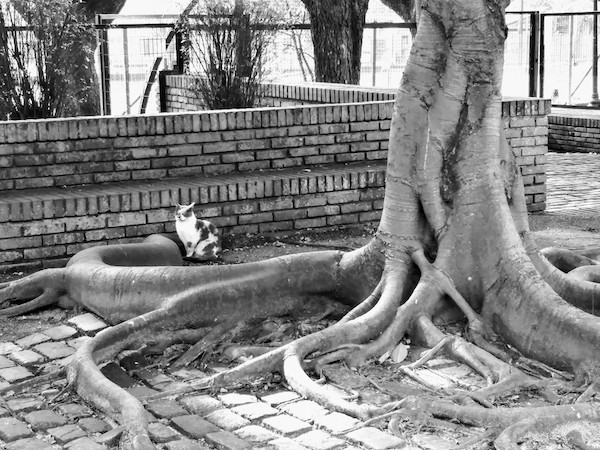 Expat2Uruguay writes: "These pictures are from a plaza near Parque Rodó in Montevideo, Uruguay. The trees are Magnolias and I love how their roots crawl all over the stones in the plaza! It's the middle of winter here, but today is a warm day in the 60s." Black and white is very appropriate to the subject matter, too. This seems to be the week for roots!
* * *
Readers: Water Cooler is a standalone entity not covered by the annual NC fundraiser.Remember, a tip jar is for tipping! So if you see a link you especially like, or an item you wouldn't see anywhere else, please do not hesitate to express your appreciation in tangible form. Regular positive feedback both makes me feel good and lets me know I'm on the right track with coverage. When I get no donations for five or ten days I get worried. More tangibly, a constant trickle of donations helps me with expenses, and I factor in that trickle when setting fundraising goals:
Here is the screen that will appear, which I have helpfully annotated.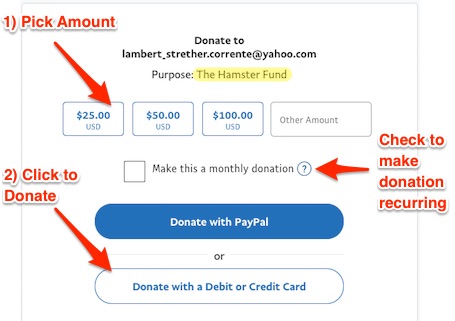 If you hate PayPal, you can email me at lambert [UNDERSCORE] strether [DOT] corrente [AT] yahoo [DOT] com, and I will give you directions on how to send a check. Thank you!