By Lambert Strether of Corrente
Trade
"China Sticking to September US Trade Talks After Tariff Delay" [Bloomberg]. "Chinese officials are sticking to their plan to visit Washington in September for face-to-face trade meetings, people familiar with the matter said, signaling that talks remain on track for now despite an abrupt escalation in tariff threats this month. The U.S. on Tuesday delayed the imposition of some new tariffs after top negotiators spoke on the phone, with President Donald Trump saying the encounter was 'very productive,' and that he thinks Beijing wants to 'do something dramatic' to end the impasse. That said, Chinese negotiators are not very optimistic of any imminent progress, one of the people said. Officials are unlikely to make concessions in the run up to October 1, the celebration of the 70th anniversary of the founding of the People's Republic, the person said. S&P 500 futures erased their losses, the yen pared gains and the yuan rose slightly on the news." • Xi the impresario? I dunno…
https://asia.nikkei.com/Economy/Trade-war/US-soybeans-pile-up-as-trade-war-tests-Trump-s-support-base
"US soybeans pile up as trade war tests Trump's support base" [Asian Nikkei Review]. "The U.S. Department of Agriculture on Monday published a pair of highly anticipated reports on crop production as well as world supply and demand estimates. Even though soybean production is expected to fall nearly 20% in 2019 to 3.68 billion bushels, farmers are expected to be left with a surplus of 755 million bushels, only 5% less than last year. The reports brought unwelcome news to corn farmers, too, with corn prices in Chicago plunging to their lowest since mid-May after the USDA announced better-than-expected yields for the previous month, erasing three months of slow but steady price gains…. Many soybean farmers had planned to switch to corn this year due to uncertainty surrounding the soybean trade, but excessive rain made that impossible."
Politics
"But what is government itself, but the greatest of all reflections on human nature?" –James Madison, Federalist 51
"They had one weapon left and both knew it: treachery." –Frank Herbert, Dune
"2020 Democratic Presidential Nomination" [RealClearPolitics] (average of five four polls). As of August 12: Biden down to 30.3% (30.8), Sanders up to 17.5% (16.8%), Warren up to 18.5% (18.0%), Buttigieg down at 6.0% (6.3%), Harris flat at 8.3% (8.3%), Beto back among the bottom feeders. Others Brownian motion. Only four? I for one could use a little more transparency on why these choices are made.
* * *
2020
Biden (D)(1): "Joe Biden Knows He Says the Wrong Thing" [New York Times]. "Mr. Biden has a long history of verbal flubs and gaffes, so much so that he is comfortable making light of these self-inflicted errors. But he is also a proud man who has often talked about his own brand of speaking plainly and off-the-cuff. In recent weeks, he has expressed frustration to allies that his candidacy will suffer if he is judged too harshly on the slip-ups, which he thinks he can do little to correct so long as he is being true to himself." •

Biden (D)(2): "Why Joe Biden's Gaffes Matter" [The New Yorker]. The conclusion:

The last public event of Biden's Iowa trip was on Saturday afternoon, in Central City, about a half hour north of Cedar Rapids, where he spoke at a fund-raiser for local Democrats. His campaign has been careful with how much time Biden gives to reporters and the unfiltered public, but in Central City Biden stuck around, lingering outside the venue as people came up to him with questions and requests for selfies. A mother and daughter told him about a struggle that the daughter, who might have been in high school or college, was facing. In response, Biden said, "Everybody has something to deal with." He spoke of a stutter that he lived with in his youth. "It's the only sort of generic impediment that people still laugh at—when someone does that. But it is debilitating. It makes you feel like you can't be smart. Like you must be some kind of idiot," he said. He was standing with his hands on his hips, holding eye contact with the mother and daughter, confiding in them, speaking of how he'd overcome certain challenges, but also of how he still lived with them. "It's hard to ask a girl to go to p-p-prom," he said, stuttering for effect. He spoke about his mother. "Even though she was no speech therapist, she'd say, 'Joey, look at me. Read your studies. You're so smart,' " he said. "But it's all about confidence. Giving people confidence. Because there's—everybody has something to deal with. Everybody."

Again, maybe gaffes should matter. But I don't think they do; Presidents Reagan, Bush the Elder, Bush the Younger, and Trump all committed them regularly. Dick Gerphardt, say, didn't have that reputation. Nor did John Kerry, Al Gore, Walter Mondale, or Michael Dukakis. So what does the record say about gaffes?

Sanders (D)(1): "Inside Bernie Sanders's Playbook for Winning the Black Vote" [Vanity Fair]. "The young black voters I spoke to resent being told they should vote for Biden because he was Obama's vice president, and they really resent being told they should like Harris, and they think Booker is a nice guy running the Obama playbook circa 2008… [Aja] Monet's comments echoed those of other black millennials, who were also critical of Barack Obama for not having embraced the "change" he ran on in 2008. The former president evokes complicated feelings among America's 30 million eligible black voters. The older generations mostly adore him. He will forever be the first black president, the president whose election marked a cosmic break with the country's original sin, the legacy of slavery, Jim Crow, redlining. That's why Biden's African American support skews old. But younger black voters want more than a black president. They want a government that, they believe, speaks directly to the needs of black voters…. The Sanders people seem aware of all of the above, which is why they decamped to Chi Spacca—to hone their message and build on what they view as their growing support in black and brown communities." • It is true that Sanders support in the black community has been disproportionately young. And if Sanders has the smarts and the stones to figure out a critique of Obama black voters will accept, that's gonna upset a lot of people. See also "Obama Legacy" below.

Sander (D)(2):

Cardi B knows this is the most important election of our lives. So we sat down to talk about the pressing issues facing people today.

Watch our full conversation from @TheTENNailBar on Thursday. pic.twitter.com/ic4aZNcUL7

— Bernie Sanders (@BernieSanders) August 14, 2019

Sanders (D)(3): An enormous Twitter flap. Follow the money (a phrase that originated at the Post):

Senator Bernie Sanders: "Amazon made $10 billion dollars in profit last year. You know how much they paid in taxes? You got it, zero. And we wonder why the Washington Post is not one of my great supporters, I wonder why." https://t.co/GToXevkWSt pic.twitter.com/yWgGLdtSZZ

— The Hill (@thehill) August 13, 2019

Unsurprisingly, Bezos has class interests. Also unsurprisingly, his firm is affected by them.

Sanders (D)(4): Not dialing back:

Bernie Sanders dialed back his suggestion that there's a connection between Amazon CEO Jeff Bezos' ownership of The Washington Post and what Sanders views as negative coverage of his presidential campaignhttps://t.co/JiU5yNtdyh pic.twitter.com/fU0TJhPTQO

— POLITICO (@politico) August 13, 2019

Sanders (D)(5): The self-criticism the press cannot make:

Many journalists – either for self-serving reasons or due to genuine befuddlement – are completely misinterpreting Bernie's media critique. The person who explained it most clearly was Noam Chomsky in this 90-second answer to an equally confused BBC host. This will clear it up: pic.twitter.com/AgznEp3LB1

— Glenn Greenwald (@ggreenwald) August 13, 2019

Sanders (D)(6): Stuck pig squeals:

Thousands of people posted their #MyBernieStory about struggling to survive in America.

Instead of spotlighting any of these, zillionaire fabulist Brian Williams decided to put an anonymous Twitter troll's anti-Bernie screed on national TV last night.

You cannot make this up. pic.twitter.com/bts2KQUnHt

— David Sirota (@davidsirota) August 14, 2019

Sanders (D)(7): About that Twitter troll MSNBC signal-boosted, the well-known "Hoarse Whisperer." Thread:

1) So the account MSNBC sent all their viewers to has some really awful tweets that msnbc and @sruhle should be embarrassed/mortified over

— Greg C (Bernie 2020) (@greg06897) August 14, 2019

Lambert here: Readers will recall that I have urged that there are "three carefully assembled strategic assets for the Sanders campaign": (1) From 2016, the voter files (not available to other Democrats); from 2018, the media empire (not available to other Democrats); and (3) for 2020, the canvassing operation (not available to other Democrats). I would argue there is a fourth unique aspect: Sanders' movement-based theory of change. "Expect continued volatility as liberal Democrat power brokers and media assets discover they don't have the power they are accustomed to having." Now, one of the issues with the Sanders campaign, from an outsider perspective, is that it's "run silent, run deep." We won't know whether the canvassing strategy works, absent leaks of internal campaign data, until the election day (modulo theft). We also can only know whether the media empire is working, except through the negative result that Sanders' polling numbers (assuming they are not all weaponized) do not drop as one would expect, even under systematic assault.

So it looks to me that we are seeing a test of strength here: Sanders called out the press (rightly) and various press entities hit back. (I'm not going to link to the various self-serving protestations of objectivity from the usual suspects.) What's interesting to me about MSNBC's riposte is not how they got the Hoarse Whisperer more followers, but that they tried to pollute the #MyBernieStory hashtag — in other words, they assaulted one aspect of the Sanders media empire by aiming trolls at it. (To be fair, I think the video empire is far more important.) Expect continued volatility.

* * *

"The DNC Debate Rules Are a Game" [Edward-Isaac Dovere, The Atlantic]. "His campaign bought 8 million voter files compiled by the group Need to Impeach and is renting data from NexGen America, two advocacy organizations that Steyer himself founded and still funds. The move gives his team access to information on scores of people. But his ability to get this close to qualifying so quickly is also a reflection of the system set up this cycle by the Democratic National Committee…. Steyer's campaign is announcing today that he's cleared the donor threshold. And he's nearly there on the DNC's second requirement: Steyer has hit at least 2 percent in three recent polls evaluating voter support. If he hits 2 percent in one more—which is likely, given his performance in public polling overall—he'll be guaranteed a spot in the next presidential debates in Houston, which would be his first appearance. The polls have likely been nudged along by Steyer's massive advertising push since he announced his campaign last month: The $7 million he's put into TV commercials alone is more money than most of the other campaigns have raised overall, and it's just a sliver of the at least $100 million he's pledged to spend…. The entire first month of Steyer's campaign was geared toward getting into the debates. Using the data from his two groups, his campaign has produced 16,000 variations of digital ads, aides told me, including those that are adjusted automatically by software to more effectively target viewers by their interests. The aides acknowledged that they built the early phase of the campaign specifically to fit the DNC's requirements, postponing other voter-engagement efforts until the fall." • So a squillionaire is trying to buy the Presidency. Not even Trump did that.
Obama Legacy
"The Case against Obama" [Eli Zaritsky, LRB Blog]. "[P]residents should be judged by how well they respond to historical situations, not by trans-historical criteria such as how many bills they get passed. We judge Lincoln by how he handled the Civil War and Roosevelt by how he handled the Depression. Obama came to the presidency at a potentially momentous crossroads, when the neoliberal order was deeply discredited because of the disaster in Iraq and the financial crisis. In that context, Obama was the object of charismatic longings of rare intensity. Grasping this, he ran on the promise of moving in a wholly new direction, claiming we needed not just new policies but a new mindset. Once elected, however, he governed on the basis of 'pragmatism', 'little steps' and 'bipartisanship'. In the end, it was not Obama but Trump who answered the call for a wholly new direction, but in a disastrous way." • Quite a rant, and well worth reading in full. Interestingly, this very topic was brought up in the meeting described by Vanity Fair in "2020."
Realignment and Legitimacy
"Koch brothers funded centrist Democratic group Third Way, according to new book" [Salon (RH)]. "Koch Industries secretly funded a report by Third Way, a centrist Democratic think tank, to sell liberals on their trade agenda, according to the new book "Kochland" by investigative reporter Christopher Leonard. The Kochs enlisted the help of Third Way, a corporate-funded centrist group that has long opposed progressive populists like Bernie Sanders and Elizabeth Warren, after the Democrats won control of Congress in 2006…. The report was released in 2007 in coordination with two members of Congress, Rep. Joe Crowley of New York and Rep. Melissa Bean of Illinois." • Joe Crowley. Who would have made it into the House leadership but for AOC. More: "The outreach to Third Way was far from the Kochs' only effort to influence Democratic politics, although it has been more customary for the billionaire brothers to back Republicans. Koch Industries was also a member of the executive council of the Democratic Leadership Council, another centrist group aimed at countering progressives inside the party. Hall, whom Third Way thanked for conceiving and designing its report, was a member of the DLC's event committee." • If you wonder why so many centrists are indistinguishable from Republicans…

"The Future Is Fascist" [Gods and Radicals Press]. "[F]ascism is a reaction after all, but not a reaction against an aesthetic increase in social rights for select minorities. Instead, it is a reaction to an emergency. Laws against dissent or political opposition during war time, for example, are justified as necessary because the very existence of the government is under threat from foreign powers… So if this increasing trend towards authoritarianism throughout the world is a reaction to an emergency, we must ask ourselves what that emergency is…. Every government of the world is now facing the undeniable question: how do we hold on to power in the face of catastrophic climate change? China has already found its answer, through increased surveillance and management of its people through a "social credit" system… Here we can see that China is responding to the same emergency (dwindling resources) to which Emmanuel Macron was responding when he implemented his highly unpopular diesel tax." • I'm not sure I agree with this — note the sloppy definition of fascism — but it's a well argued piece, if lengthy, and well worth a read.

"Democratic Socialists look to take over New York's powerful labor unions" [Politico]. "In its memo, the DSA makes clear its dissatisfaction with some of the same unions that were once regarded as a bedrock of left-leaning Democratic politics. The group argues some unions have become too disengaged, too timid and lack the organizing power they once wielded on behalf of workers. The tension resembles the national strain between left-flank Democrats, who want to capitalize on the energy in their wing of the party, and centrists aiming for broader appeal. 'We will focus our branch resources on recruiting NYC-DSA members to take jobs in these sectors and on developing a strategy for militant, democratic, classwide struggles based in these sectors," reads the introduction to the plan.' • Interesting. That may be a difficuilt transition for some DSA members to manage. Main target: "DC37, a 125,000-member organization representing some of the lowest-paid municipal employees."
Stats Watch
MBA Mortgage Applications, week of August 9, 2019: "The rush in the global financial markets to the safety of US Treasuries is tripping a landslide in refinancing applications" [Econoday]. "Demand for home purchases, however, is showing much less movement."
Import and Export Prices, July 2019: "Yesterday's consumer price did show some pressure in contrast to mostly subdued readings in last week's producer price report and also today's data on import and export prices" [Econoday]. "Country data continue to show very little price variation for Chinese imports, down 0.1 percent on the month and down 1.6 percent on the year. This suggests that Chinese exporters are only marginally discounting goods shipped to the US. Note that prices in this report, unlike the consumer and producer price reports, exclude tariff effects."
Atlanta Fed Business Inflation Expectations, August 2019: "Inflation expectations at the business level have edged higher this month. Still modest [Econoday]. "40 percent of the sample reported passing tariff-related cost increases to their customers versus 48 percent who said they have not."
Big Ag: "U.S. farmers are growing more crops than expected despite this year's severe weather. The Agriculture Department is estimating higher production of corn and wheat, the Journal's Kirk Maltais writes, a bump that could ripple through the agricultural supply chain. Growers planted 90 million acres of corn this year, and corn yields for 2020-2019 are estimated to be 2% higher than was forecast in July. The upward revision took traders by surprise, sending prices for corn, wheat and soybeans falling. Some in the market attribute the increase to June corn plantings by farmers looking to secure USDA aid payments for those hurt by the trade conflict. USDA also lowered its production estimates for soybeans, which have been battered by Chinese tariffs. Grain shipments by rail are down 4.8% this year, according to the Association of American Railroads" [Wall Street Journal].
The Bezzle: "Uber Created a $6.1 Billion Dutch Weapon to Avoid Paying Taxes" [Bloomberg]. "San Francisco-based Uber generated the outsized deduction before its initial public offering in May because it moved some of its offshore subsidiaries to different countries as a result of new European Union rules governing multinational companies. The $6.1 billion deduction came through an increase in the value of intellectual property that Uber transferred between its offshore subsidiaries, according to the company's first quarterly filing. When an intangible asset increases in value, so do the tax deductions that come with its use over time. 'It's safe to say that Uber will not be paying any taxes for the foreseeable future,' said Robert Willens, an independent tax and accounting expert in New York."
Tech: "YouTube's moderators think top creators get special treatment — the community agrees" [The Verge]. "Moderators told The Washington Post that "recommendations to strip advertising" from videos that appeared to violate the site's rules were "frequently overruled by higher-ups" when high-profile creators were involved. This includes creators like Logan Paul, Steven Crowder, and Felix "PewDiePie" Kjellberg, all of whom have faced controversies around the content on their channels. While all three creators have been stripped of advertising privileges in the past (Crowder's channel is still demonetized), several moderators told the Post that advertisers were eventually brought back because of the creators' popularity. YouTube makes money off of advertisements, and top creators account for a big portion of that. Creators, who often watch notable personalities go through controversies only to continue securing advertising not long after the fact, recognize that YouTube is incentivized to favor those with millions and millions of subscribers."
Tech: "Twitter admits using user data for ads without consent" [Deutsche Welle]. "The company said "certain data" of mobile users such as country code may have been shared with advertising partners since May 2018 'even if you didn't give us permission to do so.' Twitter also said since September 2018 it may have shown ads 'based on inferences' made about users' devices, without consent. A statement on the company's website insisted the data in question 'stayed within Twitter and did not contain passwords or email accounts.' The issues were 'fixed on August 5; and Twitter says it is conducting an investigation into who may have been impacted."
Tech: "Japan's FTC investigating Apple over pressure on parts makers: Mainichi" [Reuters]. "Japan's FTC survey of companies showed that Apple had signed contracts forcing firms to provide free technology and know-how to its affiliates for parts manufacturing, the Mainichi said. It also pressured some suppliers to lower components prices and prohibited them from selling parts and technology to other companies, while requiring them to shoulder the costs of any unforeseen issues, the newspaper said, citing unnamed sources. When a company called it an infringement of intellectual property rights and demanded a revision, Apple threatened to end their business relationship, the report said."
Mr. Market: "Dow decline exceeds 700 points as flashing recession signal rattles stock market" [MarketWatch]. "Part of the impetus for stocks heading sharply lower was an inversion of the 2-year Treasury, and the 10-year Treasury notes, which took place at about 6 a.m. Eastern Time. The spread between the 2-year note and the 10-year note temporarily fell to a negative 1 basis point. An inversion of this measure has often preceded an economic downturn. Investors say its powers as a recession indicator comes from its ability to reflect when tight monetary policy is capping growth and inflationary pressures. A yield curve inversion along the 2-year and 10-year spread has come before the last seven recessions."
Mr. Market: "The yield curve inversion panic, explained" [Matt Yglesias, Vox]. "while the empirical link between past inversion events and recessions is real, it's also clear if you look at the chart that there's a time lag involved. That means there's nothing automatic about this process. And while the theoretical link between recessions and inversions is real, there are also other sets of future financial situations — like a sudden spike in the value of the dollar — that could produce the same result…. The other important thing to consider is that yield curves seem to have grown structurally flatter over time in developed countries due to a mix of stable low inflation and lower population growth rates. If curves are flatter in general, then inversion events may just start happening from time to time due to more or less random trading noise that doesn't necessarily signal very much." • To a layperson like me, this is a good explainer. Perhaps any finance wizards in the readership can correct Yglesias, however.
* * *
Today's Fear & Greed Index: 23 Extreme Fear (previous close: 27, Fear) [CNN]. One week ago: 25 (Extreme Fear). (0 is Extreme Fear; 100 is Extreme Greed). Last updated Aug 14 at 12:29pm. • Restored at reader request. Note that the index is not always updated daily, sadly.
The Biosphere
"Effects of climate and land‐use change scenarios on fire probability during the 21st century in the Brazilian Amazon" [Global Change Biology]. From the abstract: "We conclude that avoiding the regress on land‐use governance in the Brazilian Amazon (i.e., decrease in the extension and level of conservation of the protected areas, reduced environmental laws enforcement, extensive road paving, and increased deforestation) would substantially mitigate the effects of climate change on fire probability, even under the most pessimistic RCP 8.5 scenario."
Water
"3M Knew About PFAS Food Contamination in 2001" [The Intercept]. "it has become clear that 3M, the company that originally developed PFOS and PFOA, had known for a very long time that these toxic and persistent chemicals were in our food. According to a 2001 study sponsored by 3M, 12 samples of food from around the country — including ground beef, bread, apples, and green beans — tested positive for either PFOA or PFOS. One piece of bread had 14,700 parts per trillion of PFOA, though the report noted that the sample was considered 'suspect.' The Environmental Protection Agency has known about the study for years, but it is not clear if the FDA was aware of the research.
Our Famously Free Press
"Journalists, Pundits And Retired Politicians Put On A Show For Lobbyists" [Tarbell]. "Woodward said in 1996 that he doesn't profit from his paid speaking engagements but donates the money to a family foundation, which then contributes the funds to charities. Tax records show that Woodward's family foundation donated $600,000 between mid-2015 and mid-2018 to his alma mater, Yale University – more than half of its total charitable donations. Woodward's youngest daughter recently attended school there, according to his latest book. His foundation has also regularly donated to Sidwell Friends School, the Washington, D.C., private school that his children attended."
"'Lead' vs. 'lede': Roy Peter Clark has the definitive answer, at last" [Poynter]. • Lead. Fun article, though.
Health Care
"The Exploitative Cancer Drug Industry Needs to Be Euthanized" [Jacobin]. "In more measurable terms, the United States now spends over $50 billion per year on medications that fight cancer — and that could soon top $200 billion. Much of that is driven by the expense of new drugs, including pills that fight cancer. More and more newly approved anticancer drugs are available only in pill form, which should be easy, convenient, and cheap. Those pills are often the best available treatment, have milder side effects, and require fewer hospital stays. Yet the expense is outrageous, regularly topping $100,000 per year. Parity laws, the most widespread attempt to make the drugs affordable, have largely failed… To achieve both equity and cost control, pharma as we know it needs to be put down and replaced with a socialized model. Public research is already the backbone of cancer drug development, and the fruits of that labor should belong to the public, not pharma execs."
"Superstition, contagion and medical rumour" (images) [Wellcome Collection]. "Following the development of the smallpox vaccine in 1796, rumours spread through 19th century France that the vaccine was an expensive form of British quackery. This satirical print shows a procession of health workers promoting the vaccine. They carry a poster on which the word 'dindonnade' is written, which relates to both the French word for turkey (dindon) and to dupe. The Depeuille publishing house published many similar satirical prints which reflect general wariness surrounding vaccination."
"DeepMind's Latest A.I. Health Breakthrough Has Some Problems" [OneZero]. "[T]he researchers make no attempt to explain the A.I. model they used. How did it work? Why did they decide to construct the model in the way they did? Why was this a good conceptual fit for this particular dataset, and how effectively could it generalize to a wider population? How did the A.I. address the needs of specific patient types, and what impact would this algorithm have on them? A spokesperson said that DeepMind aimed to justify all of the decisions made in the VA study through supplemental information and a non-peer reviewed protocol paper. However, none of these questions were answered with precision and, as a result, the study offers few meaningful insights into either renal medicine or A.I. prediction. The study is littered with unexplained choices that may have been medically instructive, as well as omissions of details (such as 36 salient features discovered by the deep learning model, and what they mean) and outliers — distractions from a clean model, perhaps, but all representing real patients, at the end of the day." •
Games
"Nintendo, Sony, Microsoft to require loot box odds disclosure" [GamesIndustryBiz].
Class Warfare
"San Francisco Taxi Drivers Getting Letters Demanding Repayment Of Medallion Loans" [CBS SH BayArea]. "Some embattled San Francisco taxi drivers, struggling to survive in the face of competition from Lyft and Uber, have received letters calling for full repayment of their taxi medallion loans. It's the latest wrinkle in the long, dark saga that is the meltdown of the San Francisco taxi industry. About a dozen letters demanding loan repayment sent out drivers have cab operators even more worried. 'They send me the letter, you know? I cannot sleep. I'm nervous, all week, nervous,' explained cab driver Tien Bui. Heis just one of the San Francisco taxi drivers who received a letter demanding full payment on the balloon loan issued for his medallion. '$176,000,' he explained, looking at the letter. 'I cannot afford that.'" • Maybe GoFundme?
Yep:
My most cynical take is the elites are basically saying, "Ooops, we broke the working class. Lets import another!"

— Chris Arnade (@Chris_arnade) August 14, 2019
News of the Wired
No, there is no subtext here:
just found out gorbachev did a commercial for pizza hut pic.twitter.com/jqwVVTpM8t

— ☀️👀 (@zei_nabq) August 13, 2019
It took me a minute…
the set of all objects pic.twitter.com/2fbDF9VYM2

— sol (@fire__exit) April 26, 2019
* * *
Readers, feel free to contact me at lambert [UNDERSCORE] strether [DOT] corrente [AT] yahoo [DOT] com, with (a) links, and even better (b) sources I should curate regularly, (c) how to send me a check if you are allergic to PayPal, and (d) to find out how to send me images of plants. Vegetables are fine! Fungi are deemed to be honorary plants! If you want your handle to appear as a credit, please place it at the start of your mail in parentheses: (thus). Otherwise, I will anonymize by using your initials. See the previous Water Cooler (with plant) here. Today's plant (MF):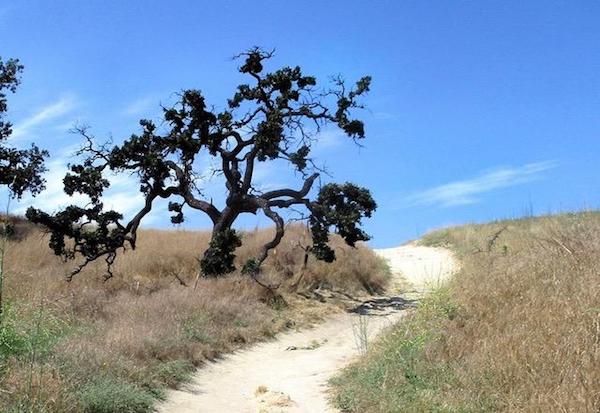 MF writes: "I love this Oak Tree. I smile every time I see it." The S-curve really works!
* * *
Readers: Water Cooler is a standalone entity not covered by the annual NC fundraiser.Remember, a tip jar is for tipping! So if you see a link you especially like, or an item you wouldn't see anywhere else, please do not hesitate to express your appreciation in tangible form. Regular positive feedback both makes me feel good and lets me know I'm on the right track with coverage. When I get no donations for five or ten days I get worried. More tangibly, a constant trickle of donations helps me with expenses, and I factor in that trickle when setting fundraising goals:
Here is the screen that will appear, which I have helpfully annotated.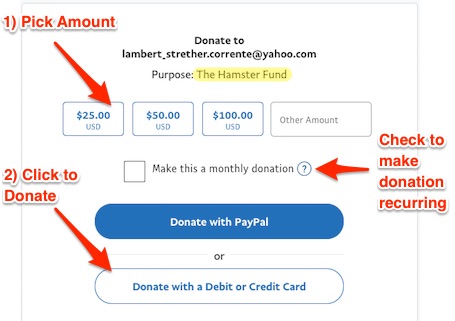 If you hate PayPal, you can email me at lambert [UNDERSCORE] strether [DOT] corrente [AT] yahoo [DOT] com, and I will give you directions on how to send a check. Thank you!