By Lambert Strether of Corrente
Politics
"But what is government itself, but the greatest of all reflections on human nature?" –James Madison, Federalist 51
"They had one weapon left and both knew it: treachery." –Frank Herbert, Dune
"2020 Democratic Presidential Nomination" [RealClearPolitics] (average of six five four polls). As of August 15: Biden flat at 30.5% (30.3%), Sanders down to 16.0% (17.5%), Warren dives to 17.3% (18.5%), Buttigieg down to 5.2% (6.0%), Harris down at 8.0% (8.3%), Beto rising from the bottom feeders once more. Others Brownian motion. So now six polls again, which no doubt accounts for the fluctuations, which are all well within the margin of error generally. Again, I could use some transparency on why these choices are made!
* * *
2020
Sanders (D)(1): "Poll: Support for Sanders among college students reaches highest level since April" [The Hill]. "Support for Sen. Bernie Sanders (I-Vt.) among college students climbed to its highest mark since April, according to a new weekly Chegg-College Pulse poll. The latest figures, released Thursday, found that 29 percent of likely Democratic voters attending college or university picked Sanders as their top choice for president. Support for Sanders in this election cycle peaked at 32 percent in April. Sen. Elizabeth Warren (D-Mass.) and former Vice President Joe Biden were the only other White House contenders to win double-digit support in the Democratic field." • An underrated factor: In 2016, Sanders had a single opponent who was widely hated. Not so in 2020. Sanders has to work harder to win his votes.

Sanders (D)(1): "Bernie Sanders To Israel: Ban Our Lawmakers? Then Don't Take Our Money" [HuffPo]. Sanders: ""And if Israel doesn't want members of the United States Congress to visit their country, to get a first-hand look at what's going on, and I have been there many, many times, but if he doesn't want members to visit maybe he can respectfully decline the billions of dollars that we give to Israel." • It's all about the benjamins ?!

Warren (D)(1): Worth listening to in full:

Elizabeth Warren tells the story of her first time meeting Obama back in 2002 when he was preparing to run for Senate.
Wait for the punchline. ? pic.twitter.com/oN1vYqxPQX

— Trojans for Warren (@USCForWarren) August 15, 2019

There's a lot wrong here — although Warren is a terrific story teller — but it's really too bad that Obama didn't say "accounting control fraud," instead of "predatory lending." Although it's not clear that Warren would have understood him if he had.

IA: "The Pundit-Defying Idiosyncrasies of Iowa Voters" [Michelle Goldberg, New York Times]. "It might be precisely because Iowa Democrats get to know the candidates so intimately that they don't feel the need to plot them on a left-right spectrum…. No one knows what's going to happen at the caucuses, which is maddening, since so much is at stake. There are no lanes, only the irreducible and hard-to-measure quality of human connection. This thing could go anywhere." • That's the conclusion, which is sensible in a horse-race kind of way. But the lead, oh the lead: "On Friday, Julie Allen, a 62-year-old Medicaid consultant, took time off work to sit in the scorching sun at a midday, open-air rally for Joe Biden in Boone, Iowa. In 2016, she told me, she was "all in" for Bernie Sanders, but she now feels "he's past his time," and as she considers her choices for the February caucuses, he's no longer in her top five. Instead, she's weighing Biden, whom she supported in 2008, as well as Elizabeth Warren, Pete Buttigieg, Kamala Harris and Gov. Steve Bullock of Montana." • Goldberg uses Allen to bolder her "personal connection" thesis. Why oh why didn't she think to find out if Sanders' #MedicareForAll proposals made Allen fearful for her "Medicaid consultant" job? (Iowa also does a lot of back-office work for health insurance companies.)

* * *

"'A reckoning': Sanders and Warren supporters see an alliance on the brink" [McClatchy]. "Part of the Warren campaign's muscular presence in Iowa is designed to strike an early blow there that would undercut Sanders' structural advantage in New Hampshire, where he routed Hillary Clinton in 2016 and has maintained a strong operation. But given Sanders' financial prowess — he had a field-leading $27 million in the bank entering July — there may be little incentive for him to exit the race even if his standing in polls falters…. In most polls, Sanders and Warren's combined support surpasses Biden's. But that doesn't mean their coalitions are identical. Warren fares better with upper-income, college-educated liberals, whereas Sanders' voters tend to have lower levels of education and income. Some of Warren's most loyal supporters are over the age of 50; Sanders' strongest age group remains the 18-34 contingent." • If you look at money and the base, then, the headline looks like wishful thinking.
Our Famously Free Press
"The Campaign Press: Members of the 10 Percent, Reporting for the One Percent" [Matt Taibbi, Rolling Stone]. "Anyone who's worked in the business (or read Manufacturing Consent) knows nobody calls editors to red-pencil text. The pressure comes at the point of hire. If you're the type who thinks Jeff Bezos should be thrown out of an airplane, or that it's a bad look for a DC newspaper to be owned by a major intelligence contractor, you won't rise. Meanwhile, the Post has become terrific at promoting Jennifer Rubins and Max Boots. Reporters watch as good investigative journalism about serious structural problems dies on the vine, while mountains of column space are devoted to trivialities like Trump tweets and/or simplistic partisan storylines. Nobody needs to pressure anyone. We all know what takes will and will not earn attaboys in newsrooms. Trump may have accelerated distaste for the press, but he didn't create it. He sniffed out existing frustrations and used them to rally anger toward 'elites' to his side. The criticism works because national media are elites, ten-percenters working for one-percenters. The longer people in the business try to deny it, the more it will be fodder for politicians. Sanders wasn't the first, and won't be the last." • Yep. I'm so glad Rolling Stone has Matt Taibbi on-board. Until advertisers black-list "the One Percent," I suppose.
L'Affaire Joffrey Epstein
"What Really Went Wrong at Jeffrey Epstein's Jail" [MedPage Today]. "Jeffrey Epstein is a prime example. He had been released from active suicide watch. The correctional officers were still supposed to do checks on him every 30 minutes (which they evidently did not do) but this was because he was in a special housing cell rather than an open dorm. Special housing cells tend to be small, typically two beds, and have small windows or observation ports on the door…. [I]n Jeffrey Epstein's case, the critical factor was not that the checks were not being done, it was that he did not have a roommate! It is much harder to commit suicide with a roommate who will sound the alarm…. For this reason, patients coming off of active suicide watch should always have at least one roommate, more if possible. And even more important than being a suicide 'alarm' is the psychological benefits of roommates. Depressed patients need social interaction and someone to talk to. Isolation is psychologically hard, which you do not want to inflict on a patient who was recently suicidal. According to news reports, Epstein's roommate was released and he was left isolated. This was perhaps the biggest mistake in his case, even more than the 30-minute special housing checks not being done." • The author, a doctor, works exclusively in jails and prisons, and blogs about correctional medicine at JailMedicine.com. No roommate, then, in an over-crowded jail, against medical practice (although absent a copy of the MCC manual, we can't know what the policy was). So… no roommate? Or no witnesses?
Realignment and Legitimacy
CFR member and known associate of Neera Tanden Stacey Abrams:

I am excited to announce the launch of #FairFight2020, a comprehensive initiative to staff, fund, and train voter protection teams on-the-ground in battleground states across the country.

Join our fight to protect the vote at https://t.co/kwO6JZ0kHE. pic.twitter.com/ymf3rSf5GD

— Stacey Abrams (@staceyabrams) August 13, 2019

Abrams' tweet exemplifies everything that's wrong with the Democrat approach to the voting. It's one campaign-only; preventing election theft is not, incredibly, viewed as a core party function. It's only for battleground states, so apparently Democrats believe that voters in other states are less worthy human beings. And it's not voter registration, so there's no attempt to expand the base. What a disappointing proposal. Also, the "Leadership Team" is super-sketchy: Abrams and two "board members," with no bios. "Tracey-Ann Nelson" is former Director of Government Relations, Communications and Coalitions, Georgia Association of Educators and endorsed Abrams in her gubernatorial campaign. "Al Williams" is a Georgia Representative. Who's handling the money?

"Some 2020 Democrats are getting help from big money super PACs, even if they don't want it: [Open Secrets]. "Just a handful of wealthy donors are providing some 2020 Democrats with financial support in the form of powerful super PACs, the unlimited spending groups that have drawn ire from Democrats eyeing the nomination… The super PACs have raised a combined $3.8 million from just 21 donors, arriving as Democrats increasingly assail big money … mountains of evidence suggest the most powerful super PACs are not independent whatsoever, but rather arms of the major parties and major candidates."

"DCCC is out of step with Democratic values" [Richard Rodriguez, The Hill]. "Congressman Daniel William Lipinski of Illinois' third congressional district is one of the Democratic Party's more conservative members. Lipinski voted against the landmark Affordable Care Act in 2010 and is anti-abortion. In 2018, he survived a close primary against author and small businesswoman Marie Newman. On April 16, Newman officially announced that she will challenge Lipinski in a rematch for the spring 2020 primary. Even though the party doesn't need to fear losing a seat in this solidly Democratic area, the DCCC is trying to handpick its preferred candidate, rather than let Chicago-area voters decide which candidate is best for them without outside interference."
Stats Watch
Consumer Sentiment, August 2019 (Preliminary): "Not since the government shutdown early in the year has consumer sentiment been this low" [Econoday]. "A key reason for the drop according to the report is the US tariff hike on China that is set to take effect at the beginning of next month (though some products will be exempt until Christmas). This was spontaneously cited by 33 percent of the sample and near a prior peak on tariff issues of 37 percent. Another reason for the drop is the Federal Reserve's rate cut last month, one that the report says is raising apprehensions about a possible recession." • So the rate cut triggers the fear, instead of the fear triggering the rate cut?
Housing Starts, July 2019: "A slow turn upward is the indication from a mixed but still positive housing starts and permits report for July" [Econoday]. "Residential investment has pulled down GDP in each of the last six quarters and though July's uneven results don't point yet to relief in the third quarter, they do, along with falling mortgage rates, point to improvement ahead."
Quarterly Services Report (Advance), Q2 2019 (Advance): "Information sector revenue for the second quarter of 2019 increased to $430.0 billion. Year-on-year, second-quarter information sector revenue grew 6.2 percent" [Econoday].
Banking: "Central banks haven't shifted direction this abruptly in a decade" [MarketWatch]. "The shift in central bank monetary policy direction during the last six months hasn't been this dramatic in a decade. Fitch Ratings, examining the direction but not magnitude of central bank shifts, found that more than a third of them have loosened monetary policy in the past six months. Those central banks range from the U.S. to Turkey, with only Norway and the Czech Republic going in a different direction by raising interest rates, Fitch found…. One difference between financial crisis of 2009 and now is that the shift to looser monetary policy has not been accompanied by any collapse in commodity prices. Another is that the deterioration in the global economy hasn't been anywhere near as severe, the Fitch report said."
Retail: "As Dollar General rapidly expands in rural Siouxland, small-town grocers report losses" [Sioux City Journal]. "[Chet] Davis, 74, is sounding the alarm that a Dollar General opening a few blocks away may deliver the final death blow to his store. He worries the loss of his store could ripple through the town, leading to a gradual unraveling of the quality of life in the community. 'We've had the town that everybody wants to move to, because we've had a pharmacy, we've had a hardware store, we've had a grocery store, we've had a doctor, we've had a dentist,' Davis said. 'Once you lose your grocery store in town, it's going to hurt the whole community. Because they've told me that the value of your property drops, because when people move into a community, they want to be in a community where they have those things. And we'll no longer have them.'" • Yes, I remember when my own town had a grocery store and a hardware store. Good times.
Shipping: "Trucking capacity bleed-off is now supportive of rates" [Freight Waves]. "Trucking carriers continue to exit the market, citing a variety of reasons including the regulatory environment, low rates, inflated wages and high insurance costs. To date, there is little to suggest that capacity has bled off enough to materially affect spot rates – most of the discussion with private and public third-party logistics providers this summer has been around very loose capacity. That may be changing. Market data and anecdotes from freight brokers now suggest that enough trucking capacity has exited the industry to support a floor under the spot market. Price, of course, is a function of both supply (trucking capacity) and demand (freight volumes), and the supply side is the hardest to get a handle on. FreightWaves is aware that capacity is continuing to leave the market, that the supply of trucks is decreasing, not increasing, both directly and indirectly. Publicly announced carrier shutdowns continue at a steady clip. Truckers are defaulting on fuel card payments at an accelerating pace."
The Bezzle: "WeWork Officially Files To Be The Last IPO" [DealBreaker]. "[T]oday, we have the ultimate document. The thing that this whole counterfactual modern tech IPO market has been careening towards for five years. Ladies and gentlemen, the WeWork S-1 is upon us. we are delighted to report that this thing is better than we could have ever dreamed…
We are a community company committed to maximum global impact. . We have built a worldwide platform that supports growth, shared experiences and true success. We provide our members with flexible access to beautiful spaces, a culture of inclusivity and the energy of an inspired community, all connected by our extensive technology infrastructure. We believe our company has the power to elevate how people work, live and grow.
• The numbers are awful too.
The Bezzle: "WeWork Gave Founder Loans as It Paid Him Rent, IPO Filing Shows" [Bloomberg]. "Adam Neumann is more than a founder and chief executive at WeWork. He's also a landlord, a seller of intellectual property and a financial borrower…. The name Adam appears 169 times in the financial prospectus, far more than any other…." • Wild details, here.
The Bezzle: "Deflated, Uber May Swap Anniversary Balloons For Stickers To Save $200K Per Year" [CrunchBase]. "This cost-cutting measure is part of a company-wide campaign, complete with its own internal hashtag: #FindTheMoney. Uber executives are soliciting ideas from their employees to find ways to reduce the company's burn rate. In his email message, Chai credits an employee with the idea and implores others to 'please keep the ideas coming.' … It will likely take much more than slashing budgets with stickers to deflate Uber's ballooning losses." • No kidding. How about replacing all the highly paid executives with people randomly chosen on Twitter and paid orders of magnitude less? Because why not? The company's never going to make money.
The Bezzle: "The algorithms that detect hate speech online are biased against black people" [Vox]. "Platforms like Facebook, YouTube, and Twitter are banking on developing artificial intelligence technology to help stop the spread of hateful speech on their networks. The idea is that complex algorithms that use natural language processing will flag racist or violent speech faster and better than human beings possibly can…. But two new studies show that AI trained to identify hate speech may actually end up amplifying racial bias. In one study, researchers found that leading AI models for processing hate speech were one-and-a-half times more likely to flag tweets as offensive or hateful when they were written by African Americans, and 2.2 times more likely to flag tweets written in African American English (which is commonly spoken by black people in the US). Another study found similar widespread evidence of racial bias against black speech in five widely used academic data sets for studying hate speech that totaled around 155,800 Twitter posts. This is in large part because what is considered offensive depends on social context." • Good luck, AI!
The Bezzle: Awesome thread on Tesla's robot car scam:
professor gato here.

today's topic: why $TSLA FSD is a complete fiction, why the architecture is a fraud, why the basic methodology can never work, why their "data" is not data at all, and why advanced summon is not coming soon (or ever) because parking lots are too hard. pic.twitter.com/PKJYjMx75f

— el gato malo (@boriquagato) August 15, 2019
As above, the problem is context, which humans are really good at and AI is not. Maybe we need to add predators to AI training environments….
Mr. Market: "Janet Yellen says yield curve inversion may be false recession signal this time" [CNBC]. "Former Federal Reserve Chair Janet Yellen said the markets may be wrong this time in trusting the yield curve inversion as a recession indicator. 'Historically, it has been a pretty good signal of recession, and I think that's when markets pay attention to it, but I would really urge that on this occasion it may be a less good signal,' Yellen said … 'The reason for that is there are a number of factors other than market expectations about the future path of interest rates that are pushing down long-term yields.' … When asked if the United States is headed into a recession, Yellen said: 'I think the answer is most likely no. I think the U.S. economy has enough strength to avoid that, but the odds have clearly risen and they're higher than I'm frankly comfortable with.'" • Talking other people's books? Now that it's the Fed's mission to prop up equities? But read on–
The Fed: "This Is What I Am Talking About" [Tim Duy's Fed Watch]. "Bottom Line: It remains too early to see a recession in the data. It's reasonable to worry about the pessimistic signal from the yield curve but even if it does foreshadow recession, a recession call now is likely still too early."
* * *
Today's Fear & Greed Index: 19 Extreme Fear (previous close: 19, Extreme Fear) [CNN]. One week ago: 25 (Extreme Fear). (0 is Extreme Fear; 100 is Extreme Greed). Last updated Aug 16 at 12:22pm. • Restored at reader request. Note that the index is not always updated daily, sadly.
The Biosphere
"Architectural history offers clues to low-carbon relief from the heat" [Yale Climate Connection]. "Throughout history, buildings in India, as around the world, evolved to provide comfortable environments by harnessing forces like sunlight and wind – a strategy now referred to as passive design. The invention of 'active' building systems (e.g., air conditioning, artificial lighting) fundamentally changed the way buildings and neighborhoods are constructed. Instead of prioritizing appropriateness for the local climate, builders began to rely on active systems to keep occupants comfortable. Because these systems run mainly on fossil fuels, building operations became a major source of emissions…. "There is no downside to passive design. It's not like if you do passive design it will cost you more, or take longer to build," [Manit Rastogi, a New Delhi-based partner of architecture firm Morphogenesis] said. 'Passive design, in its fundamental nature, will provide comfort conditions, or close to comfort conditions – or reduce the need for air conditioning, or heating, if it's a cold climate – [thereby] reducing the cost of operations, but also reducing the cost of construction. So it's really a win–win.'" • My house has enormous thermal mass, especially in the older parts. That means that it retains heat in the winter (especially when I stopped the drafts). That also means it stays cool in the summer for at least a month after the real heat begins. I don't know if that's the cheap way to do passive, though (and what a horrible polarity "active"/"passive" is, here).
Health Care
"Top U.S. medical centers roll out DNA sequencing clinics for healthy (and often wealthy) clients" [STAT]. "eizing on the surging popularity of at-home DNA testing kits, top academic medical institutions are opening clinics that promise to probe much deeper into your DNA — if you're willing to pay hundreds or even thousands of dollars out of pocket to learn about disease risks that may be lurking in your genes…. By scouring hundreds or thousands of genes — far more than most consumer genetics companies — representatives for these clinics told STAT that, in a of patients, they're helping diagnose genetic diseases as well as turning up markers of for conditions both common and rare." • Concierge medicine, catering to the projected fears of terrified, pampered rich people. It's living, I guess.
"Why Some Doctors Purposely Misdiagnose Patients" [The Atlantic]. "More than a decade later, Martinez is one of hundreds of patients who have accused Awaad of intentionally misreading their EEGs and misdiagnosing them with epilepsy in childhood, all to increase his pay. In June, Martinez's case became the first to go to trial in Michigan. The case shines a light on the grim world of health-care fraud—specifically, the growing number of doctors who are accused of performing unnecessary procedures, sometimes for their own personal gain. At Awaad's trial, Martinez's lawyers painted a portrait of a man on a quest to conduct as many EEGs as possible, and of a hospital that looked the other way as red flags flew up around him. The lawyers accused Awaad of being hired by Oakwood Healthcare on a contract that compensated him for each EEG he performed. In his time at the hospital, from 1999 to 2007, his salary rose from $185,000 to $300,000, and he qualified for bonuses up to $220,000 if he met certain billing targets. Brian McKeen, Martinez's lawyer, told jurors that Awaad had "turned that EEG machine into an ATM.'" • Awaad was responding to incentives, too. Why not sue Oakwood? All anecdote, no data though. Upcoding is a far more common kind of misdiagnosis.
"Nation's uninsured rose 700K in Trump's first year" [Health Care Dive]. "The new study is further evidence that stripping the ACA of several insurer-stabilization mechanisms and expanding barebones coverage like short-term health plans as viable alternatives to the federal and state exchanges has led to a rise in premiums and in the rate of uninsured. The research focused on the American Community Survey of more than 3 million residents nationwide. The percentage of Americans without insurance rose from 10% in 2016 to 10.2% in 2017. Its authors concluded that this occurred despite a strong economy and corresponding increases in income and employer-sponsored coverage…. The loss of insurance was particularly acute in the 19 states that decided not to expand Medicaid eligibility, concentrated heavily in the South and Midwest. While the combined population in those states grew by 800,000, about 700,000 of their residents lost coverage. The uninsured rates in those states was 14.3% in 2017 versus 7.6% in the expansion states."
"Why doesn't the United tates have universal health care? he answer has everything to do with race." [New York Times]. • And nothing to do with. well, capital. That's what "everything" means. Worth a read for fresh historical perspective, but if the 1619 Project goes on as it has begun, it's gonna devolve into the equivalent of Clinton's famous rhetorical question: "If we broke up the big banks tomorrow… would that end racism?" Liberals…
Neoliberal Epidemics
"New York going after Sackler family's financial records in opioid case" [MarketWatch]. "New York officials are demanding that banks and other companies with connections to the family that owns OxyContin maker Purdue Pharma hand over financial records as the state tries to trace where money from opioid sales ended up. The state attorney general's office this week began issuing subpoenas this week. New York is among 48 states that have filed legal claims against Purdue Pharma seeking to hold the company responsible for the opioid crisis. At least 17 states are suing members of the Sackler family. The attorney general's office contends that the family fraudulently removed money from the company and that it needs details from investment advisers and companies connected to the family to show that."
Class Warfare
"Perpetual Debt in the Silicon Savannah" [Boston Review]. "Across conversations in Kenya's pubs and WhatsApp groups, debt is on everyone's mind. The speed and ease of access to credit through new mobile apps delivers cash to millions of Kenyans in need, but many struggle to repay. Despite their small size, the loans come with a big cost—sometimes as much as 100 percent annualized. As one Nairobian told us, these apps "give you money gently, and then they come for your neck…. Relations of credit and debt are nothing new to Kenya. For ages, friends, family, and colleagues have lent and borrowed from each other, but what differs today is a lack of reciprocity. In peer-to-peer credit, everyone is eventually likely to be a debtor and a creditor; terms can be reworked according to timelines and margins that are subject to negotiation. In contrast, the fintech industry envisions ordinary Kenyans as first and foremost borrowers, leading many Kenyans to describe their predicament as a form of servitude. One Kenyan argued the apps are 'enslaving' people—from the working poor to the salaried classes—by making claims on their future labor." • That's not a bug. It's a feature.
News of the Wired
"A New Species of Leech Is Discovered Near Washington, D.C." [Smithsonian (DK)]. DK: "Does it have to register as a lobbyist?"
"Four letters can say a lot: Why people put their Myers-Briggs personality types in their Tinder profiles" [WaPo]. What, even the introverts? Apparently so! But: "As it turns out, people aren't that great at figuring out to whom we'll actually be attracted. In a study published in 2017, researchers asked singles to describe their ideal qualities in a partner. After examining daters' stated romantic preferences, researchers created an algorithm to match participants based on their self-reported personality tastes. The machine could not predict who ended up pairing off. The researchers concluded that 'compatibility elements of human mating are challenging to predict before two people meet.'" • Context problems again, perhaps?
Please stop:
The future of ovens: burning your house down because it turned itself back on https://t.co/hxSYXp2eQ4

— Internet of Shit (@internetofshit) August 14, 2019
* * *
Readers, feel free to contact me at lambert [UNDERSCORE] strether [DOT] corrente [AT] yahoo [DOT] com, with (a) links, and even better (b) sources I should curate regularly, (c) how to send me a check if you are allergic to PayPal, and (d) to find out how to send me images of plants. Vegetables are fine! Fungi are deemed to be honorary plants! If you want your handle to appear as a credit, please place it at the start of your mail in parentheses: (thus). Otherwise, I will anonymize by using your initials. See the previous Water Cooler (with plant) here. Today's plant (TH):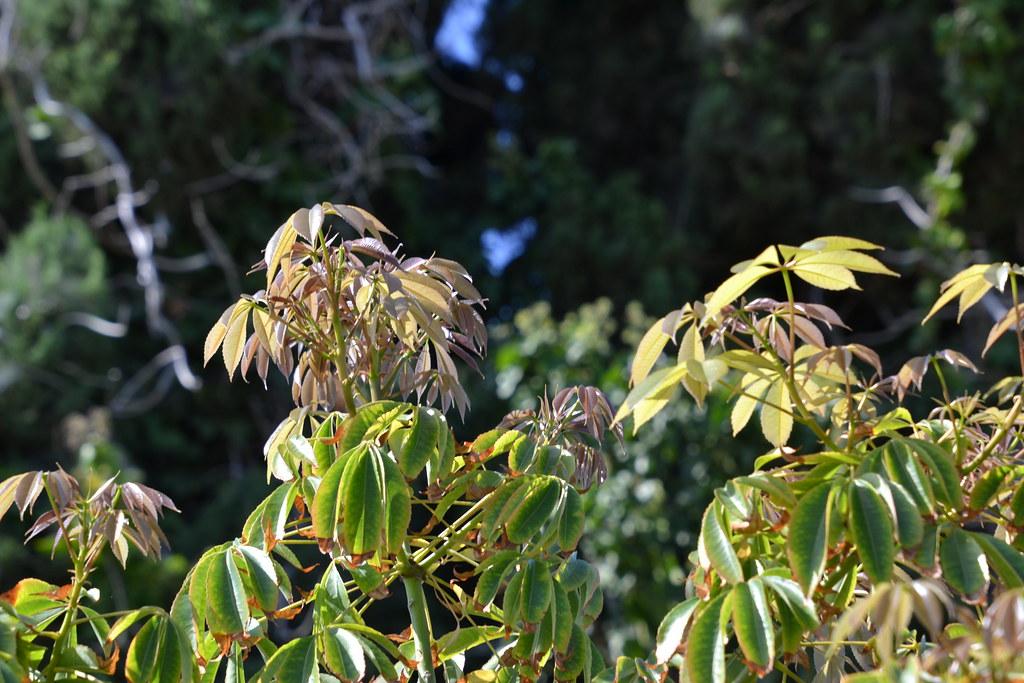 TH writes: "New leaves on the silk floss tree, resulting a couple of days after a 15 minute soak, inspired by concern that the silk floss tree's leaf tips were burning due to insufficient hydration."
* * *
Readers: Water Cooler is a standalone entity not covered by the annual NC fundraiser.Remember, a tip jar is for tipping! So if you see a link you especially like, or an item you wouldn't see anywhere else, please do not hesitate to express your appreciation in tangible form. Regular positive feedback both makes me feel good and lets me know I'm on the right track with coverage. When I get no donations for five or ten days I get worried. More tangibly, a constant trickle of donations helps me with expenses, and I factor in that trickle when setting fundraising goals:
Here is the screen that will appear, which I have helpfully annotated.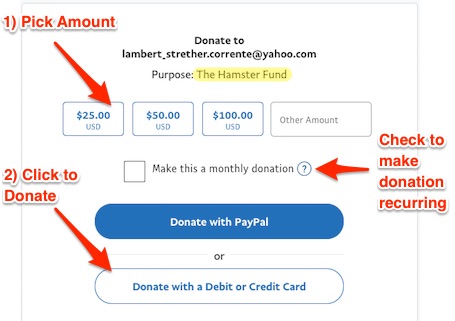 If you hate PayPal, you can email me at lambert [UNDERSCORE] strether [DOT] corrente [AT] yahoo [DOT] com, and I will give you directions on how to send a check. Thank you!