By Lambert Strether of Corrente
Politics
"But what is government itself, but the greatest of all reflections on human nature?" –James Madison, Federalist 51
"They had one weapon left and both knew it: treachery." –Frank Herbert, Dune
I'm abandoning the RCP poll on the Democrat Presidential nomination race, despite the fancy presentation, because I don't like the way the polls used keep changing (and RCP doesn't include Reuters/IPSOS either, at least not now, even though Reuter is one of the polls that the DNC uses to determine — if that's the word I want — candidate eligibility for the debates. So I'll try FiveThirtyEight (I know, I know) for awhile. Here are results going a week back, last updated 2019-08-20: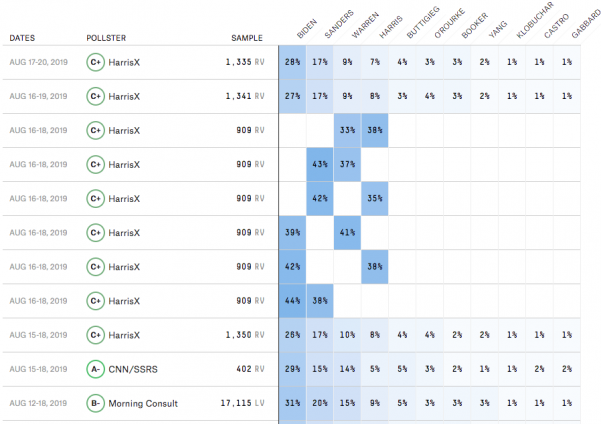 A new YouGov, relative positions of Biden, Warren, Sanders are same. Morning Consult (B-) is still the pick of the litter today on sample size, and it has Biden, Sanders, and Warren, in that order, and Sanders solidly ahead of Warren. CNN (A-) has Warren breathing down Sanders' neck. Harris (C+) has interesting head-to-head comparisons. Hopefully we'll have something better than this screen dump shortly.
* * *
2020
Biden (D)(1): "Joe Biden's Poll Numbers Mask an Enthusiasm Gap" [New York Times]. "Joseph R. Biden Jr. is coasting in the national polls. Surveys show him ahead of his Democratic rivals in hypothetical matchups against President Trump. He has maintained a lead in Iowa all summer, despite facing months of controversies over his record and his campaign missteps…. 'I did not meet one Biden voter who was in any way, shape or form excited about voting for Biden,' [Patrick Murray, the director of Monmouth's Polling Institute, who recently spent time in Iowa] said. 'They feel that they have to vote for Joe Biden as the centrist candidate, to keep somebody from the left who they feel is unelectable from getting the nomination.'"

Gabbard (D)(1): "Gabbard Victimized by DNC's Dubious Debate Criteria" [Michael Tracey, RealClearPolitics]. "Tulsi Gabbard is on the verge of being excluded from the next Democratic presidential debate on the basis of criteria that appear increasingly absurd. Take, for instance, her poll standing in New Hampshire, which currently places Gabbard at 3.3% support, according to the RealClearPolitics average as of Aug. 20. One might suspect that such a figure would merit inclusion in the upcoming debates — especially considering she's ahead of several candidates who have already been granted entry, including Cory Booker, Amy Klobuchar, Beto O'Rourke, and Andrew Yang. But the Democratic National Committee has decreed that the polls constituting this average are not sufficiently 'qualifying.' What makes a poll 'qualifying' in the eyes of the DNC? The answer is conspicuously inscrutable." • Third World stuff. The rules of the game are opaque, confusing, and constantly changing. But the outcome always tends in one direction!

Harris (D)(1): "The #KHive, Kamala Harris's most devoted online supporters, explained" [Vox]. "With Harris, it's not the #BeyHive but the #KHive…. Given its size and the commitment of those using it, the #KHive hashtag could be an invaluable organizing resource for the campaign, says digital strategist Alan Rosenblatt. In a competitive and crowded race where grassroots support and funding is everything, the #KHive has emerged as its own energized, and passionate, community."

Harris (D)(2): "Is it panic time for Kamala Harris?" [Chris Cilizza, CNN]. " You don't need to peak in August 2019. You need to peak in February/March 2020. The Point: Harris is doing just fine. She isn't the front-runner. But she's in the lead pack — and that's right where she wants and needs to be." • Maybe…

Inslee (D)(1): Nothing in life became him like the leaving of it:

Never flashy, @JayInslee didn't find his lane. But he impressed me with his smart, earnest advocacy around climate change and an array of issues.
He leaves with his dignity in tact and reputation enhanced, which isn't always true in presidential races.https://t.co/6ItcBuqDvZ

— David Axelrod (@davidaxelrod) August 22, 2019

Impressing Axelrod. Something to tell the kids about, I guess, years from now.

Sanders (D)(1): "Bernie Sanders's ambitious plan to double union membership, explained" [Vox]. "Sanders's plan calls for the end to "at-will" employment, aims to double union membership in his first term in office, and advocates for industry-wide collective bargaining. It also directly addresses criticism from those like former Vice President Joe Biden who argue Medicare-for-all, Sanders's central health care policy, could be bad for unions…. 'If there is going to be class warfare in this country, it is time that the working class of this country won that war,' Sanders said at the AFL-CIO convention in Iowa Wednesday, where he unveiled the plan." • The detail looks very strong. Must be a good plan, because The Jeff Bezos Daily Shopper is already trying to distort it:

.@washingtonpost: You asked for an on-the-record comment on this bogus headline. Well, here it goes: Bullshit. Bernie wrote the damn bill & didn't amend it. We're proud of the union support for #MedicareForAll. When it passes they will receive higher wages and benefits – period. pic.twitter.com/ueeAxXFDFB

— Warren Gunnels (@GunnelsWarren) August 22, 2019

Sanders (D)(2): "Is Bernie Sanders the New Climate Candidate?" [Rolling Stone]. "Dubbing the plan as his version of the Green New Deal, Sanders wants America's electrical and transportation systems to be powered exclusively by renewable energy by 2030, and for America to be totally decarbonized by 2050. The plan calls for a $16.3 trillion public investment to make this happen, which Sanders says will pay for itself in only 15 years, partially through tax revenue generated from the 20 million new jobs the plan would create. To help kick the plan into gear, Sanders would take executive action to declare the climate crisis a national emergency." • As Klein, below, asks.

Trump (R)(1): "Trump has 62 percent disapproval rating in new AP poll" [The Hill]. "Sixty-two percent of Americans said they disapprove of the job Trump is doing, while just 36 percent approve, according to the Associated Press–NORC Center for Public Affairs Research poll released Thursday. While low compared to former President Obama, Trump's latest approval rating is relatively consistent with the polling results seen throughout his first term. Trump's approval rating has stayed between 32 and 42 percent throughout his time in office, the AP noted. Amid of a recession, which Trump and administration officials have dismissed, 46 percent of Americans now approve of Trump's handling of the economy, based on the poll." • It seems that these days fear sells better than sex.

Trump (R)(2): "Team Trump launches 'coast-to-coast' campaign for suburban women" [Politico]. "President Donald Trump's reelection campaign will dispatch more than a dozen female surrogates on Thursday to some of the most important 2020 battleground states in its first major push to mobilize suburban women — a critical voting bloc that revolted against Republican candidates as recently as the midterm elections last fall. Campaign officials have billed the cross-country events as both a celebration of women's suffrage — Monday marks the 99th anniversary of the adoption of the 19th Amendment, which guarantees women the right to vote — and a coordinated effort to train pro-Trump women to become effective volunteers in their communities. A campaign official involved with the planning said about 2,000 attendees were expected across the gatherings in 13 states, as of Tuesday."

Warren (D)(1): "Rising Warren faces uphill climb with black voters" [The Hill]. "While Warren (D-Mass.) has been moving up in recent polls, she has struggled to lure black voters to her campaign…. A separate poll by the Pew Research Center found that while former Vice President Joe Biden received 29 percent of support among African Americans, only 4 percent were throwing their support behind Warren. More black voters also named Sen. Kamala Harris (D-Calif.) and Sen. Bernie Sanders (I-Vt.) as their pick… Warren's political director and senior adviser Rebecca Pearcey, for example, is a well-respected veteran of the Democratic Party, having worked at the Democratic Congressional Campaign Committee and a string of campaigns. D'Shawna Bernard, the African American outreach director, is a veteran of the Foundation. Rich McDaniel is the National Organizing Director. LaToia Jones, a consultant on the campaign, is also a veteran." • The Black Misleadership Class. Could be a recipe for success in South Carolina. We'll see!

* * *

"Progressives Are Winning the 2020 Democratic Primary, and Losing to Biden" [Paste Magazine (RH)]. "Majorities of the under-35 crowd simply look at politics in a completely different light than majorities of the over-35 crowd, as demonstrated by these two poll responses below. Biden's support is grounded entirely in completely subjective and undefinable measures like "electability" and "personal characteristics," while the majority of both Bernie and Warren's support is rooted in their aggressive policy positions—which again, are the farthest to the left of standard Democratic politics than any primary contender in Gen Z's, millennials' or Gen X's lifetimes. On a majority basis, young people simply outright reject the politics of Biden's generation. There's no other way to read this kind of polling." And: "Leftists who want to evangelize the cause should be wary of using the famed 'centrist' slur against folks just trying to find someone new to like, as current polling proves that these are the people who will choose the Democratic nominee (also because ideologically, the Democratic Party is staunchly united on policy that is quite far to the left—very few Democrats are actual centrists)." • Perhaps not conventional wisdom, but certainly conventional analysis (generational analysis; left v. right as a spectrum and not a terrain). That said, as a trend, younger voters do vote on policy, and some Sanders advocates need to avoid conflating the Axis of Tanden with "folks."

"Why the Democratic National Committee Must Change the Rules and Hold a Climate Debate" [Naomi Klein, The Intercept]. "It does not help the case for this debate that much of the mainstream climate movement has done a poor job of making clear links between the ways that the wealthiest and most powerful interests in our economy are assaulting the earth, assaulting democracy, and assaulting the most vulnerable among us all at the same time and to serve the same profitable goals." • Yep.
Susan Sarandon Hysteria
It's still going on!

Yikes. Here, the hysteria spirals outward and takes down an editor at Daily Kos. or should. See at bottom right:

Editor at Daily Kos 👇 pic.twitter.com/CkR5lkKREp

— DSA Otherkin Caucus ❼ (@QueenInYeIIow) August 21, 2019

The liberal Democrat slogan "Listen to black women" has always seemed somewhat selective, but never moreso than here.

"Democrats are traumatized. That's why they hate Susan Sarandon" [The Independent]. • Well, maybe. But the cost of living in the Beltway is very high. I would bet a lot of Democratic strategists and identity politics "voices" and talking heads made career plans based on the idea that Clinton was a lock in 2016. Now, it turns out that life is more precarious for them than they imagined. They'll have had to cut back on positional goods. No braces for little Madison! Connor won't get into the right pre-school. That's the kind of trauma we're talking about. It's not like they've having to block a coal train as an answer to their boss's wage theft.
L'Affaire Joffrey Epstein
When you've lost Deray:

I was at home and knew that Jeffrey Epstein was not to be left alone in the cell.

So, yes, more then 8 jail staff knew. They all knew. They let him die. https://t.co/E9R111UXG0

— deray (@deray) August 22, 2019

"Jeffrey Epstein's Intellectual Enabler" [Evgeny Morosov, The New Republic]. "[Literary agent John Brockman] is also the president, founder, and chief impresario of the Edge Foundation, which has earned a stellar reputation as an eclectic platform for conversations that involve scientists, artists, and technologists. There is more than one Edge Foundation, though: There is the one meant for public consumption, with its "annual question"—e.g. "What are you optimistic about?"—answered by famous intellectuals and thinkers; and one meant for private consumption by members of Brockman's elite network. The former exists primarily online. The latter has a vibrant real-life component, with sumptuous dinners, exclusive conferences, and quite a bit of travel on private jets—it functions as an elaborate massage of the ego (and, apparently, much else) for the rich, the smart, and the powerful." • I think I see where this is going… " And so we get to this email from Brockman to Morosov: "Last time I visited his house (the largest private residence in NYC), I walked in to find him in a sweatsuit and a British guy in a suit with suspenders, getting foot massages from two young well-dressed Russian women… At that point I realized that the recipient of Irina's foot massage was his Royal Highness, Prince Andrew, the Duke of York." • Everybody knew.
Realignment and Legitimacy
Election reform thread from Mike Gravel:

#MikeGravel my be out of the race, but the platform planks he offered on Fundamental Political Reform remain as a brilliant inspiration for building a better America. Dare I suggest we #MAGA?

Abolishing The Electoral College 1/8 pic.twitter.com/xnwZmSEPJi

— Lucid Primate 🦍 (@LucidPrimate) August 12, 2019

This is a lot more interesting than "abolish the electoral college" foofra (which in practice is yet another way for liberal Democrats to avoid looking in the mirror for their 2016 loss).
Stats Watch
Jobless Claims, week of August 17, 2020: "The coming employment report, this time for August, looks to be roughly as strong if not slightly stronger than prior reports, at least based on jobless claims" [Econoday]. "Low levels for claims point to low rates of layoffs and high demand for labor."
Leading Indicators, July 2019: "The index of leading economic indicators had been weak in May and June but bounced back strongly in July" [Econoday]. "Yet manufacturing components were still weak and the yield spread component, which has been the great strength of this report over the past 10 years, came in negative for a second straight month. The Conference Board's conclusion: 'While the LEI suggests the US economy will continue to expand in the second half of 2019, it is likely to do so at a moderate pace.'"
Kansas City Fed Manufacturing Index, August 2019: "Tenth District manufacturing activity had its largest monthly drop in over three years" [Econoday]. "The drop in overall manufacturing activity was driven by declines at both durable and non-durable plants, especially primary metal, electrical equipment, appliances, paper, printing and chemical manufacturing."
Purchasing Managers' Index Composite (Flash), August 2018: "Just about flat and no better than flat are the conditions being reported by Markit Economics' US business samples where the headline composite… came in below Econoday's consensus range. [Econoday]. "The text of the report underscores that respondents are often citing subdued levels of corporate spending in what directly confirms Fed worries over business investment, that investment here is slowing as businesses lower their outlooks…. Weakness for the manufacturing sample is no surprise, unlike services where spillover from manufacturing is the possible indication in what would confirm the Fed's structural assessment that changes in manufacturing precede changes in services." • Remember, however, that is a survey, and the divergence between surveys and data has been a continuing scandal for years.
Retail: "The Hottest Thing in Food Is Made of Peas, Soy, and Mung Beans" [Bloomberg]. "Brown prefers to hold forth about the meatlike substances he's been working on for more than 10 years, breaking plant materials down into their component parts—amino acids, lipids, minerals—and then rebuilding them to mimic the structure of animal flesh. He'll identify the five necessary sensory experiences: fat, flavor, aroma, appearance, and texture. "Meat is these five components," he says. "What the animal is doing is organizing plant material." Instead of using cows to turn plants into burgers, Beyond uses a system of heating, cooling, and pressure. The result is a raw, reddish-brown patty that's closer to animal meat in taste and texture than any freezer-aisle predecessor." • And then there are those proprietary ingredients….
Tech: One area where innovation never, ever happens:
The best part of @ycombinator demo day networking was when a male venture capitalist referred to the female-founded companies in the batch as "#MeToo startups."

— Kate Clark (@KateClarkTweets) August 20, 2019
Tech: He's not wrong:
the onslaught of Tonzzen, Hiptrend, Laggmont, MODLISS is unstoppable, and all the fake logos are just as real as the shit coming out of this country. a company pays a consultant a fortune for a logo while a 22 year old chinese dude registers trademarks on 150 identical ones

— Utterly dispassionate, documentary hog slaughter (@gravislizard) August 21, 2019
Right now, the firms @gravislizard describes are manufacturing and selling cables, routers, modems, etc. But no reason for them not to move up the value chain, eh?
Manufacturing: "Walmart slams Tesla with a lawsuit claiming its solar panels caught fire at 7 stores" [Business Insider]. "'As of November 2018, no fewer than seven Walmart stores had experienced fires due to Tesla's solar system,' the company said in its lawsuit, filed in New York state court…. Walmart alleges the incidents were linked and that they were all a result of 'widespread negligence' on behalf of Tesla and its employees, who installed the systems on more than 200 stories, which are now all laying idle." • Gozilla vs. Mothra!
Manufacturing: "FAA Issues Safety Warning on Sensor Linked to Boeing 737 Max Crashes" [Industry Week]. "'It is imperative that all operators are aware of the criticality of AOA sensors and the potential for damage during normal operations, maintenance procedures, servicing procedures, and any other procedures around an aircraft where damage to an AOA sensor could occur,' the FAA said in the Aug. 14 notice…. A Bloomberg review of public databases found at least 140 instances since the early 1990s of angle-of-attack sensors being damaged on the ground or by birds. Even though the failures occurred on different models, they sometimes prompted serious cockpit emergencies like what occurred in the 737 Max accidents."
Manufacturing: "Boeing's $1 Billion 'Kill Vehicle' Contract Ended by Pentagon" [Industry Week]. "The Pentagon canceled a Boeing Co. contract for a 'kill vehicle' envisioned to shoot down missiles from North Korea or Iran, the latest setback to a next-generation system that has struggled to prove its effectiveness…. 'Ending the program was the responsible thing to do,' Michael Griffin, the under secretary of defense for research and engineering said in the statement. 'After exercising due diligence, we decided the path we're going down wouldn't be fruitful, so we're not going down that path anymore.'" • Boeing's defense bailout seems slow in coming.
Honey for the Bears: "The next recession won't be like the accelerated 2008 crisis – it will be long, slow and deep" [The New Statesman]. This is the UK. Nevertheless. "With incomes low, savings drained and debt levels high, a turn in the business cycle will mean great financial hardship for families throughout the global North…. Many people are no better off today than they were in 2007, and they do not expect their lot to improve. If the political turmoil of the last decade has resulted from economic stagnation, there is no telling what chaos might be unleashed when stagnation turns into decline." • Yep.
The Fed: "Fed's Daly Says She Doesn't See a U.S. Recession on the Horizon" [Bloomberg]. "'When I look at the data coming in, I see solid domestic momentum that points to a continued economic expansion,'; Daly wrote Tuesday in a post on Quora.com, citing data on labor markets and consumer spending. 'But considerable headwinds, like weaker global growth and trade uncertainties, have emerged — and they're contributing to this fear we see in the markets that a downturn is right around the corner,' she said. 'So one thing I'm looking closely at is ." • And there are those who, if would defeat Trump, would be perfectly happy with a recession (since it won't touch them). Wiser heads, I think, understand a recession would elect Sanders.
* * *
Today's Fear & Greed Index: 26 Fear (previous close: 25, Extreme Fear) [CNN]. One week ago: 19 (Extreme Fear). (0 is Extreme Fear; 100 is Extreme Greed). L Last updated Aug 22 at 11:38am. Note that the index is not always updated daily, sadly.
The Biosphere
The Milky Way:
A time lapse of the night sky with a twist. The milky way is fixed, while the earth rotates. pic.twitter.com/5iMxw8bN43

— Daniel Probst (@skepteis) August 20, 2019
"Siberia just experienced wildfires on a staggering scale. Russia is rethinking how to fight them" [Los Angeles Times]. "Four years ago, Russia instituted a policy of letting remote forest fires burn unless it made sense economically to put them out. Environmentalists warned that the new rules would intensify Siberia's annual fire season and release more greenhouse gases into the air. The public, for the most part, didn't pay attention to the regulation change. That changed this summer when fires swept quickly through thousands of square miles of Siberian forest and strong winds spread smoke and ash across a third of the country. For several days, dark clouds blanketed the cities of Novosibirsk and Krasnoyarsk — each home to more than a million people — hundreds of miles from the fires' epicenter."
"A Once Common Gecko Is Vanishing from Parts of Asia" [Scientific American]. "The baby blue and orange-spotted tokay gecko—whose creaky calls of to-kay provided its onomatopoeic name—have always been ubiquitous throughout Southeast Asia, southern China and India. The wall-climbing reptiles often reside in restaurants, gardens and homes, where they help control insect pests… In recent years, though, they have begun to be traded by the millions on the international market—and evidence is emerging that the species is in quick decline, says Vincent Nijman, an anthropologist at Oxford Brookes University in England. Few scientists have undertaken studies of gecko population trends, but teams have confirmed declines as high as 50 percent in China, Vietnam, Thailand, Myanmar (formerly Burma), Indonesia, the Philippines and Bangladesh. Anecdotally, "many people say that where they could hear tokays in their backyards 10 to 15 years ago, they are no longer there," Nijman says." • Oy. Just like the missing bug splats. I love geckoes.
Water
"Water shortages are becoming a banking problem" [American Banker]. I can't get through the paywall, but here's the first sentence of the lead: "Cashmere Valley Bank, based a little more than two hours outside of Seattle, had never considered the water supply as a credit-risk factor."
"Zambia Mulls a Congo Canal. Experts Say Don't Even Try It" [Bloomberg]. "Drought-riven Zambia plans to build canals from the Congo river in its northern neighbor to supply water and electricity. It will never work, say experts…. The Zambezi is also more elevated than the Congo river, said Chapman, a hydrologist who's published a study on the impact of climate change on the Zambezi's hydropower production. 'Canals are absolutely not feasible. I have no idea what the relevant minister could be thinking,' he said in reply to emailed questions. 'There are no places in which one could get the Congo river to flow downhill.'"
"Per- and polyfluoroalkyl substances — The Social Discovery of a Class of Emerging Contaminants" [PFAS Project (MN)]. • MN writes: "This looks like a central source of national news on PFAS."
"State's 'forever chemical' restrictions not applied to compost" [Portland Press-Herald]. "State environmental regulators have allowed companies to sell compost made with treated municipal sludge to the public this summer, even as they restrict the use of sludge on many farm fields because of concerns about chemical contamination…. Direct application of treated sludge on Maine farm fields has slowed dramatically this year amid new concerns at the Maine Department of Environmental Protection over levels of PFAS in the would-be fertilizer. But an extension, of sorts, to continue selling their nutrient-rich product to landscapers, nurseries, contractors and home gardeners." • Those bastards. That's Casella. I bought some of that stuff once, as I've said, and it was horrid.
"Here's what Ann Arbor-area lawmakers are doing about PFAS" [MLive (MN)]. "With many other pollutants, Irwin said, the threat is measured in parts per billion. But with PFAS, it's parts per trillion. 'This stuff is dramatically more dangerous than most of the other compounds we're dealing with," [State Sen. Jeff Irwin] said. 'And we don't really know enough about how to clean it up.'" • Apparently, PFAS is used in dental floss. That's nice.
Health Care
"A day in the life of a nurse who works 10-hour shifts in an NYC cancer unit keeping patients comfortable in the midst of a national drug shortage" [Business Insider]. "I shadowed Czarina Cecilio, a 33-year-old registered nurse at Weill Cornell Medicine's Multiple Myeloma Center in New York City. She treats patients with myeloma, a type of bone-marrow cancer…. I did notice that Cecilio was on her feet most of the day assisting patients, and she was constantly getting asked questions by the oncologist, secretary, patients, and other nurses. I learned that not only did Cecilio have to know the ins and outs of myeloma treatment for her patients, she was constantly managing interpersonal relationships around the clinic. And because one of the drugs needed in the treatment is facing a national shortage, Cecilio spends a lot of time on the phone with manufacturers and drug providers." • I'm glad to see a working class person getting some respectful coverage. But "national shortage" of cancer drugs? Huh? How did I miss this? This is worse than the insulin stupidity! Readers?
Black Injustice Tipping Point
Joe Strummer's wasn't the only birthday yesterday:
Today is the 188th anniversary of Nat Turner's Rebellion in Southampton County, Va., on August 21, 1831.

The effects of this two-day revolt can't be overestimated. It certainly inspired John Brown and continues to stir abolitionist spirit. pic.twitter.com/uA4XXF231s

— Mid-Missouri John Brown Gun Club (@MidMoJBGC) August 21, 2019
"'Willful amnesia': How Africans forgot — and remembered — their role in the slave trade" [Public Radio International]. "[The Portuguese] named the area the Gold Coast. There was already a domestic slave trade when they arrived, [Nat Amarteifio, a local historian who's also a former mayor of Accra, Ghana's capital] said, although slavery didn't mean what it came to mean in America. Enslaved people had some rights and opportunities. Still, 'The system already existed," Amarteifio said. "The Europeans saw it. And thought: 'Ah, we can try these people in our lands in the New World.' But Amarteifio says the Europeans weren't going out and capturing Africans. They couldn't — they got sick and died from illnesses like malaria. Some African ethnic groups went into business, warring with other groups so they could capture prisoners they sold as slaves to the Europeans. Amarteifio says they were organized and intentional about it. 'To pursue slavery successfully, you need a highly organized group because somebody has to go out there — somebody has to locate the victims; somebody has to lead an army there; somebody has to capture them, transport them to the selling centers; all the time, keeping an eye on them to make sure they don't revolt,' he said. 'And then sell them, and move on.'" • So "the Ancestors" is a little equivocal…
Class Warfare
"A tale of corruption by the United Auto Workers and the Big Three American automakers" [Monthly Review]. Well, well:
The UAW and the Big Three automakers, General Motors, Ford, and Chrysler, have established a series of joint programs (described below), serving a variety of interests, all purportedly aimed at benefiting union members. The funds that support these programs amount to hundreds of millions of dollars, funded in various ways but never overseen in a transparent and public way. One program is aimed at training workers. However, the enormous sums involved were enticing to those who saw opportunities to pocket the money. Here is an example.

The lack of public oversight of joint training funds produced a "culture of corruption" among the UAW-Chrysler National Training Center (NTC) directors that led to bribery, theft, influence peddling, and a cover-up of criminal activity. The case filed in U.S. District Court, Eastern District of Michigan, Southern Division charged that Fiat Chrysler Vice President Alphons Iacobelli and UAW Vice President of the Chrysler department General Holiefield violated the Labor-Management Relations Act (LMRA). One provision of the LMRA sought to prevent corruption of the collective bargaining process that occurs when an employer gives something of value to the union representative, presumably to influence the representative to ignore his or her duty to promote the interests of union members. Iacobelli and Holiefield and their cronies embezzled $4.5 million of joint training funds from the NTC to pay for items that varied in value from shoes, purses, and luggage to Belgian shotgun, solid-gold Mont Blanc fountain pens, and a Ferrari sports car. Over worth of purchases were charged to Holiefield's NTC credit card including jewelry, furniture, and other personal expenses. NTC funds paid for over on his mortgage. Iacobelli encouraged training center staff to use NTC-issued credit cards for personal purchases, to keep senior members of the UAW Chrysler Department "fat, dumb, and happy," "take company friendly positions," and to pay off co-conspirators to cover it all up.
Penny ante, four-, five-, and six figure corruption. And it can still do a lot of damage (and have a terrific ROI).
"Columbia Had Little Success Placing English Ph.D.s on the Tenure Track. 'Alarm' Followed, and the University Responded." [Chronicle of Higher Education (DG)]. "For anyone who dreams of tenure, the pressure is constant, and the chances are slim. It's a truth English departments are having to reorient toward." • See, if you did not read it, the Interfluidity post I quoted yesterday: "Predatory Precarity."
"Chris Arnade's Book: Dignity" (interview) [The Last Word on Nothing]. "Chris: I wrote most of the book sitting in the back corner of my local McDonald's and that of course attracted lots of questions. When I told people I was writing a book they just looked at my blankly, like I was crazy, and then would ask me what was it about or the title. I tried various things, and eventually found what resonated most was, 'You can learn everything about America in a McDonald's.' So that was also my working title in my head for much of the process." • I love Arnade's Dignity; and while you can learn about the front row and the back row in McDonald's, I don't think you can learn much about the 1% that owns the franchise.
"A revolutionary treatise goes on the block" [The Economist]. "Modern capitalism began among the European merchant families of the early Renaissance—the Fuggers of Augsburg, Medicis of Florence and, in Venice, one Antonio de Rompiasi, who in 1464 hired a tutor in mathematics for his three sons. Like any sensible teacher, young Luca Pacioli aimed to make his lessons memorable and clear. Good humanist that he was, 30 years later he gathered all the world's knowledge of the subject into a single massive volume. His 'Summa de Arithmetica, Geometria, Proportioni et Proportionalita' was the 615-page work of a mature professor who had spent decades working across northern Italy. The book was revolutionary on more than one count. It integrated computation using Hindu-Arabic numerals with the logic of classic Greek geometry; it was written in the vernacular of the marketplace rather than Latin… ; it circulated in large numbers thanks to the new technology of printing. Yet its greatest significance lay in a slim 'how to' chapter that described the double-entry accounting system used by Venetian merchants."
News of the Wired
"How to De-Feralize Your Children for Back-to-School" [McSweeney's Internet Tendency]. "8. Confiscate all tribal effects and weaponry acquired during ascendence to power in local child horde. This includes, but is not limited to headdresses, crowns, conch shells, chain-link armor, back tattoos, shields, spears, kilts, and tooth necklaces. Turn these in to your local police department, and replace with the (slightly) more socially acceptable rope bracelet from the boardwalk gift shop."
Diamond geezers:
This is what I wanna be doing after I retire pic.twitter.com/yrySZ77nWs

— Fifty Shades of Whey (@davenewworld_) August 20, 2019
* * *
Readers, feel free to contact me at lambert [UNDERSCORE] strether [DOT] corrente [AT] yahoo [DOT] com, with (a) links, and even better (b) sources I should curate regularly, (c) how to send me a check if you are allergic to PayPal, and (d) to find out how to send me images of plants. Vegetables are fine! Fungi are deemed to be honorary plants! If you want your handle to appear as a credit, please place it at the start of your mail in parentheses: (thus). Otherwise, I will anonymize by using your initials. See the previous Water Cooler (with plant) here. Today's plant (CR):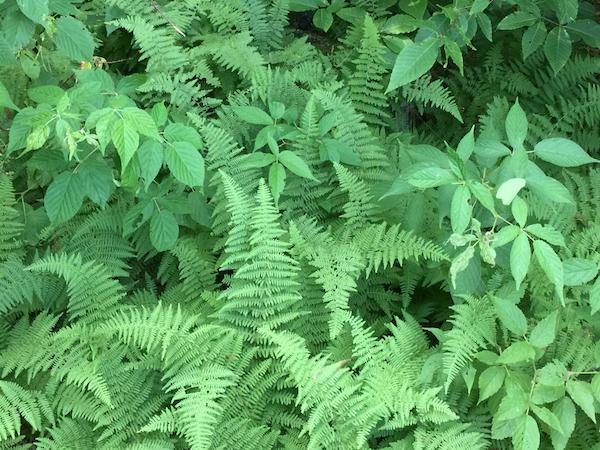 CR sends this from Wanakena, New York (the northwestern Adirondacks).
* * *
Readers: Water Cooler is a standalone entity not covered by the annual NC fundraiser.Remember, a tip jar is for tipping! So if you see a link you especially like, or an item you wouldn't see anywhere else, please do not hesitate to express your appreciation in tangible form. Regular positive feedback both makes me feel good and lets me know I'm on the right track with coverage. When I get no donations for five or ten days I get worried. More tangibly, a constant trickle of donations helps me with expenses, and I factor in that trickle when setting fundraising goals:
Here is the screen that will appear, which I have helpfully annotated.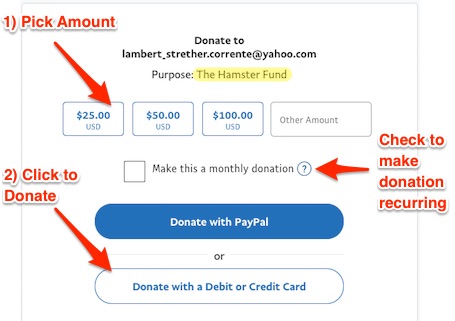 If you hate PayPal, you can email me at lambert [UNDERSCORE] strether [DOT] corrente [AT] yahoo [DOT] com, and I will give you directions on how to send a check. Thank you!