By Lambert Strether of Corrente
Politics
"But what is government itself, but the greatest of all reflections on human nature?" –James Madison, Federalist 51
"They had one weapon left and both knew it: treachery." –Frank Herbert, Dune
I'm abandoning the RCP poll on the Democrat Presidential nomination race, despite the fancy presentation, because I don't like the way the polls used keep changing (and RCP doesn't include Reuters/IPSOS either, at least not now, even though Reuter is one of the polls that the DNC uses to determine — if that's the word I want — candidate eligibility for the debates. So I'll try FiveThirtyEight (I know, I know) for awhile. Here are results going a week back, last updated 2019-08-23: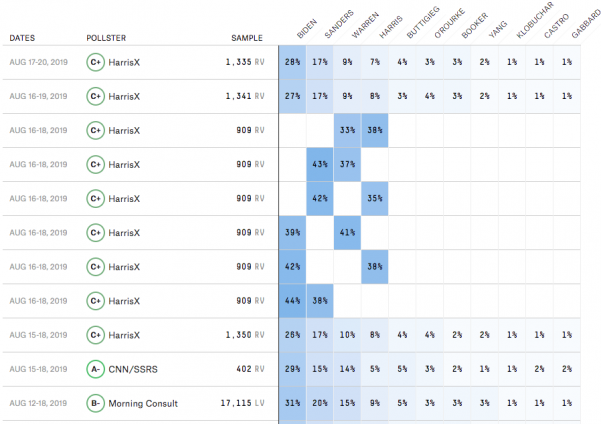 Yesterday brought a new YouGov poll. Relative positions of Biden, Warren, Sanders are same. Morning Consult (B-) is still the pick of the litter today on sample size, and it has Biden, Sanders, and Warren, in that order, and Sanders solidly ahead of Warren. CNN (A-) has Warren breathing down Sanders' neck. Harris (C+) has interesting head-to-head comparisons. Hopefully we'll have something better than this screen dump shortly.
* * *
2020
Biden (D)(1):

"Symone Sanders, a senior adviser of presidential candidate Joe Biden, was among those who urged the DNC committee on Thursday to vote down a climate debate, saying it would be 'dangerous territory in the middle of a Democratic primary process.'"https://t.co/Di9QWhFH4N

— Waleed Shahid (@_waleedshahid) August 22, 2019

Harris (D)(1): "Kamala Harris raises over $1 million at Hamptons and Martha's Vineyard fundraisers" [CNBC]. "Sen. Kamala Harris raised over $1 million through several campaign fundraisers in the wealthy enclaves of the Hamptons on Long Island and Martha's Vineyard, Massachusetts, according to people with direct knowledge of the matter. Harris attended multiple events last weekend in the affluent vacation spots, including five in the Hamptons… Others in attendance at the Kempner fundraiser included Citigroup executive Ray McGuire and Brad Karp, the chairman of legal powerhouse, Paul, Weiss, Rifkind, Wharton & Garrison. Kempner bundled $100,000 for Hillary Clinton in 2016, and nearly $1 million in total for both of President Barack Obama's runs for the White House, according to the nonpartisan Center for Responsive Politics." •

UPDATE Harris (D)(2): "Why Kamala Harris is stuck in neutral" [McClatchy]. "Nothing has crystallized Harris' conundrum more vividly than her reversal on Medicare for All, a policy she lumberingly defended for months before retreating from its most dramatic provision: the elimination of private insurance…. In conversations with both Democrats and Republicans, she's frequently mentioned as an optimal running mate for Biden — a suggestion that's become a perpetual irritant to Harris and her aides, who continue to believe they're positioned toward the top of 'a wide open contest.'" • "Lumberingly." Ouch!

UPDATE Moulton (D)(1): "Seth Moulton Drops Out of 2020 Democratic Presidential Race" [Bloomberg]. • Who?

Sanders (D)(1):

Fossil fuel executives should be criminally prosecuted for the destruction they have knowingly caused. #GreenNewDeal

— Bernie Sanders (@BernieSanders) August 22, 2019

That's the stuff to give the troops!

UPDATE Sanders (D)(3):

If there is going to be class warfare in this country, it's about time the working class won that war.

— Bernie Sanders (@BernieSanders) August 21, 2019

Ditto.

UPDATE Sanders (D)(3): "Bernie Sanders' Criminal Reform Plans Are Catching Up With His Radical Economic Platform" [The Root]. "His conversation in Miami with young people of color is an extension of the public engagement he's made over the years, admittedly, with some criminal justice legal policies that have some actual teeth. The Root was at the Charles H. Wright Museum of African American History, in Detroit, watching the second primary debate with a mostly black audience who all very much were won over by Sanders' performance. As I wrote that night, Sanders is likely the person to beat in Detroit and the rest of the state, with Harris and Warren not too far behind. He'll need every black vote he can get in this primary pool, but it seems like his engagement with young activists on the ground and their efforts to push his messaging through to older voters may prove to be formidable when Super Tuesday rolls around." • Note the source. This is an interesting article.

UPDATE Sanders (D)(4): "Bernie Sanders wins labor love — and frustrates foes — with Medicare for All play" [NBC]. "Sen. Bernie Sanders, I-Vt., usually regards incoming political fire as evidence that he's bombing the right targets — a sign that he's hitting adversaries where it hurts. But not when some members of organized labor started picking at his Medicare for All plan in recent weeks because of fears that it would deprive them of high-end insurance policies obtained through negotiations with employers…. Here's what he offered unions this week: a federal regulation that would require employers to apply savings from Medicare for All to wages and benefits…. He also left Sen. Elizabeth Warren, D-Mass., as the only leading Democrat with a Medicare for All plan that doesn't have a union carve-out and earned himself some badly needed attention in the national media. Republicans and his rivals for the 2020 Democratic nomination called it a flip-flop [as did The Jeff Bezos Daily Shopper, first out of the gate with coverage], while Sanders' allies insisted it was simply a clarification of his existing position — he had previously said employers would pass savings on to workers without mentioning his plan to require that. But most important for him, unions welcomed the maneuver as part of a trend of candidates taking their concerns to heart."

UPDATE Sanders (D)(5): "Bernie Sanders's Green New Deal Is a Climate Plan for the Many, Not the Few" [Jacobin]. "All in all, the platform dramatically shifts the policy conversation, putting forth an insurgent and detailed policy vision grounded in the work of the vibrant social movements pushing climate politics. It both draws on what's positive about the New Deal legacy — massive federal investment in the public interest — while also explicitly centering those who were excluded from its coalition, with particular attention to indigenous peoples and communities of color." • It also costs $16 trillion. So if the central bankers (see Larry Summers below) are out of economy and the economy needs a fiscal boost, Sanders — and, to be fair, Warren — have the er, "plans" in place for that, unlike the centrists, let alone anti-big-gummint conservatives.

UPDATE Sanders (D)(6): "Bernie Sanders Gets a D- for His Climate Plan" [Kevin Drum, Mother Jones]. "If you're going to propose a massive, $16 trillion plan, the first thing you should do is get as many people on board as possible. Instead, Sanders practically revels in pissing off as many stakeholders as possible. He's going to tax the rich. He's going to hobble the fossil fuel industry. He's going to ban nuclear power. He's going to nationalize electric generation and turn it over to the federal government." • Absolutely. If I wanted a climate change solutions, getting the rich on my side would be absolutely my first step. Except for the ones who left for the bunkers in New Zealand, of course. Or Mars.

Warren (D)(1): Good crowd:

In L.A., a crowd erupted into a chant of "Two cents! Two cents!" after Elizabeth Warren detailed her signature plan — 2% tax on the ultra-wealthy that would amount to two cents on every dollar over $50 million. https://t.co/X1WFFSe05g pic.twitter.com/6Qn7FmKhp8

— Los Angeles Times (@latimes) August 22, 2019

I think they've got the decimal point in the wrong place, though.
L'Affaire Joffrey Epstein
"Up to 20 correctional officers have received grand jury subpoenas in the Jeffrey Epstein investigation" [The Week]. "CNN reports that 'as many as 20' correctional officers from the Metropolitan Correctional Center received grand jury subpoenas last week, with investigators in particular wanting to 'talk to the lieutenants who were in charge that night to get details on rounds that were not made.'… In its Wednesday report on the investigation, the Post noted that the eight officers' 'apparent disregard for the instruction' to keep Epstein under supervision 'does not necessarily mean there was criminal conduct' and that it may be a 'simpler and sadder' case of 'bureaucratic incompetence spanning multiple individuals and ranks within the organization.' Barr has said the investigation's findings will be ready to share with the public "soon.'"

"New York Times Reporter Solicited $30,000 for Charity From Jeffrey Epstein" [Daily Beast]. "A former New York Times reporter solicited a $30,000 charitable donation from accused serial sexual predator Jeffrey Epstein, NPR reported Thursday. Last summer, according to NPR's David Folkenflik, financial journalist Landon Thomas Jr. told his editors at the Times that he had become friends with Epstein after previously covering the disgraced financier—and had gotten Epstein to donate to a charity. The Times forbade Thomas from further contact with Epstein and he left the paper in early 2019, NPR reported. Thomas, who wrote a glossy story about Epstein after he pleaded guilty to sex charges in 2008, did not respond to requests for comment from The Daily Beast." • Times gets out front of the story?

Indicative:

I have two degrees from Harvard

I have one degree from MIT

MIT sent out this thoughtful email about Epstein

Harvard's silence is deafening pic.twitter.com/1b3T9j7uFV

— Prof Dynarski (@dynarski) August 22, 2019

To be fair, the Harvard administration could be consumed with an internal debate about whether to take the name of opioid murderer "Sackler" off its art museum.
Our Famously Free Press
Burris covers Digital/politics for Raw Story:

They're too far up his ass to see anything other than his colon

— Sarah Burris (@SarahBurris) August 21, 2019

I'm sort of amazed to see reporters express these biases openly, but I guess they sense that social sanction is unlikely in their milieu.
Obama Legacy
"BARACK AND MICHELLE OBAMA LOCKING DOWN INCREDIBLE MARTHA'S VINEYARD ESTATE!!!" [TMZ]. "Multiple island sources tell us the Obamas are in escrow for the estate owned by Boston Celtics owner, Wyc Grousbeck. The former Prez and First Lady have been renting the house this summer and loved it so much, we've learned they made an offer. The property is listed at $14,850,000. Our sources say they're paying less, but we don't know how much. The estate — incredible. It's 29 beachfront acres. The main residence is just shy of 6,900 square feet. It has 7 bedrooms, so Sasha and Malia have a place to crash, along with several of their friends. It has the obligatory pool, an outdoor fireplace, a chef's kitchen, vaulted ceilings and 2 guest wings. It has incredible views, especially while soaking in the second-floor balcony Jacuzzi. The beachfront is private … and comes with a boathouse. Downside — only a 2-car garage!!! Sorry kids…. The estate is currently in escrow and it's not a done deal just yet. " • What, no panic room? Here's a photo:

It's in Edgartown, not Oak Bluffs. Understandable; Obama wants to be among his people.
Susan Sarandon Hysteria
"Establishment Dems Are Openly Bullying Progressives. Good." [Caitlin Johnstone, Medium]. " Sometime after Sanders' appearance on The Joe Rogan Experience, which as of this writing has more than nine million views on Youtube alone, all the usual beltway bootlickers suddenly got extremely shrill and aggressive in using their platforms to attack Sanders, reignite the bogus "Bernie Bro" smear, and tell progressives that they need to fall in line with the Democratic Party regardless of who ends up becoming the nominee. Now we're seeing some very interesting glitches in the narrative control matrix like mass media pundits freaking out over Bernie's suggestion that plutocratic ownership taints news reporting and veterans of the news media industry coming forward to say he's right."

Bernie comin:

When you come at the queen, you best not miss https://t.co/UnCvqQVLYD pic.twitter.com/ggnDF72J06

— Susan Sarandon's Anger Translator? (@GravelierBerner) August 22, 2019

Too bad about Armando, seriously. He is gone, and Nina Turner is not. I blame Kos.
Realignment and Legitimacy
"Faithless elector: A court ruling just changed how we pick our president" [NBC News]. "A federal appeals court ruled late Tuesday that presidential electors who cast the actual ballots for president and vice president are free to vote as they wish and cannot be required to follow the results of the popular vote in their states…. But once the electors are chosen and report in December to cast their votes as members of the Electoral College, they are fulfilling a federal function, and a state's authority has ended. 'The states' power to appoint electors does not include the power to remove them or nullify their votes,' the court said. Because the Constitution contains no requirement for electors to follow the wishes of a political party, 'the electors, once appointed, are free to vote as they choose,' assuming that they cast their vote for a legally qualified candidate." • Readers will recall this post from December 16, 2016, where I compared Democrat's scheme of persuading faithless electors to change their (presumed) voters based on intelligence that would not be shown to the public to the Chilean Constitutional order under Pinochet. Today, we would use the term "soft coup," but I still think that was a pretty good call.
Stats Watch
New Home Sales, July 2019: "Behind the usual volatility of monthly sales rates, new home sales much like existing home sales are struggling to gain traction" [Econoday]. "Lower mortgage rates combined with strong demand in the jobs market are concrete positives for housing which, despite ups and downs, may still in the end be a positive contributor to the 2019 economy."
UPDATE Retail: Thread:
"Amazon also says that, as a provider of an online forum, it is protected by the law—Section 230 of the Communications Decency Act of 1996—that shields internet platforms from liability for what others post there." https://t.co/zuvFWJiOcG

— Matt Stoller (@matthewstoller) August 23, 2019
I know I keep going on and on about phishing equilibria ("If fraud can happen, it will already have happened") but this is a classic, and enormously consequential, case.
Manufacturing: "US Factories Shrink as Result of Weak World Demand, Trade Tensions" [Industry Week]. "The IHS Markit manufacturing Purchasing Managers' Index slipped to 49.9 from a final July reading of 50.4, according to a preliminary August report Thursday that trailed all estimates in Bloomberg's survey of economists. Fifty is the dividing lines between expansion and contraction. The reading for the U.S. follow others from Europe and Japan that showed shrinking factory activity. Thursday's U.S. factory reports follow other preliminary IHS Markit data showing manufacturing shrank again in Germany and Japan, while stabilizing in France."
The Bezzle: "WeWork Squeezes People Into Just Half the Space of Most Offices" [Bloomberg]. "In London, WeWork provides about half of the 8-to-10 square meters per person recommended by the British Council for Offices industry association. The company's recently opened space in the Waterloo district, the largest co-working facility in the world, has a 6,414-person capacity, according to a document WeWork emailed to brokers. That equates to less than 4.1 square meters a person, according to Bloomberg News' calculations. That's roughly the size of two standard doors laying side by side." • The veal's no good if the pens are too small, sheesh. NOTE Second "lie"/"lay" confusion I've seen in a mainstream publication in two days.
The Bezzle: "WeWork IPO filing shows it's losing nearly $5,200 per customer" [CBS]. • Obviously, they need more customers! Just like Uber and Lyft!
The Bezzle: "Uber is pulling its Jump bikes from Providence, Rhode Island, amid reports of misuse and vandalism" [Business Insider]. "Uber is temporarily pulling its dockless e-bikes from Providence, Rhode Island following reports of misuse. Several bikes have been damaged or used during criminal activity according to local media reports. Pulling the bikes will allow Uber and the Providence Police Department to locate and retrieve stolen bikes, Uber said in an emailed to statement to Business Insider." • Oops. Too bad The Wire ended before the scooter craze began; I'd like to see Omar on a scooter.
Manufacturing: "Boeing SC hit with charges it fired workers due to union support" [Post and Courier]. "A regional director for the National Labor Relations Board has ruled there is merit to claims Boeing Co. illegally fired five workers who support the International Association of Machinists union at the aerospace giant's 787 Dreamliner campus in North Charleston. The ruling gives the IAM a preliminary win in its ongoing battle with Boeing over establishing a union presence in South Carolina — a right-to-work state with the nation's lowest percentage of union workers." • Which is why Boeing located there, duh. Nice morale-building move. Just what you want with a workforce that leaves tools in the wings, and ladders in the tails.
The Fed: Thread from Larry Summers:
Coming into Jackson Hole, economists are grappling with a major issue: Can central banking as we know it be the primary tool of macroeconomic stabilization in the industrial world over the next decade? In my forthcoming paper w/ @annastansbury, we argue that this is in doubt. 1/

— Lawrence H. Summers (@LHSummers) August 22, 2019
tl;dr: Central banks have no ammo for the next recession, so it's all down to fiscal policy.
* * *
Today's Fear & Greed Index: 25 Extreme Fear (previous close: 25, Extreme Fear) [CNN]. One week ago: 20 (Extreme Fear). (0 is Extreme Fear; 100 is Extreme Greed). Last updated Aug 23 at 12:53pm. Note that the index is not always updated daily, sadly.
The Biosphere
An enormous real estate play:
Scientists think the North China Plain will become completely uninhabitable by 2070–worst hit area in the world, according to this study, and home to 400 million people https://t.co/B8u5m7cfWq pic.twitter.com/x8nOIJQR0l

— Suez and Hormuz Enthusiast (@CarlOrkmansen) August 23, 2019
The original article in Nature is from 2018, but still germane:
North China Plain is the heartland of modern China. This fertile plain has experienced vast expansion of irrigated agriculture which cools surface temperature and moistens surface air, but boosts integrated measures of temperature and humidity, and hence enhances intensity of heatwaves. Here, we project based on an ensemble of high-resolution regional climate model simulations that climate change would add significantly to the anthropogenic effects of irrigation, increasing the risk from heatwaves in this region. Under the business-as-usual scenario of greenhouse gas emissions, North China Plain is likely to experience deadly heatwaves with wet-bulb temperature exceeding the threshold defining what Chinese farmers may tolerate while working outdoors. China is currently the largest contributor to the emissions of greenhouse gases, with potentially serious implications to its own population: continuation of the current pattern of global emissions may limit habitability in the most populous region, of the most populous country on Earth.
"How climate change threatens public health" [Yale Climate Connection]. "Jonathan Patz, M.D., MPH, director of the Global Health Institute at the University of Wisconsin, is an expert on climate change and public health. His view: 'It's so important that people recognize that climate change is about our health. There are so many pathways through which climate impacts our health.' Those pathways include heat, air pollution, extreme weather, vector-borne diseases, and access to safe water and food. The health risks posed by climate change already disproportionately harm marginalized groups including people with disabilities or infirmities, low-income families and individuals – and climate change is likely to deepen those disparities."
"Central Iowa's first agrihood focuses on putting farm first in $260 million project" [Des Moines Register]. "The farm Fillius is developing will be the center of Middlebrook, a $260 million home, townhome, commercial and office project on 540 acres near Cumming. The area's rolling hills, ponds and timber will eventually be home to central Iowa's first "agrihood," a planned community of about 1,000 homes built around a working farm and community gardens. It's one of more than 200 agrihoods that have cropped up across the country, a trend that appeals to consumers who want a slice of country life — big gardens, nature and outdoor recreation — near urban centers."`• The article does not explicitly say whether pesticides will be used, or not.
"Madonna, Leonardo DiCaprio, Cristiano Ronaldo and Emmanuel Macron didn't fact-check before posting images about the Amazon fires" [Poynter Institute]. "Madonna, Leonardo DiCaprio, Cristiano Ronaldo, Emmanuel Macron and Gisele Bundchen made the same (and, unfortunately, very common) mistake on Thursday: They didn't fact-check an image before posting it on social media. And the consequence was brutal. They generated an international wave of disinformation around fires in the Amazon region — a crisis that was already serious enough…. 'There is no doubt old photos showing Amazon fires are symbolic and refer to what is happening at this moment in the Amazon region. But posting old images might trigger an awkward and misplaced discussion around fake news now,' said Natalia Leal, director of content for Agência Lupa."
Groves of Academe
'The great university con: how the British degree lost its value" [New Statesman]. "This summer, a department at the University of Sheffield sent an email to students. A group of them had complained about their marks for an end-of-year essay. While a few had received Firsts, these students were given 2:2s and Thirds. 'Thank you for raising the issue,' began the email, 'and thank you also for your patience.' After reflection, the head of department and the director of 'learning and teaching' had decided that, 'our normal procedures… failed us. For this we apologise unreservedly'. The department had decided to 'uplift all the marks… less at the top and more at the bottom'. The poorly performing students had their marks raised by nearly 40 per cent. The few who had done well saw their marks barely change. 'Again, our apologies,' the message concluded, 'but we hope that this is a satisfactory resolution.'" • The final absurdity of treating students as consumers. Also, think about this if you're doing business with firms in the UK.
Class Warfare
"6 findings that show the dire state of America's middle class" [Business Insider] (From May, still germane). "Nearly 60% of those who said they grew up affluent now consider themselves to be in a lower class — about half of this group said they're middle-class or upper-middle-class, while the other half said they're poor or working-class. Nearly 60% of those who said they had an upper-middle-class upbringing identified with a lower class — half of this group said they're middle-class, while the remaining half said they're poor or working-class. And while half of those who said they grew up in the middle class said they're still in it today, more than one-third identified with a lower class. Only about 12% said they're now part of a higher class." • Lover…
"Economic Antidote for a Shrinking America: Immigrants" [New York Times]. "'In every market that we're in, we're dealing with staffing shortages,' said Pilar Carvajal, the founder and chief executive of Innovation Senior Management, which manages seven assisted-living centers in Florida. Entry-level workers in the area make from $10 to $12 an hour — the same as a dishwasher and slightly more than a farmworker…. She has turned away business, declining to manage properties in Fort Myers. 'It's a staffing void,' she confided during a visit to a memory care center in Broward County. Employment agencies won't even return phone calls.'" • $10 an hour… So labor arbitrage is real, then? It sure is weird that the labor market is the only place where the magic of the marketplace — price! — doesn't work.
Few things are more symbolic of the omnishambles neoliberalism has turned education into than teachers forced to buy school supplies for the children they teach:
"Our map shows the inflation-adjusted state-by-state spending. We know that the figures in the map are not an atypical high driven by the Great Recession because the 2011–2012 spending levels are lower than spending levels in the 2015–2016 NTPS data. pic.twitter.com/t5DZnvnslk

— Economic Policy Institute (@EconomicPolicy) August 22, 2019
I'm sure the Harkonnens who rule this country laugh alone at night over stuff like this.
News of the Wired
The Internet of Sh*t in China:
China tech story: The gas company wanted to digitize my meter, so we could check it and pay online.
They did this by attaching a little networked camera in a plastic case to the front of the meter, aimed at the old analog dial.
It didn't fit, so they cut the cupboard open a bit. pic.twitter.com/0b4bw0PEfW

— China Law Translate (@ChinaLawTransl8) August 23, 2019
* * *
Readers, feel free to contact me at lambert [UNDERSCORE] strether [DOT] corrente [AT] yahoo [DOT] com, with (a) links, and even better (b) sources I should curate regularly, (c) how to send me a check if you are allergic to PayPal, and (d) to find out how to send me images of plants. Vegetables are fine! Fungi are deemed to be honorary plants! If you want your handle to appear as a credit, please place it at the start of your mail in parentheses: (thus). Otherwise, I will anonymize by using your initials. See the previous Water Cooler (with plant) here. Today's plant (PVL):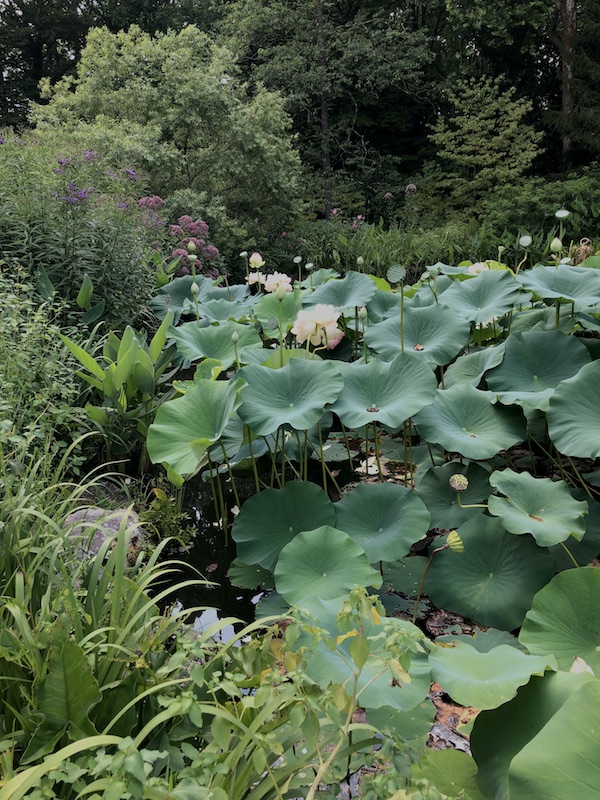 PVL: "Lotuses at Chanticleer, a pleasure garden in Wayne, PA." Wait. What garden is not a pleasure garden? Well, mine, when the squash were attacked by mold or bugs, but you know what I mean.
* * *
Readers: Water Cooler is a standalone entity not covered by the annual NC fundraiser.Remember, a tip jar is for tipping! So if you see a link you especially like, or an item you wouldn't see anywhere else, please do not hesitate to express your appreciation in tangible form. Regular positive feedback both makes me feel good and lets me know I'm on the right track with coverage. When I get no donations for five or ten days I get worried. More tangibly, a constant trickle of donations helps me with expenses, and I factor in that trickle when setting fundraising goals:
Here is the screen that will appear, which I have helpfully annotated.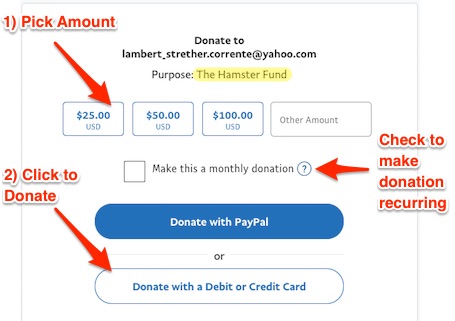 If you hate PayPal, you can email me at lambert [UNDERSCORE] strether [DOT] corrente [AT] yahoo [DOT] com, and I will give you directions on how to send a check. Thank you!