By Lambert Strether of Corrente
Trade
"Google to shift Pixel smartphone production from China to Vietnam" [Nikkei Asian Review (Furzy Mouse)]. "Working with a partner, Google started work this summer to convert an old Nokia factory in the northern Vietnamese province of Bac Ninh to handle production of Pixel phones, two people familiar with the company's plans said. This is the same province where Samsung developed its smartphone supply chain a decade ago, so Google will have access to an experienced workforce. The push to develop a Vietnamese production base reflects the twin pressures of higher Chinese labor costs and the spiraling tariffs resulting from the trade war between Washington and Beijing. The U.S. internet giant intends to eventually move production of most of its American-bound hardware outside of China, including Pixel phones and its popular smart speaker, Google Home, according to the sources."
Politics
"But what is government itself, but the greatest of all reflections on human nature?" –James Madison, Federalist 51
"They had one weapon left and both knew it: treachery." –Frank Herbert, Dune
Alert reader dk (not to be confused with DK) is in the process of developing the following interactive chart. Here, I have filtered out all the candidates but the top five, and used a "stair step" presentation, which, although a little jarring, conveys the idea that polls are only slices in time; it's the voters who move in curves, whereas the polls really are jagged proxies for whatever is happening out there in the dark matter of the electorate: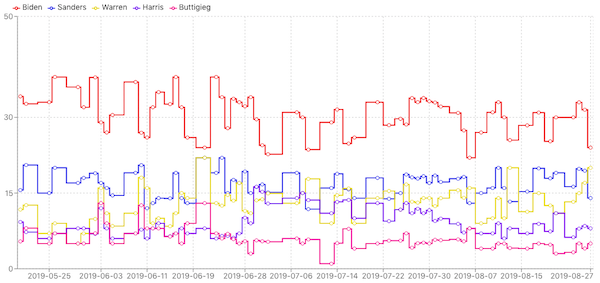 And here are the numbers as of 8/29/2019, 12:30 PM EDT: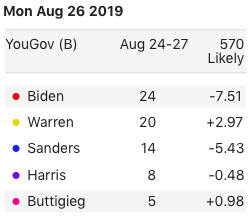 Sanders took a big hit in the YouGov poll, the latest. However, Biden's trendline is clear. I think DK has started a really neat project, and in the near future we'll seek your feedback (within reason) for the tool "live." UPDATE: dk's numbers presentation is now superior to RCP's. We have the polls taken on a given day, and the timespan and sample size and sample population of each poll. We also have the averages and gains/losses for each candidate!
* * *
2020
Sanders (D)(1): "The Washington Post's Latest Fact Check of Bernie Sanders Is Really Something" [Tim Dickinson, Rolling Stone]. On the statistic Sanders quotes that there are "about 530,000 medical bankruptcies annually":

To review: the Post fact checker, going straight to the source, a Harvard lecturer, found that Sanders' was sticking to close to the facts, and if anything understating the problem.

So why didn't the Post give Bernie a coveted "Geppetto Checkmark" for truthfulness. (Yes, it's really called this — you can't make this shit up.)

The author spends the rest of the 1,600 word piece splitting hairs and then tying them into knots. He takes it upon himself to not simply fact check Sanders, but the medical journal that Sanders relied on. And it turns out that, if you dig down far enough, you can uncover a minor-league academic beef about bankruptcy statistics, with professors arguing about the extent to which one can say the contributing factor of medical debt is actually what "caused" the bankruptcy.

Despite his pageant of pedantry, the fact checker doesn't get to the bottom of anything. He doesn't prove that one side in this ivory tower debate is in fact right, while the other is actually wrong. More important, he doesn't offer any evidence that Sanders was aware of this teapot tempest or that he in any way set out to deceive voters. Instead author proudly presents the unholy tangle he, himself, created to conclude: "The omissions and twists are significant enough to merit Three Pinocchios for Sanders."

"Who knows?" Really?

Trump (R)(1): "Trump Could Win Again" [The Atlantic]. "Trump is a known quantity. After three years in which Democrats have—for good reason—attacked him from every possible angle, it is difficult to imagine that they might suddenly succeed in changing how most Americans feel about him. What new angle of attack is supposed to turn against Trump voters who have so far stuck with him? By contrast, so far Republicans have not had the need or the occasion to concentrate their attacks on any one of the 16 Democrats running for the party's nomination. Once they do, they are likely to decrease the popularity of whoever ends up emerging as the victor." • 

Trump (R)(2): "We Aren't Seeing White Support for Trump for What It Is" [Thomas Edsall, New York Times]. "Perhaps most significant, [ Herbert Kitschelt and Philipp Rehm, political scientists at Duke and Ohio State] found that the common assumption that the contemporary Republican Party has become crucially dependent on the white working class — defined as whites without college degrees — is overly simplistic. Instead, Kitschelt and Rehm find that the surge of whites into the Republican Party has been led by whites with relatively high incomes — in the top two quintiles of the income distribution — but without college degrees, a constituency that is now decisively committed to the Republican Party."

Warren (D)(1): "Ag Policy: Warren's Supply Management Program – Commentary" [AgFax]. "For the first time since at least 1980, we have presidential candidates who have designed their proposed agricultural policies based on the economic characteristics of the crop sector: the low price elasticity of both supply and demand. Both Elizabeth Warren and Bernie Sanders have come out in favor of supply management policies. It is refreshing that a number of other presidential candidates have also addressed agricultural issues. The most detailed of those policy proposals has been put forth by Elizabeth Warren." • One of the authors worked with Warren, but this is still a good read, and good backgrond for Iowa.

Warren (D)(2): "Dow breast implant case spotlights Elizabeth Warren's work helping big corporations navigate bankruptcies" [WaPo]. "'[Warren]was on the wrong side of the table,' said Sybil Goldrich, who co-founded a support group for women with implants and battled the companies for years. Goldrich said Dow Corning and its parent 'used every trick in the book' to limit the size of payouts to women. The companies, she added, 'were not easy to deal with at all.' A person familiar with Warren's role who spoke on the condition of anonymity to describe litigation strategy said the future senator was part of a Dow defense team that had containing the company's liability as a goal…. At issue are two decades when Warren enhanced her income as a law professor by consulting on various legal issues and representing clients." •

* * *

CA: This applies to all "independent" California voters:

We need to educate them on the mechanics of voting and vote registration pitfalls in the CA semi open primary. It's a mess! pic.twitter.com/8b1JtAAYi9

— Eowyn, One of the Squad🌹 (@WestCoastGadfly) August 28, 2019

One classic form of partisan manipulation is for the party of the incumbent to place a straw on the ballot with a name confusingly similar to the challenger, splitting the vote. But to put a confusingly similar party on the ballot borders on GENIUS. We can see why California is a one-party state. (We shoul d also take the electorial machinery, in its entirely, out of the hands of the parties, who are obviously conflicted.)
Realignment and Legitimacy
"On Left Straussianism" [The Point]. "Should we attempt to publicly air disagreements with those who are, broadly speaking, on the same "side" of a political, social or spiritual debate as we are, or should we shelter those disagreements from public view in the name of some greater good?… The assumption that public intellectual life is mainly about positioning helps explain some peculiar features of our public conversation, such as the extent to which it rewards posturing and selective criticism. But the rigid distinction these commentators drew between how we ought to talk to our trusted allies and how we should speak when we suspect we are being listened to by those without similar educations, political assumptions or moral fortitude, is also revealing in another way. It suggests the ascendancy among some leftist intellectuals of a public vs. private distinction that has traditionally been thought of as a product of elitist conservatism." • Unsurprisingly!

"Obama takes on partisan gerrymandering with new initiative" [Los Angeles Times (Re Silc)]. "In one of his first public political actions since he left the White House, Obama unveiled Redistricting U on Twitter as an in-person training arm of the All on the Line project, a grassroots advocacy campaign fighting for fair electoral maps ahead of the 2020 census count and redistricting in 2021…. Redistricting U says it will train volunteers in U.S. cities about the redistricting process in their states and how they can counter unfair redistricting practices. The campaign says 'rigged electoral maps' create a system in which elected officials 'feel more accountable to the most radical parts of their base rather than to the rational, reasonable solutions that most Americans support.'" • Oh. So the problem with gerrymandering is that it doesn't elect centrists. This is exactly where the Democrats went wrong in Florida 2000; they demanded recounts only where they thought Gore would win, conceding any moral high ground whatever.

"Mystery of missing votes deepens as Congress investigates Georgia" [Atlanta Journal-Constitution]. "The suspicious results in Winterville are evidence in the ongoing mystery of whether errors with voting machines contributed to a stark drop-off in votes recorded in the race for Georgia lieutenant governor between Republican Geoff Duncan, who ended up winning, and Democrat Sarah Riggs Amico…. 'Was this completely voter behavior and confusion, or was there something in the machine software or hardware to cause this to happen?' asked Chris Brill, a senior data analyst for TargetSmart. 'I've never seen a drop-off pattern like this, ever.'" • And the FEC is now out of commission. 2020 is going to be fun.
Stats Watch
Jobless Claims, week of August 24, 2019: "Unemployment claims did edge higher in the latest data but remain favorable, indicating strong demand for labor" [Econoday]. • Not seeing recession warning flags here.
GDP, Q2 (Preliminary): "Consumer spending was stronger than previously estimated in the second quarter, rising at an annual 4.7 percent inflation-adjusted pace. This pace is a reminder that the strong labor market is underpinning the consumer and helping to offset weakness in global growth and the resulting weakness in domestic manufacturing" [Econoday]. "Government spending was also a strong positive in the second quarter, rising at a 4.5 percent pace and reflecting increasing fiscal stimulus at both the federal and state & local levels…. The key for the second quarter was consumer spending and so far in the third quarter strength here appears to be solid once again and may well offset uneven readings for other components, whether business investment or residential investment which are two areas where recent indications have been up and down." • Ditto.
International Trade in Goods, July 2019: "Net exports open the third quarter favorably" [Econoday]. "Imports show a sharp drop for capital goods in what is an unfavorable indication for domestic business investment… Yet with the notable exception of the drop in food exports, this report is mostly solid especially the overall gain for exports. With inventories lean and consumer spending holding up, improvement in exports could spell a solid third quarter for the US economy." • Ditto.
Retail Inventories [Advance], July 2019: "In an early boost to third-quarter GDP, retail inventories rose" [Econoday]. "Given the strength of underlying consumer demand, gains for retail inventories are welcome and follow overall contraction.. in June." • Ditto.
Wholesale Inventories [Advance], July 2019: 'Wholesale inventories rose in July versus a revised no change in June" [Econoday]. "[I]nventories at the wholesale level have been heavier than for retailers or manufacturers, a factor that may limit the sector's third-quarter build."
Pending Home Sales Index, July 2019: "After jumping sharply in June, pending home sales sank sharply in July" [Econoday]. "Yet the showing for the index is nevertheless among the best showings of the last year."
Corporate Profits, Q2: "after-tax corporate profits rose a year-on-year 1.7 percent in the second quarter" [Econoday].
Shipping: "Shipping wind turbines is not a breeze" [Freight Waves]. "Blades are the most difficult components to transport, due to such variables as equipment model, length and route accommodation. As their length and height continue to grow, [Ben Wilemon, a BNSF Railway spokesperson] said, 'routes that we previously used for shorter blades can sometimes not accommodate larger models, due to the physical size and capacity of certain areas on our network.'" • It takes a year of planning to ship a wind turbine!
Tech: "TV manufacturers unite to tackle the scourge of motion smoothing" [The Verge]. "The UHD Alliance, a collection of companies who work together to define display standards, has announced Filmmaker Mode, a new TV setting that's designed to show films as they were originally mastered, with as little post-processing as possible. Although the mode will affect multiple settings like frame rate, aspect ratio, overscanning, and noise reduction, its most important element is that it turns off motion smoothing, which creates that horrible 'soap opera effect' that makes even the most expensive films look cheap." • How unique. Decrapification!
Tech: "The 2018 MacBook Pro Keyboard Drives Me Crazy" [Ryan Bigg]. "Apple is all about the thinness of their laptops. I do not particularly care about the thinness of this device…. This keyboard has a key travel distance that, I am sure, is measured in microns or perhaps nanometers. It feels like I am typing on a concrete slab. Key presses inexplicably duplicate. Or don't register at all. All for thinness. This keyboard is a catastrophic engineering failure, designed by a company that should know better. A company with more money in the bank than several countries combined. This keyboard would be, by far, the part of the MacBook Pro that is used the most by everybody who owns one, and it is so poorly engineered for the pursuit of thinness… I want a fat MacBook pro keyboard, one that has a travel distance of the older wireless keyboards and doesn't have that "concrete slab" feel. I want to be able to type an entire paragraph without having to go back and correct things because the keyboard failed." • I believe the term of art is "thicc." And whiile we're at it, I want the MagSafe connector back. (The older wireless keyboards are fine. I'm using one now because the keyboard on my 2018 MacBook Air effing failed, as readers will recall. I replaced it once, and I'm not going to do that again.)
* * *
Today's Fear & Greed Index: 27 Fear (previous close: 18, Extreme Fear) [CNN]. One week ago: 25 (Extreme Fear). (0 is Extreme Fear; 100 is Extreme Greed). Last updated Aug 29 at 12:30pm. Note that the index is not always updated daily, sadly.
The Biosphere
"No microbiome is an island, unprecedented survey of Hawaiian valley reveals" [Science]. "The data revealed nested microbiomes, akin to Russian dolls. The soil and free-living samples contained the widest range of microbes. Primary producers—plants and algae—hosted the next greatest range, although just a subset of the diversity seen in the valley environment. The plant and algae eaters had a subset of that subset, and carnivores had the least diverse microbiomes of all. Amend and his colleagues concluded that the microbes in the landscape set the stage for those found within hosts. And somehow each organism's place in the food web helps determine what microbes it acquires." • This is a fascinating must-read (and reminds us to have some humility, because we don't know very much).
Water
"The Frightening Spread of Toxic Algae" [The New Republic]. "Toxic algae is one of the quickest-spreading deadly effects of the climate crisis in the United States. As the Arctic's glaciers melt and the Amazon's rainforest burns, America's lakes, rivers, and coastlines are being increasingly infiltrated by several different types of brightly colored, toxic algae bacterium that thrive in warm, nutrient-rich conditions. A report released by the Environmental Working Group earlier this month found toxic algae appearing in more bodies of water, at higher quantities, and earlier in the summer than ever before. It also found that 'climate change is making things worse, as scientists predict that warming waters coupled with fertilizer and manure washing off farm fields during heavier and more frequent rains may accelerate the frequency and intensity of harmful algal blooms in freshwater.'"
Health Care
"An International Perspective On The Paradoxes Of US Health Care" [Health Affairs]. Lots of paradoxes, but this seems the most salient: "On average, the US spends twice as much as other Organization for Economic Cooperation and Development countries on health care without evidence of superior care or health outcomes. In fact, life expectancy is declining in the US while health care costs continue to rise. Grossly inflated drug and device prices, overall health care costs, and surprise billing are big challenges. Substantial administration and advertising costs are a further unintended consequence of the primacy placed on individual choice. Quite simply, everything is more expensive in the United States than it is in our countries." • A fine compendium of idiocies and grifts. Welcome to America, Planet Earth.
"Lawyers, consultants to earn millions in the wake of Hahnemann collapse" [Philadelphia Business Journal]. "In court, a [New York-based financial advisory firm EisnerAmper LLP] official estimated the hospital's owners might end up spending as much as $7 million in professional fees to complete the bankruptcy process. A number of other law firms and consultants are involved in the process — some charging nearly $800 per hour to provide their services. Meanwhile, the 2,500 people who worked at the Philadelphia hospital are facing the possibility they will get little, if any, severance pay." • Too bad there's no million-dollar coal train they can stop.
"What Happens When You Don't Pay a Hospital Bill" [The Atlantic]. " About 43 million Americans have unpaid medical debt dinging their credit, and half of all overdue debt on Americans' credit reports is from medical expenses, according to a Consumer Financial Protection Bureau study from 2014. The debt typically comes from out-of-network doctors who people thought were in-network, hospital stays, or ambulance rides. About one in six Americans received a surprise out-of-network medical bill in 2017 after being treated in a hospital… In an emailed statement, the American Hospital Association told me, "Hospitals and health systems treat all patients who come through their doors, around the clock and regardless of their ability to pay. They work closely with uninsured and low-income patients on their individual bills, including discussing financial-assistance options with them."" • Very "closely" indeed!
"Burned Out and Drowning — How an ER doc used art to stay afloat" [MedPage Today]. Dr. Matthew Wetschler is rescued from drowning. After vicissitudes: "Wetschler first re-entered the waters of Ocean Beach after his injury in summer 2018 to create his most involved painting to date. Using his entire body as a brush to a 48-by-96-inch canvas covered in gesso acrylic paint, he performed the piece on the stretch of sand where Joll had laid him just a few months before. The canvas lay on the shore, on one side of a 200-foot circle, with the surf on the other. It was dusk, a brisk 60 degrees and dropping. A few of Wetschler's family and friends, including [his rescuerm, Sebastian] Joll, gathered to watch the ceremony. Eight months into his recovery, Wetschler walked slowly along the perimeter of the circle. He steadily trod through the ocean on one end, gathering sand as he emerged from the sea and continued in a circular motion, before leaving his body's imprint on the canvas, standing up, and repeating the entire process again. And again. And again. By the time he finished, he had circled the beach more than a dozen times. He was shivering with cold, but was surprisingly energized. He had relearned how to move with the water again, instead of in its opposition. Finally providing himself the space to realize just how close to dying he had come, he was struck by a moment of catharsis. He wept. He calls the piece "Reentry." Today, it hangs at Winston Wächter Fine Art in Seattle, along with nearly a dozen of his other pieces." •. This is a beautiful story. It would be even more beautiful if many more had the same opportunities.
Games
"Three Prominent Video Game Developers Accused of Sexual Assault in One Day" [Vice]. "On Monday, Nathalie Lawhead, an independent video game designer from California, published a 6,800 word blog post. Lawhead alleged they were raped by Jeremy Soule, an acclaimed composer known for his work on The Elder Scrolls and Guild Wars series. Hours later, in a lengthy post on Twitter, indie developer Zoe Quinn accused Night in the Woods developer Alec Holowka of sexual abuse and imprisoning Quinn in Holowka's home in Winnipeg. A third accusation came from a woman named Adelaide Gardner against Luc Shelton of Splash Damage, who worked on Gears of War 4. Gardner told Motherboard Shelton assaulted her in 2018. Soule, Holowka, and Shelton did not respond to requests for comment…. Other prominent women in the industry have corroborated Quinn's claims…. Gardner previously tweeted her story about Luc Shelton in 2018 during the Brett Kavanaugh hearings."
Groves of Academe
"What We Know About Harvard's Investments in and Entanglements with the Fossil Fuel Industry" [Divest Harvard, Medium]. "At present, Harvard discloses only about 1% of its now $39.2 billion endowment. After close analysis and research, Divest Harvard found that, of this 1%, a total of $5.6 million is invested in the fossil fuel industry in companies that produce or own reserves of oil, natural gas, and coal, and large utilities powered by natural gas and coal. If that 1% is a representative sample of the whole endowment, that would mean that Harvard has $560 million in fossil fuel investments… Beyond the endowment, Harvard also remains entangled with the fossil fuel industry in its structure of governance and academic programming. Members of the Harvard Corporation have both direct and indirect ties to the industry and oil and gas companies continue to sponsor campus research and events… [I]f Harvard commits to divestment, it has clear options for sustainable and socially responsible reinvestment that remains profitable, thereby honoring HMC's fiduciary duty to maximize returns on the endowment."
L'Affaire Joffrey Epstein
"The 26-Year-Old Defense Attorney Whose First Two Clients Were El Chapo and Jeffrey Epstein" [New York Magazine]. "[Mariel] Colón Miró would go on to join El Chapo's trial team as an attorney and impress his seasoned defense attorneys so much that one of them hired her to join Jeffrey Epstein's defense team before the convicted sex offender committed suicide… After Epstein was arrested at Teterboro Airport, he was put in a cell three doors down from El Chapo at the MCC — though that arrangement only lasted one night. Not long after Epstein's arrest, Colón Miró was brought onto his legal team by Marc Fernich, another of Guzmán's attorneys who took on the Epstein case…. Three days before Epstein committed suicide, Colón Miró visited him at the MCC and served as a witness to his will."
Imperial Collapse Watch
Not creepy at all:
The ideal space would be a human-made underground environment spanning several city blocks w/ complex layout & multiple stories, including atriums, tunnels & stairwells. Spaces
that are currently closed off from pedestrians or can be temporarily used for testing are of
interest. pic.twitter.com/GkWKm2w2p9

— DARPA (@DARPA) August 28, 2019
I think I know what they want to test:
Guillotine Watch
"Top MPAA Lawyer, Mastermind Behind Its Plan To Attack The Internet, Arrested On Blackmail And Sexual Assault Charges" [TechDirt]. "Beyond being the MPAA's top legal attack dog for nearly a decade, the Sony Pictures email leak showed that Fabrizio was the mastermind behind Hollywood's Project Goliath to use MPAA/Hollywood Studio funds to pay for having state Attorney's General and news media owned by those studios, to attack Google to try to pressure it into some sort of 'deal' with the studios. Fabrizio was also formerly the top litigator at the RIAA, and led its charge against Napster. Fabrizio was deeply involved in key copyright lawsuits, including the fights against Grokster, Hotfile, and Aereo. Basically, much of the history of 'anti-piracy' litigation and 'anti-piracy' efforts regarding the internet, was somehow touched by Steve Fabrizio. Anyway, that's why it's a bit shocking to discover that Fabrizio has now been arrested in DC (and fired by the MPAA) for alleged sexual assault and blackmail… That is beyond horrifying — especially given that part of Project Goliath was to try to get various state Attorneys General to argue that Google helped enable sex trafficking and other such things. Apparently, Fabrizio decided to 'investigate' things a bit more directly."
Class Warfare
"It's not just how the game is played, it's whether you win or lose" [Science] The abstract: "Growing disparities of income and wealth have prompted extensive survey research to measure the effects on public beliefs about the causes and fairness of economic inequality. However, observational data confound responses to unequal outcomes with highly correlated inequality of opportunity. This study uses a novel experiment to disentangle the effects of unequal outcomes and unequal opportunities on cognitive, normative, and affective responses. Participants were randomly assigned to positions with unequal opportunities for success. Results showed that both winners and losers were less likely to view the outcomes as fair or attributable to skill as the level of redistribution increased, but this effect of redistribution was stronger for winners. Moreover, winners were generally more likely to believe that the game was fair, even when the playing field was most heavily tilted in their favor. In short, it's not just how the game is played, it's also whether you win or lose." • The researchers devised a card game for their experiment, and "therefore caution against generalizing the results to actual economic inequality." I'd be interested in reader comments on the study design.
News of the Wired
"The Neuroscience of Reality" [Scientific American]. "[W]e have known since Isaac Newton that colors do not exist out there in the world. Instead they are cooked up by the brain from mixtures of different wavelengths of colorless electromagnetic radiation. Colors are a clever trick that evolution has hit on to help the brain keep track of surfaces under changing lighting conditions. And we humans can sense only a tiny slice of the full electromagnetic spectrum, nestled between the lows of infrared and the highs of ultraviolet. Every color we perceive, every part of the totality of each of our visual worlds, comes from this thin slice of reality. Just knowing this is enough to tell us that perceptual experience cannot be a comprehensive representation of an external objective world. It is both less than that and more than that. The reality we experience—the way things seem—is not a direct reflection of what is actually out there. It is a clever construction by the brain, for the brain. And if my brain is different from your brain, my reality may be different from yours, too."
"We should all be reading more Ursula Le Guin" [The Outline]. This nugget: "'The Carrier Bag Theory of Fiction,' an essay Le Guin wrote in 1986, disputes the idea that the spear was the earliest human tool, proposing that it was actually the receptacle. Questioning the spear's phallic, murderous logic, instead Le Guin tells the story of the carrier bag, the sling, the shell, or the gourd. In this empty vessel, early humans could carry more than can be held in the hand and, therefore, gather food for later. Anyone who consistently forgets to bring their tote bag to the supermarket knows how significant this is. And besides, Le Guin writes, the idea that the spear came before the vessel doesn't even make sense. 'Sixty-five to eighty percent of what human beings ate in those regions in Paleolithic, Neolithic, and prehistoric times was gathered; only in the extreme Arctic was meat the staple food.'" • Hmm..
Peanuts had a stellar readership:
@LettersOfNote Thought you may appreciate this letter from Charles Schulz to the then Editor of the Oxford English Dictionary over the use of the term 'security blanket'. pic.twitter.com/peodZDlwoO

— Matthew Williams (@MatthewW1991) August 29, 2019
* * *
Readers, feel free to contact me at lambert [UNDERSCORE] strether [DOT] corrente [AT] yahoo [DOT] com, with (a) links, and even better (b) sources I should curate regularly, (c) how to send me a check if you are allergic to PayPal, and (d) to find out how to send me images of plants. Vegetables are fine! Fungi are deemed to be honorary plants! If you want your handle to appear as a credit, please place it at the start of your mail in parentheses: (thus). Otherwise, I will anonymize by using your initials. See the previous Water Cooler (with plant) here. Today's plant (TH):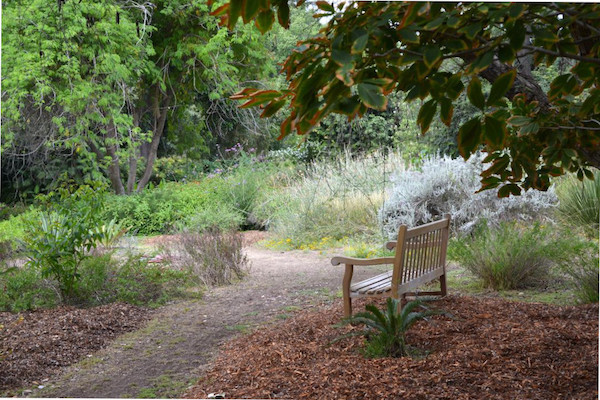 An inviting spot. TH writes, of the Fullerton Arboretum:
The Fullerton Arboretum is one of my favorite places to go to admire flora and fauna. I try to arrive before it opens at 8:00 a.m., in hopes of beating the crowd, generally consisting largely of California State University Fullerton (CSUF) students, for CSUF is the institution at which this 26 acre botanical garden resides. In fact, the garden's admiring community which stretches far beyond the neighborhood, city, or even county, is holding its collective breath in anticipation of what the University's administrators will do when the land lease, the Joint Exercise Powers Agreement (JPA) initiated in March 1976, and the Fullerton Arboretum Authority (an agency instituted as a result of the JPA, consisting of University Trustees and the City of Fullerton's Redevelopment Agency), all collapse at the expiration of the lease and the contract in December 2020.

The University has thus far maintained that while funding and administrative bodies will fall by the wayside, their intention is not to "pave paradise", as Joni Mitchell so poetically puts it—but will they sprinkle in a few buildings? They're not willing to say just yet.
* * *
Readers: Water Cooler is a standalone entity not covered by the annual NC fundraiser.Remember, a tip jar is for tipping! So if you see a link you especially like, or an item you wouldn't see anywhere else, please do not hesitate to express your appreciation in tangible form. Regular positive feedback both makes me feel good and lets me know I'm on the right track with coverage. When I get no donations for five or ten days I get worried. More tangibly, a constant trickle of donations helps me with expenses, and I factor in that trickle when setting fundraising goals:
Here is the screen that will appear, which I have helpfully annotated.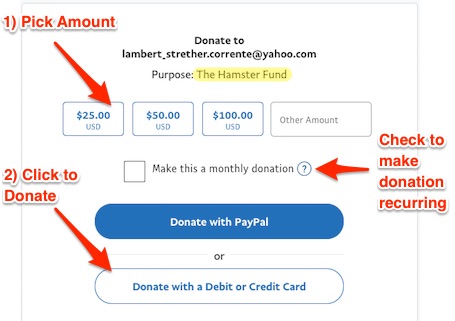 If you hate PayPal, you can email me at lambert [UNDERSCORE] strether [DOT] corrente [AT] yahoo [DOT] com, and I will give you directions on how to send a check. Thank you!