CalPERS yet again is trying to throw a veil over activities that ought to be open to the public. In the World According to CalPERS, any dirt must be swept under the rug, even when California's strong transparency statutes say otherwise.
The wee problem with CalPERS' cover-up approach is that the rug is not just getting to be awfully lumpy but is even starting to move.
The latest example is CalPERS' blowing off the results of an unfavorable audit of its hiring practices. Whistleblowers allege that CalPERS has refused to implement its recommendations. That also means it is likely that CalPERS executives have also failed to tell the board about the fact of the examination, let alone its results.
A CalPERS unit was tasked with auditing CalPERS pre-employment screening. Readers may recall that we exposed that then Chief Financial Officer Charles Asubonten, had made many misrepresentations on his resume and Form 700, leading to his dismissal. We then determined that CEO Marcie Frost had made several important misrepresentations during her hiring, most importantly of her educational attainment, implausibly representing herself as pursuing a non-existent dual bachelor's/master's degree when she had never matriculated in any higher educational program. Those misrepresentations continued after she joined CalPERS, and were in documents like press releases and official bios that she would have reviewed.
CalPERS hired a consultant, MRG, LLC to review the hiring process after these high profile fiascoes, involving a law firm, Van Dermyden Maddux, which likes to call itself "an investigations law firm" in an effort to characterize the report as attorney-client privileged and therefore not subject to disclosure under the Public Records Act. As we'll discuss shortly, merely getting a lawyer into the mix does not render a matter attorney-client privileged. For instance, communications with a lawyer hired to negotiate the purchase of a business would not be attorney-client privileged if the client had set the deal parameters and was not seeking legal input.
Select pages from the consultant report, which we have embedded at the end of this post, not surprisingly show glaring deficiencies. Yet not only is CalPERS impermissibly attempting to hide this report by making a false claim that it is attorney-client privileged which even insiders recognize as bogus, but it is also refusing to implement the consultant's findings.
From a whistleblower:
This is another example of CalPERS evading the law to cover up their wrongdoing and fiduciary failure. The consultant report is pretty damning on CalPERS processes. It doesn't qualify for attorney protection. In addition, the HR department refuses to implement the consultant's suggestions.
Here are the key pages: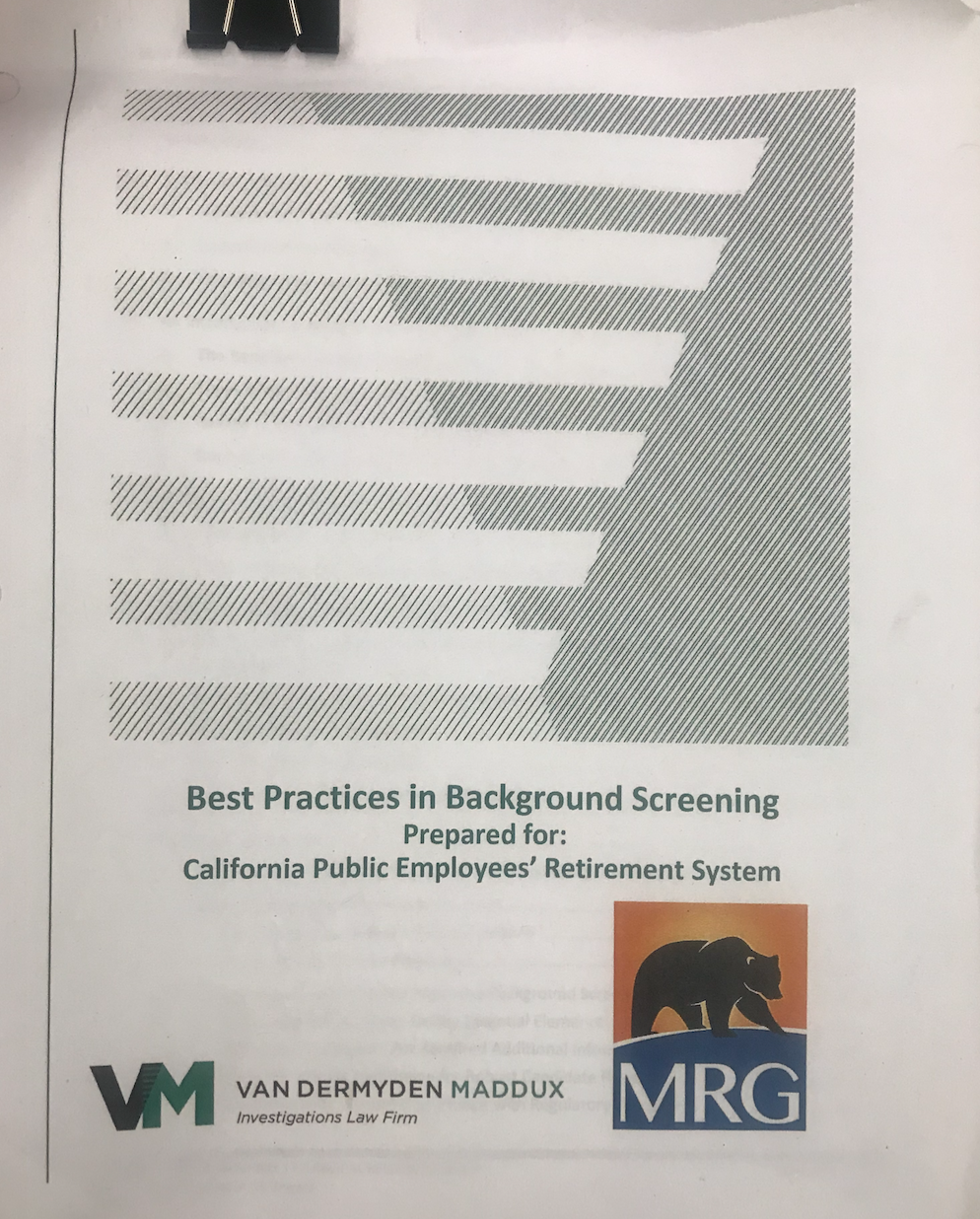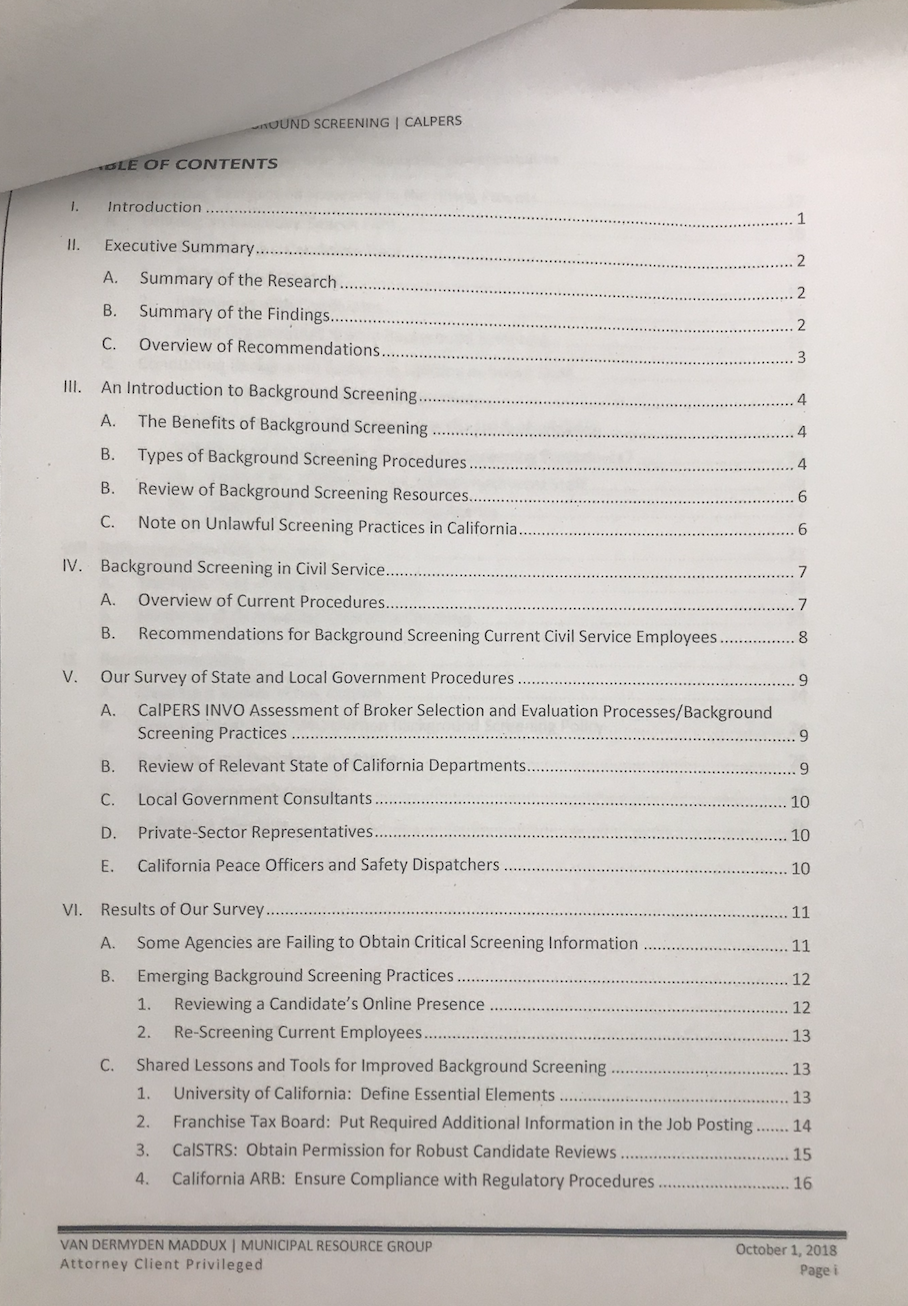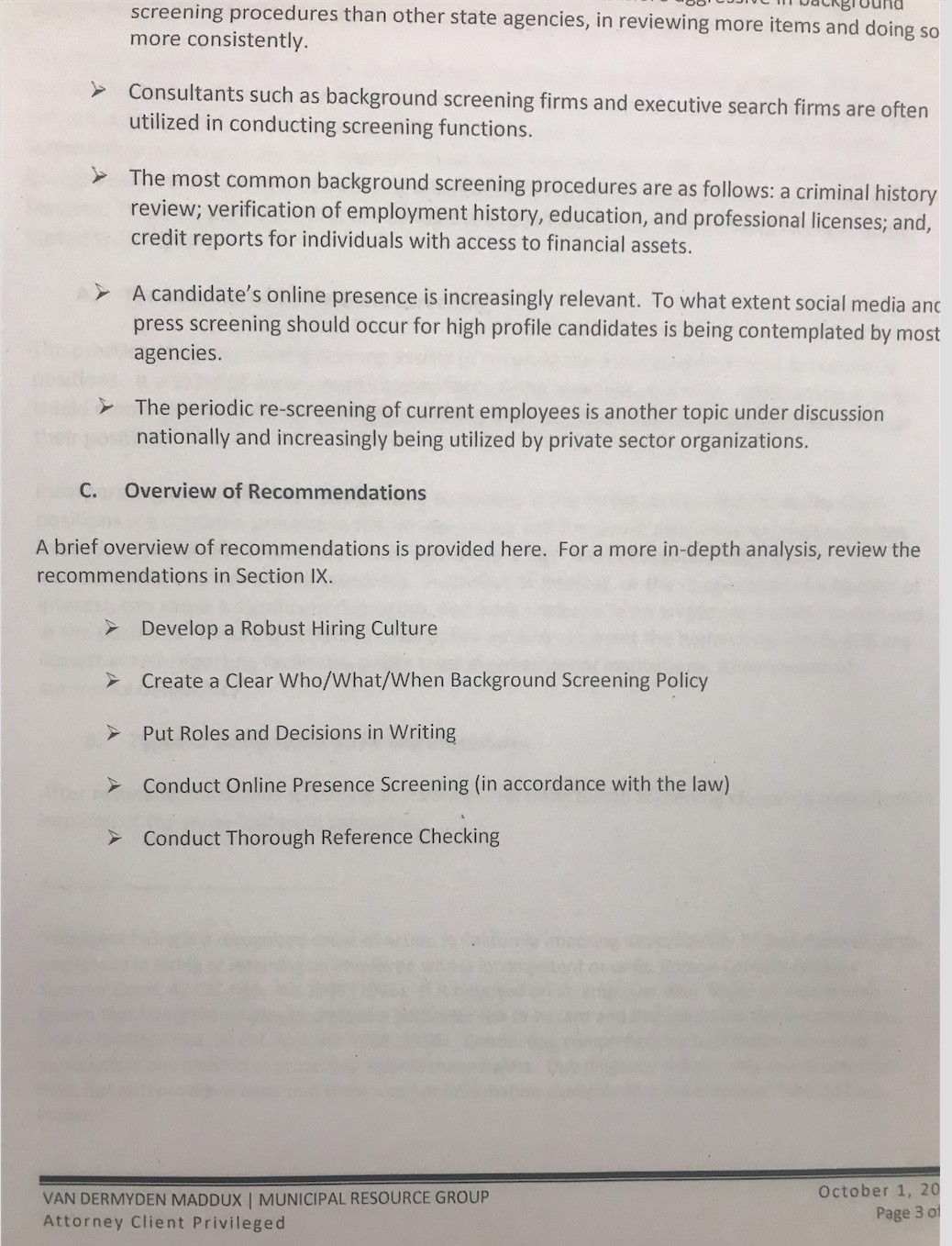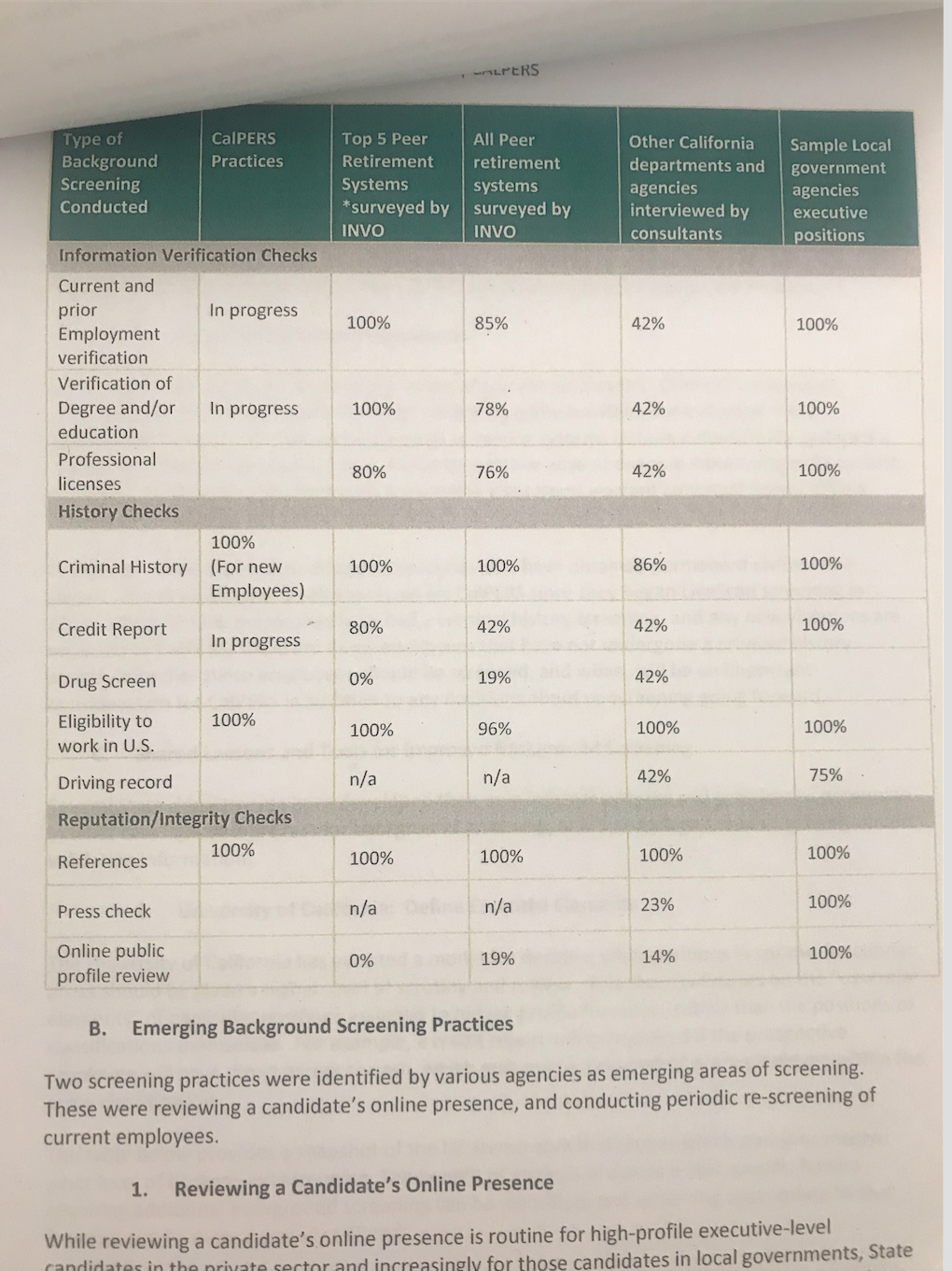 The juicy ones are the second and the fourth image. We'll discuss them in reverse order.
The "in progress" marks for CalPERS look to be a consultant concession to CalPERS' pretending it might Do Something in those areas, since if CalPERS was actually doing something now, the consultant would have assigned a percentage score. How hard is it to start verifying education? This isn't something that requires a bureaucracy, fer Chrissakes.
In other words, it presumably would have been too embarrassing to CalPERS to give it a deserved blank or a zero and CalPERS may have been able to pull out a handwave about plans or "vision" to give the consultant cover.
So look at what CalPERS, even after the Frost and Asubonten scandals, was not doing, and per the whistleblower account, is still not doing even for senior hires:
Current and prior employment verification

Verification of degree and/or education

Professional licenses. This one is particularly rich. CalPERS could hire a phony lawyer!

Drug screen

Driving record

Press check

Online public profile review
One can debate the merits of the last five; there's a lot not to like about some employers' obsession with digging into applicants' social media histories. But not verifying the employment history and education? It looks like CalPERS likes to buy empty boxes, or worse, in this case, hire frauds.
Pray tell, why did anyone give Marcie Frost a pay raise when she sees fit to run CalPERS like a candy store? Or does she intend to hire in her less than upstanding image? She certainly did that with Charles Asubonten.
The importance of the second page is it shows the scope of the report, and that makes it clear that any claim of attorney-client privilege is bogus.
As we said earlier, hiring an attorney does not make his work product or that of his subcontractors privileged. The client has to be seeking legal advice. In this case, it's pretty clear that CalPERS was seeking professional advice on hiring. The only aspect of hiring where legal considerations might come into play would be ones designed to prevent discrimination and assure compliance with California civil service rules. Benchmarking against other similarly-situated organizations is awfully hard to construe as legal advice.
Some readers may point out that regardless of the scope of the report, CalPERS might have attempted to work in some legal pretenses in its engagement letter with MRG. Court precedents don't favor eyewash. From a California attorney:
Under 2,022 Ranch v. Superior Court (2003) 113 Cal.App.4th 1377 [7 Cal.Rptr.3d 197] (2,022 Ranch) the determination of privilege turns on the "dominant purpose" of each communication. Clark relies on the portion of the 2,022 Ranch opinion in which the court stated: "In certain instances it is difficult to determine if the attorney-client privilege … attaches to a communication, particularly where there may be more than one purpose for that communication: `"`Where it is clear that the communication has but a single purpose, there is little difficulty in concluding that the privilege should be applied or withheld accordingly. If it appears that the communication is to serve a dual purpose, one for transmittal to an attorney "in the course of professional employment" and one not related to that purpose, the question presented to the trial court is as to which purpose predominates. …'" [Citation.]' (Travelers Ins. Companies v. Superior Court (1983) 143 Cal.App.3d 436, 452 [191 Cal.Rptr. 871], italics added.) This `dominant purpose' test not only looks to the dominant purpose for the communication, but also to the dominant purpose of the attorney's work. [Citations.] Clark v Superior Court (2011) 196 Cal.App.4th 37, 50;
The test is "dominant purpose". The table of contents makes clear the "dominant purpose" of this exercise was most assuredly not legal advice.
One wonders why this report was requisitioned at all. Were Frost and General Counsel Matt Jacobs so naive as to think they could get a pliant consultant to bless, or at least not ding much, CalPERS' obviously deficient practices? Or perhaps even though CalPERS is appallingly unprofessional in how it goes about hiring, they thought a study would show to is everyone in government, and therefore there's no reason to blame anyone at CalPERS, let alone try to do better? The far right column, of the performance of local governments, should put the vastly better staffed CalPERS to shame.
Finally, we wonder if the board has gotten any whiff of this study's findings. We haven't seen any closed session notices that look like they would correspond to a discussion of this document. If there were any closed session review, this would constitute yet another violation of the Bagley-Keene Open Meeting Act, since as we discussed previously, its litigation exemption is very narrow. Similarly, it would be more than a stretch to attempt to depict this study as a personnel matter, since that's construed to amount to information about particular employees, and not personnel department practices.
We hope that some alert board members will demand to see this document. If push comes to shove, they could put in a Public Records Act request, as we have, since this document can't legitimately be kept secret.