By Lambert Strether of Corrente
We've had yet another college admissions scandal enter the headlines, briefly, and so I thought I'd aggregate the other recent college admissions scandals; it's surprising — or not! — how prevalent they are. Then I'll do a simple piece of arithmetic that I haven't been able to find in the coverage.
The Scandals
This aggregation is by no means exhaustive[1]; what is most striking is the routine seaminess of it. Interestingly, only the "Varsity Blues" (2019) and "Clout goes to college" (2009) have catchy, "Watergate"-like monikers; the others are simply isolated news stories. Where no moniker exists, I invented one ("Fencing Coach Gets House"). In particular order, but starting with this month's scandal, which made me think, "What, again? So soon?" Sometimes the institution is corrupt (e.g., Harvard), and sometimes the ingenious providers of professional services are corrupt. In all cases, the parents who participate in these schemes are corrupt.
Gaming Guardianship (professional services). From Inside Higher Ed:
[T]hat parents in suburban Chicago had taken part in a scam to increase their children's eligibility for need-based financial aid for college. The scam, apparently devised by independent college consultant Lora Georgieva, owner of Destination College in Lincolnshire, Ill., involved parents giving up legal guardianship of their children during the junior or senior year of high school to a friend or family member. That allowed the student to claim independent status, meaning that eligibility for financial aid was based only on the student's earnings rather than the parents' income and assets.

Yes, you read that correctly. . In Lake County, Ill., alone, there were 38 cases in 2018 where a probate court judge granted transfer of guardianship for a teenager in the junior or senior year of high school. Most of those cases involved families living in homes valued at more that $500,000.

The story raises a number of questions. Did no one in the legal system in Lake County find an epidemic of giving up guardianship of their high school children in the least bit suspicious? Nearly all of the 38 cases above were filed with similar language: "The guardian can provide educational and financial support and opportunities to the minor that her parents could not otherwise provide." I have read enough Scott Turow novels and watched enough episodes of The Good Wife to know that the judicial system in Illinois may be less than pure, but really?
"Operation Varsity Blues" (multiple Ivies and wannabe Ivies). The Guardian:
There are 50 people charged in the case, including actors Felicity Huffman, known for her role on the TV show Desperate Housewives and the feature film Transamerica, and Lori Loughlin, a cast member on the TV series Full House. Defendants in the case include parents and college athletics coaches.

The were part of the biggest college admissions scam ever prosecuted by the Department of Justice, prosecutors say, accused of conspiring to get their kids into elite colleges through bribery and cheating. The FBI investigation was dubbed "Operation Varsity Blues".

Administrators of the SAT and ACT college exams were bribed to allow someone else to pretend to be the student and take the exam in their place, according to a criminal complaint. In other cases, the proctors gave the students answers or fixed their wrong answers after they had taken the test.

The children sometimes faked learning disabilities so that they would be able to take the tests at facilities where staff had been paid off, the complaint says; parents paid between $15,000 and $75,000 a test to participate in the cheating scheme, which was allegedly masterminded by William Singer, who ran a college prep company called The Key.

In another part of the scheme, college coaches allegedly received bribes to designate applicants as recruited athletes – which gives them a leg-up in admissions – regardless of their athletic ability, and sometimes when they didn't even play the sport they were supposedly recruited for. Clients paid Singer a total of $25m to bribe coaches and university administrators, prosecutors say.

The schools include .
Fencing Coach Gets House (Harvard). Deadspin:
The Boston Globe reported Tuesday that an independent investigation initiated by Harvard determined that Brand violated the university's conflict-of-interest policy when he sold his home to Maryland businessman Jie "Jack" Zhao for $989,500 in 2016, or about $440,000 more than its assessed value. Zhao's eldest son, Eric, was then attending Harvard and competing with the Crimson fencing team; Zhao's younger son, Edward, was still in high school and "interested in fencing for Harvard." Zhao purchased Brand's home at the obscene markup in May 2016; 15 months later Edward began attending Harvard as a fencing recruit; two months after that, in October 2017, Zhao sold the home at a loss of more than $320,000. In the view of Harvard's investigators, this sequence reeked of conflict.
"Clout Goes to College (University of Illinois). Chicago Tribune:
At a time when it's more competitive than ever to get into the University of Illinois, some students with subpar academic records are being admitted after interference from state lawmakers and university trustees, a Tribune investigation has revealed.

received special consideration in the last five years, according to documents obtained by the Tribune under the state's Freedom of Information Act. The records chronicle a shadow admissions system in which some students won spots at the state's most prestigious public university over the protests of admissions officers, while others had their rejections reversed during an unadvertised appeal process. In one case, a relative of Antoin "Tony" Rezko, the now-convicted influence peddler for former Gov. Rod Blagojevich, got admitted after U. of I. President B. Joseph White wrote an e-mail stating that the governor "has expressed his support, and would like to see admitted" Rezko's relative and another applicant.

Since 2005, about 800 undergraduate students have landed on the clout list for the Urbana-Champaign campus. It's unknown how many would qualify for entry on their own, but their acceptance rate is higher than average. For the 2008-09 school year, for example, about 77 percent were accepted, compared with 69 percent of all applicants.

That's in spite of the fact that patronage candidates, as a group, had lower average ACT scores and class ranks than all admitted students, records show….

[T]he Tribune review of about 1,800 pages of documents shows politically appointed trustees and lawmakers routinely behave as armchair admissions officers advocating on behalf of relatives and neighbors — even housekeepers' kids and families with whom they share Hawaiian vacations.
Juice at the Board of Regents (University of Texas at Austin). Texas Tribune, one of many examples:
During the tenure of UT-Austin President Larry Faulkner, which ended in 2005, one official saw a note from a a UT System regent that said every graduate of a specific high school should be admitted to UT.
Gaming Special Needs (professional services). WGBH:
Gordon Caplan, a prominent attorney from Greenwich, Conn., pleaded guilty in May to paying $75,000 to get his daughter fraudulently diagnosed with special needs, which enabled her to get extra time on the ACT exam. Speaking outside the federal courthouse in Boston, he apologized to his daughter.

"We've seen a remarkable and disturbing pattern lately of taking illegal advantage of the college admissions system, but this is just ," [Paul Reville, a former Massachusetts education secretary who now teaches at Harvard University] said. "Whether or not you can get a designation for a special need that will then enable you to get extended time so you can improve your scores on the SAT is just one of many legal pathways to the advantaged further advantaging their children."
Gaming the Transcripts (professional services). New York Times:
T.M. Landry's founders, Mike and Tracey Landry, put the very real obstacles that exist for some minorities — a higher proportion of first-generation college applicants, limited access to wealthier school districts, and a scarcity of affordable college application coaches and tutors, to name a few — at the very heart of their pitch.

The Landrys explicitly vowed to get black students into top universities; to level a vastly uneven playing field; to put into reach a college education that many teenagers and their parents worried was outside their grasp.

Their magnetic pitch had students staying at T.M. Landry despite enduring what they described as severe emotional and physical abuse. "He seemed to see in us what we didn't see in ourselves," Raymond Smith, a T.M. Landry alumnus, said of Mr. Landry.

In addition, dozens of parents have continued to stand by the Landrys. "The reason I'm here is ," one woman said in an audio recording of a parents' meeting convened after our initial investigation was published in November. The Landrys "give us hope that I never would have imagined going after," she said.

But the Landrys could not have attracted students without also delivering results. Transcripts were littered with inflated grades, nonexistent extracurricular activities and fictitious classes. In recommendation letters, they fabricated and exaggerated stories of hardship that played on negative racial stereotypes. And they encouraged students to do the same.
The Arithmetic
And now the promised arithmetic. Since "Operation Varsity Blues" focused on the Ives, let's do the same. For the Class of 2021: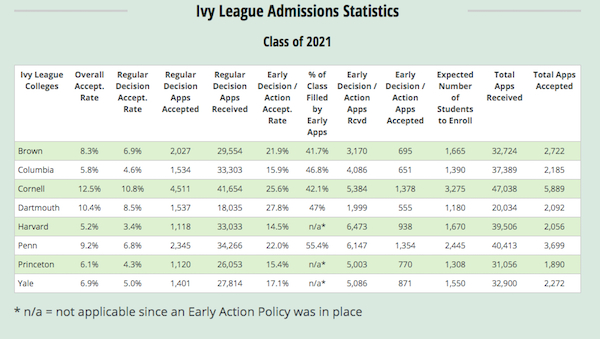 Total Applicants: 32,724 + 37,389 + 47,038 + 20,034 + 39,506 + 40,413 + 31,056 + 32,900 = 281,060
Total Acceptances: 2,722 + 2,185 + 5,889 + 2,092 + 2,056 + 3,699 + 1,890 + 2,272 = 22,805
Now, some percentage, as we have seen from the aggregation above, of the Total Applicants will be corrupt (corrupt in the sense of taking place through fraud or bribery, and not "donating" for a building or being a legacy). What percentage shall we use? Since the United States, obviously, is not a Third World country, where literally everything is done with personal networking and tea money, and everything is for sale, we should set the percentage of corrupt applicants quite low. Let's set the percentate of corrupt applications at 1%: 281,060 * 1% = 2,816.
Of the corrupt applications, how many will turn out to be accepted? I would argue 100%. That's what the (wealthy) parents thought they were buying. China Daily:
The parents involved in the scandal, however, obviously wanted more than a mere 10-fold advantage, they wanted , could afford to pay for it and didn't care either about what methods were used or who would be harmed.
So, if 100% get in, you can assume that 2,816 — forgive the spurious precision — of admissions to the Ivies are fraudulent. Assume further that they all graduate, either because the Ivies are lax, or because they (and their parents) apply the same methods to collect the diploma that they applied to secure their admission. That means that of the (roughly) 22,805 graduates from the Ivies in 2021, 2,816, or more than 10%, were fraudulent applications. On the bright side, if the letterhead from your collection agency has a Harvard man (or woman) listed on it, there's a one-in-ten chance they're a crook. So there's that.
Conclusion
Lifetime will make a movie about it all. People:
The Lifetime network announced on Tuesday that it was greenlighting a new movie based on the high-profile scandal. The working title is College Admissions Scandal, but the network acknowledges that the title may change.

The movie will follow two mothers who share an obsession with getting their teenagers into the best possible college. When charismatic college admissions consultant Rick Singer offers a side door into the prestigious institutions of their dreams, they willingly partake with visions of coveted acceptance letters in their heads.

But when Singer cooperates with the FBI and pleads guilty, the mothers must face the consequences of their actions and the loss of trust and respect from their families.
Those ("wealthy," "highly-advantaged people") people aren't crooks. They were seduced. "The woman said, 'The serpent beguiled me, and I ate.'" Maybe so. But Singer wasn't the serpent.
NOTES
[1] Perhaps I was not diligent enough, but I couldn't find a comprehensive study of corruption in the college admissions process, at least in the United States (as opposed to China). A quick scan at NBER yields no titles of interest. I'd welcome such a study for follow-up.